I have been excited for weeks about this photoshoot and am so pleased it's finally ready to share with you.  Last month, the truly fabulous Photographer that is Julia Boggio emailed me to ask if I could put her in touch with the equally fabulous wedding dress designers, Lindsay Fleming, regarding a photoshoot she had planned, where the gorgeous 'art-deco jewel' hotel that is Claridges would play backdrop. 
Scottish based designers Lindsay Fleming create some of the most beautiful vintage inspired bridal wear I have ever seen.  You simply must see their 1920's 'All That Jazz' collection if you haven't done so yet. 
I am sure you can imagine how I was more than a little bit lost in excitement when Julia asked if I'd like to feature the photographs on Love My Dress (eeek! ….almost fainted!).  And I think you'll agree, that aside from the stunning photography, the styling on this shoot is unbelievably beautiful ~ thanks to a team effort, many of whom will be exhibiting at the Absolutely Beautiful Weddings event (see credit list below).
The full suite of photographs will be on show at the Absolutely Beautiful Weddings event on Sunday 28 March.  In the mean time, enjoy…
All Photography Copyright (c) 2010, Julia Boggio
Photography ~ Julia Boggio
Hair & Make Up ~ Kaz Fernando
Dresses ~ Lindsay Fleming Couture
Headpieces ~ Edwina Ibbotson, Magpie Vintage and Jane Taylor Millinery
Menswear ~ Mark Powell Bespoke
Styling ~ Kate Barbour and Sarah Gillman
Flowers ~ Hayford & Rhodes
Shoes ~ Emmy shoes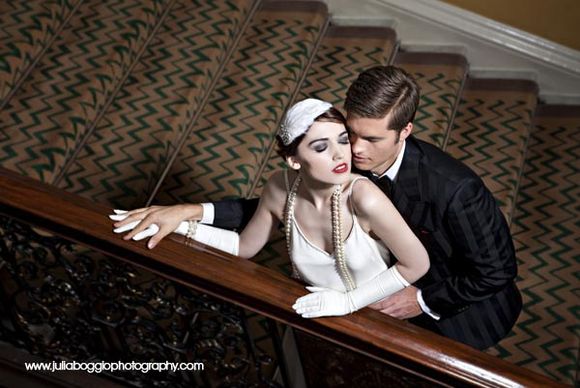 A HUGE thank you to Julia Boggio and Kate, from the Julia Boggio Studio. 
Congratulations to the entire team that helped style this shoot too – what an amazing job!
♥