Just a few lovely photographs from a very pretty wedding indeed.  Love My Dress wedding blog regular's will recall our recent article on 'Fur Coat No Knickers', the fabulous London-based vintage wedding dress boutique ~ and here is one fine example of how a trip to Fur Coat No Knickers can transform a Bride into a vintage beauty on her wedding day. 
These pretty pictures are from the wedding of Mr and Mrs Bruford, who tied the knot, vintage style, on 4th September 2008, at Langdon Court, Wembury in Devon.  Their seaside celebrations really struck a chord with me, as we too chose to tie the knot by the seaside – it's such a magical feeling! 🙂
I just loved Abigail's pretty vintage wedding dress….
"Fur Coat No Knickers were wonderful!  Emma and Laura were fabulous making alterations to the floral design to make it sit better and taking the waist in slightly – I am just a bit gutted I will not be able to wear it again – One day I hope to put it in a large frame and hang it on my wall!  The dress was one of a kind – A lot of my friends were getting married around the same time and with similar taste and some of the weddings only a week apart the thought of choosing the same dress filled me with fear! Plus I just fell in love with it and could not get it out of my head – then you just know it is the right one! The romance of Vintage is also a plus point – Something Old!"
All Photography Copyright (c) 2010 Kasia Siwecka
Abigail's shoes were Jane shilton …
"silk satin peep toe one sides bow – simple yet stunning and something new, and most importantly as you will probably not sit down for most of the day comfortable!"
"I wore an Agent Provocateur corset and bow knickers and garter – a gift from my sister!"
"I did my make-up myself with the help of my lovely friend Carol Wiseman when my hand got the shakes with nerves doing my eyeliner. Carol also did my hair as I wanted it to be natural looking and hate these big poofy wedding looks that are so twee – I wanted to look like me!"
"Our flowers were provided by Emma Vowels – Emma was a star I instantly liked her and knew I could trust her to create the flowers I wanted! Flowers are beautiful in there own right and do not need over complicating, and Emma does this fantastically!"
Abigail's vintage rhinestone clip on 50's earrings bought at a fete for 50p were an absolute bargain!  Her necklace was also from Fur Coat No Knickers.
"I also wore a bracelet that my husband bought me on our 10 year anniversary from York, a Vintage rhinestones blue and white forget-me-knot bracelet again probably 1950's."
Bridesmaids wore gorgeous crimson dresses by Lipsy…
"My sister works for the company! We had them died to match the colour within the rose on my dress with sequin butterfly details – They were fabulous at Lipsy".
Make Your Own…

All the Bridesmaids Accessories were designed and made by Abigail herself, what a clever and creative lady indeed!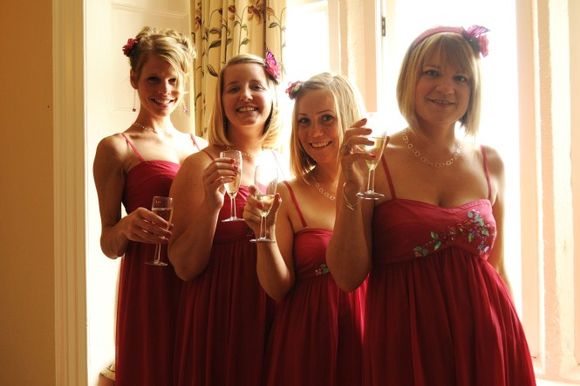 Get me to the Church on time!
A 1951 Limousine was provided by Armstrong Wedding Cars...
Back To My Roots…

"I was born in Devon and Grew up there and absolutely adore the sea and one day oh yes I will have a place back beside it! My husband also adores the sea and we thought it would be wonderful to get married by the sea so a few miles away from my parents house a little village called Wembury with it's cliff top church was the one – We knew it was right instantly as goose bumps rose down my back."
"Engraved – By The Sea"…
"My friend, the lovely Carol Wiseman made both my engagement ring  – keeping it all a secret until my husband asked me to marry him, impressive! and my wedding band that I helped in designing – I love the way they interlock together!"
"The Lovely Emma and Laura from Fur Coat No Knickers made my veil for me from Vintage tulle, as it was hard to find one to match the colouring as true vintage tulle will never be bright white! I then collected up a load of vintage clip on earrings from jumble sales and fetes and one pair I wore on the day and one of the other pairs they stitched to the top of the veil in the middle of a handmade bow – gorgeous detail and with some blue rhinestones my something blue was also covered."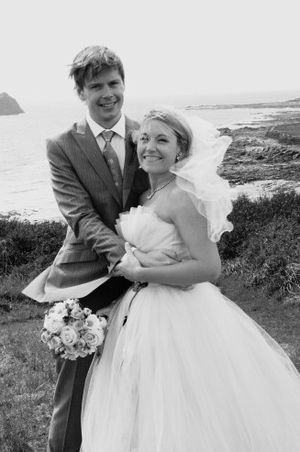 "A short drive up the hill from the Church, and you come to Langdon Court a beautiful magical country house with a gorgeous garden with a secret  feel! This inspired the 'Secret Garden by the sea' theme, and everyone was sent a vintage brass key on there invitations which I also made myself. Then as favours all the ladies received a secret garden charm necklace with a coral flower mother of pearl heart mini anchor, shell, kissing kids, butterfly and key all wrapped in an ivy pouch tied with a rose! I wanted there to be colour everywhere no particular theme but bright and fresh with butterflies!" 

A Secret Garden By The Sea…

"The cake tiers with plain icing and choice of filling came from good old Marks & Spencers. There cakes are simply Delicious and can be very easily decorated. My Mum and my mother in Law collected flowers throughout the year and crystallised them with sugar, glysterine and rose water then left them to dry – they smelt divine – you just have to know which flowers are edible! I really wanted the cake to look enchanted to go with my theme of secret garden by the sea!"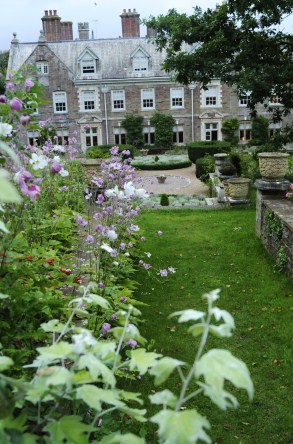 "My Mum and my granddad collected old coloured vintage vases and placed them around the venue and our florist Emma just filled them with a few flowers for a simple feel as well as a couple of larger arrangements that can be moved with he wedding party as people change rooms."
Words of Wisdom?

"Oh! Have fun – I would love to do it all again, loved every minute of it. I made sketchbooks and mood-boards of ideas that I liked and the feel of things that I wanted so when it came to going to see people like my florist the lovely Emma she knew instantly what I was after and I could relax and know it was in safe hands. Don't try and take on every task by yourself dictate where possible there are a lot of other things I could have made myself but you need to know where to draw the line, and if you find people like Emma and Laura from Fur Coat No kickers embrace it!  Use all your contacts to try and cut cost where possible Weddings are so expensive anyway and if you have a friend, or even a friend of a friend that can help in anyway for a smaller fee, or cover their costs then fantastic. 
Think about getting married on a weekday as this can cut costs considerably as venues and car services will often give you a discount as they may not normally be booked out!  I always say to friends now before they get married that 2/3 days before the wedding just stop! Nothing more can be done it is all now should all be in place, just relax and enjoy it! If things are not going quite going to plan – just let it be and don't let anything spoil the most amazing time of your life! Remember all the hearts, frills,lace and flowers should not matter if you are marrying the man you love and want to be with for the rest of your life – after all that is what all this is about and you can get caught up in the trivia of details."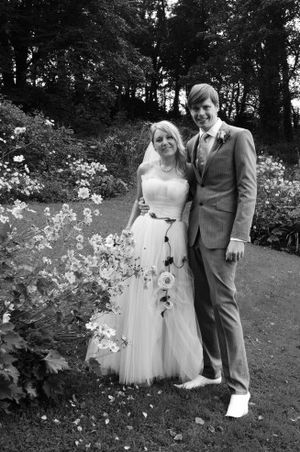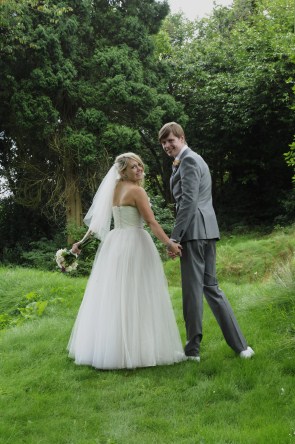 Thank you so much Abigail for sharing your delightful wedding photographs and reassuring all those ladies out there who were considering going with a vintage wedding dress, and maybe even thinking about booking in a consultation with Fur Coat No Knickers 🙂
Be sure to visit Abi's 'Abilu Creations' webiste this eve, as it has some very pretty finds that would make perfect Bridesmaid gifts on your own wedding day 🙂
♥