It's the middle of the week and time for some 60's mod fun! I LOVE this wedding, which was submitted by the fabulous Sassy, of Assassynation (go check her out, she is rather bloomin' brilliant!).
Tom and Jess tied the knot in '60's mod style on 1 August 2010, at the East Anglian Railway Museum in Chappel, Colchester, Essex.
Jess's Mother and Auntie made her wedding dress, after she bought a pattern for it from a Canadian based vintage pattern internet site.
"I have a passion for The Who, Quadrophrenia  and all things 1960's MOD
style, so It made sense that I would incorporate that style into my
wedding and I wanted a short mini dress to go with that theme…"
Tom wore a Lambretta Mod suit, with Union Jack cufflinks…
Love My Dress Wedding Blog – Photography Copyright (c) 2010, Assassynation
Check out the rather gorgeous black Bridesmaid dress below – a purchase from Boohoo.com … 
Jess was handed a gift on the morning of the wedding, from her soon-to-be Husband Tom – whilst he set up the
venue with his best man 😉
I love the vintage 1960's vanity case below right – I have one just like that! 🙂
Jess opted for a simple and elegant bouquet of plain white roses…
Transport for the day was an original vintage Rolls Royce…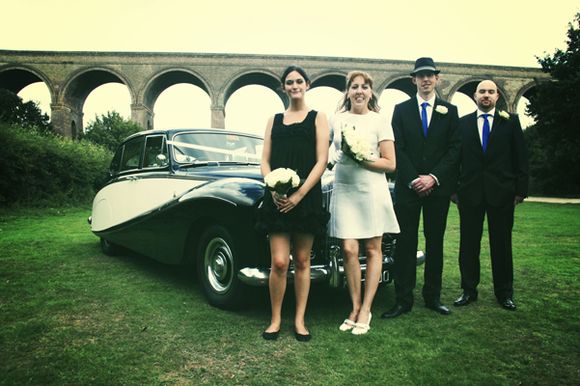 I LOVE these shots!

Decor..
"I
made picture frames with pictures of us and the guest on each table. We
also made Jam for favours.

Becky for A Most Curious Party also
decorated the train carriage inside the venue. I made canvas pictures up
of our past relatives. I also had a graffiti board for people to sign. I
did all the table plan and place names myself. I also painted a few
pictures to decorate the venue…"
I am absolutely LOVING this alternative to a guest book – the Graffiti board – BRILLIANT! 🙂
A dressing up box is a FAB way to keep guests entertained 🙂

The railway carriage was fabulously decorated with vintage memorabilia – I also love the glittery Union Jack flag below left!
"The venue was a typical wedding venue but I don't think it needs to
be. I like to think creatively and out side the box. I was very lucky
because it was in the village that I grew up in with my Father's house
just round the corner and the church was walking distance for my
guests."

"I made up two old vintage suitcases
which said 'just married'. We carried them onto the train platform
where our guest were waiting for us. Inside were gifts for people that
helped us with the wedding and we gave them out during Tom's speech."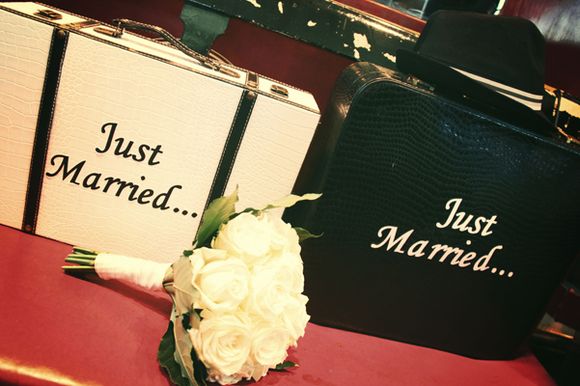 Creating a special area for children to feel is their own at a wedding is SUCH a good idea! …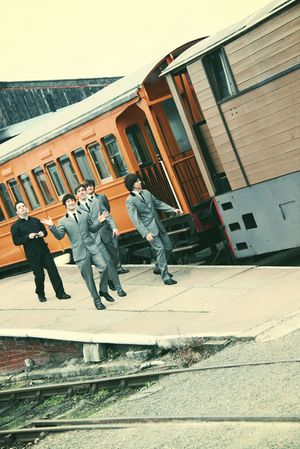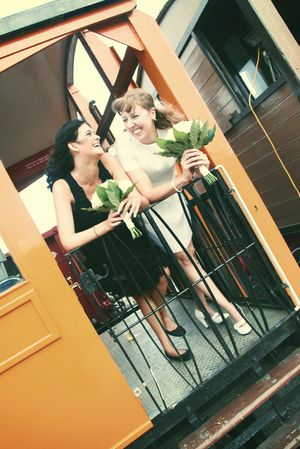 The Beatles Tribute Band entertained guests and played an acoustic version of The Beatles track 'Something' for Tom and Jess's first dance…
Words of Wedded Wisdom…
"Don't
be afraid to do things yourself even if they turn out to be shabby.
People appreciated it more because it is personal not to mention that
you save a lot of money!
I think months and even weeks before the wedding I was so nervous
that things weren't going to go to plan. We spent a lot of time
organising together the logistics of everything. I loved the way Tom and
I worked as team on different areas of the wedding. He arranged
suppliers and I made the decorations 😉
I never doubted for
one minute that I was marrying the right man. On the day I was calm,
happy and relieved that together we had made a success of the most
memorable party we will ever have to organise!"
Thank you to Jess for supplying all this info – and huge
congratulations to Jess and Tom on their fabulously stylish wedding
day.  Huge thanks also to Sassy of Assassynation.  For
further information, visit the Assassynation website. 
You can view another 1960's MOD style wedding on Love My Dress here 🙂
Much love all – more goodness coming up later this afternoon! 🙂
Annabel xXx
♥