Good morning everyone 🙂 This lovely English wedding celebrates the love between Bride Jane and her Husband Ben, that was formalised on 13 August this year at The Larmer Tree Gardens, near Blandford Forum, Dorset….
I love how Jane describes the vision she had for her big day;  "I just had a vintage -grecian vision, mixed with afternoon tea and the peacocks, which inspired the blue colourings but generally picked things I liked and hoped that it would all look right together on the day!!"
And I was especially interested to learn that Jane was a barefoot Bride!…

"This was the one and I only thing I have always known about my wedding- that I would be barefoot. There are gravel paths at the larmer tree so I bought a pair of silver sandals (from office for £15) but I didn't wear them until our honeymoon!"
Special thanks to Bournemouth, Poole, The New Forest and Hampshire Wedding Photographer, Lisa Dawn, for sharing these images with Love My Dress…
Love My Dress Wedding Blog – Photography Copyright (c) 2010, Lisa Dawn Photography

Jane wore a beautiful Jenny Packham wedding dress called 'Tabitha' …
"I bought the dress and the headdress from Silkbrides, Lichfield. Jo and her team were amazing.Really welcoming, there was only ever me in the shop so you had their undivided attention and she genuinley cares about you and your day. I would recommend it in a heartbeat.
I wanted something different and floaty and I had previously tried something in a grecian style on but I looked ridiculous, it didn't flatter me at all but as soon as I put Tabitha on I was so happy because it was the look I wanted and I felt amazing in it."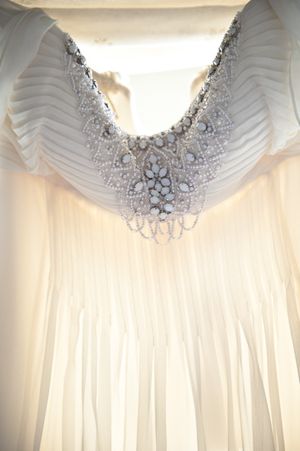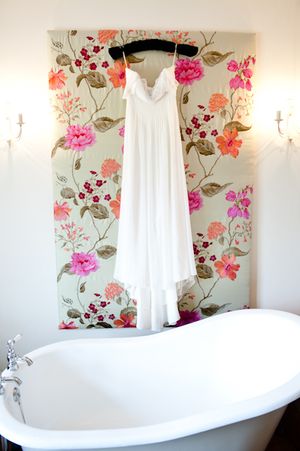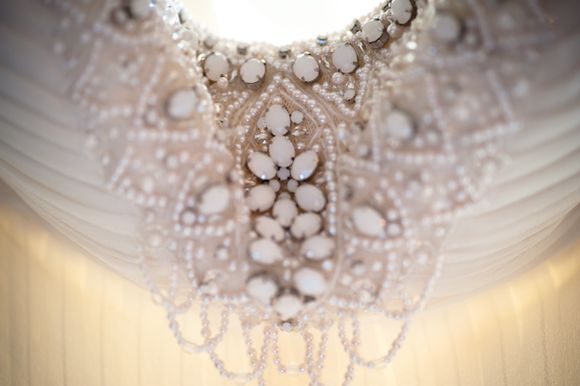 Jane's Hair and Makeup Artist were Sarah and Natalie of Bridal Treats…s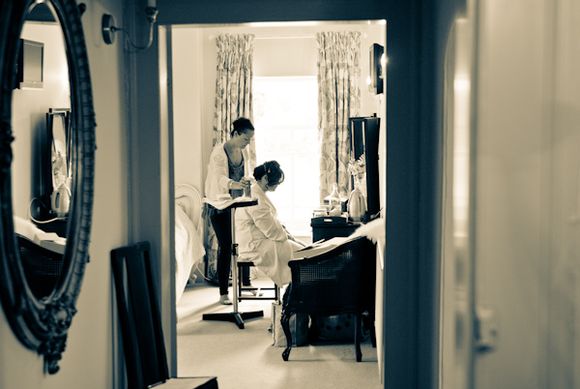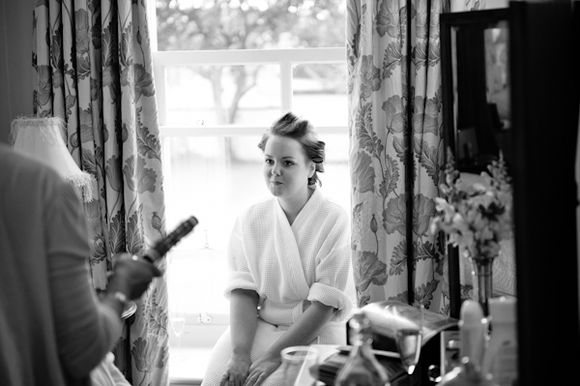 "I had a bridal headdress made by Polly Edwards. I can't remember the name because I tried on so many but it just went so beauifully with the bead work on the dress. It was perfect.
I had some drop earrings in which were a little blingy but still quite understated – with a slight vintage feel (as my vision was vintage-grecian!)  I also had a lovely crocheted bracelet made at a local bead shop, it was lovely and matched the beading on the dress and headdress but because it was wire I was worried it would catch on my dress so I didn't wear it in the end!"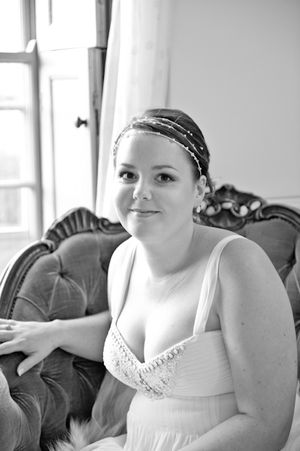 Jane's Bridesmaid wore a Dessy dress in sailor blue – which Jane says is the closest peacock colour she could find.
"Lizzie (my Sister), had an orchid in her hair which matched the Mum's flowers. As she was wearing blue (the colour we asked all our wedding guests to wear), all her accessories were cream to match my dress – Lizzie had a crocheted necklace with pearls in and pearl bracelets (one-off made in beadshop) and she also wore a cream pashmina…."
Aren't the flowers pretty?  They were supplied by 'Claire at Sunflowers in Blandford'…
"Claire was fab! I'm not girly and didn't want a massive bouquet. plus we had a limited budget but she was able to give me some great ideas and suggestions. Because I wanted something simple but effective we went with the hydrangeas. I had a bluey purple one to match the blue colour scheme, with peacock feathers in as this was the reason for the blue theme,  and my bridesmaid had a cream smaller one. Ben had wanted Calla Lillies so he and the Dads had those. The rest of our small wedding party had hydrangea buttonholes…"
"We hired two cars from Andrew Grigsby Classic Cars. My dad and I travelled in a Beauford and Ben and his family travelled in  a Daimler."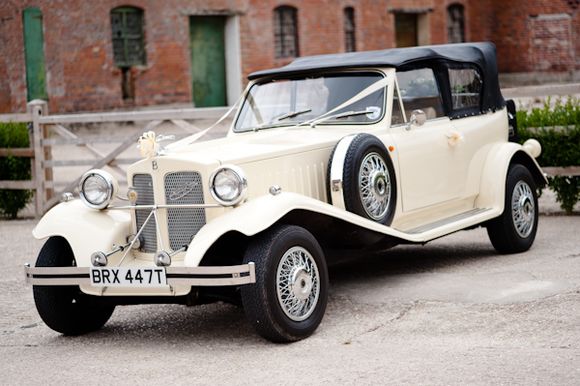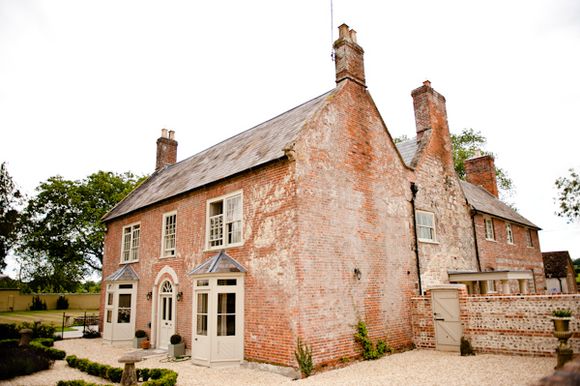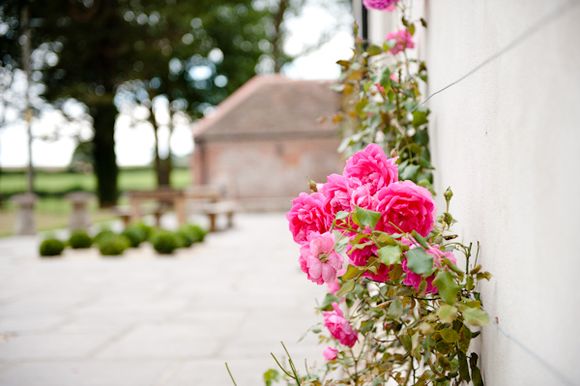 "Ben wanted something a bit different and in the end went with a Ted Baker suit with a waistcoat that we found on EBay!"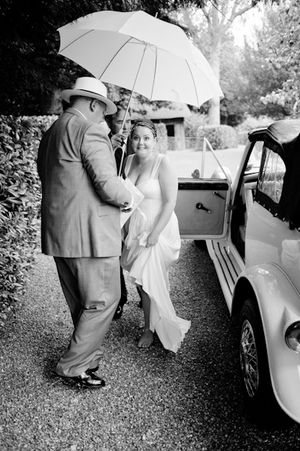 The couple's chosen wedding venue was The Larmer tree gardens, near Blandford Forum, Dorset…
"Initially we wanted to get married abroad because I wanted to get married outside and unfortunately in england you cant. because of the logisitics of getting everyone abroad we began looking for gardens in the UK and I found the The Larmer Tree Gardens online. Living in leicestershire it's a bit of a journey down to Dorset but as its where Ben's family are from, we decided to take a look.
They do 'secret garden weddings' for a small number of guests which was what we were going to speak to the wedding planner about but as soon as we arrived we both fell in love with it and decided that if we got married there we had to have a big reception and invite all our exteneded family and friends.  It still gave us the option of a small, intimate ceremony and we only had 11 guests but it meant we could enjoy the venue and invite all the people we really wanted to be there."
"I didn't 'walk down the aisle' as such, more across the garden but in the ceremony room they did play Pachabels canon. We were more excited by the music we played during the ceremony – which was Katie Melua, Nine Million Bicycles, and to exit to, Jools Holland and Jamiroquia, I'm in the mood for love."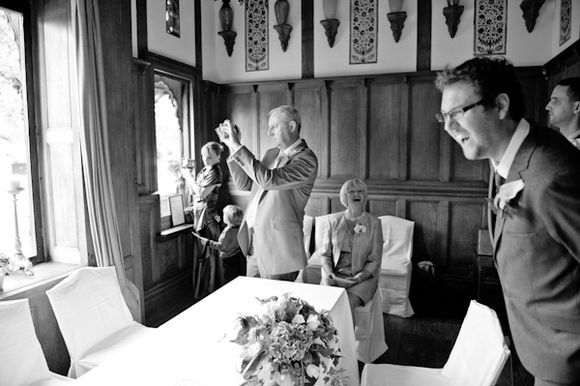 "When Ben asked me to marry him I was over the moon, like I'm sure every Bride is, but soon enough the panic set in. I had 11 months but everytime I phoned anyone, photographers etc they all said I was leaving it too late! I had two months of frantic decision making, magazine buying, cutting and sticking, trawling the internet and irritating Ben, but then I had a few months of calm. I was fairly calm up until the last few weeks when it started ramping up again with dress fitting, collecting favours, etc.
I was nervous that I'd picked the wrong dress, that I was going to look fat (I had refused to diet!) and that people would turn up ridiculously early.   On the day, I spent the morning relaxing. My sister was really concerned, I later found out, because I was so chilled out. I had my hair and make-up done, put my dress on and felt amazing, had a small panic about the weather and then, once everyone else had gone and I was waiting in the stunning room of Launceston farm (Blandford), 'I like big butts' came on the iPod and my dad and I danced about the room until I said 'right, lets go and do this!'.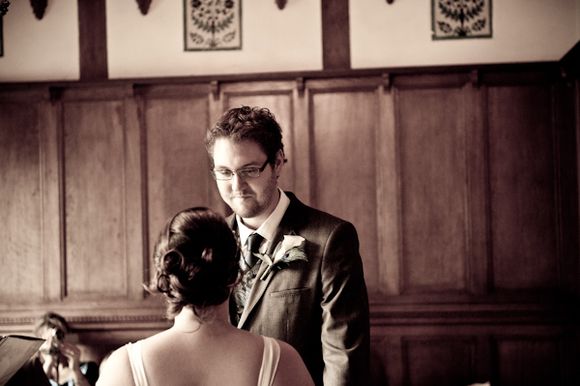 "I am so in love with my engagement ring that I wanted something understated that would compliment rather than detract from it, luckily another Aunty is a jewller and she was able to make something to fit with the unusual shape of my engagement ring. Ben looked at different designs online and then asked her to make his- which is yellow gold on the inside- because he wanted to stick with tradition – but white gold on the outside to match mine. he then had the date of our wedding stamped in in  a typewriter font to make it unique."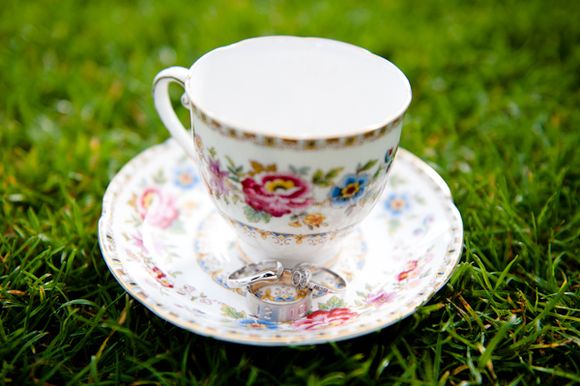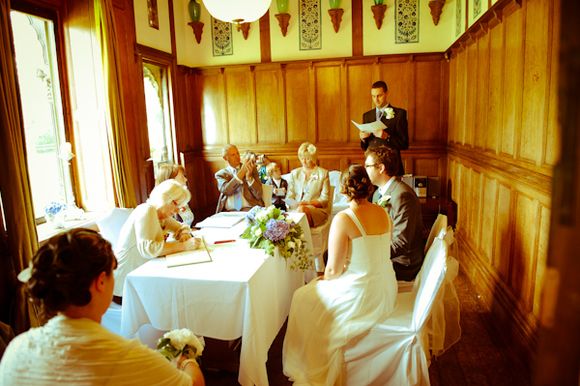 "It felt so right walking across the gardens towards ben and my Mum has said that as soon as I walked into the generals room I had eyes for no-one else.  The ceremony was over and done with so quickly and I remember Ben saying. 'Time for a drink as husband and wife' and then we proceeded to welcome our guests, sip champagne, play on spacehoppers and enjoy our day! It was truly magical."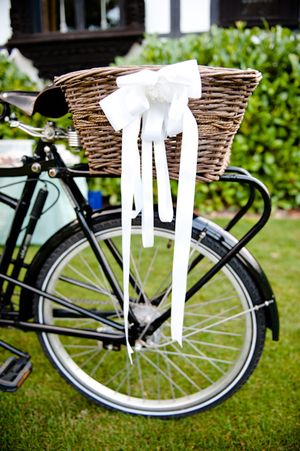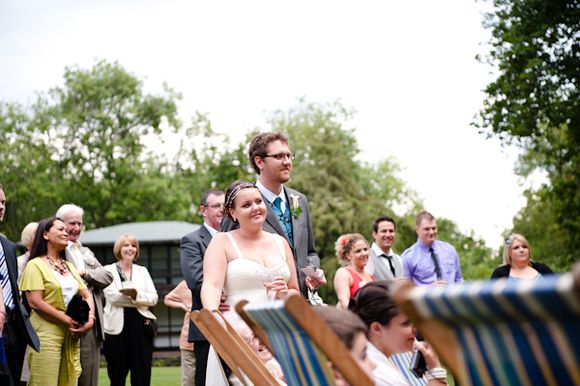 Flowers and Teacups…
"We decorated the venue with the flowers, which we tried to get as much use from as possible. Our table disply for the ceremony doubled as the display on the tea table. The pots of flowers we had on the steps of the ceremony room were used on the tables during the day and moved into the evening venue.
I also wanted to use cups and saucers as it was afternoon tea so I raided some local car boots. I then decided, in order to continue the theme on into the evening that I would use some as candles so I made about 20 into candles which decorated the tables in the evening.
Because we were outside and the venue was so gorgeous we didn't really have to worry about these things too much!"
"During the day we had the Stour valley Stompers jazz band playing on the singing theatre and in the evening we had a disco and DJ provode by All the Kit…."
Just Too Good to be True!
"We danced to the jazz bands version of 'you're just too good to be true'. We weren't that bothered about doing a first dance but it seems to be one of the things that is expected and although we tried to break from tradition it was actually a nice part of the day where we got to chat and catch up. It wasn't rehearsed at all and part way through we broke off and danced with one another's parents!"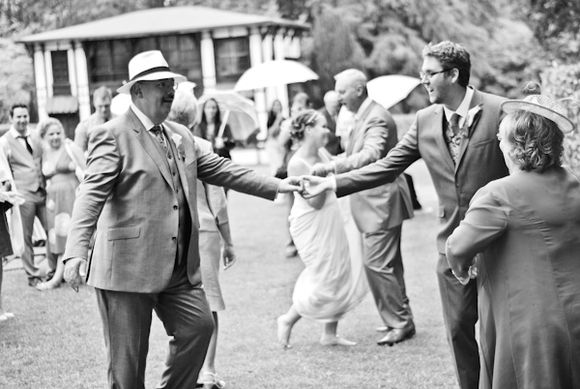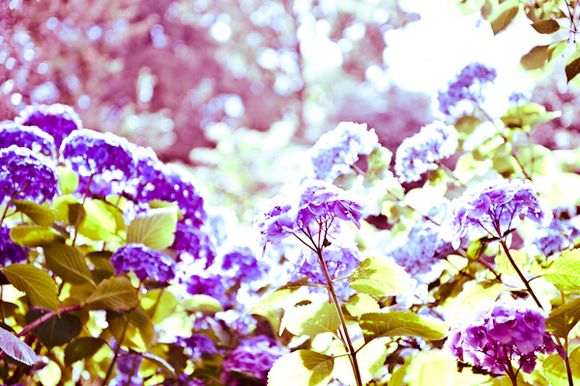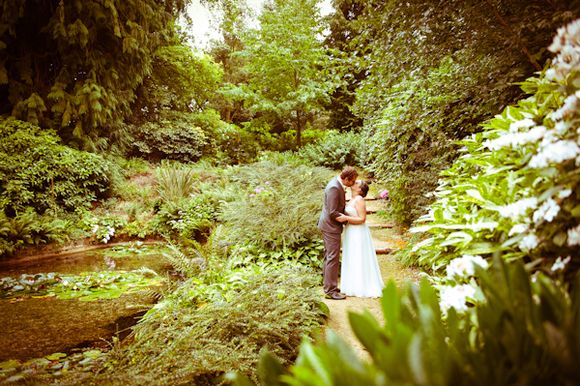 Words of Wedded Wisdom…
"Do whatever you want to do. you will never please everyone and people kept saying to me " its your day it should be what you two want". Although at times I felt selfish, it really made our day brilliant. Everyone commented on how 'us' it was and how they had never been to a wedding like it.
The other thing I would say is that I had a vision (eventually – because I had never known what I wanted or been planning its since my teens). Although at times it was questioned- like when I made Ben buy a wasitcoat off Ebay (!!)  and went mad at carboots buying random cups and saucers but in the end it all worked so well. Trust the vision!
Make time to enjoy your day!
Do what you want- I played rounders in my dress and ate chorizo- even thought I got juice all over my dress! Be yourself!"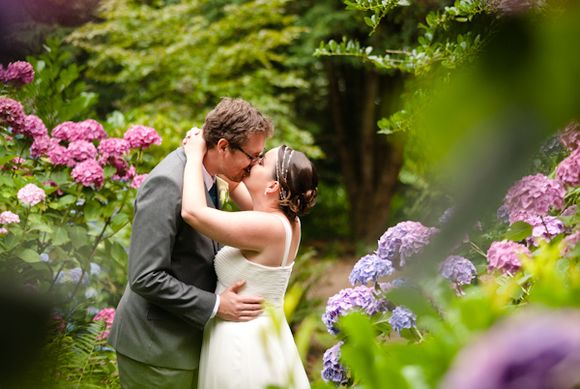 Thank you so much Jane for sharing your wedding day joy with us all! Congratulations to you and Ben – I wish you a very long and indeed happy marriage.
You can see more Lisa Dawn Wedding Photography on the Love My Dress Wedding Blog here – and you can also infact view  Lisa Dawn's own incredibly beautiful and elegant wedding on Love My Dress.
Much love,
Annabel xXx
♥