"Fashion fades, only style remains the same." Coco Chanel
I was researching yesterday (lots of creative projects going on this year) when I found myself drawn back to a blog feature I first discovered over a year ago now that ponders the notion of disposable fashion, and consideres an era when women were more likely to be found wearing beautifully structured and well made items of clothing and accessories on a day-to-day basis.  That is, as opposed to cheaply manufactured high street fashion (the dubious manufacturing policies of which should cast shame on us all as consumers).
Re-reading through the blog feature yesterday evening inspired me once again, and re-affirmed my desire to avoid disposable fashion as much as I can from here on, even if it means investing in a much fewer number of more expensive items of clothing.  Clothing that is timeless in style, and that will look as good on my Daughters when I pass on my 'vintage frocks' in 30 years time, as it does on me now.
Maybe its something that has come with my age, as I try to work my way somewhat stylishly through my thirties, and become ever more turned off by high street fashion and its attempts to clone us…
Love My Dress Wedding Blog – Photography Source, dovima_is_devine_II's photostream on Flickr
And why is it, that just because I'm working from home today, I went to find the most dull wardrobe choice I could find because, well, I'm not going anywhere in particular and assumed I needed a 'slobbing out' kind of outfit?
Today, I will be wearing the nicest possible frock I can get away with to float around the house on a Sunday whilst I catch up on blogging and spend time with my family.  And I shall accessorise with something pretty from my little box of sparkle and pearls.
Perhaps not quite as beautiful as the dress below, but then, dusting down the shelves in the study would be a whole lot more fun dressed like this 🙂
Love My Dress Wedding Blog – Photography Source, Vicki, Nostalgic Collections on Flickr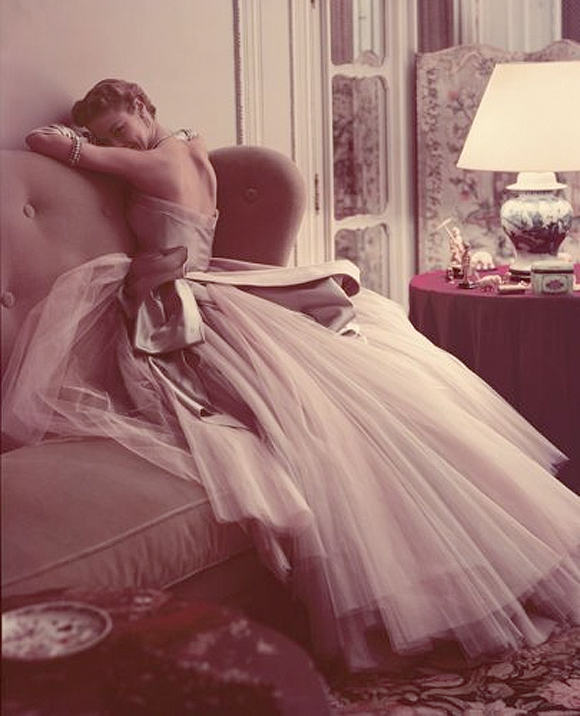 Much love,
Annabel xXx
♥
More Thoughts For A Sunday Here…