Top o' the morning to you! 🙂
Anyone who knows me, knows that I'm a huge supporter of the indendent designer.  I have featured several on Love My Dress here and today, I'm so delighted to be sharing some exciting news with you from another – one of my favourites actually, Linda Davey from 'Dresses At No. 9'.
With headquarters on the edge of the Yorkshire Dales, Dresses At No. 9 offers brides-to-be an affordable bespoke or made to measure wedding gown.  Having previously worked for Pronuptia De Paris, Linda has over 15 years in the wedding industry, and certainly knows how to create a beautiful wedding dress.  And today, she is bringing old-fashioned style glamour to us from West Yorkshire, with her elegant, stylish and vintage inspired Spring/Summer collection of wedding dresses.
By attentively listening to brides-to-be, Dresses At No. 9's creator, Linda Davey, has spent the last few years offering free advice through Facebook, blogging and answering dilemmas in bridal forums alongside her growing bespoke bridal wear business.  Her experience in so doing and what she has learned from Brides in the process, has helped lead to the creation of this new collection. 
Linda tells us more…
"I wanted to create an individual look for many brides-to-be who are forced to choose certain styles currently available in the wedding gown market.
During the 1950's influences including film, television and music created a new market when teenagers became an emerging fashion voice. 1950s glamour had suddenly arrived. The era can be remembered for two fashion silhouettes; the full skirt and the pencil slim. Both styles placed great emphasis on the narrowness of the waist, and I have taken this as her inspiration for my new 2011 Spring/Summer Vintage Collection…"
Love My Dress Wedding Blog – PHotography Copyright (c) 2011, Rob Booker

Davey chose to launch the collection with a photo shoot on location at Ingrow Station and the Vintage Carriages Trust Museum, Ingrow.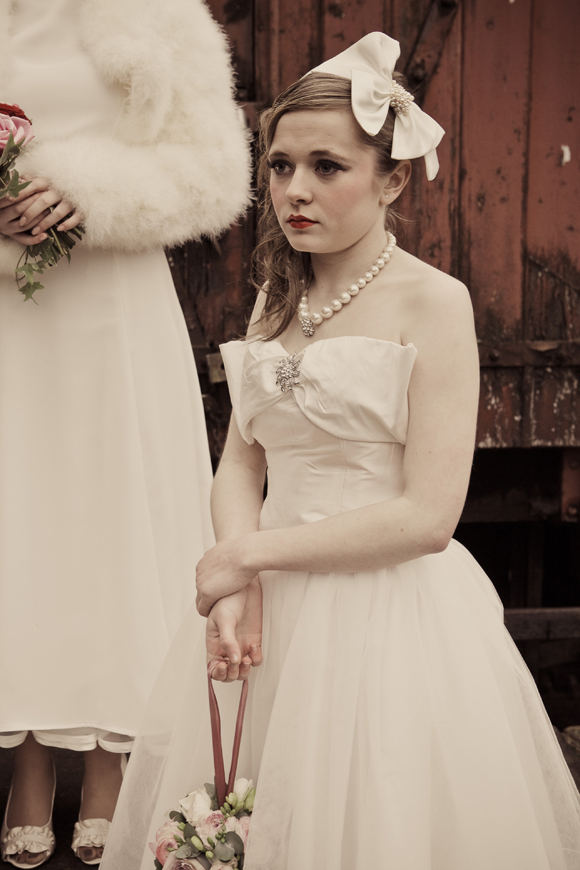 Now this, I love.
LOVE!
Linda told me "Brides-to-be will not only be able to find their perfect wedding gown through Dresses At No. 9, but also receive assistance with supplier selection through our personal recommendations."
♥   ♥   ♥
Dresses – Dresses At No. 9
Photography – Rob Booker
Accessories – HF Couture
Flowers – Leafy Couture
Hairstylist – Donna Judsen 
Make up artist – Leanne Anderson
XLocation – Ingrow Station
♥   ♥   ♥
I'm really committed to championing the homegrown wedding dress designer talent we have here in the UK and would urge anyone in the situation of having to find a wedding dress and who is looking for a bespoke design, to contact Linda for a chat – she is, I have to say, super lovely 🙂
Visit the Dresses At No. 9 website, email Linda Davey or telephone 01535 663389.  You can also follow Dresses At No. 9 on Twitter and join the Dresses At No. 9 Facebook page.  And Linda has a rather fabulous Wedding Dress Designer Blog too.
Linda has also previously contributed as a Guest Writer to the Love My Dress Wedding Blog when she wrote about How to Find Your Ideal Wedding Dress Maker.
You can learn more about Independent Wedding Dressmakers and Designers on the Love My Dress Wedding Blog here.
Leave your comments below. Have you found your wedding dress yet? What style are you erring towards? If you're a 1950's fashion loving girl, which style is your favourite – full circle or pencil straight? 🙂
Much love,
Annabel xXx
♥