Afternoon everyone 🙂 I'm having a realy wedding dress love kind of day, which figures really doesn't it, given the blog title!? 🙂
Did you see the beautiful Belle & Bunty ivory wedding dresses I featured earlier this morning? These dresses are so new they're not even on the Belle & Bunty website yet. They are just beautiful, I adore them all.  And I also adore the dress in this afternoon's real wedding feature. It's a real beauty.
Angie and James tied the knot on 7 August last year at The Riverstation, on the harbourside in Bristol and I must mention now that these beautiful photographs were kindly provided by the Award Winning Devon Wedding Photographer, Rosie Parsons – thank you so much Rosie.
Angie wears the 'Long Jean dress by Temperley London Bridal', which she purchased from The Mews, a small bridal boutique in Clifton.  I first featured Temperley London Bridal on Love My Dress back in December 2009 and I've been smitten ever since….
"I loved the 1940s vintage feel of the Long Jean, and the fact that it looked like no other wedding dress I have ever seen. I actually wasn't looking for a wedding dress at all, and had gone to the Temperley shop in London to look at other types of dress.
There happened to be a cancellation for their bridal section at that time, and the shop assistant kindly allowed us to take the appointment at the last minute.  The first time I tried the dress on my sister and mum cried, so we figured we may have found the right one!
The dress really was the starting point, I had fallen in love with it and everything followed on as a vintage style with a very modern twist…"
Love My Dress Wedding Blog – Photography Copyright (c) 2011, Rosie Parsons

I love these getting ready shots.  The process of getting ready as a Bride before your actual wedding ceremony is such a special, special time…
Just look at the Long Jean hanging in all it's resplendence…
Beautiful Daisy scent by Marc Jacobs…
Angie's Father presented her with a beautiful pearl neclace on the eve of her wedding, a purchase from Lime Blue Jewellers in Guildford…
Ken's Kars provided a gorgeous Studdebaker to transport the Bride…
"This was a complete surprise organised by my parents.  The first we knew about it was when the driver tooted outside our flat!"
The couple chose The Riverstation, on the harbourside in Bristol as their venue.  What an amazing space!
"We both have lived in Bristol for most of our adult lives and wanted to choose a local venue that was unique to the area. We searched for a venue where we could have both the ceremony and reception, and had originally booked an alternative place. 
After several problems we started to have second thoughts (quite late in the day) and looked again to find that The Riverstation had just got its wedding license. Luckily for us, The Riverstation had the same date available, the team were completely on our wavelength (particularly with the food and wine!) and everything just fell into place."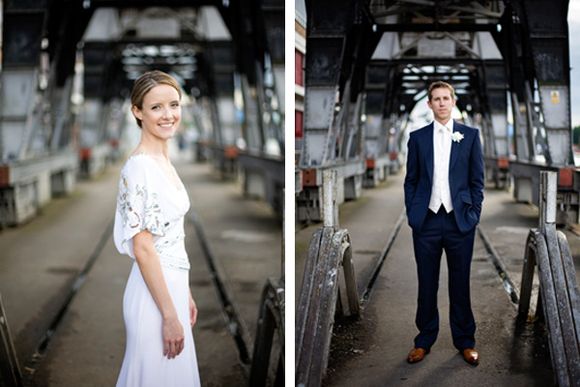 Edward Allen provided the couple's wedding flowers on the day…
"Edward is a local florist, who dresses many restaurants, bars and shops in the local area. Edward was absolutely brilliant, and totally got us and the type of wedding we wanted. 
He recommended Lily of the Valley for the bridal bouquet, which was perfect, especially as a memory of my Nan Lily, who passed away before I met James.  For the tables and decorations around the venue we had roses and hydrangeas…."
Words of Wedded Wisdom…
"Don't worry too much about the small details, your guests will enjoy the day regardless.  The morning will fly by, there really didn't seem enough time to take it all in before I found myself at the venue ready to walk down the aisle. Savour every moment, it really was the best day ever, we didn't stop grinning all day!"
♥    ♥    ♥
Brides dress – Temperley London, purchased from The Mews
Brides accessories – Hair Pins from Glitzy Secrets + Pearl necklace from Lime Blue Jewellers in Guildford
Grooms Suit – Marc Wallace
Photographer – Rosie Parsons
Venue – The Riverstation, Bristol
Hair Stylist – Amanda at Ego
Makeup Artist – Amy Elizabeth
Transport – Ken's Kars
Florist – Edward Allen
♥    ♥    ♥
Huge thanks Angie for sharing your elegant style with my readers today.  Congratulations on your beautiful wedding 🙂
Thanks too Devon Wedding Photographer Rosie Parson for allowing me to reproduce yet again a gorgeous set of photographs on Love My Dress…
"We  had come across Rosie's work a year or two earlier, as she was then working in Bristol.  We fell in love with her style of photography and loved the idea of having something a little different from more traditional photography."
You can see from Award Winning Photographer Rosie Parsons on the Love My Dress Wedding Blog here.
Share your thoughts below, and have a lovely afternoon everyone 🙂
Much love,
Annabel xXx
♥