Good morning everyone :)  WOW! I've been up since 5am today, but the electricity went off for half an hour and I wrote 22 emails in that time! Amazing what you get done when the internet isn't working!
I love when a Bride submits her own wedding and when the lady in question looks as beautiful as this, I love it eeeeeeeeeven more.
Miriam & Bruce tied the knot on 23 December 2009 at Auberge du Lac, a Michelin Star restaurant, which is a part of Brocket Hall in Hertfordshire – a venue chosen by the couple not only for it's amazing food, but because this is where Bruce proposed to Miriam on their 5th anniversary of being together.
Miriam looked breathtaking in her glamorous Jenny Packham gown, and cape by Joanne Fleming…
"I love Jenny Packham dresses and went to try on some to her bridal boutique, but they have been all a bit over my budget! Then I was browsing the internet and realized one of the dresses I loved was for sale as a sample online for half the original price – by Silk Brides bridal boutique.
I called them (they were too far away for a visit) and asked why they were selling an almost new Jenny Packham dress from a new collection – and supposedly it had been tried on by few brides but didn't fit properly.  The dress would only suit a really tall bride! So I took the risk and got it straight away – I am 5'10'', so I hoped it would fit – and it did!
Joanne Fleming designed a beautiful bespoke ostrich feather cape for me and very kindly helped me with making sure the dress also fitted perfectly. I am addicted to Joanne Fleming Designs – she is such a talented lady – she designed a 1930's dress for my wedding party and I managed to snap up another of her designs on eBay during one of her rare sales…"
Love My Dress Wedding Blog – Photography Coypright (c) 2011, Neil Horne, Eye Imagine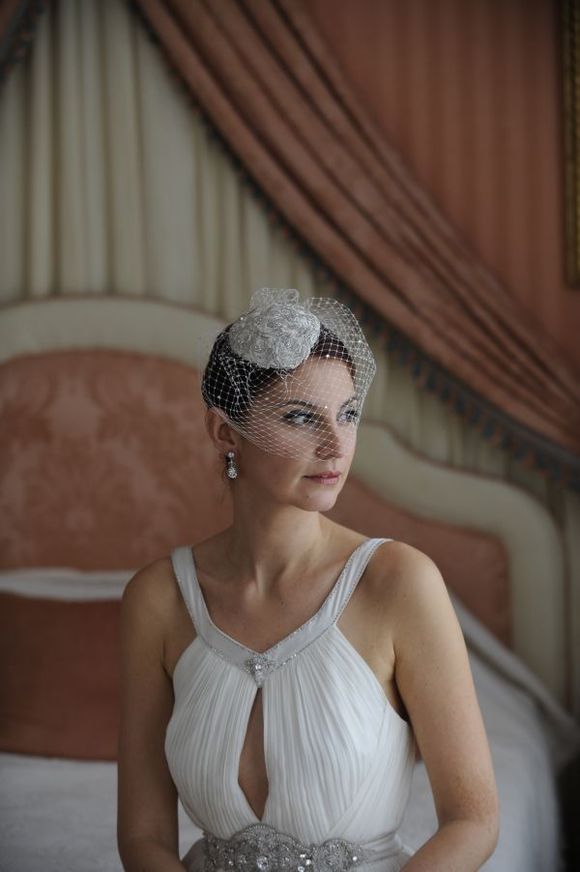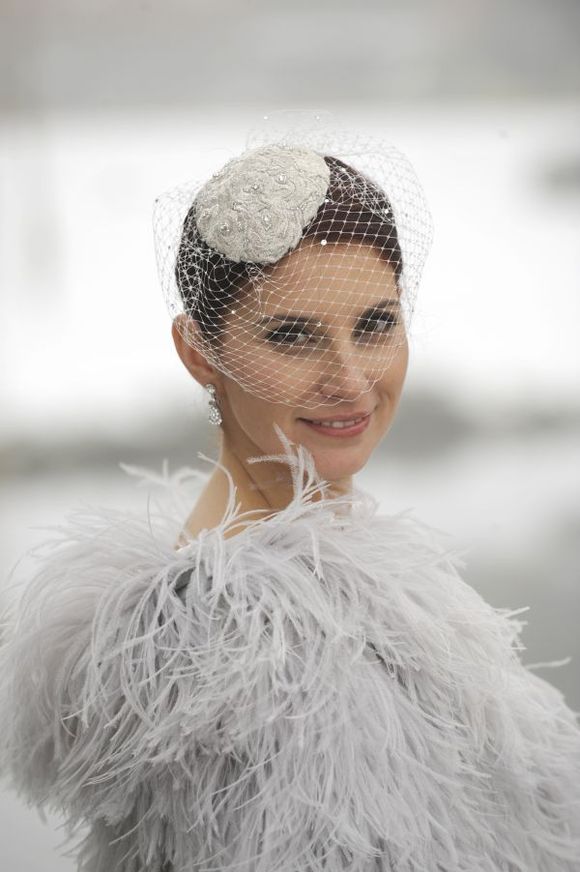 "Due to my family living abroad, we planned our small civil ceremony at Christmas time, when they were visiting us. It was only a handful people, it was very intimate and magical, everybody was in the festive mood, very excited and it was a lovely family event with our 3 children and closest and dearest. We knew we are going to have a huge wedding party a month later,  so we wanted to make this wedding about us as a family. We got all a bit overwhelmed by the event – I cried through the majority of the ceremony! Our youngest daughter, 2 at the time, kept climbing on us during the ceremony, hugging us both tight and being very excited.
It gives me goose bumps every time I think about it! I felt so very blessed for all I have. And the day after it was Christmas eve – my whole family stayed over for Christmas so we had a few days long celebration going on…"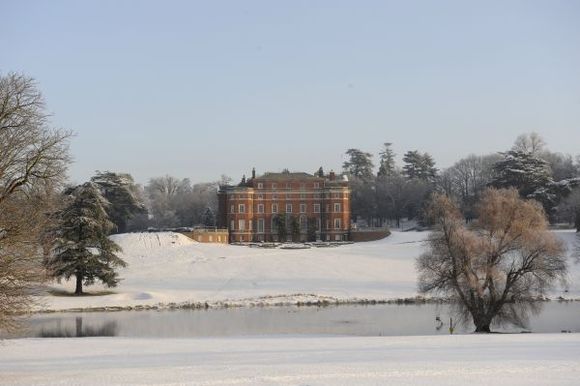 Miriam purchased a pair of earrings and a bracelet from Glitzy secrets…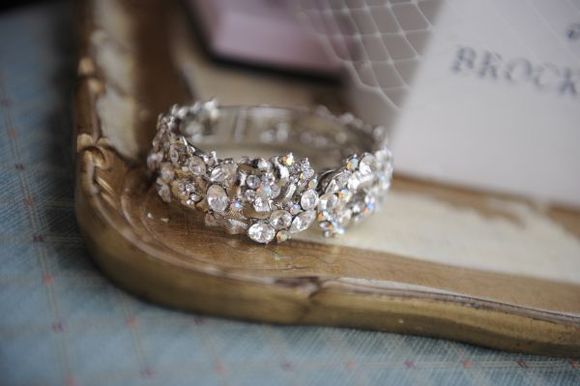 Miriam wore 'Pink' by Paradox shoes, that she decorated herself with flowers and feathers…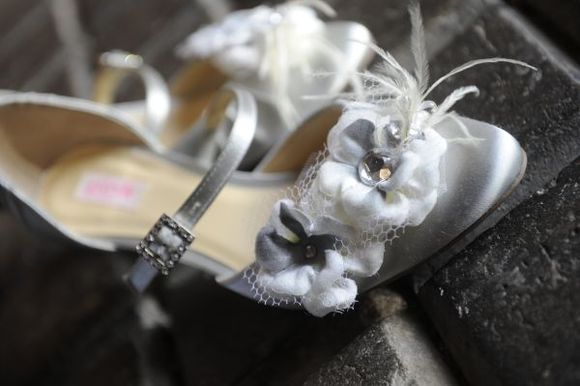 "Emily Gray, small local florist, provided our floweres.  As the wedding was a day before Christmas and the venue had some Christmas decorations on, we decided to keep the flowers very basic – just a small arrangement for the registrar table and flowers for the bride and maid of honour +a little flower arrangement at the back of each chair in the private dining room…"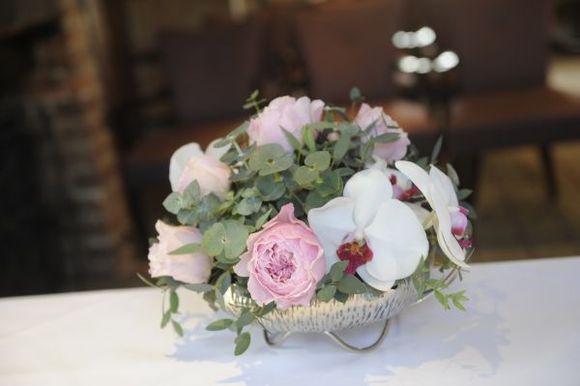 …"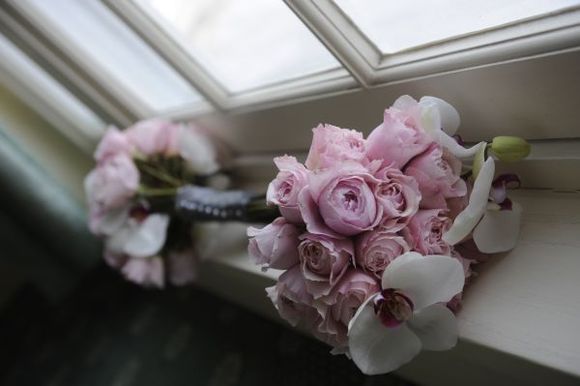 Miriam's birdcage veil was a purchase from a seller on Etsy…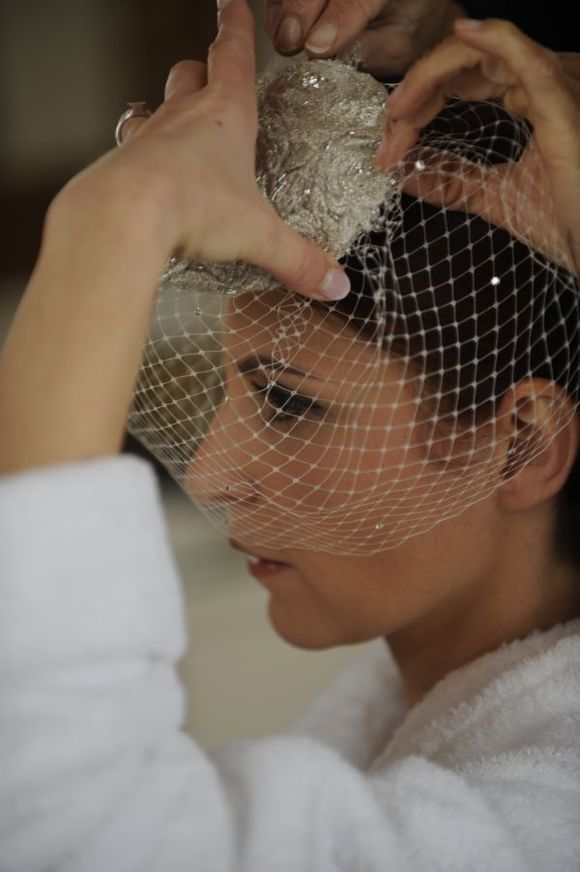 What a beautiful bridal backdrop necklace…
"My back drop necklace was a bespoke design by Debbie Graham Jewellery – she actually named the necklace, which is now for sale on the Debbie Graham Jewellery website, after me…"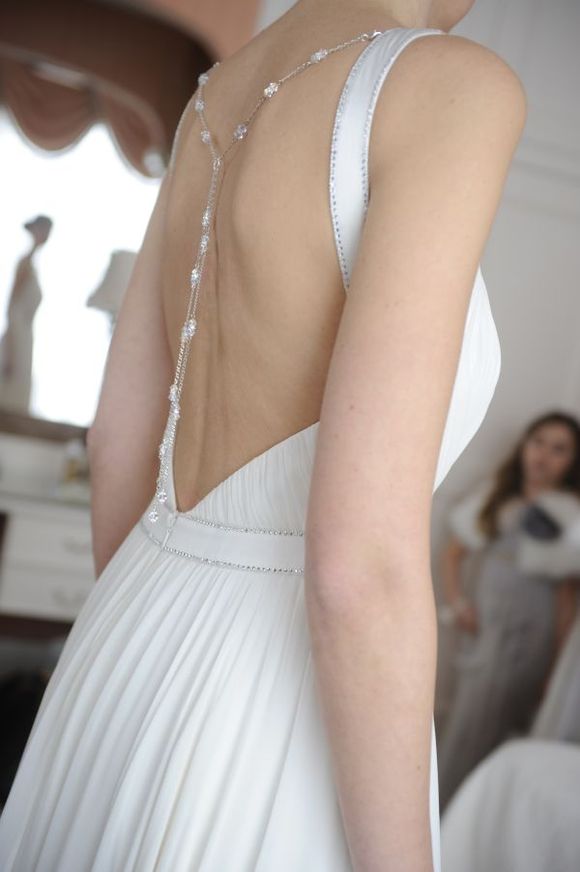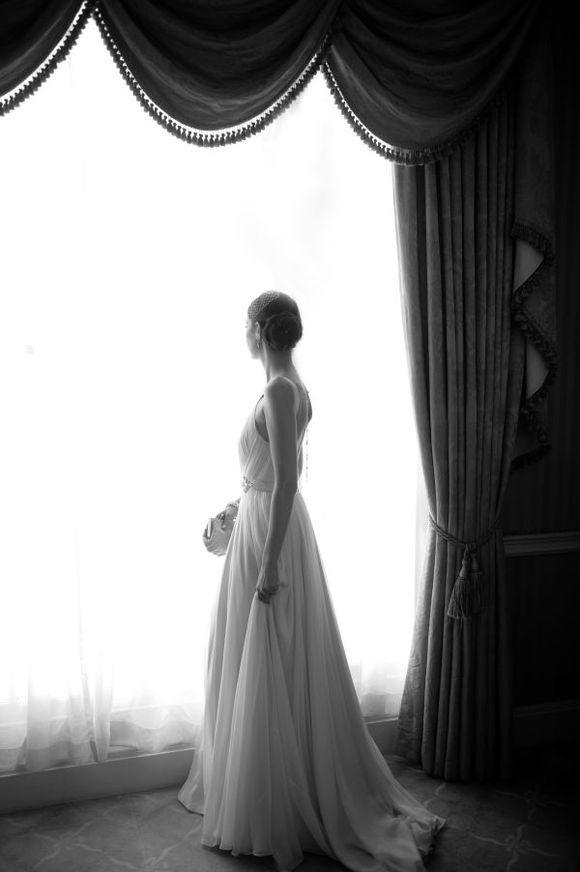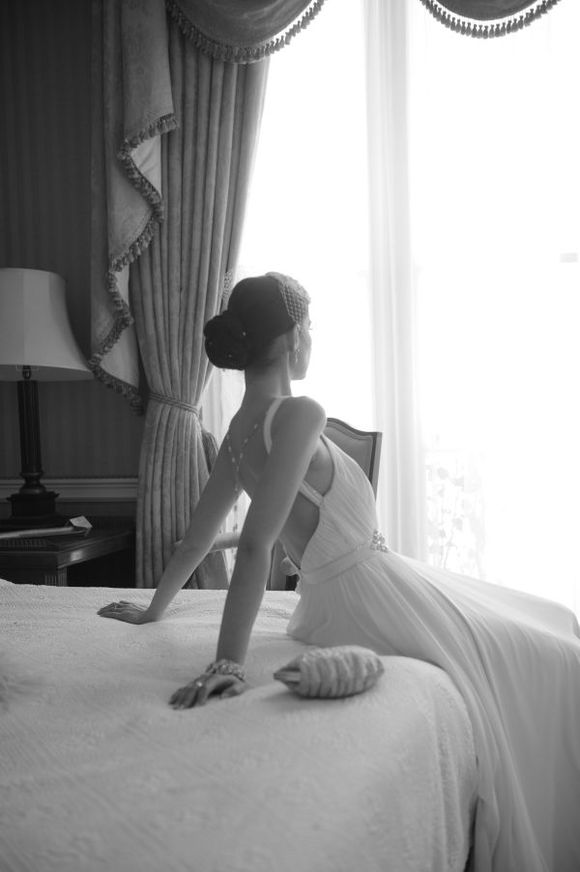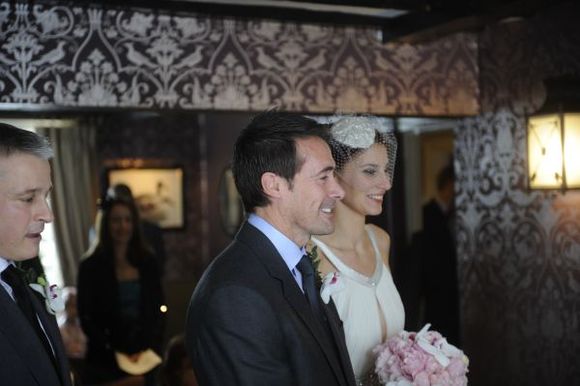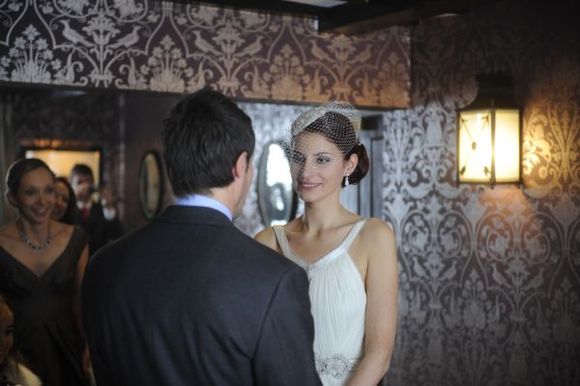 "My ring was a cocktail vintage ring from 1920's – I love this era and we looked in lots of vintage shops, till we found the one we loved through a small vintage jewellery shop selling through eBay…"
Miriam, you have such excellent choice – I also went for my wedding ring (I wasn't interested in a traditional band) and my antique art-deco aquamarine wedding ring is strikingly similar to yours – I just adore it…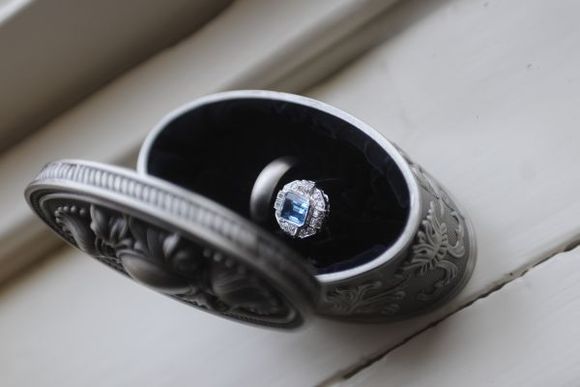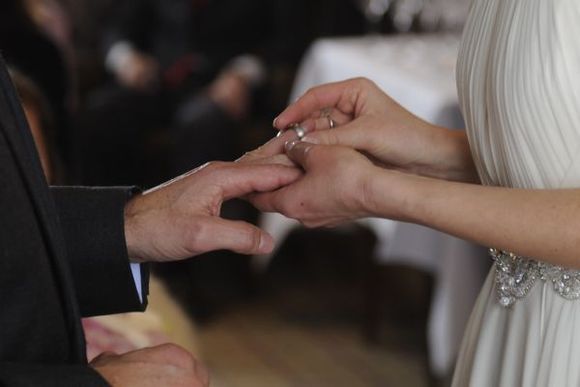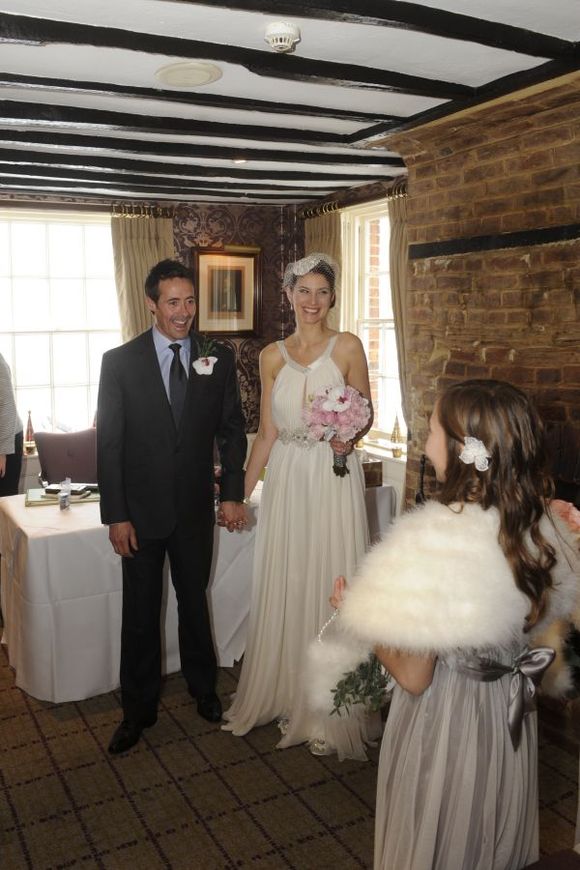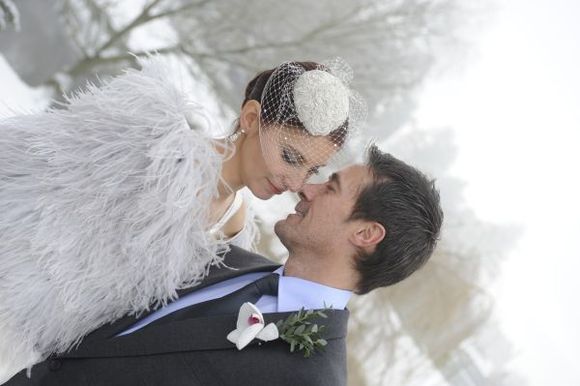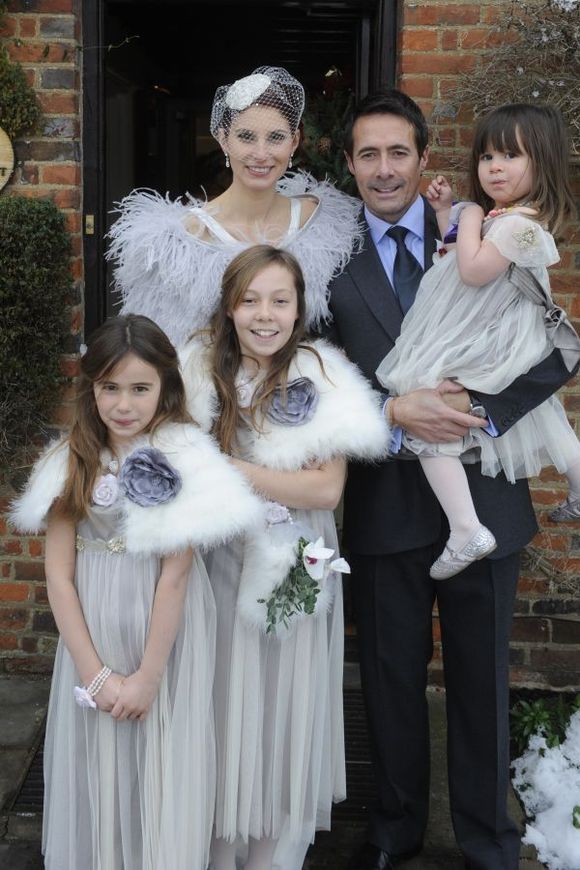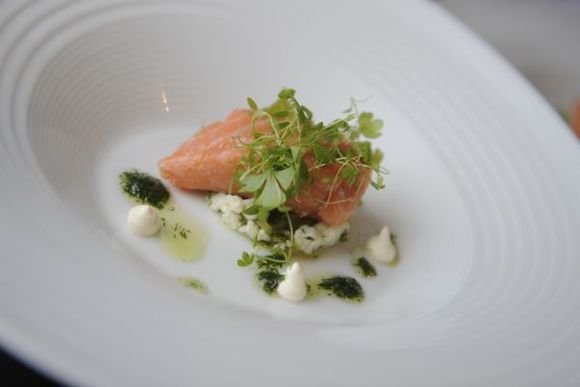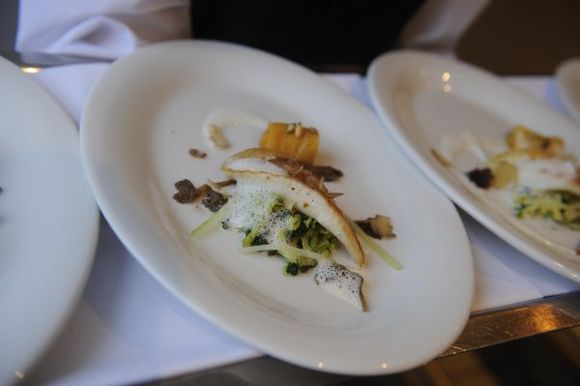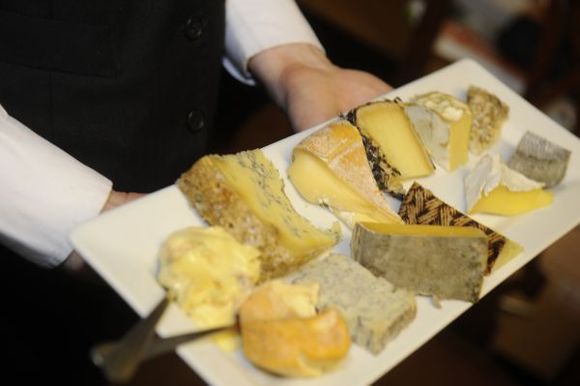 After their intimate wedding ceremony and reception, the couple went on to the 5 star boutique hotel, The Sanderson, in London…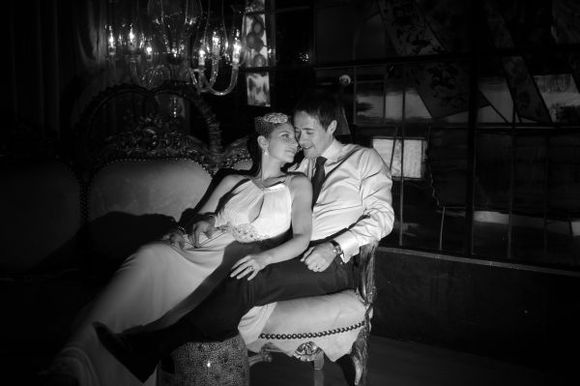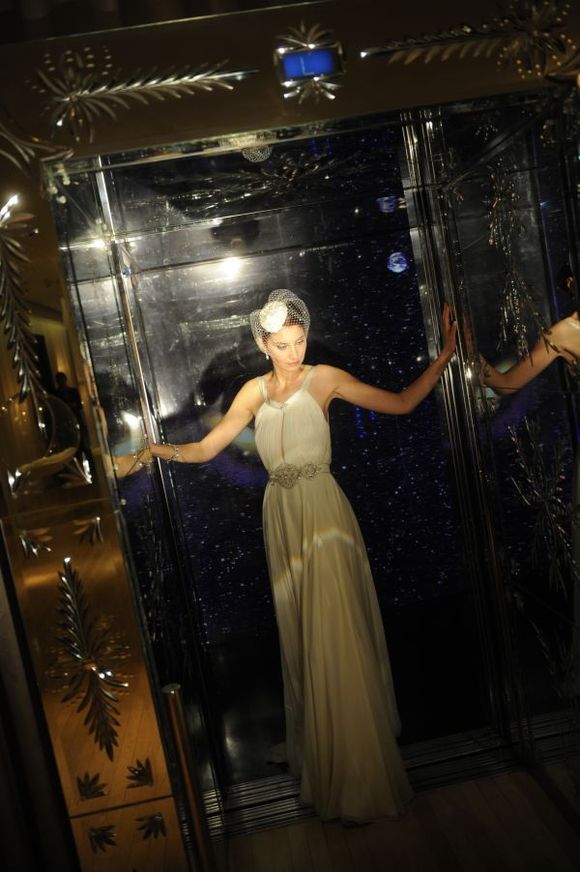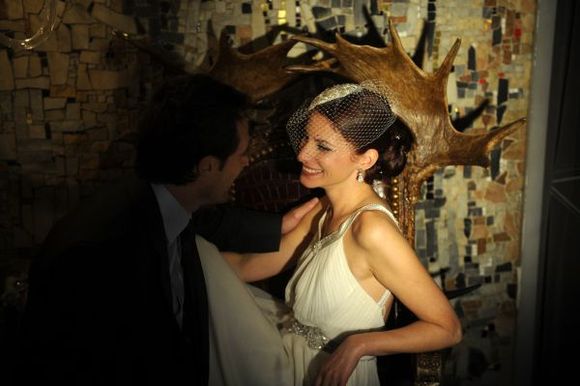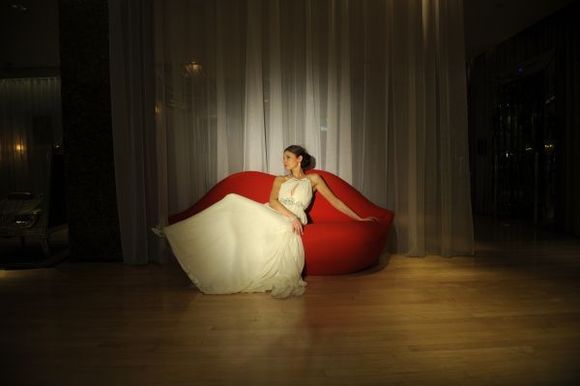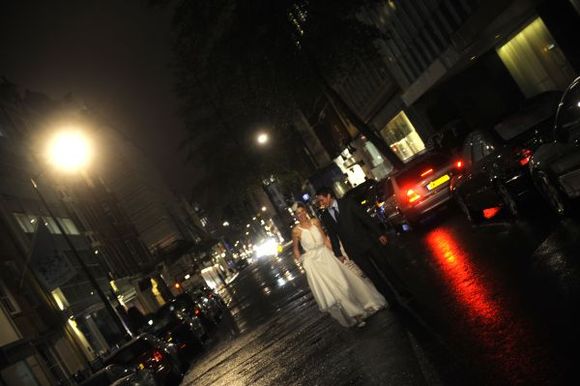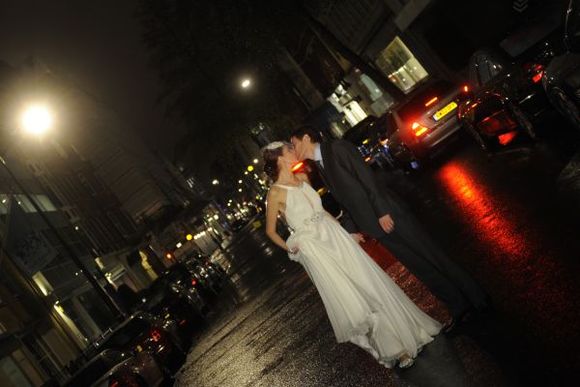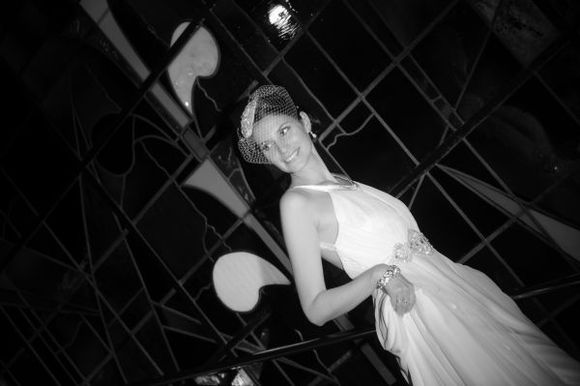 Words of Wedded Wisdom…
"I got very stressed a week before my wedding – had to work till last minute and it was snowing and very cold all the week, so lots of things didn't go to the plan at all (for example the beautiful David Austin roses delivered a day before the wedding haven't opened their blooms and were very small because of the cold!) Suprisingly, it didn't matter at all – it was such an amazing and special day and we were both so very happy – everything seemed to be perfect exactly the way it was.
Knowing what I know now, I would forget all the worrying, take a few days off and just enjoy the last  few days before the event. I was still very radiant on the day  – being in love and happy makes you beautiful whatever the weather!"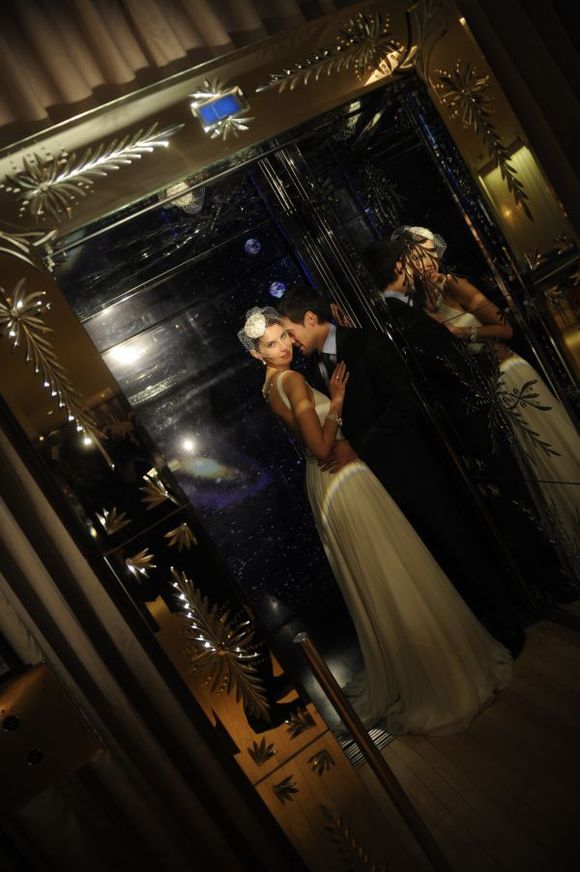 ♥    ♥    ♥
Brides dress – Jenny Packham
Brides shoes – Pink by Paradox, decorated by the Bride with flowers & feathers
Brides ostrich feathrer cape – Joanne Fleming
Brides birdcage veil – Etsy
Flowergirl dresses & accessories – Monsoon
Photographer – Neil Horne, Eye Imagine
Venue – Auberge du Lac
Flowers – Local Florist
Rings – Antique deco ring, EBay purchase
Hair & Makeup Artist – Pam Wrigley
♥    ♥    ♥
Soooo very glamorous – rather a lot to take in first thing on a Friday morning huh? 🙂
Huge thanks to Miriam for sending in her beautiful wedding photographs, and thanks too of course, to Photographer Neil Horne for so kindly allowing these images to be reproduced.
You can see more Jenny Packham Brides on the Love My Dress Wedding Blog here.
Much love all,
Annabel xXx
♥