Time for a little colour explosion.
Kate and Steve tied the knot on 12 March this year at Crear, Kilberry, Argyll, Scotland.
I can't tell you just  how much I adore this wedding.  Bride Kate is not only beautiful, but she's also a rather talented Graphic Designer.  All of the Stationery and decor was created by Kate's own fair hands – with a little help 🙂 The couple made all of their own bunting (yes all 80 metres of it!) as well as the pretty hessian table runners.  Surprisingly, Kate tells me, it was mostly Steve's handy work on the sewing machine 🙂
Kate's dress was a simply beautiful find at The Vintage Wedding Dress Company in London…
"Having visited only a handful of shops in London with off the peg Wedding dresses I decided to go to The Vintage Wedding Dress Company mainly because I just didn't see anything that I liked. Only being 5 ft 4″ I was finding it hard to find something that didn't completely swamp me. Walking in to VWDC was like a dream, every dress was completely different to what I had seen elsewhere. I tried on about 15 different dresses but the dress I finally decided upon was the first dress that caught my eye.
The only thing that worried me was that the one thing that Steve said to me was "No, lace!" the only problem was – the dress I had fallen in love with had lace on. This kept ringing through my ears for the entire year before the Wedding. We had the dress in our house and at times I was desperate to show him, but of course I didn't. Needless to say on the day, he actually said it was exactly what he had imagined I would wear."
Love My Dress Wedding Blog – Photography Copyright (c) 2011, Mark Wallis

The couple's chosen wedding venue was Crear, Kilberry, Argyll, Scotland…
"We had been looking around for venues in London and discovered that not only were they extremely pricey but none of them would allow us to do exactly what we wanted to do in terms of decorating and set up. We really wanted to do a lot ourselves and the time constraints that we were being given for set up was making it virtually impossible for us. We knew that we didn't want just any old Wedding, a lot of the venues we visited made it feel like an every day chain of events which made it feel really impersonal. I stumbled across Crear on the internet and thought it looked impossibly beautiful, I had never even been to Scotland so we decided to take a trip up there for a weekend to check out the venue, and decided if we didn't like it then at least we had visited another part of the country! Needless to say we absolutely loved it."
"Everyone at Crear was so welcoming and the space was perfect. The fact that we could hire the venue and sleep 18 of us there for three days for the same price as a one day hire of a venue in London seemed too good to be true! It wasn't – so we decided to book for 18 months time.
Everyone at Crear also really understood what we wanted our Wedding to be like and they never once flinched when we told them our ideas – they didn't even freak out when we pulled up with a hire van full of decoration the day before our Wedding!"
"Gill Stewart at Crear did our flowers. We knew what we wanted in terms of the look of our flowers being in jars and vases but really didn't have a clue what the flowers we liked were called so we sent Gill a mood board of collected images of what we liked and the colours we were after and left it with her, she was absolutely brilliant and really stuck to our budget too, which is an added bonus! We collected all of the jars, vases and milk bottles over the two years we were engaged and took them all with us."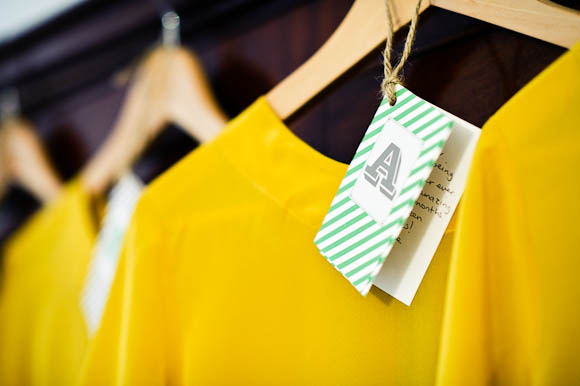 Kate did her own make-up, but she did have a lesson at the Bobbi Brown counter in Selfridges and then bought far too many products to use on the day.
Lilia from Heaven Salon in Ardrishaig did her hair…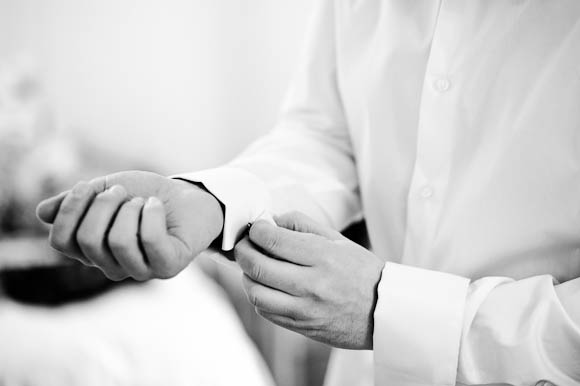 Kate's Dad gave her away and at the last minute Steve decided he wanted to make an entrance so his best man and two little nieces gave him away!
Kate Walked down the aisle to John Egdell 'I like you' and Steve walked in to David Sitek 'With a girl like you'. The couple walked out as man and wife at the end of the ceremony to Miracle Fortress 'Maybe Lately'.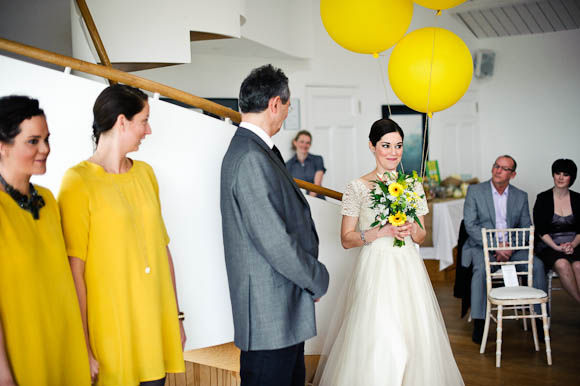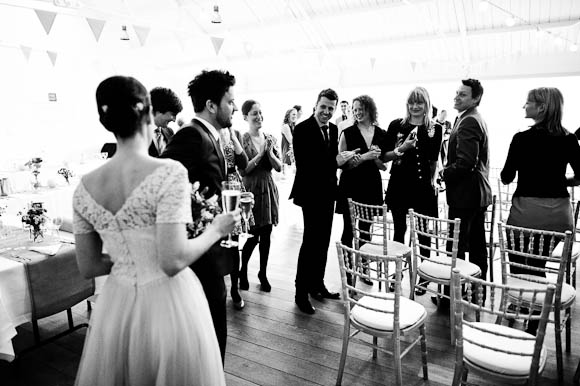 "We started off looking at tonnes and tonnes of different websites and putting together different mood boards of what we liked, this was actually the easy part. Cutting it down was the hard part! In terms of colour we knew what we absolutely didn't like, and somehow yellow, green and grey really sat well with our personalities and the season. We could have done with less of the grey from the weather on the day but the yellow and green really made it feel like it was (almost) springtime!"
"Cupcake in Glasgow, which is run by Top Tier Cakes, made all of our cupcakes and giant cupcake and Kate designed and made the flag toppers.
We knew that we really wanted Cupcakes so it was more of a case of what we could find on one of the few visits we had to Scotland before the Wedding. The giant cupcake was more of a fun addition after we had visited the shop as we saw one on display. Neither of us have ever liked the traditional fruit cake you are given at Weddings so we decided to give something to people that they would actually like!"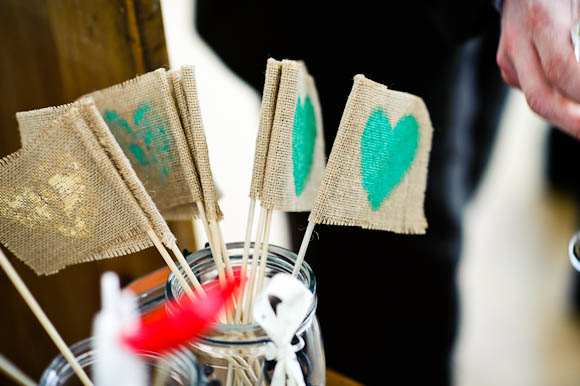 "We had a wishing tree where people could write down a piece of advice/comment and tie it to the branches of the tree. We also had a polaroid wall where we had frames, FIMO lips and moustaches as well as speech bubble boards, flags and a wall we made for people to stand in front of all of which were homemade by Kate and Steve and Steve's dad. This was probably one of the most fun parts of the day as it really got everyone involved and chatting. We also had a date poster where people had to pin in their name flag on the year that they met each one of us. As well as this we had a sweet and biscuit (homemade by Kate and the bridesmaids) table for people to take home goodie bags at the end of the night (or eat throughout the night)."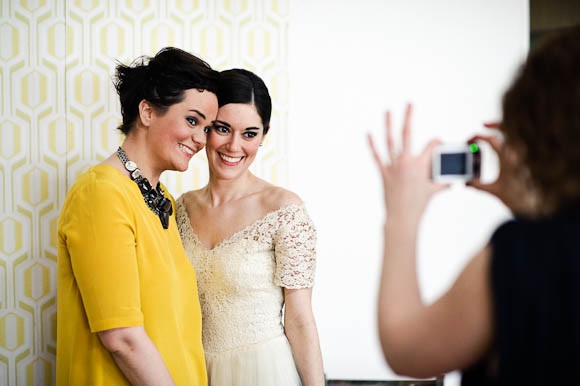 The couple danced to Nick Cave and the Bad Seeds 'Into my Arms'…
"We used my laptop for the music and compiled lots of different playlists for different times of the day…."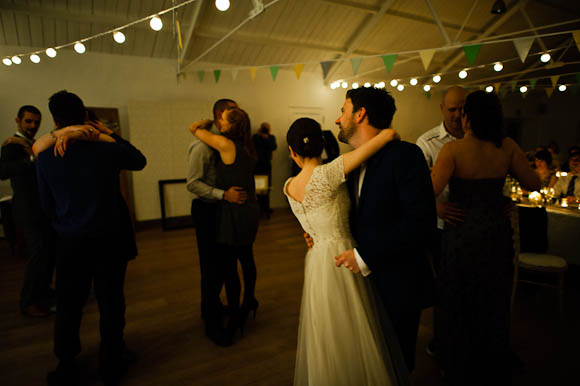 Words of Wedded Wisdom…
"Always remember that although your Wedding day will absolutely be one of the most special days in your life without a doubt, in reality it is only ONE day out of many more days together. It is sometimes easy to become Bridezilla over the tiniest things – we all do it at some point. As long as you try and remember the above you should be fine.
Absolutely do try and do things yourself. Having done all of the design and artwork for everything at our Wedding it made the day all the more special and rewarding. It would have been much easier just to buy it all believe me! It made us much closer as a couple and also meant that I now have a fantastic husband who can sew! I actually look back to before Wedding planning and can't believe how much time I used to spend watching TV. I'm now of course inundated with friends who suddenly need Wedding Stationery, but I absolutely love it!"
♥   ♥   ♥
Brides Dress – The Vintage Wedding Dress Company
Brides shoes – Kurt Geiger
Brides hair accessory – Love Honour Upcycle, on Etsy
Bridesmaids – Topshop
Groom – Bespoke
Venue – Crear
Photographer – Mark Wallis
Flowers – Crear Florist
Cakes – Top Tier Cakes
♥   ♥   ♥
Now tell me this isn't one totally fabulous wedding, beautiful in every way, from the dress down to every tiny detail in the decor 🙂
Huge congrats to Kate and Steve for pulling off their perfect wedding 🙂 Thanks too to Photographer Mark Wallis…
"Mark was the perfect photographer for us – the last thing that we wanted was the usual bog standard 'stand in a line' Wedding photographer and that's exactly what Mark wasn't. He was in the background capturing every moment right from the start. It just felt like we had a friend taking our Wedding photos. He was there when you wanted him to be and was great at giving advice at exactly the right times in the day.
Something that is particularly vivid in my mind is when Mark simply said to me sit down and breathe in a very stern but calm voice – just as I was feeling slightly stressed just before I put on my dress, which is exactly what I needed at the time."
Much love,
Annabel xXx
♥