Good Friday afternoon people 🙂
I've a super lovely wedding to share with you today, sent in by an equally lovely Manchester Wedding Photographer, Anna Hardy.
Sarah and David tied the knot on 19 March this year (a day before my wedding anniversary!) at The Athenaeum, Liverpool.
Sarah wore a Kate Moss for Top Shop dress…
"I loved all the beading and detailing on my dress. I completely fell in love with the way the dress had an illusion panel at the back which I thought was subtly sexy.  
I was looking into having something made for me but then I found myself in Top Shop and spotted a dress which was something like what I had in mind but better than I could ever have come up with.  The only thing that stopped it being a wedding dress was that it wasn't white.  I liked it, I was comfortable in it and I could dance in it.  I decided it was a wedding dress after all…"
Love My Dress UK Wedding Blog – Photography Copyright (c) 2011, Anna Hardy

"We chose The Athenaeum because it smelled of books!  We were able to have our wedding ceremony in the library surrounded by books and if you could see our house you would immediately understand why that idea appealed to us. 
The building itself is very handsome and is a 1920s replica of the original club which was originally on Church Street.   We thought our friends and family would be comfortable spending the day there as there were separate floors for the ceremony, wedding breakfast and for the drinks and dancing."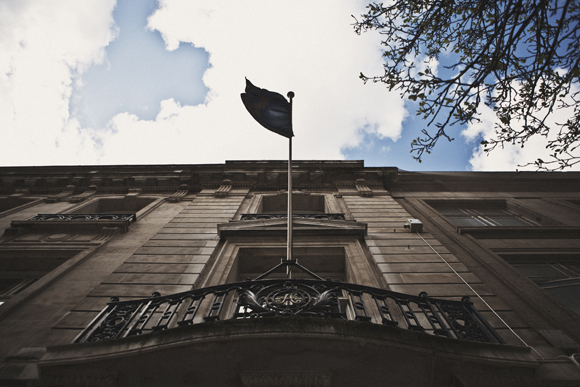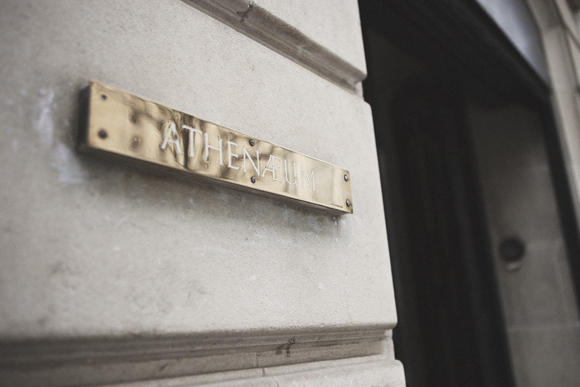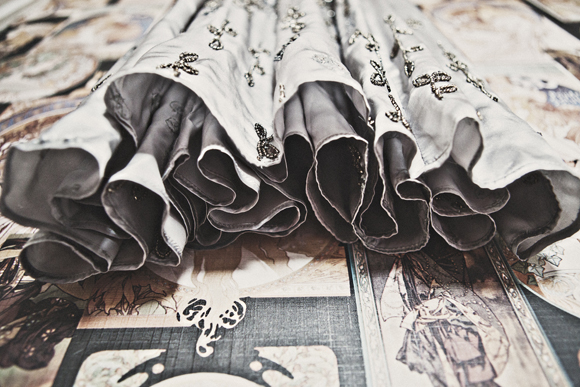 "It was tricky to find shoes in a colour that went with the dress.  In the end I found some metallic Eighties court shoes in a vintage shop on Brick Lane in London.  I'm still not sure what colour they actually were.  Gold? Pewter?"
"I used some of the things I wear every day and bought a few new lip and eye pencils from Bourgeois and from the Japanese brand Shu Uemera.  I must have been in some kind of pre-wedding daze-cum-panic the week before the wedding because I chose a new Shu Uemera foundation which I only noticed was not quite the right shade when I applied it on my wedding day. The days before your wedding are perhaps not the best time to be making life-changing decisions such as switching to a new foundation!"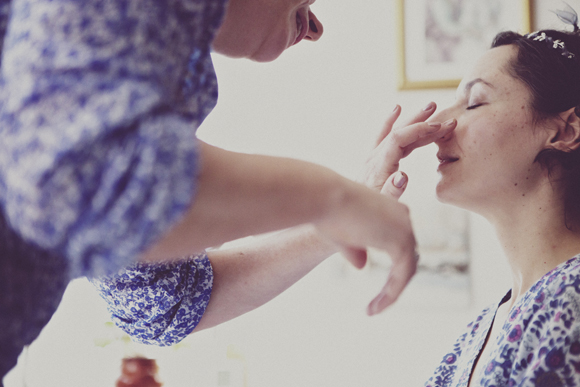 "David wore the Chesterfield suit in Persian Blue from Beatwear in Cavern Walks in Liverpool.  As David wears a suit to work every day – and sometimes even a three-piece suit – he wanted something a little different, something special that he wouldn't wear to the office. 
Beatwear sells classic, sharp sixties suits. The kind the Beatles wore – and we were getting married in Liverpool after all…"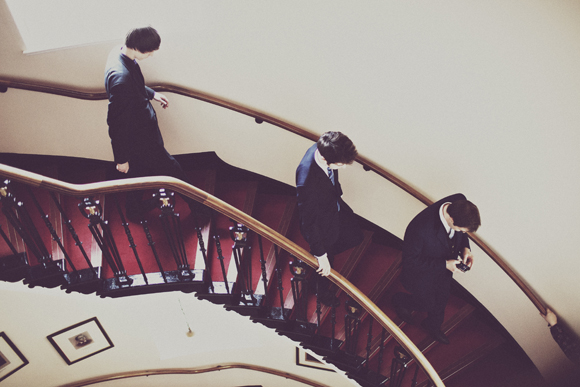 "Before the wedding I occasionally wondered whether I would regret not taking up my one chance to wear a white wedding dress and I was a bit worried about not looking like a bride but I can honestly say that I'm happy I chose something else and have no regrets…"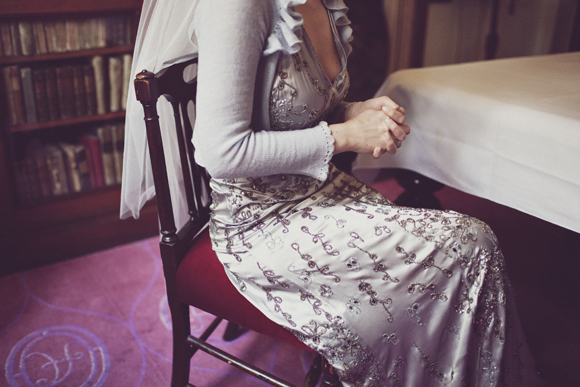 Sarah made her own veil…
"It was made from a couple of metres of tulle and a plastic comb from John Lewis and was easy to do.  Wearing it was a way of allaying my concern that I wouldn't look like a proper bride if I wasn't wearing white. 
I needn't have worried,  the beaming smile stretched across my face all day was the clearest sign of all that I was the very happy bride."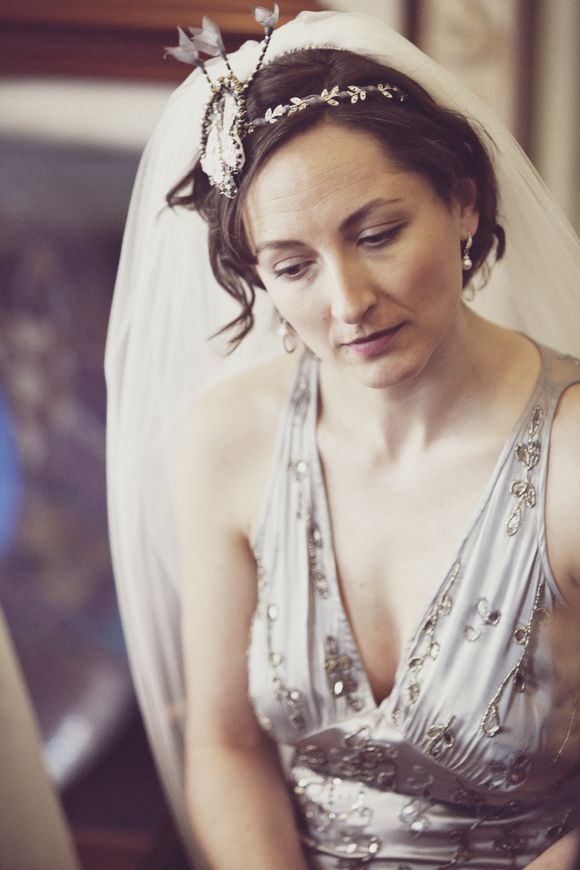 "My maid of honour made her own dress from a fabulous fabric which was an off-cut from when her mum was a bridesmaid back in the 1950s.  It was shot silk and had an iridescent  violet effect across the background of blue.  It was an incredible material and a very clever bit of recycling…"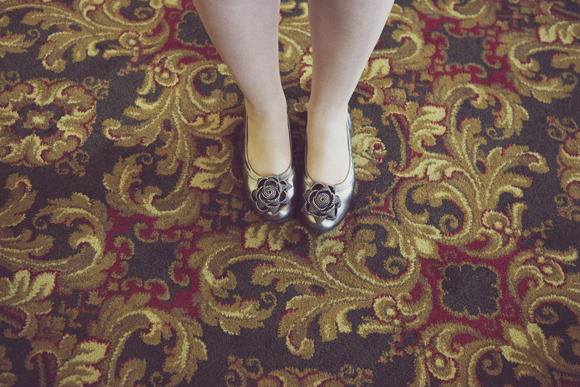 "I originally wanted to hold the wedding at the church where my mum and dad got married but it's long since been knocked down.  I just thought it would be nice to follow in a tradition and it would make so many decisions easier.  They had their reception at my gran's house but she is sadly no longer with us.  So back to the drawing board. 
The most important thing for both of us was to have a relaxed atmosphere and for our guests to be comfortable.  I liked the idea of the wedding feeling as if we were having a big party at home and the venue we found did have that cosy feel – while admittedly being quite a lot grander than our actual home!
We were also very keen to get married around the time of the Spring equinox.  My birthday is near the Autumn equinox – which is commonly taken to mean the time when day and night are of equal length.  We liked the idea of spreading out our family celebrations over the year.  David's birthday is near Midsummer's day and with Christmas we now have something to celebrate every three months. Others find it confusing but it makes perfect sense to us.  We included the Spring theme in some of the music and readings we chose and by using daffodils in our table flowers.  I really like the symbolism of Spring and new beginnings which seemed perfect for a wedding…"
"After some thought we chose 'Moon River' by Andy Williams for me to walk down the aisle to.  It's the one Audrey Hepburn sings in the film Breakfast at Tiffany's and David has always loved it.  On the first day of our honeymoon he got up early and listened to it again and, for me, seeing how much that song now means to him was one of the most lovely parts of getting married…"
Oh Sarah, you just brought tears to my eyes! This is the very tune I had played when I walked down the aisle too 🙂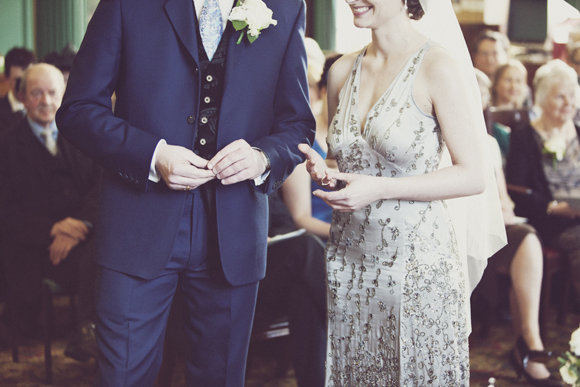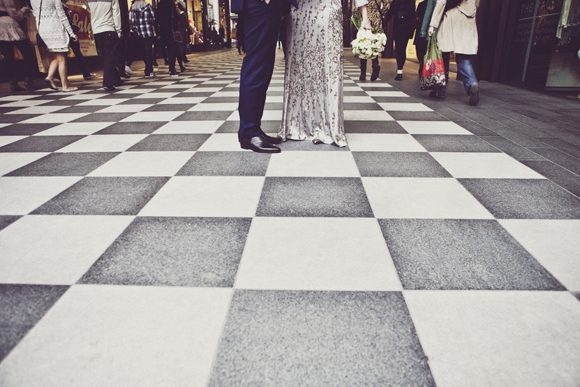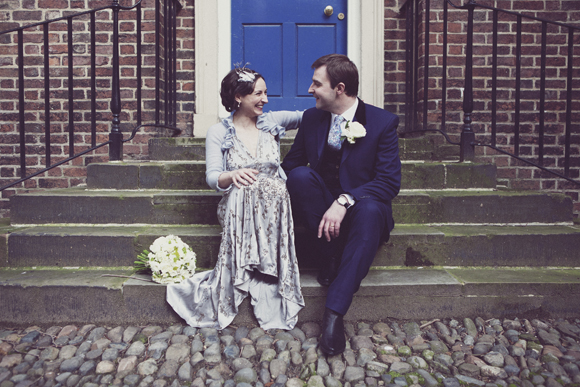 Sarah's 'Foxglove cardi-shrug in snowcloud' was by Makepiece in Todmorden
"I was delighted to find somewhere with eco credentials and the people at Makepiece were incredibly helpful.  They sent out a couple of pieces from their collection for me to try at home and were great at helping me to find just the right colour.  Weddings are notoriously the complete opposite of environmentally friendly in that there are so many things which are bought to be used only once.  I'm happy to say that I've worn the cardi-shrug several times since the wedding…"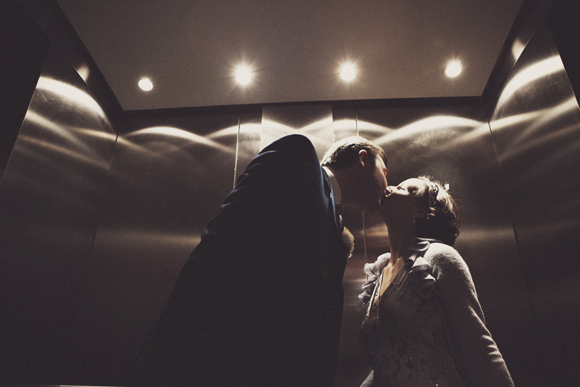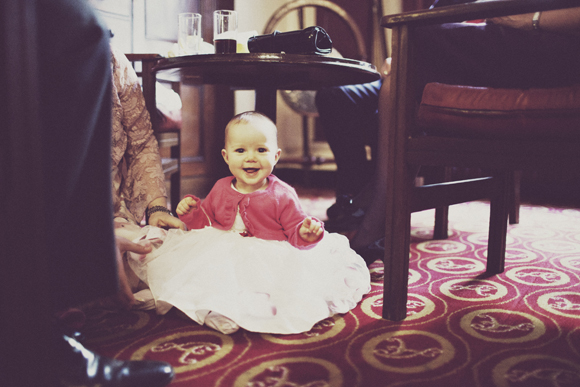 "A friend of  a friend made the cake for us and did a fantastic job.  I'd seen a picture of a  wedding cake online which I really loved and she produced an even better version for me.  I really liked the way the white flowers stood out against the yellow icing…"
"We also ordered a cake of cheese from the Liverpool Cheese Company which was absolutely delicious.  I only know how it tasted because before the wedding they kindly gave us samples of all the cheeses used.  On the day itself the cheese disappeared in record time so it must have been good…"
"We had our first dance to the Fats Domino version of 'In the Mood for Love'.  His voice is so deep and gravelly and to me the lyrics are perfect for when you're getting married…
"Why stop to think of whether
This little dream might fade?
Let's put our hearts together
Now we are one, I am not afraid."
We had dance lessons.  At my insistence.  There was no way I would marry a man that I couldn't dance with and then for the rest of my life be forced to be alone on the dancefloor.  Jess at Start the Dance was a wonderful teacher – encouraging and patient and she gave us confidence that we could do it.  She's also a lovely, lovely person and gave me the best bit of wedding advice ever; the honeymoon is for you, the wedding is for other people. 
All our friends and family were wildly impressed with our first dance and enjoyed watching a bit of a show.  They keep saying we were like Fred Astaire and Ginger Rogers and honestly we were not – but I enjoyed the dancing so much.  I think our first dance might be my favourite part of the whole day and I'm looking forward to dancing with my new husband lots more in the future."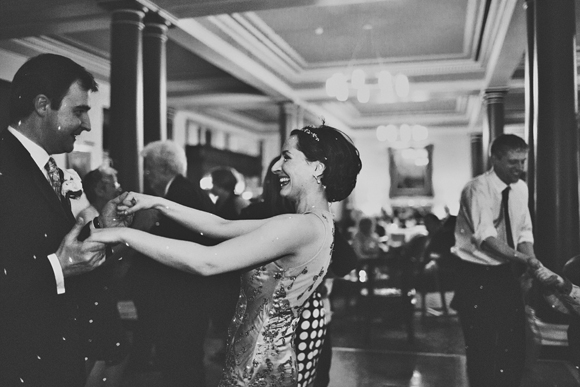 Words of Wedded Wisdom…
"The words of wisdom from our dance teacher Jess were invaluable to me on the day – that the wedding day is for other people and it's the honeymoon that is the time that is for just the two of you.
We did have to work quite hard on the wedding day because we had organised everything ourselves and because we wanted to make sure our guests were made welcome and looked after as well as possible.  With hindsight, I think getting a professional in to co-ordinate events on the day would have been well worth the money.  The venue had promised much and assured us they would deliver exactly what we wanted but although they were very well-meaning in practice their organisational skills were disappointingly poor.  
"I'd had a gut-feeling during the wedding planning that the venue was not really on top of everything and I wish I'd listened to my instinct on this rather than being overly concerned to try to avoid behaving like an anxious bride. 
Don't let the fear of being labelled a 'bridezilla' stop you expecting people to do a professional job for you.  Labels  are usually there to make it easier for someone else to take you less seriously.  You're not a bridezilla you're a grown-up customer spending cold, hard cash.
A wedding planner who could have just helped things run smoothly on the day would have been invaluable.  There weren't any disasters it just seemed as if the people I'd spoken to at the venue throughout the planning process  had failed to communicate properly with the people actually running the event on the day.
Don't be surprised to find that your wedding has a lot of meaning for other people in your life too and some of your nearest and dearest may find it very emotional and stressful. If at all possible try to have someone around you who is able to put their own feelings aside and be there just for you.
And finally you will never regret time and effort spent in finding shoes which are comfortable enough to wear all day long."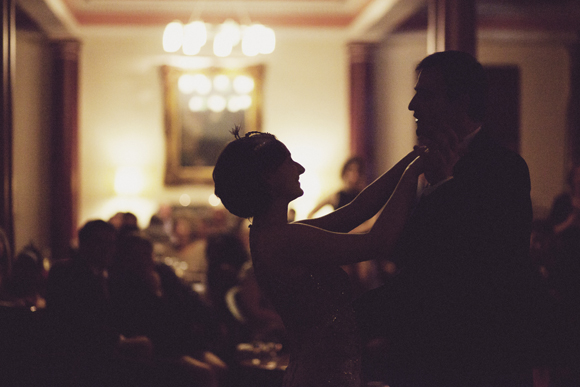 ♥  ♥  ♥
Brides dress – Kate Moss for Top Shop
Brides shoes – Brick Lane, London
Brides hair accessories – made by the Maid of Honour
Cardigan – Foxglove cardi-shrug in snowcloud by Makepiece in Todmorden
Bridesmaids Dresses – Handmade
Groom – Chesterfield suit in Persian Blue from Beatwear
Venue – The Athenaeum, Liverpool
Photographer – Anna Hardy
Cake – Made by a friend
Flowers – Fishlocks
Entertainment – Merseyside Mobile Entertainment
♥  ♥  ♥
Just a lovely Wedding for a Friday afternoon 🙂
You can see more from the wonderful Photographer that is Anna Hardy here…
"Our photographer was Anna Hardy who was brilliant and fitted in so well that it seemed perfectly natural to have her there.  I originally thought wedding photographers prices were quite high but when I saw how hard Anna worked and how much effort, dedication and love she put into her work I thought she was a bargain…"
Leave a comment and share some love.
Much love all,
Annabel xXx
♥