NHS Clinical Psychologist Lizzie married Film Journalist Ben in the vibrant city centre of Liverpool on 15th October last year. The couple held their ceremony in The Liver Building, followed by a colourful and joy=filled reception at Oh Me Oh My.
The lovely bride wore a sequin gown by Catherine Deane (which if you adore, happens to be available in an incredible sale on the Catherine Deane website right now) and the couple hired the very lovely Luis Calow to capture the party atmosphere of this joy-filled wedding day.
This is one of those weddings genuinely full of joy at every moment. I adore the images and the lovely moments of togetherness and celebration that they capture. Enjoy my loves!
Location & Inspiration
We chose Liverpool because it's my home city and we both wanted a fun, vibrant, city centre wedding in a place that was meaningful to us as a couple. Ben proposed in front of The Liver Building in January 2020 and so getting married in there just felt right.
We chose Oh Me Oh My for a number of reasons, location wise it was perfect as it was just across the street from the Liver Building, and is such a gorgeous twinkly venue, it has a really warm and cosy feel, as well as being able to hold a lot of people without feeling too big or grand. We also really liked that Oh Me Oh My is essentially one big room, which means that nobody goes missing and the room never feels empty.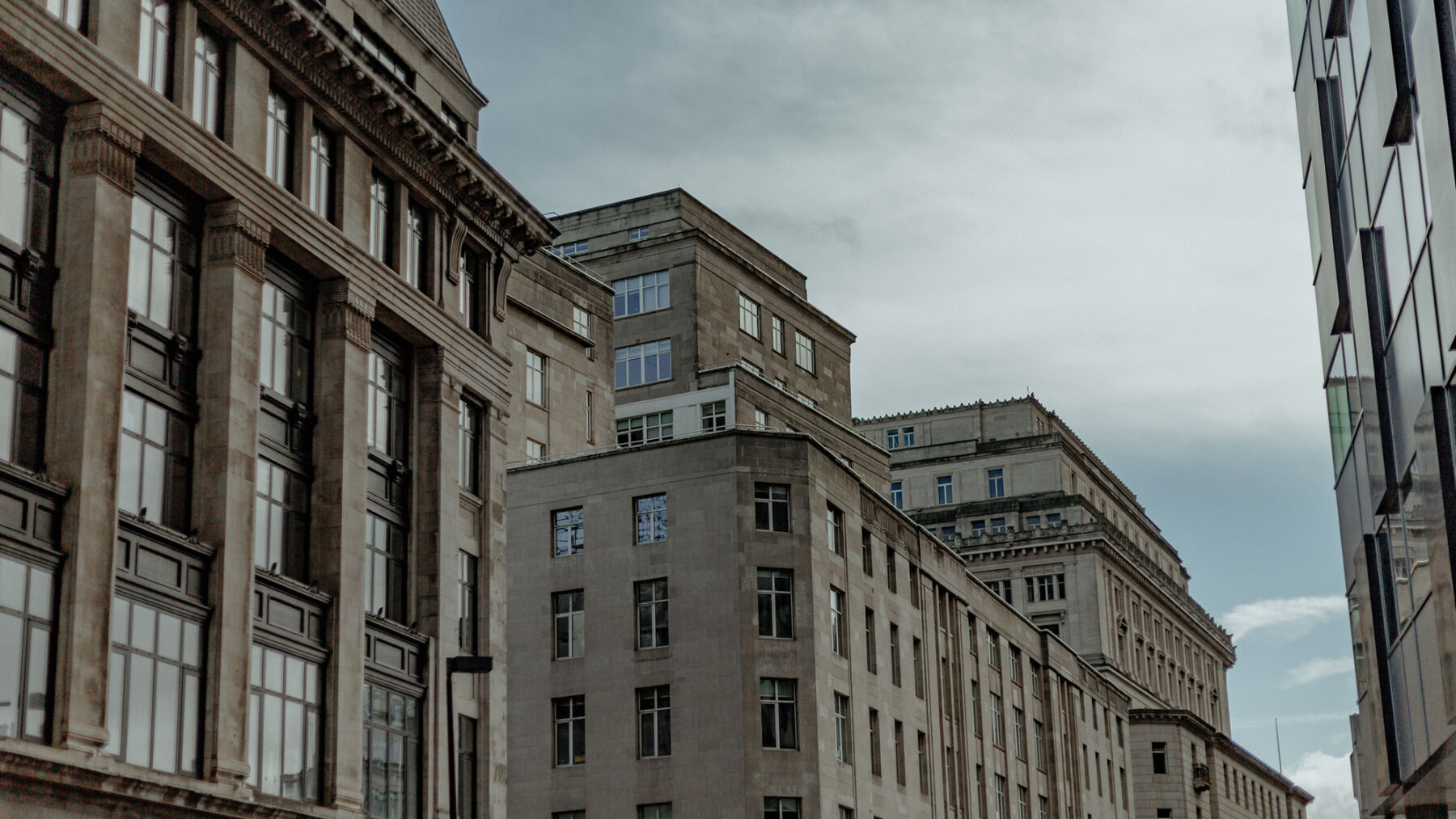 The Dress
I wore the Rosa dress by Catherine Deane. I bought my dress from Flamingo Boulevard Bridal Studio in Liverpool. I would 100% recommend FB bridal to anybody from anywhere in the country, looking for something cool, unique or different, whilst still being bridal and chic. Jazmyn is doing something totally different to most other boutiques at the moment at an amazing price point! I had such a fab experience trying and buying my dress, I kept wanting to go back because Jazmyn made it such a fun and comfortable experience.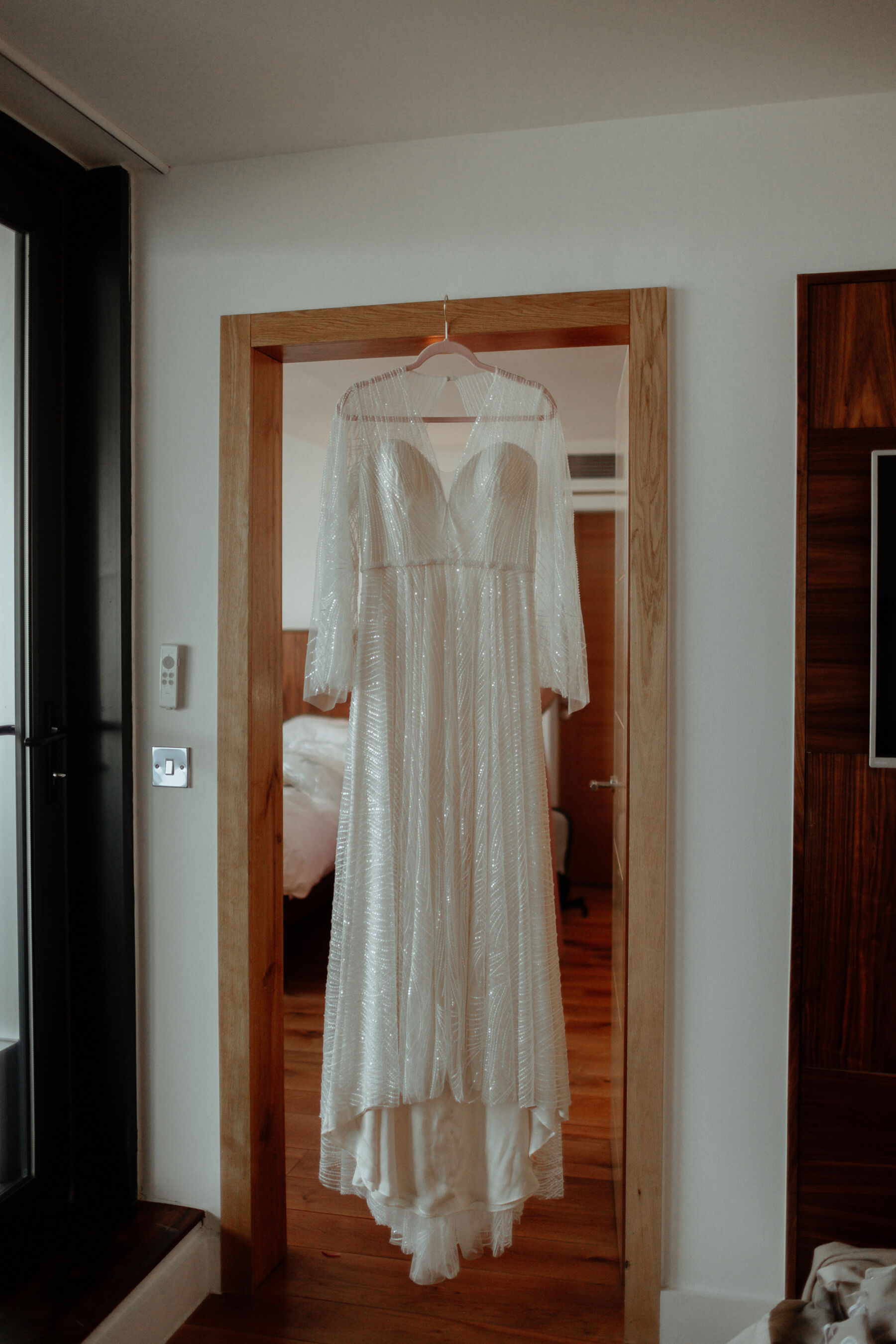 I wanted something sparkly, that was a bit different without having the potential to become dated, that would suit a city-wedding, whilst still being bridal and also comfortable – so I was asking for quite a lot!
I spent quite a while scrolling on instagram looking at dresses before I actually tried any on, which has it's pros and cons. It helped me get a sense of what was out there and where I could find potential dresses, but I had to really hold in mind that what I was seeing online was going to look different on me in person and that it was about finding something that I would look great and feel great in.
I loved the detail in my dress, it was beaded all over and twinkled under the canopy of fairy lights in Oh Me Oh My. The sleeves were also amazing, most of all I felt comfortable and like myself. Ben said I looked like a firework which was such a beautiful compliment.
Shoes, Veil & Accessories
I knew I wanted a long veil with some volume. I had some kind of 80's inspired veil in mind, I wanted a veil that demanded a bit of attention without clashing with the dress. I found mine at The Wedding Veil Shop in Blackpool.
My shoes were from Zara, they were pretty comfortable.
Finding a headband to match my dress was so difficult. I was trying to find a balance of detailed and noticeable without feeling like it was competing with the dress. It was tricky but I eventually found the perfect match from an online shop called The Bobby Pin. It was so comfortable, I kept it for about 12 hours and could barely feel it.  
I wore Jasmin Kusamono by Georgio Armani – my friends that I made doing my doctorate in Clinical Psychology bought it for me for my birthday, which was a month before the wedding. We had been on holiday together to celebrate the end of our studies, and had some time to spare in the airport. They knew I was struggling to choose my wedding day perfume and so they very sneakily got me to try a few different ones on in duty free. Then a few weeks later they surprised me with my favourite one. It was such a special moment, and meant so much to me.
We hired a replica of John Lennon's Rolls Royce which was so fun and cool. I loved driving from the hotel through Liverpool city centre down the The Liver Building, with Here Comes The Sun playing and everybody stopping to take pictures of the car and wave. We only wish we'd hired it for a bit longer, we underestimated how much time we would need it for.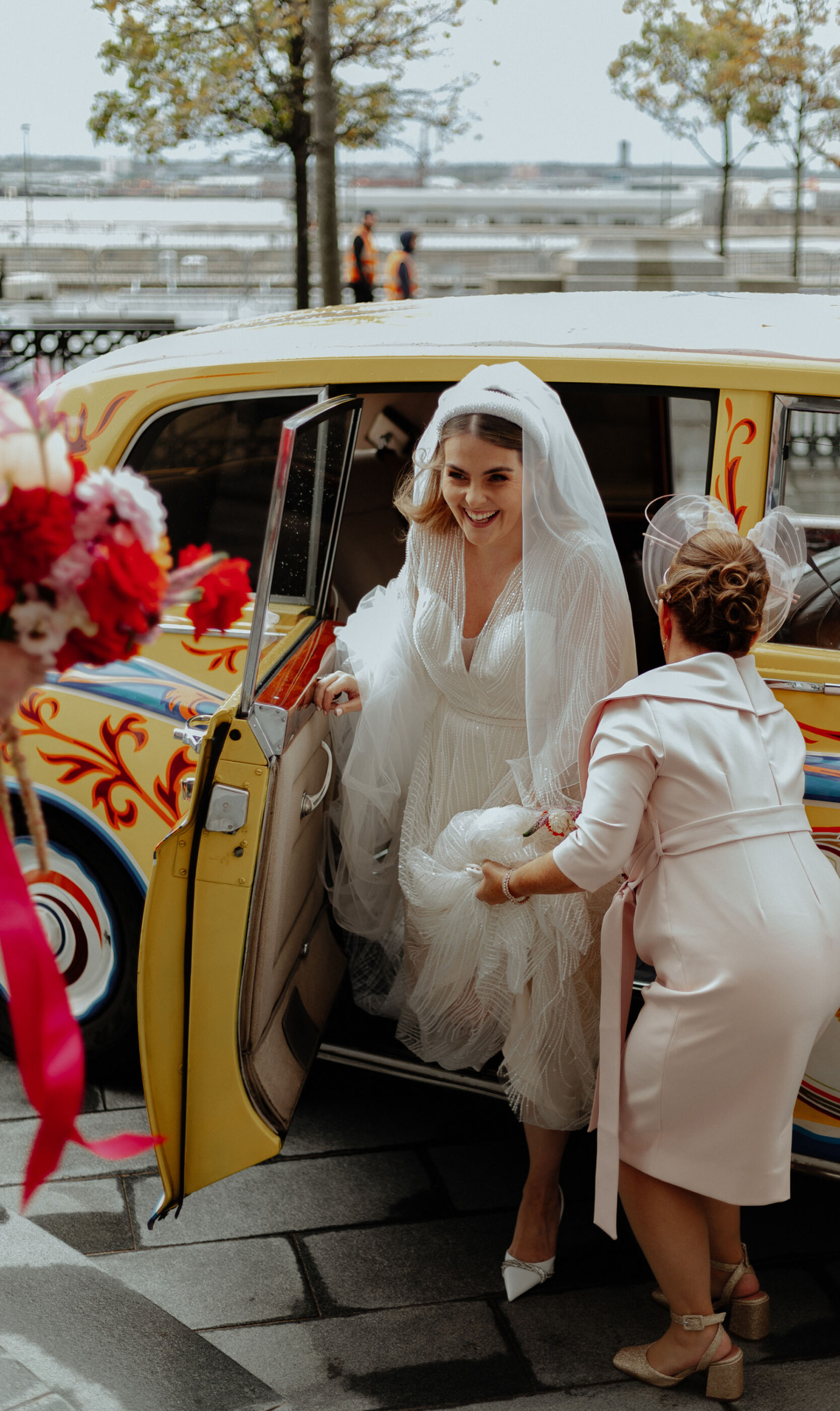 Bridesmaids
I originally wanted my bridesmaids to be in a mixture of pink and bright red, however they all gravitated towards pink, I was pretty laid back with it because above all I wanted them to feel amazing. In the end I think they were right.
They all chose their own outfits, in different shades of pink and I made sure the ones they chose all went together.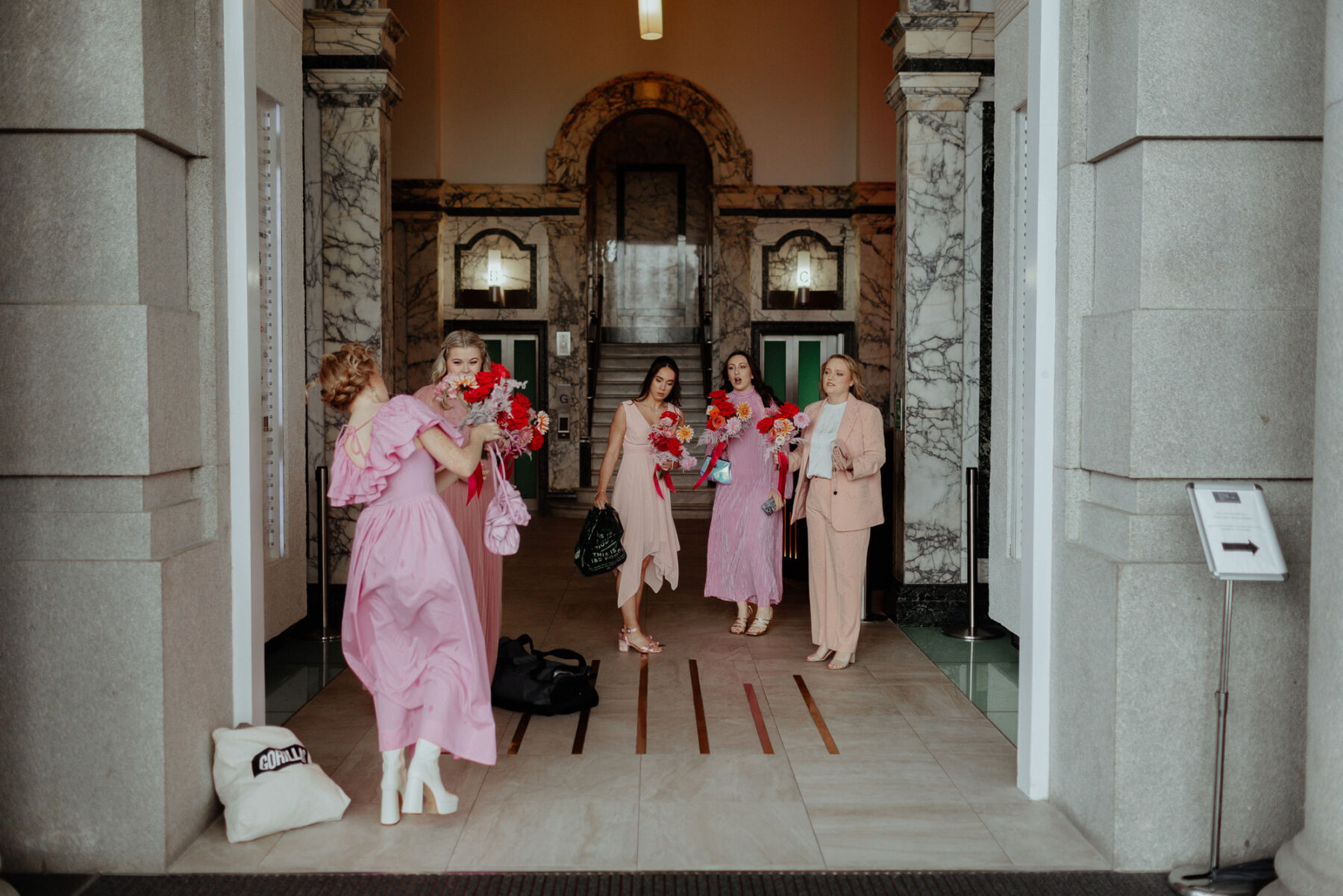 It was a very easy-going process and I was blown away by how beautiful and stylish they all looked on the day. It's one of my favourite memories seeing them all getting ready. One of my Maids of Honour, Laura, wore a suit and she looked so cool. Dresses were from ASOS, Everpretty and Laura's suit was from Debenhams.
Our flower girl Ada wanted something sparkly and pink like the other bridesmaids, she chose her dress from Monsoon. I really wanted her to have a say in what she was wearing (within reason!) and I'm glad I did because you could tell she felt happy and comfortable all day.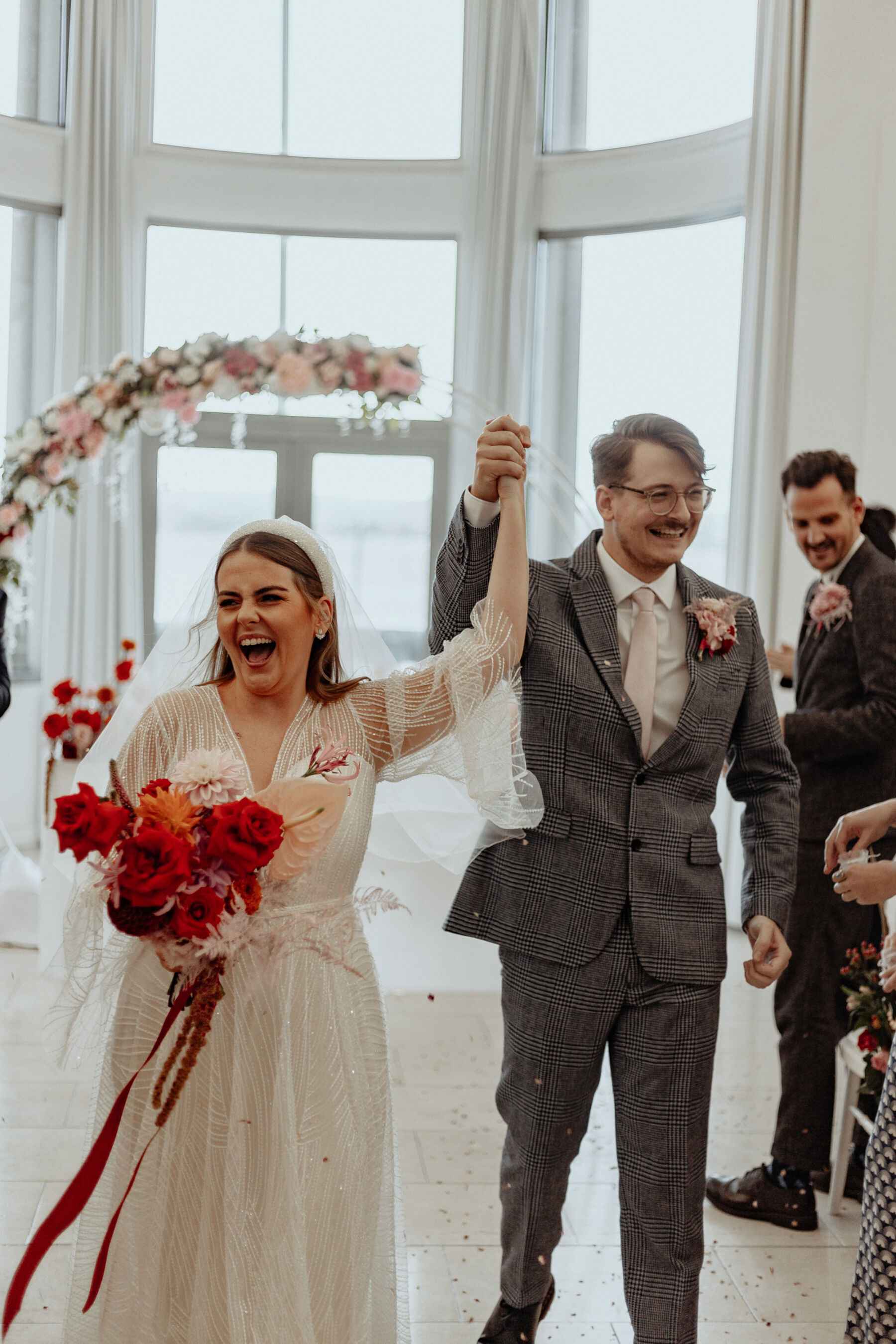 Ceremony
---
My dad accompanied my down the aisle to the sound of Cicadas and Gulls by Feist.
A Registrar from Liverpool City Council officiated our wedding. We didn't want to write our own vows but at the same time we didn't really love the suggested vows on the city council website, so in the end we took bits from the different suggested vows and merged them together to make our own! We wanted our vows to feel formal in some ways, but use everyday language as well.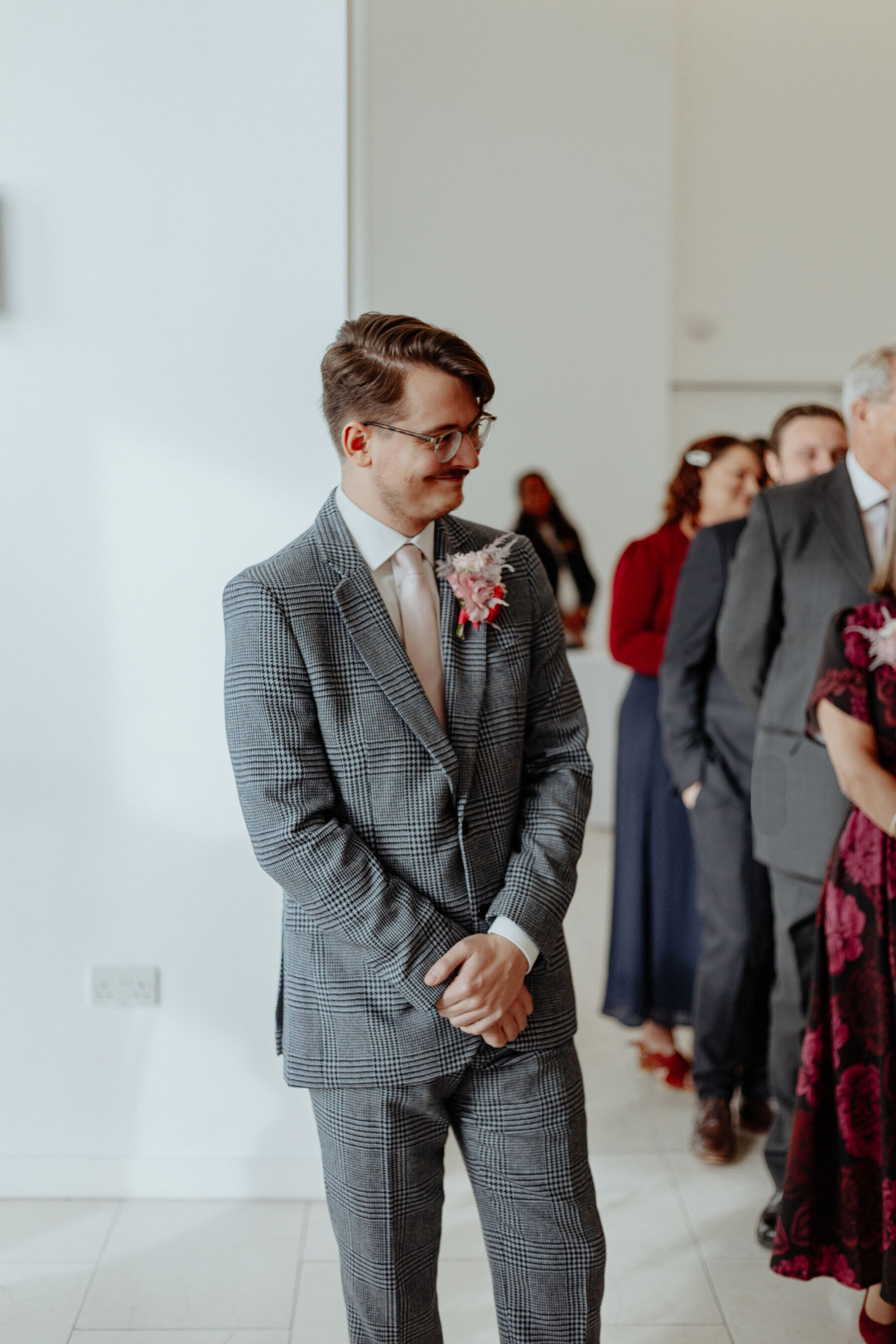 We had three readings, 'The Present', by Michael Donaghy (a Scottish poet and one of my favourite poems), 'Don't Hesitate', by Mary Oliver (another one of my favourite poems) and 'I Will Love You Forever', an extract from The Amber Spyglass (chosen by Ben, from one of his favorite books).
I read a lot of poetry and Ben reads a lot of fiction so we both knew what readings we wanted from very early on. All of our readings made us think about how important and transformative love is, in all its forms. We wanted our day to be full of love and joy, not just for each other but for everybody there, it felt important that this was reflected in our readings.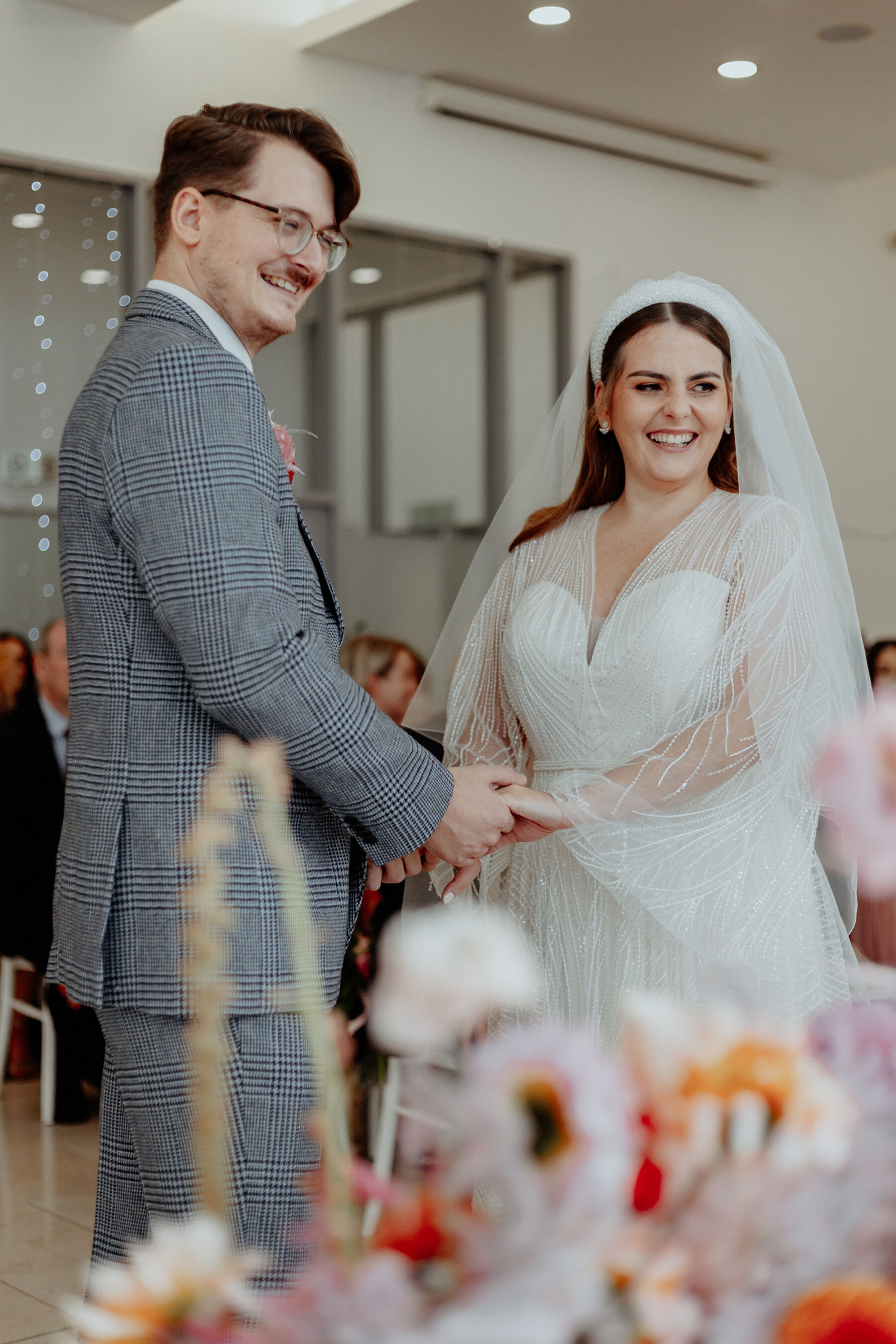 I bought my wedding ring from Miltons Jewellers in Liverpool City Centre. I wanted a ring that would match the age and style of her engagement ring which was given to her by her Nanna, so second hand was the best way to go! Ben bought his gold wedding ring from a Jewellers in Nottingham (where he is from).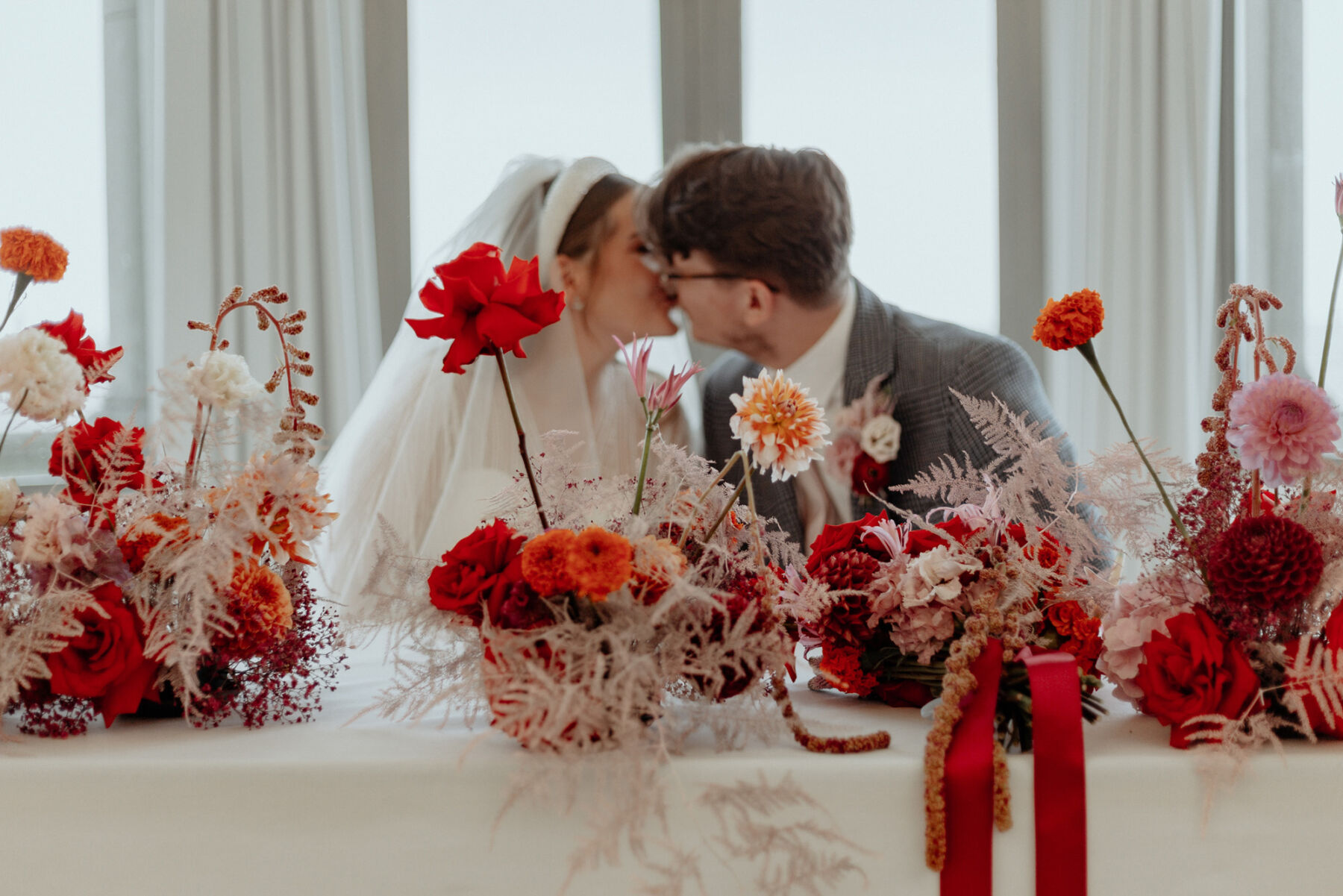 Photography
We found our photographer Luis Calow on instagram. We basically scoured different wedding accounts and hashtags for photographers that captured colourful and candid images and came across a wedding Luis had shot in Liverpool. We were struck by how well Luis is able to capture those small but really significant moments during the day, like a small smile at a family member, or holding your bridesmaids hand, and so we were really excited to book him!
Luis was amazing on the day, he is such a great guy, so friendly and easy going (even when I got a bit stressed with the weather and made us go inside so I wouldn't get wet!) We would absolutely recommend him without hesitation, especially if you're wanting a more candid, easy-going photography style. We had so much lovely feedback from our guests, as one of our mates Emma said "he wasn't intrusive at all, but if you wanted him he was immediately there!"
We didn't hire a videographer but we did buy a small video camera which our guests used throughout the evening and the footage is pretty funny.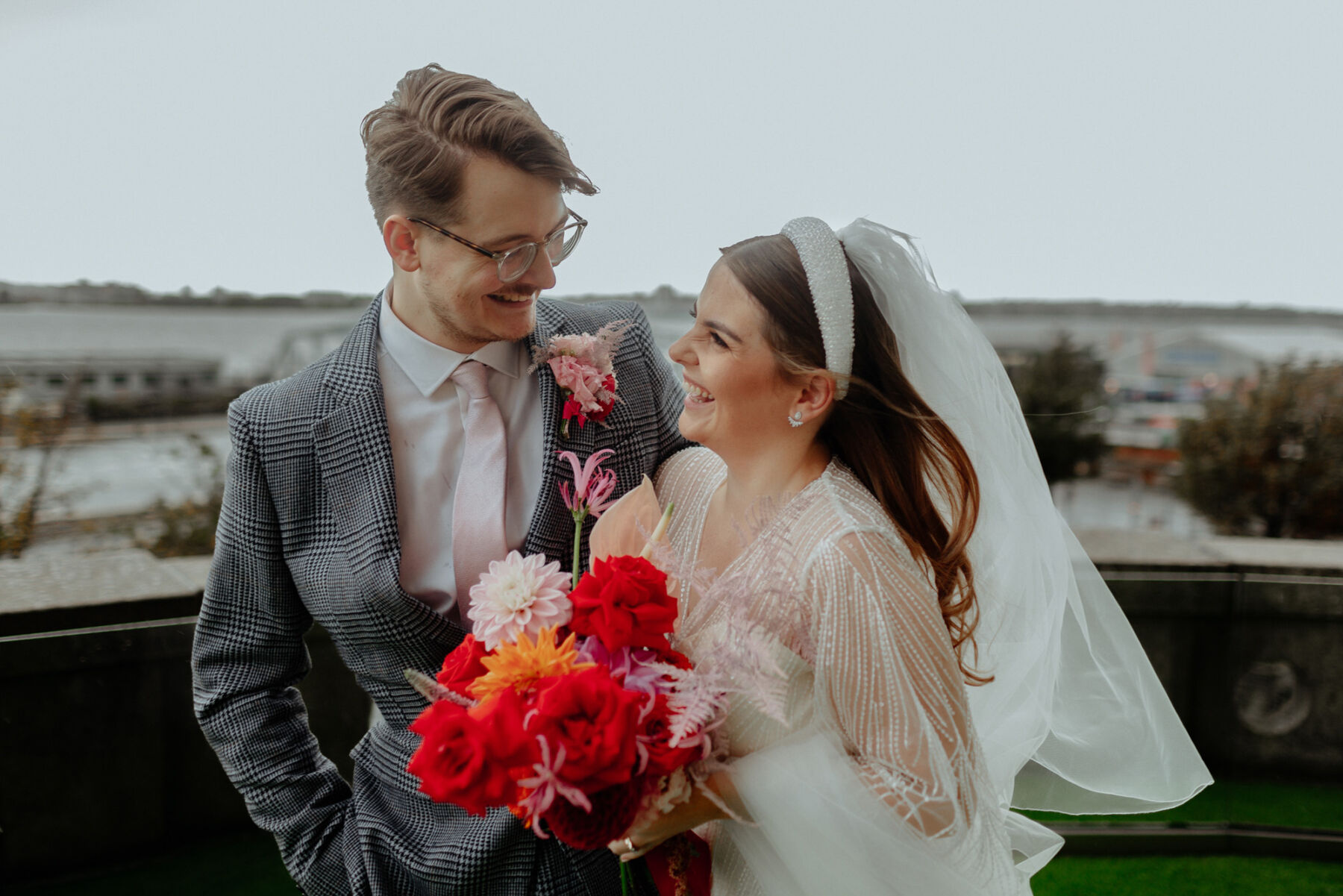 How They Met
We met in Newcastle University on the student newspaper in around 2012, Ben had just finished his undergraduate degree and was the Editor and I was in the middle of my undergraduate degree and was the fashion editor in her spare time. We were 21 when we met and we were 31 when we got married, so we have really grown up together in that time.
Ben proposed to me in front of the Liver Building in 2020, just before the pandemic began. I had not long started her Doctorate in Clinical Psychology, so we always planned to wait until that had finished to get married, as I didn't want to get married and do a doctorate at the same time. We were engaged for just over two years, which felt like a nice amount of time to allow life to carry on but also stay excited.
Ben wore a suit from Moss Bros, he tried a few on before deciding on this one. He wanted something that was a bit interesting whilst still being stylish and classic. We actually drove 1.5 hours on one of the hottest days of the year, from south london to far west london to get Ben's wedding suit as it was one of the only shops in the country that still had his size in stock! It was worth it and was pretty funny.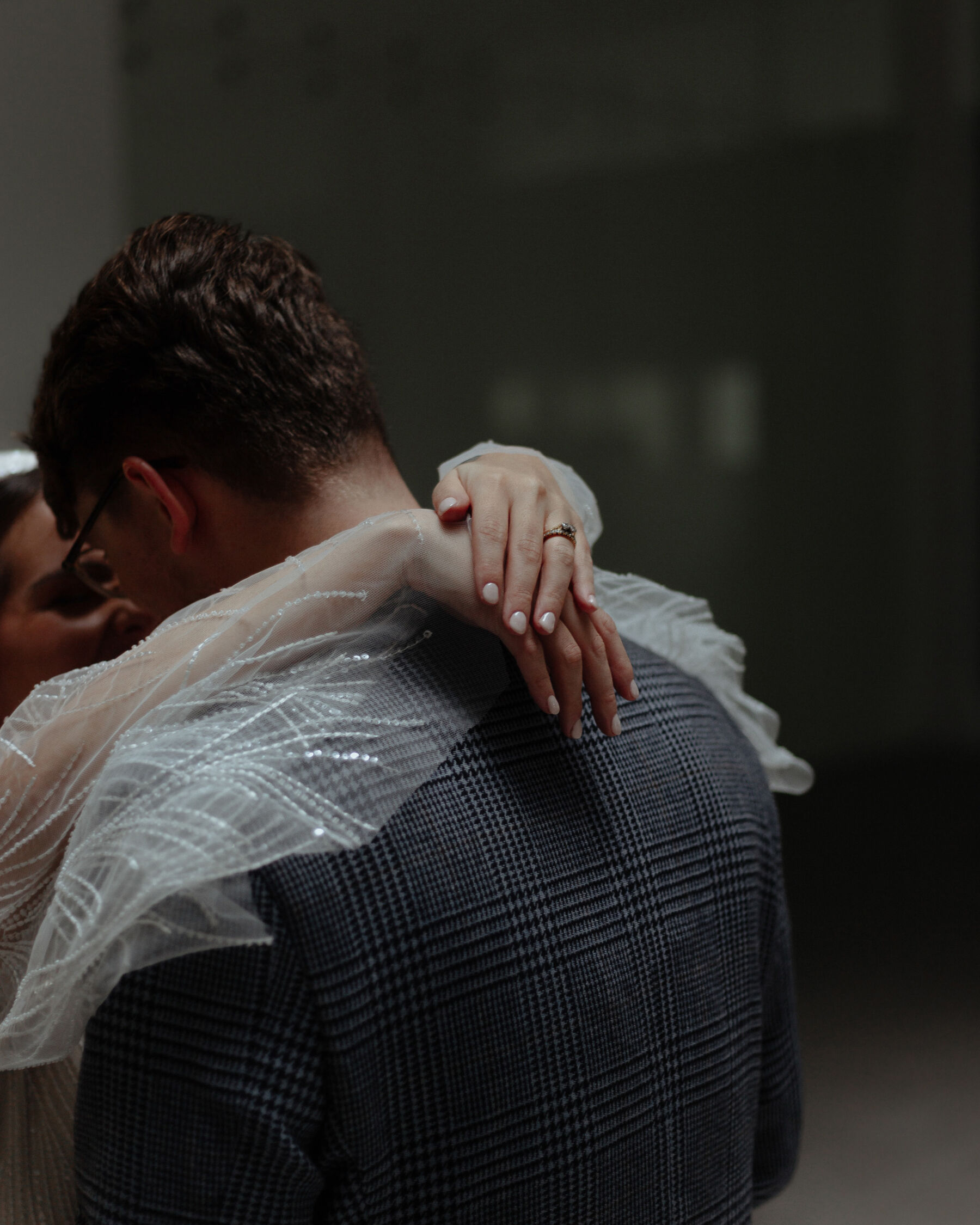 Bridal Beauty
My amazing makeup artist Hannah Carson was recommended by Jazmyn from Flamingo Boulevard Bridal. I like makeup and being glam, but after the pandemic I really fell out of the habit of wearing makeup and was scared of not looking like myself. Hannah was really patient with me, I had three trials and with each trial I got more confident. She was honest with me but also made me feel so comfortable and she was so open to hearing what I wanted and working with that. I would highly recommend her if you're in the North West.
I found Melissa Skurrey by walking into a local hairdressers near where I grew up and asking if anybody did wedding hair. Somebody gave us Melissa's number and I'm so glad they did. As well as being a talented hairdresser she was such a lovely person to have with us on the morning, she had to do a LOT of hair on her own and she was just so professional and talented.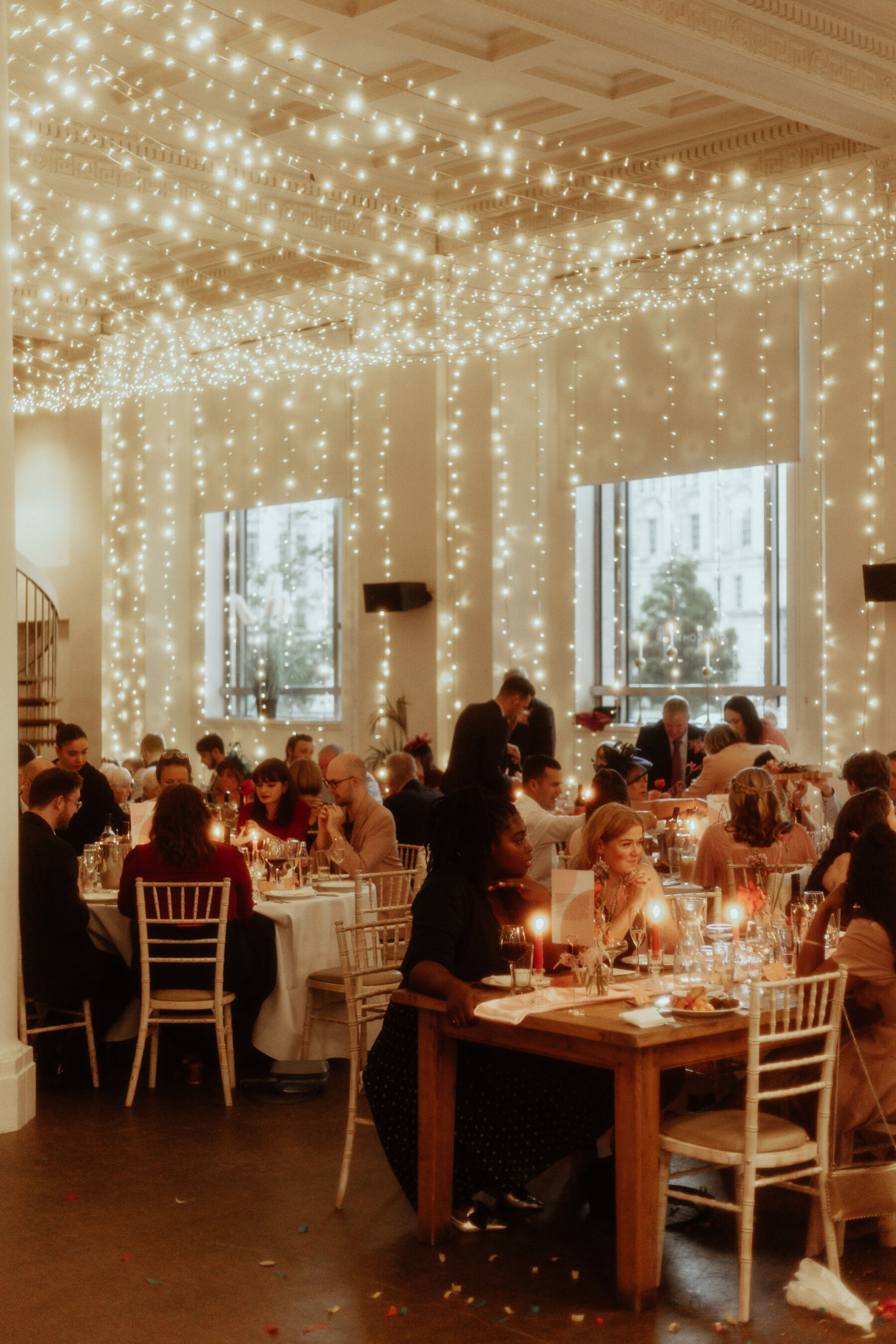 Reception, Detail & Decor
---
We didn't have a particular style, we just knew that we wanted the day to be colourful, full of love and joy. It also felt important to us that we wanted to try and make the style of the wedding quite timeless, although we loved following wedding trends, and definitely incorporated a few, we tried to stay away from strong themes. We wanted something quite modern that reflected our life together and the amazing city we were getting married in. The culture, vibrancy and unique styles of Liverpool were a big source of inspiration for us, we wanted a party.
We started by thinking about what colours we liked and what would make the most sense with the time of year and the venues. We ended up going with reds, pinks, and oranges, as these matched well with the hints of gold and marble throughout the art deco venue and were autumnal without feeling too 'themey'.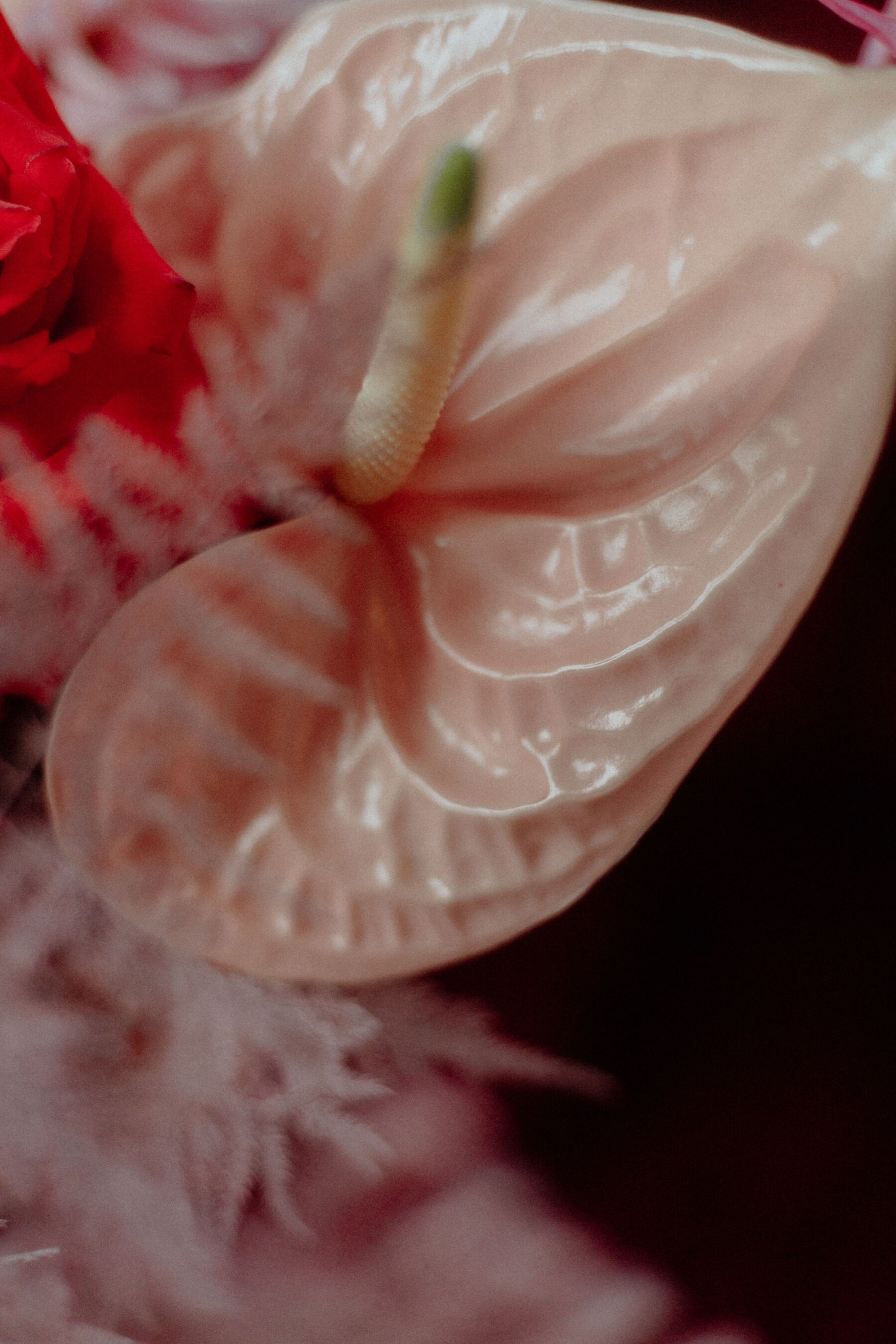 We thought about ways we could weave our personalities throughout the styling of the venue. We had loads of fun choosing the names of our tables, naming them after films we have enjoyed watching together. For each table Ben wrote a short blurb about why we have chosen that film, and when we saw it together. Ben also designed all the signage throughout the day, such as the welcome boards, table names and order of services. We liked that our day was a mixture of things we had designed and made ourselves, with some amazing suppliers who were creative and skilled in a way that we're not e.g. our amazing florists. We worked well to our strengths and realised the limitations of our skills as well.
Our food was catered in house by Oh My Oh My. We had sharing starters, greek inspired mezze and charcuterie boards. For the mains we had either a harissa and tomato risotto or a chicken and butterbean cassoulet. Desserts were either sticky toffee pudding or strawberry and lime pavlova. The food was lovely, our guests particularly loved the greek inspired mezze.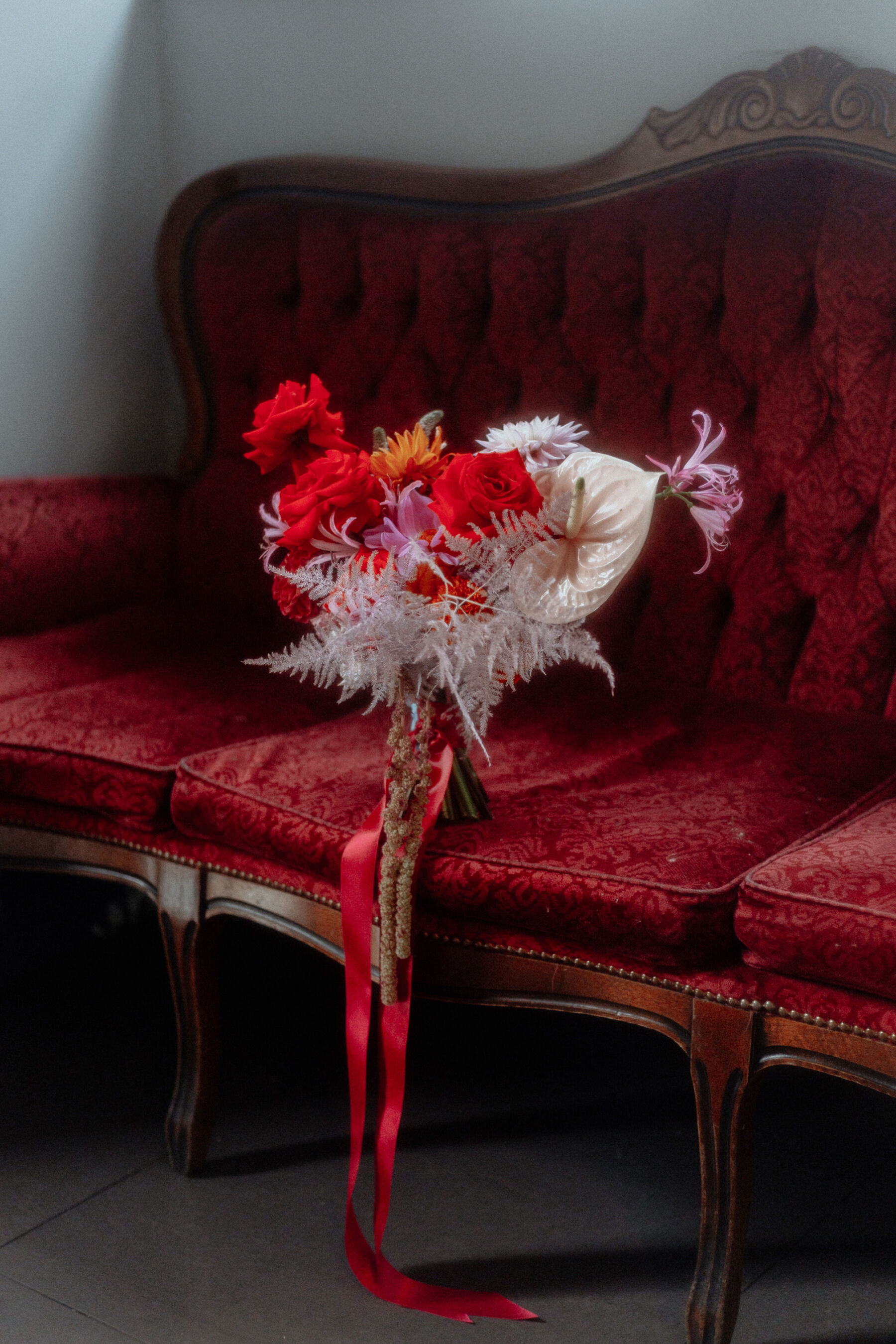 Our cake was by Claire Southern. We wanted something quite timeless and pretty, so went with a scraped white buttercream, pink, red and orange macarons and flowers provided by the florist. The flavours of the cake were; white chocolate and strawberry, coffee and chocolate and salted caramel. It was very tasty and looked absolutely beautiful, we would highly recommend Claire, her prices were very reasonable and her macarons are unmatched.
We bought all our tapered candles from a little local shop in East Dulwich (where we live) and the material for our table runners was from Abakhan in Liverpool. We made some last minute panic purchases on Amazon, such as the glass candle holders and the gold place card holders.
We designed all our stationery ourselves using CANVA and, InDesign and photoshop.
Flowers
Mary Mary Florals were one of the first suppliers we booked, I had been following them on instagram for a while and we just loved their style of floristry. They manage to make arrangements and bouquets that are really interesting, creative and artistic but still very beautiful and "wedding-like".
Everybody was blown away by the table flowers and lots of people took arrangements home with them, some of our friends carried the arrangements back on the train to North-East and London. We asked for "Interesting, bright, structural and drippy" florals and they definitely delivered. We also included Veronica flowers throughout the bouquets, buttonholes and table florals, as subtle but meaningful tribute to my late Nanna, Veronica.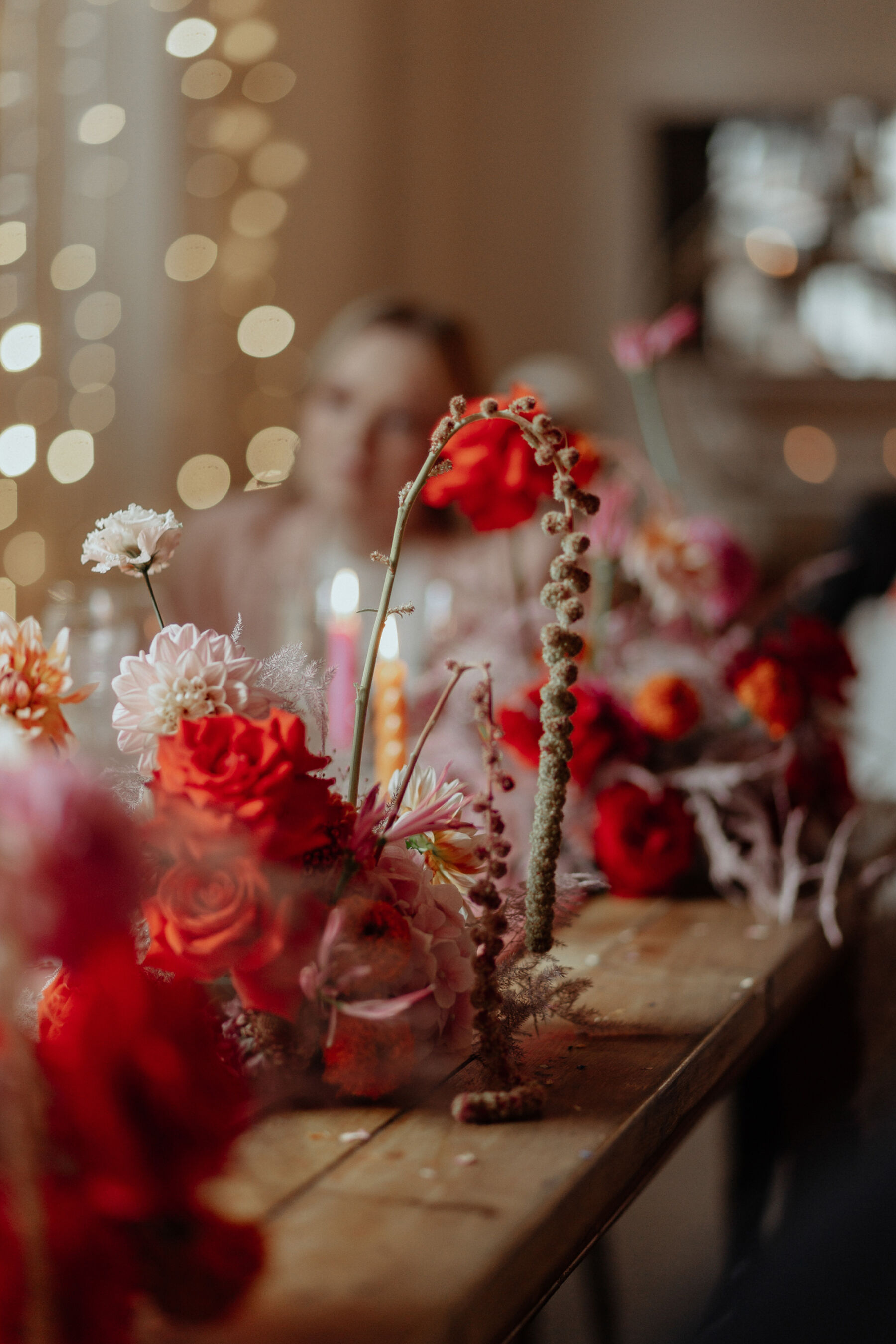 Evening & Entertainment
In the evening, I changed into a mini dress from Abercrombie & Fitch.
We chose our first dance song pretty much the moment we got engaged. We both love music, we go to lots of gigs and festivals with our friends, and both have quite broad music tastes, so from the start we knew what kind of vibe we wanted and what might get the party going.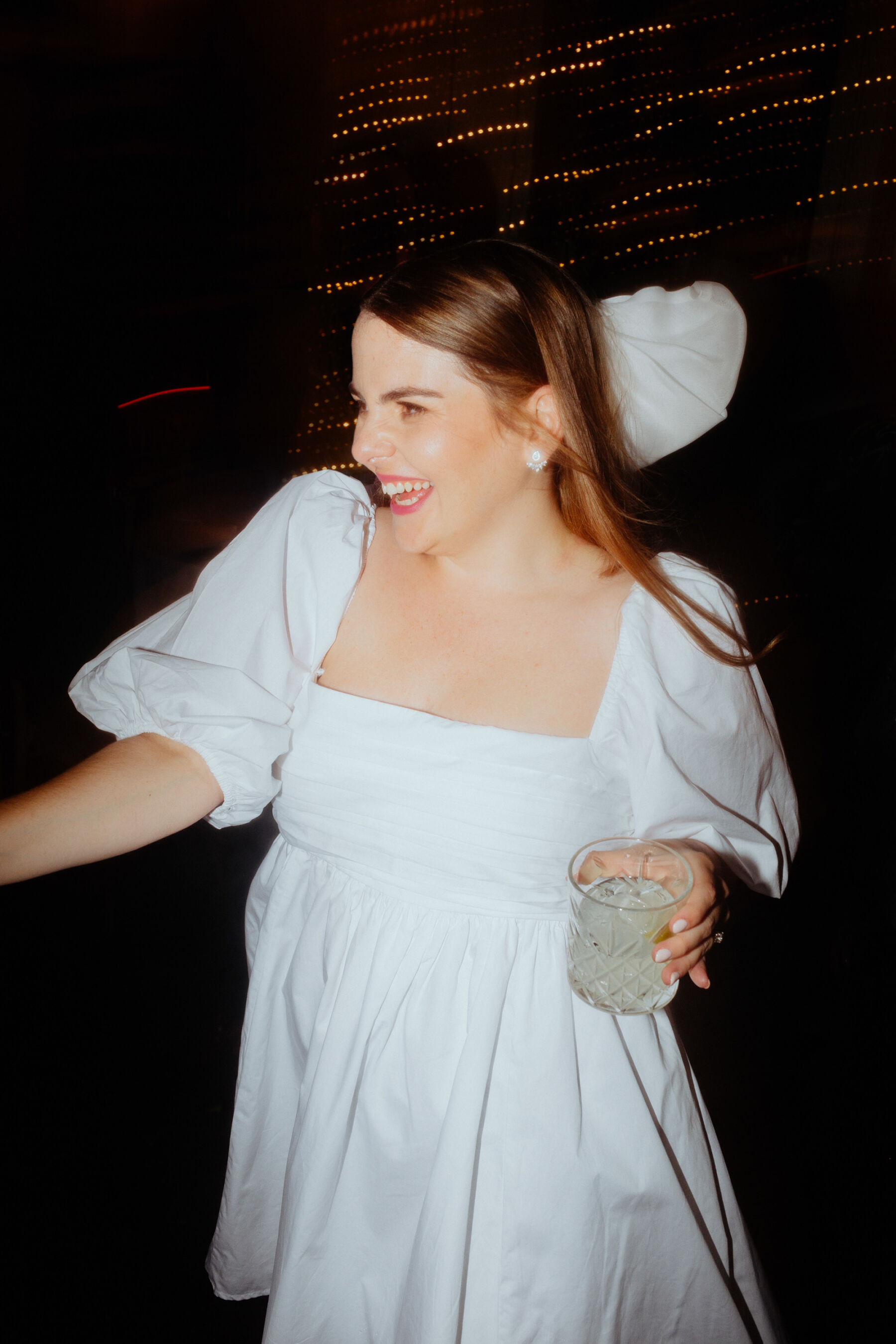 We danced to Love on Top by Beyonce, it was fun and happy and just felt like us. It was a song that came out not long after we met, and used to come on a lot in clubs in Newcastle when we were on nights out together. It also meant that we could have some confetti cannons at the first key change which was so much fun.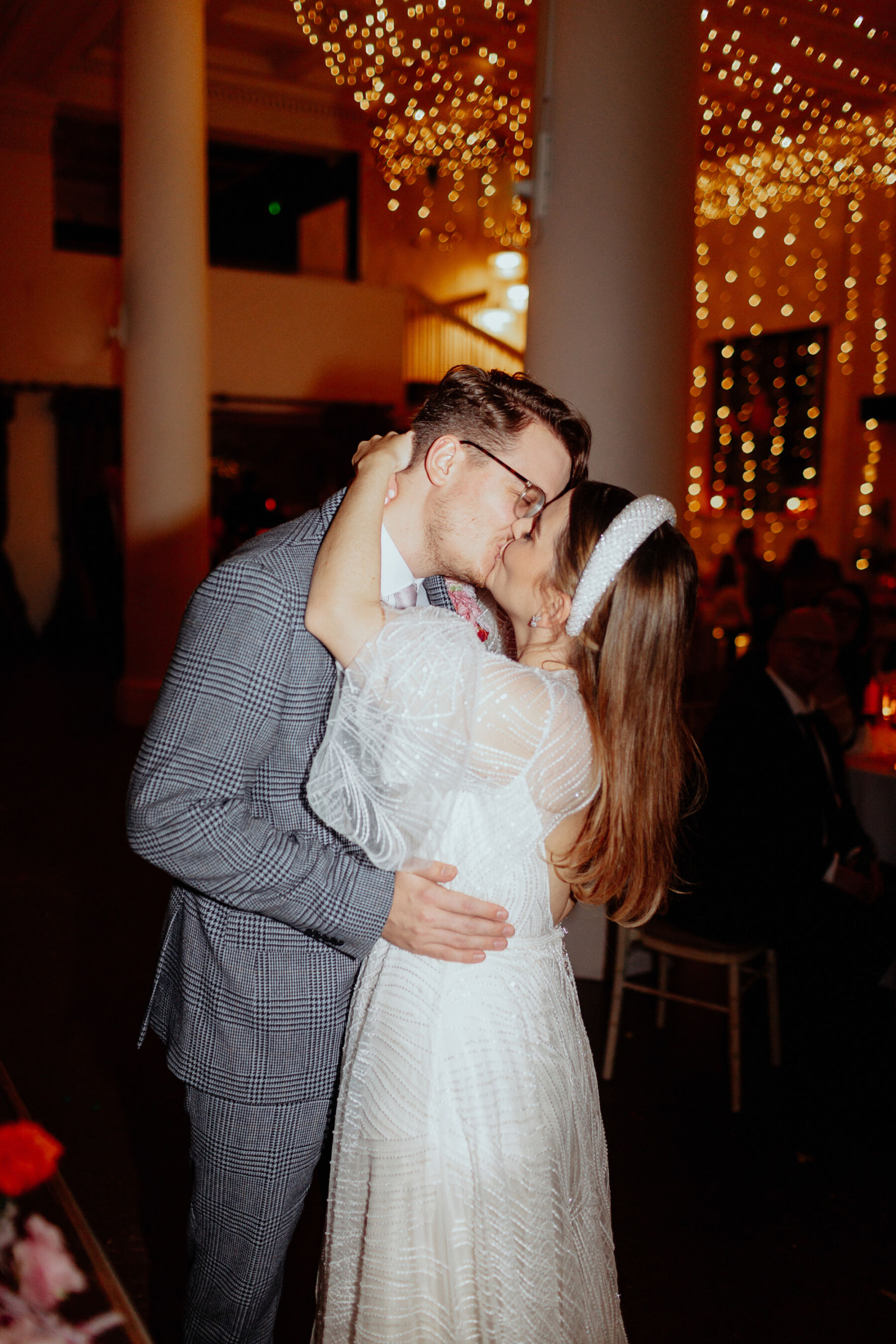 We wanted something a bit different for our entertainment and after lots of searching came across Gaming4Weddings who supply retro gaming machines for events. We both love playing games, and often play two player games on the Nintendo Switch together. Gaming is also quite a nostalgic thing for our age group, as lot's of us grew up as consoles like the Playstation and Xbox were becoming a bigger deal.
We went for two machines, one with a PS2 and one with an N64, both went down a storm with our guests, who loved playing Mario Kart and Tony Hawks Pro Skater in between the meal ending and the party starting. It was also a great way to break the ice with other guests as the games we chose were good for groups of four to six at a time. The gaming machines were also glittery, which I loved!
We also hired a photobooth from Pretty Booth which our guests were so happy with. Ben, the supplier brought an amazing selection of props with him and the pictures we got at the end were hilarious and so much fun to look through. I was a bit unsure about hiring a photobooth at first, but we're so glad we did in the end because it meant between the games and the booth, most guests had something to help them get through the post dinner slump.
We wanted everybody to have fun in the evening, and so made sure our DJ played back to back bangers, and that there was something for everybody. We had a mix of pop, funk, indie and Motown. The dance floor was packed all night and we ended the night with a massive group singalong to Hey Jude and it was amazing. We had so much fun dancing together all night.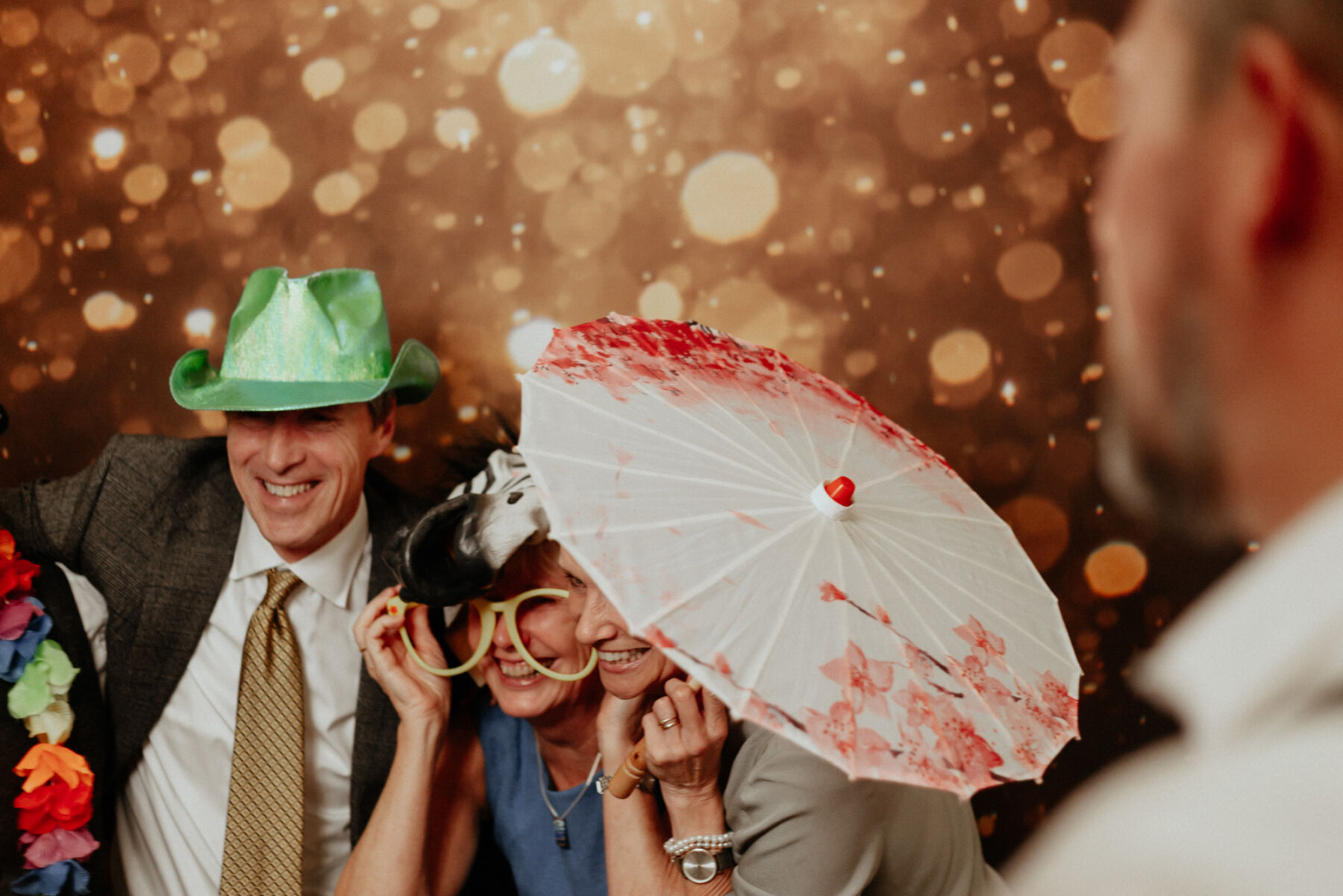 "I think you guys manage to get the balance between inspirational and very real and I love that. You can go on Love My Dress and see 'normal' weddings, and I mean that in the absolute best way! You can see people happy and in love with what they have created together and that's more inspirational than very stylised or high end content."
Words of Wedded Wisdom
Try to think about what you want your guests to know about you as a couple and let this inform how you plan your day. For us, we wanted people to know how much fun we have together but also how safe, secure and happy we make each other feel, so we wanted everybody else to feel happy, relaxed and welcome as well. This is also why we chose a city centre venue, in a place that means a lot to us, as we wanted a vibrant and inclusive atmosphere.
I think I would have tried to feel less stressed about guests having a good time and everything going to plan. I'm quite an anxious person and so got myself a bit wound up the week before, worrying that things would go wrong and it wouldn't be a fun day. I didn't need to worry about that because it was so much fun, and everybody said they had an amazing time.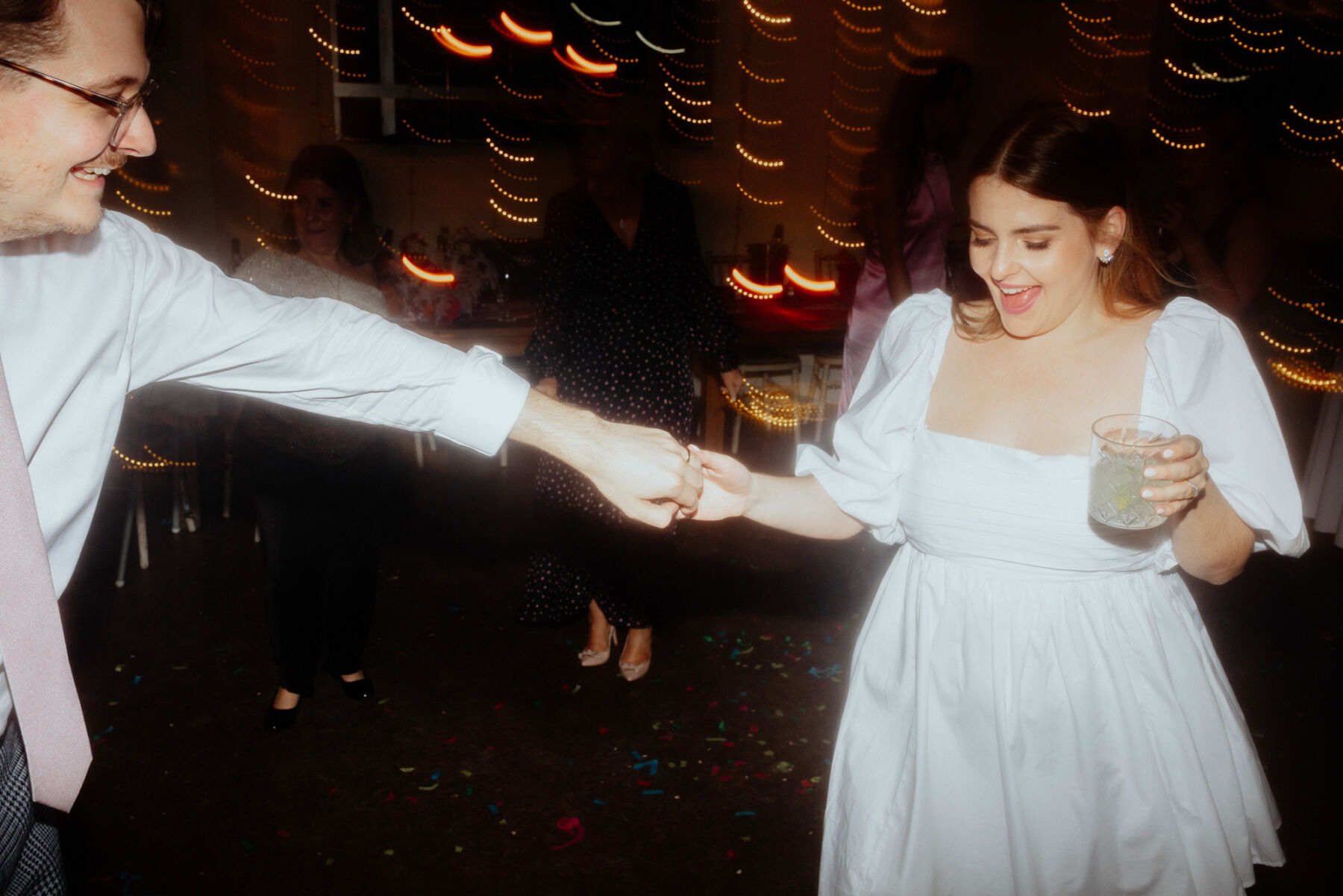 It's normal and typical to worry in the run up to such a big event, but if I could go back I'd try and enjoy the weeks before a bit more. My mum kept reminding me to stay in the moment and enjoy the build up and I wish I'd been able to listen a bit more.
We would maybe also start the free bar after the food had finished, as by the time the party started half of the budget had gone from people getting up mid meal to get drinks (even though there was wine on the table haha).
We were very lucky in the sense we didn't need to have a very strict budget, but rather a figure that we would try not to go over. We aimed for no more than 20K and we managed to stick around this figure quite closely.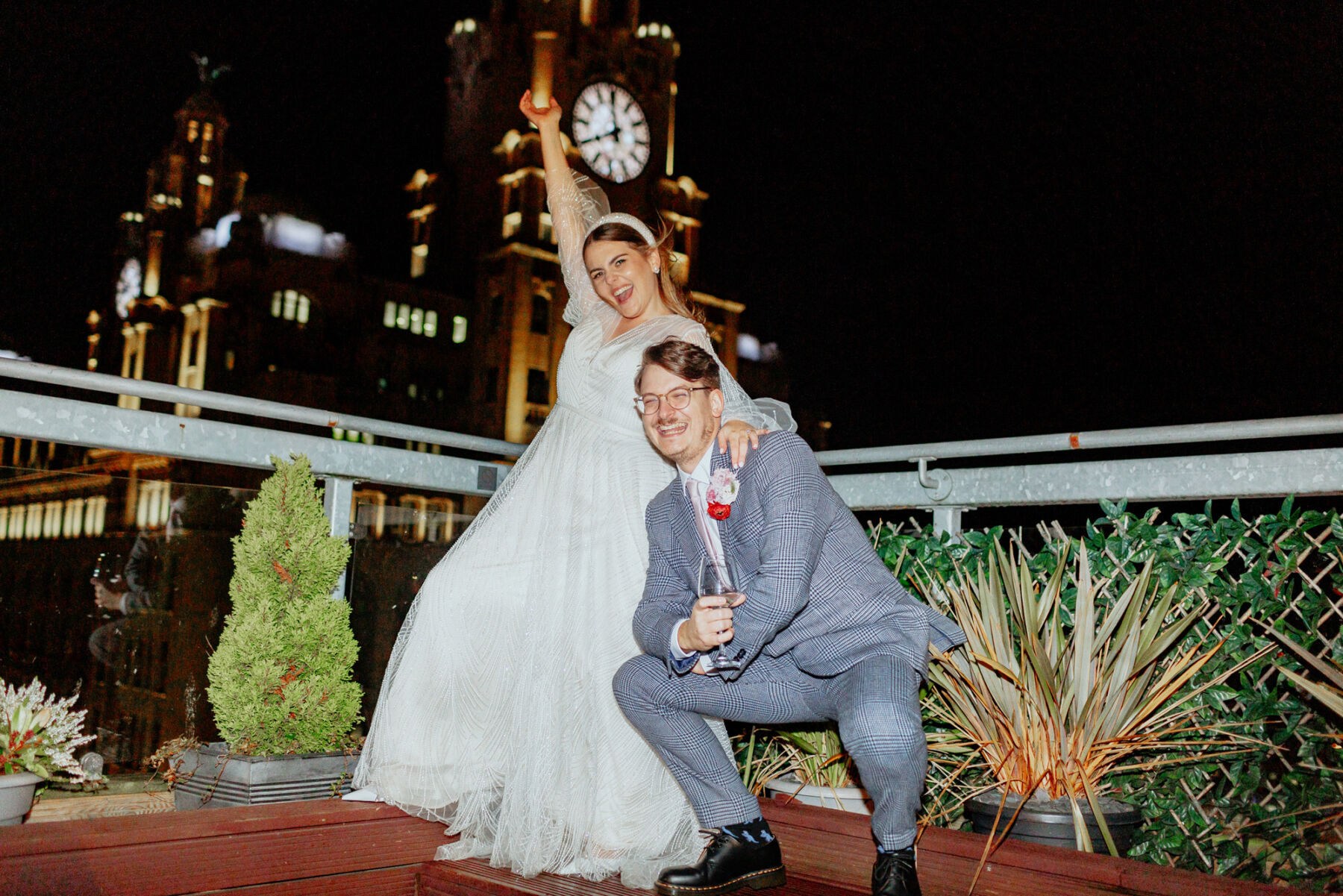 Planning a Wedding?
Explore our Wedding Directory