I so love it when I receive a kind email; "Dear Annabel, I've been an avid reader of your blog over the last 18 months as I planned our wedding and took great inspiration from the real weddings and features you've posted over that time.  I got a huge amount of reading and inspiration out of Love My Dress when planning my wedding and hope that I can return the favour by giving your other readers ideas and inspiration for their day, from ours."
Bride Anna looked the epitome of elegance in her wedding dress and with her hair pinned to absolute  perfection by her hair stylist, who also happens to be my personal hairdresser of choice, Monsier Severin Hubert and her chic, soft suede pale blue Emmy shoes. The wedding took place on 7 May this year, at The Olde Bell in Henley on Thames, the perfect backdrop for that beautiful dress…
"My dress was a grey, georgette gown with vintage lace and embroidery by the uniquely talented Jenny Lessin. When I first met Jenny in her studio we just clicked.  I had brought along pictures of the gowns I loved – think red carpet, classic Hollywood Oscar night showstoppers – and we both got excited by what she could create.The process of Jenny taking ideas, turning them into a drawing and then a toile and then watching the dress come together with beautiful fabric and embroidery at each fitting was an amazing experience – by far the best part of planning the wedding…"
Photography by Mark Wallis
"Knowing that we were going to be in a garden, sinking into grass and gravel for large parts of the day and that my kids would want cuddles and carrying I was never going to get away with killer heels but, again, struggled to track down anything just right in the shops. I found out about the vintage inspired, custom made shoes that Emmy specialises in through a Love My Dress feature and was delighted to find they were a short bus ride away! I chose a pair of low heeled, suede shoes with a silver leather trim and added some beautiful, grey crystal embellished clips to complement the beading on my dress…"
"One of the first, and most important, parts of our wedding day was the stationery. We wanted our invitations to give guests a hint of the atmosphere they could expect on the day.  We knew our wedding would include lots of music and children so it seemed natural that would be the focus of our stationery design.
Louise Richardson did a fantastic job taking line drawings of musical instruments from our four year old daughter and translating these into a series of eye-catching stationery.  Having such distinctive stationery helped give our wedding a totally unique feel – and our daughter loved seeing her drawings being used as such an important part of the celebration…"
"My vintage inspired up-do was created by Severin Hubert of Hepburn Collection and my make-up was done by Lina Cameron. Having two kids has played havoc with my body shape, my skin and my self-confidence in how I look.  It was invaluable to know that I was in safe hands with experienced professionals who would make sure that I looked as good as I possibly could on the day…"
"The dress was made in dove grey silk chiffon. Jenny ruched and gathered the fabric over a custom-made bodice. She found the most amazing piece of vintage, silver lace in a fabric shop in London and that became the base for the intricate, hand embellished embrodiery she wrapped around the sides and back of the bodice.
We wanted the dress to have a movement to it so the skirt was made up of 8 layers of chiffon (each layer hand-hemmed by Jenny – ouch!) with a wonderful, flowing train.  I loved the way the dress fitted my shape perfectly and that it was completely unique…"
Mandy at Sonning Flowers provided these beautiful florals…
"Our florists, Sonning Flowers, were wonderful. I gave Mandy an imprecise brief – "purple, grey, lots of blooms!" – and let Mandy and her team work their magic. My mum cried when she saw the flowers in the Tithe Barn where we were getting married…"
"I'm an Etsy addict and having seen some wonderful 3D paper garlands,  I contacted Jill from MaisyandAlice to see if they could add the finishing touches to our décor by making garlands out of vintage sheet music to decorate the drinks reception venue, 'confetti' discs to decorate the tables with, tags for our wish tree and the confetti cones…"
"It wasn't just me who was concerned about how I'd look – you'll see my bridesmaid Zoe was on crutches having broken her leg and foot in a very serious climbing accident in February.  Again her hair and make-up, and a fab Vivienne Westwood dress, made sure all attention was on her and not her crutch!
"On 7 May 2011, 7 years to the day we met, we were married at The Olde Bell (and yes 7 is really our lucky number as both our kids were born on the 7th of the month…). We had a civil ceremony in the Tithe Barn and, after being covered in confetti, were led across to the drinks reception at The Malthouse by the Super-funky Hackney Colliery Band, who who got everyone dancing.  A Bubbler kept the kids (big and small) busy creating amazing giant bubbles and added a magical feel to the garden party. 
After copious amounts of Pimms and Elderflower Punch we headed back to the transformed Tithe Barn for our wedding breakfast and speeches…"
"We've got two children – four year old Rosa and two year old Tom – and wanted children to be a big part of our day.  But I was also determined to have a wedding that was chic and glamorous (in an understated, vintage inspired way, naturally!) and didn't want to compromise on all the details that I'd dreamt about. 
A number of people (including some suppliers we talked to) clearly thought we were mad and that our day could only ever end up being a huge children's party with adults in attendance.  At points during the run-up to the wedding I was worried they might be right. However, with a lot of careful planning, creative input from some fantastic suppliers and an amazing venue we managed to have a beautiful wedding which was adult and child-friendly…"
"We didn't want a conventional seating plan so had asked our guests to send childhood photos of themselves to us with their RSVP. My fiancée (sorry, Husband!) turned these into escort cards by scanning them in, turning them into black and white, transforming them into 'Polaroids' using a free web programme and then printed them off. 130 times! We then wrote each guest's name on the front of the photo and arranged them by table on individual music stands.
The effect when they were displayed was great and it was a real talking point amongst our guests who loved seeing how their friends looked age 5 (and how spookily similar many of them looked to their own children!)…"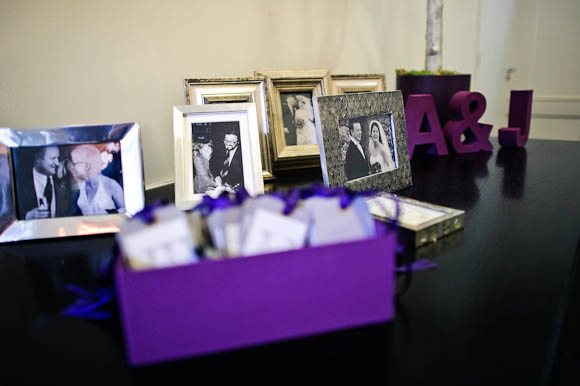 "My Dad created our stunning silver wishtree from part of an old tree in our garden, and we used vintage silver frames to display (black and white naturally) wedding photographs of our parents, sisters, and grandparents to inspire people to leave a piece of advice or a story for us on tags we had made ourselves…"
"My multi-talented Mum not only made my daughter's flower-girl dress and cardigan and my son's waistcoat but baked and iced the three tier wedding cake – complete with over 200 handmade sugarcraft hydrangea petals she had lovingly created over the weeks leading up to the wedding!"'
"Kelly Dickson and her 5-piece jazz band sang a hauntingly beautiful version of the Billie Holiday classic "This is Heaven to Me" as our first dance before the kids disappeared for bed and the adults continued dancing and drinking until very late…"
Words of Wedded Wisdom…
"Do sweat the details!  When we were planning our wedding, I read several blogs and posts along the lines of "don't stress about the little things".  I agree brides and grooms shouldn't get unduly anxious about them but I'm glad we spent lots of time thinking about, researching and finalising the details of our wedding.  All the little touches we chose said something about us as a couple (and family) and made the day personal to us. Our guests really appreciated the obvious care and thought that had gone into making the day memorable for them too. 
Plus, all the hard work we put in during the run-up to the wedding meant we could relax and hand-over responsibility on the day safe in the knowledge that everything had been taken care of…"
What a super lovely day, so relaxed.
Thank you so much Anna for sharing your style and for contacting me with such a sweet message. I do hope married life is treating you very well indeed 🙂
For more from the fabulous Mark Wallis on Love My Dress, click here...
"Capturing the real essence of our wedding was very important to us. Recently married friends had told us the day flies past and having great pictures was a way to make sure you could enjoy the day again – and pick up on all the expressions and details you miss because you are busy getting wed! We took ages choosing the right photographer, poring over websites and other people's wedding pictures.  When we saw Mark's work we were blown away by his photos.
He was also an absolute pleasure to have around on the day (he was an especially reassuring and calming presence when we were running late for the registrar because our 2 year old had thrown a tantrum and refused to wear his specially made grey and purple waistcoat….).
 Mark's atmospheric pictures transport us straight back to the day – and we know they'll bring back amazing memories whenever we look at them in the future…"
Annabel x