** This feature has been written by Franky, who is currently Interning at Love My Dress.  You can see more of Franky's Features here and also view her wedding here **
My Mum didn't cry when I tried on the frock that would eventually become my wedding dress. She looked on proudly and nodded her approval, but she didn't shed any tears.
Like many brides before and since, I'd been led to believe the surest way to know I'd found the right dress was through the emotions of my Mother. I'd twirl in front of the fitting room mirror, my Mum would sob huge, silent tears of unbridled joy, and I'd know it was 'the one'.
But she didn't weep. No misty eyes, no dabbing at her cheek with a crumpled tissue and no unladylike sniffing as she fought to compose herself. She simply told me how much she liked the dress, how beautiful I looked, and encouraged me to buy it. So I did.
However, twenty-four hours later, as an attentive sales assistant manoeuvred a vintage lace wedding veil into the hastily improvised up-do adorning my head, my Mother stood weeping behind me. My future Mother-in-Law joined in too. The pair exchanged knowing looks and embarrassed smiles as they dabbed at their tears, while I gazed uncertainly at my reflection in the mirror.
'Oh sh*t!' I thought. 'I'm going to have to wear a veil, aren't I?!'
Wedding veils are beautiful. Masses of fine, billowy silk cascading elegantly down the back of a wedding dress. Something neater and fuller that pauses just short of a bride's bare shoulders. A delicate whisper of netting that almost obscures the watery eyes of the wearer as she gazes adoringly at her betrothed. All stunning, but I never saw myself in any of them. Not once.
Veils have been part of Western wedding tradition for hundreds of years. Roman brides wore a vibrant flame-coloured veil supposedly intended to protect them from evil spirits. In the 19th century, veils came to be associated with a woman's modesty and quickly evolved into a symbol of purity.
This tradition, which is still sometimes observed today, sees a virgin bride enter into the marriage ritual with veiled face and head. She remains this way until the full conclusion of the wedding ceremony when either the bride's father or the groom lifts the veil, symbolising the groom's right to enter into conjugal relations with his bride. Similarly, veils are linked to ancient wedding rituals that symbolise the groom taking possession of his new wife, either as a lover or as property.
Wherever the tradition of wearing one has come from, whatever the rituals behind it, there are few things that say 'bride' quite like a veil. While a woman might have occasion to wear a floor-sweeping gown beyond the realms of her special day, there aren't many that could get away with sporting a cathedral length wedding veil anywhere other than, well… a cathedral on their wedding day.
Perhaps that's why my Mum's eyes finally filled with tears that day in front of the mirror. It was the veil that made it all feel real. Her daughter was getting married; I was going to be a bride.
Although deep down I think I knew wearing a veil just wasn't for me, that didn't stop me from agonising over my decision. In fact, I can vividly remember pouring over this post on Kate Moss's stunning wedding veil right here on Love My Dress and being overcome with a gnawing sense of doubt.
What if I regretted the absence of a veil on the day? Could I look like a bride without one? Would I even feel like one?
Putting my personal wobbles aside for one moment, there is of course a wealth of alternatives to wearing a veil on your wedding day.
Here's a little inspiration…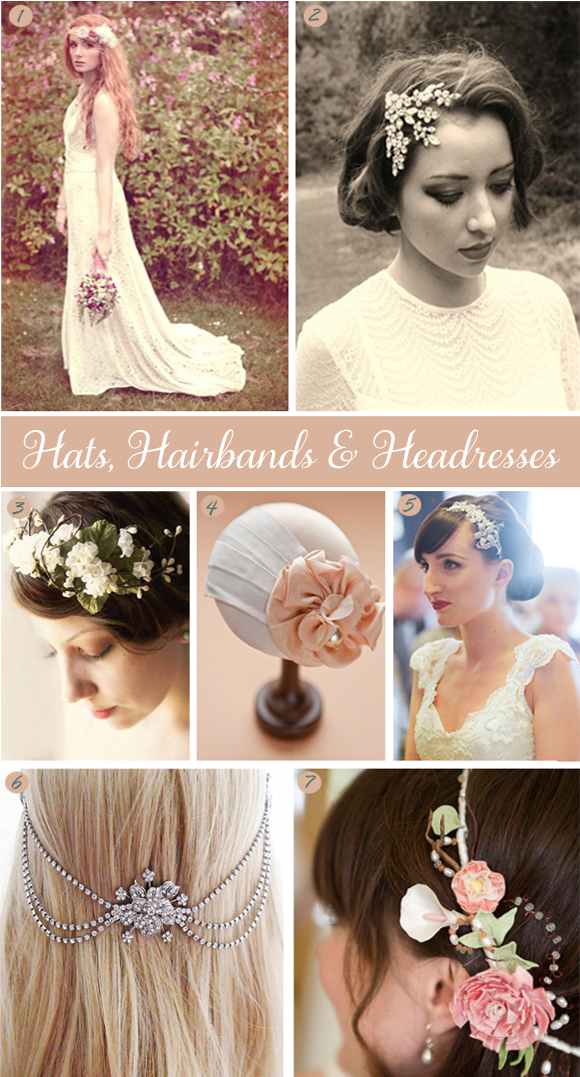 Image Credits: 1. Floral Forehead Band by Beretkah 2. 'Frankie' Headband by Jo Barnes Vintage 3. Flower Crown Tiara by Whichgoose 4. 'Flora' Cocktail Hat by Strumpet Bride 5. Me on my wedding day wearing Magpie Vintage Photography Copyright (c) 2012,  Eliza Claire 6. Trois Fleurs Hair Chain by Ruby & Frost 7. 'Hazel' Headdress by Susie Baird Designs
As I revel in the post-wedding glow that a mere three months of marriage affords, I can safely say not wearing a veil was the right decision for me. No regrets.
In the end, it was walking down the aisle towards my future husband that made me feel most like a bride. It had nothing to do with what I was wearing.
However, I suspect feeling and looking like a bride is a very personal thing. What works for one, might not work for another, and all anyone can do is explore all avenues.
Just try not to be swayed by weeping Mothers 😉
So readers, I'm curious. Will you, or did you, wear a wedding veil?
If not, how did others react to your decision to go without? Have you agonised over your decision?
What do you think will make you feel most like a bride on your wedding day? 
Franky 
♥
Read more features by Franky here, Franky joined the Love My Dress team in February 2012. Read more about her on our 'About' page.  Please also take a peek at our sponsors specialising in accessories and headpiece design; Corinne Smith, HT Headwear, Jo Barnes, Liberty in Love, Queens & Bowl, Rose Garden Accessories and Vintage Bridal Jewellery.