Afternoon all! Well we're in full 1920s glamour mode this afternoon with a shoot submitted by David from Modern Vintage Weddings, which celebrates all things Gatsby.
Set stylist for this photoshoot was Alexandra Merri, from The Bijou Bride…
"The F. Scott Fitzgerald novel is such a dark, hauntingly romantic tale so it was fun to create the happy ending you so wished Jay and Daisy could have had (hope that doesn't ruin it for anyone). 
When it came to the clothing although the novel is set it the 1920's the iconic film starring Robert Redford and Mia Farrow which David wanted us to use as a style reference is a mixed bag of fantastical flappers and 1970's soft focus…."
 Love My Dress Wedding Blog – Photography Copyright © 2012, Modern Vintage Wedding
I love this beautiful peacock feather fan by Love My Dress favourite accessories designer, Britten…
"I sourced a variety of original vintage and 1920's influenced clothing and accessories for the shoot.  We wanted the shots to convey a narrative of the love story and showcase different Vintage influenced Wedding settings from afternoon tea to charleston dancefloor toe tapping.  In keeping with the black and white dress code a flapper bridesmaid is a great look – our model is actually wearing a Kate Moss design for Topshop that demonstrates how you can get quality beadwork on the high street.
I set off the amazing lace Sophia dress by Circa Brides with an exquisite feather fan by Britten instead of a traditional bouquet.  Rainbow Club's heels were the perfect match to both the short flapper party dresses as well as the longer Wedding styles.  For the guys there was only one option the traditional tuxe, elegant and refined no matter the decade…."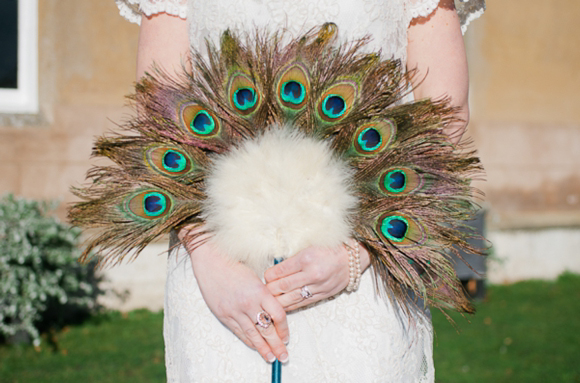 "When it came to the decor NonSuch Mansion is a fabulous backdrop with lots of quirky details that didn't require a great deal of dressing.  Peach and white roses play a key role in the film and I wrapped them around vintage candelabras to create unique floral displays.  Leaning on that soft focus romantic vibe, table's were dressed with gold scatter gems.
To guarantee a roaring 1920's feel I sourced this amazing Wedding Cake from Ann's Designer Cakes, a guaranteed show stopper, used vintage coupe champagne glasses as table decorations and Itty Bitty & Bijou designed monogrammed Wedding Stationery using authentic 1920's fonts."
Hair and Makeup Artist Gemma Sutton was responsible styling the models on this shoot.  Her advice to brides looking to recreate the Gatsby look is as follows…
"The 1920's make up is a very sexy, demure, mysterious and just plain beautiful look, that I think you will agree has stood the test of time. With this look you need to skip the bronzer and opt for some light coloured foundation and powder; skin during this time was pale. Exaggerate your lip lines by outlining a Cupid's bow shape above the top lip and fill in with a deep red or a red that suits your skin tone.
Add a black eye liner with lots of mascara and eyelashes. This classic look will really help your eyes and lips pop…"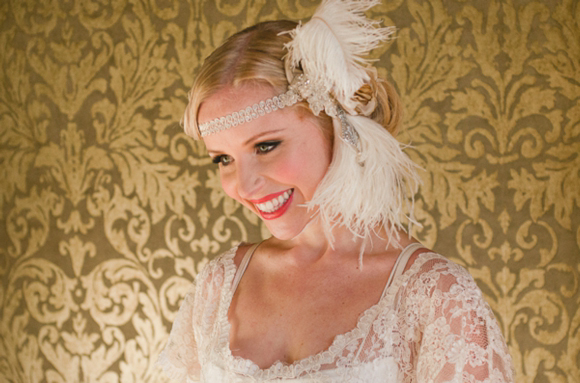 "My top tips in creating that perfect red Great Gatsby lip:
♥  Smooth concealer over your lips to lock down the colour.
♥  Work in thin layers, starting from the middle of the lip outward.
♥  Apply lip liner after the lipstick.
♥  Use a lip brush for a smother finish.
♥  Add clear gloss after to make lips look even fuller…."
"My Favourite red lipsticks:-
♥  Colour Fever Lipstick in 151 by Lancome – £17.50
♥  Signature hydra lustre lipstick in Rich Red by Estee Lauder – £17
♥  Moisture Drench Lipstick in Dare Devil by No7 – £9.50
Readers – read more about red lipstick and how to apply it via this Love My Dress video tutorial…."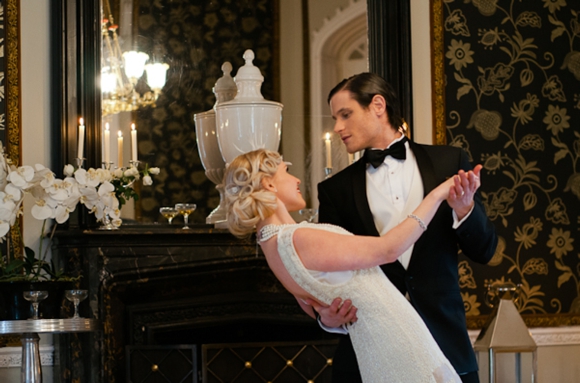 "Pin curls came into fashion in the 1920's, staying in vogue through to the 1950's. This look has lasted the test of time due to it's sheer glamour, it just shouts beauty, which why it will always remain popular. Simply add a vintage accessory to the hair for a finishing touch and you're ready to Charleston the night away…"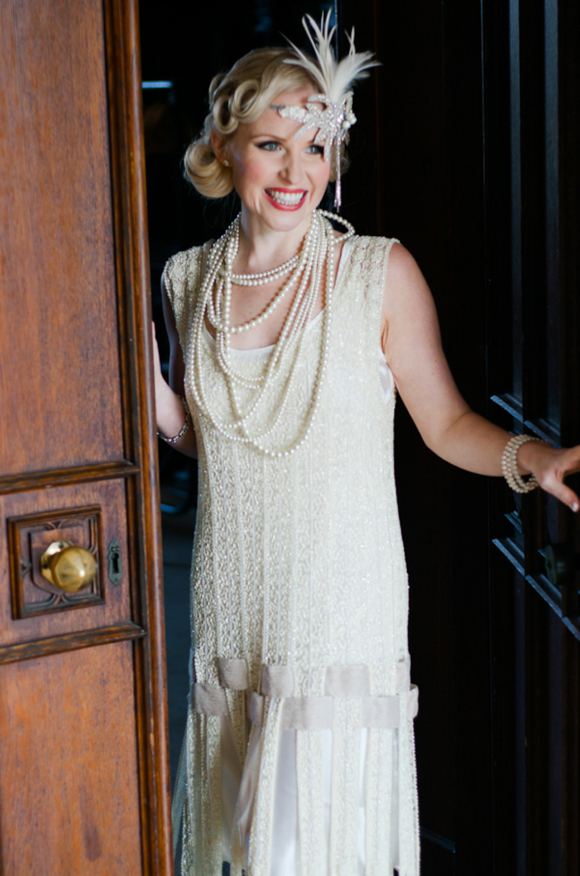 "To get the Gatsby look:-
♥  Prep the hair with shine-enhancing spay- This will cleanse and condition the hair, so it's ready to be styled.
L'Oreal Paris Elvive Nutri-Gloss £2.39.
♥ Tong the hair and secure curls in place with clips ensuring no areas are missed. Leave the clips in as long a possible.
♥ Take the clips out and pin back the hair in sections pulling away from the face. L'Oreal Elnett Satin Supreme Hold Hairspray £3.50.
♥ To ensure your hair doesn't droop, add kirby grips, keeping them the same colour as your hair to keep them a secret.
♥ To add a little more vintage style add some vintage accessories, giving this look romance and sophistication…."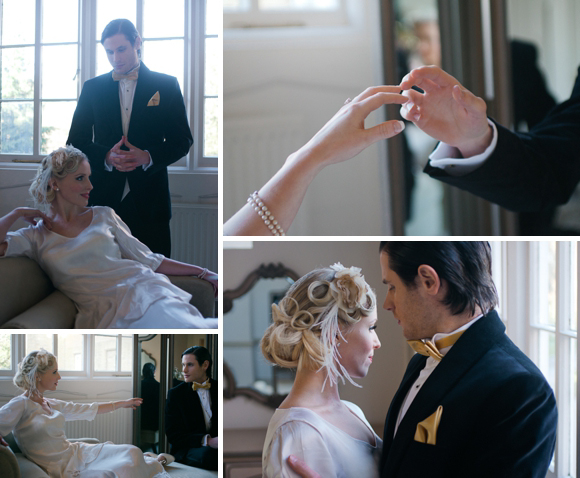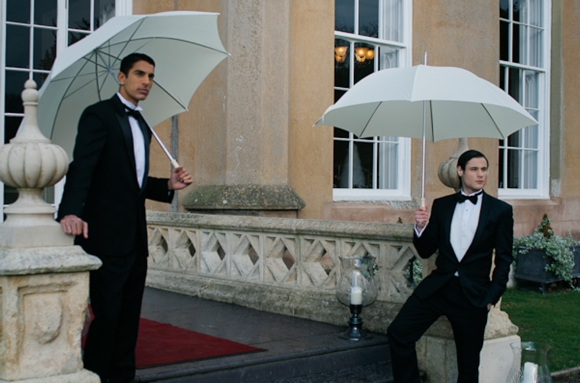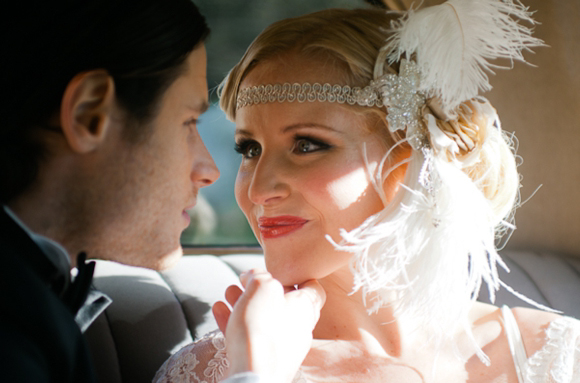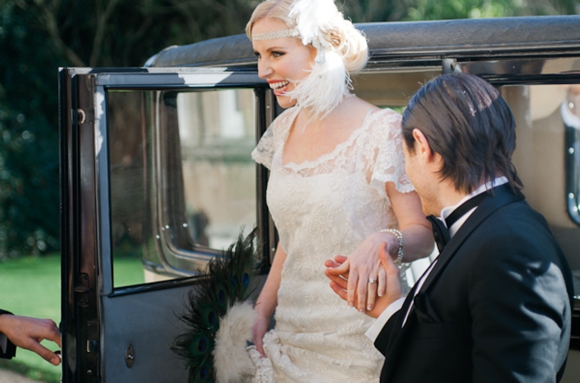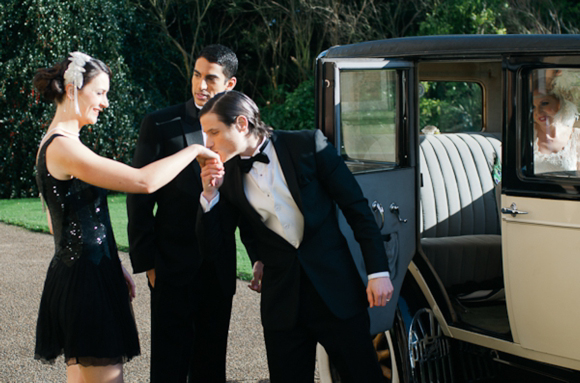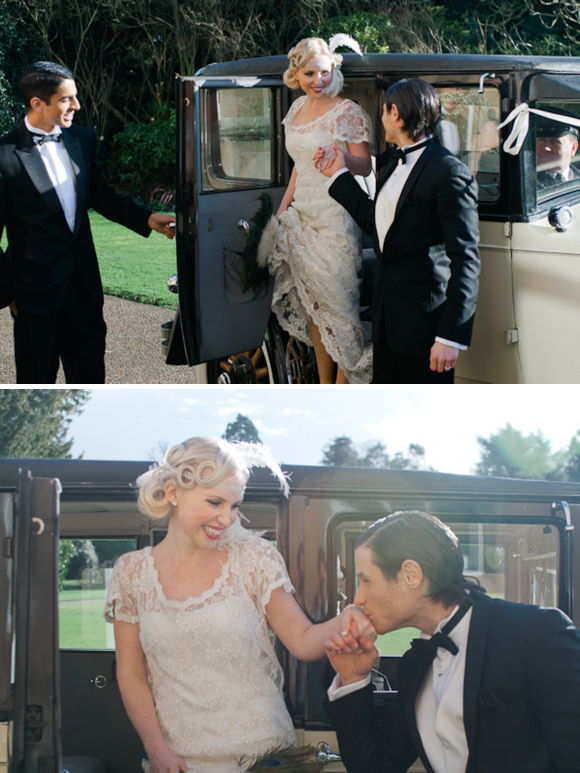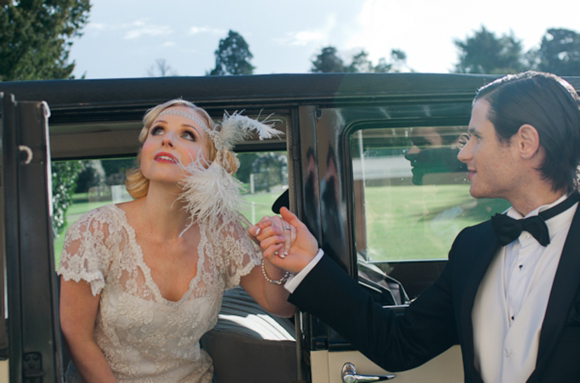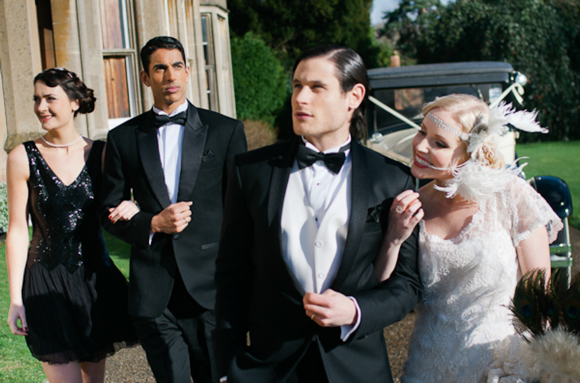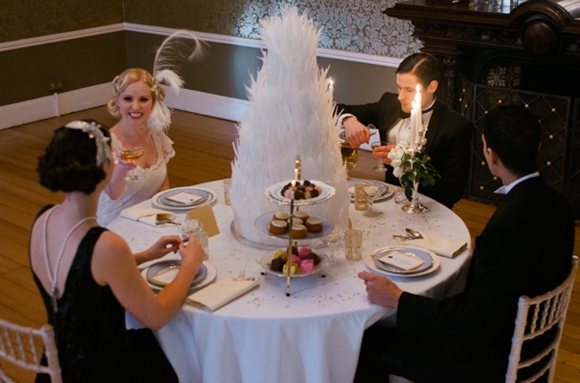 David from Modern Vintage Weddings also shares his thoughts…
"I wanted the shoot to capture the romance and decadence of the high society of 1920's up state New York that runs through the book and 1970's movie.  I just can't get enough of the Art Deco styling and optimism of the era- so much hope for the future!  As a hopeless romantic myself, Gatsby and Daisy just had to get married…"
"This shoot became the wedding that never was, but perhaps should have been. To set the scene, the first part of the shoot was the wedding party arriving back at Gatsby's mansion. Following on from this was the second part, a love shoot around the mansion and gardens. This was inspired by the imagery of the 1970's movie, in which there are some lovely scenes packed full with restraint, like the moment when they touch hands for the first time.
"Finally, it was anything goes as at the reception dinner the champagne flows and the wedding party loosen up, hitting the ballroom for some Charleston action. I hope the images might inspire couple's to explore the style of the 1920's for their big day, it's such a timeless and rich period…"
How very glamorously fabulous! Let's leave the creative team some love, who is adoring the Gatsby style?
You can see more Great Gatsby inspiration here on Love My Dress, and you might also want to browse through the 1920's and 1930's categories.
With much love all,
Annabel
♥
Creative Team Credits
Photography – Modern Vintage Weddings
Stylist – The Bijou Bride
Hair and Make Up Artist – Gemma Sutton assisted by Amy Elizabeth
Headpieces – Donna Crain
Location Nonsuch Mansion, Surrey
The wedding party arrive – Sophia Wedding Dress from Circa Brides
Vintage Wedding Dress – Velvet Atelier at Alfie's Market
The Duchess Dress from Le Luxe
The Bridesmaid wore:-
Black Dress Kate Moss for Topshop
Feather Boa – Circa Brides
Vintage Gloves – Alfies Market
Models Alex, Renee, Adrian and Emily
Shoes – Rainbow Club
Menswear from – A Suit That Fits
Fantasia Cake – Ann's Designer Cakes
Crockery and Candelabras Gilly – Vintage Days
Feather Fan – Britten
Stationery Bespoke – Itty, Bitty & Bijou
Vintage Car -  BC Chauffeurs