Well hello there lovers, top of the very cold and frosty morning to you!  Between now and Christmas, we have lots of gorgeous weddings to share with you and I'm keen to end the year with a big injection of beautiful imagery, which is essentially what Love My Dress is all about, and so you can expect to see lots of beautiful weddings over this and next week, before we take a Christmas break to spend time with our families and loved ones – for me, in a brand new home!
The DIY style wedding this morning features Mr & Mrs McInerny who tied the knot on 26 June this year at Priory Hall in Hadleigh, Suffolk and these images were sent in by the lovely Molly Matcham.  I love the idea of a 'co-operative wedding', where everyone they love contributes something special towards their wedding day…
"More than anything we wanted a day that was personal to us and reflected who we are and the special relationship that we have as a family. Neither of us is either religious or bothered about tradition. We just wanted to do our own thing…"
Love My Dress Wedding Blog – Photography Copyright (c) 2012, Molly Matcham
"The idea
of a 'cooperative' wedding really appealed to us; we wanted our friends
and family to feel part of the day so we invited people to contribute in
various ways. My little girl designed our invites that were then given a
professional touch by Greg's Graphic Designer brother, Steve.
Lots of
people made us wedding cakes and puddings for our afternoon tea and a
friend of mine lent us her beautiful vintage china. My mum and brothers
wrote and took charge of a pub quiz which everybody loved. My mum in law
and sisters in law made origami cranes to decorate the trees. We
couldn't have done without my Aunty who did the flowers and made both
mine and the little bridesmaids dresses."
"In terms of doing away with tradition, instead of invitations
coming from the parents of the bride, ours came from our daughter
Esther. She also wrote a speech which brought a tear to the eyes of most
of our guests! My two brother's gave me away and we didn''t bother with
formalities such as cutting the cake.
Our photographer Molly was great
as she understood that although we wanted loads of pictures, we didn't
want to spend loads of time away from our guests. I think the least
traditional part of the wedding was the fact that I ended up eating my
wedding breakfast with the children in the kids tent!!"
"We wanted to get married near our new home in Cambridge rather than
going back to Yorkshire where we both grew up. We struggled to find
something perfect in Cambridge so started to look in neighbouring
counties. Priory Hall
was the first venue that all three of us (me, Greg and my daughter
Esther ) all agreed on and we fell in love with it instantly. The place
is magical.
We wanted everything on one site so that our guests could
totally relax and enjoy the day. The building and the gardens are
exceptionally pretty without being overly grand and formal. It was
important to us that everything about the day was as relaxed as
possible. On top of this, the owner Cyndi is just lovely and was a
pleasure to work with."
"My dress was designed and made by my talented (and
very patient!) Aunty Audrey.  I tried on various shop- bought mega posh 'proper' dresses but they
just weren't me. I knew I wanted mid length and three quarter length
lace sleeves and we just went from there.
I didn't need a necklace because the lace
of my dress was so beautiful. I wore some pearlescent duck shaped
earrings that my husband and daughter bought me for mother's day 
present and a plain pearl bracelet from a craft market in Cambridge."
"All the little bridesmaids dresses were handmade from silk. My
'big' bridesmaid's dresses came from a Cambridge boutique called
'Cuckoo' and are made by 'Great Plains'.
My daughter is mad on bows so my little bridesmaid's all wore
different sized headbands, handmade by my Aunty Audrey. The older ones
wore gorgeous pearl clips or bows from Accessorize."
"I wore a pair of blue and pink Vivienne Westwood bubblegum scented
rubber Melissa's. Loved  wearing these soooo much despite them killing
my feet on the day! I actually think I had just as much fun buying them
from the Vivienne Westwood store in Leeds.
One of greg and I's favourite flowers are scabious, so I had to
have them in my bouquet despite them being out of season. I adore
'memory lane' roses so they were a must too. I knew that I wanted blues
to match my shoes and Greg's suit and wanted them arranged to look like
they'd just been picked from the garden. My Aunty Audrey has the most
beautiful garden in the world so I knew that whatever she chose would be
perfect."
"We used so much bunting! Also for the night do, we had bought some
cheap IKEA frames and filled them with posters of things from our
youth. We had a 'Back to the Future' one and a 'Stone Roses' to name a
couple…"
"My two brothers, Ben and Tim gave me away. It was so special, very
emotional and a memory I will treasure for the rest of my life."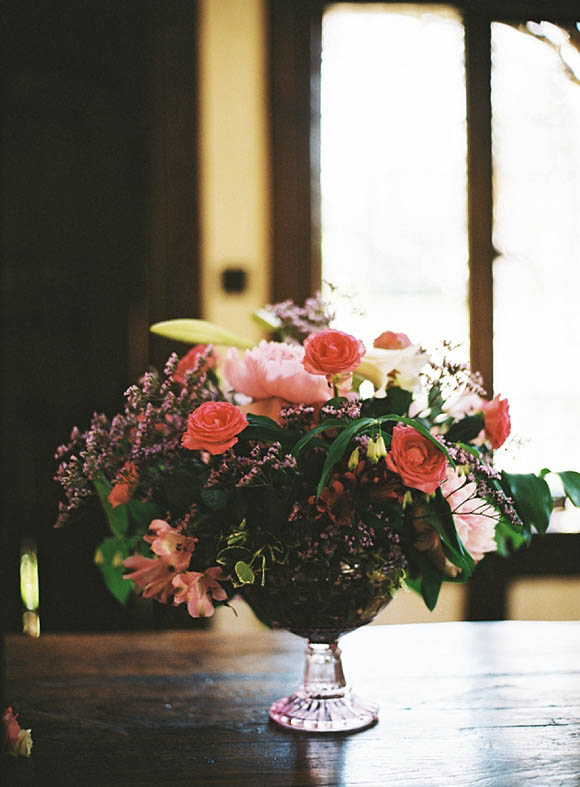 "Greg and I had been together for 5 years before he got down on
one knee and proposed to me in a motel room in upstate New York last
summer. Although we originally met at a pool hall whilst both living in
Leeds, it was definitely a case of love at second sight when we met
again at a party and talked the whole night through.
My
daughter Esther, who was 8 at the time, was there throughout the
proposal and was bouncing off the walls with excitement when Greg popped
the question."
"Our photographer, Molly Matcham was just perfect for us. She
completely understood the types of photographs that we were looking for.
Our guests adored her, as we did, which i think came out in the
photographs. Neither me nor Greg enjoy having our photo taken but Molly
put us at ease in a way that it just felt like fun. We laughed and
smiled throughout which I think gives our pictures have a natural  feel
to them.
One thing I didn't want was to miss my own wedding because of
being dragged off for photo shoots. Molly understood this and yet we
still have a collection that we'll treasure for ever. Molly used
different cameras including film and Holga which created a set of
pictures that made us squeal with delight!"
"There was no way that i was letting anyone other than me near my
face on the most important day of my life!!! I bought all my make up
from Benefit, stuck to what i knew and think I did a bloody good job.  I
absolutely LOVED having my hair done though. My mum sourced out a local
hairdresser Suzanne Cassey from weddingcurls.com who did an AMAZING job
creating vintage style do's for me and my bridesmaids. We had loads of
girly fun on the wedding morning- it was one of my favourite parts of
the day!
My veil was a charity shop find…"

"After much deliberation, we chose 'A change is gonna come' by
Sam Cooke for me to walk down the aisle to. It's got a perfect intro to
walk down the aisle to, but also, the line 'it's been a long time
coming' is really symbolic of the life journey we've both been on
leading up to our wedding day.
There was no way we were
going to read out anything but something we'd written ourselves. My
daughter told us afterwards that this was her favourite part of the
whole day. It's your chance to tell all of those closest to you just how
much you mean to each other. The vows you make to one another make the
rest of the day seem almost insignificant. It's why you are both there.
Greg
and I chose one special person each to do a reading. For me, it was my
friend Sue and i wanted her to chose a reading that she thought
represented us. She read ne of Shakespeares Sonnet's beautifully. Greg
chose his friend Manny to read out a passage from the 'Velveteen Rabbit'
. Another wedding highlight was when Manny's little boy joined him
whilst he was reading, looking up mesmorised as his dad spoke, as if he
was listening to a bed time story."
"We had about 15 wedding cakes! Friends and family made an amazing
selection of bird related treats. Highlights have to be Kat's birdcage
creation and Tess's Pavlova. There was no way I was spending hundreds of
pounds on a cake and this worked out perfectly. Everyone loved our cake
table."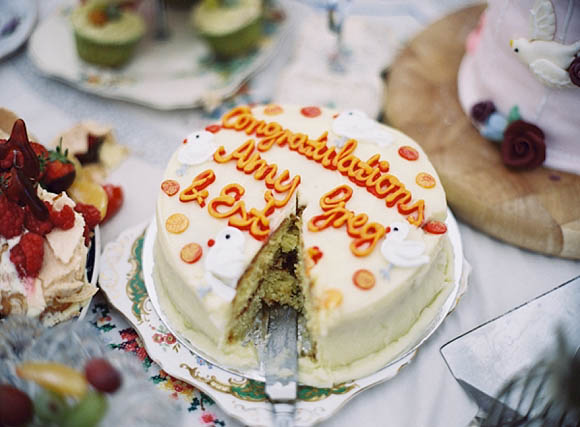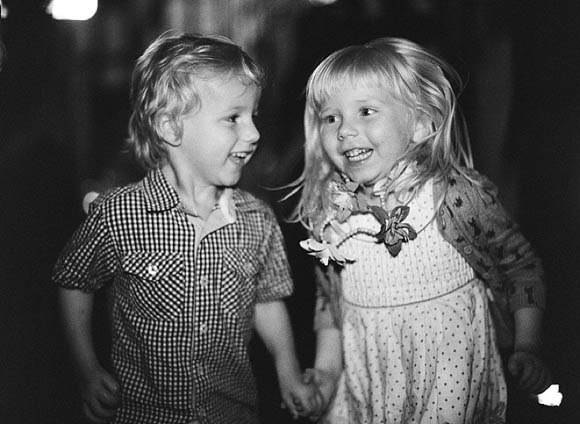 "We danced to 'Teenage Wedding' by Chuck Berry. We thought a slow
dance would just be awkward and anything in between would be too
embarrassing. This is a fab tune to just enjoy. We loved dancing to it
as much as we love the film it appeared on 'Pulp Fiction'."
Words of Wedded Wisdom…
"I probably looked at Love My Dress twenty times a day before my
wedding day! Didn't bother with any other magazines or blogs- you were
everything I needed!
This is YOUR day, YOURS. You and your fiancés. Don't get swayed by well meaning relatives and don't get sucked in to the profit making wedding industry unless you want to. Chill out. Enjoy every minute. Be a happy bride not a stressed out one. Things may not go perfectly but so what? Believe me, you won't even notice the odd imperfection on the day."
Oh what a wonderful way to start the day! Let's show some love for Mr & Mrs McInerny and their beautiful 'cooperative' wedding day – and here's hoping it inspires some of my wonderful readers.
Big love to photographer Molly Matcham for supplying these beautiful images too.
See more DIY style weddings right here peeps. Have a lovely morning,
Annabel
Photographer – Molly Matcham
Venue – Priory Hall
Brides dress + bridesmaids dresses – created by the bride's Aunty Audrey
Brides Shoes – Vivienne Westwood bubblegum scented rubber Melissa's
Brides Hair Accessories – A home made pearl headband with charity shop veil attached!
Grooms Suit – John Lewis + Shoes from Jones, tie from Paul Smith and a Jigsaw shirt
Florist – the bride's Aunty Audrey
Cake Designer – Friends and famil
Entertainment – yourweddingdisco.cok
Hair Stylist – weddingcurls.com