Oh my darling readers, I'm sorry this is a little late, I really am, I couldn't let today slip by without featuring a lovely wedding though, and because I"m late, I've brought forward one of the loveliest weddings I have waiting to be published to inspire you.  I think you're going to love this.
These beautiful photographs were sent in by Naomi Kenton, whose fine art wedding photography we are huge fans of here at Love My Dress.
Katie and Stu got married on 26th July 2012 Northbrook Park in Farnham, Surrey – a day which also happened to be the hottest day of 2012 – reaching temperatures of 32'c!  I'm imagining that Katie felt effortlessly cool and chic in her gorgeous, backless floaty gown however…
"My dress was Jenny Packham Minerva and I purchased it from Shay Harris bridal boutique in Southampton.  I
knew I wanted this Jenny Packham dress as I loved the soft tulle layer
skirt and the gorgeous vintage beading and detailing on the shoulder…"
Love My Dress Wedding Blog – Photography Copyright (c) 2013, Naomi Kenton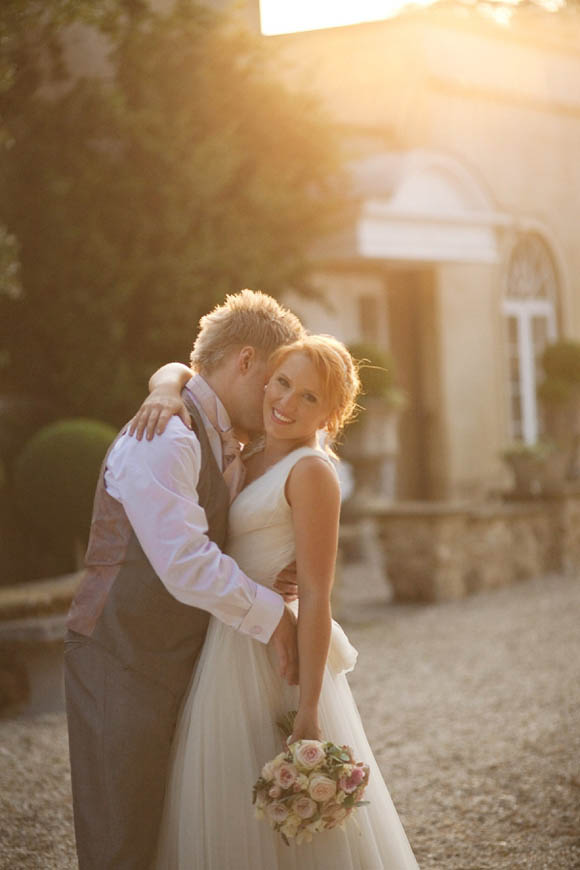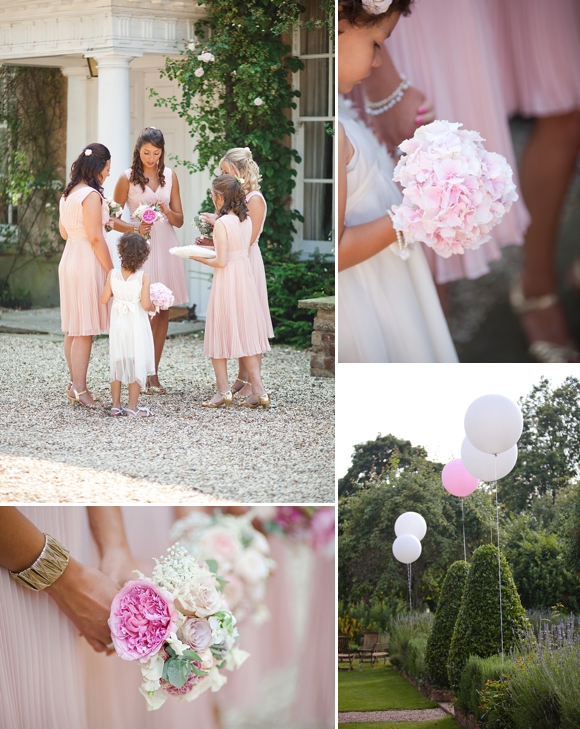 "I
was unable to get an appointment at the Jenny Packham boutique, so
searched to see where else stocked this dress, and stumbled across Shays
shop.  I made an appointment to try it on and to begin with was really
disappointed, as the style did not suit me at all.  The dress had a
dropped waist, which on someone of only 5'1 was not at all flattering.  loved the top half of the dress though, and asked shay if she could
move the skirt to on my waist and create a waist band of tulle around to
give it more definition, that would then tie in a bow at the back…"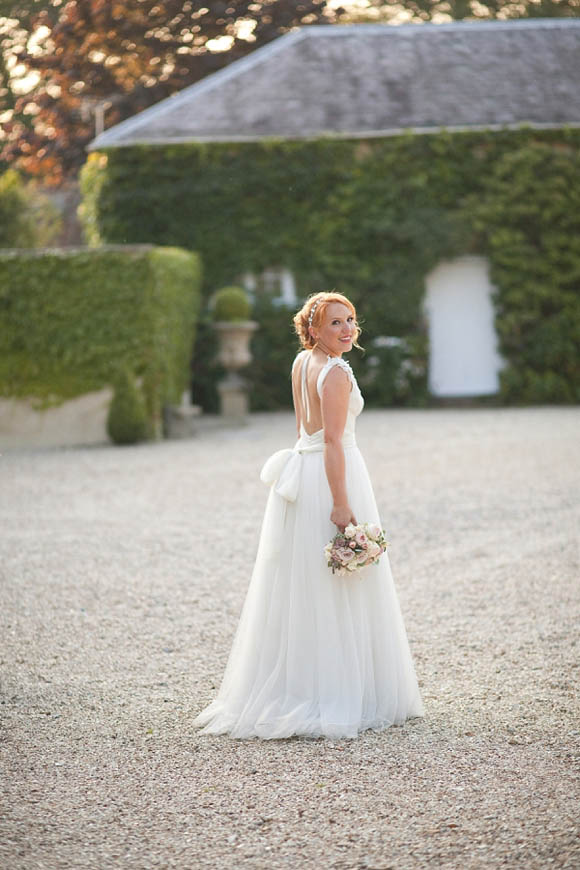 "I had a vision of soft pastel pinks, and feminine – almost ethereal touches to the wedding styling.  Bex from Blush Floral Design was one of the first suppliers we booked to help me achieve my styling vision. 
Her flowers are so beautiful and meeting her and her lovely mum for our
consultation assured me she would do a fantastic job. We wanted the
flowers to be romantic, soft and blousy, in pastel pinks, creams and
greens.
Bex understood me perfectly and created such beautiful flowers
that when I was handed my bouquet on the day I cried because it was
everything I had imagined and more!"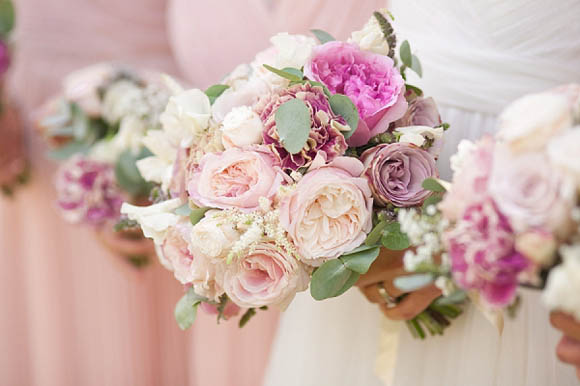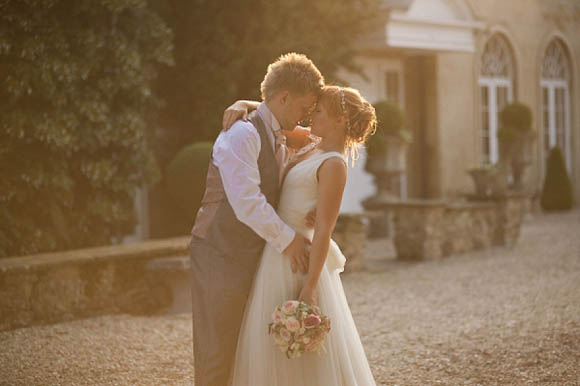 "Shays dress alterations were faultless and it made the dress even more special to
me, as I knew it was unique and styled to suit me perfectly."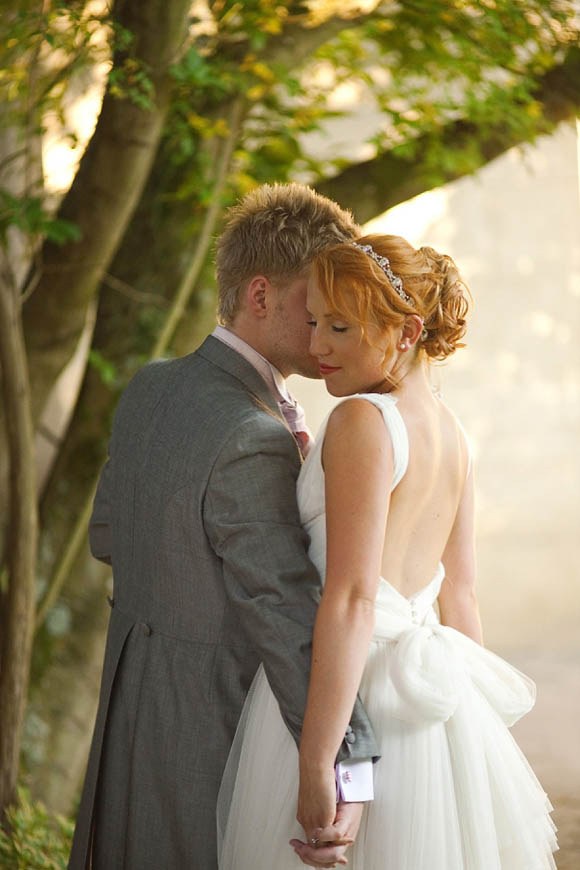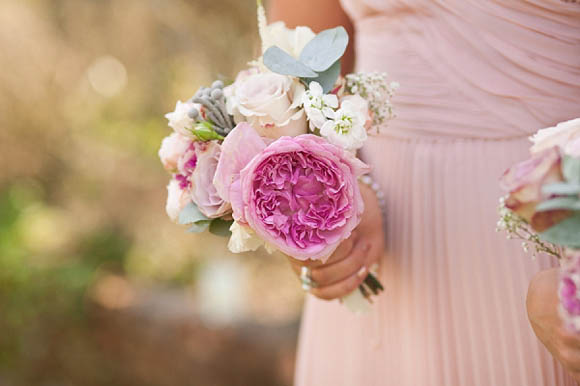 "My shoes were Christian Louboutin
and were one of my favourite purchases for the wedding. Although you
couldn't even see them under my dress I loved them to pieces. Also all
of Louboutins bridal shoes have blue insoles, so they were my something
blue!"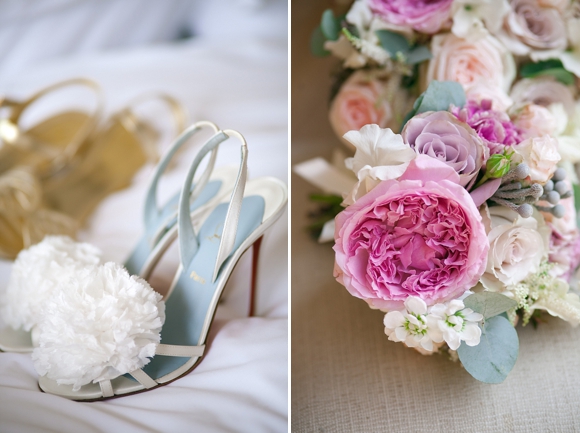 "My friend
Abbie from university set us up. Her boyfriend (now fiancé) Jon and Stu
have been best friends since the age of 10 and Abbie told me I had to
meet Stu as she thought we would get on really well.  They arranged a
night for us to meet, and we have been together since that night.  Four years and ten months later we got married!
We got engaged on the 12th
August 2011 on a trip to Rome to celebrate my birthday.  I had no idea
Stu was going to propose; it was the perfect proposal, just before
midnight by the ancient ruins of Rome (The Forum) all lit up.  We
originally planned to wait until 2013 to get married, but one month
after getting engaged we decided why wait so long and started organising
for a 2012 wedding."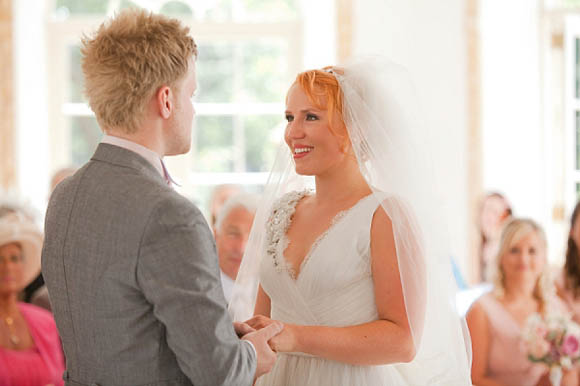 "I had my three best
friends as bridesmaids and also my cousin Mia who is only 11. It was
hard to find a dress that was suitable for all four of them to wear, as I
didn't want Mia to be in something different to the other three. I
found these beautiful pink chiffon pleated dresses from Kaliko and Shay Harris altered a size 8 to fit Mia's 11‐year‐old frame. Shay Harris is an absolute genius with alterations and Mia was over the moon to be wearing the same dress as the 'big' girls!
The bridesmaids shoes were a bargain buy from H&M.
I loved the gold t-bar design, as they reminded me of the shoes Baby
wears in Dirty dancing! I even brought a pair for myself to wear on
honeymoon I loved them so much!"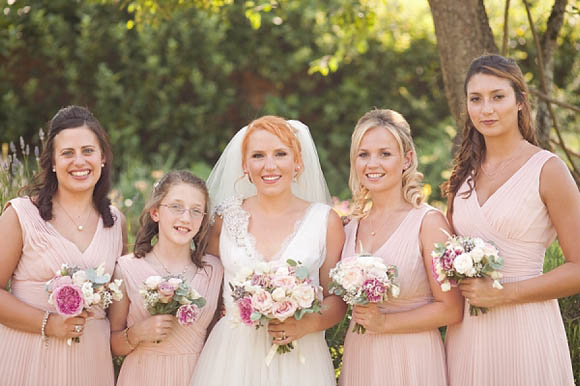 "My two cousins who flew over from Thailand to attend the wedding were our flower girls. They both wore a dress and shoes from Monsoon…"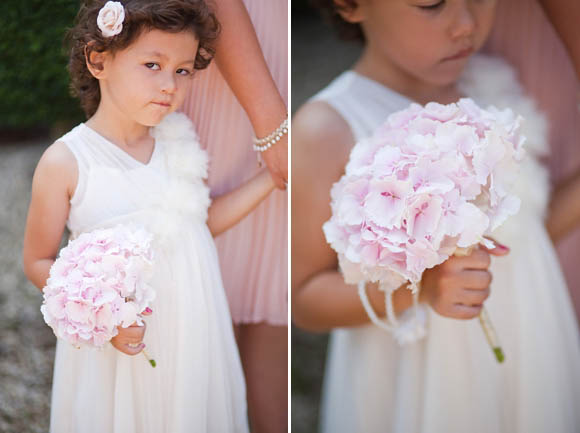 "My veil was the one my mother wore on her wedding day nearly 30
years ago and was my something borrowed. It was silk tulle and edged in
lace. When I tried it on with my dress the colour matched perfectly. "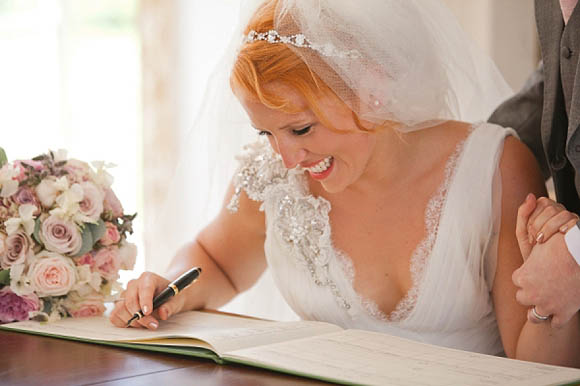 "My hair band was from Powder Blue Bijoux On Etsy.
I wanted something beautiful and slightly crystally without being too
bling, it tied at the back of my hair with a satin ribbon in a bow.
Stu's
mother Eileen gave me a pair of beautiful pearl studs from Links of
London on the morning of our wedding. I wore these for the day as they
fitted perfectly with the pearl detail on my dress.  In the evening I
added a crystal and pearl detail bracelet also purchased from Shay Harris."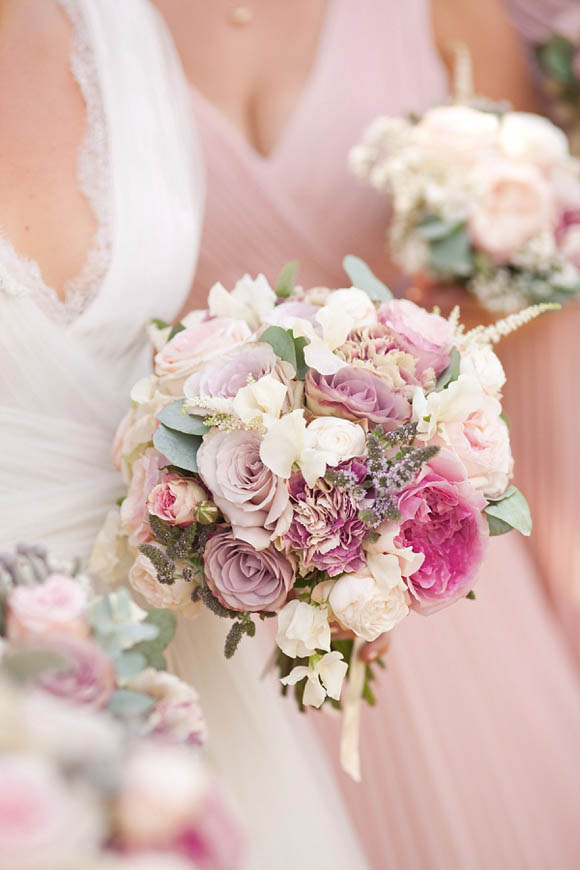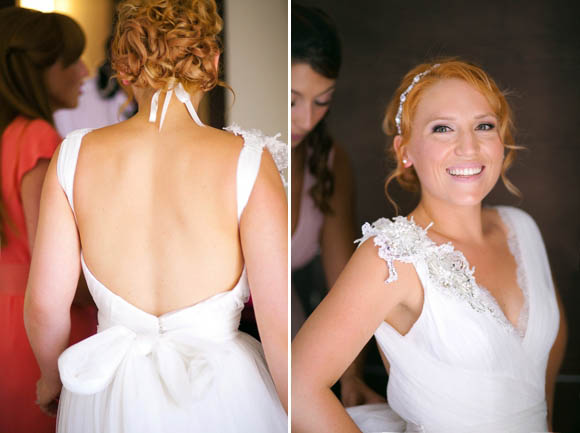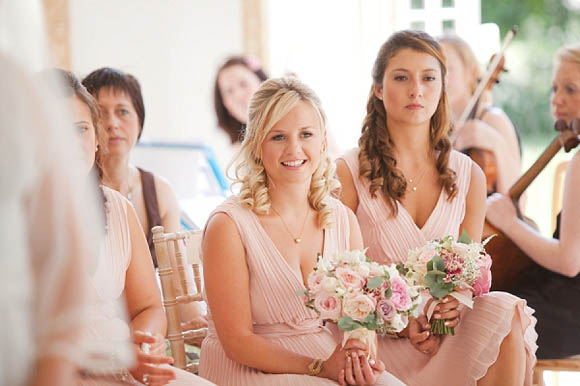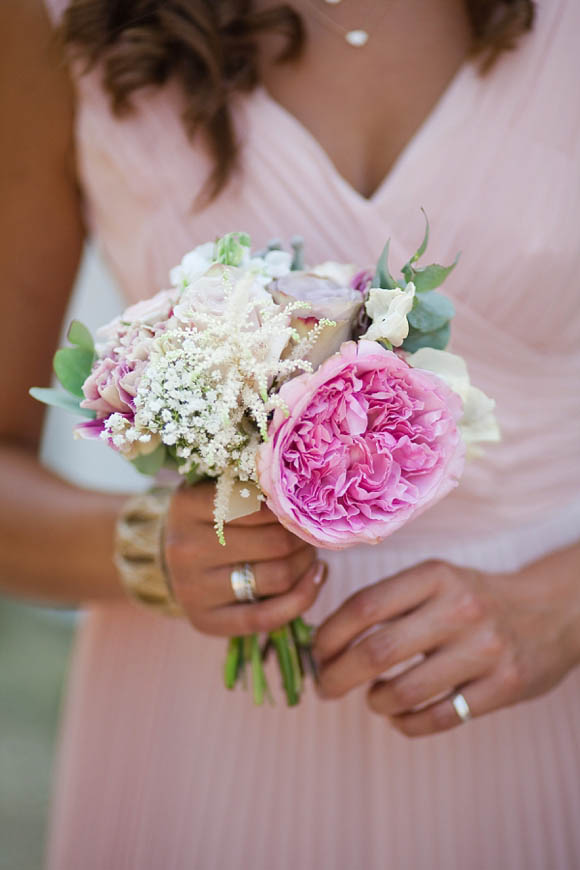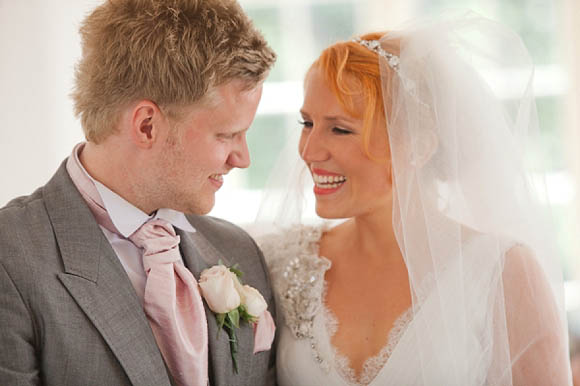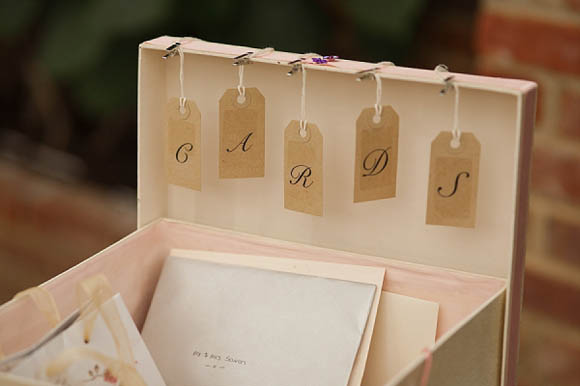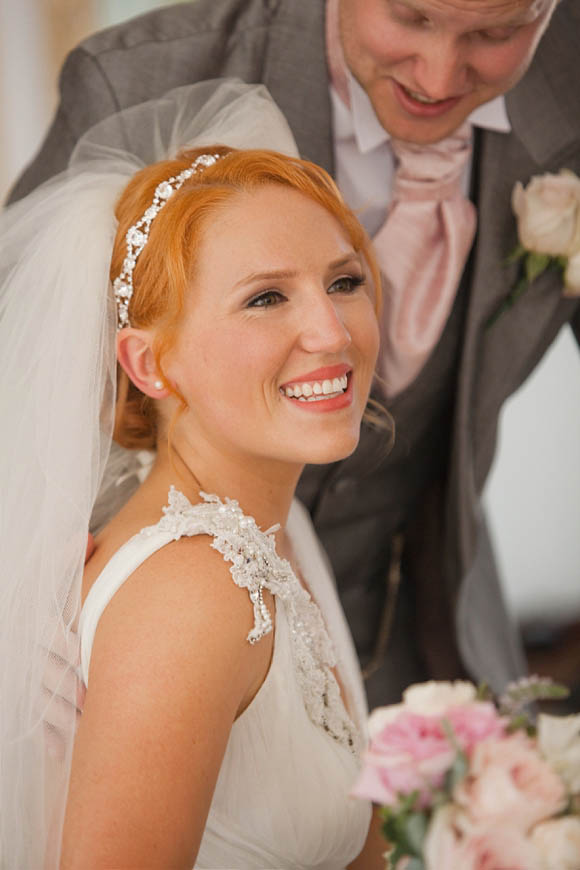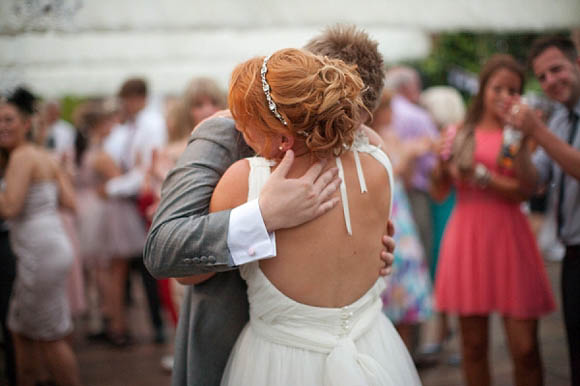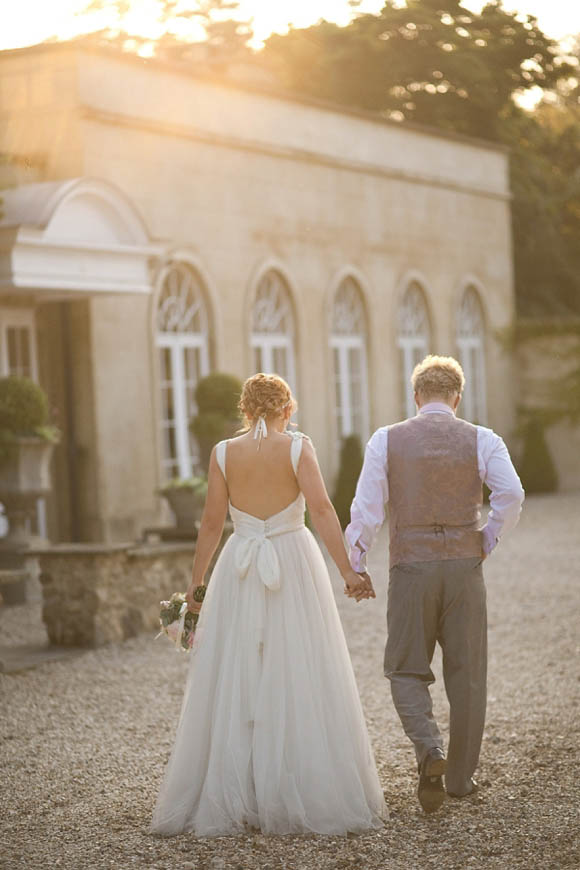 "Northbrook Park
is so beautiful that there was not much need for adding decorations.
But we did have giant helium balloons tied around the gardens, which
looked amazing…"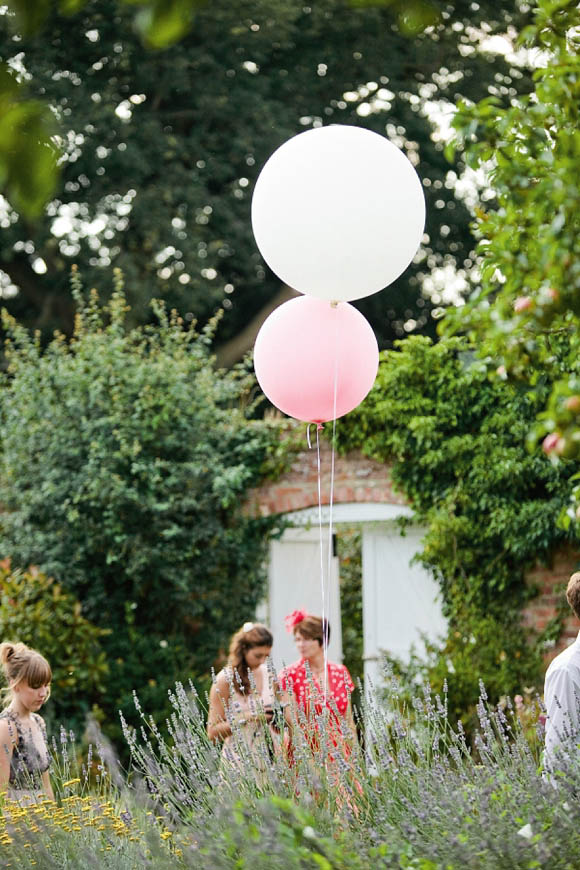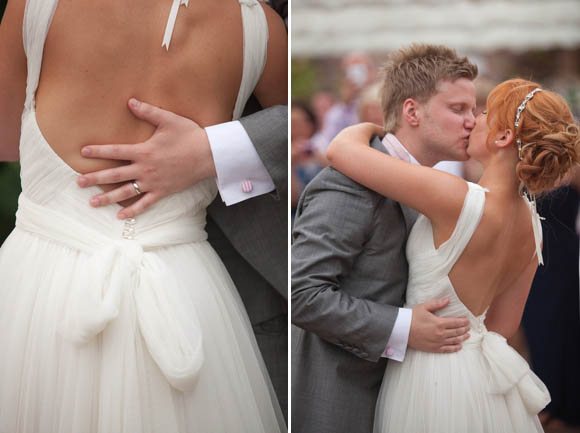 "Our table plan was an old map of Rome (where we got engaged),
purchased from Ancient Shades on Etsy. Each of the tables were named
after our favorite places we went on our trip."
"Our photographer was Naomi Kenton. I was really struggling to
find a photographer and mentioned on a consultation with Bex our florist
that I couldn't find anyone I liked. She recommended Naomi to me, and
as soon as I saw her pictures I knew I wanted to book her.
Her
style is so soft ‐ feminine, romantic and really captured the beauty of
the day.  She uses natural light in such a stunning way I can't believe
how beautiful the pictures are."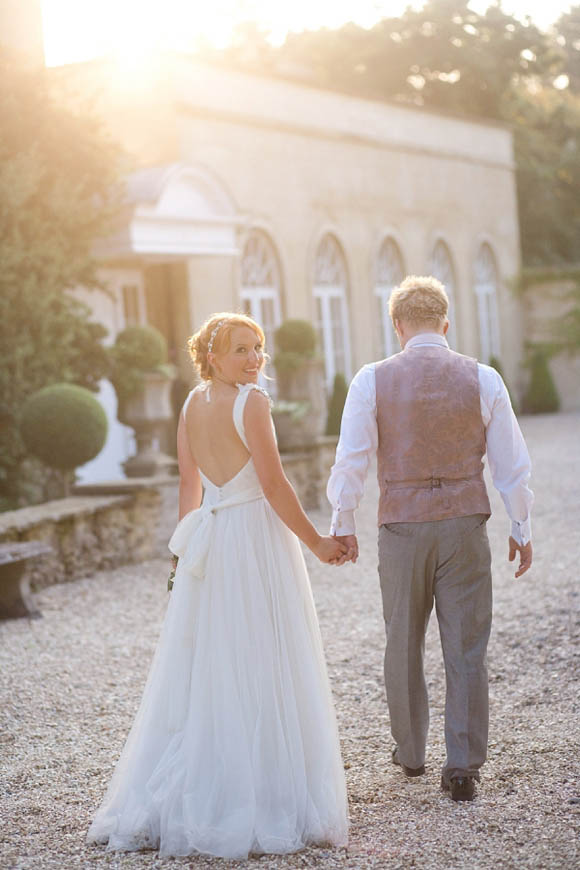 "Our venue,  Northbrook Park in Farnham, Surrey, was the first venue we went to see, and after viewing it nowhere else could match up!  We
loved that the vine room where the ceremony took place had quite a
formal quality to it, and yet the orangery where we had the reception
was more laid back.  
The gardens are really beautiful,
and we loved that on a sunny day one side of the orangery is made up of
doors, which can be opened up onto the gardens.  We also loved that
there was accommodation at the venue as we had lots of guests coming
from the Isle of Wight, Scotland and even Thailand!"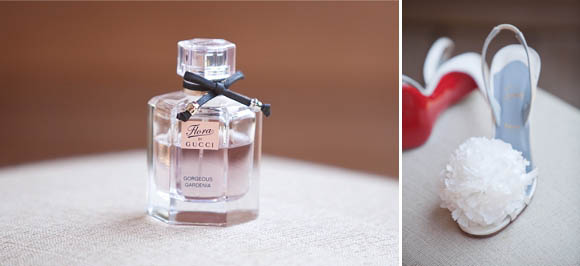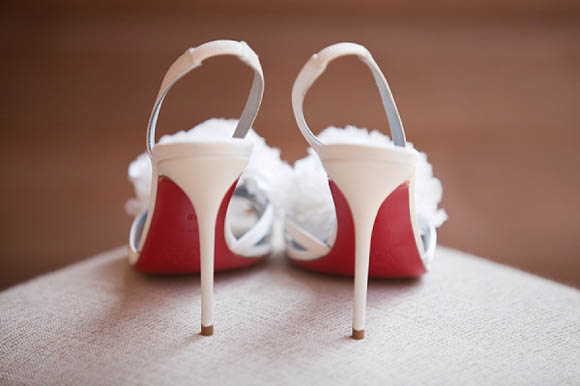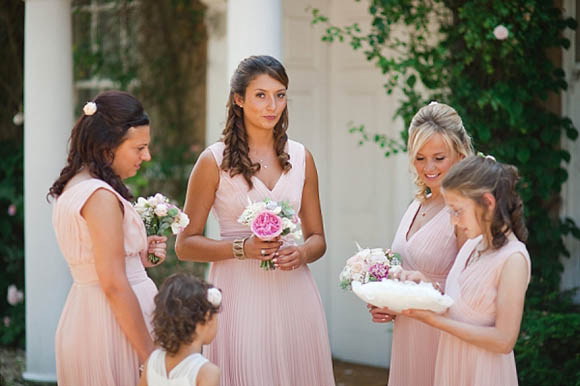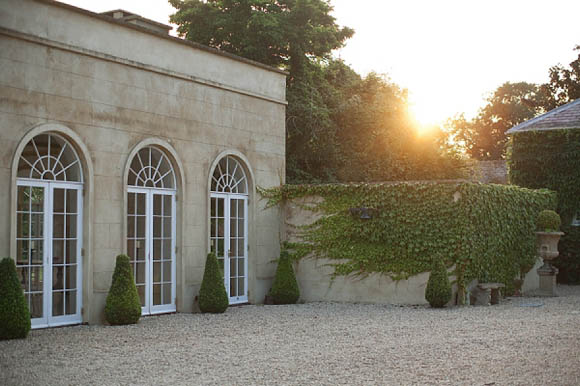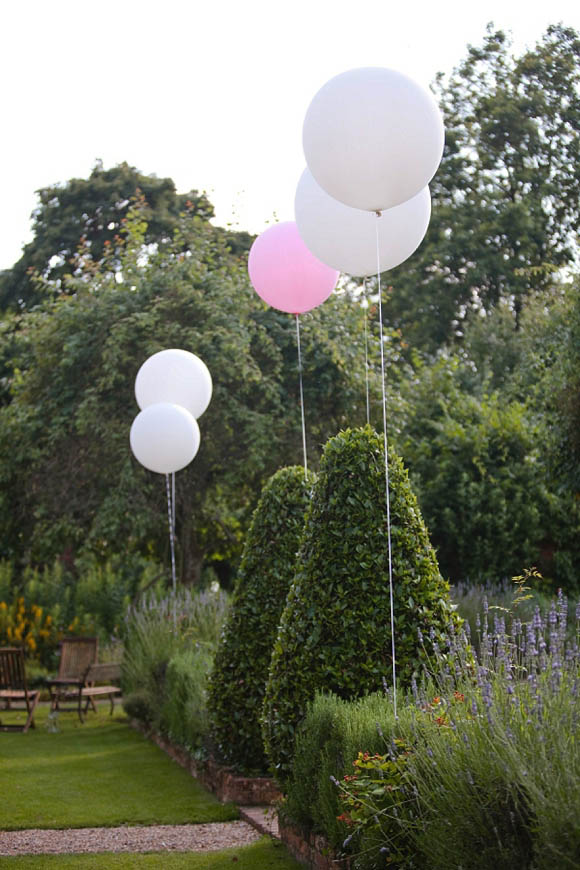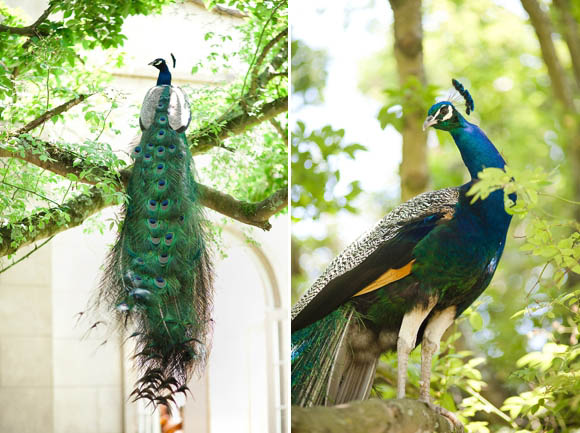 "Stu and his best man wore a light grey morning suit, a grey
waistcoat and wingcollared shirt with dusky pink cravat and shoes. His
ushers and the fathers wore the same but with a normal collar and dusky
pink tie. The suits were hired from Hugh Harris in Woking, and were their William Hunt designs."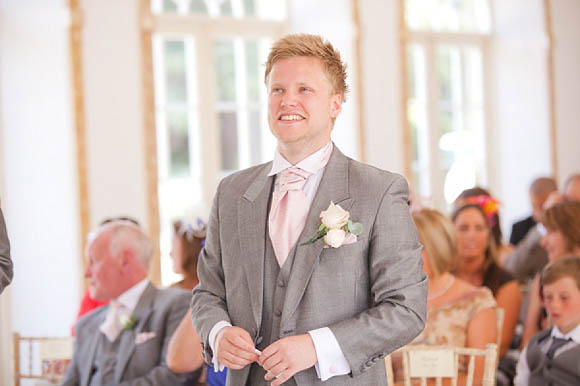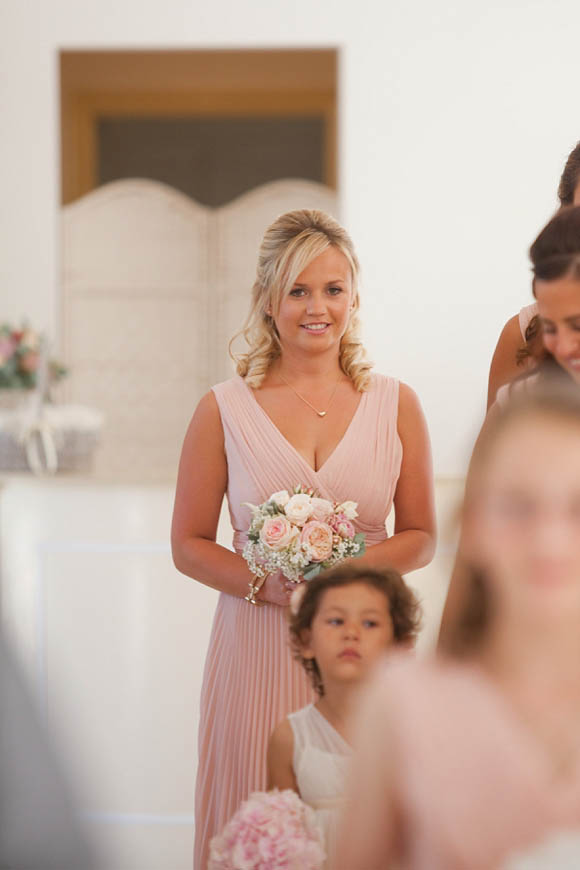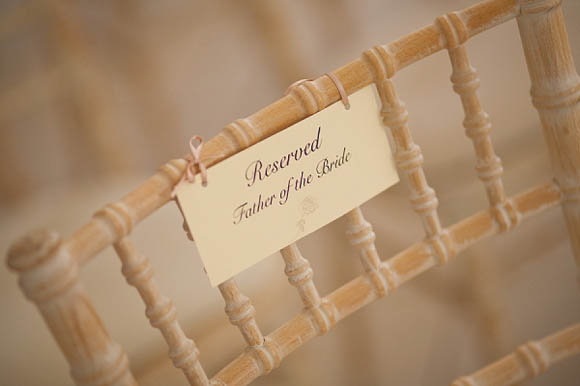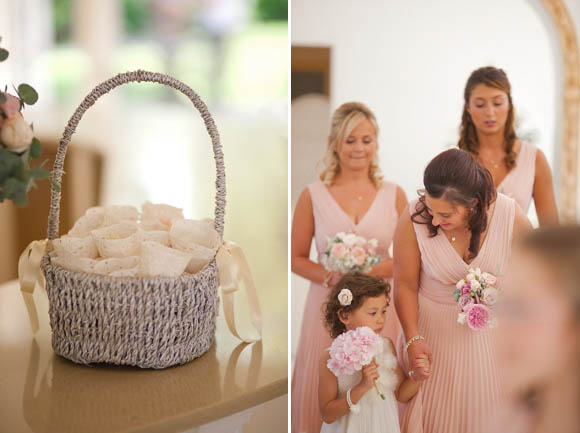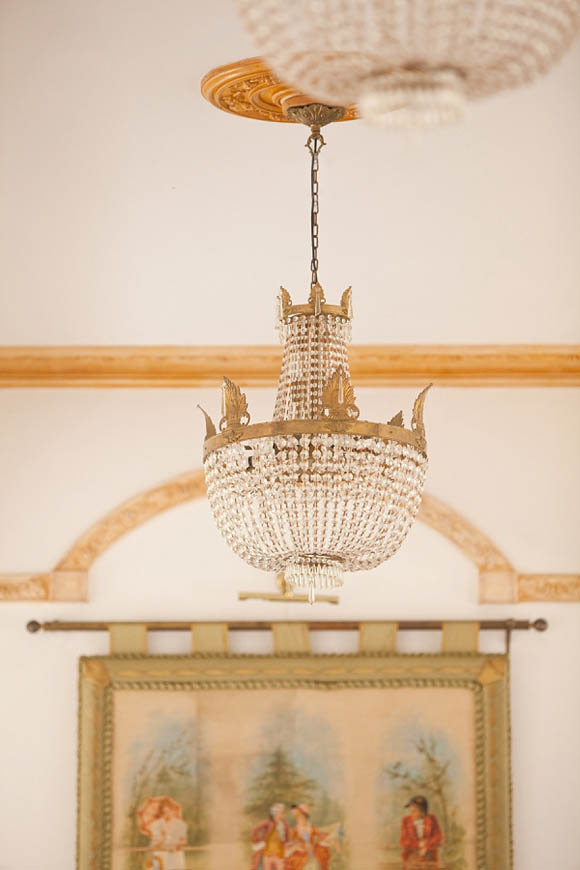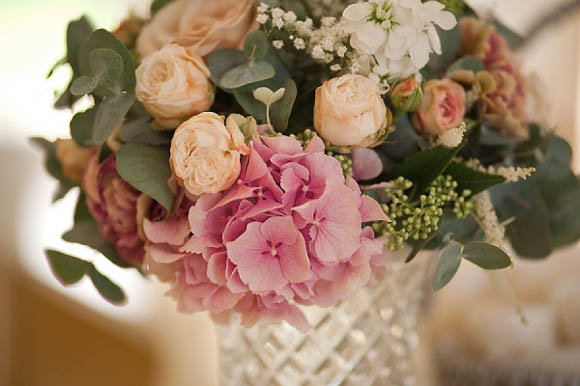 "Stu arranged as a surprise for me, for a string quartet
to play when I walked down the aisle, and during the drinks reception
in the garden after the ceremony. After we had said our vows and were
signing the register he asked if I liked the surprise -  I was so caught
up in the emotions of walking down the aisle that I hadn't even noticed
them sat in the corner! It was such a lovey surprise, and it was nice
to have them playing after the ceremony."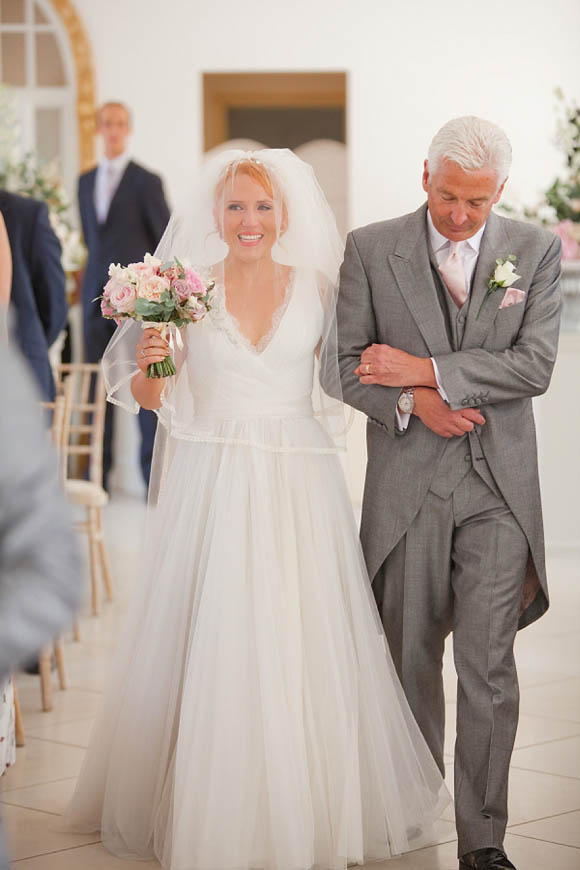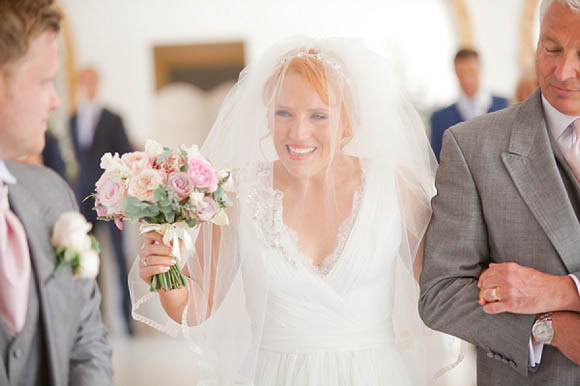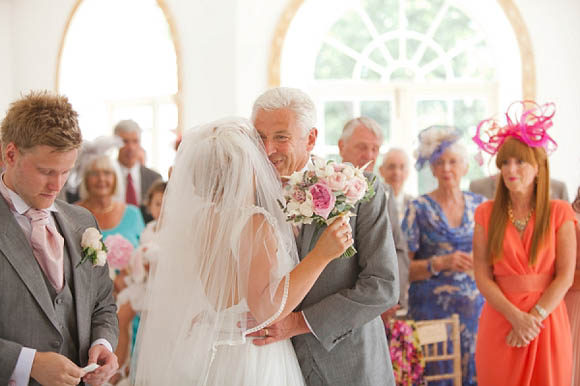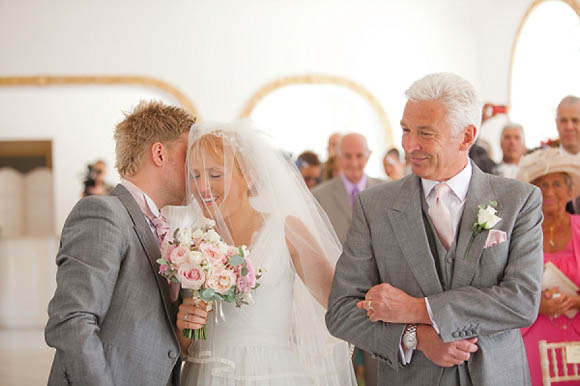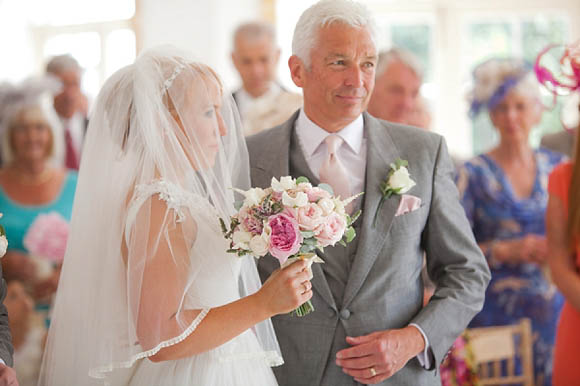 "We wrote out vows together. We thought this was really important ‐
to share the same promises and hopes for our future together.
We
had one reading, which my mother did. It was from a book belonging to
my Mother's grandmother that had been given to her on her birthday on
the 13th March 1918. The book is a book of poetry called Treasury by
Ella Wheeler Wilcox and the poem was called The Kingdom of Love. My
other choose this reading for us as it talks about how you can journey
far and wide but the best love you can find is at home!"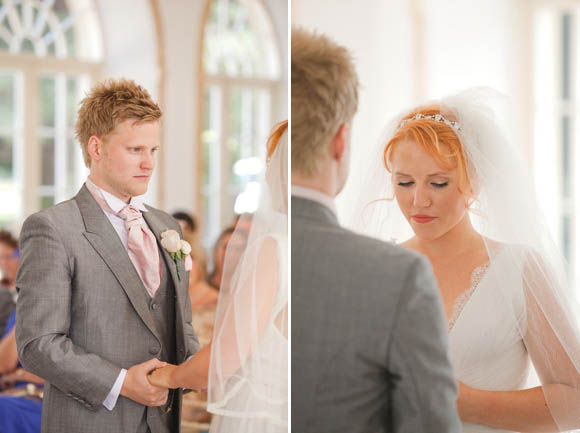 "My Grandma made the ring cushion for us. It was made of a
combination of silk and lace saved from her own wedding dress, my dads
christening gown, my mums wedding dress and my christening gown. I love
the idea that I can pass this on down the generations and plan to add a
bit of fabric from my dress to this also."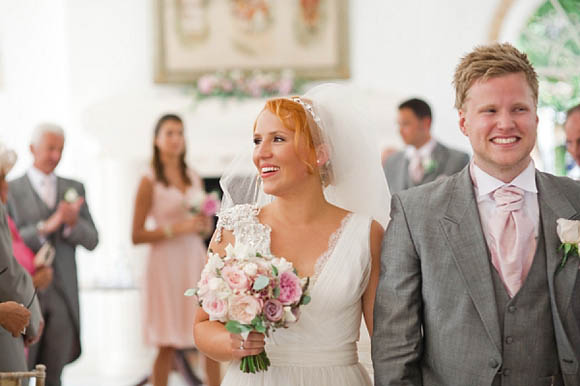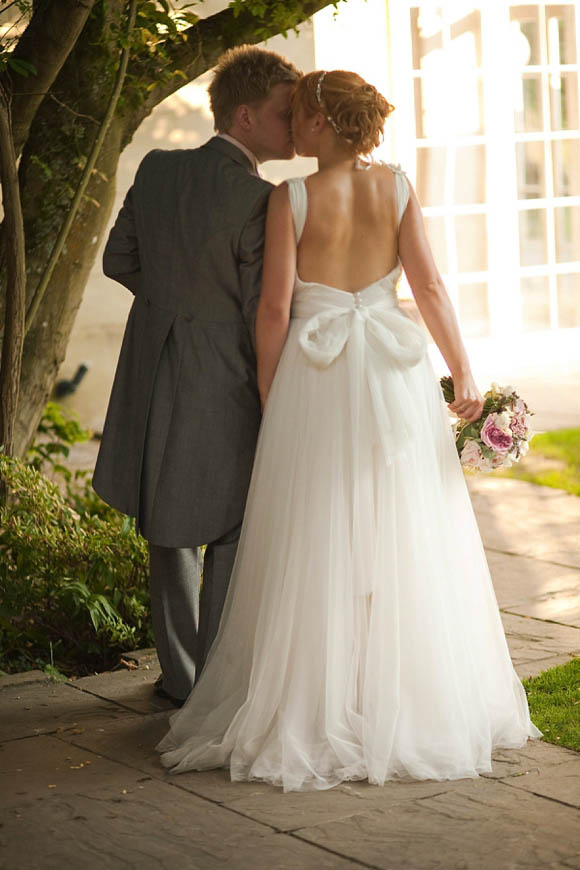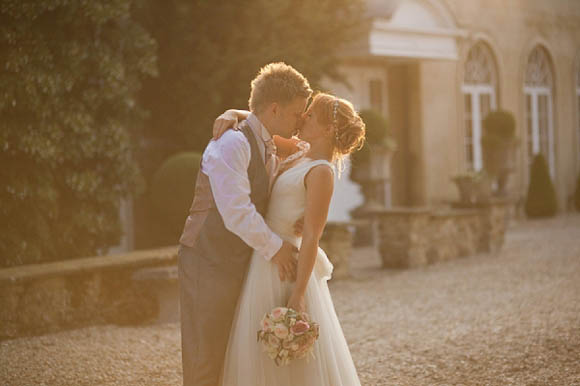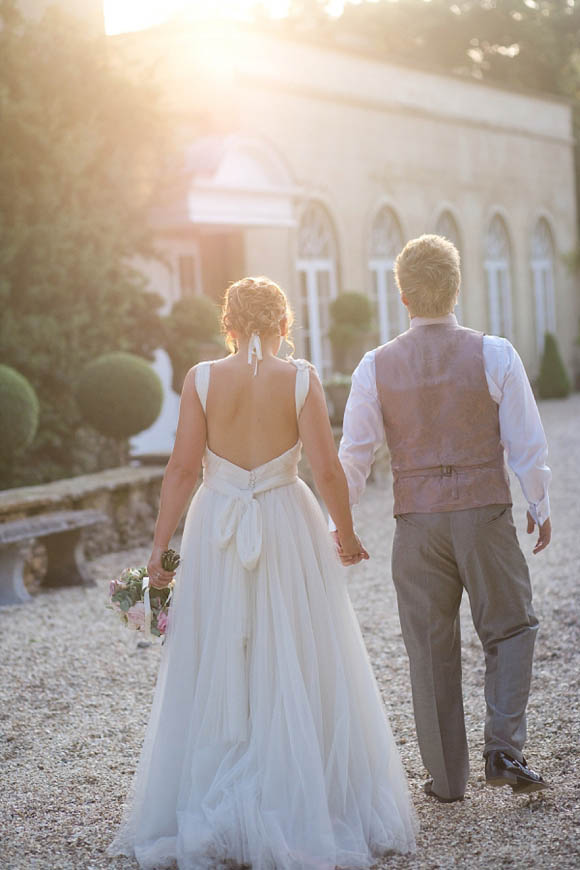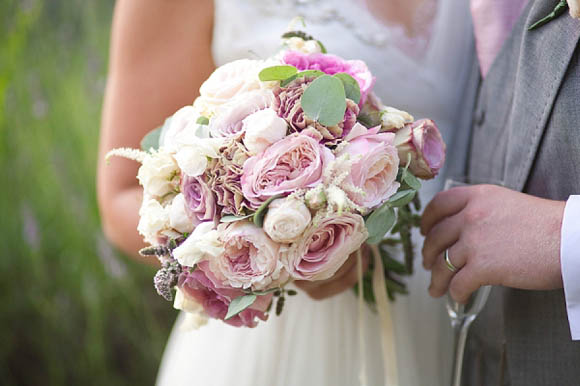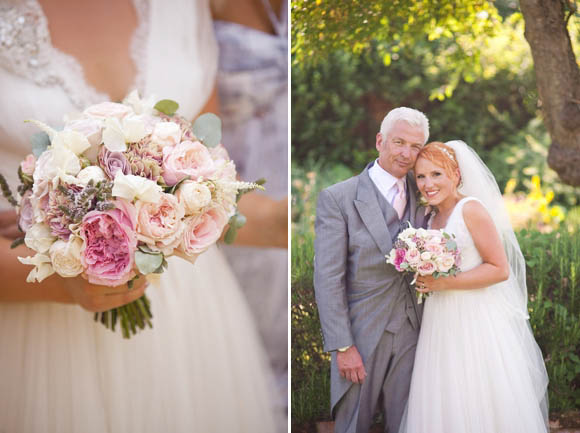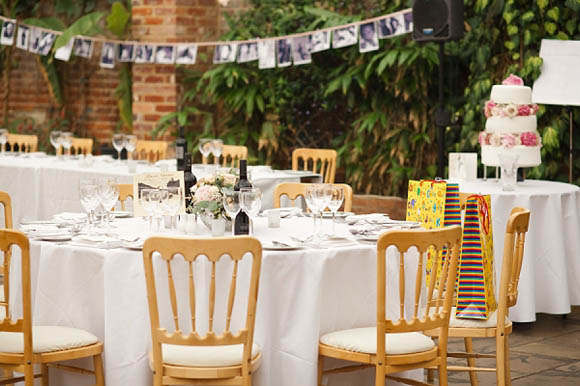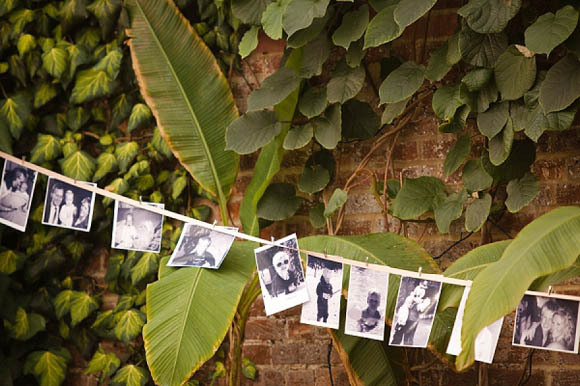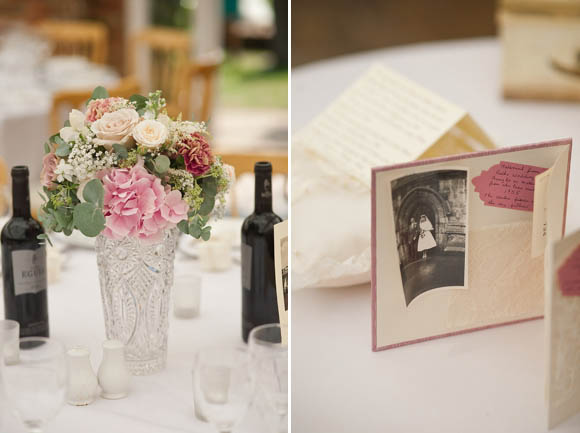 "A friend Ellie Turner who had previously made a delicious birthday
cake for me made our cake. Neither Stu nor myself like fruitcake, but my
gran was keen to make a fruitcake layer for us to keep (in tradition)
to be used a christening cake (when the day comes!). So she made the
bottom layer, which Ellie then iced and added two simple sponge layers
above which were served at the wedding. We wanted the cake to be quite
simple with just fresh flowers to decorate it."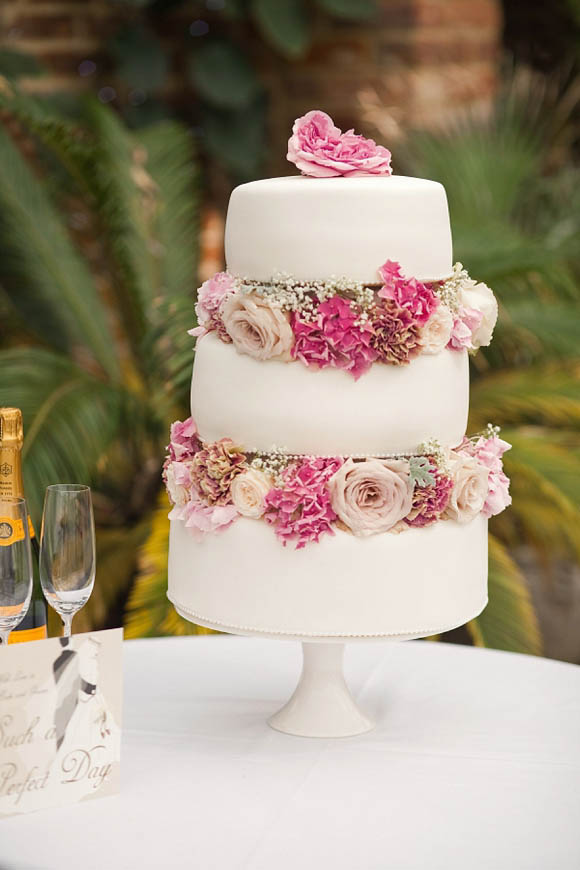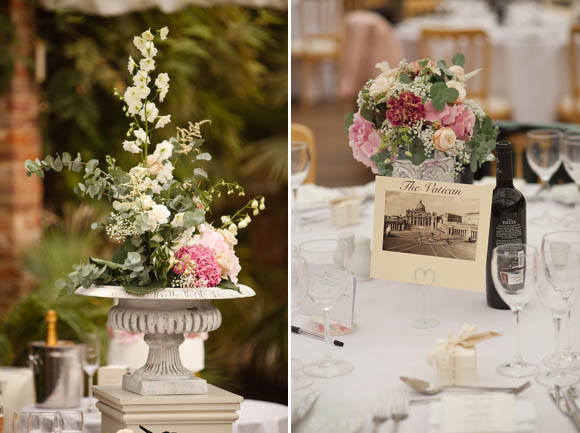 "Our wedding favors were macaroons from Paul's Patisserie.  And I made goody bags and an activity book for the children to play with."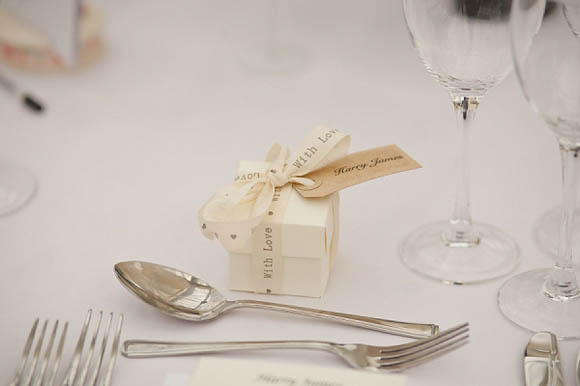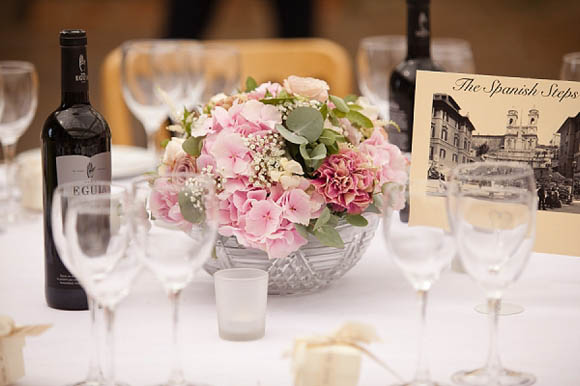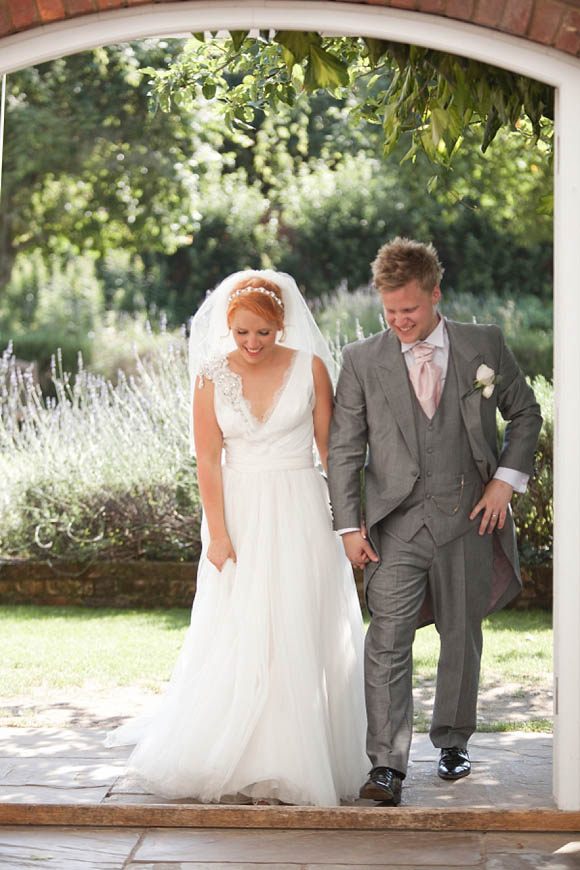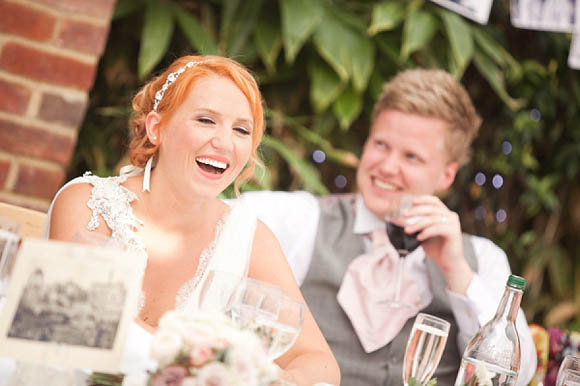 "I loved every minute of the day, but two parts that really stand
out to me are walking down the aisle, I was so nervous and emotional I
was a blubbering wreck. But The moment I reached Stu he took my hand in
his. From then on I was so calm, and was not aware of anyone else in the
room but the man I was about to marry.
One of my other
favourite moments was the very end of the night and the band played
Oasis – Wonderwall, as the last song, everyone gathered in a huge circle
around us singing along while Stu span me around in the middle. It was
amazing to be surrounded by all the people we love and know that i was
married to Stu. I don't think I have ever felt so happy as that exact
moment Every minute of the day was perfect, I wouldn't want to do
anything differently."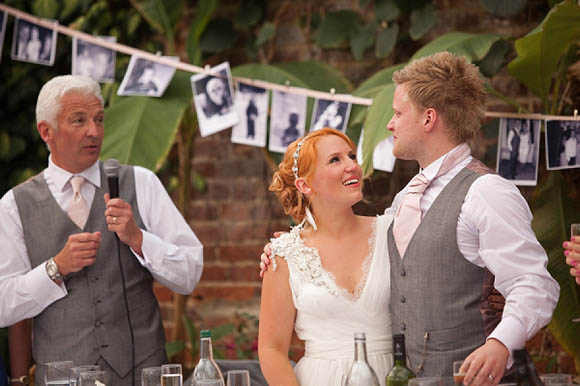 "Our first dance was to Harry Connick Jr's cover of 'It Had To Be You'. We
wanted something 'Rat Pack-esq', as we both love this type of music, and
for it to be quite upbeat and fun to dance too."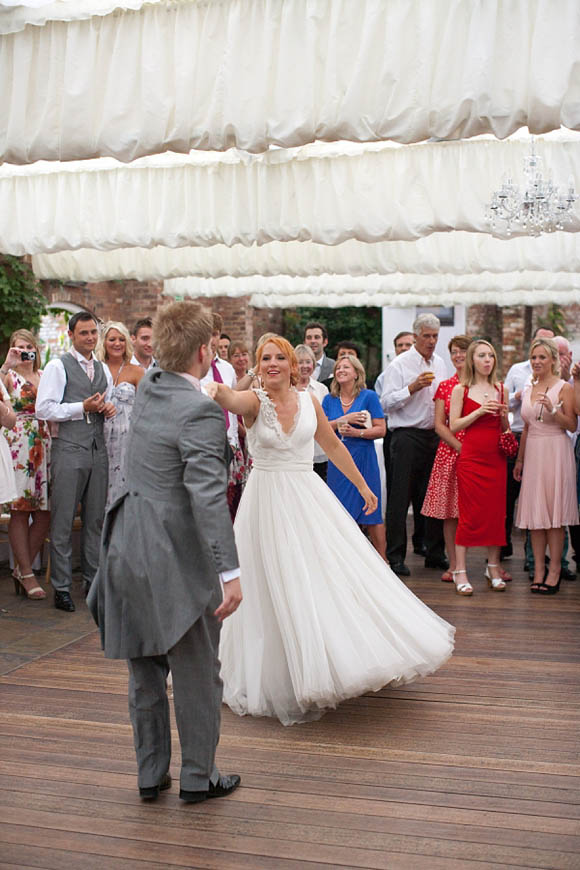 Words of Wedded Wisdom… 
"Make sure you have plenty
of people to help set everything up the morning of the wedding, I had
an amazing group of friends and family blowing up balloons, organising
last minute air con units and making sure everything was in the right
place, which meant the morning of the wedding I had nothing to worry
about but making myself look beautiful! Make sure you enjoy the wedding
planning process with your husband to be, it's a lovely time to spend
together and to get excited about as a team."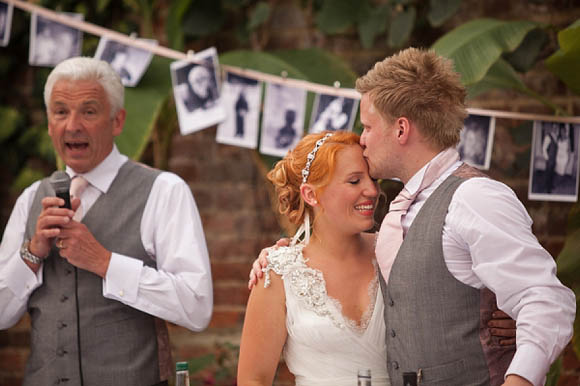 'I still
find myself being drawn back to look at Love My Dress, I just can't
resist its beautiful features.  My favourite pieces on Love My Dress are
the real weddings, and the discussion posts.  It's so nice to read
other peoples personal wedding planning experiences.  I
really like that you started doing the makeup tutorials, and think it
would be good to feature some more and hair and beauty ideas for brides‐
Inspiration boards and new trends in makeup and hair.
Love My Dress was a constant source of inspiration to me, and I feel so
honoured that our wedding has chosen to be featured. I really hope to
inspire other brides to create their own perfect wedding day."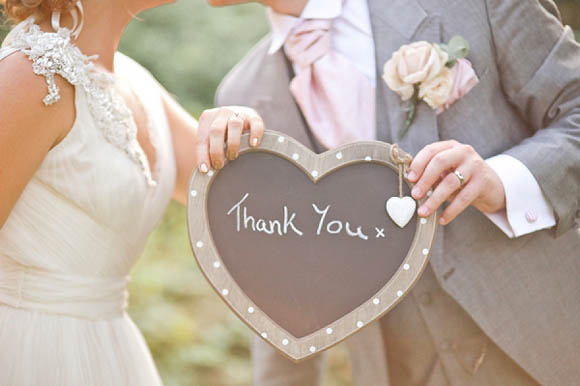 This is such a beautiful wedding, and represents so wonderfully all the glamorous, gorgeous elegance we strive to achieve through these pages.
Katie and Stu, I'd like to congratulate you on your wedding, you both look so incredibly happy and you made the very best choice of photographer and of course Florist – both Naomi Kenton and Bex at Blush Floral Design have done you really very proud.
Lovely readers of love My Dress, let's show this couple who were so happy to share their wedding day to inspire you all, some love in the comments below – what do you love most? Do we have any more Jenny Packham Minerva brides, or anyone planning on tieing the knot at
Northbrook Park?  I'd really love to hear from you.
You can see lots more lovely photography from Naomi Kenton on Love My Dress here. Also take a browse through our pages featuring brides wearing Jenny Packham and if you're into pink, there's much more of that here too!
Annabel

Photographer – Naomi Kenton
Venue – Northbrook Park in Farnham, Surrey
Wedding Dress – Jenny Packham Minerva and I purchased it from Shay Harris
Wedding Veil – borrowed
Bride's shoes – Christian Louboutin
Bride's accessories – hair band from Powder Blue Bijoux On Etsy + pearls as a gift
Groom – Hugh Harris
Bridesmaids – Kaliko with alternations by Shay Harris + shoes from H&M
Flowergirls – Monsoon
Florist – Blush Floral Design
Cake Designer – A friend
Favours – Paul's Patisserie
Entertainment – Strings Aloud Quartet
Transport – Premier Carriage Wedding Chauffer Services
Catering Company – Fusion Catering Solutions
Table Plan – Ancient Shades on Etsy