I've been excited about sharing this wedding with you.  I always love sharing the nuptials of a bride I know used Love My Dress as a resource for planning her wedding day like Jade here did (finding most of her suppliers through these pages).  I also absolutely love that Jade has taken time to pour a tonne of passion in to sharing the story of how she planned her wedding, in order to assist and inspire others.   I really enjoyed reading through Jade's questionnaire – she's one smart and pretty organised bride if ever there was one (I adore her wise words of advise in relation to weight and image issues).  Smart I say, because she and her now husband Matt went and booked Laura McCluskey to photograph their wedding.  And that was probably one of the best things they could have done, because look what Laura did!
Love My Dress Wedding Blog – Photography Copyright (c) 2013, Laura McCluskey Photography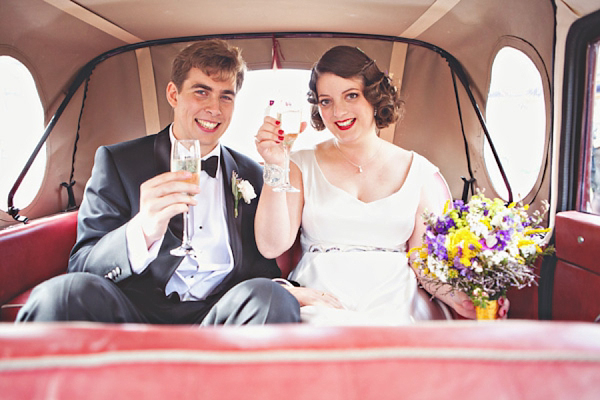 Jade and Matt got married on 29th September last year at Buckland Hall, in Bwlch in the Brecon Beacons…
"We both love the 1920's and 1930's,
and are slowly filling our flat with relics of this fabulous bygone
era. I'm studying towards a PhD in American Literature, focusing on F.
Scott Fitzgerald, and spend much of my day job immersed in old movies,
reading about movie stars from the Golden Age of Hollywood, and
imagining that I could go back in time – Midnight in Paris style – and
meet my icons.
There's so much more to that period than the
stereotypical flappers and gangsters you find in fancy dress shops:
Fitzgerald's Amory Blaine describes the "new generation – dedicated more
than the last to the fear of poverty and the worship of success, grown
up to find all Gods dead, all wars fought, all faiths in man shaken."
"The utterly fabulous and ridiculously talented Joanne Fleming Design made my dress.   I didn't have a 'this is the one' moment when I was dress shopping. The dresses I liked didn't necessarily suit me: the 1920's silhouette lends itself better to tall, willowy types, and the vaguely 1930's
style dresses I tried on were built towards exaggerating and even
creating curves with their clever bias cuts, rather than working with
them.
My bum and thighs were not impressed, and the unforgiving silks
were leaving even the salespeople speechless (but not in a good way). I
was on the verge of settling for a dress that was flattering but not
really 'me', when I decided to investigate bespoke dresses…"
"I contacted a few dress designers in London and arranged
appointments with a couple. They weren't quite right for me, and were
also slightly more expensive than I had hoped, and so I bit the bullet
and admitted to myself that I had to at least try my dream dress
designer, Joanne Fleming.
She had been on my radar since early on in the engagement, and had even
named a collection after a Fitzgerald novel, The Beautiful and Damned.
But I hadn't contacted her because on Facebook and her blog (both of
which I had been avidly stalking) she had explained how busy she was, up
to her eyeballs in commissions, and also she was based in Brighton,
which was a little inconvenient for my Cardiff-based family (4 hours
each way).
However, the dresses really spoke for themselves, and
contacting Jo
ended up being the best decision I made. (Apart from marrying Matt, of
course). She was utterly wonderful – so understanding about time
constraints and geographical issues, and she took a simplistic sketch I
had made based on a vintage 30s dress, and made a few flattering
adjustments, then brought it to life.  It was an utterly wonderful
experience, so much more reasonably priced than I had anticipated, and
it felt great to support good old-fashioned British design."
"Flo & Percy
were one of the designers I had my eye on from the very beginning, but
eventually accepted that budgetary constraints were rearing their ugly
head. Amazingly, my gorgeous Mum had ordered me the Chaplin Cuff as a
surprise! It worked beautifully with Jo's intricate concentric detailing
on the dress, if I may say so myself.
I must mention that Susie Warner
have the best customer service I have come across in a long time, and I
would highly recommend them! I had a slight problem with the necklace I
initially ordered with only a few days to go before the wedding, and
they helped me choose an alternative and got the replacement necklace
out to me so quickly and efficiently, avoiding a potentially stressful
situation! Necklace and earrings from Susie Warner."
"We planned on a fairly long engagement (two years), but Matt's
job was transferred from London to Geneva in October 2011, which put a
rather large spanner in the works.  By the point of our move, all we had
done was book the venue, which we had been told would be the keystone
around which everything would fall into place.
Wedding planning took a
back seat while we prepared to leave behind our families and friends and
move to the land of cheese and snow. Since our engagement, I had taken
to buying the usual glossy wedding magazines, which didn't prove to be
great value for money, as I'd end up post-it-noting a solitary image or
website in each magazine, and flicking through page after page of
adverts I'd seen before, which meant that I was paying nearly a fiver
per lead to follow. I continued to buy the magazines though, month after
month, like glossy wedding lottery tickets – hoping for one jackpot
issue….
Luckily for us, our engagement coincided with the birth of Love My Dress, which I discovered in November 2009 via this fabulous 1920's themed wedding. I read the blog every day, and found the majority of my suppliers via Love My Dress's hallowed e-pages."
"Having our ceremony down in Cardiff and the reception up in the
Brecon Beacons meant that it made sense to have two florists. Charlie at
The Real Cut Flower Garden specialises in natural meadow-style
arrangements, and each bouquet is unique
I was in contact with Charlie
in the days leading up to the wedding and she was updating me on what
was flowering well in the gardens that was within our colour scheme, and
so we had the freshest, most beautiful blooms in our bouquets. Bouquets
and Venue Flowers: The Real Cut Flower Garden.
The Secret Garden Florists
were great at taking on board the theme and style of our wedding and
creating vintage-inspired arrangements to complement our ideas. They
come highly recommended for any South Wales brides! Church Flowers: Secret Garden Florists, Cardiff."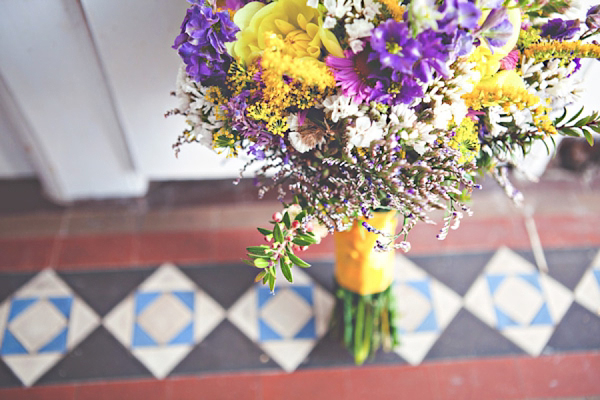 "I was adamant that all my beautiful girls should feel
comfortable and suitably fabulous on the big day, and toyed with the
idea of giving them a colour and getting them to choose their own
dresses independently, but it would have been a shame to miss out on the
group shopping extravaganza. Being out in Geneva added an extra element
to the challenge, and my girls were spread between Cardiff, London,
Windsor, Cheltenham and Cambridge, which meant that a 'one-stop-shop'
approach would work really well. My lovely sister-in-law (to be, at that
point) Kate discovered Maids to Measure,
which solved our problem! They sent me swatches so I could decide on
colour, and the girls perused the website to check out designs. We met
with them in Cardiff to try on some sample gowns, get measured, and then
the girls each picked a different dress, which would be made in the
same colour.
A couple of the girls visited the London HQ for quick
alterations, and we were good to go!
"Etsy is a great resource for beautiful and reasonably
priced little trinkets, and I got my girls necklaces with three pearls
representing our past, our present and our future hijinks from LRoseDesigns."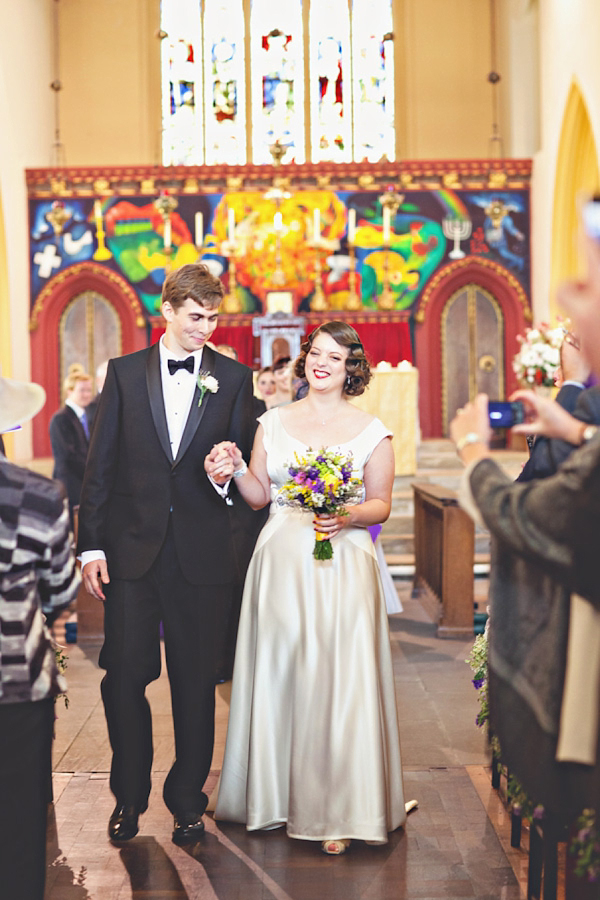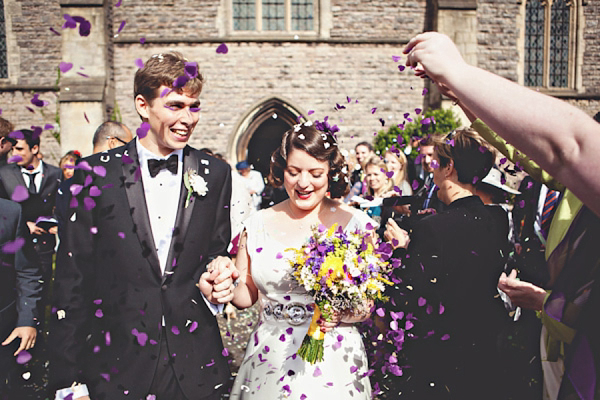 "We were really conscious that we wanted to go beyond some of more
the hackneyed stereotypes of a '1920s wedding' and our mantra became
'would Scott and Zelda be impressed?' Having said all of this, time and
money are emphatically finite resources, and we could only execute a
select few of our plans. However, every time I caught myself having a
strop, for example because we couldn't afford to hire 130 champagne
coupes when the venue provided perfectly good champagne flutes free of
charge, I reminded myself that this was a wedding day, and what we were
celebrating was the beginning of our marriage.
It's great to use your
wedding day as a statement of style, and a big party for your nearest
and dearest, but fundamentally, you are celebrating your marriage, which
is the beginning of the rest of your life. I'm anticipating that there
will be plenty of champagne coupes in our future (hint hint, Matt…)."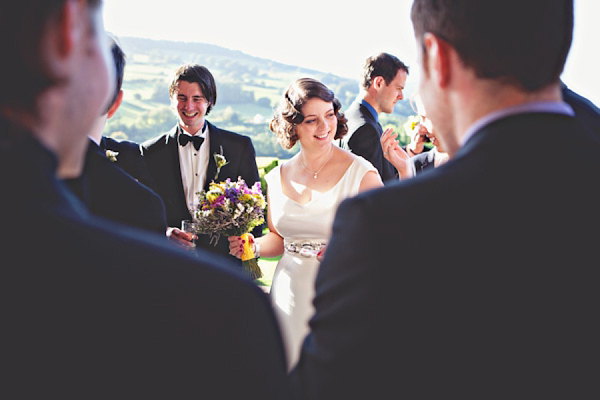 "We had a load of A1 prints made, of my favourite F. Scott
Fitzgerald quotations relating to love and marriage. We commissioned
Lela at Doodlelove Designs
to design the posters, and also to design us a monogram, which we then
used to add a professional finish to our DIY efforts! We used Moo
to print stickers of our monogram, which we used on the front cover of
our orders of service…"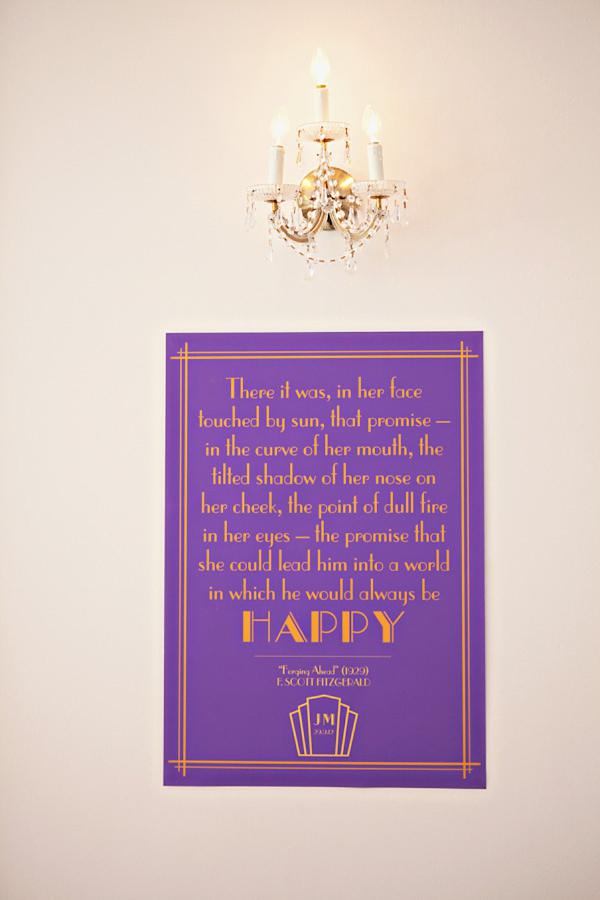 "We were always fairly sure about going with a tuxedo – Matt was
born in the US so it was a nice nod to American wedding tradition (along
with the bridesmaids going down the aisle before me on the way into the
church). We went with Austin Reed.  Doesn't he look handsome?"
"We made the Order of the Day, table plans, place
cards, menus and orders of service ourselves. It was time consuming but
fun! I downloaded an art deco font from the internet and then set to work with Word and Powerpoint! For
the centrepieces, we bought scrapbooking cardstock from Graphic 45
and my mum sewed on some inexpensive lace trimming.
We had jam jars of
flowers (having glued some ribbons round the jars), and our tables were
each named after one of our favourite books. We had several copies of
each book piled up on each table, for guests to dip into, and made
colour photocopies of the covers to serve as table names. Matt had the
genius idea of making colour photocopies of the book covers with copies
of the books' first pages on the reverse, which we then attacked with a
star shaped paper punch to create confetti to spread around each table.
It looked great, with alternating splashes of colour from the covers and
text from the reverse."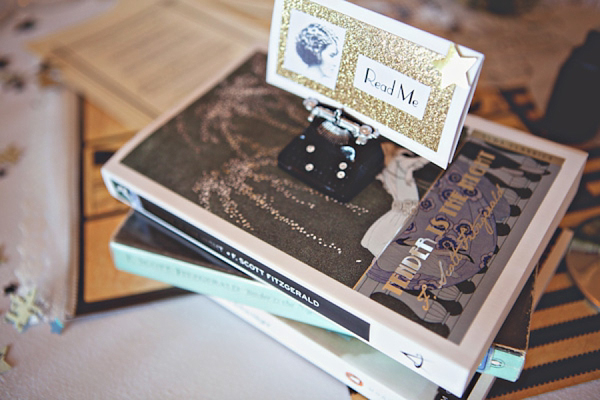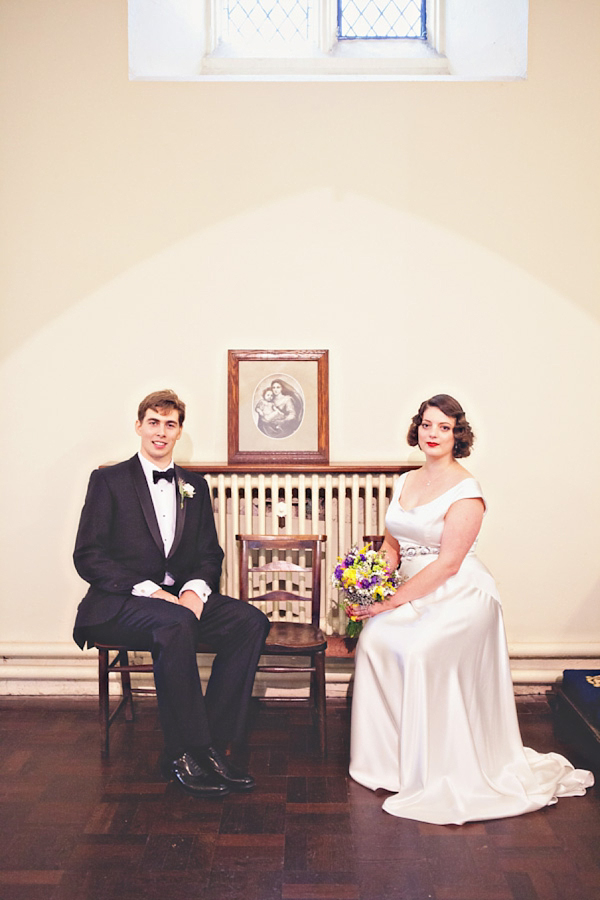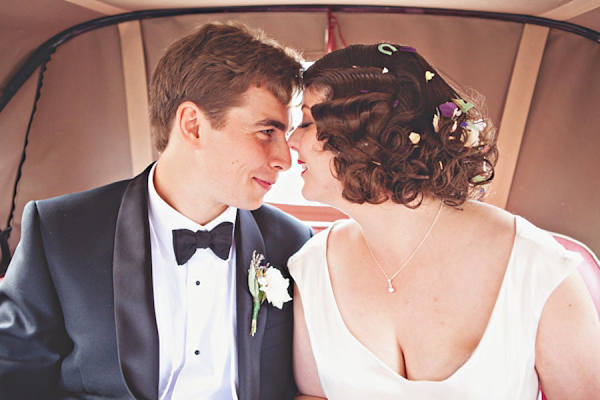 "Laura McCluskey was
a complete delight to work with. I worried about Matt getting shy in
front of the lens, but on our practice shoot (I would say engagement
shoot but it was 3 years after the engagement, and 3 days before the
wedding, so…) it was me who clammed up and felt incredibly
self-conscious! Laura was great at putting us at ease and her eagle-eyed
sun chasing got us some incredible shots which we will treasure.
She
really understood what we wanted, and we chatted beforehand about 1930's
photography styles which we could incorporate (she even took some shots
on a vintage camera) – she just worked so, so hard to capture the day,
and has created images that we will treasure forever. I will also
forever treasure her Dolly Parton-soundtracked pep talk in my back
garden when it all started to get a bit much on the morning of the
wedding. A very talented lady, and wise beyond her years."

"We met at University in 2004, through a mutual friend, and got
engaged in September 2009. We were on holiday in the States, and had
just taken a long, pretty hungover bus ride from Boston to New York, and
I was tired, sweaty and in sore need of a shower and a bag of Monster
Munch when our cab stopped at Grand Central Station instead of our
hostel.
In true fairytale style, I started to throw a tantrum, before
grudgingly stomping my way into the beautiful concourse with Matt. It
was my first time in Grand Central and I was immediately captivated by
the sheer scale of it, as well as the light streaming through the
windows that made floating flecks of dust look like glitter. We walked
up some stairs for a better vantage point, and the next thing I knew
Matt was down on one knee, asking whether I'd do him the honour of
becoming his wife.
My first thought was guilt, at being such a sulky
mare all morning, and my second was vague embarrassment, as a crowd of
spectators had formed at the foot of the stairs. "Yes, yes, of course!" I
exclaimed, and we hugged it out. It was such a wonderful surprise, and
the setting was just perfect. Until my epic nosebleed that is. Yup.
Just-engaged, devoid of make-up and still slightly hungover, I was
obviously completely overwhelmed by the whole proposal, and my face
decided 'stream of blood' would be the best way to go. I tried to make a
lame joke to bring some comic relief: "I love you so much it makes my
face bleed!" The crowd of spectators buggered off at this point. No-one
likes a bride-to-be with a bleeding face, apparently."
"I had planned to buy a pair of beautiful Rachel Simpson shoes,
and had my eyes on Carmen, then Tilly, then Ginger, but after trying
them on three times, and pretending that they weren't, I eventually had
to admit that my feet were just too darn wide for her beautiful and
delicate T-bars.
I eventually found my shoes, for a bargain price (£35),
on the ballroom dancing website Holbrook Dance Shoes,
and though they don't really have an outdoors sole, (it's suede I think
– perhaps for dancing grip? or flexibility?) they were beautiful and
comfortable and satisfied my 1930s glamour thirst for a fraction of the
price of the designers I loved!"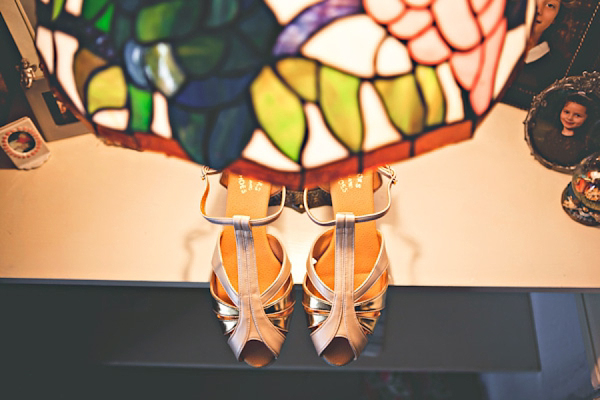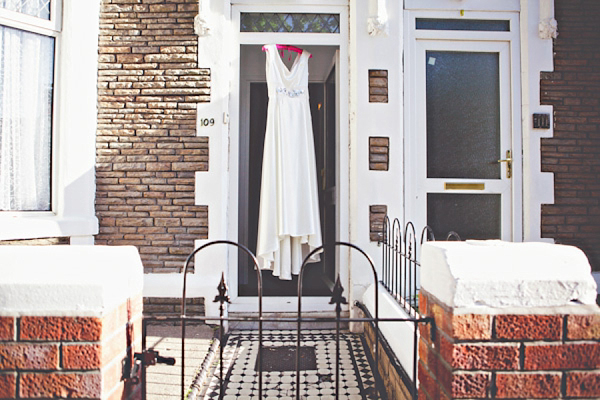 "Issidora from Nina's Vintage Parlour 
Issidora was just wonderful – she was so much fun, and is so
technically skilled that I was completely mesmerised by her! She also
uses vintage kit from the 1920s, so I had fun thinking about all the
other ladies over the decades who had their hair pin-curled and styled
with the vintage wave clips she used on me.
I hired Kylie McMichael to do my makeup.  I strongly urge anyone looking for a make-up artist to check out
Kylie's work: she is so skilled and so friendly that she really will be
an asset to your wedding A-team! She's really calm under pressure, and
by the time you get to your wedding day I guarantee it will be just like
another mate helping you to get ready. But a mate armed with magic
concealer."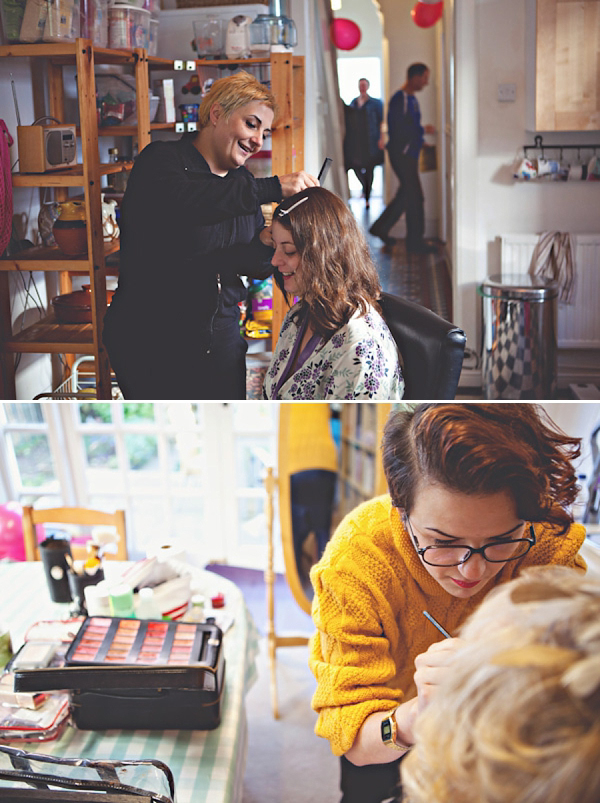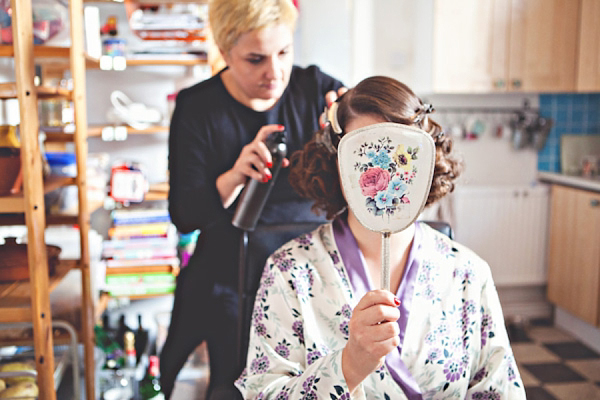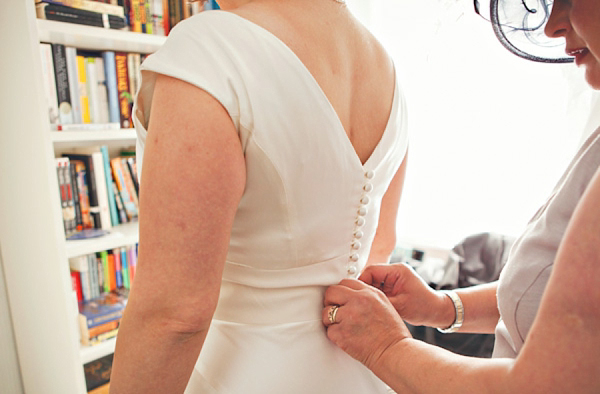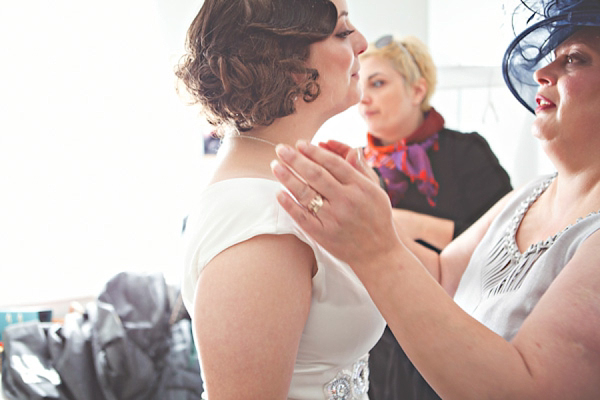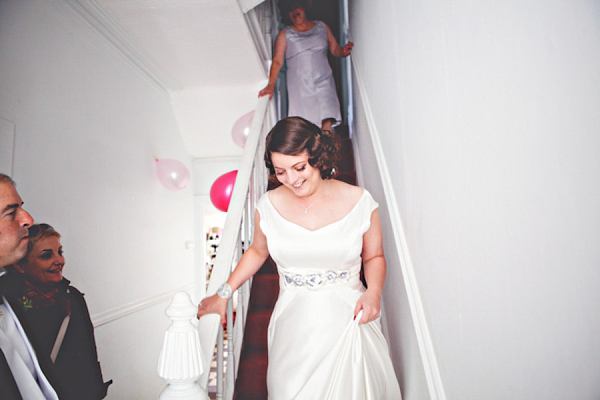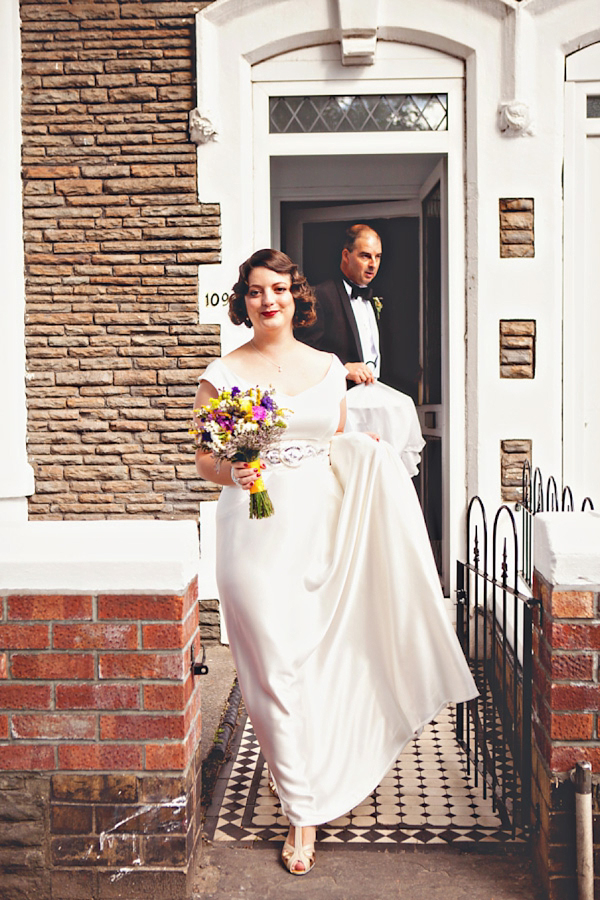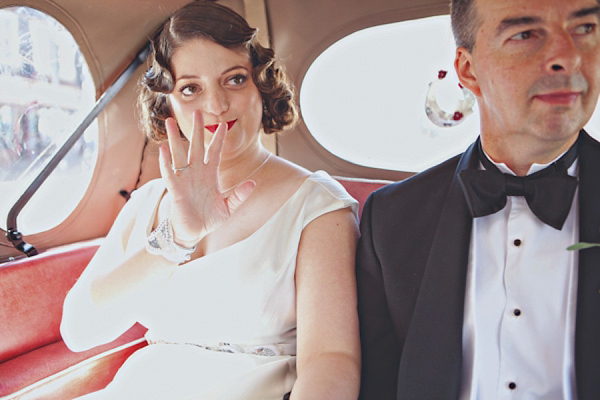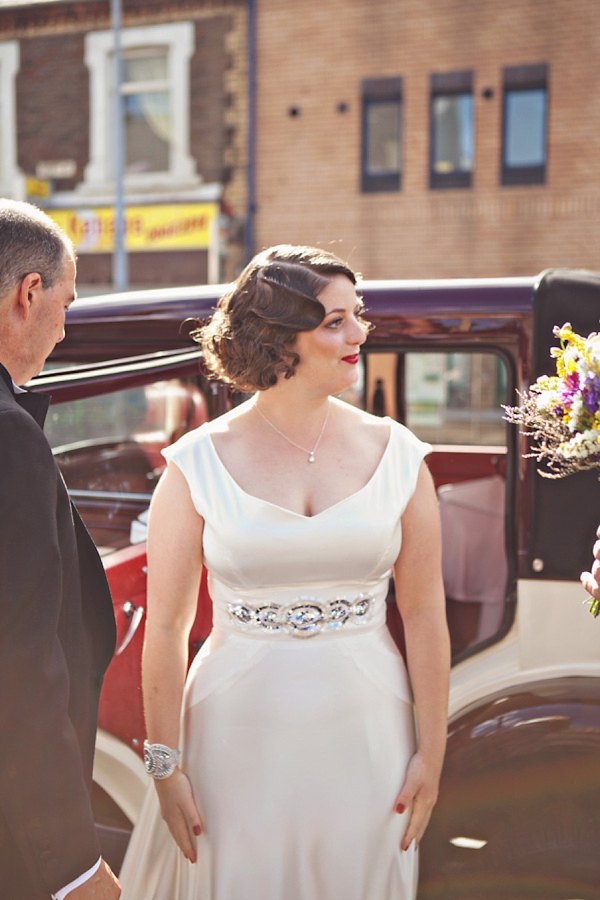 "I was 'given away' by my Dad, Nick, a primary school teacher and
all-round legend, who wrote his speech in the form of a school report.
It was so touching, and so hilarious! Though the church was only a two
minute drive away, it was lovely to have that time together in the car
before the ceremony to compose myself and reflect on what was about to
happen."
"We had traditional entrance music:
Wagner's Bridal Chorus. On the way out, we had an extremely talented
friend of ours, Paul, play 'Anything Goes' on the piano. Nothing like a
bit of down-the-aisle Charleston to kick off married life!
We
had a Book of Common Prayer marriage ceremony, but there are actually
different choices you can make for each part of the service. It's
definitely worth meeting with your priest and talking over the different
wordings and which would be best for the pair of you."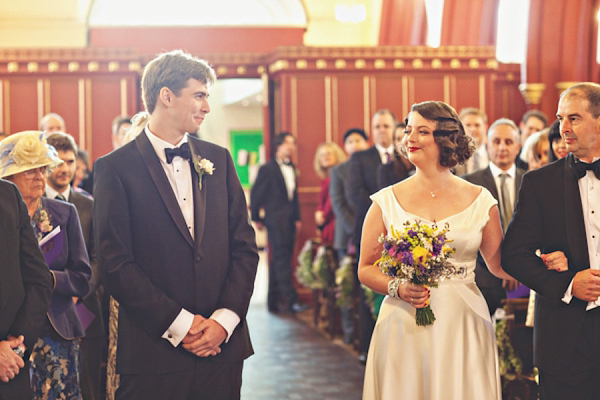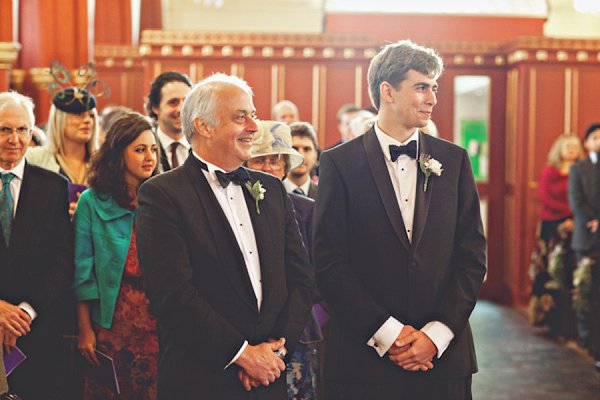 "We had a reading from Song of Songs (8:6-7) about romance and
passion: "Place me like a seal over your heart, like a seal on your arm;
for love is as strong as death, its jealousy unyielding as the grave.
It burns like blazing fire, like a mighty flame. Many waters cannot
quench love; rivers cannot sweep it away. If one were to give all the
wealth of one's house for love, it would be utterly scorned." And then
our second reading was from the Letter of St. Paul to the Romans (12:
9-18) reminding us that it's not all going to be fun and games and will
take a healthy dose of hard work: "Love must be sincere. Hate what is
evil; cling to what is good. Be devoted to one another in love.
Honour
one another above yourselves. Never be lacking in zeal, but keep your
spiritual fervour, serving the Lord. Be joyful in hope, patient in
affliction, faithful in prayer. Share with the Lord's people who are in
need. Practice hospitality. Bless those who persecute you; bless and do
not curse. Rejoice with those who rejoice; mourn with those who mourn.
Live in harmony with one another. Do not be proud, but be willing to
associate with people of low position. Do not be conceited. Do not repay
anyone evil for evil. Be careful to do what is right in the eyes of
everyone. If it is possible, as far as it depends on you, live at peace
with everyone."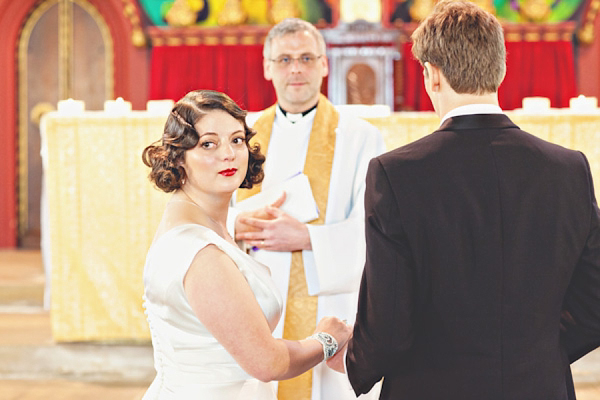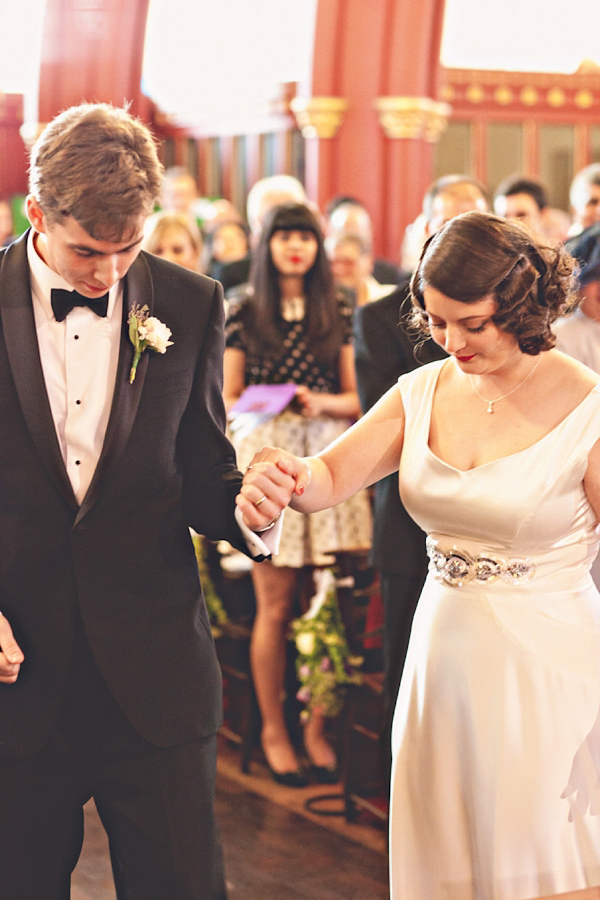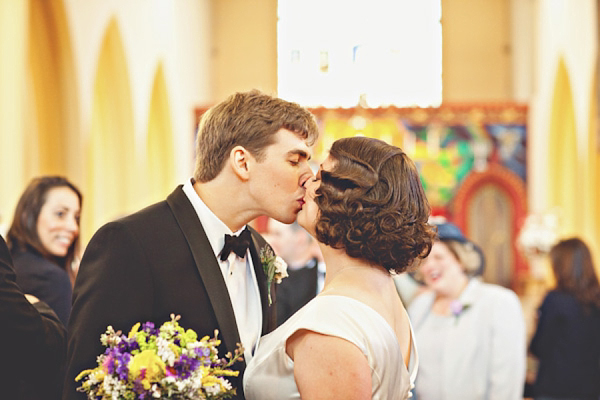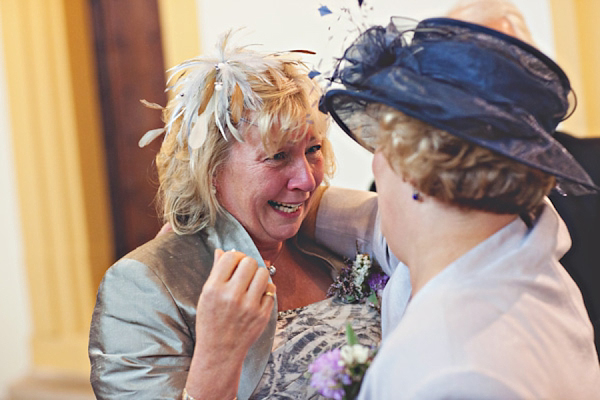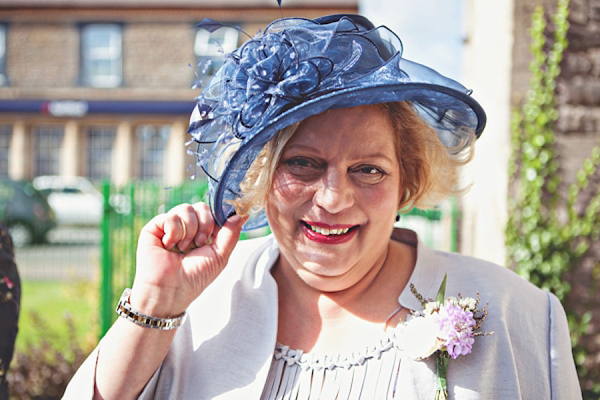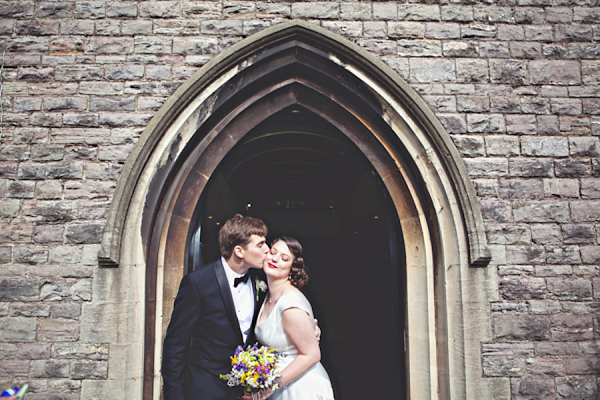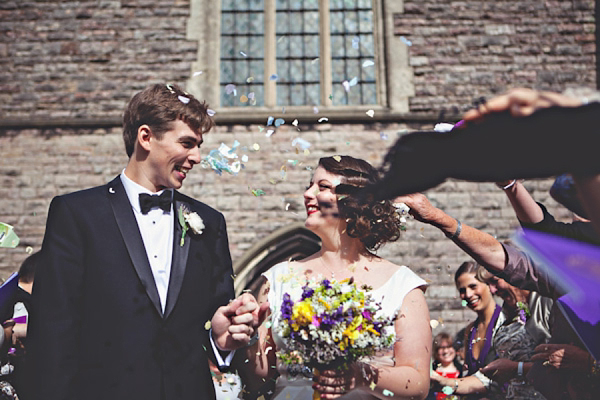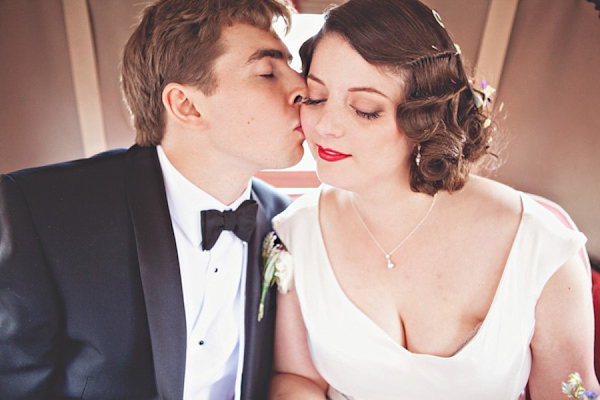 "The décor was another area in which Lucky Sixpence Events
were invaluable. They enabled us to spend the night before the wedding
catching up with friends and family, and worked their magic while we
were at the church so we returned to a beautifully decorated venue. I
had discussed the layout of particular rooms and the tables with Jenna
beforehand but she added professional flourishes that I wouldn't have
even thought of.
Over the course of the engagement I had gradually
picked up bits and bobs like garlands and sweetie table decorations from
places like Etsy, Pearl & Earl , Luck & Luck, and The Wedding of My Dreams."
"We hired Lucky Sixpence Events
and went for the 'On The Day' package, which actually begins well
before the big day itself! They helped us to finalise our plans, refine
our décor ideas, and took over liaison with our suppliers two weeks
before the wedding, as well as actually co-ordinating the day itself."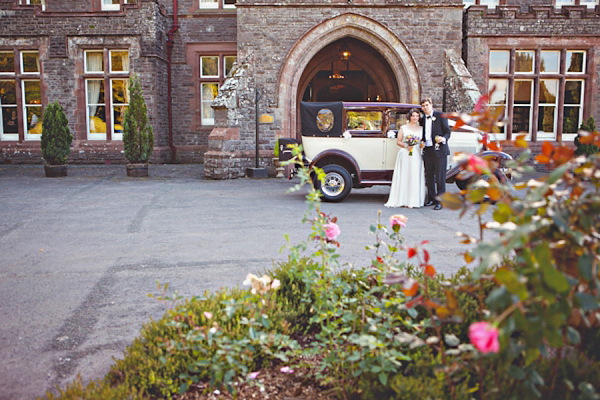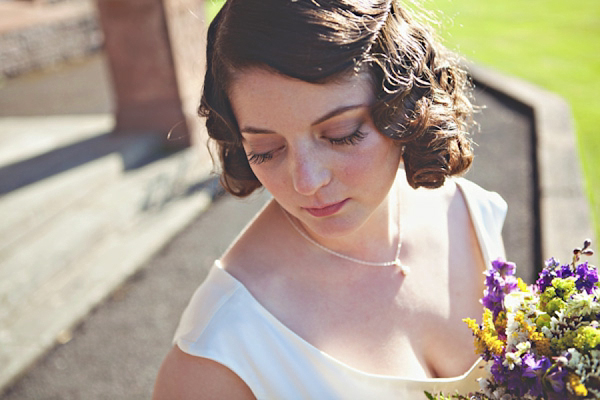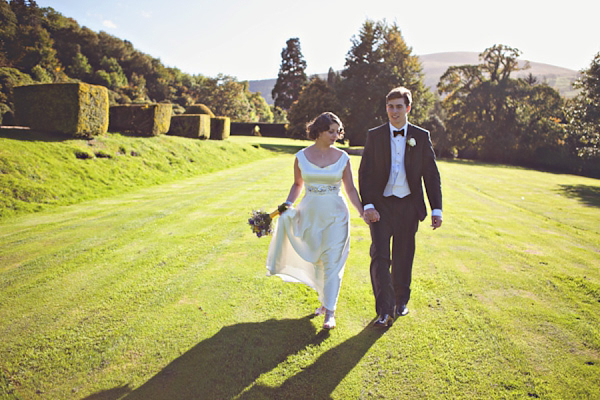 "Though we now live in Geneva, my family live in Cardiff, and we
love the rolling hills and infinite shades of green in the Beacons,
though we were fully prepared for the traditional Welsh weather to kick
in (it didn't: sunshine prevailed!) Buckland Hall
is a beautiful country mansion, and a completely blank canvas, which is
yours for the whole weekend, from Friday afternoon to Sunday lunchtime.
This was exciting and terrifying in equal measure as it is a rather big
space to work with. We had considered dozens of venues, from an island
hotel to old-cinemas-turned-bingo halls, looking for a building that had
character. We found Buckland Hall relatively early on in our venue
search, but initially discarded it as it's a wholly vegetarian venue.
Months later, we realised we were measuring other venues by how well
they fared in comparison to Buckland Hall.

On thinking about it, we realised that vegetarian cuisine was far from a
dealbreaker, and though we were a little worried about what certain
guests might make of a meat-less wedding, we decided that they'd just
have to deal with it. In the end, the food was absolutely delicious, and
some of our guests didn't even realise that the Glamorgan sausages were
made of leek, not pork, which is a compliment to the chef (and the
barman)."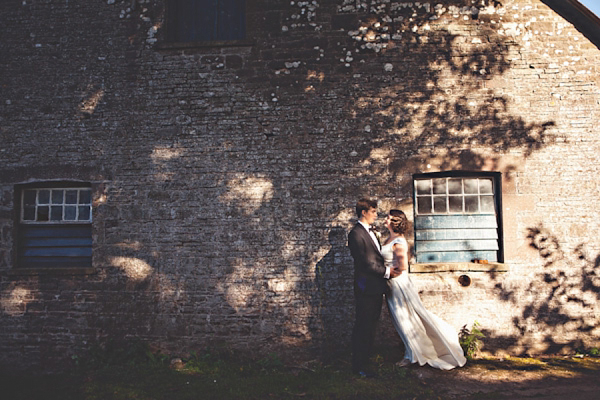 "Buckland Hall is so huge, we ended up with quite a lot of
entertainment at various points in the celebrations. For the drinks
reception (at which we served a cocktail we had designed ourselves – 
'The Grand Central' – great fun to do!) we hired a close-up magician
for a few hours, which was a great icebreaker. I can highly recommend
Rob James if you want people to be truly enthralled and perplexed! We
hired a couple of projection screens and played Charlie Chaplin films
throughout the evening, and had a photobooth from GiggleBooth
with a big bag of props. We set up Matt's Xbox with the Kinect
attachment and put out some dancing and obstacle course games, which was
a cost-effective way to keep people entertained.
We also borrowed a
Lucky Voice Karaoke set from Matt's parents and created a Karaoke room,
which was great fun, and kept the party in full swing even after the
disco ended. We made a whole load of popcorn the day before the wedding,
bought flavoured seasonings and boxes online, and had popcorn dotted
around for people to snack on, and there was also a sweetie table, of
course! Buckland Hall has a snooker room, so that kept people
entertained into the wee hours… We also had a fireworks display
organised by SkyDazzle, which was spectacular!"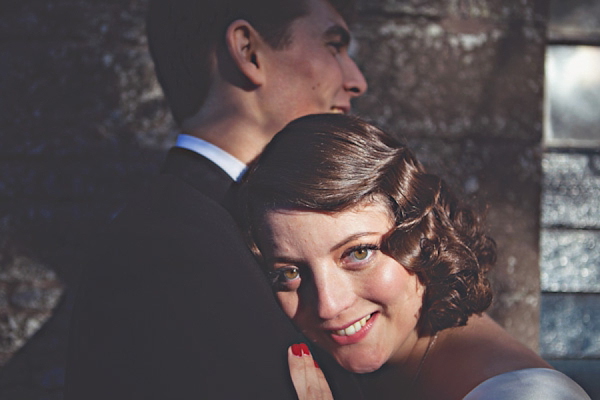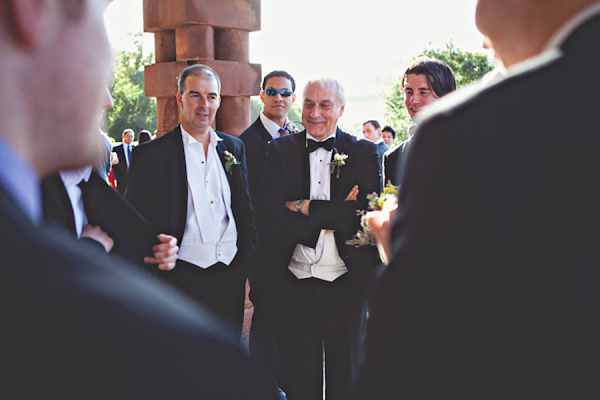 "There were a couple of incredibly special moments that stood out in
a tremendously special day. Walking down the aisle out of the church
after the ceremony was wonderful, clutching my new husband's hand and
seeing so much happiness and excitement on the faces of our nearest and
dearest is a memory that will stay with me forever.
Later in the day,
when we were announced at the wedding breakfast, we made a rather grand
entrance, having secretly ascended the stairs of the ballroom (via a
cheeky shot of Dutch courage at the bar – thanks Bob!) and walked down
either side of the majestic staircase, meeting for a quick kiss in the
middle, and then gliding down into the hall filled with our loved ones,
in proper-old-school movie star style. It was a once-in-a-lifetime
moment, wonderfully captured by Laura McCluskey."
Words of Wedded Wisdom… 
 "There's no right way or wrong way to plan a wedding.
Just do what your instincts tell you. For me, this meant plan, plan and
plan some more, but then let go and enjoy the day without worrying about
whether your plans have paid off. Which I totally managed until 4am
when there were a few (thousand) tears because I worried no one had
played the game of "Guest Who" I had painstakingly customised with
guests' faces. They had. I was being 'tired and emotional' apparently,
and we can laugh about it now. (File under: I'm the bride and I'll have a
hysterical drunken fit if I want to)!
Useful planning tools we made use of included an epic
spreadsheet (affectionately known as the WedSheet) with tabs for budget,
guest list, table plans, timetable of the day (and day before/after),
and various other RSVP-related gubbins like who needed a seat on the
coach, who was allergic to strawberries, etc.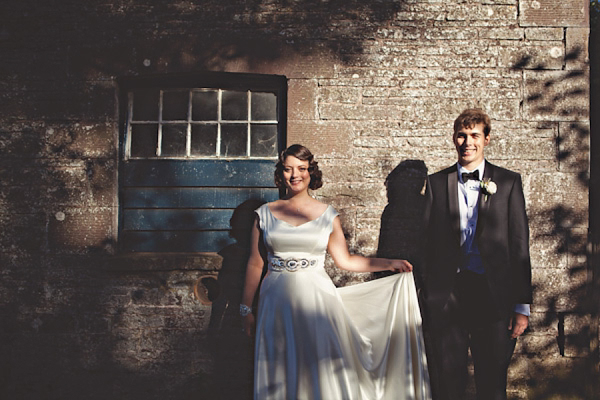 On the budget tab, we compiled lower and upper estimates for each
item (from our research as well as using those budget planners you find
at the back of magazines), and then had a column for the actual price of
each item. Matt did something clever to the sheet that told us how far
above or below our upper estimates we were (in total) throughout the
process, which was a really helpful planning tool. I also used Pinterest
to help 'show' suppliers what I wanted, when I couldn't verbalise
exactly what I envisioned.
Something I used virtually every day of the
planning process was the screenshot function. On a Mac you press cmd +
shift + 3 and you get a screenshot of whatever you're looking at. (If
you press 4 instead, you can crop the image you're saving). I think
there's a 'Print Screen' button you can use on PCs. I used this to
create dozens of little folders of things I liked that I saw on blogs or
shops, and it took two seconds to save them to my computer to look at
later."
"I really enjoyed the planning process, and though I had three
years thanks to our international relocation, it gave us a chance to
save up for some of the special touches we wanted to include, and I for
one don't see anything wrong with a long engagement. 
 I also learned that if you don't ask, you don't get:
brides can get really introspective, and its easy to talk ourselves into
certainties like 'that won't suit me' or 'that'll definitely be too
expensive', but without opening the lines of communication, you won't
know! Email, call, tweet: you might be surprised!
Trust your instincts. I found our venue and my dress
designer within the first couple of months of research, but it took us
nearly two years to come back around to these suppliers and make a
booking – we were so lucky that they were both still available! Thinking
time is a must, but listen to your instincts too!"
"On a more practical note, we had a bit of a drive between the
church and the reception venue. All of that nervously quaffed bucks fizz
caught up with me by the time we pulled up to the drive of the
beautiful country house, and I had to peck my new husband on the cheek,
grab my beautiful silk train and leg it past the whole staff who had
lined up Downton-Abbey style to welcome us, to have what can only be
described as the best wee of my life, only to dash back to the car and
reconstruct our grand arrival so we could fake some arrival photos.
Starting married life with the utmost glamour… The moral of the story is
to plan for a 'comfort break' if you have a journey in your day!"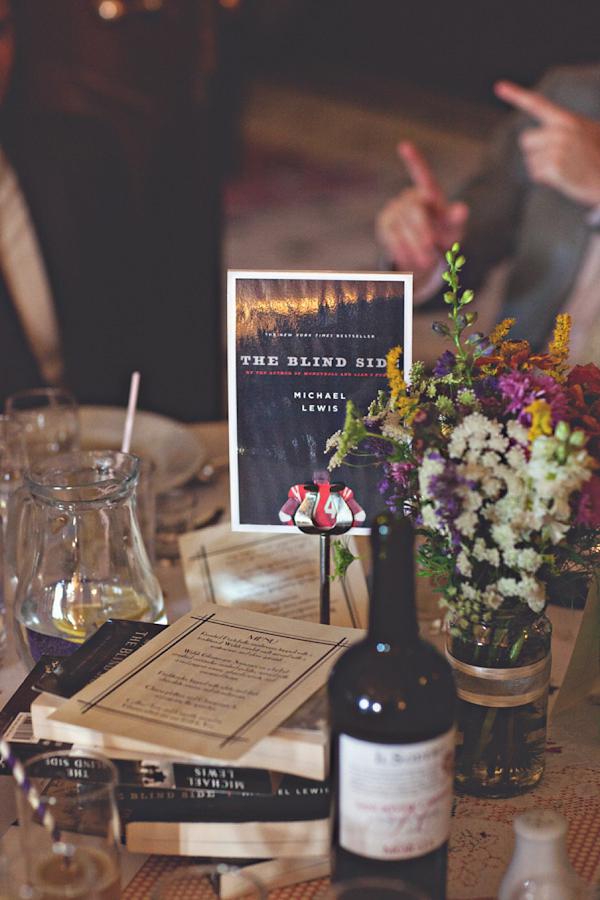 "Finally, and most importantly, the slightly-taboo flip side of
being the centre of attention is the attendant pressure to be slim. You
only get one wedding day; you need to look your best. Think of the
photographs! That's the subliminal message of bridal media from films to
magazine ads. Before I hurt my back, four months before the wedding, I
was most definitely getting sucked into the bridal-weight-loss-pressure
behemoth.
I knew that I wanted to be in great shape, and I was consumed
by the thought of how annoyed with myself I would be if I hadn't reached
my target weight by our wedding day. If I didn't have the
self-discipline to exercise and watch my diet enough to shed my extra
padding, how did that reflect on whether I'd succeed as a good wife?
Marriage is notoriously hard work – the discipline and patience are
rewarded by all the good bits. Did I deserve the reward if I wasn't
willing to put in the hard work?
"But then, several tests and scans and injections and procedures and
dozens of hours of physio later, I came to the realisation that I was in
great shape. My body was bloody amazing, and had dragged me inch by
inch back into the realm of the healthy. The number on the scale became
irrelevant, and I celebrated the simple act of being able to walk down
the aisle pain-free, to dance at my wedding (complete with arm jiggle,
arse wobble and the kind of inner thigh chub-rub one can only acquire
through the most enthusiastic of Charleston-ing). It really didn't
matter that I hadn't reached my target weight – I was happy, I was
healthy, and I was embarking on a great adventure with a man who had
already shown me he would look after me through thick and thin.
It's a
shame that it took a health scare to give me this perspective on my
body, but I'm so glad that I spent the day feeling so full of happiness
and pride, not hungry, not working my angles for fear of an unflattering
photo, and safe in the knowledge that when you make peace with
yourself, whether or not you are in fact statistically mostly cellulite
or not, you automatically get a whole lot more beautiful, inside and
out. I know it's easier said than done, but anyone struggling with that
enormous pressure to lose weight for your wedding, try and get some
perspective and focus on things that celebrate your innate fabulousness
rather than punishing yourself. Trust me, you won't regret it."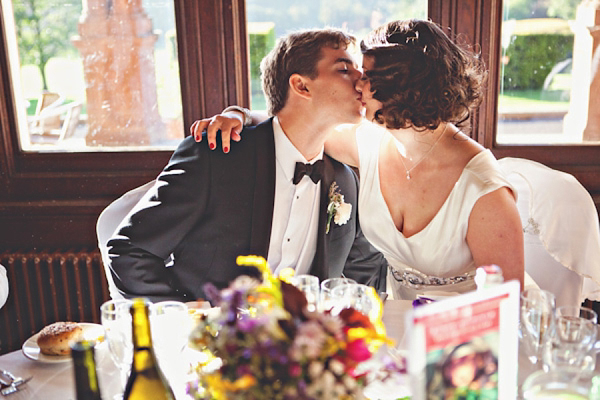 Amazing, I mean, amazing!  In fact, the best best best ever words of wedded wisdom I have ever read – ladies, take note!
Jade – thank you so very, very much for the kind words you wrote about Love My Dress, I'm so thrilled you found the blog useful and inspirational when planning your wedding and I'm hand on heart SO happy you found so many amazing suppliers thanks to Love My Dress!
Huge, huge thanks to the incredible photographer Laura McCluskey for sharing these images today too – anyone loving the style of these photographs and looking for their own wedding photographer really should look up Laura without any delay.
Where to even start?!? Which is your favourite element of this wedding?
With much love,
Annabel
Photographer – Laura McCluskey Photography
Event Stylist – Lucky Sixpence Events
Venue – Buckland Hall
Wedding Dress – Joanne Fleming Design
Brides' shoes – Holbrook Dance Shoes
Bride's accessories – The Flo & Percy Chaplin Cuff + necklace by Susie Warner 
Grooms Suit – Austin Reed + Church's shoes + Waistcoat
Bridesmaids – Maids to Measure + shoes by Début at Debenhams
Flowers – The Real Cut Flower Garden + Secret Garden Florists, Cardiff
Cake – M&S Cake for the rehearsal dinner + Cheese Cake for the wedding breakfast
Cars/Transport - Brecon Wedding Cars
Entertainment – Rob James, Magician + GiggleBooth + fireworks buy SkyDazzle
Favours – Shot glasses via CustomInk
Rings – Vintage 1930s rings sourced at Spectrum in Grays Antiques Market, London
Hair Stylist – Issidora from Nina's Vintage Parlour
Make Up Artist – Kylie McMichael
Stationery -  Doodlelove Designs + Graphic 45
Additional Styling & Decor – Pearl & Earl , Luck & Luck, and The Wedding of My Dreams
Best Man/Groomsmen – Young's
Film – Shoot It Yourself (links to actual video)