Good morning wedding lovers! I've such a pretty pretty wedding day to share this fine and beautiful sunny morning (at least from where I'm standing – is Spring here at last?
Sarah and David's wedding took place on 2nd of February 2013 at Ellingham Hall in Northumberland and they had the very lovely Helen Russell taking their photographs.  The couple opted for a beautiful vintage tea party style celebration inspired by Sarah's love for all things vintage…
"I have always loved things old and vintage.  I love the
history behind objects, and I find it fascinating the way everyday life
used to be. I think you enjoy a cup of tea more, when you have had to
wait for the kettle to boil on a stove for example. 
There are so many
amazing eras with such distinctive style, that I looked at dresses from
those eras and tried to see which styles I liked the best, and which may
have suited me most.  Then I came across my dress, which I fell in love
with instantly, the theme of my wedding then grew from there.  As my
theme for our wedding day grew, I realised more and more what styling I was naturally drawn
too."

Love My Dress Wedding Blog – Photography Copyright (c) 2013, Helen Russell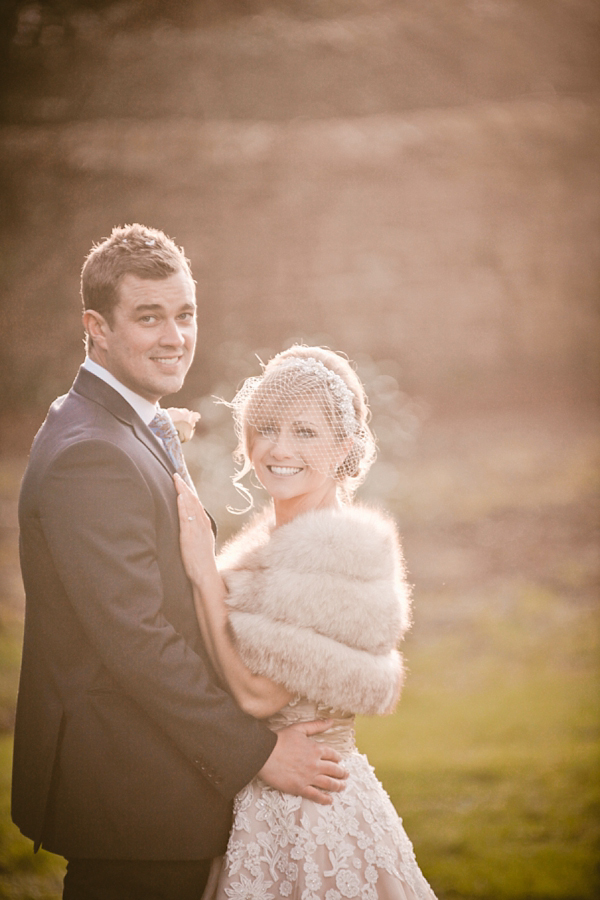 "I'm from the North East, and Northumberland is where I spent a lot of my childhood.  Our venue, Ellingham Hall, has a lot of beautiful countryside and a stunning coastline. 
We wanted a venue where we could spend a long weekend with friends and
family.  We only actually looked at one venue before going to see Ellingham.  It was a frosty February day and I fell in love with it
straight away.
David works away in Iraq, so he wasn't home when I went
to see it, so the venue said they would hold my booking until he had a
chance to home and see it for himself.  I called him while I was there
to tell him how perfect it was, and he told me if I thought it was
perfect I could just go ahead and book it!"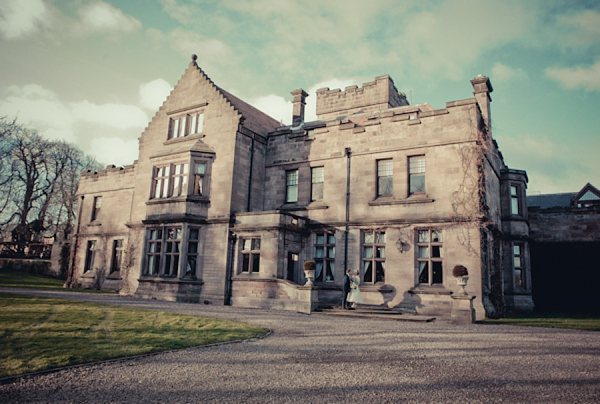 "Dave and I met on the internet.  He was home from Iraq when he
suggested we meet up.  I had been let down by a couple of men at this
point, so went on this date not holding out much hope, and since that
first date we have never looked back!  We were together for 5 years
before Dave proposed, on Christmas day.  I was full of cold, surrounded
by used tissues with very bad bed hair, when he presented me with a ring
straight after he had brought me breakfast in bed. 
I was so stunned I
could barley speak, he panicked and asked me again, so eventually
between the tears I said yes!"
"Ellingham Hall
provided the catering – we had an Afternoon Tea, with Mulled wine in
the Tea pots.  The food was tremendous and there was lots of it – every
body was so impressed at the menu.  Since the wedding I have set up a company called The Little Tea Cup Company. 
We hire vintage crockery and china for weddings and parties across
Newcastle, Northumberland and North Yorkshire."
"I have spent years
collecting pretty vintage items, and organising my wedding made me
realise how much I love this!  Since the wedding we have already had a
lot of interest and we have our first 60th birthday party to provide
crockery for in the summer and a booking for a wedding in November.  I'm
so excited about my new little tea cup company – it is a real passion of mine that I get to
share with more people now."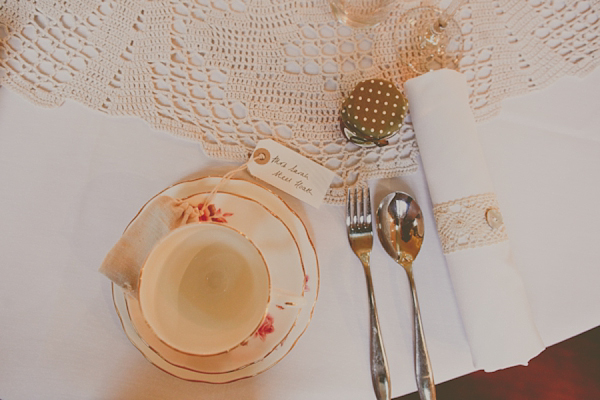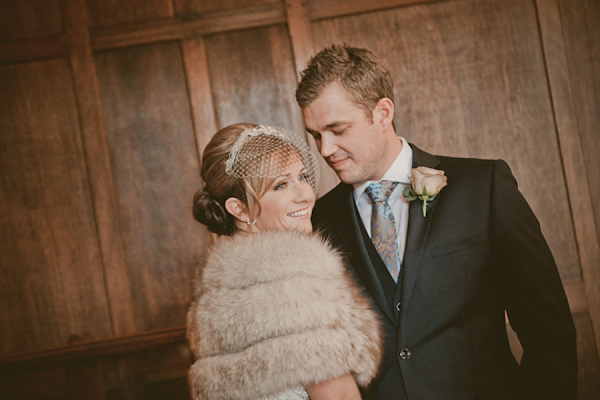 "My dress was Justin Alexander and I bought it second hand from Preloved,
and had it altered to fit by Gayle at Accent Original Bridal in
Newcastle. 
Gayle was
brilliant, and had to carefully cut each layer or tulle, and made
several alterations to make the dress fit perfectly.  It was
the first dress I saw, and I fell in love with it instantly!  I actually
assumed it wouldn't suit me. I tried on hundreds of dresses of all
styles and sizes so I could be sure I was making the right decision, but
none came anywhere close to making me feel as special as the Justin
Alexander did.  When I put it on, I didn't want to take it off.  I also
loved that it wasn't a standard ivory colour and that the style was very
50's.  It pretty much set the scene for the whole wedding."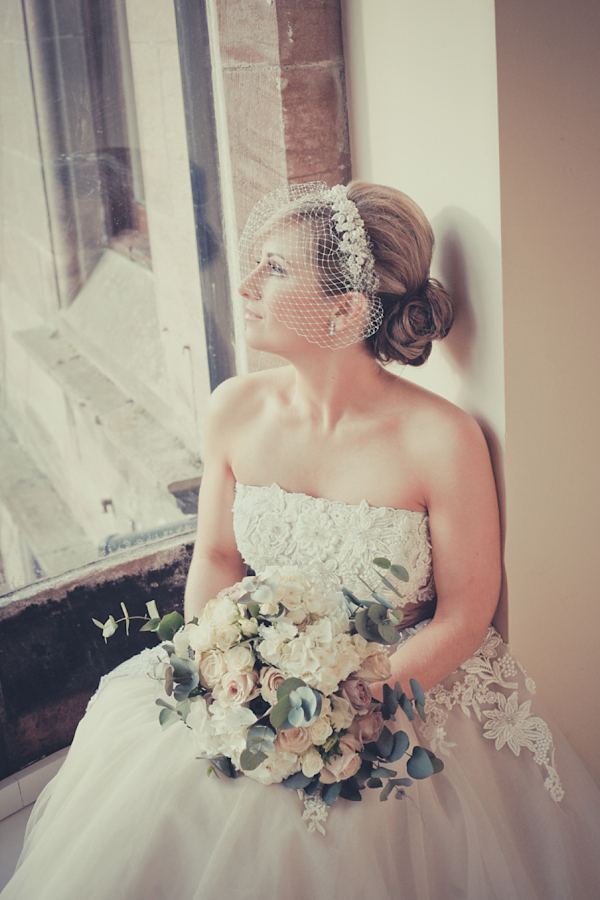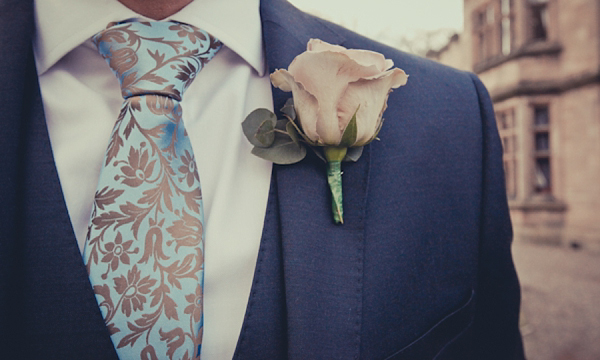 "I saw Helen Mawson of Bels Flowers at the open day at Ellingham Hall. 
I explained the theme of my wedding and she seemed to know exactly what
I wanted.  I was so pleased with the result, Amensia and Metalina Roses
are now my favourite flower!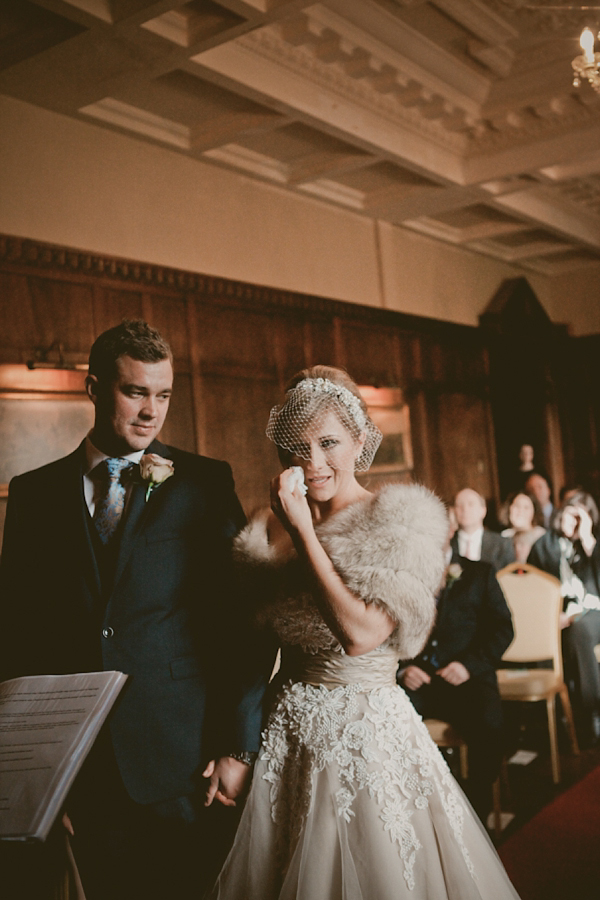 "I scoured the high street and the internet for the perfect shoes,
and I was really struggling as I knew exactly what I wanted – especially
as they would be on show, eventually I stumbled across these in Next!"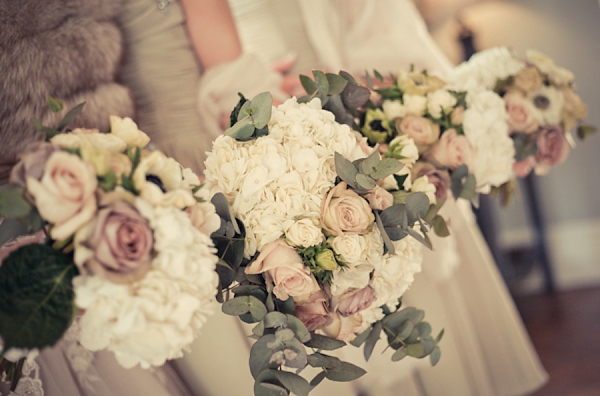 "I think my favourite part of the day has to be when I first walked
up to Dave at the end of the aisle, he couldn't stop looking at me, and I
felt like there was just him and I in the room.  I knew right then, how
much I love him and how much he loves me.  The
other most amazing moment was when I saw Monkey, my horse walking down
the drive to join us!  I had hoped to arrange him coming to the wedding,
but had ran out of time to organise it. 
Little did I know that Dave
and my good friend Denise, who was looking after him for a couple of
weeks across the wedding, had arranged it that he would attend after
all!  He was such a star for the photos and it meant the world to me
that he was there.  Secretly – that was the highlight of the entire
wedding for me!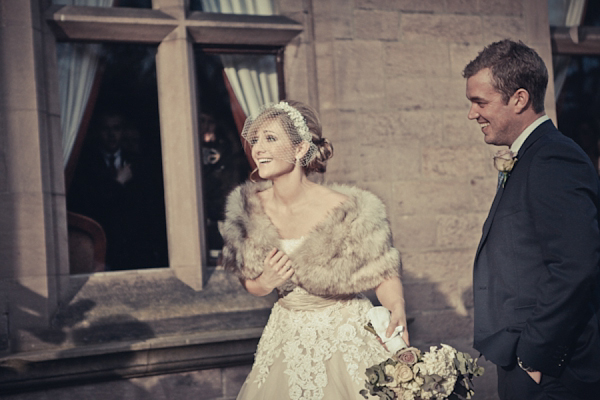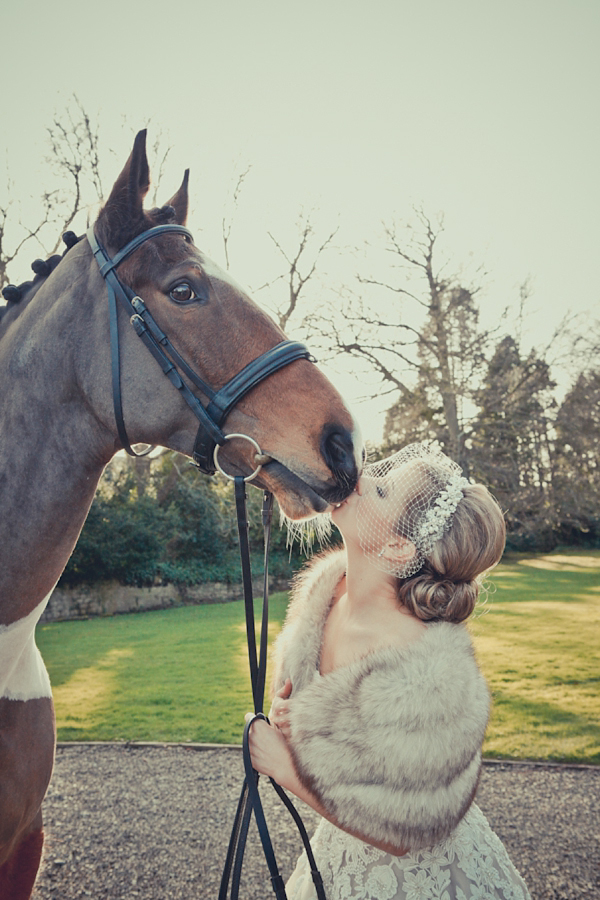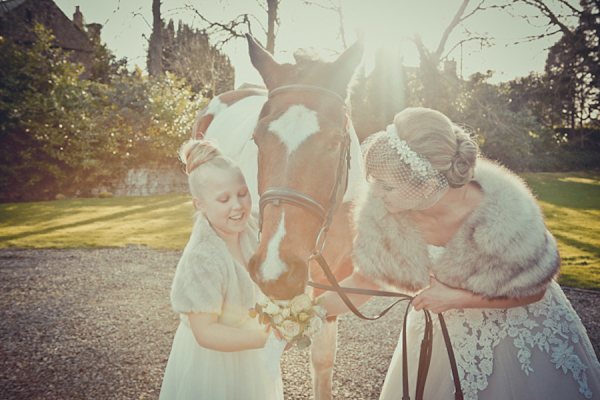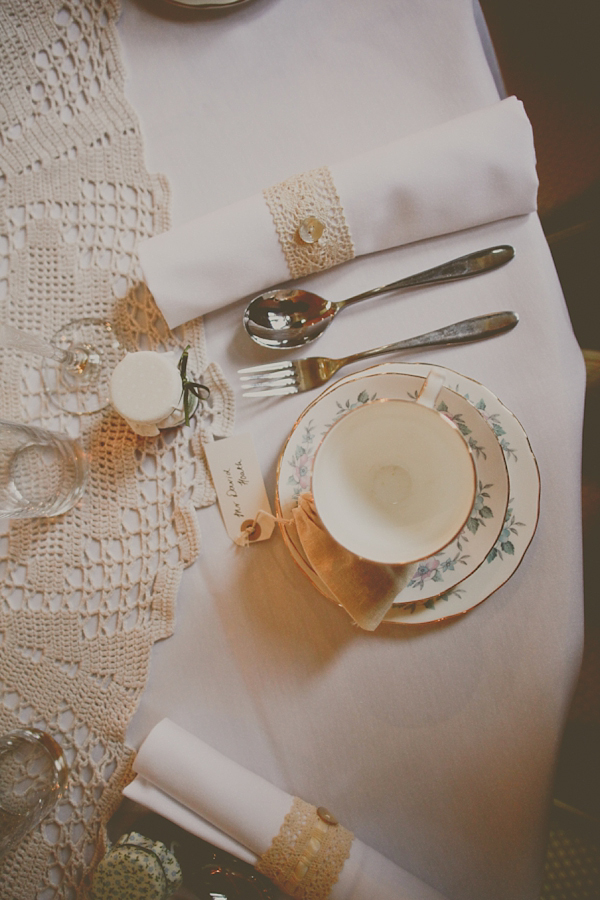 "My earrings are diamond earrings that Dave bought me
from Dubai a few years earlier for a Christmas present.  My something
blue was my mums old engagement ring which had a sapphire in it, and it
fit perfectly.  My beautiful stole is a vintage Norwegian Silver Fox
stole, I bought it off Ebay. 
"My hair and makeu artist Lisa Jones transformed
the bridesmaids and I.  She is great fun to work with, was very
quick and professional and made the morning of the wedding a lovely
experience, really relaxing, just good company.
 The bridesmaids dresses were made to measure by a great company called Courtesan Boutique in Worthing. 
Again, I trawled the internet for months looking for unique dresses as I
knew I wanted a vintage style. The ladies here have such a wide range,
and I let my bridesmaids choose which one they liked most,  I was happy
for them to have different ones, and they all agreed on the same one."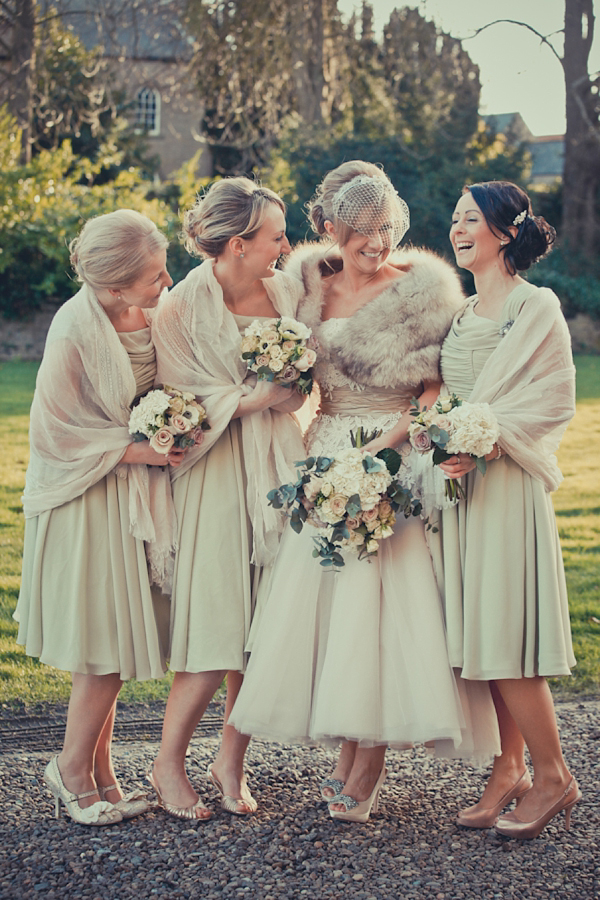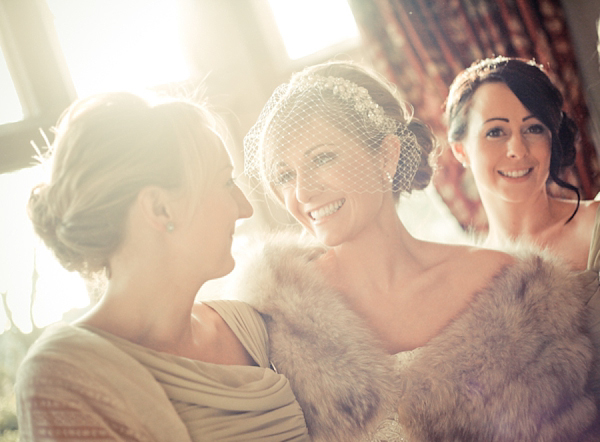 "As I was on a budget, I used Gypsophilia in Ikea carafes as centre
pieces.  The crochet table cloths were my own.  We also made our own
candle holders from Champagne glass with lace wrapped around them."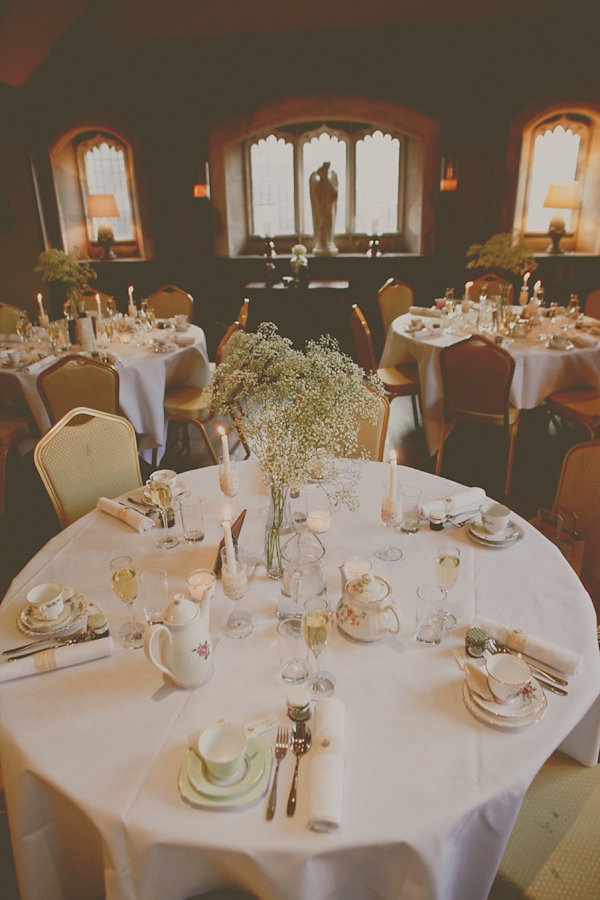 "Our photographer was Helen Russell,
who was just amazing.  I had a boudoir shoot with her to give to Dave
as a wedding present and I had the best time ever!  She worked so hard
for us at the wedding, and has taken some amazing shots, which totally
capture the different emotions of the day.  She is great fun to work
with, and I can't recommend her highly enough."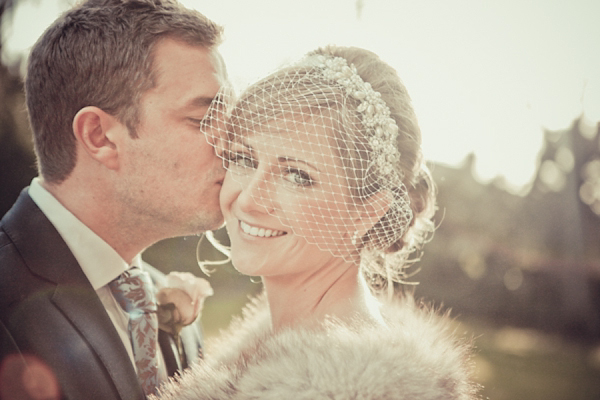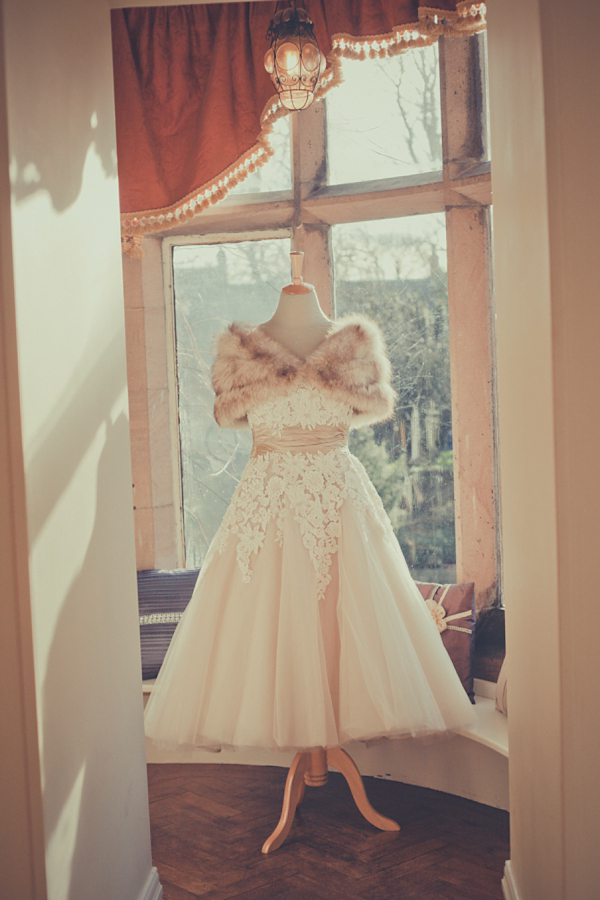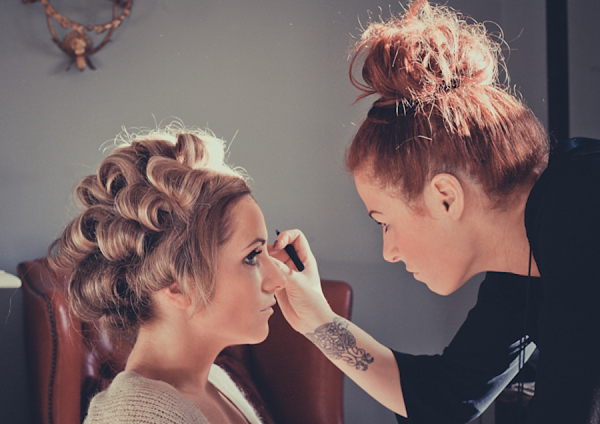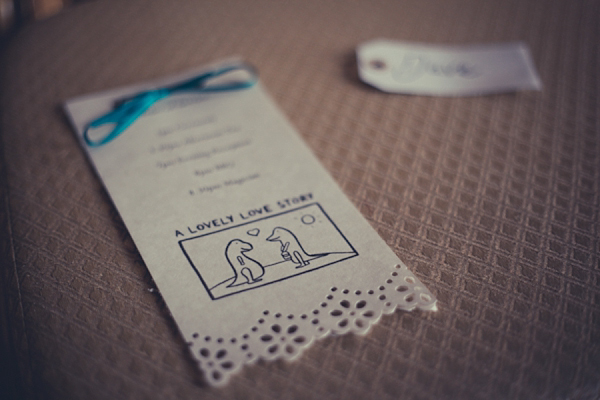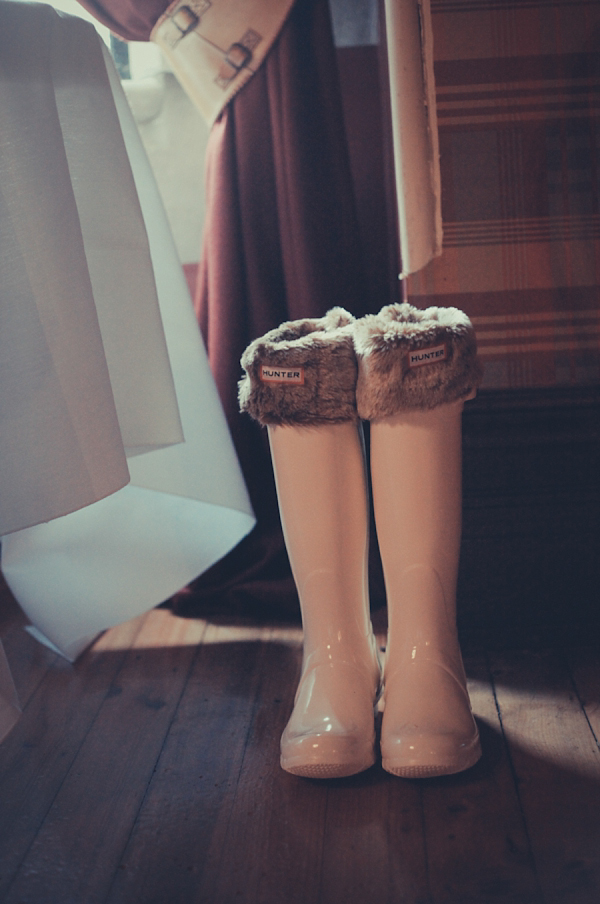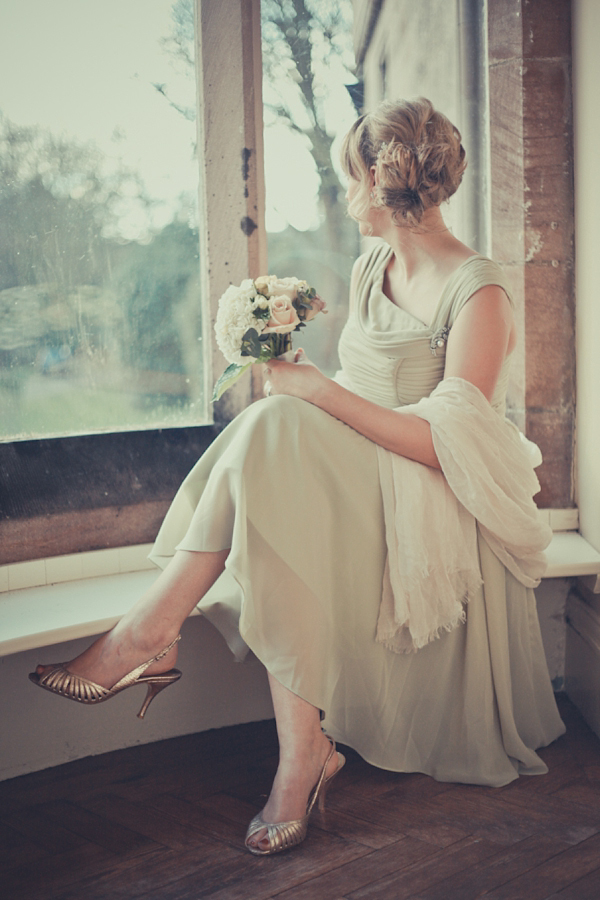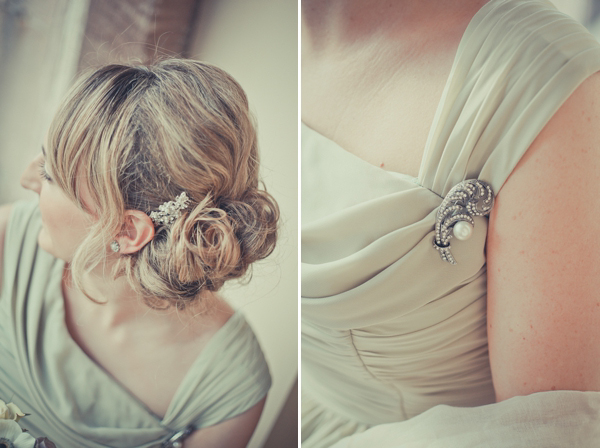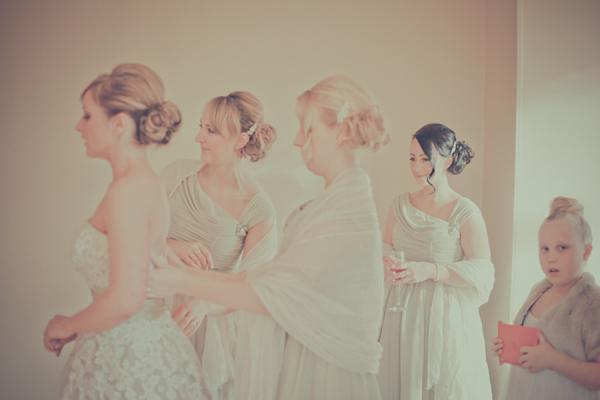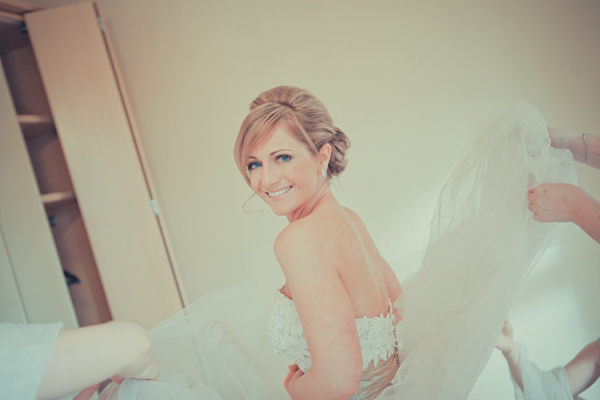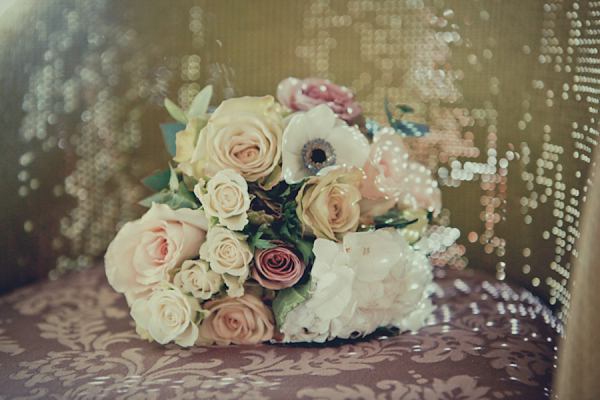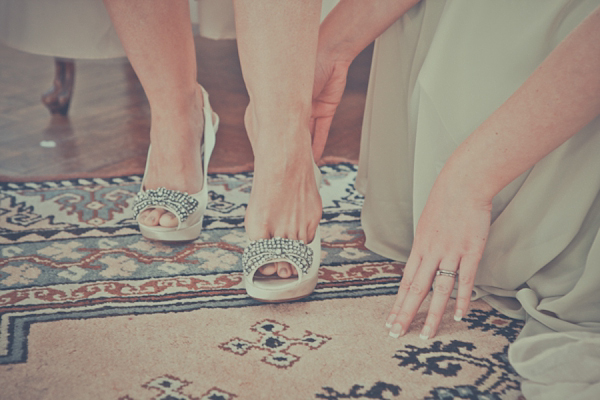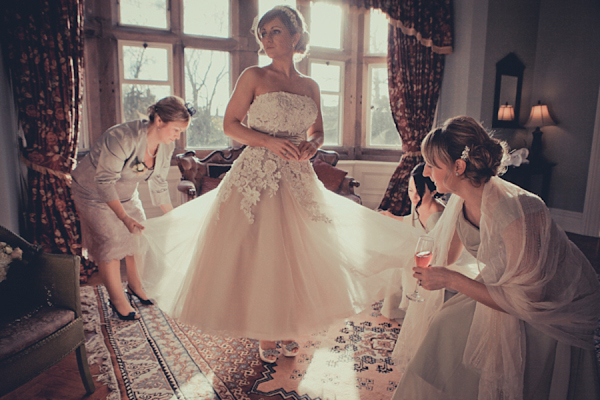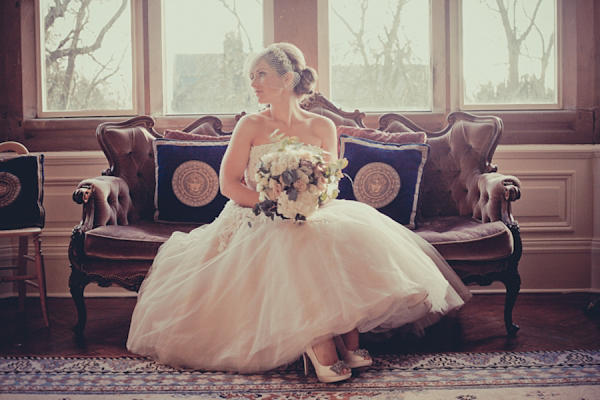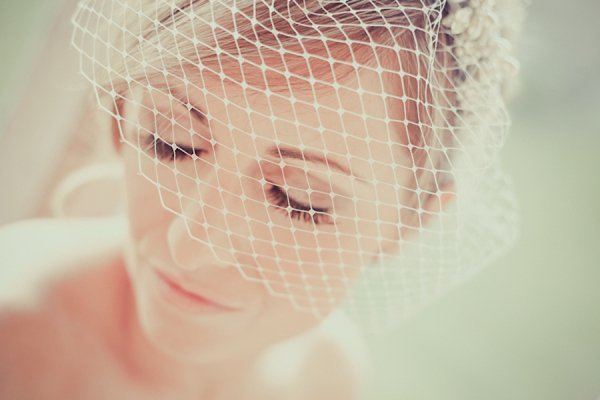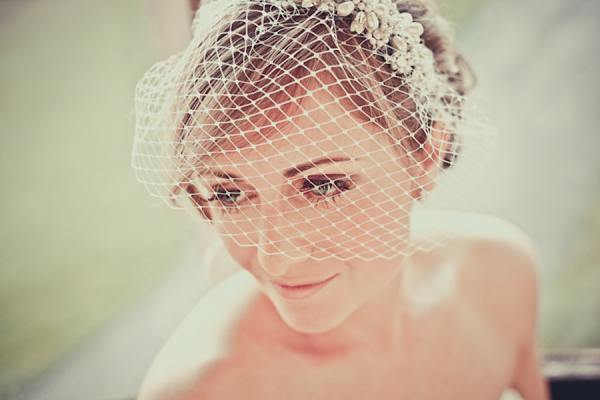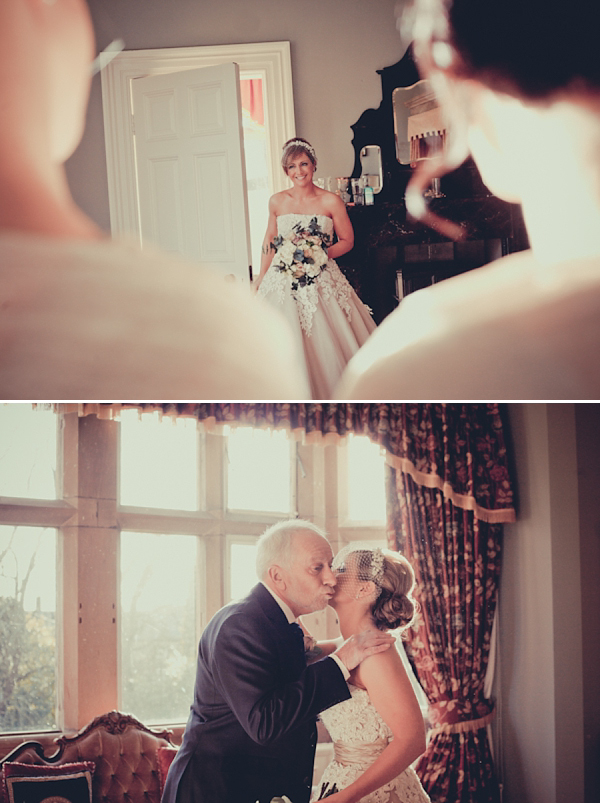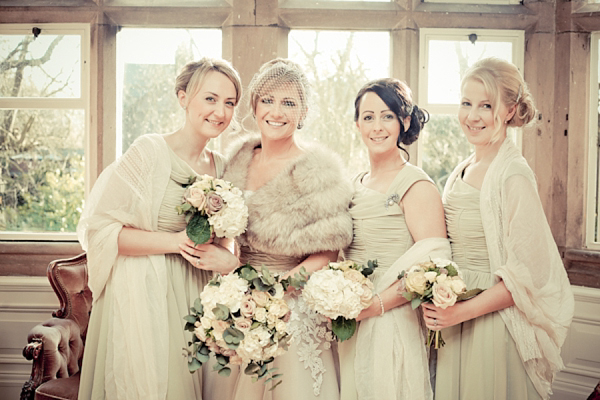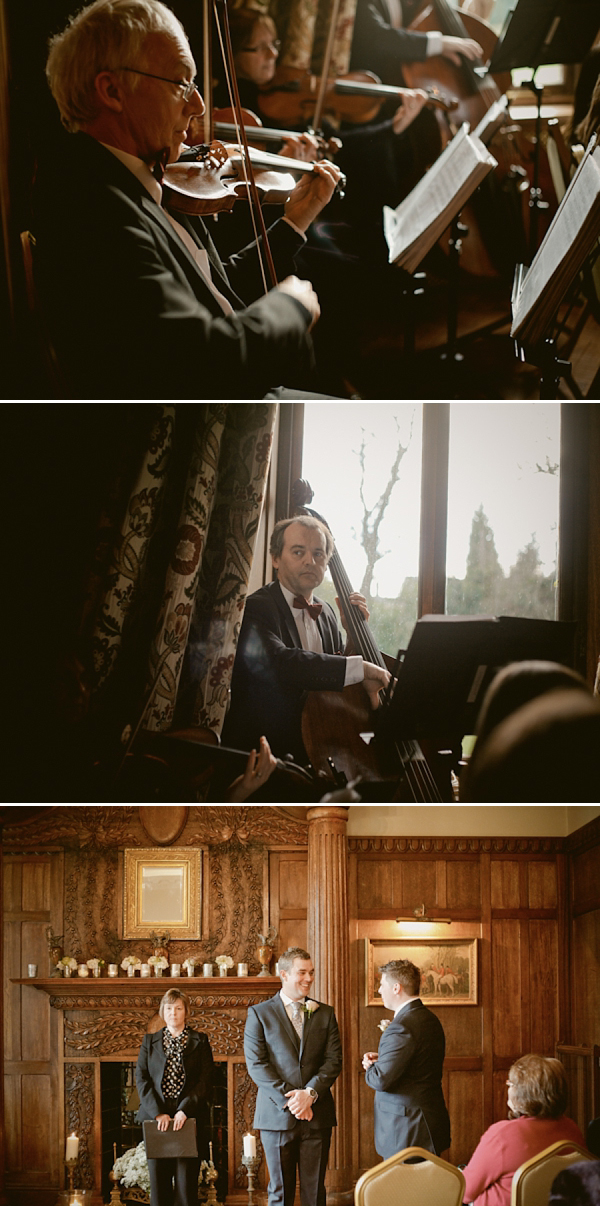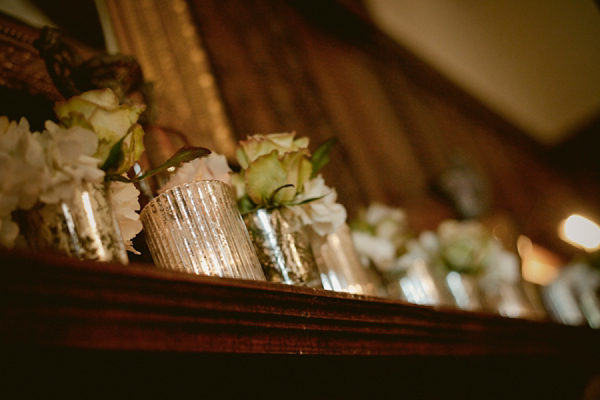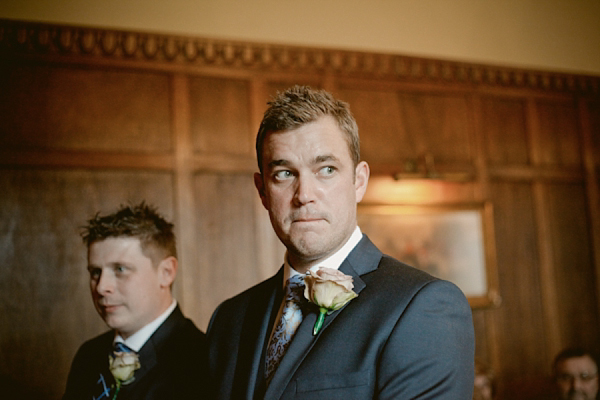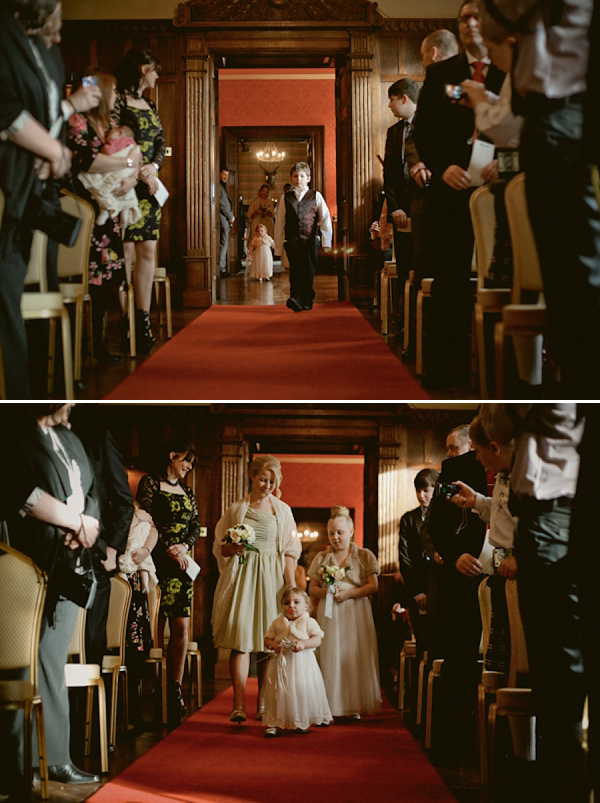 "My Dad walked me down the aisle to the sound of Ellie
Goulding's 'Your song' – we had practised walking in at just the right
time so that I got to the front at the right point of the song – it
worked perfectly on the day, and set the scene for the ceremony
beautifully."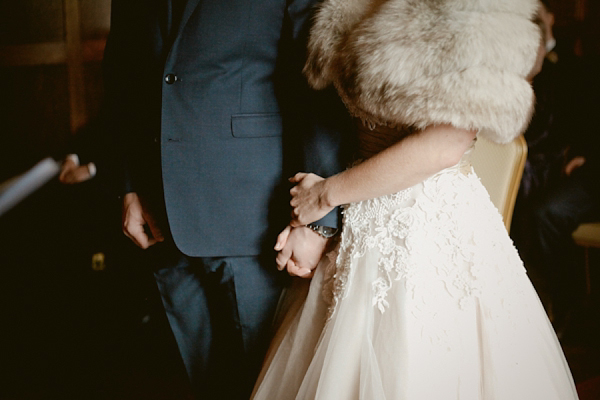 "We made personal promises to each other in addition to our
vows.  We selected this from the Registrars list of suggested promises. 
We chose one that reflected how we felt about the commitment we were
making to each other.
  We had Dave's
uncle Roger read the Edward Monkton "A Lovely Love Story" as our
reading.  We chose it as it was funny, different, and very true for Dave
and I."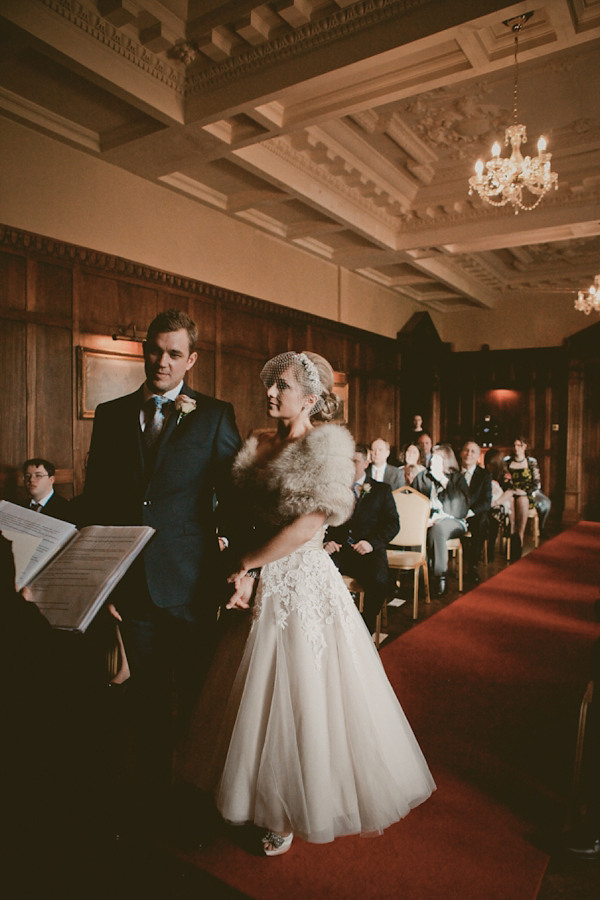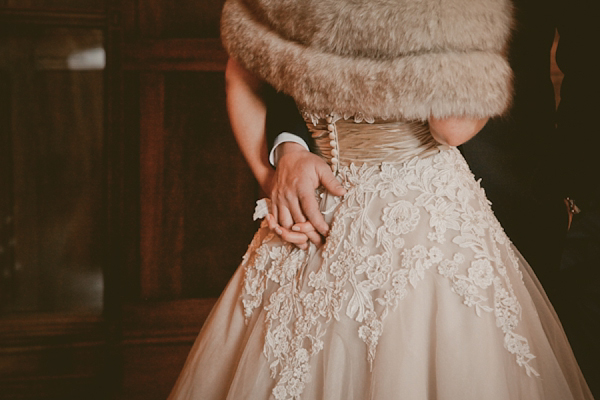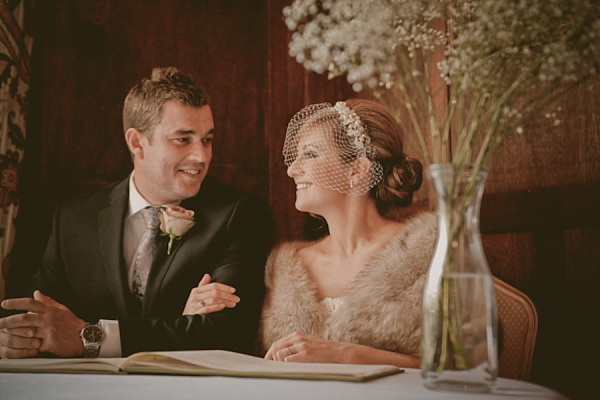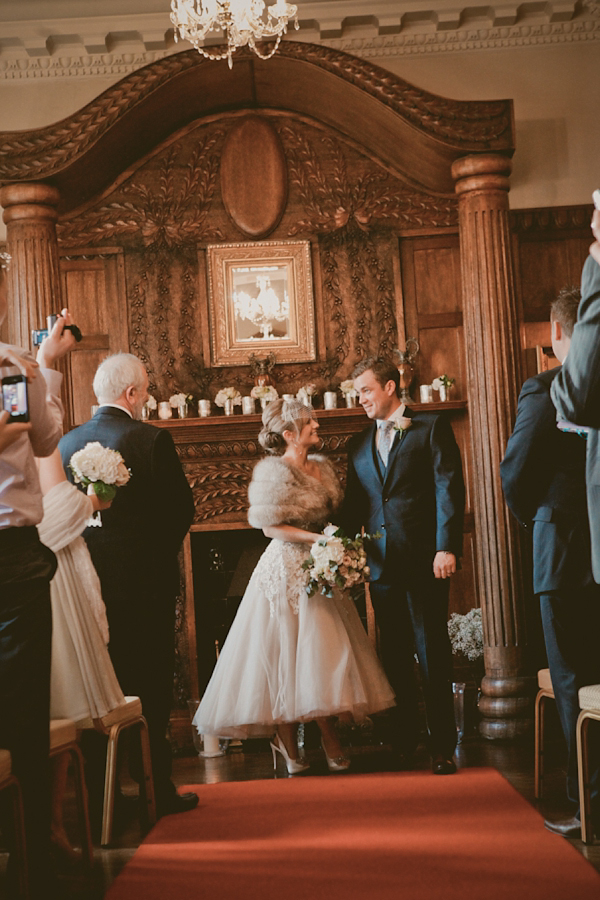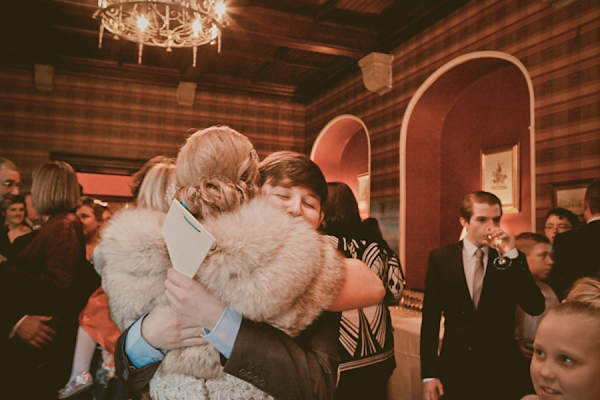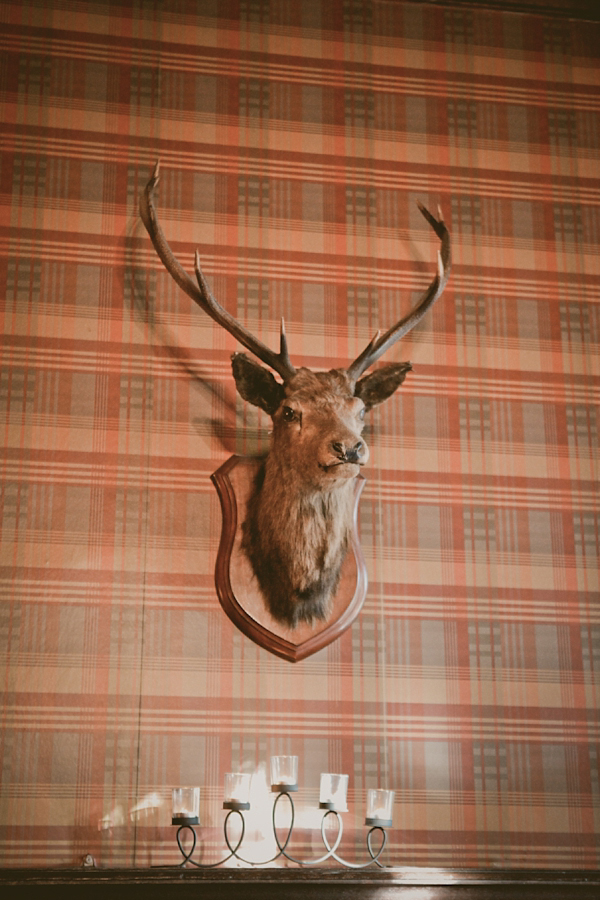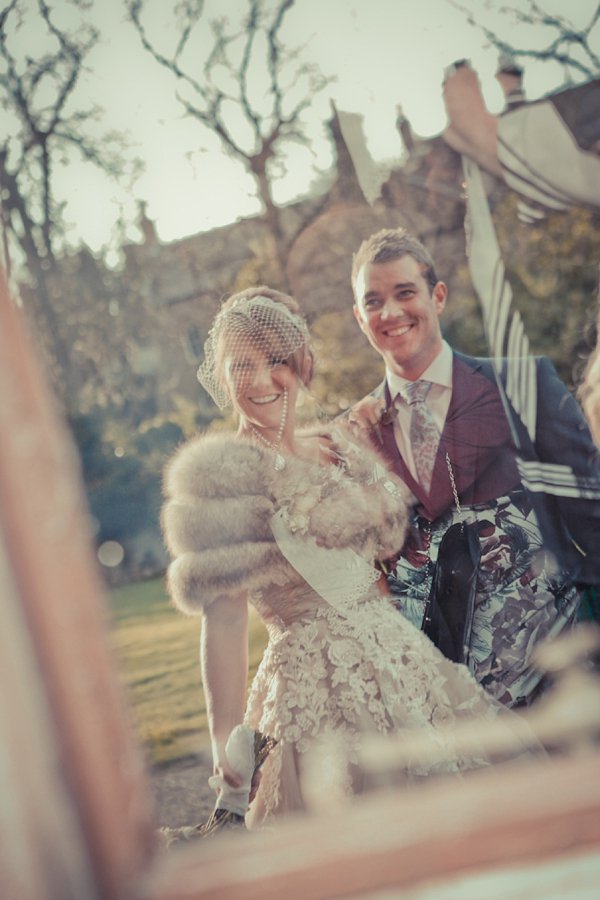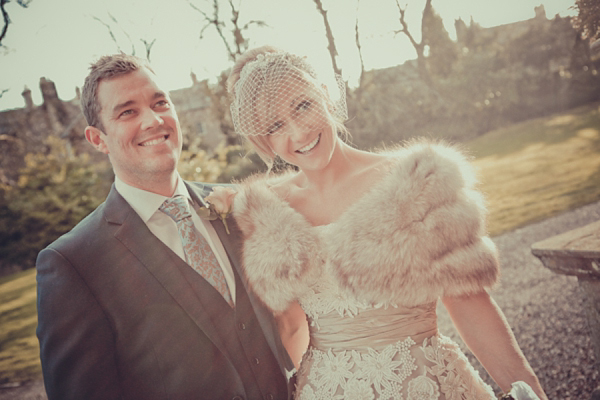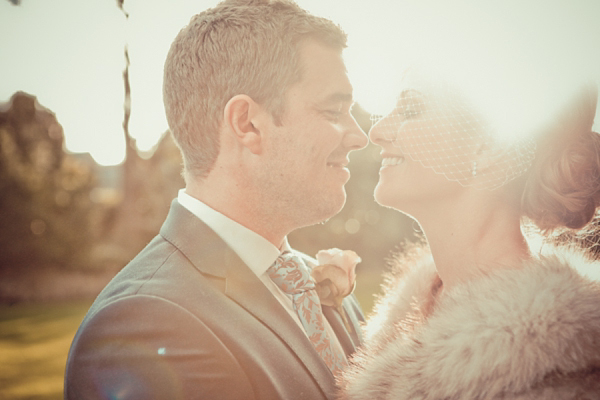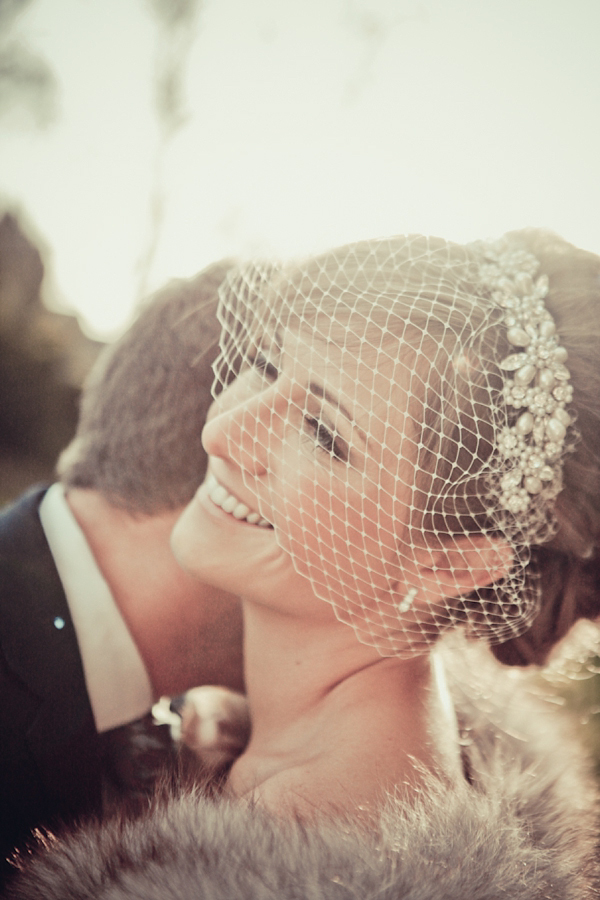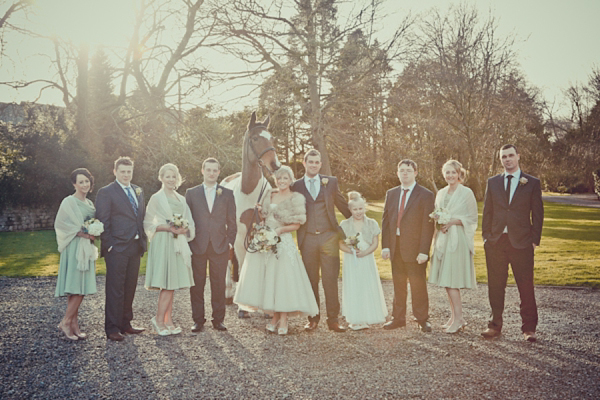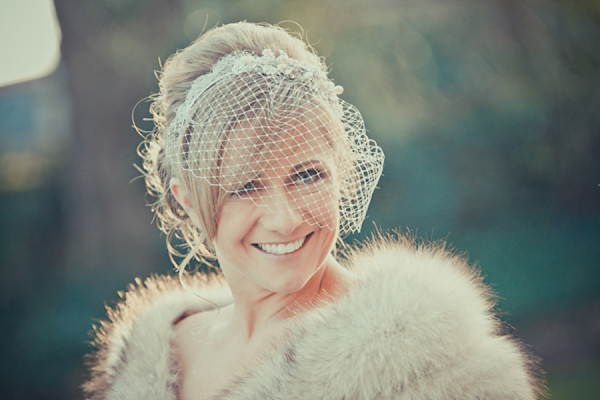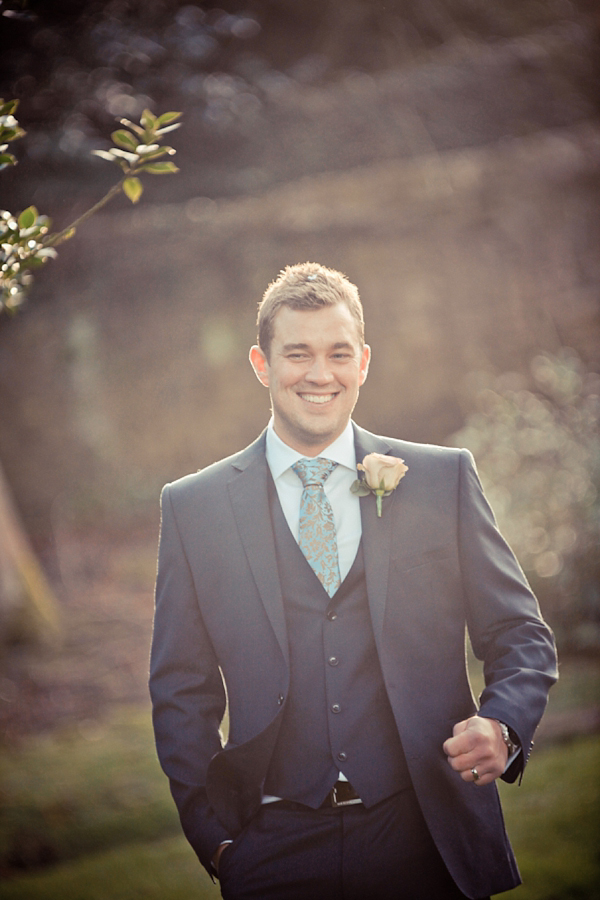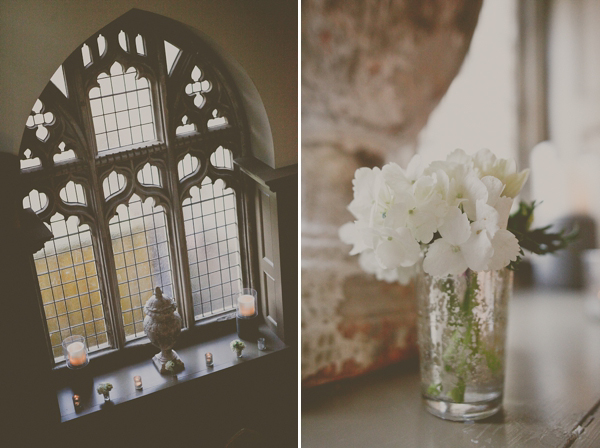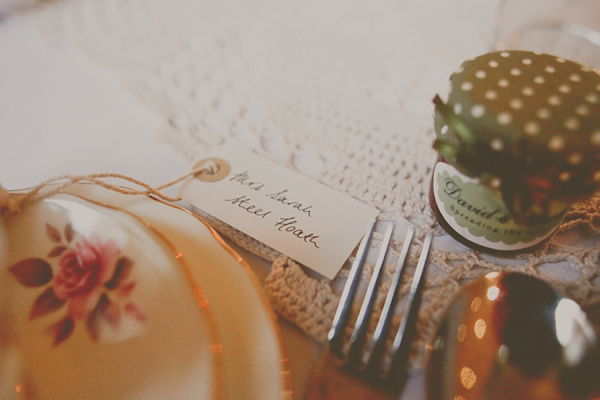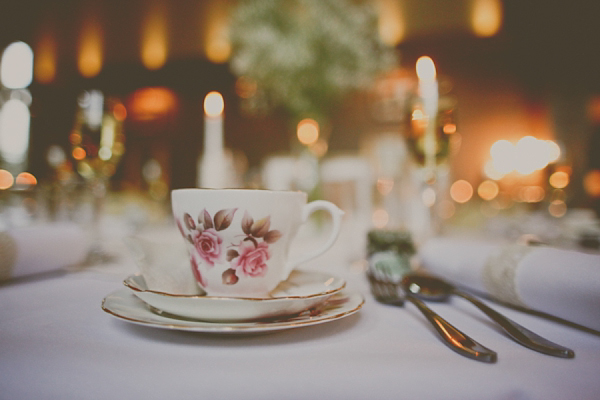 "Our wedding favours were jars of homemade jam made by Daves mum,
Judy.  We cut material for the tops and Judy sourced customised labels
with "Dave and Sarah, Spreading the Love' written on – we thought they
were very cute and funny!  We also made our own Mulled wine
sachets, with name tags on, which served as name place settings and tied
in with the Mulled wine in the tea pots."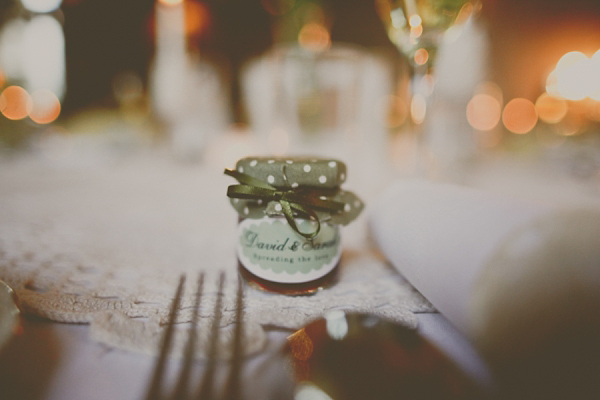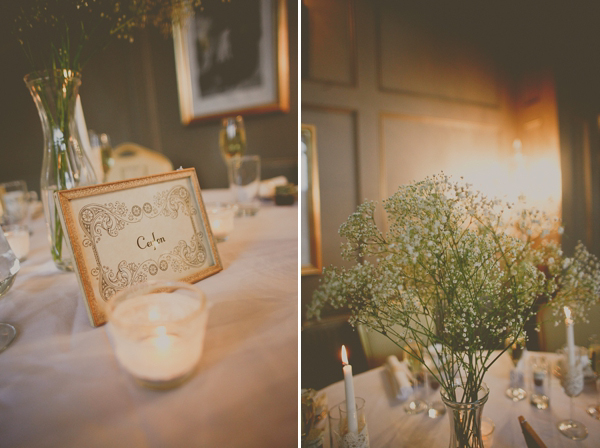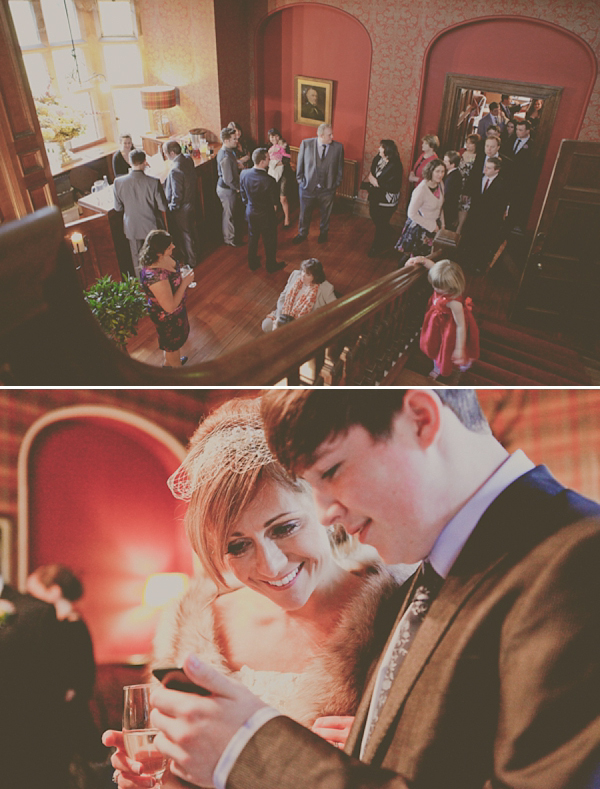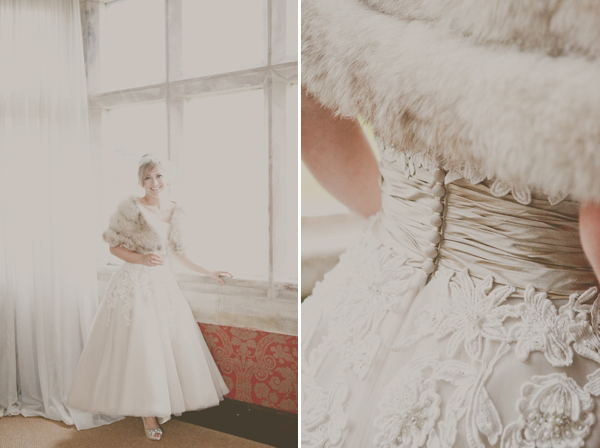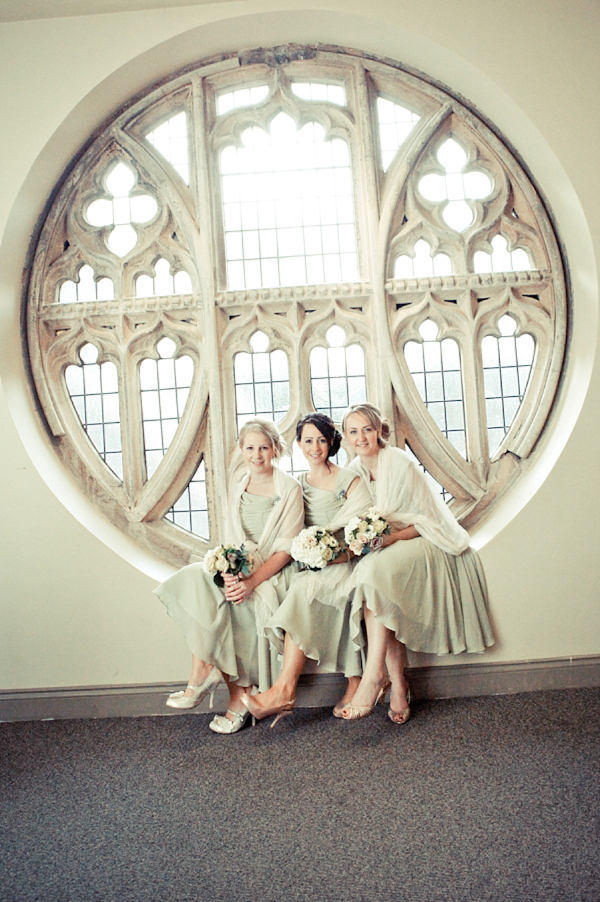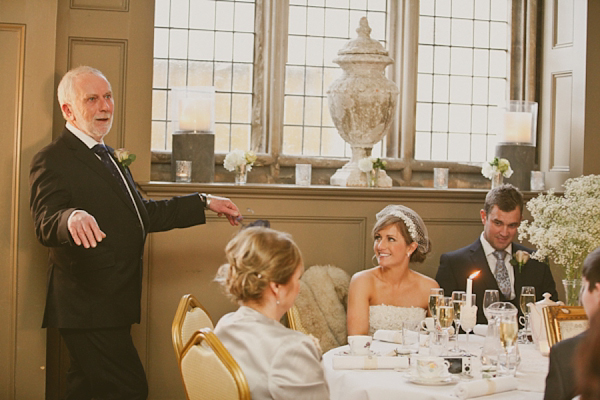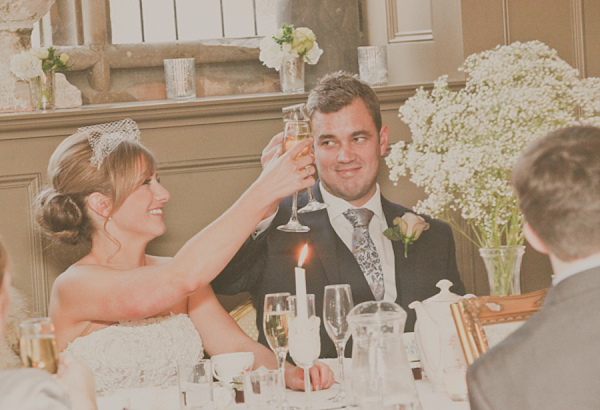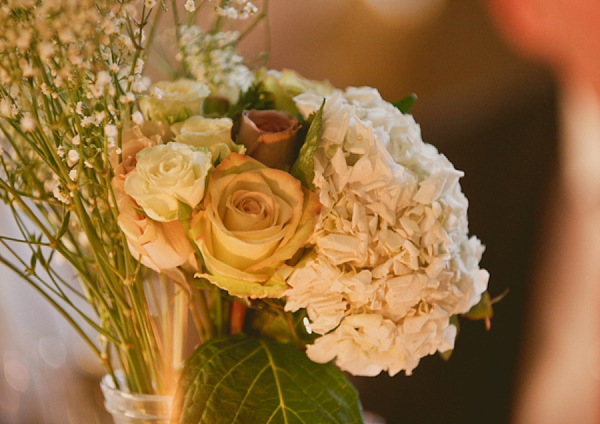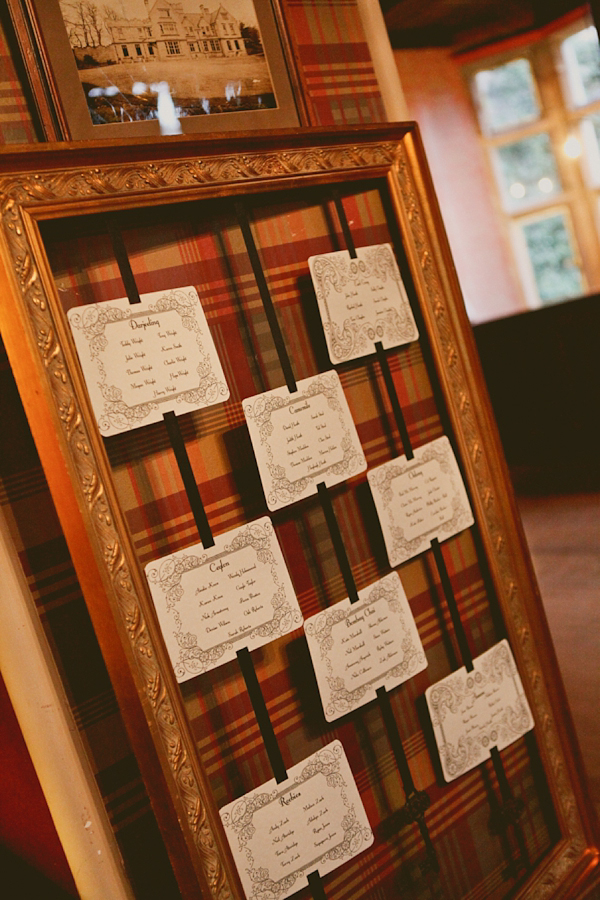 "We had a cheese cake as our wedding cake,
as neither of us like fruit cake, although the base was a fruit cake to
provide a strong enough base for the cheese – and to satisfy my mum! We
had four types of cheese, all cellar ripened to give the desired colour
and effect on the exterior of the cheese.  I decorated it with Figs and
ivy.
The cheeses were handmade especially for us from Blagdon Cheese
Farm.  I loved the fact it was local cheese from Northumberland.  At
first everyone said to me – 'What? You're having CHEESE??"  The effect
was brilliant and it was cut up later in the evening and served with
homemade chutneys and biscuits and everyone just helped themselves
through out the night."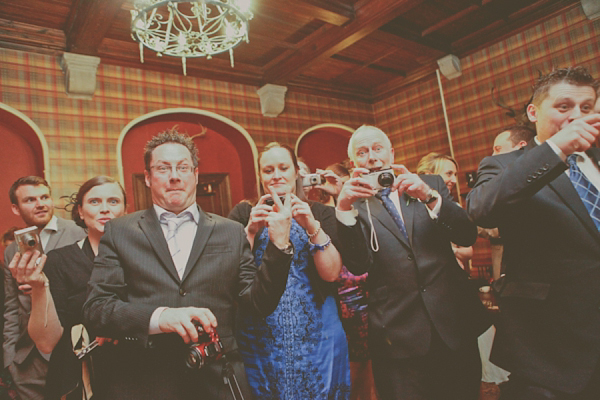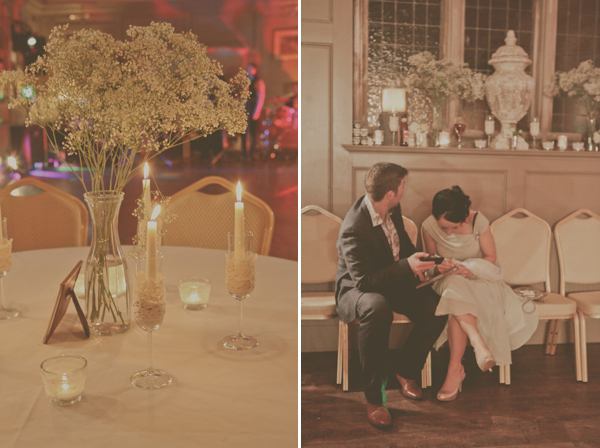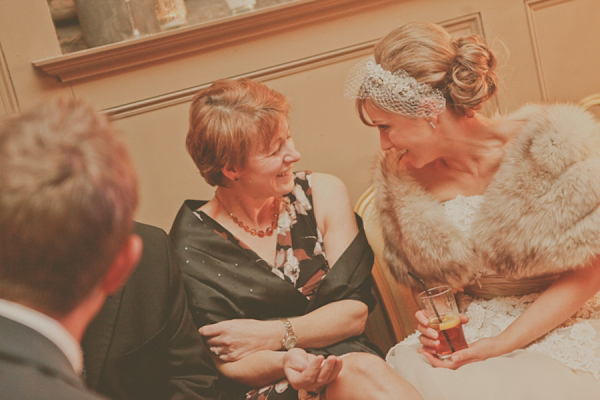 "We danced to Etta James' "At last" as our first dance. 
I chose this as Dave has spent all of our relationship working away,
and at times it has been really hard.  When he came home from Iraq for
what we thought was the last time, the words to this song expressed
exactly how I felt.
What was your very favourite part of the day and why."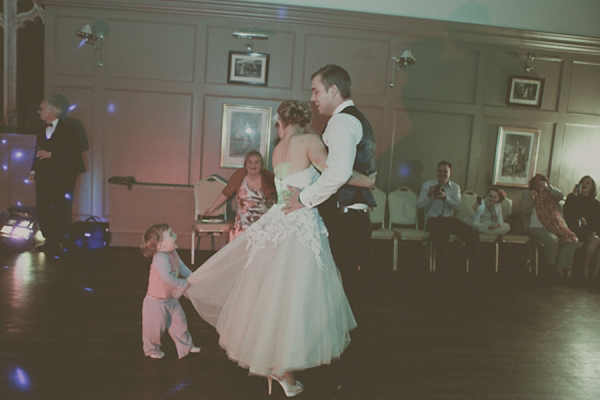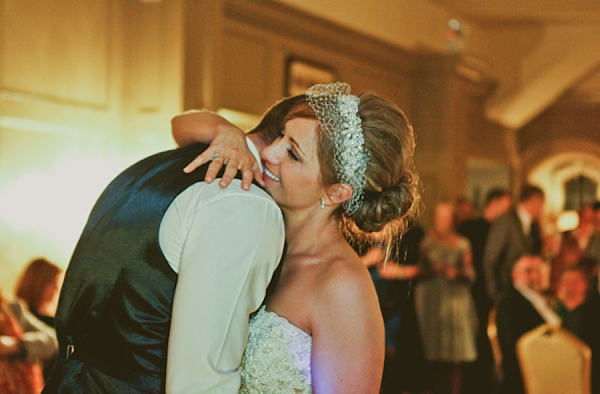 "We hired a magician, Paul Lytton, Magician, 
I've never seen close up magic like this ever before, the photos we
have of people faces when he was doing close up tricks say it all.   It was such a brilliant addition to the night, everyone was so impressed, and he was amazing value.
We also had a band called North East Soiree. 
They provided a string quartet for the ceremony, a Jazz trio for the
drinks reception.  They then started the evening with a swing band,
changing later into a brilliant pop band til closing time.  They are
very talented, and good fun, they absolutely made the day."
Words of Wedded Wisdom..
"My advice would be to enjoy all the preparations and
the build up.  Also, to have and do whatever you want for your wedding  –
no matter what other people say or think. 
Its your day, make it as
individual as you want to.  Practical advice would be to do a
mood board.  I spent months cutting out anything and everything liked
from magazines, be it a table setting, a flower arrangement, or just an
image. 
Eventually you will see a theme emerge.  Then I went through and
cut this down to the pieces I really liked and before you know it, you
have a clear idea of your theme and style!"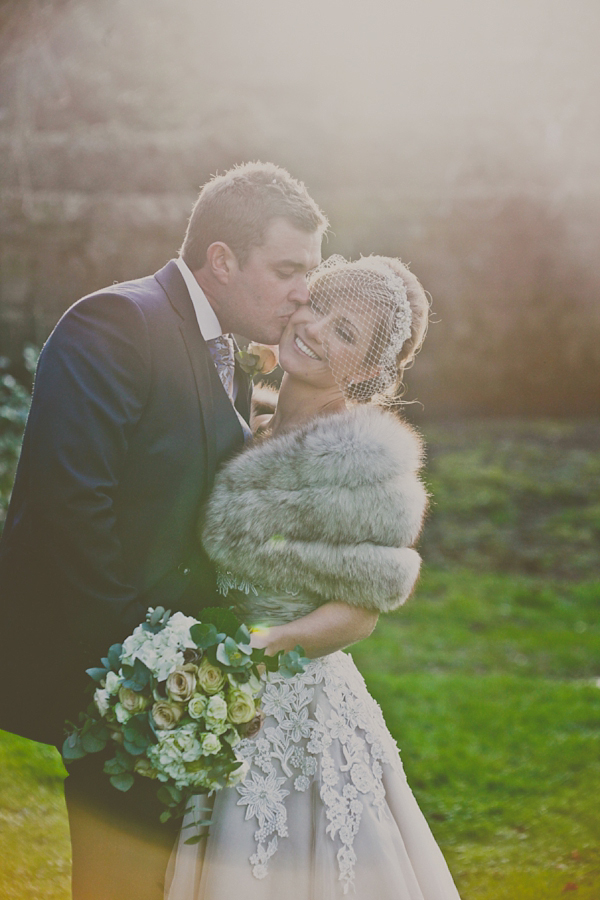 Such a pretty pretty day! Any bride that has her horse at her wedding is a winner with me!
Lots of love and congratulations to a fellow Northern couple – Sarah, David, you looked amazing on your wedding day and I wish you a long life full of happiness and joy.
Huge thanks too to photographer Helen Russell for so kindly sharing these images today.
Is anyone else planning on having a vintage tea party style wedding day celebration, or wearing a pretty delightful 1950's style Justin Alexander wedding dress?
With much love,
Annabel
Photographer – Helen Russell
Styling/China provided by the bride – The Little Tea Cup Company
Venue + Catering –  Ellingham Hall,
Brides Dress – Justin Alexander via Accent Original Bridal in
Newcastle
Veil/Headpiece – Accent Original Bridal in
Newcastle
Brides Shoes – Next
Grooms Suit -  Moss Bros + Ted Baker cufflinks that I bought him as a Christmas present
Bridesmaids – Courtesan Boutique in Worthing
Flowergirl Dresses + Page Boy Outfits – Monsoon
Flowers – Helen Mawson of Bels Flowers
Cake – Northumberland Cheese
Entertainment - Paul Lytton, Magician + North East Soiree
Favours – Jars of personalised jam
Hair and make-up Artist – Lisa Jones