Hello there, and welcome to wedding number two of the day, this time, a fun and relaxed affair with a bride looking fabulous in her original 1950s Fur Coat No Knickers wedding dress.
Nikki and Darren tied the knot on 13 October 2012 at St Luke's Church in Cranham, Upminster, Essex. I just adore that theirs was a very long love affair before they decided to tie the knot…
"Our story spans over nearly 26 years. We met in nursery school
and continued to be in the same school right up to the age of 16, we
even went to prom together but were never more than friends (if that).
It was only when we bumped into each other at the age of 20 that we
really started to get close.
It started as just friends, but after a few
months we started dating, nine years later on Holiday in Croatia, Darren
finally proposed…"
Love My Dress Wedding Blog – Photography Copyright (c) 2013,  Sarah Ann Wright
"I got my dress from the amazing girls at Fur coat no knickers.  I
had gone to a couple of standard wedding dress shops, but nothing was
getting anywhere near the vision I had for my perfect dress.  My friend had got her dress from there the previous year, so I knew I would find what I wanted there.
I have always loved the 50's
style dresses, even as a child I new I was born in the wrong era. I
particularly wanted a lace dress with sleeves and it had to be tea
length. I loved the Champagne colour of the dress, and I instantly felt
like it was my dress. 
When I went to Fur Coat No Knickers
and found the dress, originally it was a very different dress and the
girls did an amazing job transforming it in to the dress of my dreams.
It was a gamble that really paid off. I can't recommend the shop highly
enough, not only are the dresses beautiful, their enthusiasm is
infectious."
"My Florist was my twin sister Charlotte. She's very talented and
I trusted her wholeheartedly to come up with something beautiful. The
only flowers that I absolutely had to have were Dahlias, other than that
I just told her the colourings I wanted and left the rest to her. She
did such an amazing job."
 
"My cousin Alex gave me my Grandad's (dad's dad) watch to have as
my something old and borrowed, I didn't wear it but had it in a little
bag that held my trinkets for the day.   We were giving our ushers hip
flasks as a thank you, so I thought it only fair I have my own, my red
spotty hip flask was given to me as a present a couple of years earlier.

It really fit with the 50's theme and I had my own supply of cherry
liquor for the day.  The wooden spoons were handmade by my aunt, she
gave them as a good luck gift, and burnt our names into them."
"It only felt right to have a vintage wedding car
for the day and I found a local hire company that had a car available.
The prices were very reasonable as well.  Me and my Uncle went in the
1956 Cadillac, while my bridesmaids were taken in my Uncle's car with my
Mum and Nan."
"Although I love the 50's
style, we were very conscious of trying not to do anything too themed
and over styled. We wanted things to be pretty but no too fussy and I
think we achieved it.  The colour scheme evolved once I had my dress, we went for quite a soft pallet of colours, lots of cream, gold and peachy pinks.
I made the veil by myself and my twin sister, we had a
swatch of fabric from the wedding dress and matched it with ribbon from
Liberty and pinned the bow to a veil bought from eBay. I knew a
traditional veil wouldn't suit me and loved what we came up with.
I had always wanted to wear a watch for the big day, I felt a
bit naked without one. Mum found a gorgeous gold watch and gave it to me
for my 30th. Its so delicate with a heart shaped face and went so
nicely with my dress.  I also had a "D" brooch on my bouquet – I found
this in an antique market in East London with my Mum.
When I saw it, it
held so much significance because not only was it the first letter of
Darren's first name and surname but was also the first letter of my
Dad's name. I knew I wanted to include it some way and it felt that
having it was honouring my Dad somehow.
What a pretty table plan, so easy to achieve yourselves too!
"The proposal was very romantic – we had been walking around the
area we were staying and decided to have a picnic to celebrate our 9th
Anniversary; I should have twigged when he was insistent that we get
some Champagne. We found a nice secluded spot in the middle of a forest
but also looking over the sea. We popped the Champagne and I sent Darren
into to woods to get the cork, when he returned he got on one knee and
asked if I would be his wife. I had already started crying as soon as he
was on his knee and took me a while to compose myself enough to say
yes. 
We got engaged in June 2011 so had about 18 months to plan the wedding. We already new we wanted to get Married in October."
"We kept the décor quite simple. We had some of the lace bunting
hung across the main reception room and attached more of the paper fans
to room dividers to separate the dance floor and bar from the Dining
area (these were then moved for the evening part of the reception).
For the table centre-pieces we had a selection of vintage bottles
in various sizes holding some single stem flowers. Place names we made
from paper doilies with the names written on, a really cheap way of
incorporating a lace feel to the table. I made all the table numbers
with embroidery hoops and hand stitched each of the numbers and added
different coloured buttons to pretty them up (I hope to one day be able
to hang them up in a baby nursery).  I had no real idea of what
all my ideas would look like once they were put together and if it
hadn't of been for my 3 sisters, it probably wouldn't have been so
successful!"
"All our stationery was handmade by my oldest sister Pippa. We
wanted something that went along with the vintage/home made feel and
they looked lovely. She did absolutely everything including the order of
services and table plans, even making our guest book. We handmade and
wrapped thank you cards and gifts for family members at the wedding too."
"Our photographer was Sarah Ann Wright.   I
worked with Sarah about 5 years ago and had been following her work on
Facebook. Once we were engaged I asked if she would be interested in
doing our Photos and she offered us a great deal.
Sarah was great on the day, it was a real pleasure having her
around and the photos are exactly what we wanted.
My sister Francesca
created a full timetable and who's who document, which she followed for
the day. She customised her editing style to match the vintage theme,
mixing in vintage colours of subtle yellows and blues with old fashioned
black and whites with a hint of dark chocolate."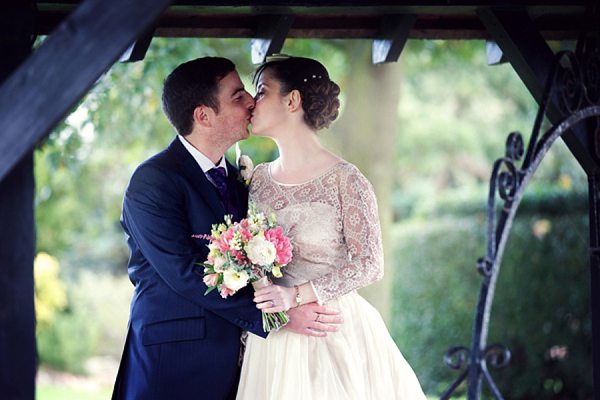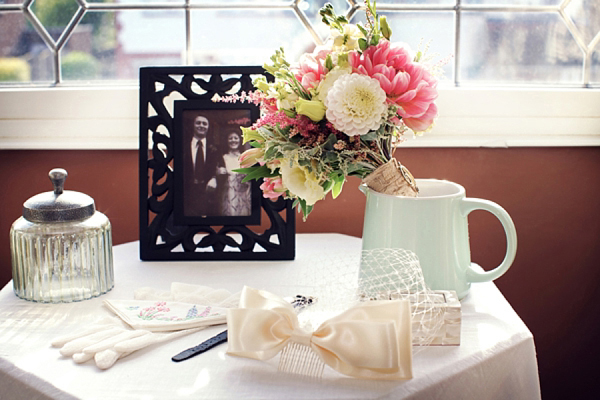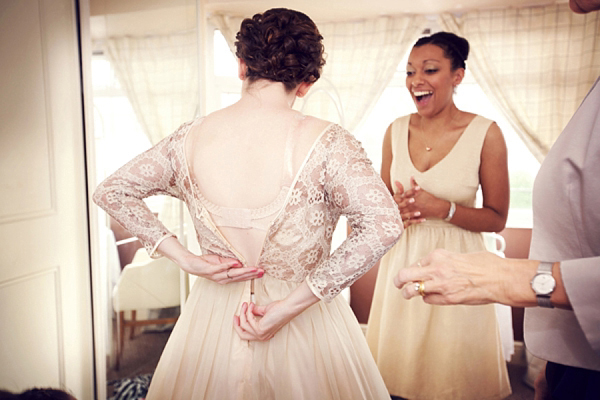 "My hair was styled by my hairdresser in Barking (Glitz n Glamour) I
wanted a low up do that wasn't too structured, they then added the pins
I handmade to finish it off…"
"My Uncle Pete walked me down the aisle as my Dad very sadly
passed away a few months before we got engaged, being his brother, he
was the only person I felt would be right. But in honesty my Mum and
sisters gave me away.  I walked down to Coldplay's 'Till Kingdom Come' the lyrics have always felt like they were written for us, particularly these;
Hold my head inside your hands
I need someone who understands
I need someone, someone who hears
For you I've waited all these years
For you I'd wait 'til kingdom come
Until my day, my day is done
And say you'll come and set me free
Just say you'll wait, you'll wait for me…"

"Darren's Parents attend the church and we have joined them on
occasion, having been the only Church we have attended as a couple, it felt
like the right fit and even though being a very modern building has a
very cosy welcoming feel. The Vicar Michael is a really lovely man and
was very excited to be marrying us. The Church were also happy for us to
run our own Worship during the service. My Sister Charlotte and brother
in-law Phil lead the worship and also sang during the signing of the
register."
"Our readings were 'Philippians 4:4-9' and 'Blessing for a Marriage' by James Dillet Freeman.  We
spent ages doing the reading ideas and these felt like the best fit. We
had my Friend Fiona from school and Darren's Cousin Richard do the
readings, they both did it so well.  We wanted to have a
non-religious reading included in the service and the Blessing for a
Marriage had such lovely words we had to include it."
"We walked out to Adam Sandlers 'I wanna grow old with you' from the Wedding Singer…"
"My bridesmaids wore dresses from Fever London. 
I handmade extra hair clips for my bridsmands, to match the ones I had
in my hair.  They also wore a French Connection heart Necklace and
earrings from Dorothy Perkins."
"Our reception took place at The Old Rectory, Dunton, Essex.
Our friends brought the venue to our attention having viewed it for
their wedding. It was the only place we went to see and we knew straight
away that it was going to be perfect. The décor was neutral which meant
we wouldn't be competing with a colour scheme and we could do what ever
we wanted (within reason) the added bonus was the venue was only 15
minuets from the Church, so no chance for people to get lost."
"We didn't have a traditional wedding cake, we decided to have a
stack of cheese to go along with our picnic style evening buffet.  We
bought our cheese from Marks and Spencer from their alternative wedding
cake selection and it didn't disappoint.  We are still eating our way
through it four months later!
I also bought lots of fruit to decorate cake and
even though it didn't break the bank it looked really decadent. To
finish it off I handmade mini bunting with Just Married printed on to
put on top, to give our cake a touch of our own personality."
"For the evening, I wore a pair of trainers.  I bought them years
ago and knew they would be a perfect replacement for the shoes I'd be
wearing for the day. I don't wear heels normally, so knew I wouldn't be
able to keep them on the whole day. As soon as our first dance was over I
changed into then and didn't stop dancing all night."
Words of Wedded Wisdom…
"The most important thing to remember is as long as you're Married at the end of the day, everything else is just a bonus.  You can get so carried away with planning and want to do everything. Be willing to let some things go.
There was nothing we would have changed, the day was exactly what
we wanted. After everyone had gone home and we were heading to bed we
talked about the day and both said how we wouldn't have changed a
thing.
I also really like the weddings featured on Love My Dress. There is a
nice mix of the glamour without it being completely unobtainable and the
home spun, and all the features are nicely and sensitively written."      
You can see lots more brides in their gorgeous Fur Coat No Knickers wedding dresses here.  Laura and Emma really are an absolutely amazing team and source their amazing wedding dresses from all over the world.
Congratulations Nikki and Darren – thank you for sharing your wedding day with Love My Dress, we really love pretty much everything about your day 🙂 Thanks too, to photographer Sarah Ann Wright for sharing her lovely work with our readers today. 
Annabel
Photographer – Sarah Ann Wright
Venue – The Old Rectory, Dunton, Essex
Wedding Dress – Fur Coat No Knickers
Veil/Headpiece – Handmade by the bride
Brides Shoes – Roland Cartier for Debenhams
Bride's accessories – watch (gift from Mum) + earrings by Orelia Jewellery
Grooms Suit – Without Prejudice from House of Fraser + Peter Werth shirt
Bridesmaids Dresses – Fever London
Flowers – The bride's twin sister
Cake – Marks & Spencer
Transport – Arrow Vintage Cars
Additional Styling –
Rings – John Greed Jewellery
Hair Stylist – Glitz n Glamour of Barking