Hello loved ones – I'm absolutely bursting with pride this morning to be able to tell you that my first book, Style Me Vintage: Weddings is now ready to purchase from Amazon and all good high street book stores, including Waterstones and Foyles.
HOORAY!
This is such a huge pinch-me-moment.  I still cannot believe that some 18 months after being approached by the publishing house Anova Books, and asked if I would be interested in writing a book (pinch myself 'till I was numb moment!) that the finished product is now sat in my hands. And it is beautiful. It really is so beautiful – I can't stop just touching it, holding it close, running my fingers over it's pretty hardback cover, flicking through it's pages bursting with gorgeous imagery and yes, actually reading it! I keep reading my own book and thinking, 'you know what, this is pretty good!' 🙂
Images Copyright (c) 2013, Joanna Brown, for Style Me Vintage: Weddings
The images in this feature today, taken by the fabulous Joanna Brown, provide all but the tinest of insights into the book contents, because I'd like to encourage you to purchase your own copy to enjoy at your leisure!  Style Me Vintage: Weddings is a fabulous resource for any bride interested in the beauty and aesthetic of vintage style weddings.  I address everything from what I think a vintage wedding is, to why you should wear vintage or replica vintage, to where and how to buy an original vintage wedding dress.
Style Me Vintage: Weddings has been written to inspire and appeal to all brides, because I believe that there is so much beauty that can be drawn from the past that can translate in to the modern day wedding, regardless of your personal styles, tastes and preferences. This is not a book for purists, it is a book that celebrates beautiful things!
Here is what the book looks like, and if you click here or on the image below, you will be taken to the Amazon sales page where a book purchase is but a few clicks away…
Image courtesy of Joanne Fleming Design (whose 'Goodbye to Berlin' coat features on the front cover of the book modelled by our 1920s style bride)
Chapters cover every era from the Edwardian period through to the 1970's – each key era chapter providing a historical context of the times, a focus on bridal fashion, beauty, and suggestions for styling your day with a focus on florals, cakes and stationery.  Other chapters look at wedding day scent, photography and film, fashion labels to look for and there is also a very useful list of suppliers.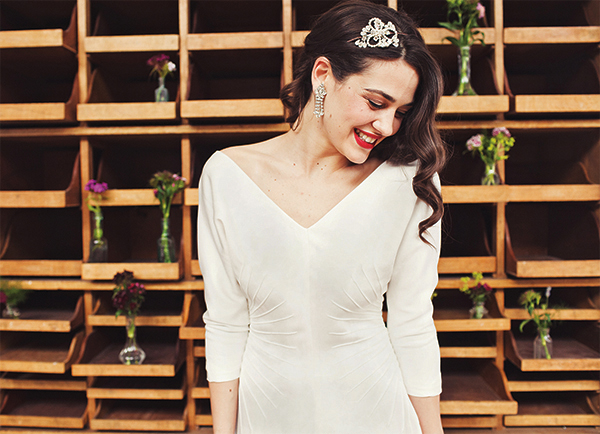 I'm beyond thrilled that as well as being stocked in Amazon and the major UK book stores, Style Me Vintage: Weddings has been shipped out to America and Australia to sell too! My overseas readers can purchase the book via Amazon.com.
Beeforth clearly has done her homework… Brides would do well to consult her if they are considering a vintage wedding.
Her ideas are spot-on for a memorable day.
Chicago Review Press, Publishers Weekly
If you are, or know of a potential stockist, please contact Frida at Anova Books on [email protected].  Frida is really lovely and will be happy tot take care of any stockist queries for you.
I want to make a BIG shout out to the amazing team behind the styled images in the book – they worked so incredibly hard and their creativity, passion and commitment absolutely blew my mind. The whole experience was an amazing bonding session and it was such a privilege for me to witness talented folk doing what they do best;

  Photographer – Joanna Brown


  Styling – Zoe Lem


  Styling & Decor – Pocketful of Dreams


  Props/Style Advisor – Kate Fletcher of Vintage Style Hire


  Hair Stylist – Hepburn Collection


  Makeup Artist – Amanda Moorhouse of Lipstick & Curls


  Photoshoot Assistants – My Husband Philip, along with Lizzie Jones of Wedding Yurts and Leyla Seydo


  Scent Specialist – Lizze Ostrum, aka, Odette Toilette


  Vintage Manicure Specialist – Sharon of MInnie Moons


  Models – the beautiful Claire, Sarah C, Ivana, Tahuonia, Gia and Rebecca of Zone Models


  Venue – Dalston Heights (with special thanks to Ricky)


  and Anova Books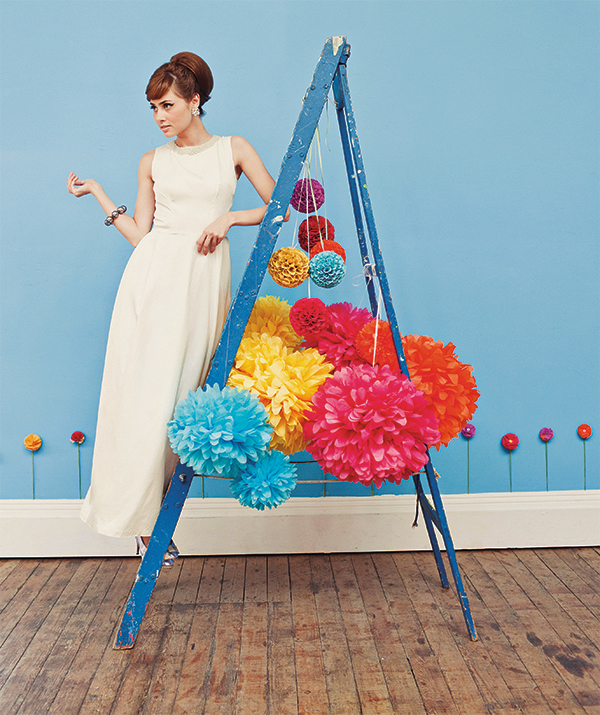 And without the collaboration and support of the following contributors, the book simply would not have been possible.  I purposefully tried to include as many suppliers as possible in the book, in an effort to celebrate the rich pool of home-grown talent our UK wedding industry should be very proud of;
Artcadia, Berinmade, Beautiful Bird Creations, Belle and Bunty, Tyler Branch, Blush Floral Design, Charlotte Casadéjus, Eliza Claire, Emma Case, The Couture Company, Candy Anthony, Cherished Vintage, Christopher Currie Photography, Circa Vintage Brides, The Cotton Candy girls, Cutture, Dana Bolton, Lisa Devlin, Doris Designs, Dottie Creations, Edwina Ibbotson, Elizabeth Avey, Emily & Jo, Emmy Shoes, Freya Rose, Fur Coat No Knickers, Steve Gerrard, Harriet Wilde Shoes, Heavenly Vintage Brides, Hetty Rose Shoes, Sheena Holland, House of Istria, HT Headwear, Jo Barnes Vintage, Joanne Fleming, Katya Katya Shehurina, Lila, Lucy Marshall, Luellas Boudoir, Anneli Marinovich, James Melia, Graham Morgan, Olofson Design, Madeline Bride, McKinley Rodgers, Paper Poms, Rosie Parsons, Ed Peers, Poppy Children, The Real Cut Flower Garden, Vicky Rowe, Sally Lacock, Shoot Lifestyle Photography, Rachel Simpson Shoes, The State of Grace, Studio 1208, Nick Tucker, Unforgettable Vintage Brides, The Utterly Sexy Cafe, Victoria Millésime, Vicky Trainor, Vintage Fur Hire, Vowed and Amazed and Zoe Clark Cakes.
That leaves me to *high five* absolutely everyone that has been involved in this wonderful project – I am so proud of you all and still cannot stop feeling this is a dream.  Certainly, for me, this is very much about a real life dream come true, and I will be forever be so very, very grateful to my much loved blog and all who read it for making that a possibility in the first place.
So now my labour of love is finally complete,  it's time to celebrate this achievement – starting off with popping a copy of Style Me Vintage: Weddings in to your Amazon shopping basket! Closely followed maybe, for me at least, by popping a champagne cork!
Huge thanks to the Cotton Candy girls who pre-ordered an early copy and blogged about the pretty package the postie delivered earlier this week.
Will you be ordering the book or do you already have a copy? Please link to any blog feature or images of the book in the comments box below – I'd love to see! As I know the team who worked on the book would too! You can also join in the conversation about the book over on Twitter by using the hashtag #SMVWed.
Have a wonderful morning everyone – I'm off to read my book,
Annabel