Good morning wonderful. Well, the big week is here – I step on to a train at 10.38am this morning on the way to London to start a week of book promotion and exhibiting.  And I can't wait to see so many people this week and celebrate the good stuff!
One of the people I'm most looking forward to meeting is Cara – one half of the talented duo behind Lillian and Leonard (the other half being her husband, Nye) – an incredibly talented photographer who relocated to London last year.
I adore Lillian and Leonard's photography – there is something so emotional and touching about it – the beautiful soft light and colors. And I adore the way Cara and Nye have captured Nathan and Angelica on their wedding day on 13 October last year, at Rowallan Castle, Kilmaurs. Scotland…
"Nathan proposed after one and a half years of dating and took me
for a lovely picnic and hike on St Patricks day 2012 to ask me to marry
him.  We got married seven months later!"
Love My Dress Wedding Blog – Photography Copyright (c) 2013, Lillian and Leonard
"We wanted a
relaxed and informal day with lots of our friends and family.  It was
important to us that we were both comfortable and that the day reflected
our relaxed lifestyle! We wanted it to be light and fun – so we chose
colours white, pink and grey to keep the colour scheme playful.
That's
also why we chose giant balloons to decorate our marquee and the sweetie
table, and test tube favours."
"My dress was from Sincerity Bridal.  I
wanted a Grecian style dress that was floaty and comfortable to wear.  I
knew before I started looking that I  really wanted the dress to be
very simple and understated.
I didn't wear any jewellery although I did wear a grey sash around my waist from Etsy."
"Both of us loved having a reason to get everyone we love together.
Family traveled from England, Italy and even New Zealand to join us
for the day – our friends that couldn't make it managed to watch the
ceremony on Skype which was amazing."
The couple ordered huge balloons from Etsy.com…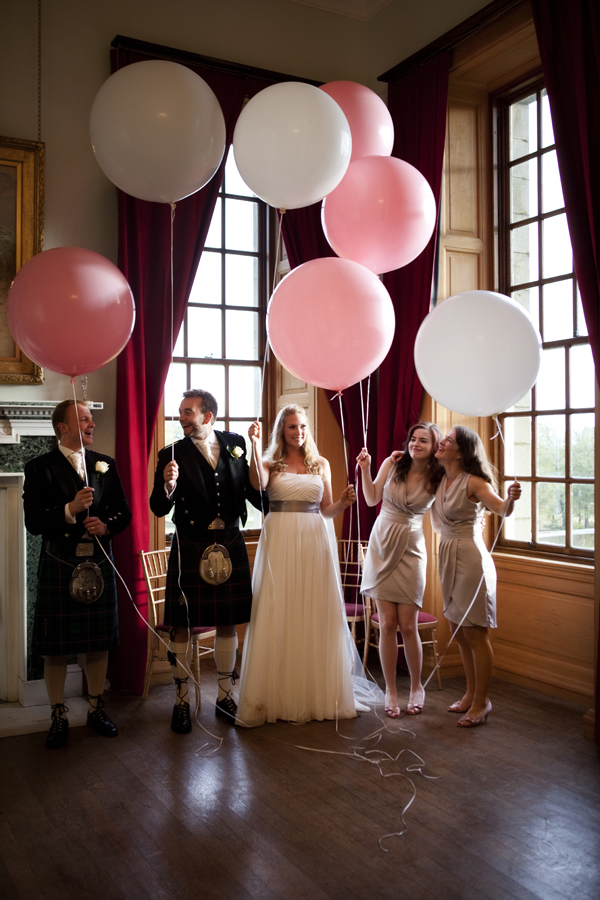 "We wanted the flowers to be beautiful, natural and not too posed.
We went for white roses for all the bridal party and the grams had light
pink roses for their corsages."
"I viewed his parent's house in August 2010 and met Nathan's parents
first! My family didn't buy the house but I  had a nice chat with his
parents! I didn't think anything else about it until I bumped into his
parents again a few months later at a local church and they quickly
introduced me to Nathan!
We loved Rowallan Castle and grounds – it had just started doing weddings – so we were so lucky to find it!"
"My Dad walked me down the aisle, to the sound of 'Kissing You', by Desree.
We adapted the traditional vows slightly but kept  it quite true to the outline."  
"Rowallan Castle made our meal and our individual desserts were brought in by a family friend from Struther Farm House in Dunlop."
"Ww wanted to remember that, whilst we have everything we could
ever want, we could use the opportunity to help others and so as part
of our wedding gifts we asked that people donate to the charity Tearfund. We had a table with posters inside our marquee that people could Donate."
"We decided to do a waltz with our wedding party. We had a ceilidh
band so we wanted to make the most of it!  What was your very favourite
part of the day and why."
Words of Wedded Wisdom…
"Remember that weddings don't need to be stressful – its so
exciting getting everyone together. Its easy to get caught up in
planning that you forget no one really minds if you don't have chair
covers, or even a cake! Guests just want to celebrate an important day
with you."
Just a wonderful collection of images full of warmth and love, to inspire your Monday morning.
Don't you just love a huge oversized balloon too? See more pretty balloons this way.
Have a beautiful day everyone,
With much love,
Annabel
Photographer – Lillian and Leonard
Venue – Rowallan Castle, Kilmaurs. Scotland
Wedding Dress – Sincerity Bridal
Brides Veil – Diane Honeyman boutique in Ayr
Brides Shoes – Next
Grooms Suit – Kilt + cravat via Slaters
Bridesmaids Dresses – H&M
Cake – Sister in Law made
Transport – Raes Auto Services
Entertainment – jazz band
Favours – Test tubes with millions inside them
Hair and make-up Artist – Lynsey C Reilly, Glasgow
Oversized balloons – Etsy