Do I have a beautiful wedding to share with you this morning!  Neema and Sam tied the knot – twice – on 14th July 2012 at the stunning Sezincote House (the original Brighton Pavillion), at Moreton-in-Marsh in Gloucestershire.  Their multi-cultural day which involved a traditional Indian wedding ceremony followed by an English wedding ceremony was planned and styled to perfection by the very talented Kim of The PInk Pumpkin.  I am smitten with these images by John Day Photography, they are bright, colourful and fun, and they capture so many smiles and are bursting with love.
"Having known I wanted to marry Sam for ages, this was only confirmed to me when he whisked me away to stay in a romantic 15th century villa overlooking Florence and proposed in a candlelit alter-like stone outside, temple gazing at the city lit up at night – by rap!
Yes, you heard me right! It was the perfect proposal!"
Love My Dress Wedding Blog – Photography Copyright (c) 2013, John Day Photography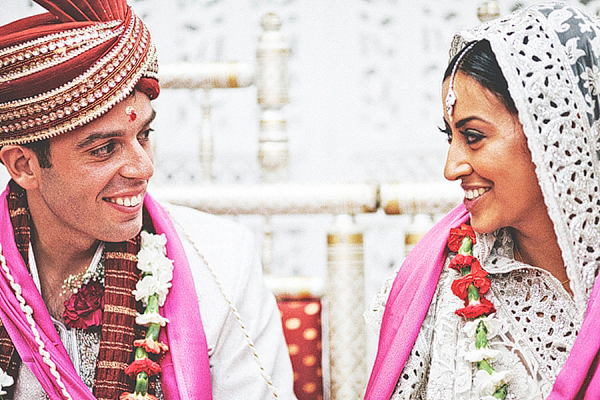 "We were advised that to have a wedding at Sezincote (which entails organising power supplies, water supplies and a lot of lighting!), and with the number of guests (250 after 6 months of culling a long long list!), we would need to enlist the help of a wedding planner to help carry out the day. We went for Kim from The Pink Pumpkin.
Kim was brilliant from start to finish, as inspiration, a sounding board, a friend and especially with coming up with contingency plans for the unpredicted "un-summery" weather we had last July!"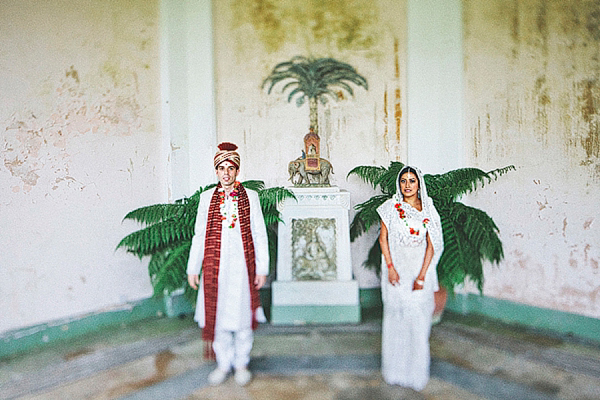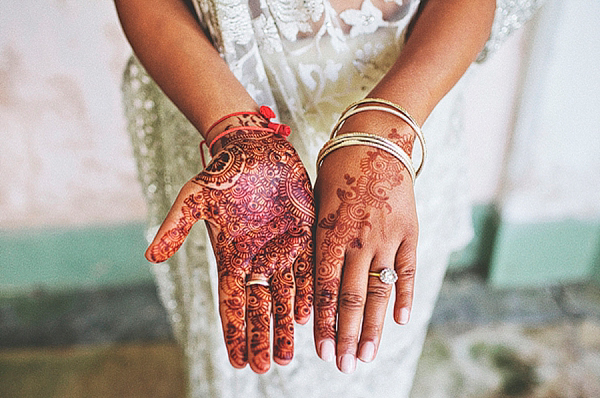 "I don't believe in having a particular theme for weddings – I just went with individual things I liked e.g. candles, lights, bright colours, laser cut (the best thing ever known to the stationery world!), fizz and good food! We did try to be inclusive and sensitive to both cultures and families that we were bringing together and I hope we just about succeeded."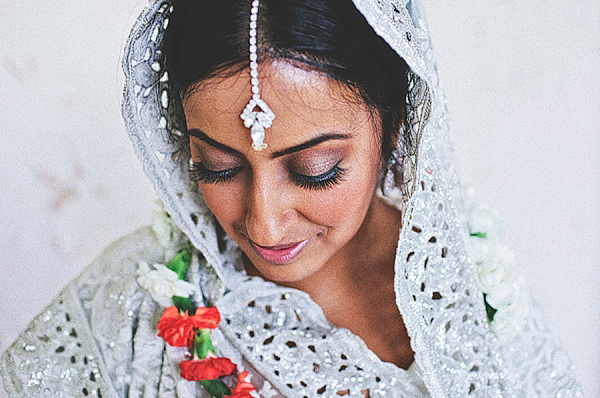 "It's not easy to find the perfect venue for a 'multi-cultural'
wedding!  We went from considering getting married abroad in India, to
looking at lots of standard venues across London but we couldn't help
feeling like these were the sorts of venues which churned out weddings
every day and didn't really seem to suit us.
In the end, Sam somehow found the utterly amazing Sezincote House – I
still remember going to see it with my family. We got lost, the sat nav
took us to the back gate and we were thoroughly late for our
appointment.  But suddenly, we turned a corner and nestled amidst the
rolling Cotswold hills was this amazing Indian house, with stone
elephants in the gardens, Indian god and goddess statues by a lake, and
the majestic Indian dome on the main house.
We knew immediately that this was where we were going to get married."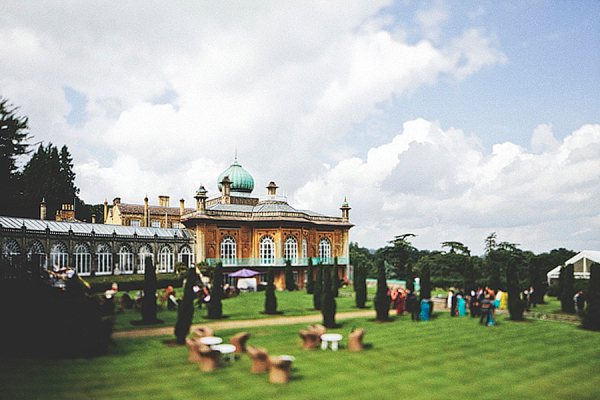 "Sezincote House
is so breathtaking that we didn't want to go overboard on decorating
the marquee or the conservatory where the weddings happened. The
conservatory is filled with ramshackle plants growing up the walls and
had a slightly quirky feel so we didn't want to dress it up too much- we
went for a wrought iron mandap (the stage which marks where the Indian
wedding happens) and simple white chairs throughout. It is flooded with
light so had a super natural feel which was exactly what we wanted.
 For
the marquee, we didn't really have a fixed colour scheme but managed to
source some saree fabric from India and have it made into hot pink,
turquoise and gold tablecloths. We had some pink and white lanterns hung
from the marquee ceiling which looked brilliant at night! We also went
for a marquee with clear sides so that at night you could see the house
lit up in all its glory! We had little individualised menus for each
guest and we hand wrote their names on top, and Sam and our sisters made
the seating plan 24 hours before the wedding!  So candles and colour it was!! And with that lovely summer evening glow, the marquee was beautifully simple!"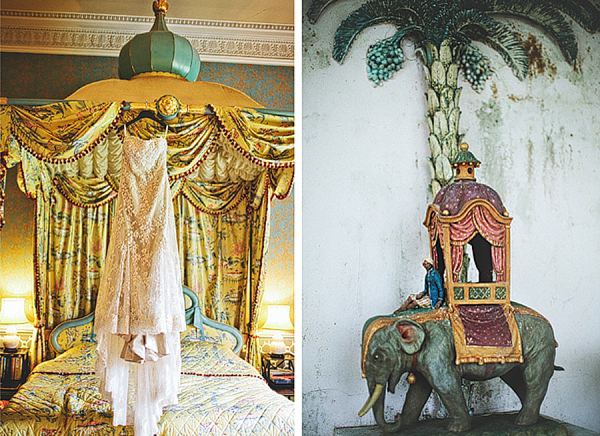 "Funnily enough, I was never one those girls who has
dreamt about her wedding dress since the age of three! We decided to
have two weddings in one day so I was lucky (!) enough to have a costume
and hair change with 30 minutes for both!
For the Indian wedding, my parents actually found my saree and
Sam's outfit in India. Having sent me lots of pictures of gaudy outfits,
they wore me down into agreeing to let them pick.  When I opened the
package, I was ready to hate it but amazingly, they did really well. I
loved the delicate net and the off-white colour of the saree – not too
bling!"
"I am not a shoes kinda a gal! If I could, I would live in Havianas all year round. I had a passing flirtation with some glittery Jimmy Choos but came to my senses and got a bargain pair of Dorothy Perkins mink-coloured low-ish strappy heels- I could walk in them all day and will be able to wear them again too ☺"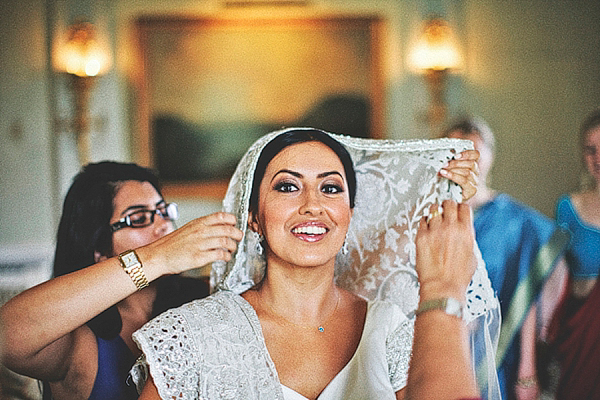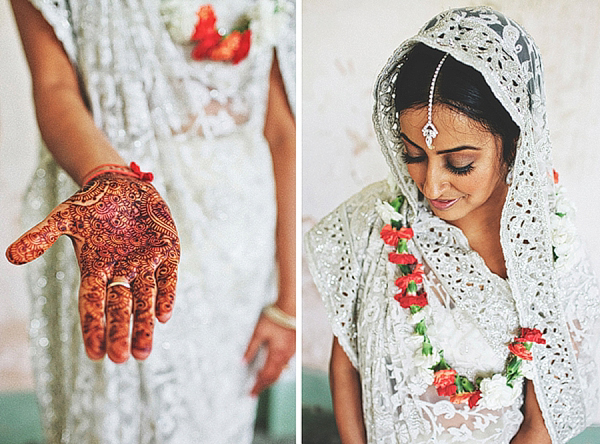 "I have to say I can't remember how we found Suzie from Kushi Cars,
but I am super glad that we did! I thought the idea of spending lots of
money on a posh car to 'get us from A to B' seemed like a waste of
money and I stopped thinking about wedding cars until I stumbled across
Suzie's Ambassador car. With the kitschiest decor inside and a garland of flowers across the
front car, it was the perfect car for our Indian-English day."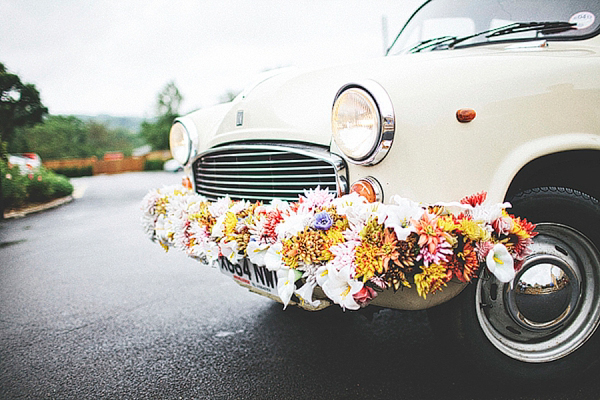 "People
loved seeing the car, and Suzie was such a helping hand on the day, from
running down to get me some lunch, finding me some champagne to steady
my nerves, shepherding our guests to and from the venue, to taking us on
our own little photo shoot after the ceremony! I remember being told to
treasure the few minutes you get away from the crowd, and having a
glass of bubbly with my new hubbie whilst trying not to fall into a pond
as John got us to precariously balance on a mini-bridge will definitely
be one of my treasured memories!"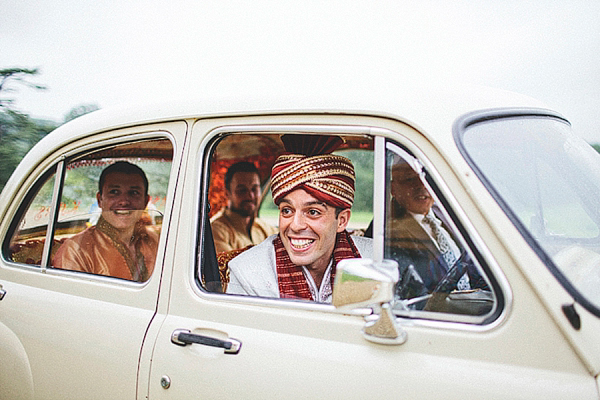 "Sam also wore an Indian outfit for the Indian wedding. Having thought the headpiece was OTT, we both ended up thinking it was the best bit of his outfit! For the civil wedding, he had a bespoke suit made by Henry Herbert tailors and picked a lovely tie from Liberty(the best men had matching ties!) and maroon shoes from Paul Smith.
He looked great in both but I think he personally preferred the regal Indian look!"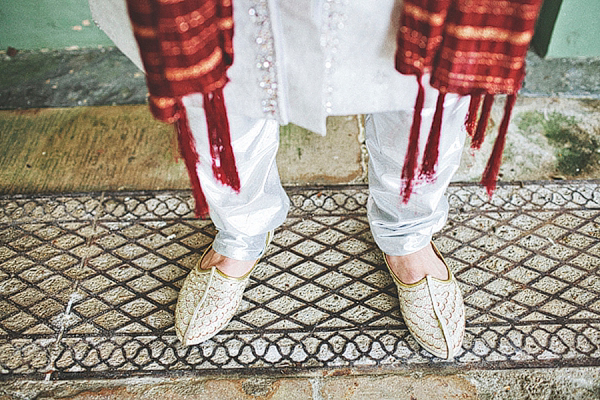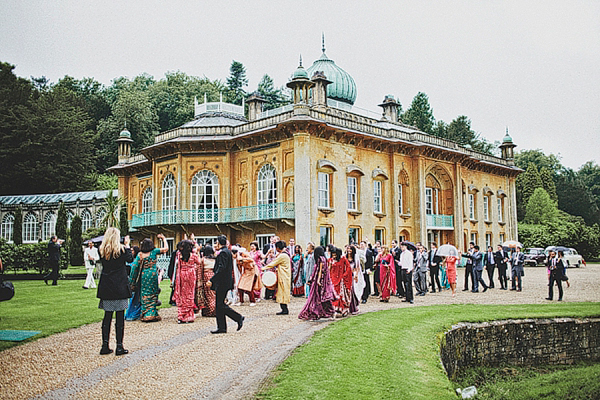 "The best part of the day was without a doubt, having walked up the aisle with this mad energy in the air, the sun streaming through the conservatory glass windows, sitting down next to Sam who still had his eyes shut, and then suddenly looking at each other. Instead of feeling nervous, we just smiled at each other and couldn't stop smiling. I felt incredibly excited and lucky that we would be spending the rest of our lives together."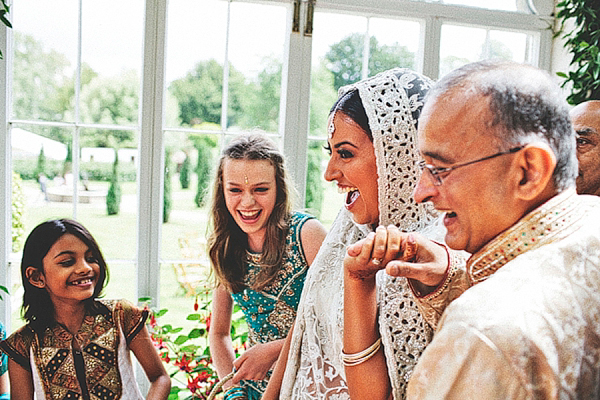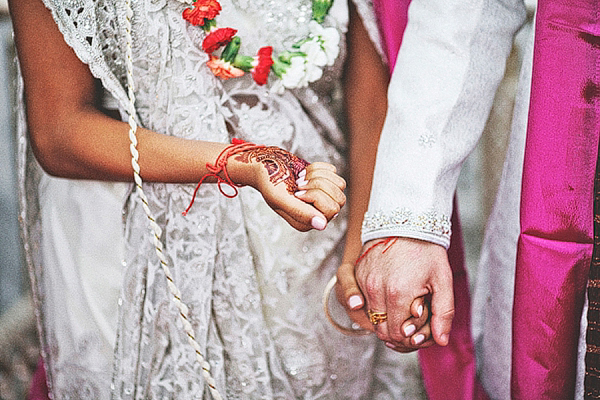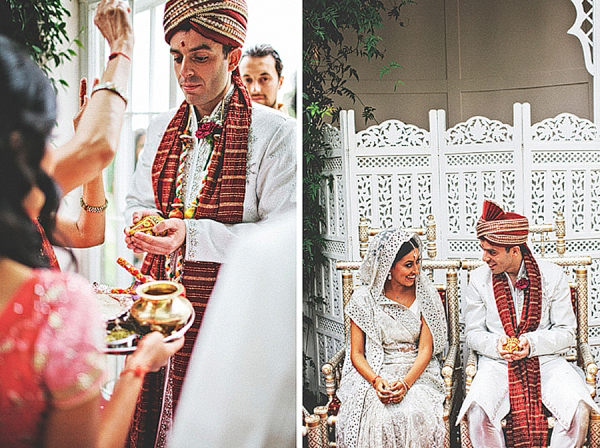 "For my wedding dress, I traipsed around the
shops never having that magical moment. I had lusted after the Justin
Alexander tea dress (design 8685), but realised it didn't really fit
with the day we were planning! It was only when I went to try this on
that I was distracted by another wedding dress on a mannequin – the Justin Alexander signature range.
It was almost an antiquey gold, with embroidery and lace, and I fell in
love with it!
Best of all, my mum loved it too and it was a pretty
close match with the saree ☺ I managed to get a friend to get the dress
for me in New York as it was way cheaper there, and then my kind dad
lugged it around America on a business trip before bringing it back
home!"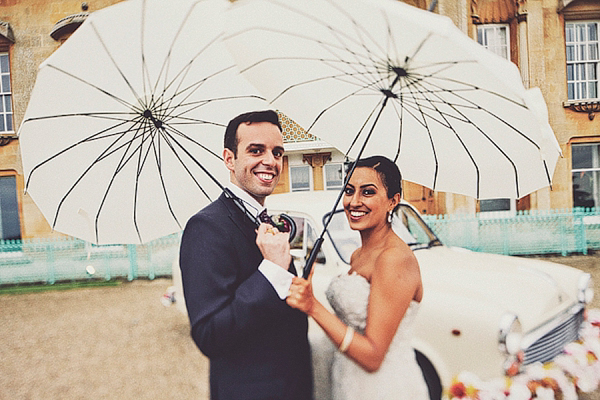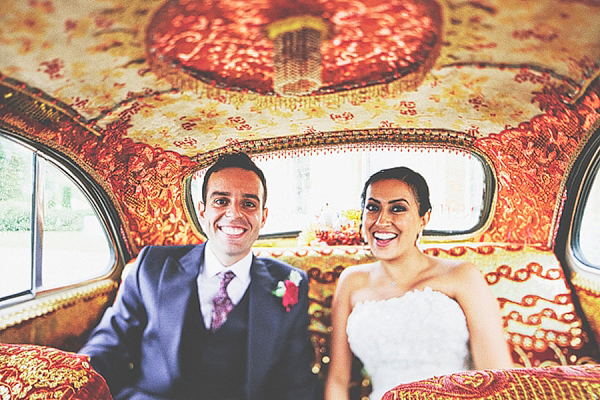 "I have never known my hydrangeas from by gypsophila. So when it came to flowers, I left this in the capable hands of Sue from The Bay Tree at Campden with the only instruction being KEEP IT BRIGHT! She chose some beautiful arrangements for the tables with pink hydrangeas, blue delphinium, and white stock and even supplied little jam jars and tea lights for the tables! Sue also supplied fresh flower garlands for the Indian wedding and baskets of rose petals for our flower girls to throw."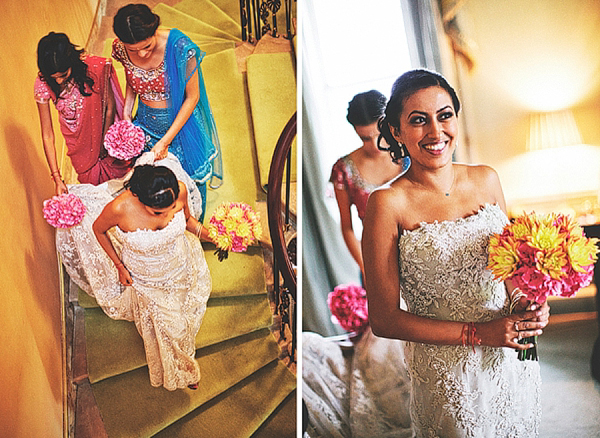 "I didn't have formal bridesmaids (finding it too hard to pick and co-ordinate eight girls). Instead, my sister and Sam's sister were both super involved with the ceremonies. I also had lots of help from my best friends from one of them making the most amazing wedding cake (with crystallised chillies no less!), to organising the hen and multiple shopping trips. I got really cute bracelets with each of their initials on them from Etsy to thank them for their support and help in making our wedding visions come true."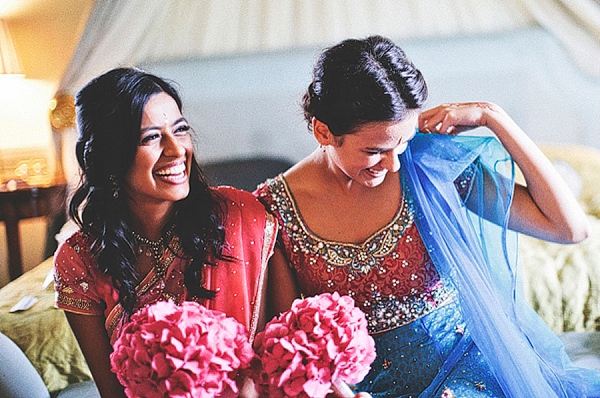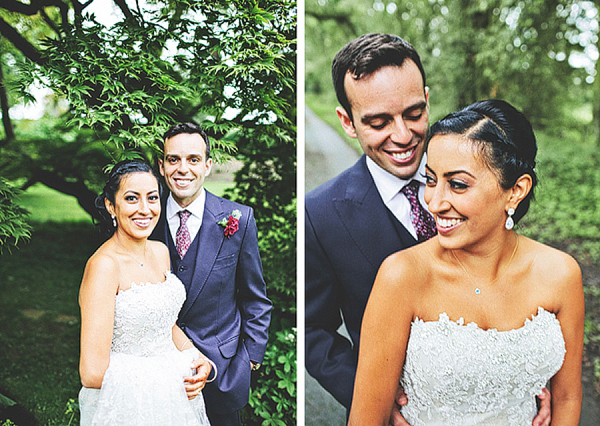 "A random Google search found John Day, our photographer. I loved the fun, natural photos on his website as well as the mad shot of himself and liked that he didn't seem to take himself too seriously! Without even looking at any other photographers or meeting John I went ahead and booked him. It was the best decision we could have made- both Sam and I are quite camera-shy- John put us totally at ease, and we will treasure the photographs for years to come!"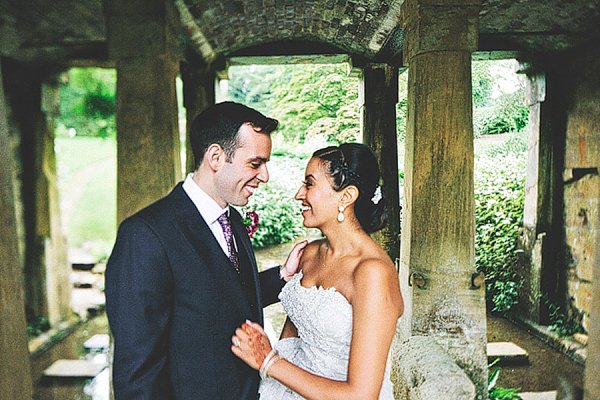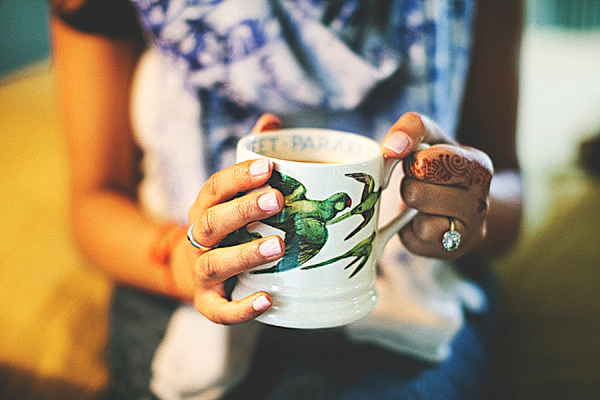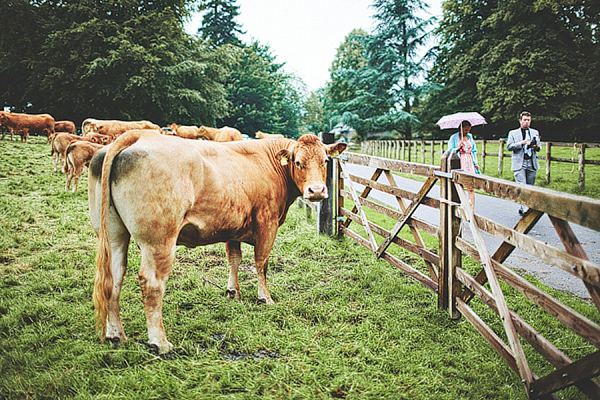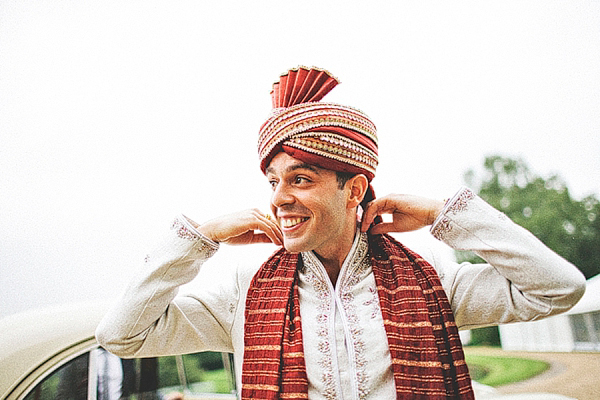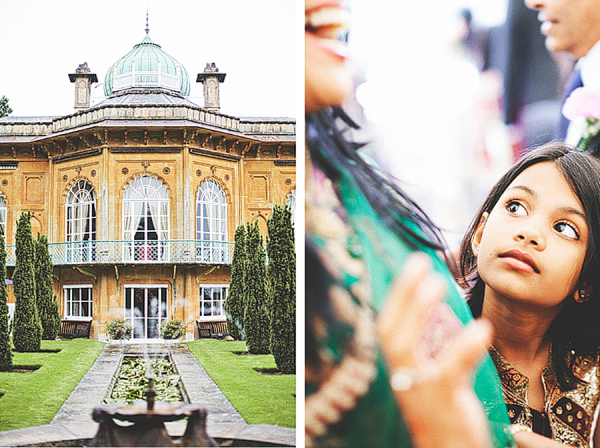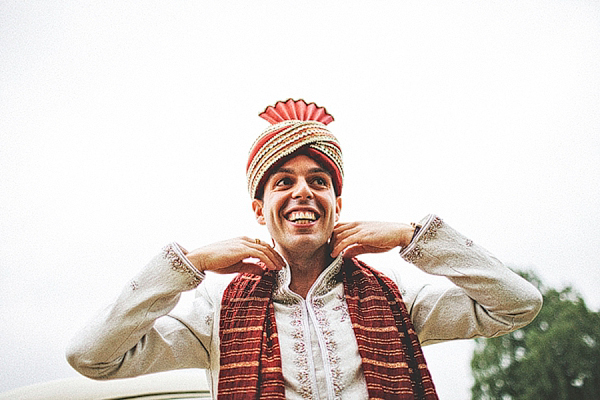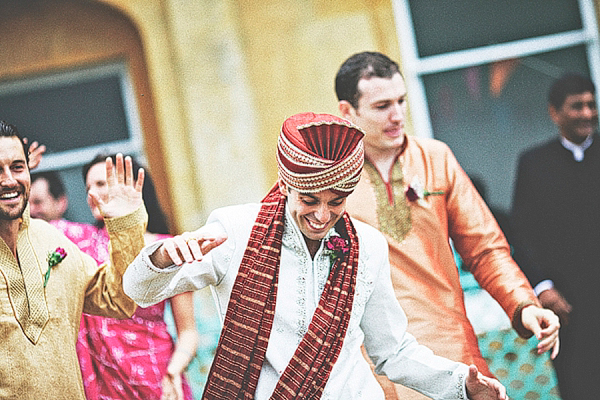 "I almost forgot this one!! We had drummers, gypsy jazz on the lawn at the teatime, an Indian sitar, flute and more drums during our drinks reception and a brilliant DJ who had the dance floor packed all night long! I couldn't believe it when it was time for the last dance and wanted it to all start again!! Music and food are the key to a good party!"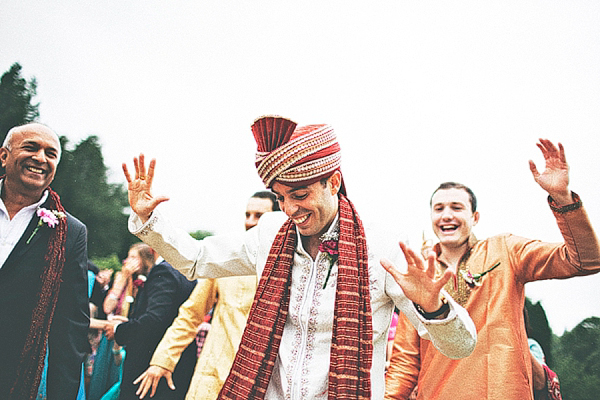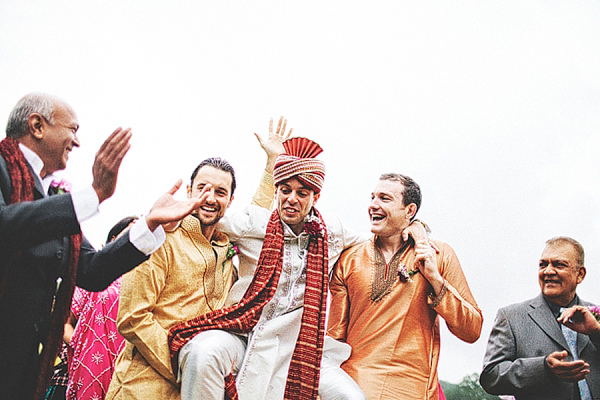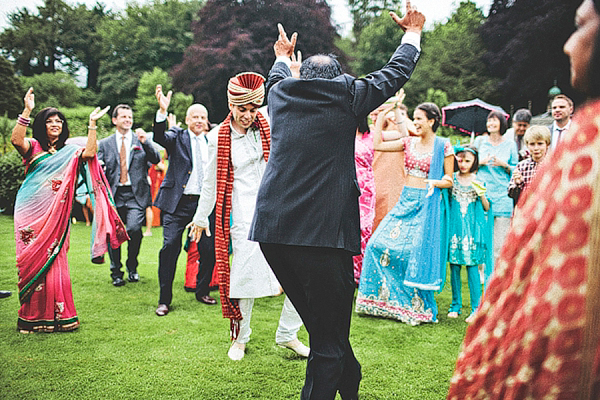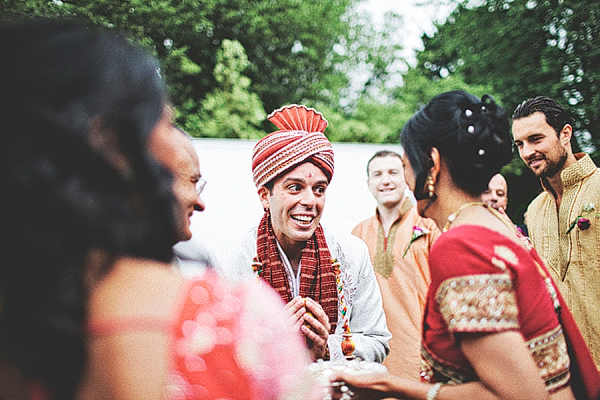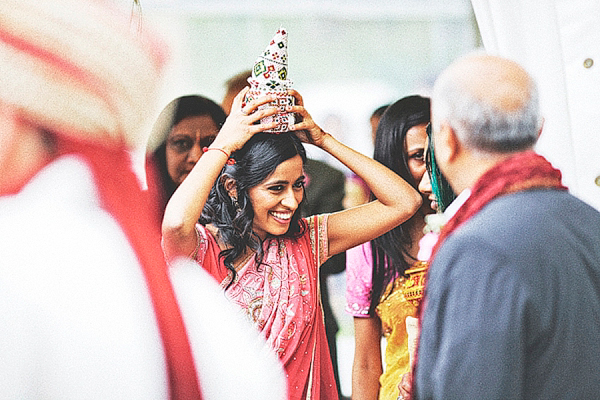 "Kim recommended Mariam Jenson to help with make-up. She is an absolute star. From the minute she came round to my best friend's house to do the trial, she got my vision instantly and even persuaded me to wear some fake eyelashes on the day!! I can't recommend her enough- I felt beautiful yet as if I was barely wearing any make up at all. And the best part, it lasted all day, including through a lot of sweaty dancing as the night went on!"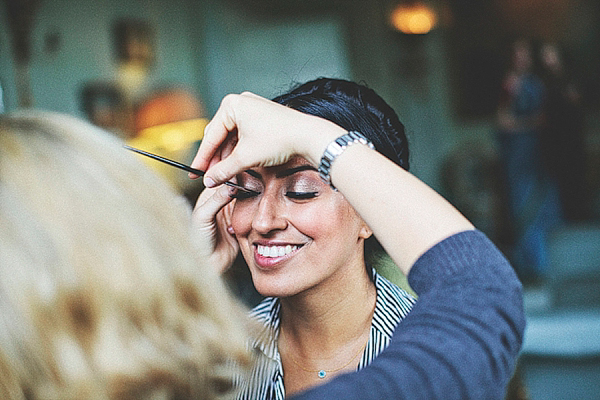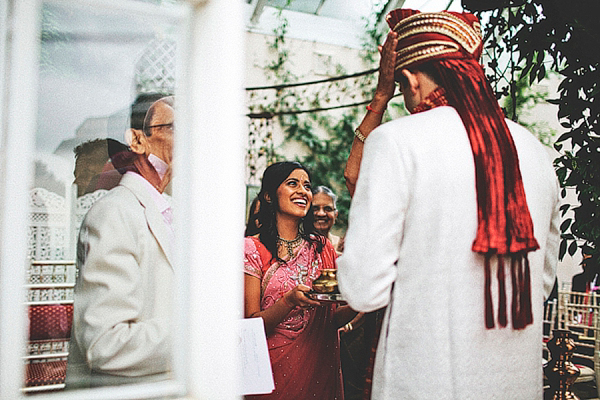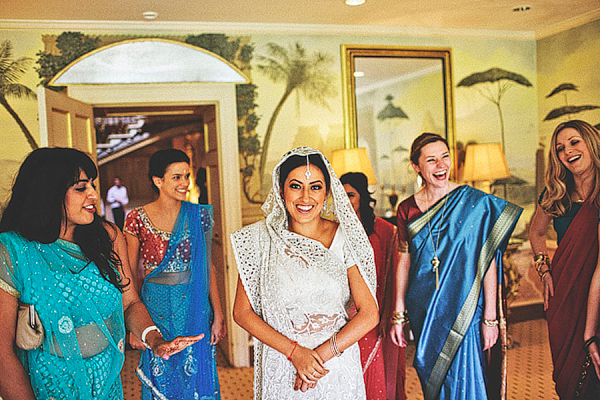 "My Dad gave me away and both our sisters did lovely readings during the wedding.  My fave was "A lovely love story" by Edward Monkton (it's about dinosaurs who fall in love!)"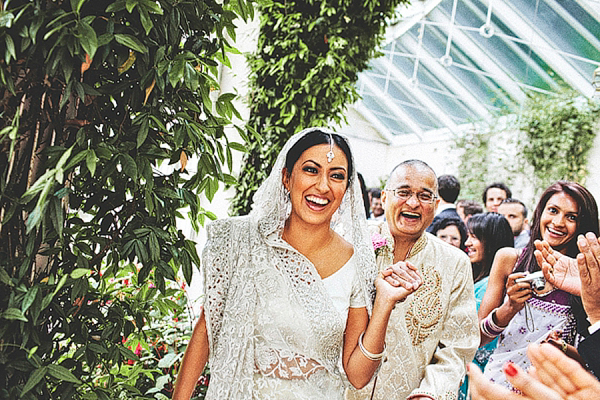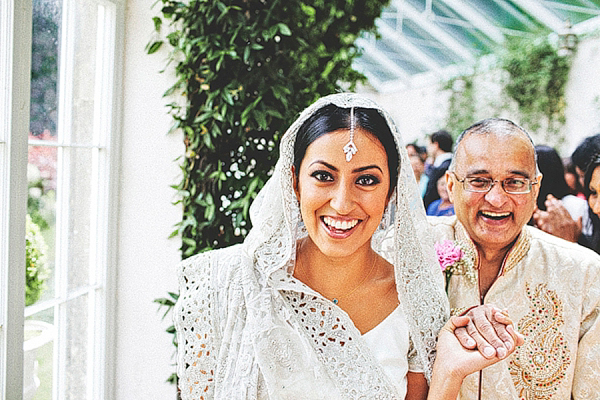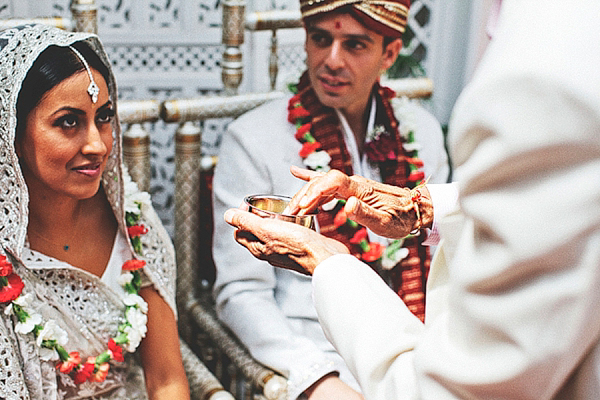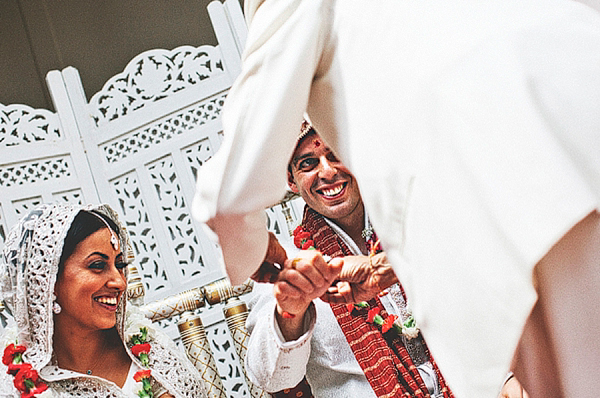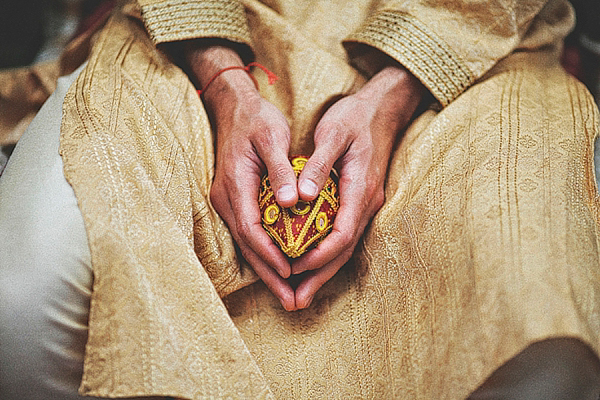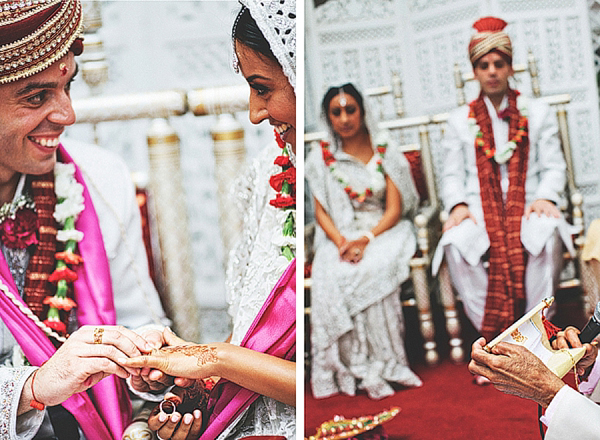 "Sam chose a gorgeous old rose-cut diamond re-set onto a ring by Annina Vogel. Despite only ever wearing silver, he went with his gut and picked the ring which was gold. I love it and it was lovely to be surprised by the ring which he had put so much time into picking!! As it was an atypical engagement ring (the main diamond being raised), finding a wedding band was not that easy.
I considered having one custom made but didn't like the idea of a massive u-bend so was very lucky when I stumbled across a curved gold Elsa Peretti band in Tiffanys. Sam went for a simple Cartier gold band."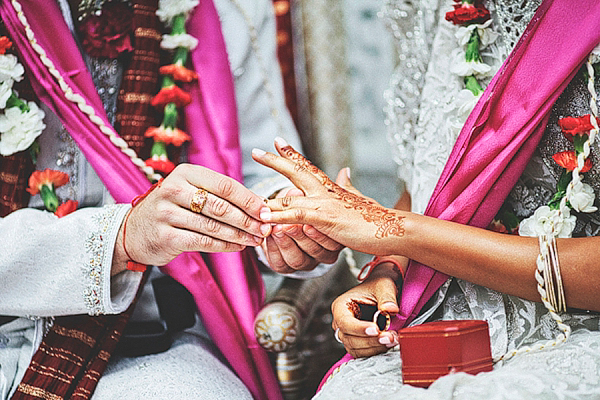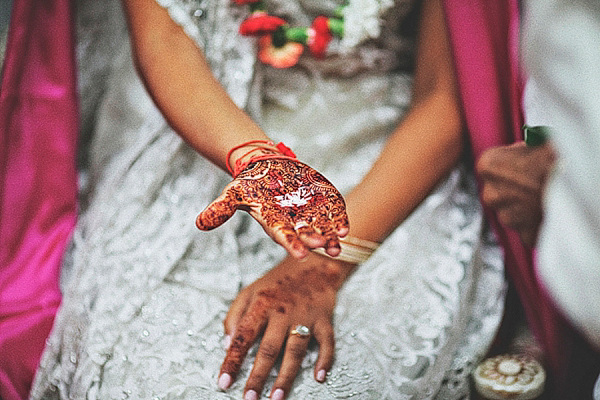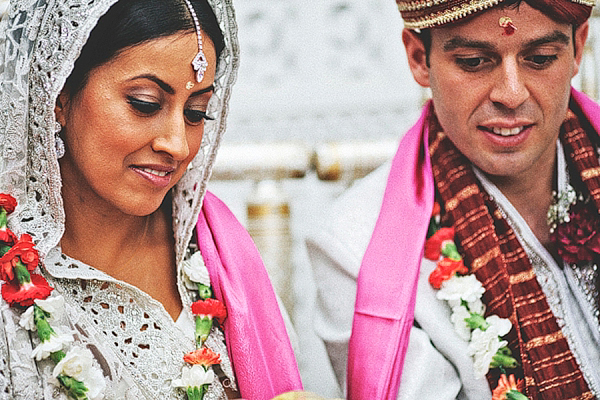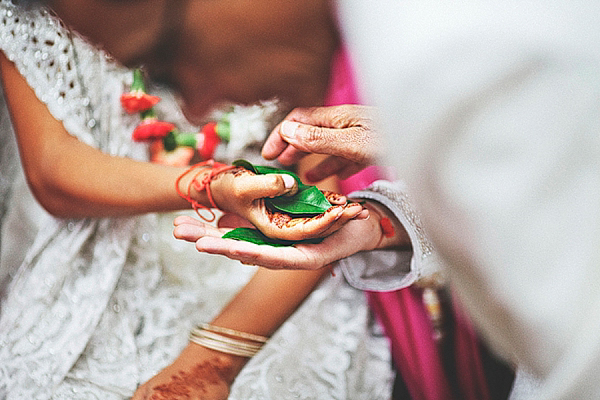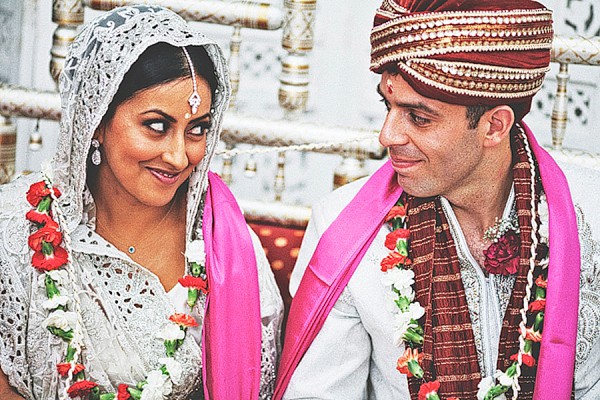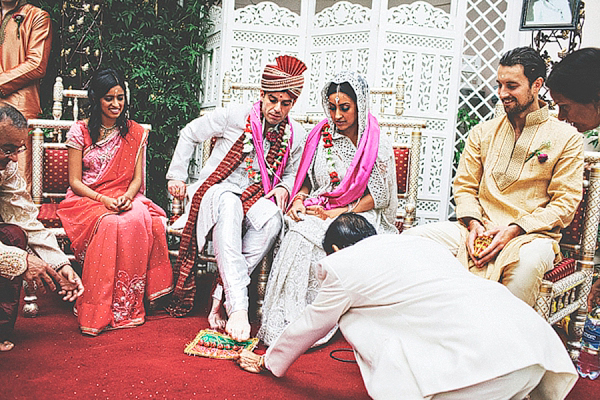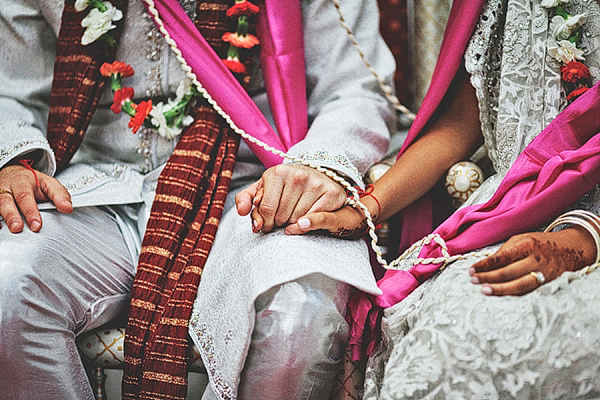 "We decided early on that whilst we would be sticking to vegetarian Indian food, we wanted something a little different. We found Daksha, a former Masterchef finalist who helped create and execute a food-filled day of fun. We had a buffet lunch for the guests, afternoon masala chai and mango lassis on the lawn, canapés including shot glasses of gazpacho and a lovely dinner.
My highlight was a South Indian beetroot and coconut curry- not only did the colours look amazing on the plate, but it was nice to have something a little different to standard Indian cuisine. We also had a cheeseboard served at about 10pm but in all the excitement on the dance floor, we forgot to eat any!"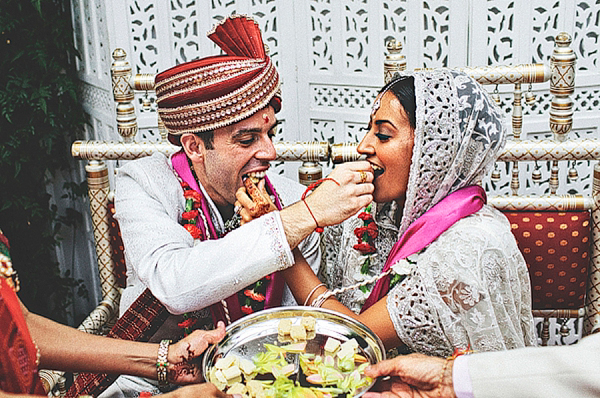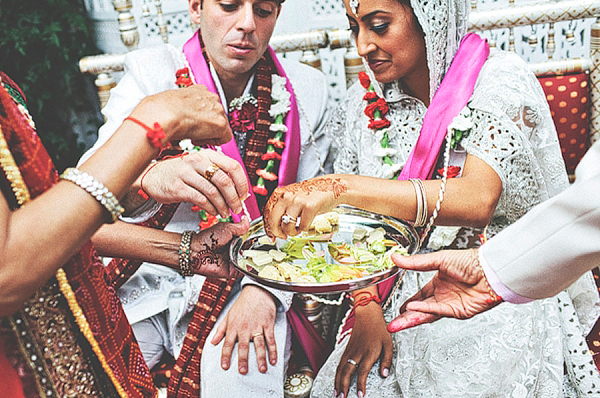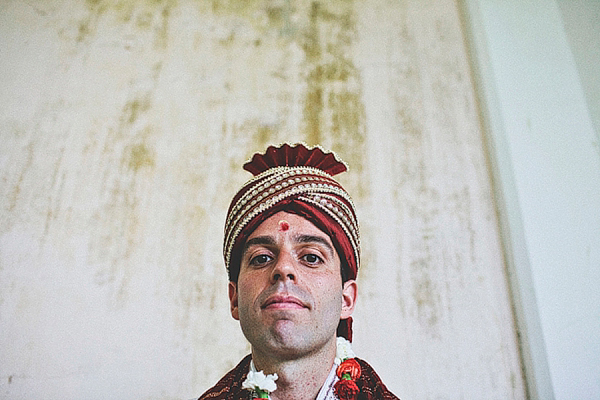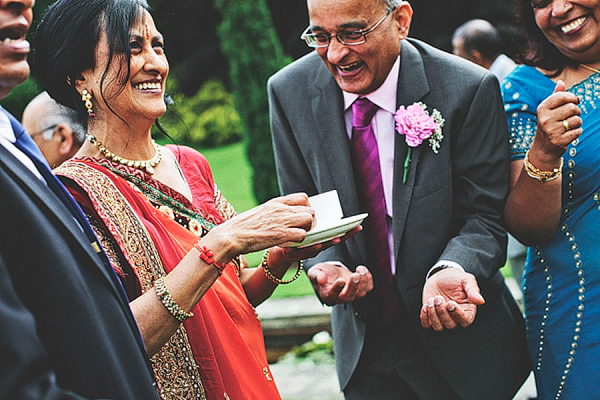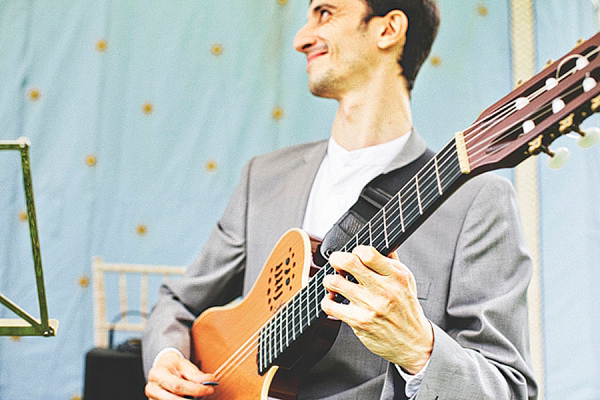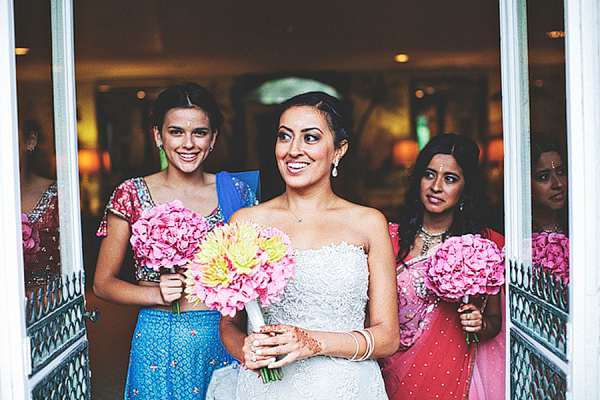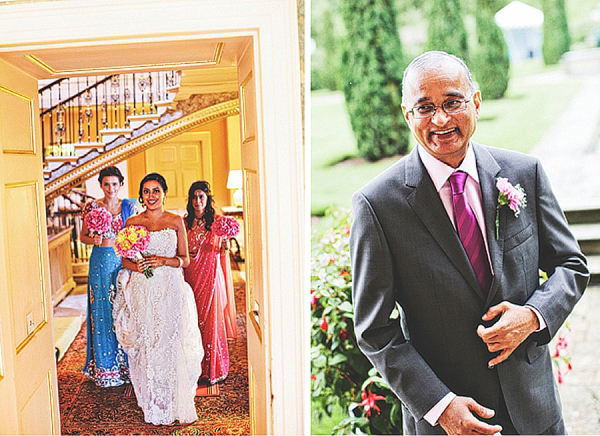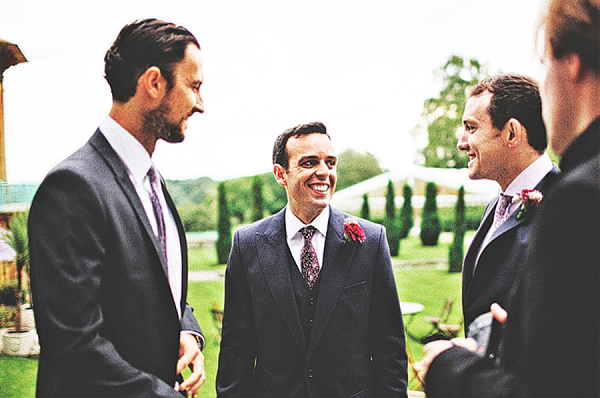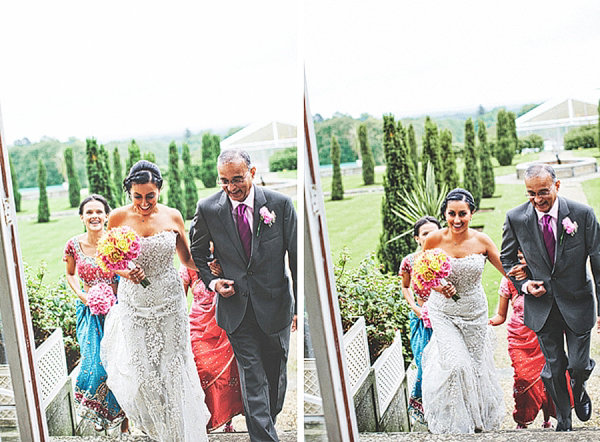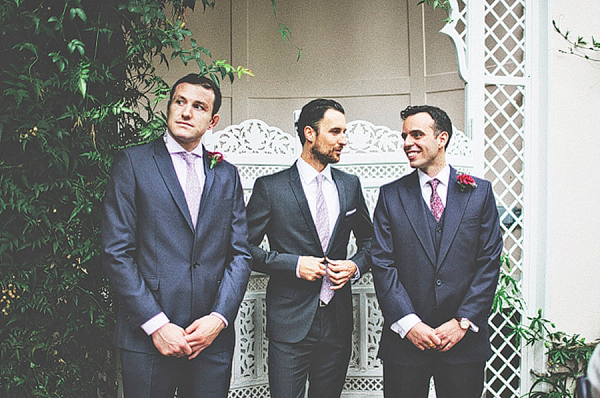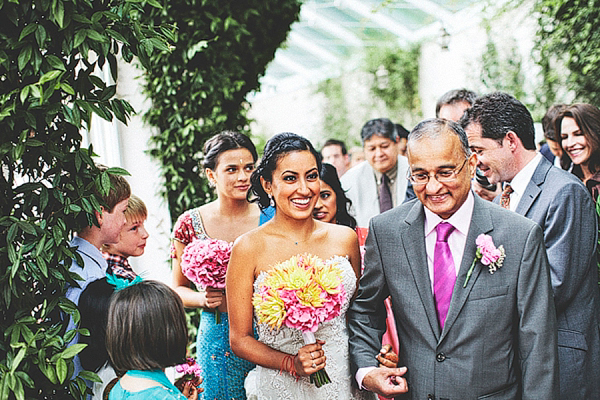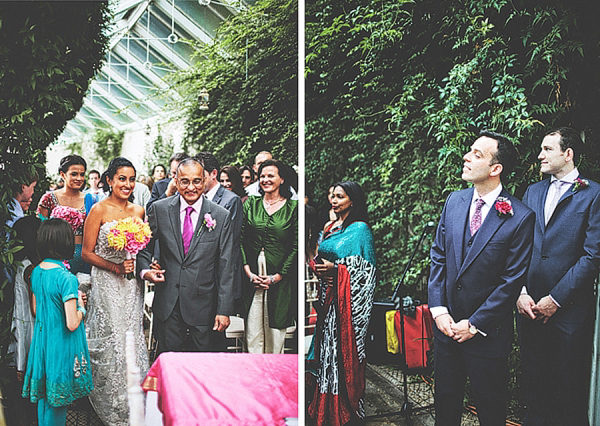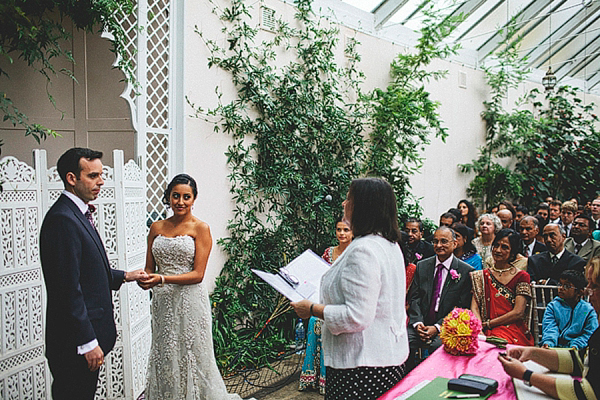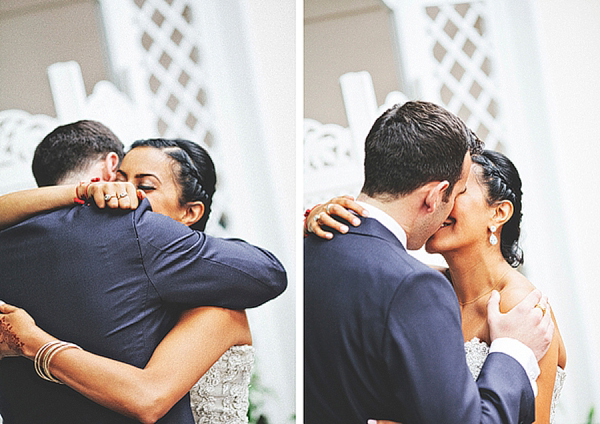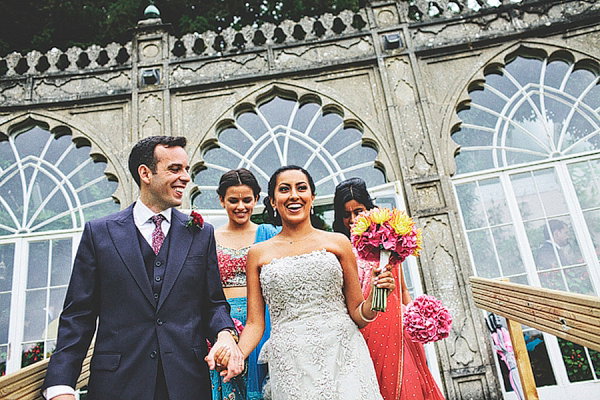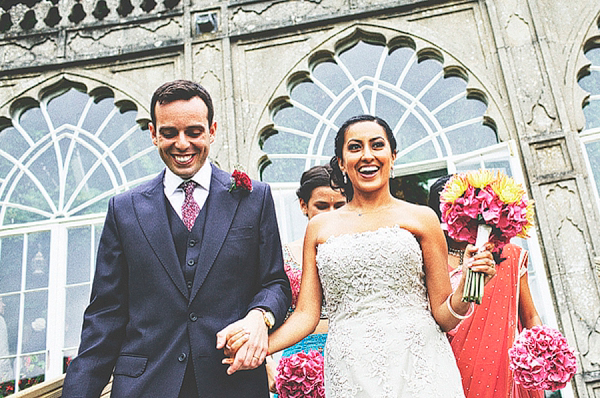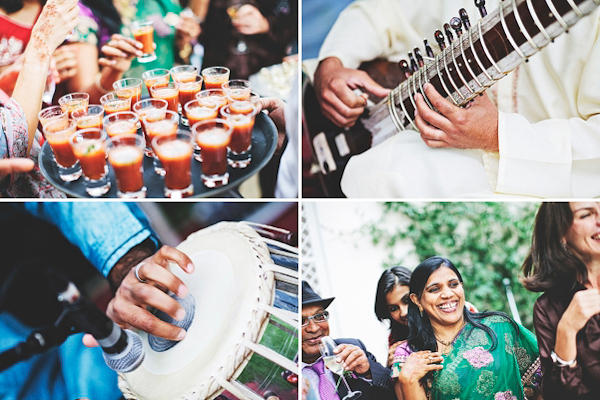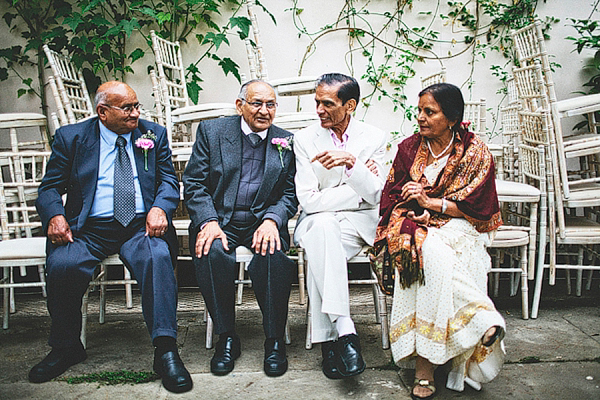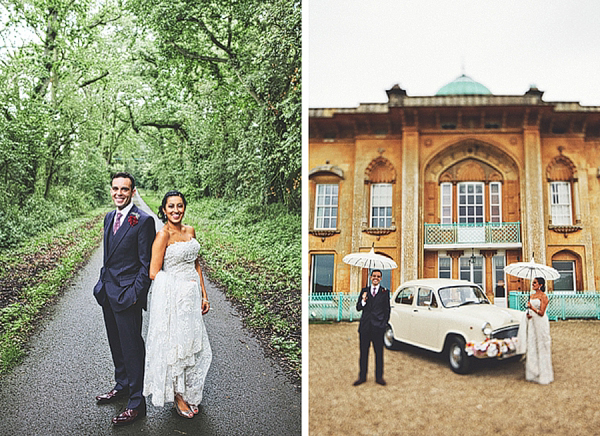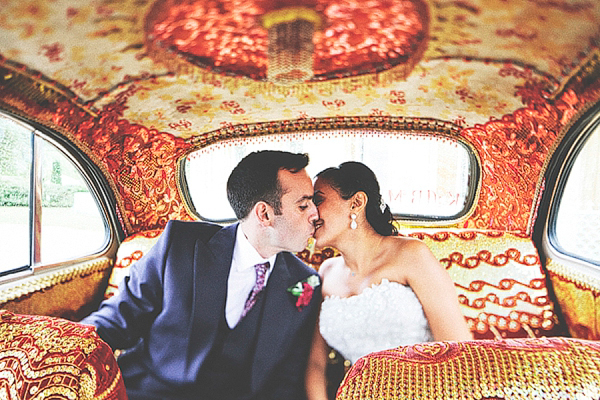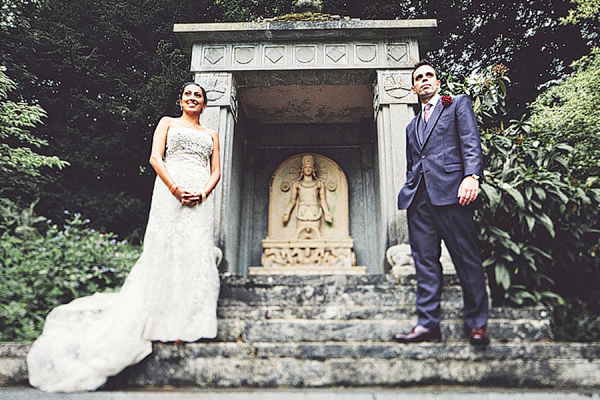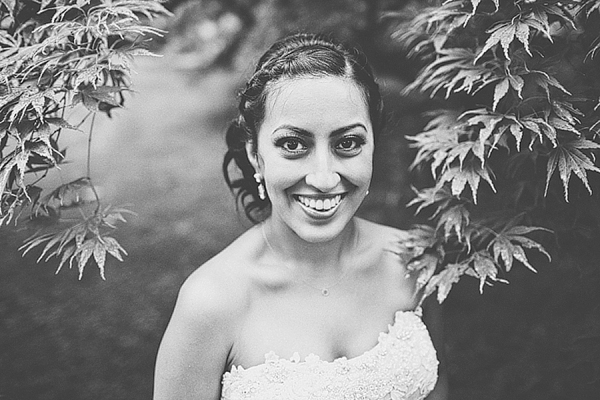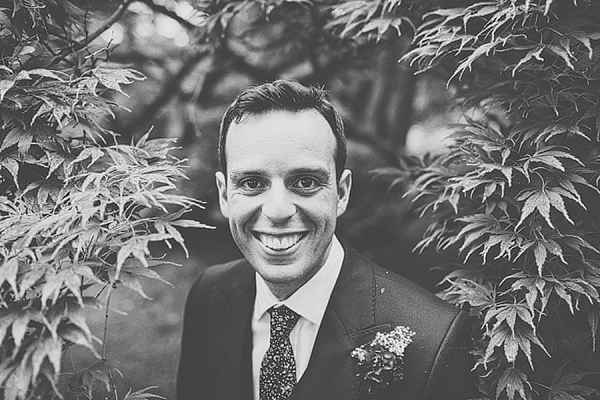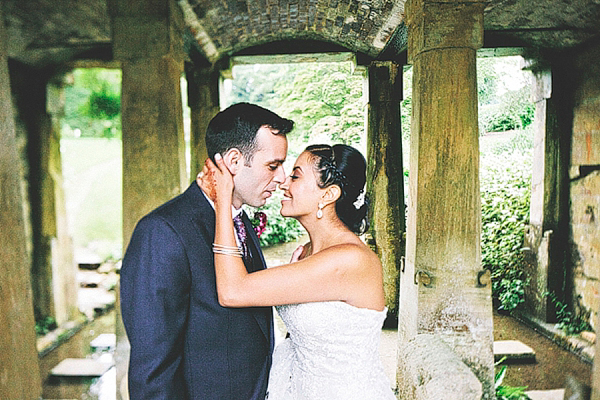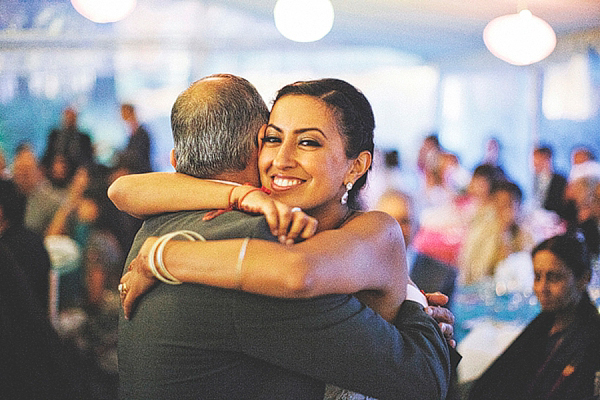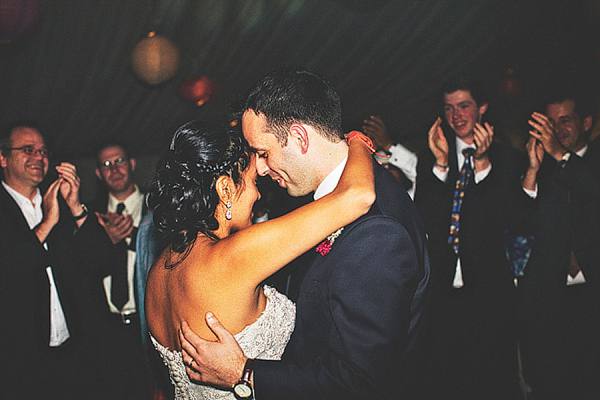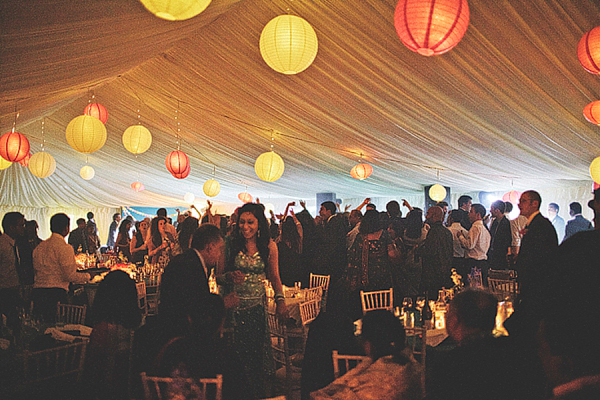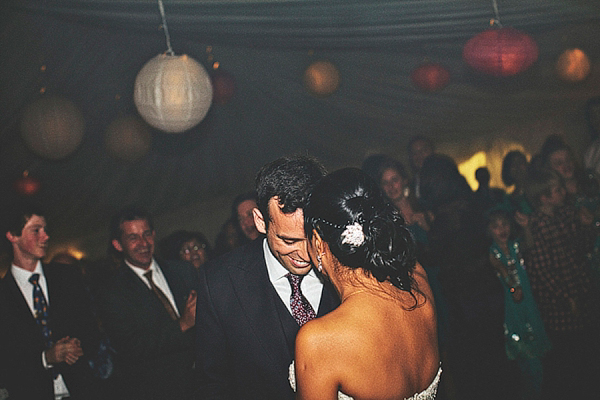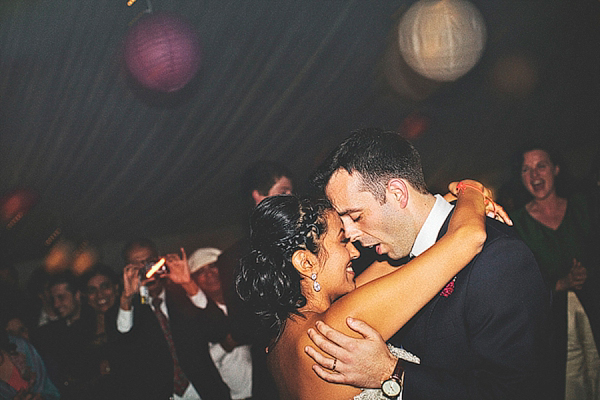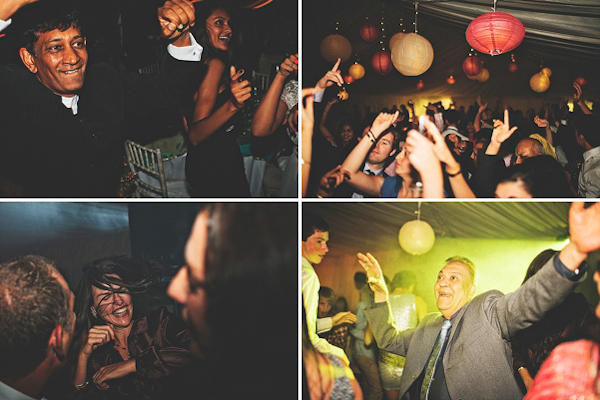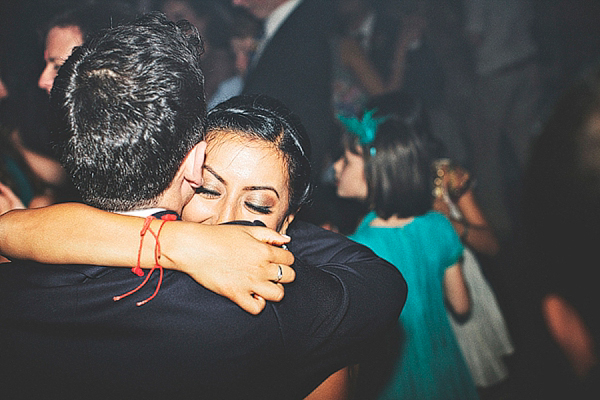 Words of Wedded Wisdom…
"I didn't buy, read or even look at a single wedding magazine when planning the big day. I way preferred using blogs such as Love My Dress.
You can get so many great ideas for the various resources out there.
The one thing I would say is don't feel guilty if you don't have the
same budget as someone else out there who has an amazing co-ordinated
wedding or bad if you don't spend every evening for the year leading up
to your wedding sitting at home making pretty bunting and craft items to
hand out on the big day! All weddings are individual and all are
special.
It's easy to get carried away with all the little details, and
that's what wedding blogs are there to help with!! But at the end of the
day, when I look back at my wedding day, it isn't the co-ordinated
stationery that sticks out in my mind – it's marrying my best friend and
having all our family and friends there to celebrate.
And finally, you can't control the weather. Even if you do a
Sundance! So if you're having a wedding in England and you want to have
bits outside, have a back up plan!!!! We ended up moving our drinks
reception into the conservatory, and it worked really well but without
the planning, could have been a disaster!"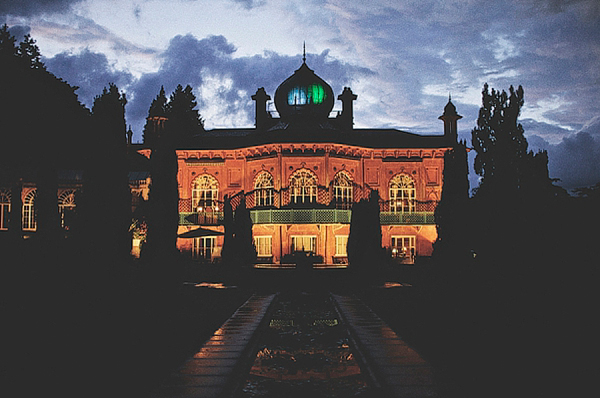 I love love love love looooove everything about this wedding; and I think Neema and Sam have brilliantly executed a visually stunning day with a very relaxed vibe. Absolutely perfect.
Huge congratulations Neema and Sam – and huge thanks too to photographer John Day and also Kushi Cars for helping get these beautiful images on to Love My Dress.
Neema's dress is currently for sale on the pre-loved website by the way ladies!
You can see more Indian weddings on Love My Dress here.
Have a lovely Tuesday
Annabel
Photographer – John Day
Wedding Planner/Stylist – Kim at The PInk Pumpkin
Venue – Sezincote House
Wedding Dress – Traditional Indian saree + Justin Alexander 9690
Brides' shoes – Dorothy Perkins
Groom's Attire – Traditional Indian Suit + suit by Henry Herbert tailors with Liberty tie + Paul Smith shoes
Flowers – The Bay Tree at Campden
Transport – Kushi Cars
Catering – Daksha
Makeup Artist – Mariam Jenson