From here on, we're on official count-down to the weekend. Hooooray!  I've been saving this wedding all week to share with you today – I wanted it to brighten this, the final working day of the week for many of you, with something bold and beautiful.
Zoe and Phil tied the knot on 23rd February 2013 at The Old Finsbury Town Hall, London, followed by a reception at The Roost.  It is plain and obvious why I was instantly smitten with these out of this world wedding photographs shot by Christopher Currie, but just in case  you need it spelling out, sometimes, it's all about the dress…

"I designed and made my wedding dress.  I had wanted a
red dress for quite a while but wasn't sure I'd actually go for it, but
just after the proposal I was on a shopping trip in New York for work
and tried on an amazing red Valentino dress which confirmed it. 
The
colour suits me much more than ivory and it just felt so much more
exciting knowing what a surprise it would be for Phil on the day. It
took ages to make in the end, ie, most of the Christmas holidays, and
then some!  I'm a bit rusty with the sewing skills these days…"
Love My Dress Wedding Blog (c) 2013 – Christopher Currie
"There was a point just towards the end of making my dress that I had to
put it away and not look at it again for a month as I almost couldn't
tell what it looked like any more as I'd been so close to it for so
long. When I got it out again I was so pleased with it and so happy I
made it myself. No one else has a dress like mine and no one ever will. I
love it!"
"We chose to get married at The Old Finsbury Town Hall – a venue quite close to where we live in
London and an absolutely beautiful old Art Nouveau style red brick
building. Our reception venue was The Roost,
a photography studio that looks a bit like an old disused pub from the
outside. It's literally round the corner from our flat in Hackney.
We had walked past it lots of times and wondered what exactly it
was. One day we walked past and a the door was ajar and a band were
setting up their equipment in there so we asked what was going on. They
were doing a wedding there that afternoon, so we took the details so we
could keep it in mind- we  weren't even engaged at the point but said if
we did get married it had to be there!"
"We used some paper pom poms
in the windows of the room where we had dinner which were quite cheap
but really effective. You can get them in loads of different colours and
they're relatively easy to assemble.
They fit with the whole non
floral/ paper theme.  We also got big silver letter helium
balloons spelling out the word 'love' that we tied up near a stags head
in the entrance to the ground floor at the bar in the reception venue – a
bit cheesy, but we'd seen a picture of a couple holding them on a
wedding blog somewhere and thought they were quite simple but
effective."
"When we were chatting about what we wanted our wedding to be we
were really keen for it to be as relaxed as possible and have quite a
laid back friendly feel with nice food, lots of drink and a massive
party for our friends  at the end. We are both from quite small families
so vast majority of our guests were friends so we knew that sort of do
should go down well."
I have to note something here – I know all about The Roost!
It is owned by the same company who own Dalston Heights, which is where
who did shot the images for my new book, Style Me Vintage: Weddings.
And thus, I know how utterly fabulous a venue it is – really!  I also have worked with Juliet Carr of Paper Poms, who supplied the pom-poms pictured above.  Juliet worked with me on my book, and my book launch – the paper poms were a major talking point at my book launch party in fact!
"I did my own make up and I had a make up trial with a friend of a
friend but it wasn't for me. In the end, my hair was done at my usual
salon, Dappa Boutique in Chalk Farm. My usual hairdresser Steven who owns the salon did my mums hair on the day and also the two bridesmaids with shorter hair.
My hairdresser for the day was a brilliant guy from
California who specialises in Vintage styling, he trained in Hollywood
and did a fantastic job. I was so pleased with my hair. He also did one
of the other bridesmaids and a 3rd stylist Roger did vintage do's on the
remaining two bridesmaids."
"The red
dress led the colour palette for me. Phil didn't know the dress was to
be red as it was a big secret, but I just said I thought everything
should be quite warm and rich looking colour wise as it would suit the
venue and the time of year.  Fortunately, he went with it! 
The
reception venue also directed things quite a bit. We had already seen
the place and knew it had to be there – it's a really shabby, quirky,
vintage over the top kind of venue – lots of gorgeous wallpapers for
photo backdrops (couldn't rely on the weather in Feb for outside shots
obviously!) and odd props about the place."
"I was really lucky in that one of my work suppliers in China made the bridesmaids dresses for me. I work for Oasis
and to make it easier I used old occasion-wear styles (designed by one
of the other designers – Kathryn) and had the dresses designed in
different fabrics in my colour palette. My bridesmaids all look very
different from each other – they couldn't be more different really so I
went for mix and match dresses that (hopefully) suited each of them
individually."
"Phil and I met at Notting Hill Carnival three and a half years ago. A friend of mine was
going out with Phil's business partner and we all went together. They
ended up not having a very good day of it as they were having a very
long winded argument for most of the day!  Phil and I didn't know each
other at all at the start of the day but seeing as all this was going on
we were pretty much thrust together as we kept losing them in the
crowds when they kept stopping to argue! We didn't see much music that
year but had the best time hanging around getting to know each other
whilst waiting for them to catch us up! We moved in together after a
couple of years and then Phil proposed last September.
Phil whisked me away for a surprise holiday in Siena, Italy. I love
Italy and had never been to Siena before, it's such a beautiful place.
We nearly went to Florence but when Phil was contacting one of my work
mates to get me the Friday off in secret so we had a longer weekend she
recommended it- I'm so glad she did and he decided to go for it! We then
had a fairly quick engagement of 6 months. One reason being that one of
my bridesmaids lives in Australia and I knew she'd be able to come over
in February and the other reason that no one else knew at the time was
that I wanted a red dress and I thought that a winter styled wedding
would suit that much better."

"We hired vintage crockery from Vintage Flair –
Elizabeth and Ellen were again great to work with from start to finish –
very on the ball. I had decided quite early on that I wanted the
vintage crockery. It was an extra expense, but given our quirky
colourful venue I thought it would really set it off and make the whole
thing look extra special. I definitely think it was worth it, the tables
looked amazing!"
"I made my hair band. I had a clear idea of something quite
simple and vintage looking with a bit of the old fashioned net on it
for the veil. I wasn't quite sure how to actually put the thing together
though so it would be comfortable on the day and not feel like it was
falling off. I'm really lucky in that one of my friends Jo Shippen is a brilliant stylist
and really creative – I knew that Jo would be able to think of what to do. She
showed me how to put it on a very thin headband to make it easier to
wear on the day."
"Phil wore a bright blue suit from Reiss. It was lucky the colours went so well together on the day as I didn't know what Phil was going to be wearing.  He also wore a Marwood tie and pocket square from Mr Porter, Grenson Shoes and pink Falke socks.
The
groomsmen all wore suits of their own choosing. We wanted all the
bridal party to be mix and match rather than having all the men in
matching tails as we thought it would help with the overall relaxed
look/ feel of the day."
"My favourite part was walking down the aisle. It was one of the
bits I had been not looking forward to at all- I found the whole idea
terrifying and embarrassing! Strange it turned out to be my favourite!
It's so lovely to see everyone for the first time after all the
preparation. They're all there for you and they're really happy for you
and smiling and supporting you, it's a lovely feeling.
Also, I had been
beside myself with nerves the whole morning – just far too much
adrenaline I think! When I saw Phil I was so happy that he was there for
us to share the rest of the day together, I was so happy to see him."
"The flowers were all origami paper flowers that I folded (mostly)
myself. I had a little help in the last month from Phil and the Head
Bridesmaid Becky, but the rest of the flowers were folded by me in the
preceding 6 months. I got specialist origami printed papers in packs
from Amazon and just pulled out my favourite prints that matched the
colour palette.
The table decorations and venue displays, bridesmaids
bouquets, my bouquet and the bridal party buttonholes (which were
eventually finished off over a glass of bubbly in the night before the
wedding) were all origami."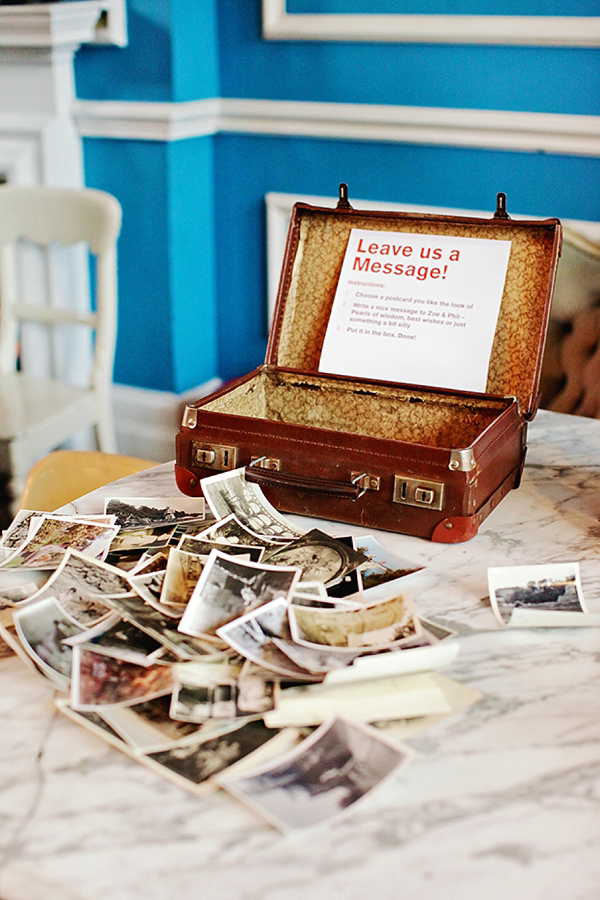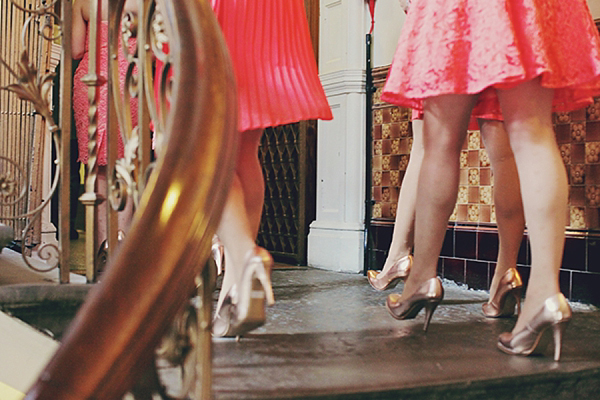 "Phil is a Graphic Designer, and so had strong ideas for the
look of all of the stationary. I spent a lot of time over the Christmas
holidays making my dress, and whilst I was doing this, he was in the
other room designing the look of pretty much everything else for the
day.
He was inspired by modernist swiss typography – a reference that
probably only other graphic designer geeks will understand!
However, Phil
made a fab job of our invites, order of service and menus etc.  He made a
great montage of embarrassing photos of the two of us from when we were
kids, a poster of a list of everyone that was at the wedding, and
another poster of where and when we met, got engaged and got married, a
fortune teller game with silly 'fortunes' of different groups of people
on  different tables at the wedding and various dares, eg 'get a kiss
from the bride', a 'Fill in the Blanks' game for the tables for guests
('Phil must always remember to ——– before Zoe ——-' etc)!"
"Best of all though were the place settings and table plan. Instead of
names we had silly/slightly embarrassing pictures of all the guests
(careful what pics you leave hanging about on Facebook guys – you never
know where they might turn up!). They were all on a big table plan on
the entrance to the meal, and then on everyone's place setting. Lots of
people took these as the favours, as well as some of the origami
flowers."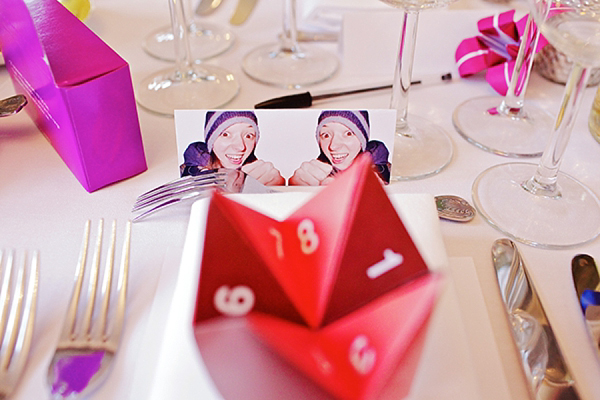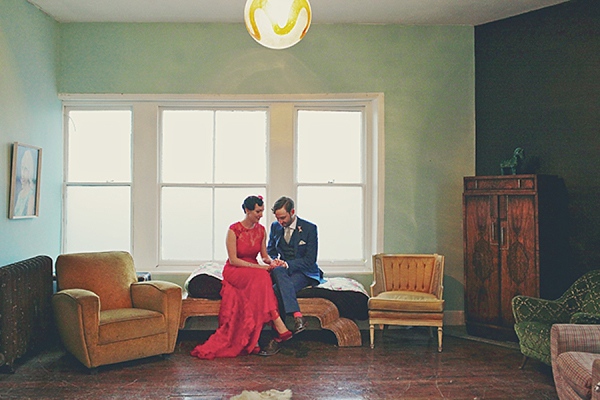 "Our photographer was Christopher Currie.
He and his partner Gillian Lawtie are friends of my Junior Designer at
work. They photographed the wedding of another of my colleagues a couple
of years ago, and one of the things that Phil and I noticed about them
that we really liked was that we didn't notice them. We could only think
of one occasion when we had seen them at that wedding and that was for
the group shot.
For a couple who cringe at the idea of getting photographed all
day they seemed like the prefect option and they were! We loved them,
and we were so happy with the results, but everything about their whole
service was perfect from start to finish. They are really friendly
people who totally got what we were trying to get from our photo's of
our day.
Chris and Gillian were extremely thorough, ie, meeting up with us before and
even scouting out the venues so they could get the best shots and on
the day. They really were totally unobtrusive  and I genuinely think
they got the best out of us.  I'm so happy we found them."
"I had a vintage bracelet with red and pink gems that I bought at the vintage wedding fair at the Old Finsbury Town Hall where we got married – something old. My earrings were ruby studs of my mums- something borrowed!"
"I got my shoes from Jean Michel Cazabat – a
random shop in New York that had the perfect Red Shoes. I knew I wanted
them to be suede as I thought the suede would help stop them from
looking too much like stripper shoes! I'd given myself quite a big
budget for them seeing as I was making my own dress, but I saw these
when on the work trip in New York and they were so comfy I bought them
straight away- way under budget too-result!"
"I found a gorgeous silver jigsaw puzzle style necklace on Etsy by Gorjess Jewellery
with 6 pieces that I thought would make a perfect gift for my
bridesmaids. I asked them what colour was they're favourite- gold or
silver, only one of them wanted rose gold and I wanted yellow gold to
match my wedding ring so I got 2 of the pieces plated the week before
the wedding."
"My Dad gave me away, we walked down the aisle to 'Avril
14th' by Aphex Twin. A gorgeous piano piece that doesn't sound at all
like anything else by Aphex Twin! One of the best men, Will  is a sound
engineer and he remixed a special short version for us."   
"We had 'Union' by Robert Fulghum read during the ceremony;
'You
have known each other from the first glance of acquaintance to this
point of commitment. At some point, you decided to marry. From that
moment of yes, to this moment of yes, indeed, you have been making
commitments in an informal way. All of those conversations that were
held in a car, or over a meal, or during long walks – all those
conversations that began with, 'When we're married', and continued with 'I will' and 'you will' and 'we will' – all those late night talks that
included 'someday' and 'somehow' and 'maybe' – and all those promises
that are unspoken matters of the heart. All these common things, and
more, are the real process of a wedding.
The symbolic
vows that you are about to make are a way of saying to one another, 'you
know all those things that we've promised, and hoped, and dreamed –
well, I meant it all, every word.'
Look at one another
and remember this moment in time. Before this moment you have been many
things to one another – acquaintance, friend, companion, lover, dancing
partner, even teacher, for you have learned much from one another these
past few years. Shortly you shall say a few words that will take you
across a threshold of life, and things between you will never quite be
the same.
For after today you shall say to the world – This is my husband. This is my wife.'"
"I have my mums old wedding ring. My parents have been married
over 40 years and have a really great marriage. For one of the bigger
anniversaries quite a few years ago they got each other new rings so my
mum doesn't wear her original one any more and I asked her if I could
have it. It's an amazing 22ct gold ring that looks just like what a
little girl would imagine a wedding ring to look like! Phil continued
the idea and asked his dad if he could have his old ring too, so we both
have vintage family rings.
The engagement ring is unfortunately another story. Phil very
cleverly bought me a diamond instead of a ring so that I could design my
own, which I did (after a bit of careful thought and research- I wasn't
a big ring wearer previously).
I commissioned the design with a
jeweller and seven months later still don't have and engagement ring!
Hopefully it should be finished soon, but as it's the worst, and most
disappointing bit of service from the whole event- and the one that's
had the most time to complete, I won't be recommending their services at
all- as you can imagine! Fortunately I have a beautiful wedding ring
that I will have to be happy to wear on its own for the time being."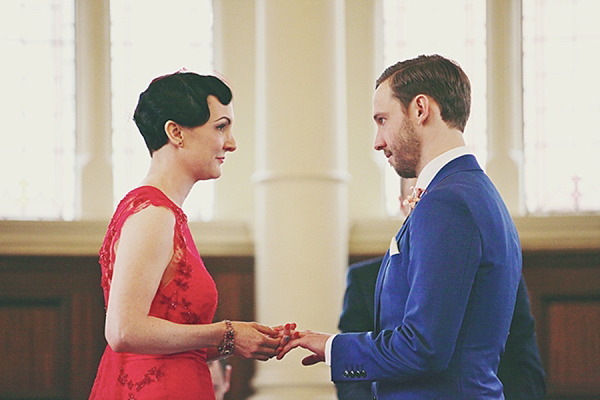 "Our second reading was 'Untitled', by Bee Rawlinson; 
'Love me when I'm old and shocking
Peel off my elastic stockings
Swing me from the chandeliers
Let's be randy bad old dears.
Push around my chromed Bath Chair
Let me tease your white chest hair
Scaring children, swapping dentures
Let us have some great adventures
Take me to the Dogs and Bingo
Teach me how to speak the lingo
Bone my eels and bring me tea
Show me how it's meant to be
Take me to your special places
Watching all the puzzled faces
You in shorts and socks and sandals
Me with warts and huge love-handles
As the need for love enthralls
Wrestle with my damp proof smalls
Make me laugh without constraint
Buy me chocolate body paint
Hold me safe throughout the night
When my hair has turned to white
Believe me when I say it's true
I've waited all my life for you.'
"We
really didn't want our readings to be too cheesy or obvious, although I
think this is really hard to do- and seeing as we ended up getting them
from a Google search, I don't think they're that original! We hadn't
heard them before though and they summed up our feelings pretty well. We
chose one humorous one to keep the feeling of the day lighthearted, and
one more serious one that had a sentiment behind it that suited us."
"We weren't that experimental with the vows. We just
used parts of the existing choices we got from the registrar and put
them together in a slightly different way- for example, we both wanted
to say 'I do' not 'I will' and I wanted the registrar to get the guests
to give "Mr and Mrs Cook a round of applause/ congratulations and a
'you may kiss the bride' – all the really traditional bits really."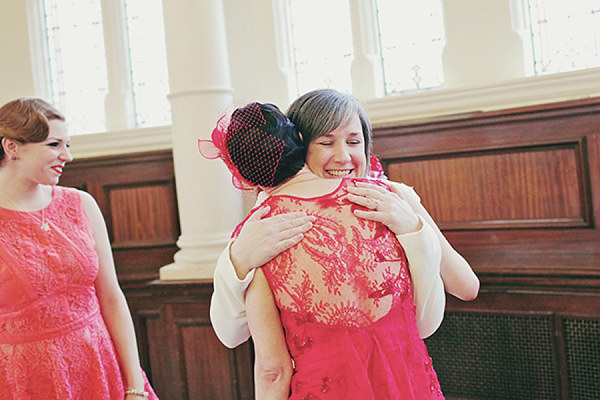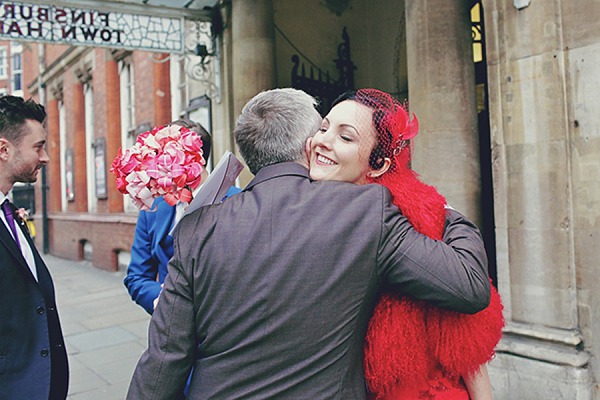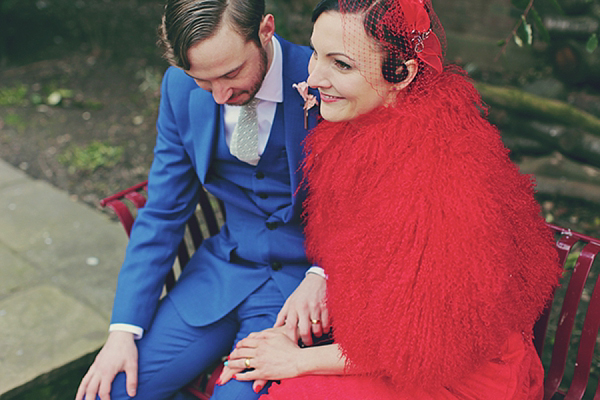 "We hired Jake of Octopus Foods for all the catering. The man is a legend! Again, he was a person that really got us as a
couple and really understood what was important to us for our day. We
had quite a hard time choosing a caterer. It's such a big part of your
budget and also your day, if you get it wrong it could be disastrous,
but yet you're dealing with an area that you are unlikely to have any
experience of  People talk another language and expect you to be able to
understand them! I'm not sure if we were just unlucky, or if most of
the caterers we got in touch with weren't that busy in Feb and didn't
need an extra few thousand pounds coming in, but they were really hard
to pin down."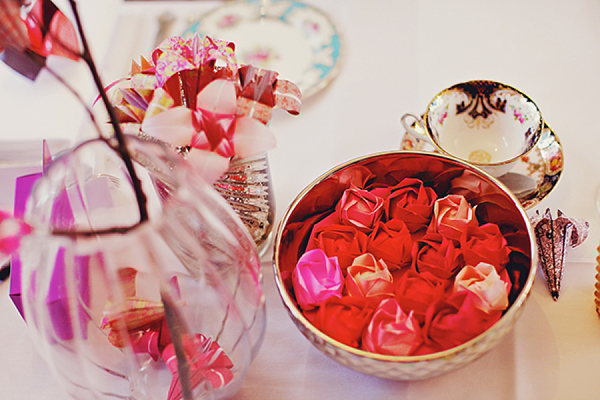 "Out of three other caterers we tried, we found it hard to get
quotes out of them – they quite often didn't return emails and just
generally didn't seem at all interested in working with us. Fortunately Jake
was different. Firstly, his food is fantastic- we had a delicious lamb
shank with a bean casserole as our main course and a yummy smoked salmon
starter. We had the cake as dessert (which we supplemented with M&S
cakes) to keep costs down. Secondly, he's very organised and we felt we
could rely on him. This was the most important thing for me. Our venue
was dry hire- we had to arrange all the tables and chairs and crockery
and cutlery etc. This is quite a task when you don't know what you're
doing and he was a real help checking everything was right and guiding
us through the process.
The reception venue is invariably set up whilst
you are in your ceremony so you need to be confident the person setting
it up for you understands your vision! Some of the other caterers we
were in touch with gave us the impression that should disaster strike on
the day, they'd be ringing us up to try and sort it out! Jake is very
self sufficient!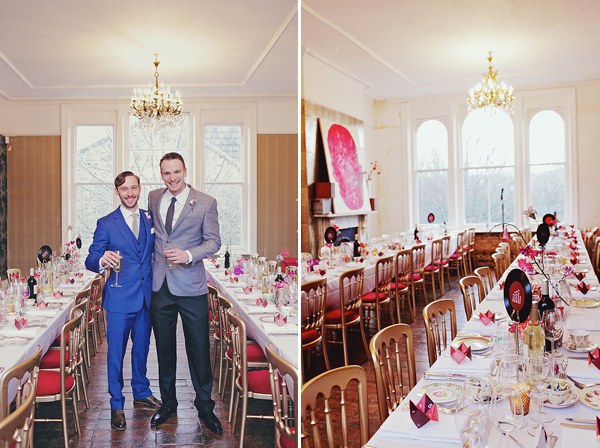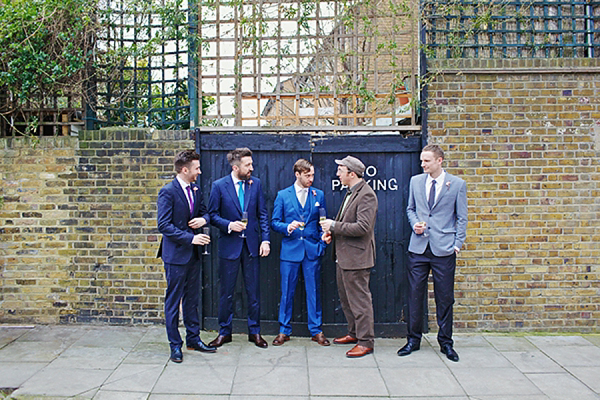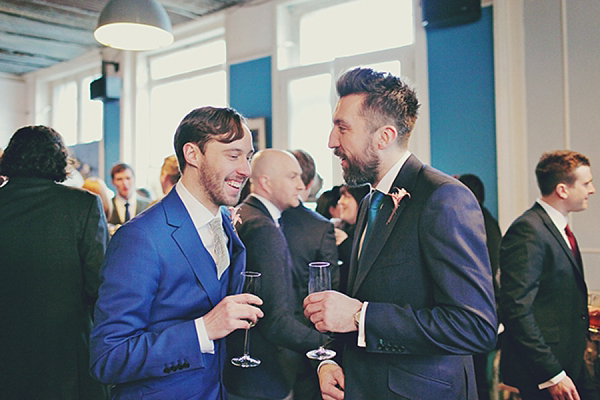 "Neither of us are at all interested in cars so we hired Addison Lee cabs
for the day. I would recommend opening an account and pre-booking as
all the cars turning up on time for all the different bits of the day
(particularly getting bridesmaids and myself to and from homes to
hairdressers to hotel) helped with my peace of mind."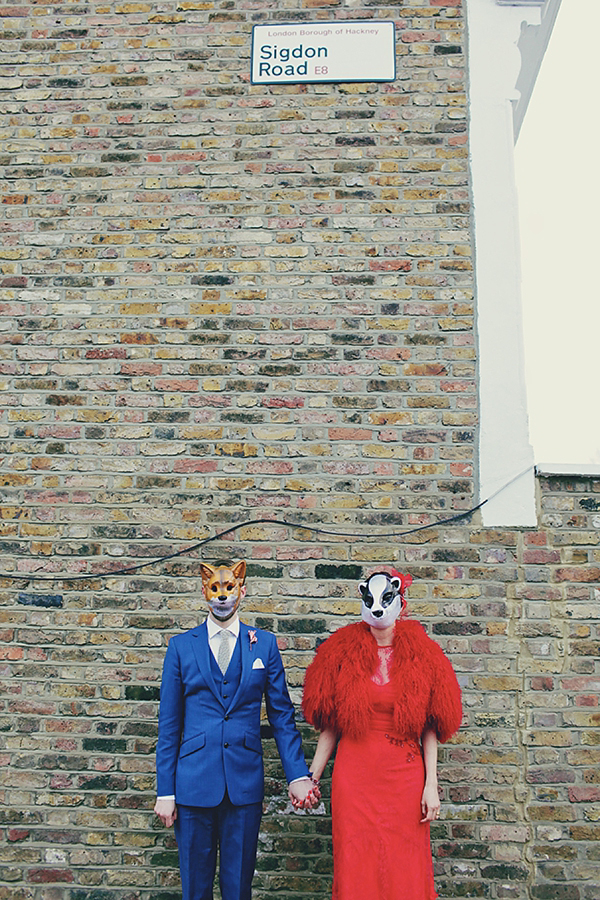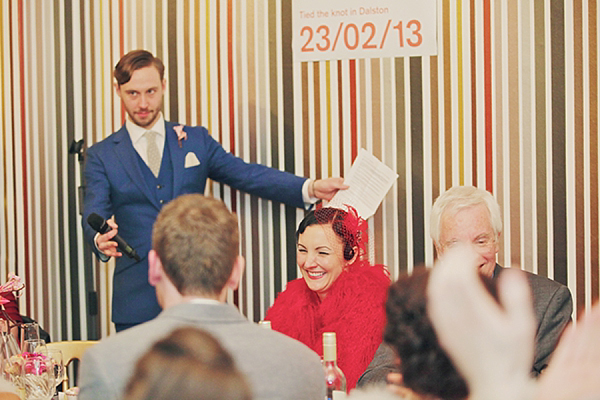 "For our first dance, we had 'We've only just begun' by
The Carpenters. We both love the Carpenters and it seemed like an
obvious choice. We were visiting Phil's mum a short time after we'd
chosen the track and were listening to music and played it and she was
going on about how much she loved the track- obviously we were feeling
pretty happy with our choice at that point!
In hindsight we should have
got our sound engineer friend to make the first dance song shorter too –
it's lovely to have a first dance, but we were just wanting it to end by
the third verse! You just need about a minute of the song so people can
take photo's!
"We had a friend of Phil's DJ for us. We both really
love music and Phil was really particular about what he wanted played at
the disco- and at every other minute of the day in fact! Kev was happy
to play exactly what we wanted for us and did an amazing job of it- the
disco was brilliant, and such a big part of the wedding for us- we
really just wanted it to be a really big party from the start!
I really enjoyed the bit when they played the second tune on the dance-floor, 'Get into the Groove', by Madonna.  We
purposely chose our second (and third) tunes to be floor fillers so
that everyone would join us on the dance-floor and the party could really
get started- I finally managed to fully relax at this point!

Phil's favourite part of the day was seeing me for the first time and being surprised by my dress."
Words of Wedded Wisdom… 
"I'd just say get on with it early! It's surprising how
much it ends up consuming you in the last month, 6 months was a quick
engagement, and there were things we could have done more quickly- ie
buy the dress and flowers, but we preferred it to all be a bit more home
made. We're both creative so it was a nice opportunity to use our
talents in a different way from the day jobs.
Pinterest is a great website for keeping your ideas
together, our photographers got us into it and it's brilliant- we're
moving house soon and it's been great for planning that too."
Oh my God!!!! I have spent so many hours pouring over these images, I simply can't get enough of them!
You can see more from the amazing photographer that is Christopher Currie on Love My Dress here and also in my book, Style Me Vintage: Weddings – which is available via Amazon and in all good book stores now.  And if this wedding floats your boat, take a look at our London weddings and red pages to fill your morning with more gorgeous inspiration.
A huge thank you to Chris and Gillian of Christopher Currie Photography and my love and complete adoration to Phil and Zoe for sharing so much of their wedding day story – Zoe, you look out of this world and I'm privileged you have allowed me to share your gorgeous day with our readers – thank you.
What do you love most about this wedding? Let's show some love below.
With much love,
Annabel
Photographer – Christopher Currie
Venue – The Old Finsbury Town Hall + The Roost
Wedding Dress – designed & created by the bride
Headpiece – made by the bride with help from Jo Shippen 
Bride's shoes – Jean Michel Cazabat
Bride's accessories – Bracelet by Gorjess Jewellery
on Etsy
Groom's Attire – Reiss suit, Marwood tie,Mr Porter pocket square, Grenson Shoes, pink Falke socks
Bridesmaids – custom made dresses + necklaces from Gorjess Jewellery on Etsy
Flowers – origami bouquet made by the bride
Cake – family
Transport – Momentum Coach Hire (for transporting guests to the reception venue)
Entertainment – DJ/friend
Additional Styling – Paper Poms
Rings – Mum's original wedding ring
Catering – Octopus Foods
Hair Stylist – Dappa Boutique in Chalk Farm