Hey guys n gals – hopefully by now you will have had time to enjoy our morning post and this lovely lunch time wedding film?  This afternoon's wedding feature was submitted by the bride herself.  Holly and her husband Phil tied the knot on 2nd February this year at Islington Town Hall, followed by a reception held at The Pheasant in Clerkenwell, East London.
Love My Dress Wedding Blog – Photography Copyright (c) 2013, Brad Clarke
What I love about this wedding is Holly's unabated approach to
glamour. I remember trying on my first wedding dress and rather
hurriedly being 'plonked' (at least it felt that way) in front of the
mirror, a tiara perched on top of my head in no time and a huge mass of
feathers draped around my shoulders as the boutique assistant
over-succeeded in completely overwhelming me on my first dress hunting
mission. I remember feeling a little silly and self conscious as I stood
there with barely any time to soak in the transformation reflected back
at me. I think it put me off tiaras and ostrich feather shrugs for a
long time after that.  What a MISTAKE that was – I love nothing more
than seeing a bride strutting her glamorous stuff with a sea of ostrich
feathers wafting gently a top of her shoulders.  I've since done a bit of a u-turn and jump at the chance to flaunt about in something fabulous like Holly's gorgeous feather shrug below. I wore something very
similar (in dark blue) for my book launch last month.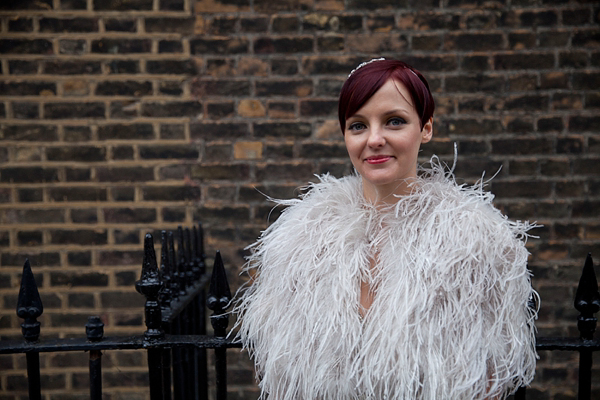 "I wore the Jenny Packham Eden wedding dress in Platinum.  The
main thing I wanted, as crazy as it sounds, was o feel comfortable and
like myself. I tried on A LOT of dresses and whilst most of them were
amazing they just didn't feel like me. I'd seen this Jenny Packham dress
in a magazine and booked an appointment at the Boutique shop (I didn't
have enough time to get one custom made!).
It was our last appointment
of the day and I was about to give up hope when the lady at the boutique
appeared with the Eden dress in the colour I'd seen and in my size. As
soon as I saw it I knew it was going to be perfect."
"My bridesmaids were my two best friends from school – Mel and
Laura. As I'm the shortest of the three of us they were both really
excited at the prospect of wearing flat shoes. We found some perfect
jewel pumps from Forever 21 about a week before the wedding.
I wanted Mel and Laura to both have dresses that would suit them and that they'd hopefully wear again. We went to Les Trois Soeurs
in Canary Wharf that stock Dessy dresses. They both picked the shape
they liked and they had the perfect dark green colour we were after. 
They also wore matching necklaces from Next."
"Phil and I met about six years ago through work. We didn't
particularly take it too seriously in the beginning and ended up both
going travelling separately. But within 3 months we met up in Australia
and since then we haven't really left each other's sides.
We got engaged
in May last year whilst we were on a road trip in Scotland. It was
somewhere we'd both wanted to visit and Phil proposed whilst we were
camping in Glen Coe. He made meatballs and spaghetti on a camping stove
and we drank wine from the bottle. Once I said yes he then magically
produced a bottle of champagne. The view was amazing and we both love
camping so it was perfect."
"Phil wore a waistcoat to distinguish himself from his best
men. He got given a lovely pocket watch from his brother when he was
best man at his wedding last year which he wore as well.  His suit was Ben Sherman Camden Fit in dark grey.
Phil and his best men wore matching orange and blue strip socks
from Ben Sherman and his best men wore braces. Phil bought the suits for
his best men as a gift to say thank you."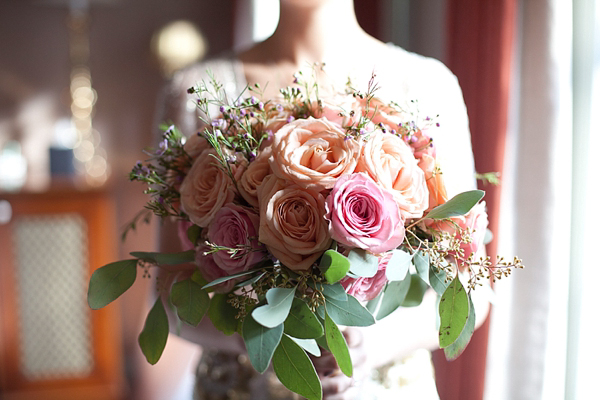 "Phil and I both work in publishing so we know a lot of designers.
Our friend Chris did the design for us for the invites, our website and
the table plan. The Peasant printed the menus and we made the place
cards with a letter stamp, luggage tags and some tape."
"I've got really short, fine hair so a hairband was an
obvious choice. Jenny Packham creates hair accessories to go with her
dresses and I wasn't going to argue. I wanted to make quite a feature of
it so I went for the larger of the two options – the Acacia Bridal Headdress II in Silver."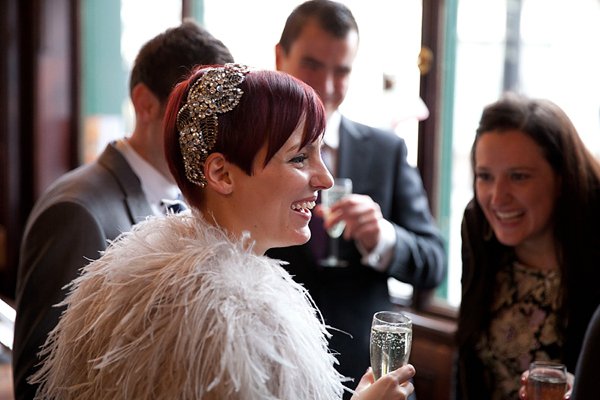 "My dress was quite difficult to accessories but once
we'd managed to decide on a colour scheme (silver/grey, dusky pink and
dark green) these Dove Grey Tilly shoes from Rachel Simpson
were perfect. I don't usually wear heels so I didn't want them too high
and I'd heard that Rachel Simpson shoes were really comfortable. I wore
them for 12 hours on the day and they really were!
 I didn't wear a veil. They never really felt right when I tried them on."
"The Pheasant in Clerkenwell has a distinct style of its own
so we didn't add anything but flowers. For our guestbook we had an old
leather journal and Polaroid Camera for people to take pictures of
themselves and then leave us a message. We had a well bucket for cards
and present. 
As with other suppliers, our florist, Grey on White, happened to be a friend of ours who is looking to become a professional wedding
florist. This was the first wedding she'd ever done but she was great
with ideas (I have no idea about flowers!) and the end product really
brought the whole day together."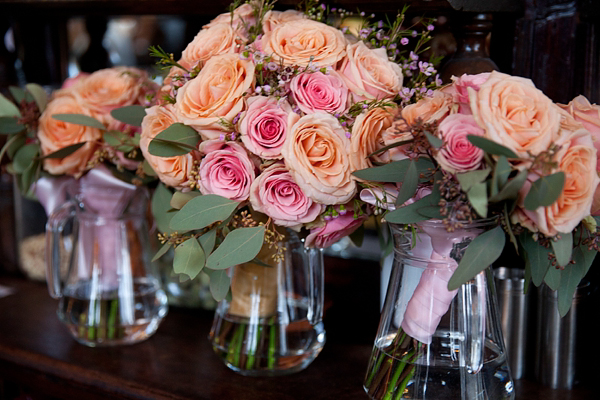 "Our photographer Brad Clarke,
is a friend of a friend. We met at a mutual friend's wedding where he
was taking 'unofficial' photographs. He's since decided to be a
professional photographer and as you can see from our wedding
photographs, he's way too good to be doing it as just a hobby."
"I get my hair cut at The Chapel is Islington and they do wedding make up as well. It's just down the road from Islington Town Hall and I love getting my hair cut there."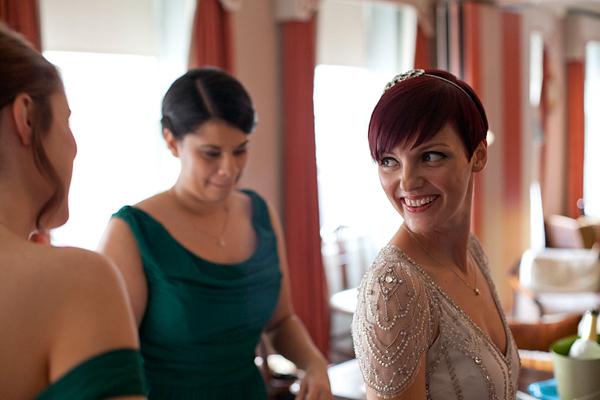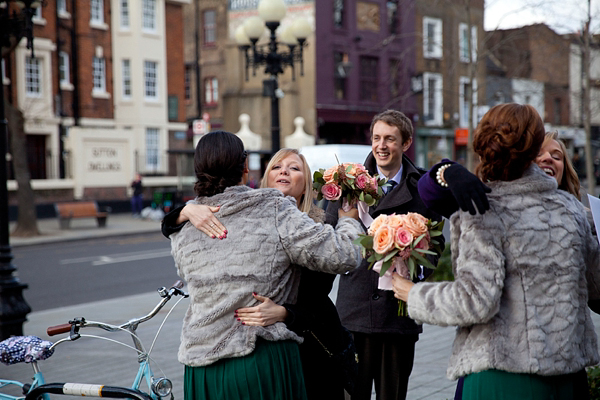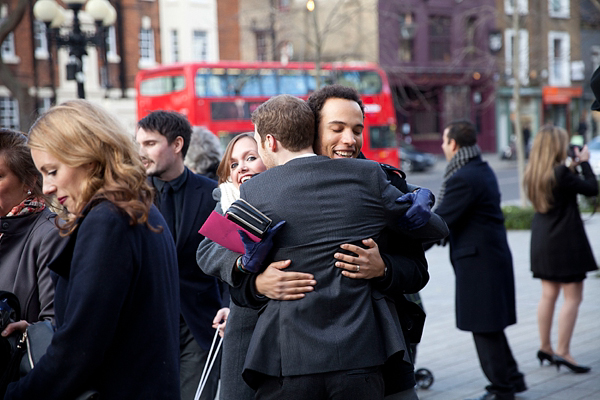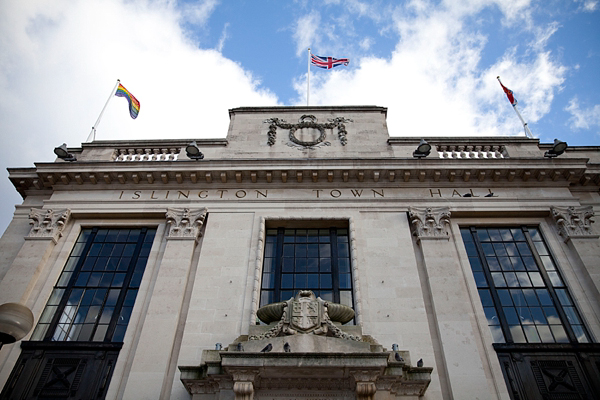 "My Dad gave me away – I think he was a lot more nervous than me! 
I walked down the aisle to an instrumental version of 'Here comes the
sun' by The Beatles. We probably found music the hardest thing to
decide. We didn't want emotional songs as we wanted it to be fun and
relaxed. During the ceremony we also played 'In my life' by Jonny Cash
and 'Stand by my woman' by Lenny Kravitz.
 I enjoyed the ceremony even more than I thought I would.
Our registrar was really lovely and it was great to have so many people
there with us that we hadn't seen in a while. Then when we got to The
Peasant it was great to be able to talk to everyone."
"As we got married in a registry office we had a couple of
different ceremonies and vows to choose from. The one we chose was
called 'What is marriage?' Several parts really stood out to us,
including ''Marriage means making a commitment to developing
co-operation, friendship and mutual respect. It calls for honesty,
patience and of course humour!  Marriage requires closeness and
distance – closeness for a couple growing together and enough distance
to allow each partner to be individual'.  Phil and I are both very
individual people and whilst we love being together we also love being
apart.
  We had one reading on the day by two of Phil's close friends. They read On Your Wedding Day by Anon. It's a really happy (and quite short) reading. I have to say it was the only time that I actually felt like I might cry."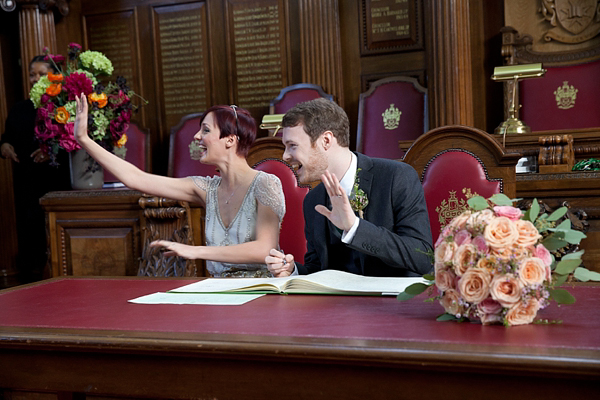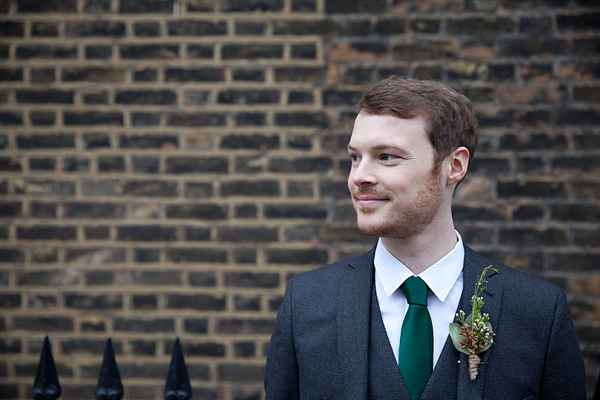 "We considered several venues in Essex, where we are both from,
but none of them seemed to create the relaxed atmosphere we wanted. Our
favourite thing to do is to enjoy good hearty British food and ale in
our local pubs with our friends and family, so The Pheasant seemed like the perfect option. And we love London!  We wanted our day to be really relaxed, cosy and intimate.
All of our ideas came from friends, family, wedding blogs and
discussions with each other."
 The Pheasant provided
the food for the day. As we love British pub food we had pork pies and
scotch eggs for our canapés. People ate so many canapés that they found
it hard to eat 3 courses afterwards. For the Wedding Breakfast we choose
3 starters, 3 mains and 3 desserts for people to pick on the day. We
had Sausage and Mash as a main and Sticky Toffee Pudding for dessert.
The food at The Peasant is amazing and Nick the manager couldn't have
been any more helpful. Considering they are predominantly a pub they
couldn't be more accommodating for weddings."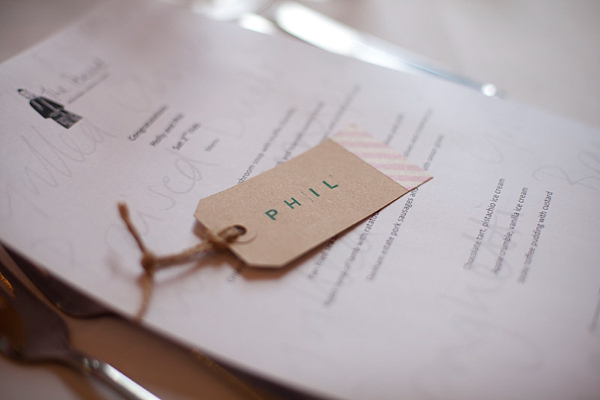 "We love Cheese so a cake made of Cheese was an easy choice. Phil fancies himself as a Cheese expert so he chose them from La Fromagerie.
When we've seen people since the wedding the first thing they do is
comment on the cheese. We went back to the pub on the Monday afterwards
to pick up a few bits and there was literally no cheese left."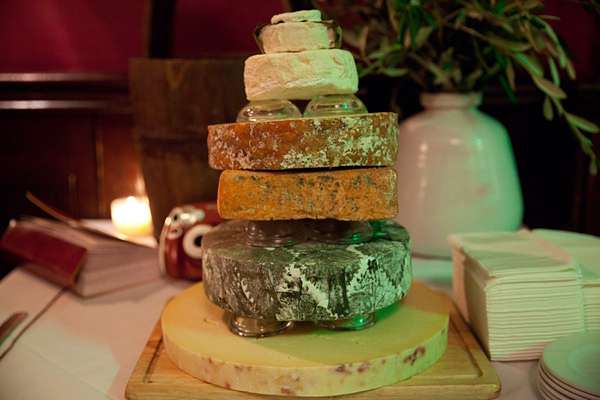 "Our first dance was Ho Hey by The Lumineers.
Although it's a fairly recent song we both really like it. Again we
wanted to play something quite upbeat but this caused a bit of a problem
as neither of us are great dancers. We had a 2 hour intensive dance
lesson and got given an entire routine. It gave us something to
concentrate on rather than everyone staring at us."
Oh guys guys GUYS! I LOVE that song!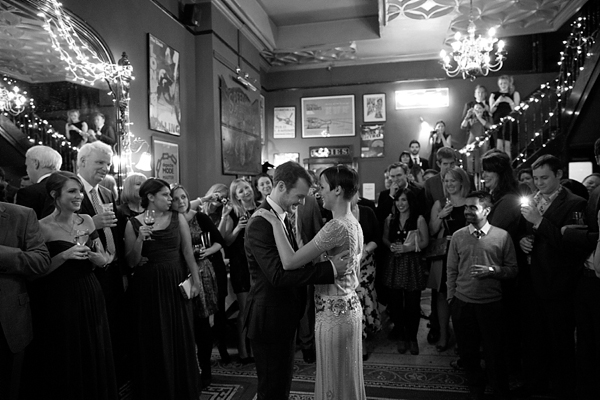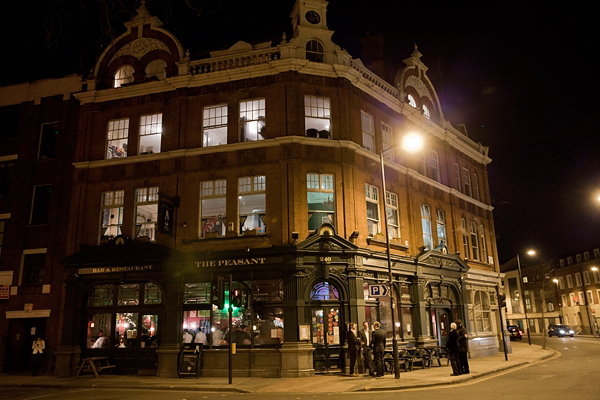 Words of Wedded Wisdom…
 "Make sure you steal moments away with your new husband.
Phil and I made sure we grabbed each other at several points during the
day and night. We just sat somewhere quiet and looked around the room.
We wanted to make sure we took it all in and the day didn't pass us by
too quickly. It's really hard to get a second to yourself as everyone
wants to talk to you. It took me ages to get to the bathroom when I
needed to go!
"I was really close to my Grandma who died a couple of years ago. It
was important to have something there on the day to remind me of her.
When she died my mum gave me my Grandma's engagement ring. I'd never
worn it but decided to get it made into a simple pendent for the day.
The jewellers did a great job and I love it so much I haven't taken it
off."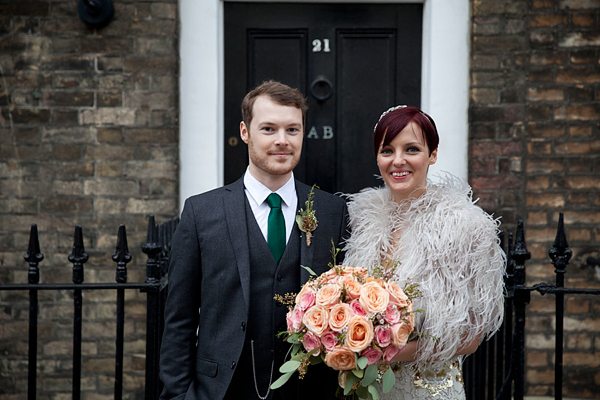 So, so many of our readers adore Jenny Packham gowns – you can see lots more of our real wedding brides in Jenny Packham gowns here. I wore Jenny Packham for my own wedding over 4 years ago now – I think I was always drawn to Jenny Packham's timeless elegant wedding dress designs – they will never age or look out of fashion.
A big thank you to photographer Brad Clark for allowing these images to be shared and huge thanks to lovely bride Holly for sharing details of her special day – thanks Holly!
As always, I'd love to hear your thoughts about this wedding below.
With much love,
Annabel
Photographer – Brad Clarke
Venue – Islington Town Hall + The Pheasant
Wedding Dress – Jenny Packham Eden in Platinum
Headpiece – Acacia Bridal Headdress II in Silver
Brides' shoes – Dove Grey Tilly shoes from Rachel Simpson
Grooms Suit – Ben Sherman Camden Fit suit in dark grey
Bridesmaids – Les Trois Soeurs + Forever 21 flat, jewelled pumps
Flowers – Grey on White
Cheese-Cake – La Fromagerie
Catering – The Pheasant
Hair  + Makeup – The Chapel is Islington