Those of you who will have already tuned in to Love My Dress this morning will have seen this beautiful cool and contemporary East London wedding, where the bride wears a perfectly fitting wedding dress, not unlike something you'd have seen gracing the petite frame of the ever chic and fashionable Jackie Onassis in the 1960's.
The designer of the dress was Alan Hannah – who is one half of one of the UK's leading bridal wear design brands, committed to designing and having every element of their bridal fashion produced right here in the UK.  We hugely admire than here at Love My Dress, and are proud to have Alan Hannah sponsor our wedding blog.
All Imagery Copyright (c) 2013, Alan Hannah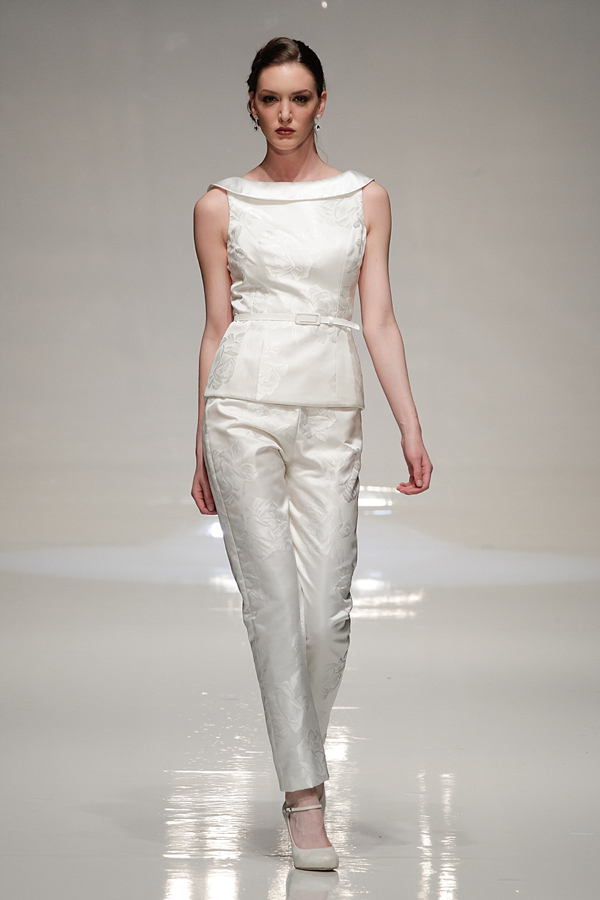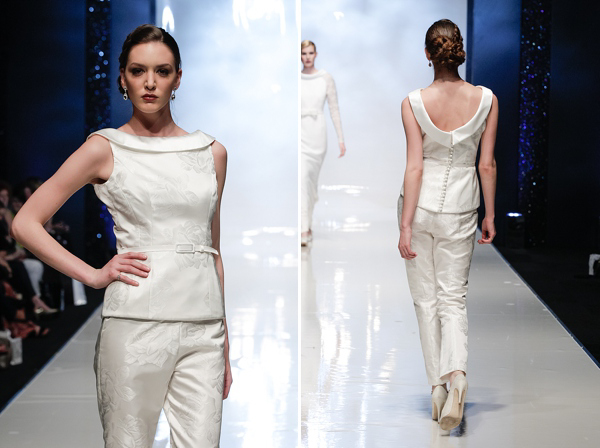 The Mitzi design from the Timeless Beauty 2014 collection by Alan Hannah
Last month, I was lucky enough to attend The White Gallery where I was able to preview a number of top bridal wear designers new collections before they hit the window displays of all the very best UK wedding boutiques over the next few months, and today, I'd like to
share some of the catwalk images of my favourite designs from the new 2014 Alan Hannah collection that
was showcased at the time.  The collection itself is called Timeless
Beauty and Alan and his designer wife Marguerite have taken inspiration
from a range of iconic fashion looks of the 20th century.
Perhaps
what I love about this new collection is that there are era references a-plenty, drawing design aesthetic from the 20's right through to the 70s.  From hints
of bohemian chic and high-collar ruffles, reminiscent of the Edwardian
style fashion that saw a renaissance in the 1970s, to 20's full feather
plume headpieces – a nod to Gatsby fever no doubt, and lots of chic,
60's inspired cleaner lines, daisy motifs and bows.  There was a decades
worth of fashion references within the collection and for that I liked
it very much indeed.
The show opened with this gloriously
floaty wedding cape design.  Will someone PLEASE get married wearing one
of these? It photographs so utterly beautifully.  Just imagine it
sitting atop of your bare shoulders, rippling gently in a warm spring/summer breeze…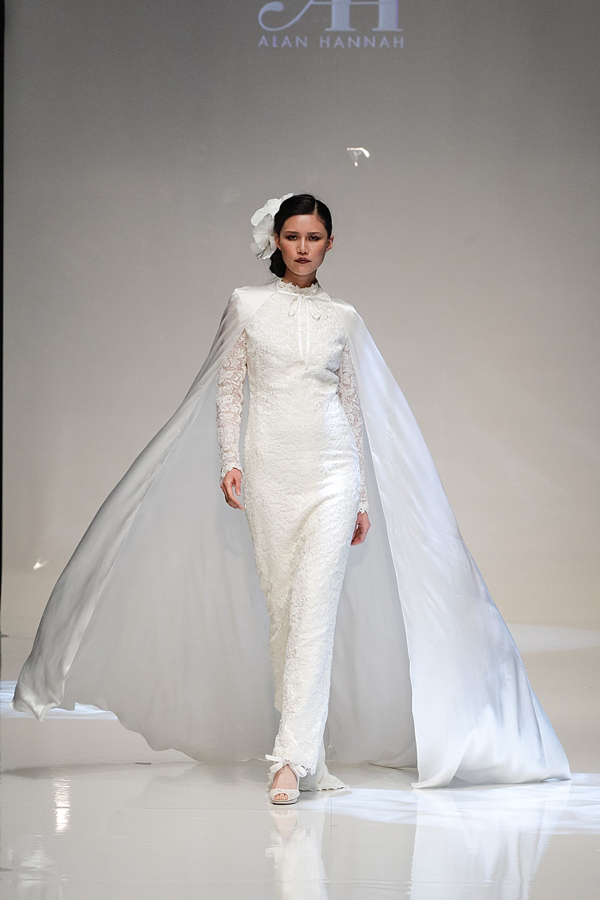 Gwyneth and Cape design from the Timeless Beauty 2014 collection by Alan Hannah
I observed two quite distinct and different looks on the catwalk. The Alan Hannah collection has some very clean and fashion forward silhouettes in silk duchesse and taffeta with beautiful and striking hand beaded neckline and shoulder detailing. Lace is used minimally and paired with matching silk satins in lovely demure colours: cream, silver and champagne on styles like Honour and Marlene.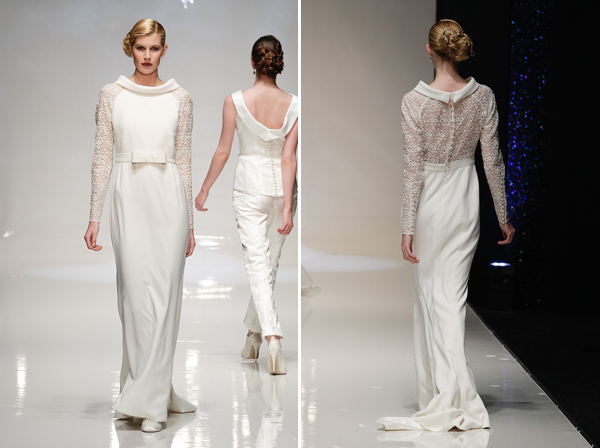 The Ingrid design from the Timeless Beauty 2014 collection by Alan Hannah
Another theme of the collection is sheer backs, styles like Gwyneth and Dietrich, inspired by the 1920's with spectacular beadwork which dazzles and creates a magical shimmering presence on the catwalk.  Guipure laces are prominent and have very 1940's feel on gowns like "Bacall" which we teamed with a beautiful cape in silk satin.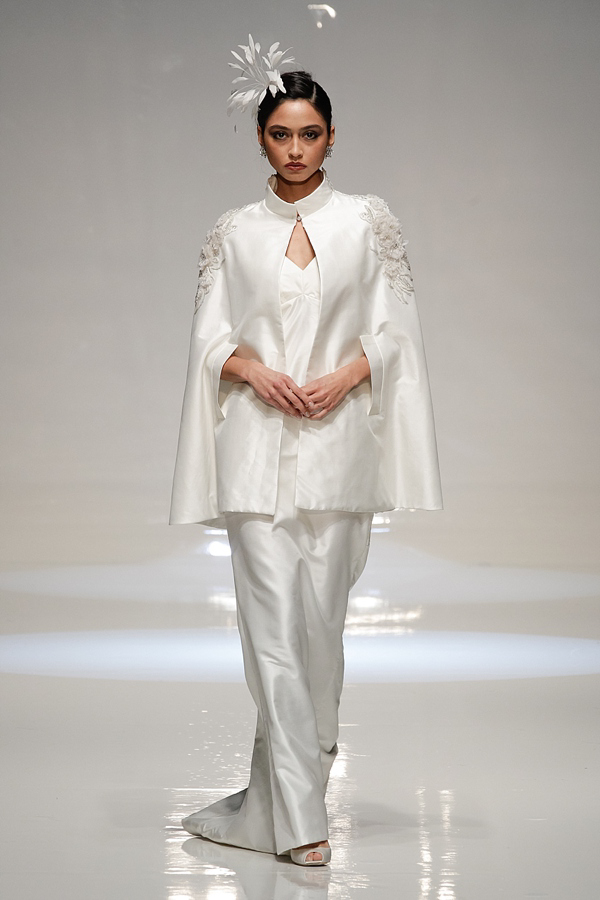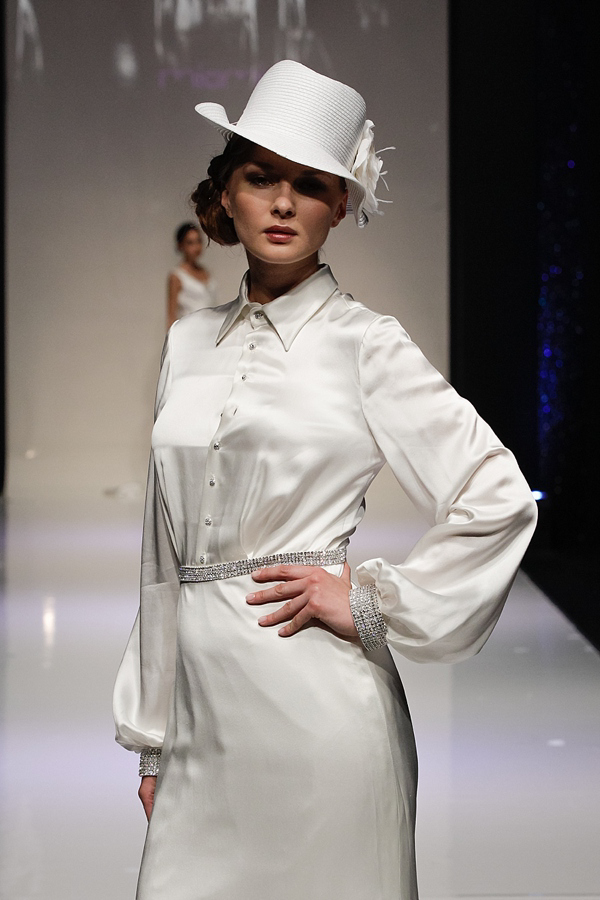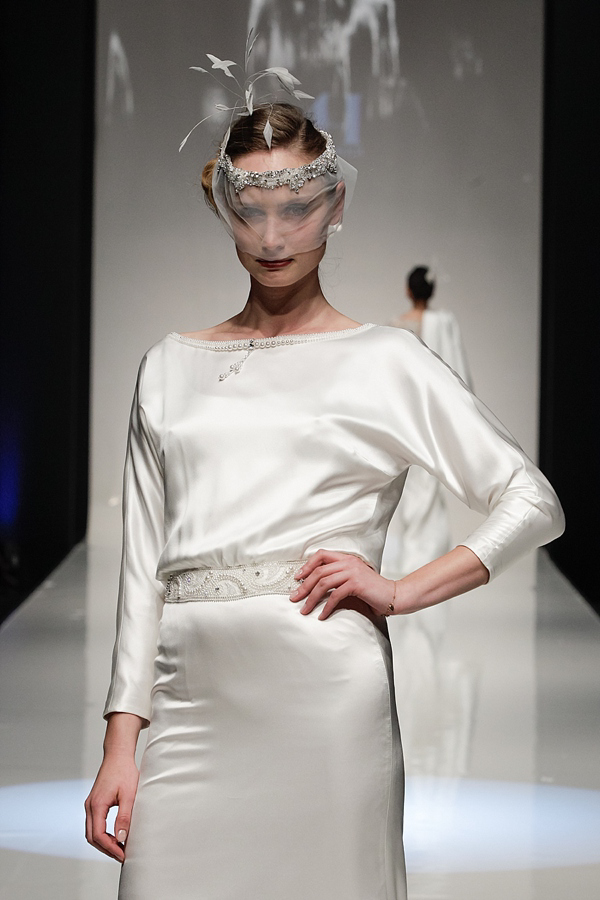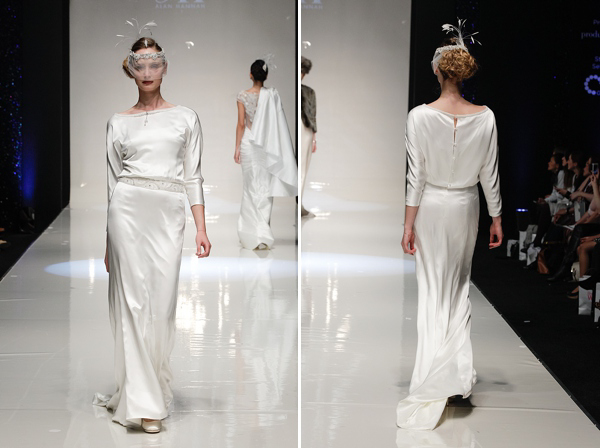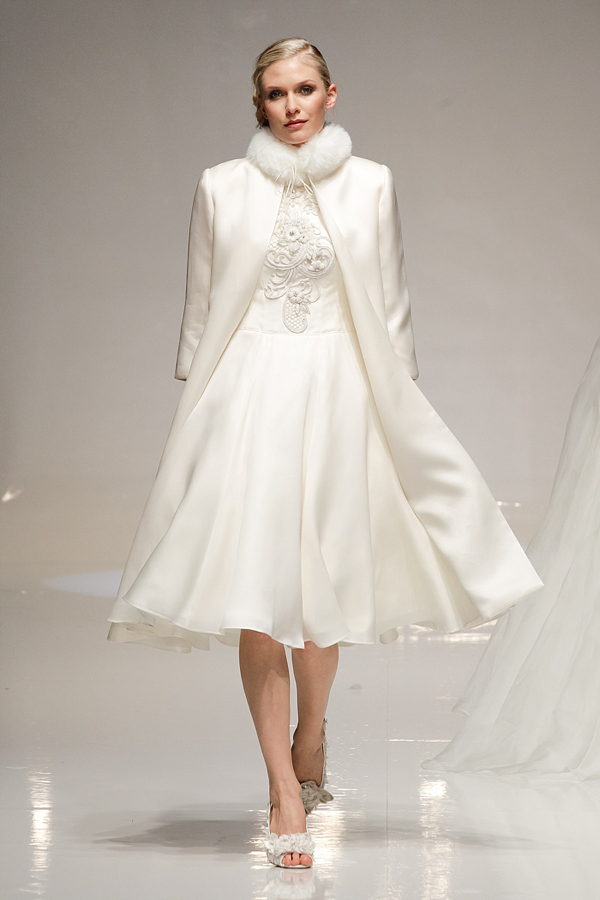 The second look I observed moved away from the cleaner, more glamorous lines and focussed on a more bohemian style.   Perhaps because the catwalk also included new gowns from the Alan Hannah sister brand MiaMia, which offers a 'slice of couture' at a more affordable and accessible price (£1100 – £1800) than the mainline Alan Hannah collection.
"For MiaMia we will build on the bohemian look of the previous collection but adding new fabrics and embellishments to our unstructured chiffon and organza. Dorothea (below) has a very Edwardian feel without being derivative as does Summer in soft silk Georgette with lovely delicate frilled detailing. The classic with a twist theme is also developed and expanded with unusual beadwork and laces such as on Blanche and Gwen.  MiaMia has grown up and gained a really loyal stockist base and we decided that this season it would share the fashion show with Alan Hannah giving both labels a real prominence and equal footing at White Gallery."
I think my favourite of the MiaMia designs was the Dorothea dress – I loved it for it's 70's and Edwardian inspired ruffles, beautiful…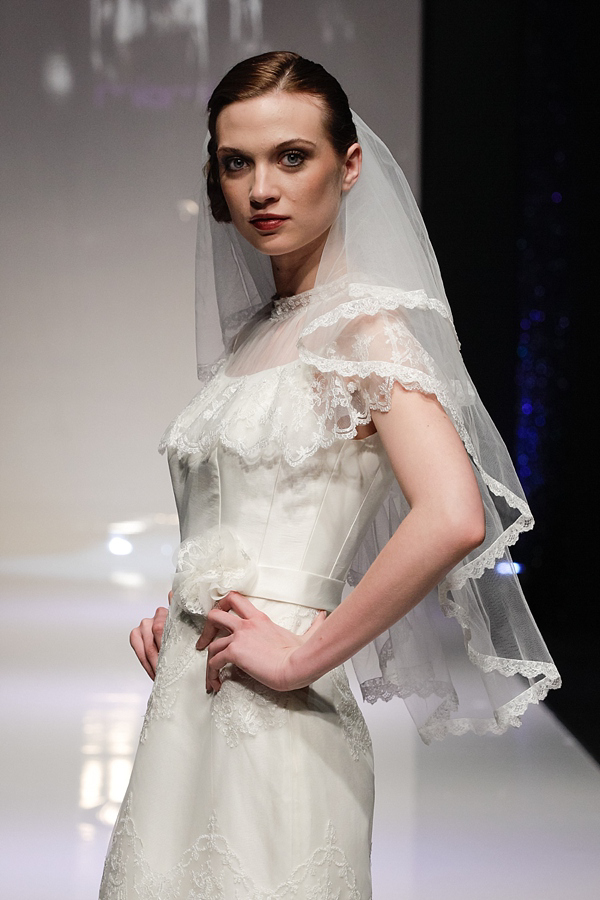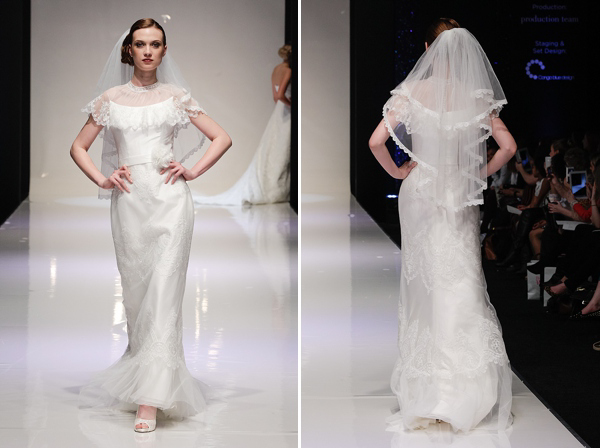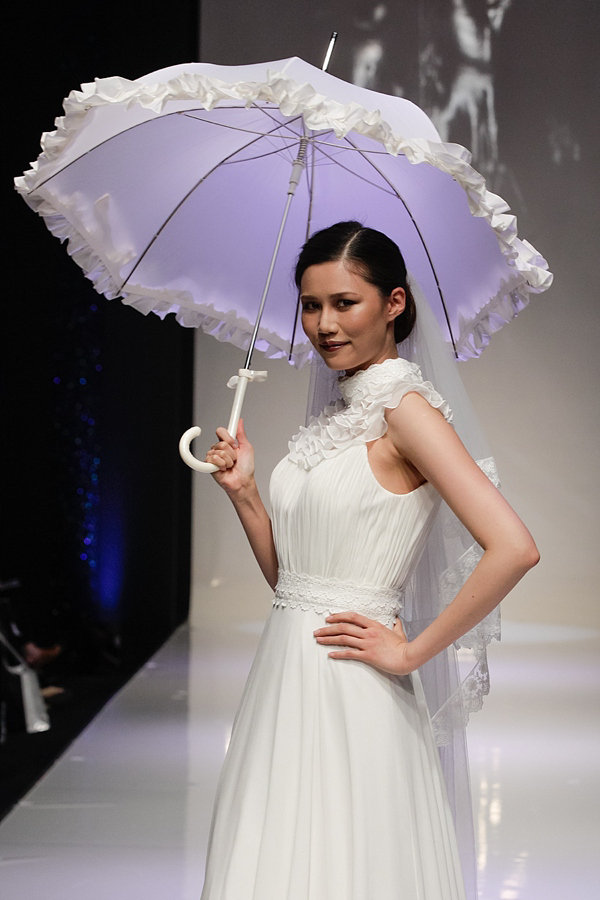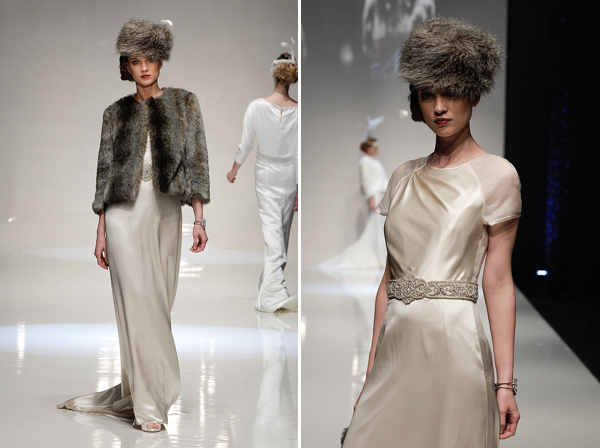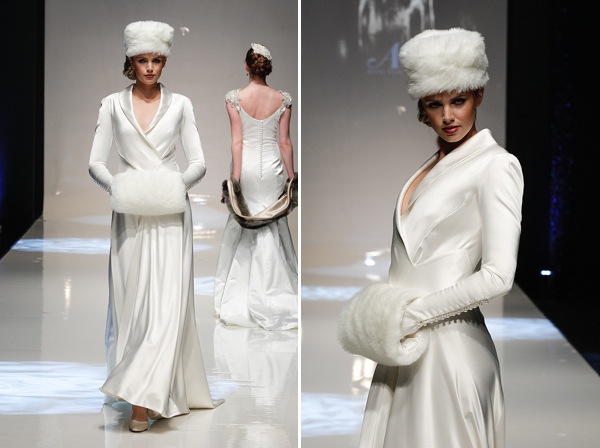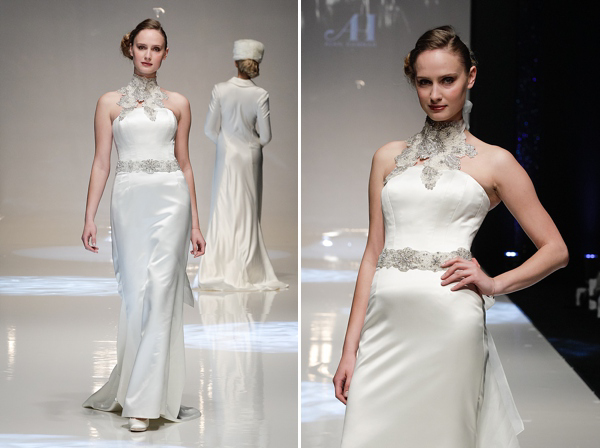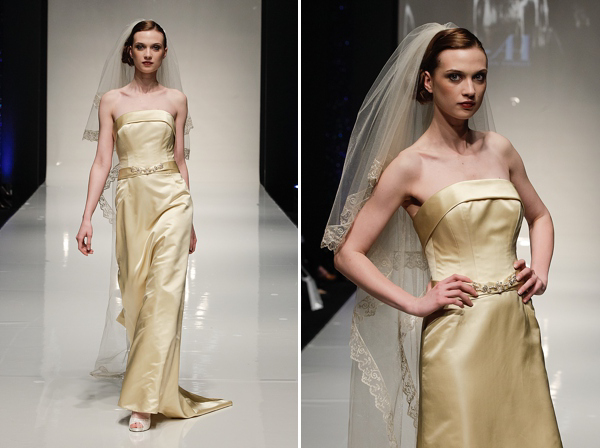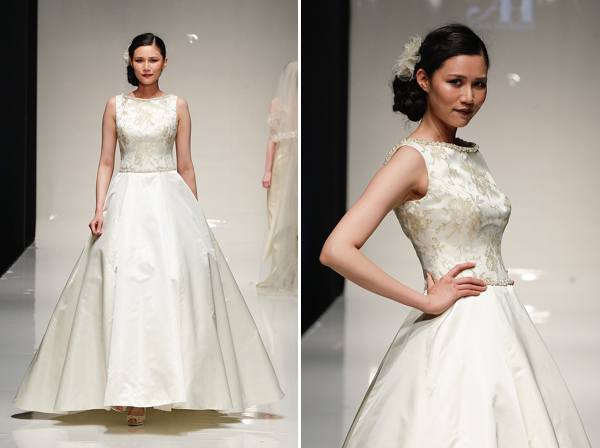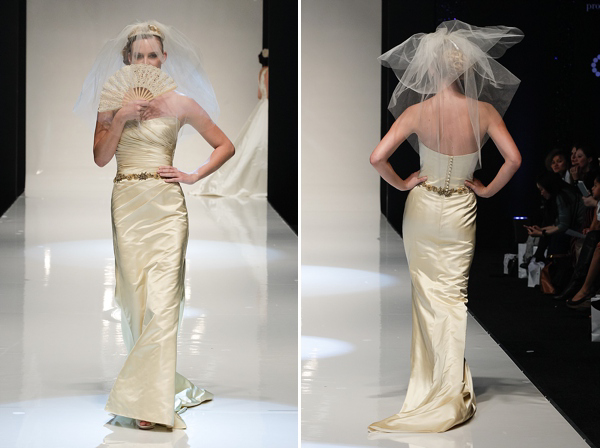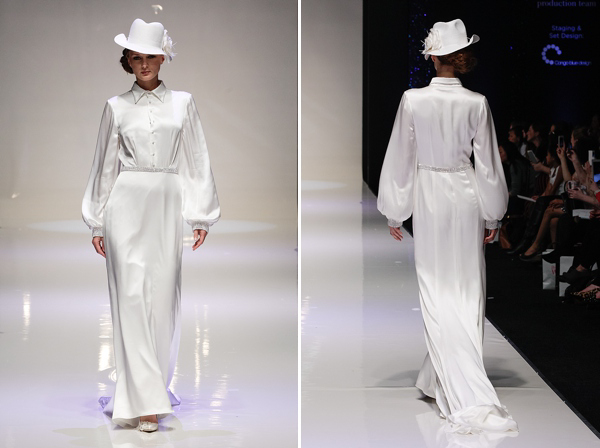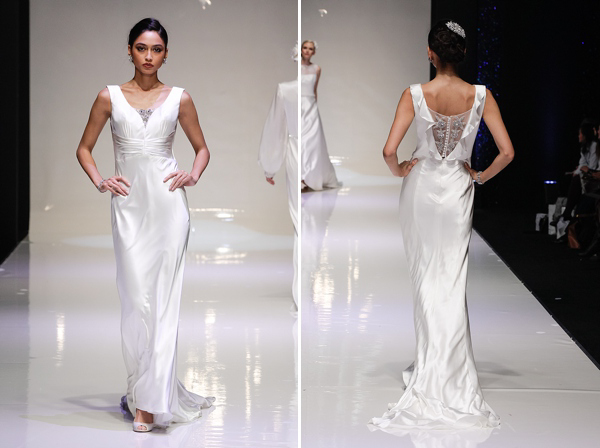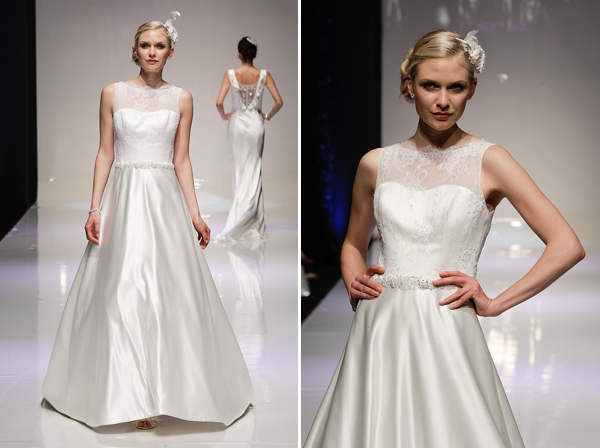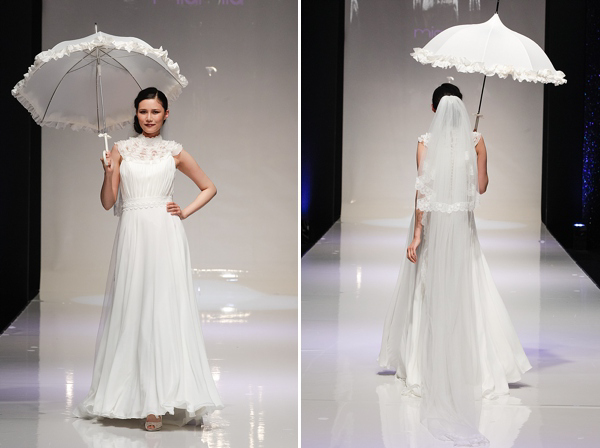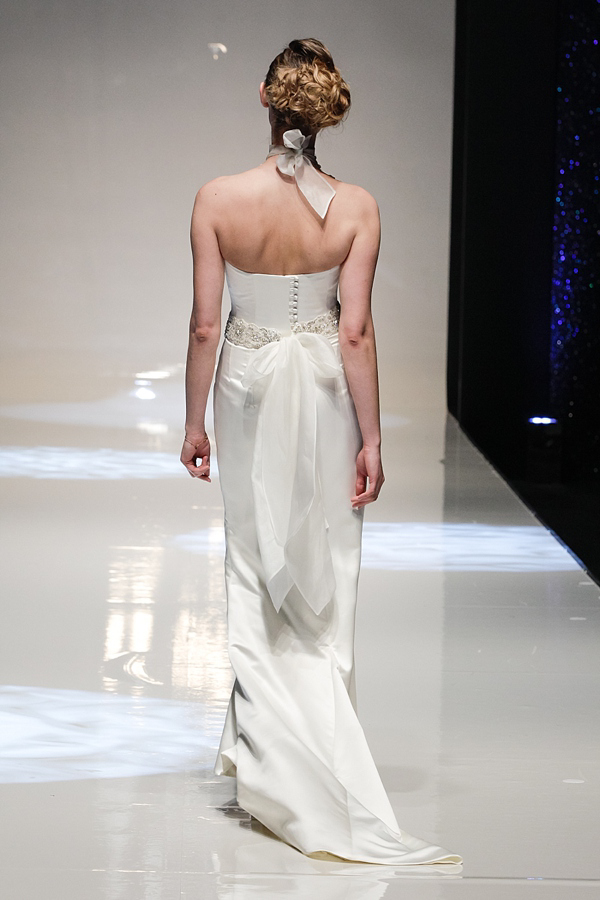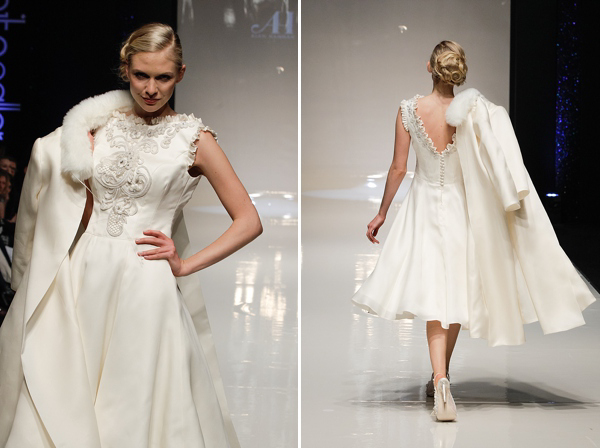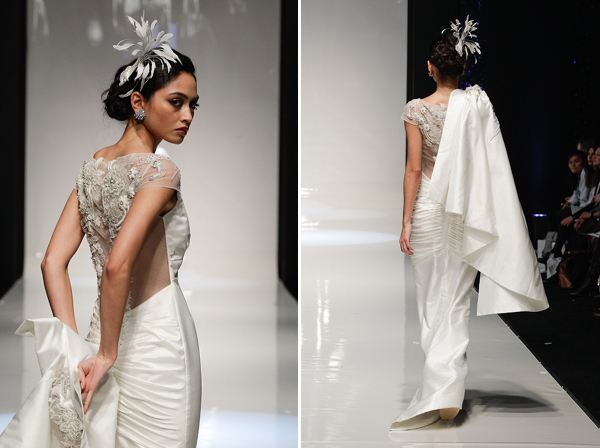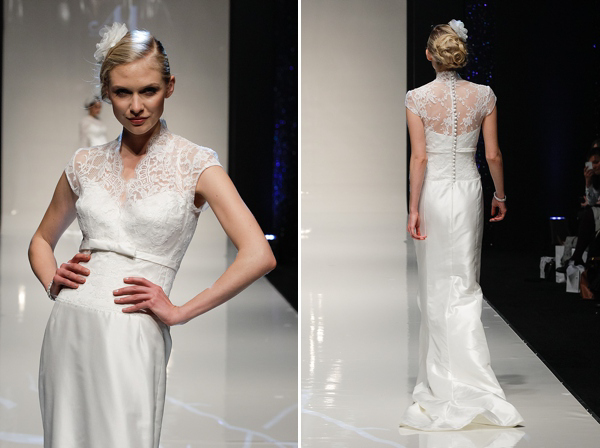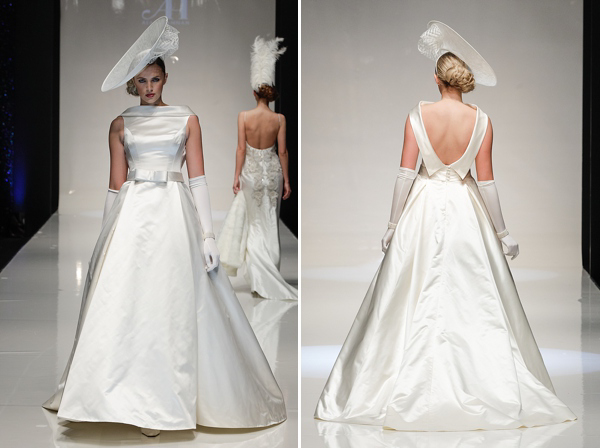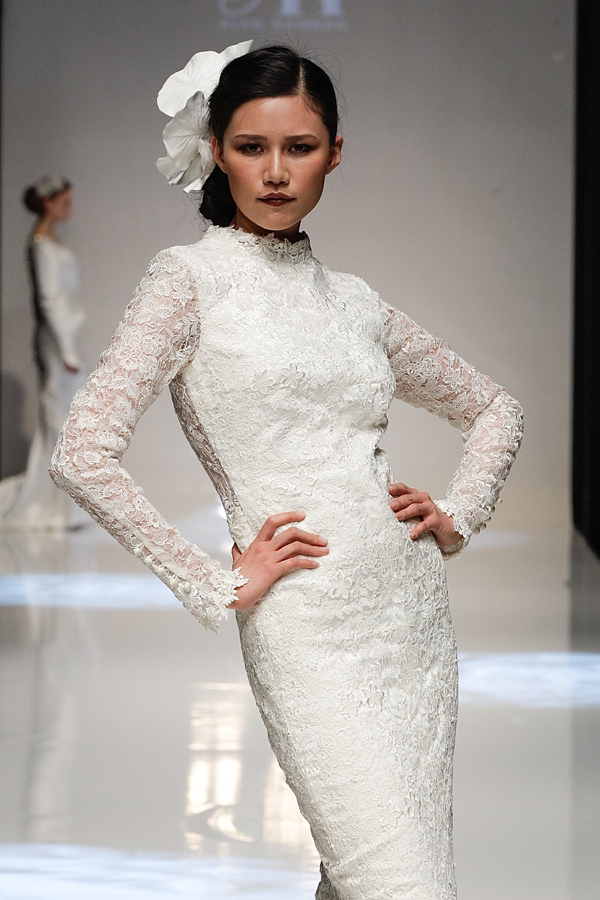 Brides, if you like what you see today, why don't you drop Alan Hannah a line to see where your nearest stockist is?
For further information, take a moment to visit the Alan Hannah and MiaMia websites.  You can also find Alan Hannah on Facebook and Twitter and a list of stockists is available here.
With much love,
Annabel