A couple of weeks ago now, I attended The White Gallery (my blog post).   On the same day I was in London, I also popped by Chelsea along with my friend and photographer Naomi Kenton, to visit the delectable Emmy Scarterfield, the designer behind Emmy Shoes, who had joined forces with the Belle & Bunty, and Maids To Measure girls to host a small pop up bridal showcase event.
Set in a chic and rather trendy Chelsea residential flat, this gorgeous little event was a welcome reprieve for Naomi and II, after a day spent on our feet trying to capture as much of the beautiful designs on show back at The White Gallery as we could.
As we arrived at the venue, the door to an unsuspecting entrance down the side of a quiet mews swung open to reveal the huge welcoming smile of Sinclair Sellers, one half of the design duo behind Maids To Measure and after welcoming round of hugs and kisses, we were ushered upstairs to view the designs that had been put on display and take a pew on one of the most comfortable sofas in the world.   Didn't actually want to get up off it when we had to leave, but that's another story.
Love My Dress Wedding Blog – Photography Copyright (c) 2013, Naomi Kenton
The room spacious, light and airy – perfect for showcasing the divine wedding shoes on display by Emmy Shoes in a sea of glorious natural light.
I'll be honest with you, Emmy Shoes aren't necessarily going to be your most conservative of wedding day investments.  A pair of Emmy bespoke wedding shoes will set you back around £400-£700 a pair. BUT, you're investing in a pair of the most beautifully hand-crafted heels (made by some of the
very best shoesmiths in the world) that will last for life.  The attention to detail with Emmy Shoes is exquisite and unmatched –
the craftsmanship is out of this world. And I can speak from personal experience and say they are very, very comfortable.  I wore a 4 inch pair of Emmy shoes on my wedding day and my feet loved them.
One lucky reader won a pair of these gorgeous Francesca shoes last month.  How beautiful are these?
See what I mean by 'attention to detail' and exquisite craftsmanship?
Emmy herself has been hard at work creating new designs for her discerning clients, which include this very glamorous pair of 1920s inspired gold metallic heels that feature an eye-catching and rather show-stopping chandelier detail across the T-bar…
She has also been investing time in to researching and working with colour. I LOVE this particular design – they'd look as fabulous peeping from beneath a beautiful floaty wedding gown as they would teamed with a pair of skinny jeans and the colours really work for me – Summery and lovely.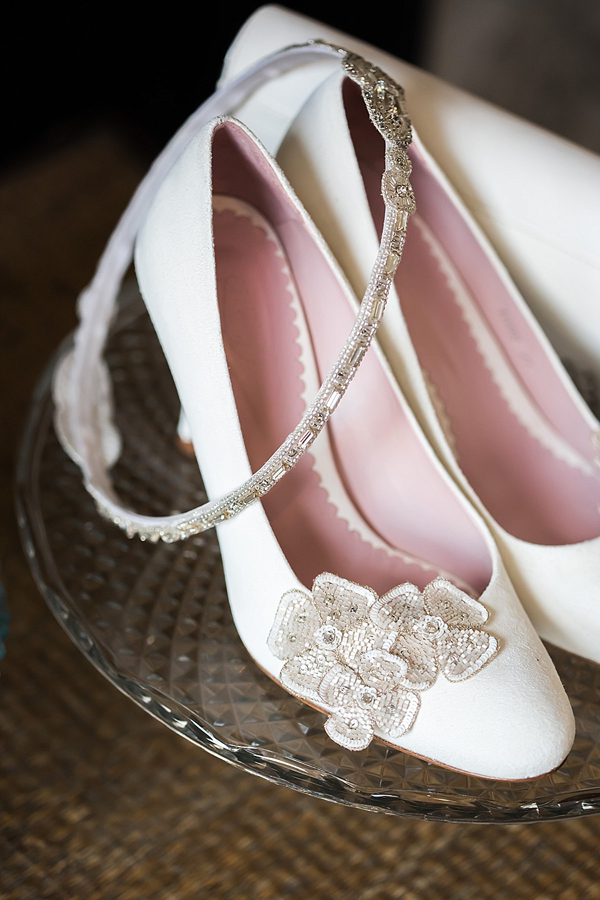 Of course, Emmy isn't just renowned for her shoe designs, she also offers a range of bridal hair accessories and bags.  These pretty hair prins have been designed to match some of the detail and design motifs on Emmy shoes and are just so pretty…
After Naomi and I had swooned over Emmys drop-dead-gorgeous shoes, we focussed our attendion on the gowns gracing the mannequins further over in the same room.
The core aesthetic of Belle & Bunty is understated elegance.  Dress designs are inspired by the best of bygone eras, and mix vintage glamour with modern and playful, which makes the appeal of these dresses really attractive to the modern day bride – and perfect for the Love My
Dress reader!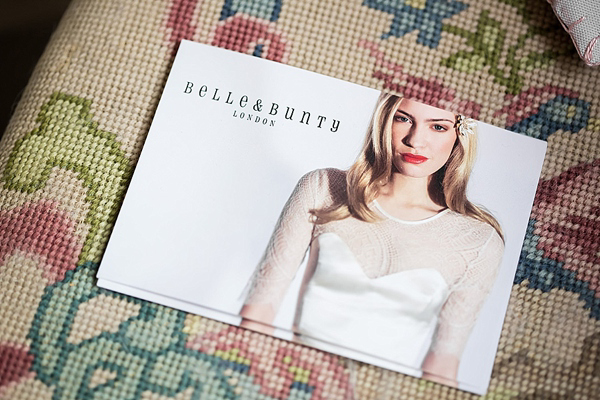 I really love the Belle & Bunty girls.  Hannah and
Alice are a fun pair to be around, and they know a thing or two
about how to create a very flattering frock.   This dynamic design duo
have introduced some beautiful new silhouettes and colours in to the
Belle & Bunty range that I think you will love – they include this
gorgeous peach tone – a gorgeous colour for a bride looking for a
non-white wedding dress or a glamorous gown for her maids.
You can take a look at our real weddings where the brides (or in some instances, the bridesmaids) are looking glamorous in a Belle & Bunty gown here.
I really adore this deep teal colour too – would any of you be brave enough to wear this on your wedding day – FABulous choice of bridesmaid colour if not.
Finally we also got to spend time with the very lovely Sinclair of Maids To Measure, who was very busy showing clients through designs, so we were unable to take as many photographs as we'd have liked, but I was pretty smitten with the long sleeved navy blue number below. It reminded me of the dress I wore for my book launch back in April and is one of my absolute favourite colours (can't beat a navy blue dress with gold shoes and accessories – beautiful).
Maids To Measure was set up to offer a bespoke and affordable design service for bridesmaids dresses – gowns can be ordered either online or designed from scratch by appointment. I love the idea of getting your bridesmaids together to create a dress in a shape that will really fit and flatter them and the girls at Maids To Measure provide the opporutnity for this to be a fun and memorable experience over a glass of bubbly. The best part is that the gowns only cost £285 – and that includes fitting and alterations.  That's a little bit of London luxury right there for a very reasonable price indeed.
So, this morning, I'd like to encourage you to visit the websites of Emmy Shoes, Belle & Bunty and Maids To Measure especially if you are just setting out on your wedding planning journey and looking for beautiful wedding shoes, bridesmaids dresses and the all important gown.
Take times to see how these other brides worked the 'young designer' style too.
* Emmy Shoes on Love My Dress
* Belle & Bunty on Love My Dress
* Maids to Measure on Love My Dress
Back soon with more wedding day inspiration for you – have a lovely morning.
Annabel