Good morning gorgeous people! We absolutely love to kick start your week with a gorgeous wedding, and there was only one choice which wedding it had to be this week – the nuptials of Barry and Michelle, who tied the knot on 13th April 2013, at Upwaltham Barns in Chichester.
Love My Dress Wedding Blog – Photography Copyright (c) 2013, Anna Rosell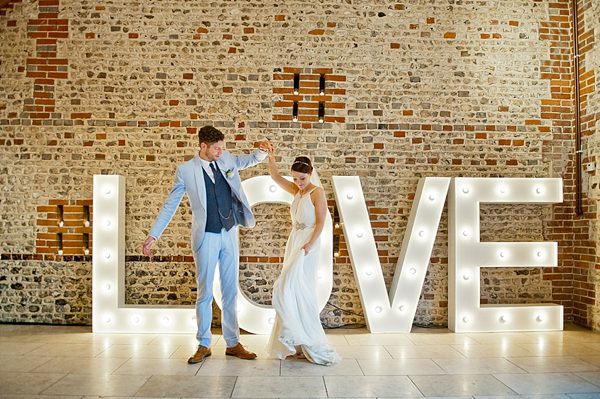 "Barry worked at a TV production company with my best friend (and future bridesmaid) Lauren.  He was tall, northern and handsome in a nerdy kind of way, and after chatting and flirting at several events he asked me out.  He left it until his leaving do, so he really was cutting it fine!  When we started dating it all felt really natural.
Neither of us were looking for a relationship, it just fell into place without trying which was refreshing.  We spent four consecutive days together before being separated for the Christmas break.  Before we went our separate ways Barry gave me the perfect Christmas gift, something every girl dreams of a fruit and nut Toblerone."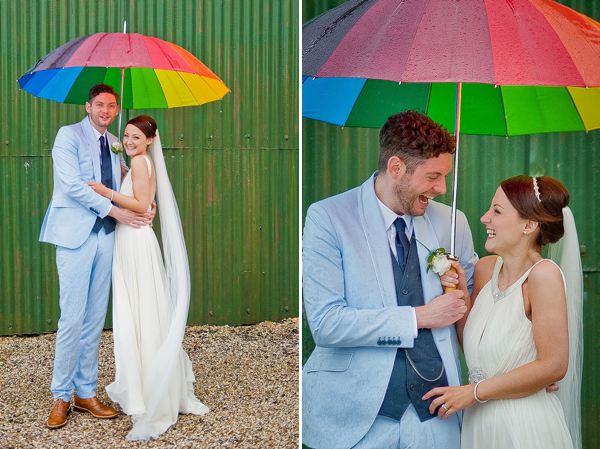 "Three years later, after a few too many wines on Christmas Eve, I was berating Barry for his lack of a proposal.  How long was I supposed to wait?  Well, it turned out only a few hours.  On Christmas morning, before I'd even had a chance to reach for the Alka Seltzer, he got down on one knee and revealed a vintage-inspired diamond ring he'd kept hidden under the tree.
 We were engaged for sixteen months, which was enough time to save and do all the required planning… but only just.  There were times when it felt like the deadline was fast approaching, but a big push with just over a month to go meant that by the time the big day came we were calm and prepared."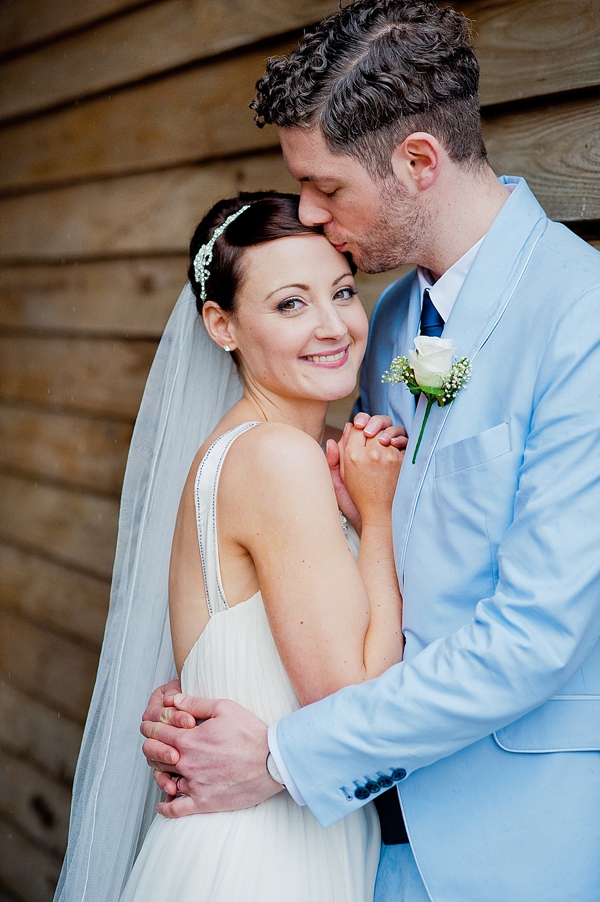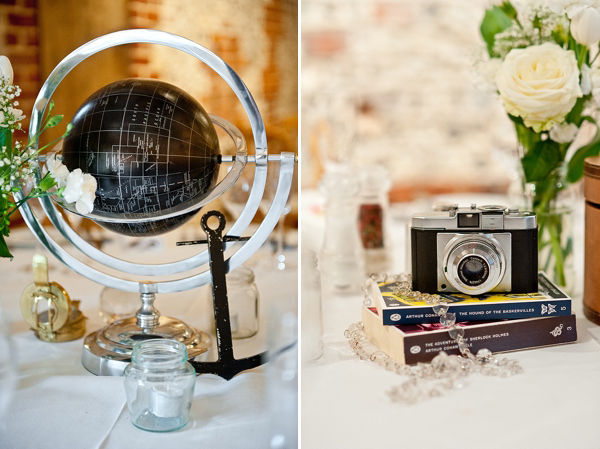 "We didn't want a theme or one particular colour so we decided on all white flowers so we could go crazy with a mixture of other colourful statements. From day one Barry was adamant he wanted to wear a bespoke pastel blue suit and I was pretty set on having the bridesmaids in something bold. When I found the red jumpsuits, and the girls agreed to wear them, I literally did a happy dance!"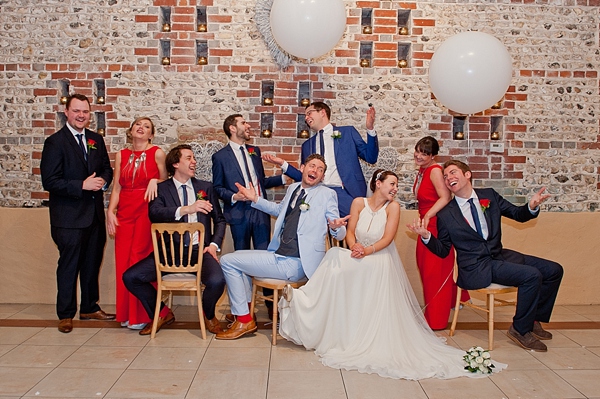 "All of the props we used on the tables were things that we had in our flat. A mixture of stuff we brought before we got together and things that we have purchased together during our relationship. Everything was personal and had a touch of sentiment attached to it."
"Barry and I are particularly fond of the 1920's era and, although a slightly odd pairing, we love modern day East London/New York. This pretty much defines us both in a nut shell.
 I wanted the day to feel glamorous, hence the decision to bring in lots of vintage touches like my dress, Barry's accessories and our centre pieces on the tables, but we also wanted to remain true to ourselves and felt it was important to pull in the modern elements, such as the huge industrial looking L.O.V.E letters by Vowed and Amazed, Barry's suit (ὰ la Jamie Hince) and the magnetic name favours."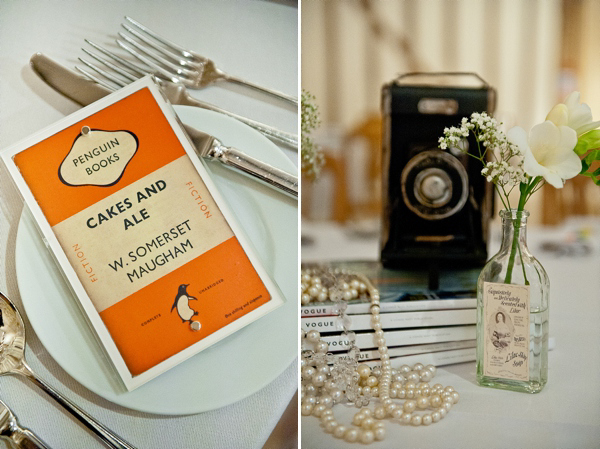 "Over the course of a year I tried on a number of different styles, even ones I wasn't particularly keen on but was suggested by the ladies in the bridal shops. People kept telling me to have an open mind and to be honest, I agree. I think it's really important to get out of your comfort zone, even if only briefly, and try something that's not your typical style as you might surprise yourself.
 I very nearly brought a gorgeous Stephanie Allin fish tail dress, something that's not my usual type of thing at all. I was surprised by how much I liked my figure in a dress so fitted. Eventually I decided against it because I could just about stand up, let alone sit down or dance. For some brides that really doesn't matter but for me, it's all about the party and being able to dance like a crazy lady!
 Ultimately I kept coming back to the idea of wearing a backless dress. Every time I tried one on, I felt really elegant and ladylike.  I probably tried on about 10 different variations but either loved the front or the back, never both until I walked into the Jenny Packham showroom. My sister spotted the Marie Louise, which was facing the opposite way, in the far corner of the room. I immediately fell in love with the back and then all over again with the front. When I put it on and looked in the mirror – I could absolutely envisage Barry standing next to me – that and my Mum and sister crying their eyes out confirmed that this was definitely the dress for me."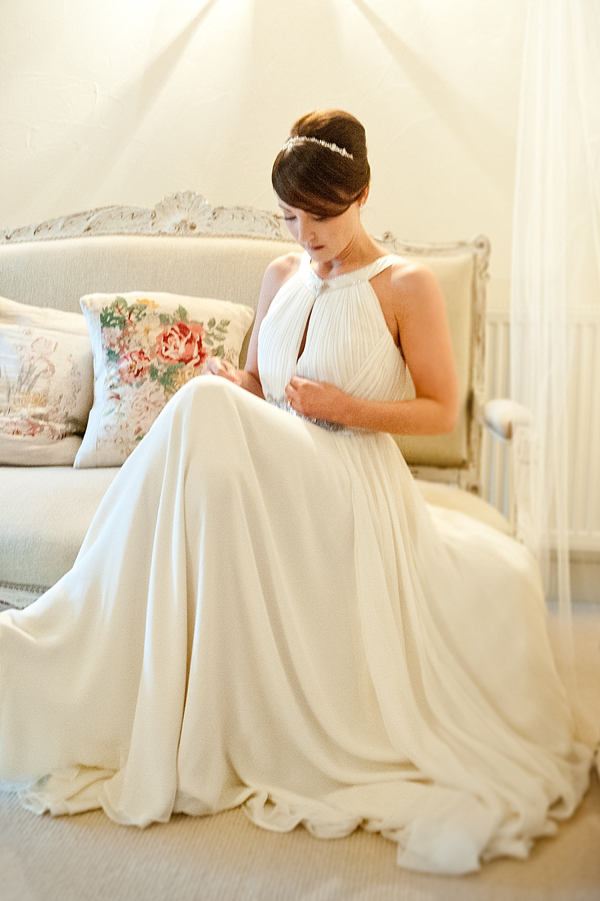 "Our wedding favours doubled up as guest names on the tables. They were magnetic letters from EBay and Hamleys. Lots of fun was had in making silly words amongst the guests during dinner. A great ice-breaker for those who didn't know one another."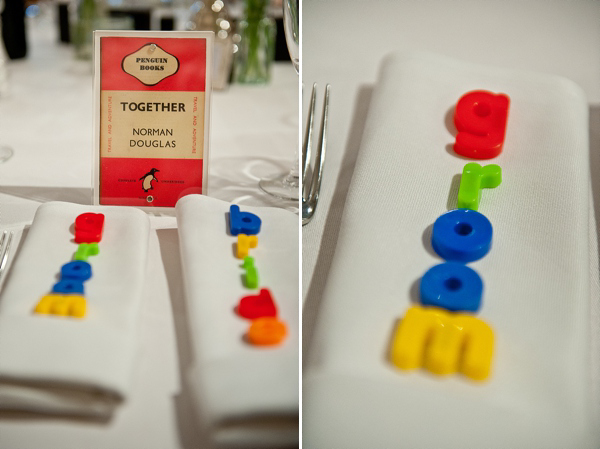 "After reading a feature on Love My Dress, I decided that I wanted to attempt to play around with our vows. Barry's great with words so I knew he'd be up for putting something unique together. We decided on a mash up of typical vows and a few things that resonated with us.
 'Barry: I promise to love you endlessly without condition. To comfort you when things are uncertain. To be generous when times are lean. To respect and cherish you and to be faithful always. These promises I make to you, for the rest of my life.' 
 'Michelle: I promise to give you my love and friendship – without envy, without fear, without condition, without end. To care for you with love and patience. To respect and cherish you and to be faithful always. These promises I make to you, for the rest of my life.'"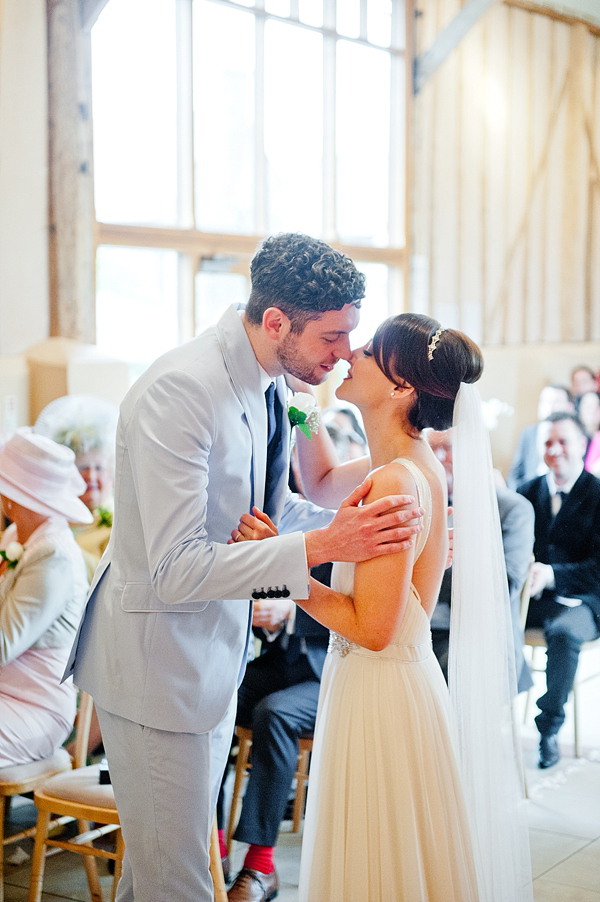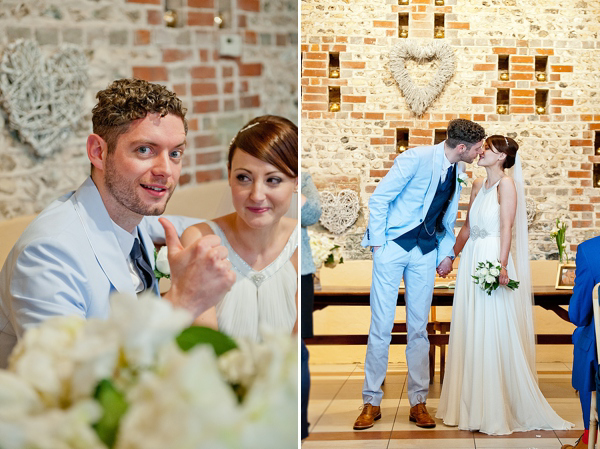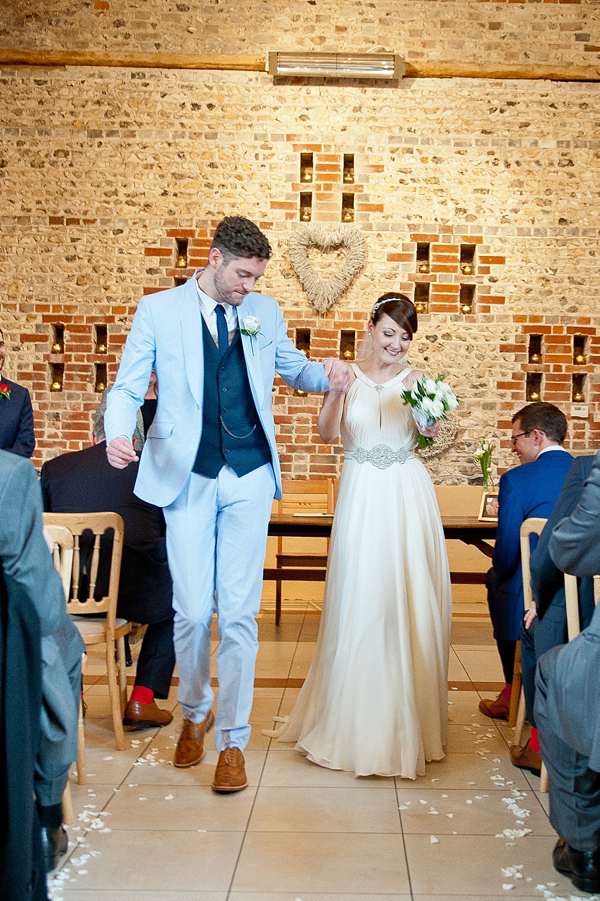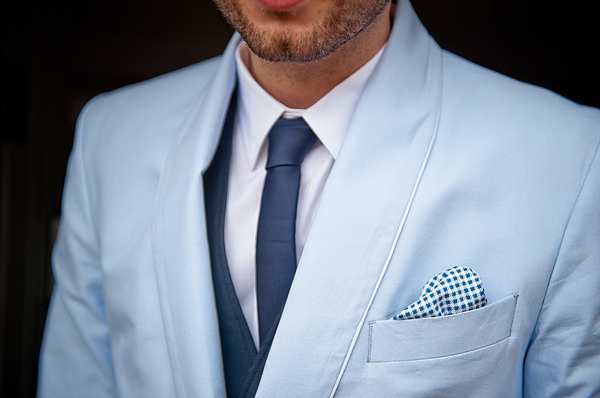 "Barry was as excited about his Diverso suit suit as I was about my dress!  He's unafraid of embracing something unique and wanted to go for blue. Disappointingly, we found a lot of bespoke tailors were quite old-fashioned and business-like, but Diverso had the right kind of geek-chic cut we were looking for.  Their detail, like the piping and the pocket square, really added a vintage touch."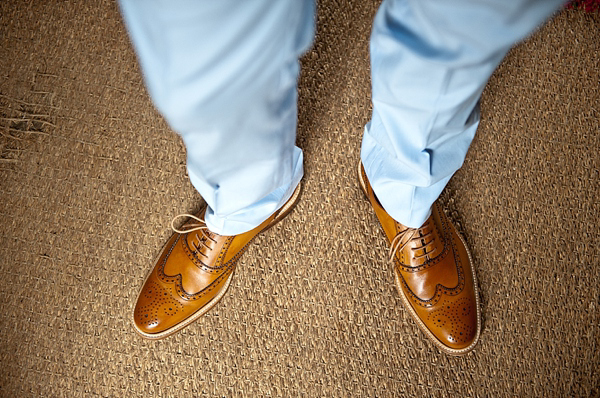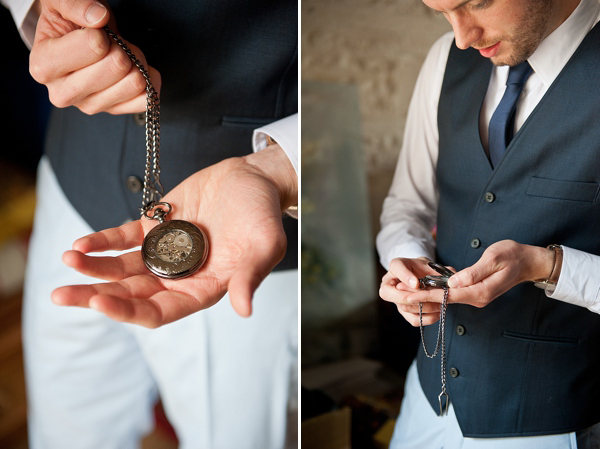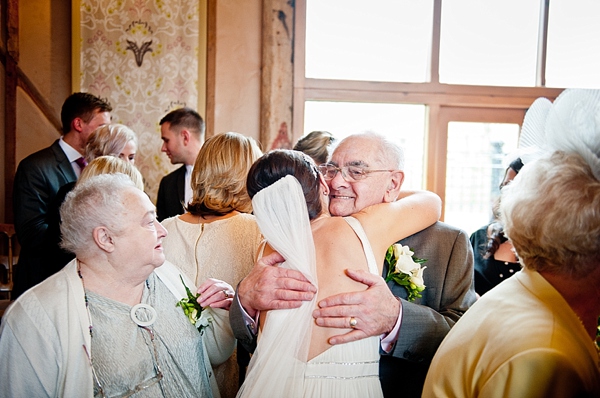 "Our florist, Spriggs, were recommended to us by the venue. I was really impressed by the lovely Samantha. She was honest about my ideas and helped me keep costs to a minimum.  They sourced and delivered all of our flowers ready for us to pop into vases and jars the day before the wedding."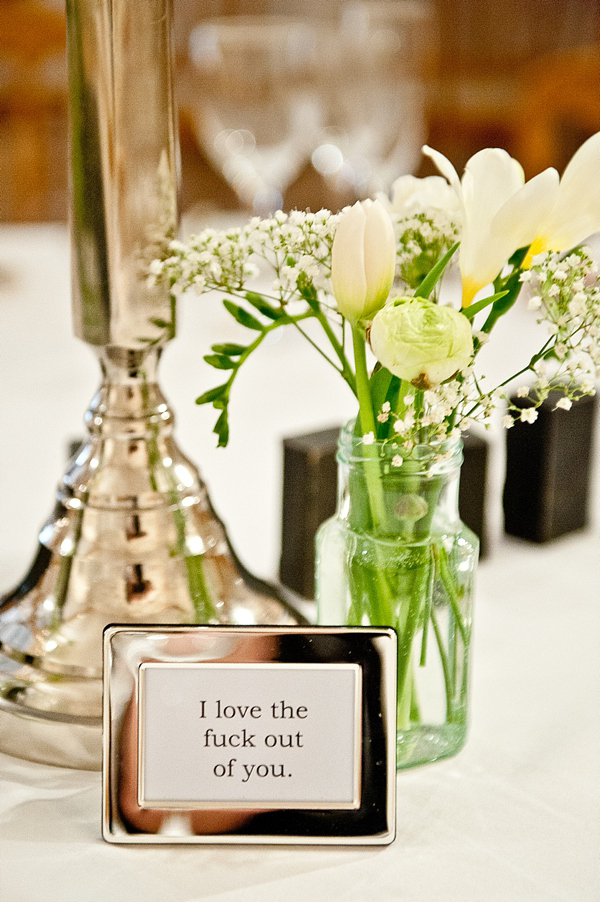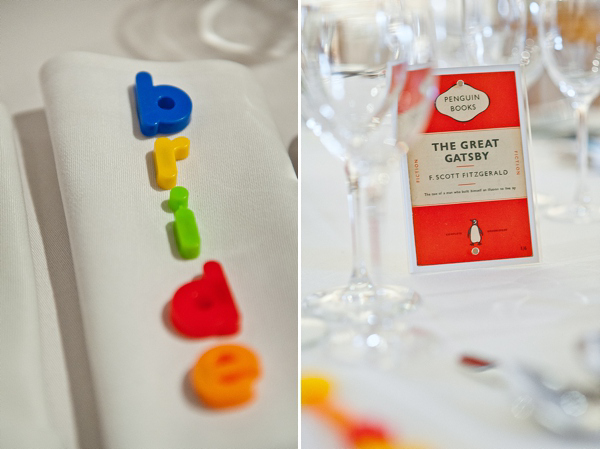 "I was lucky enough to bag a golden ticket to the Jimmy Choo sample sale so I brought the two bridesmaids little key purses as their gifts. They loved them!"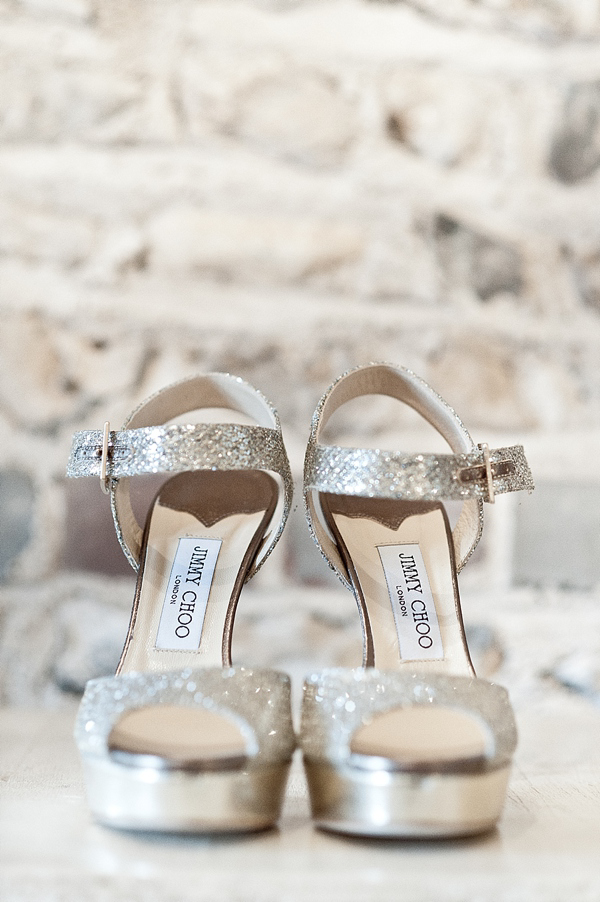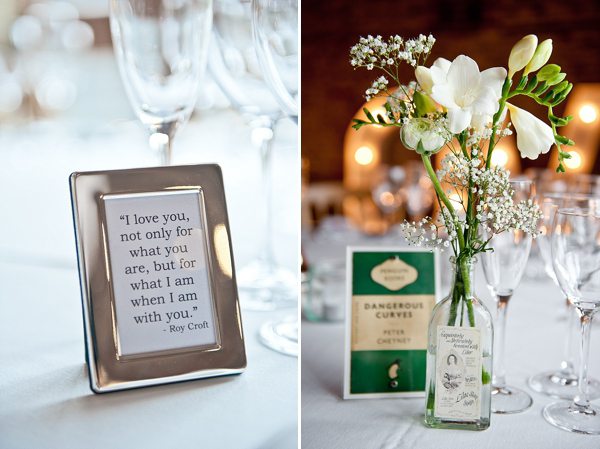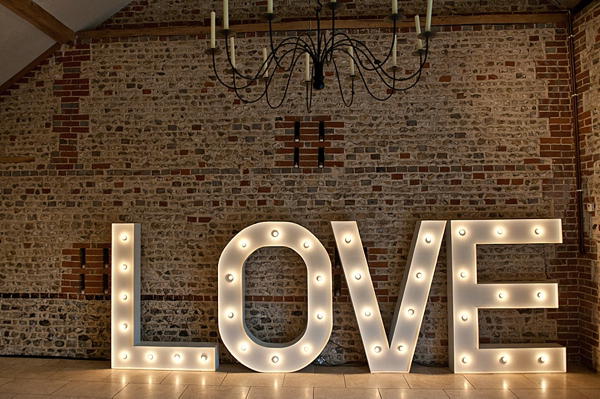 "We chose the wonderful Anna Rosell as our wedding photographer. A few years ago Anna photographed me for a vintage inspired shoot so I felt relaxed around her. Anna has also photographed a few friends' weddings so we knew she'd be awesome."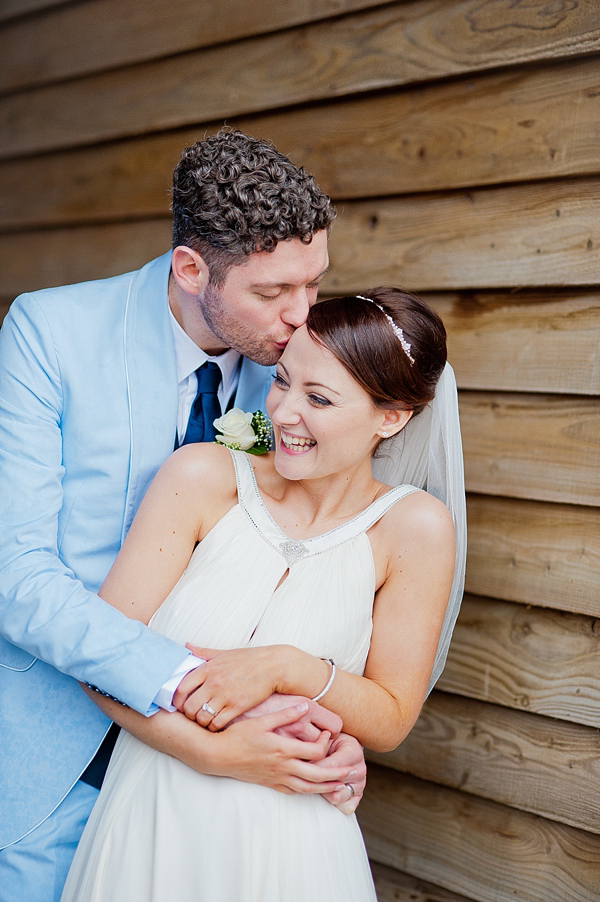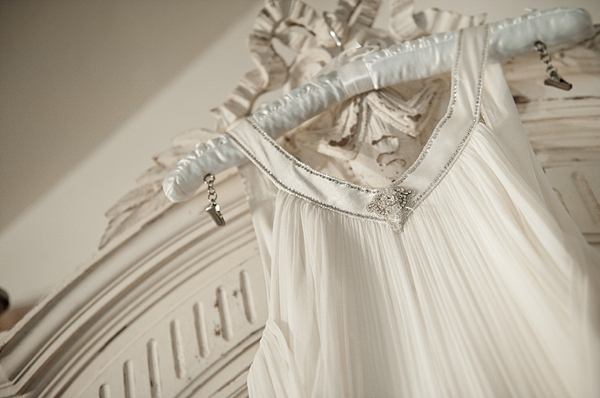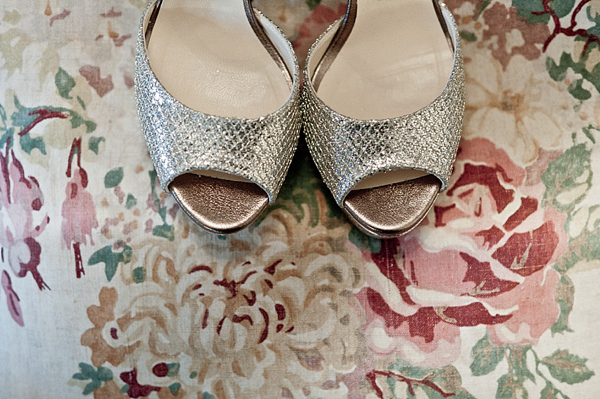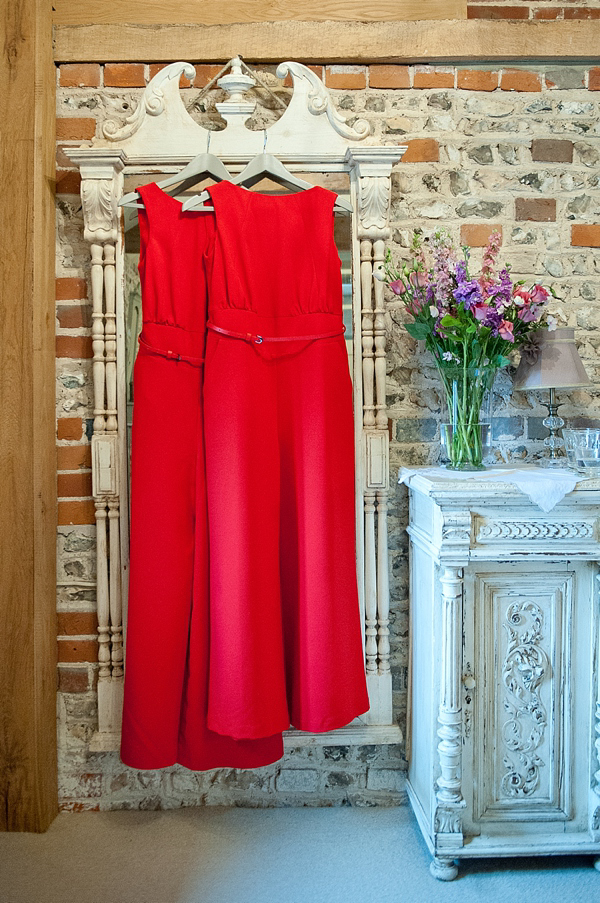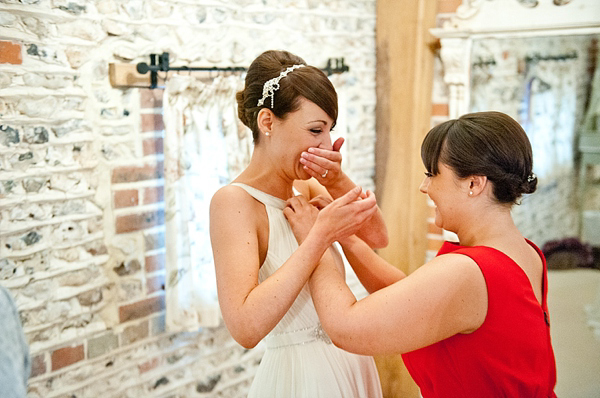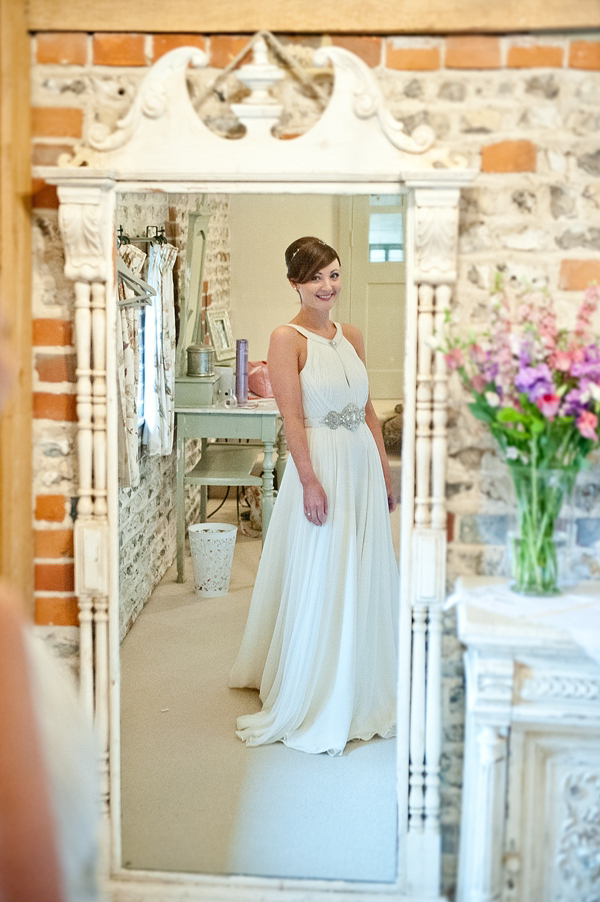 "My friend Beth specialises in vintage hair and make-up. I cannot recommend her enough – she's amazing and such a lovely lady."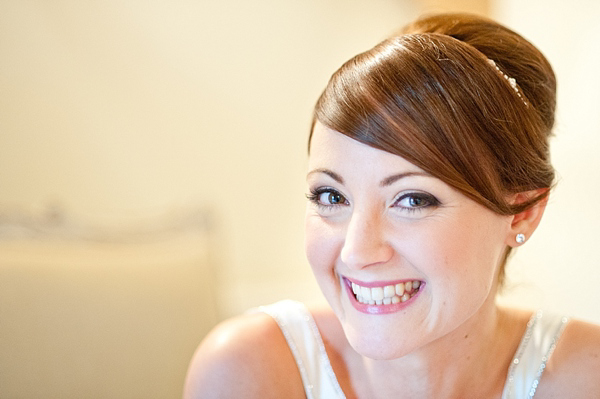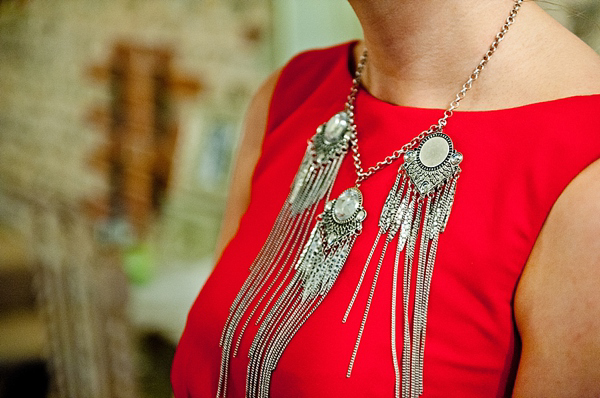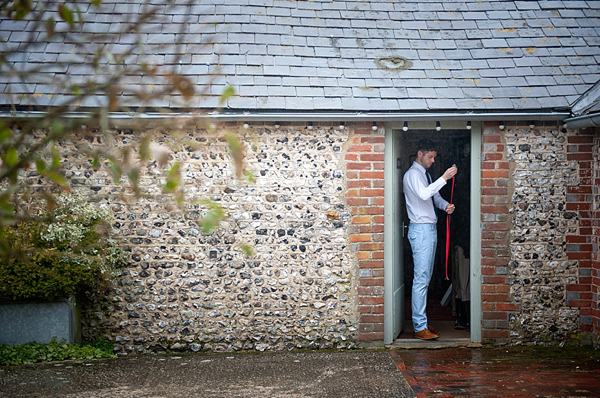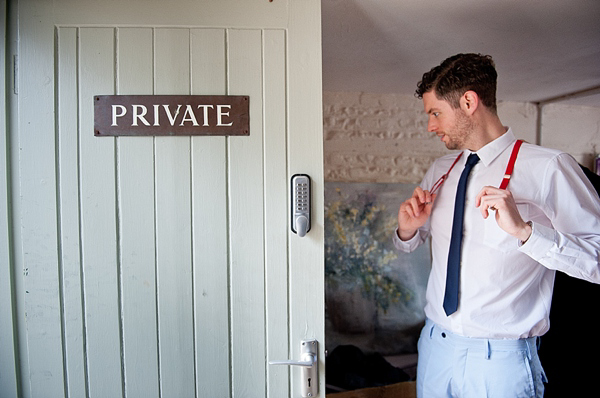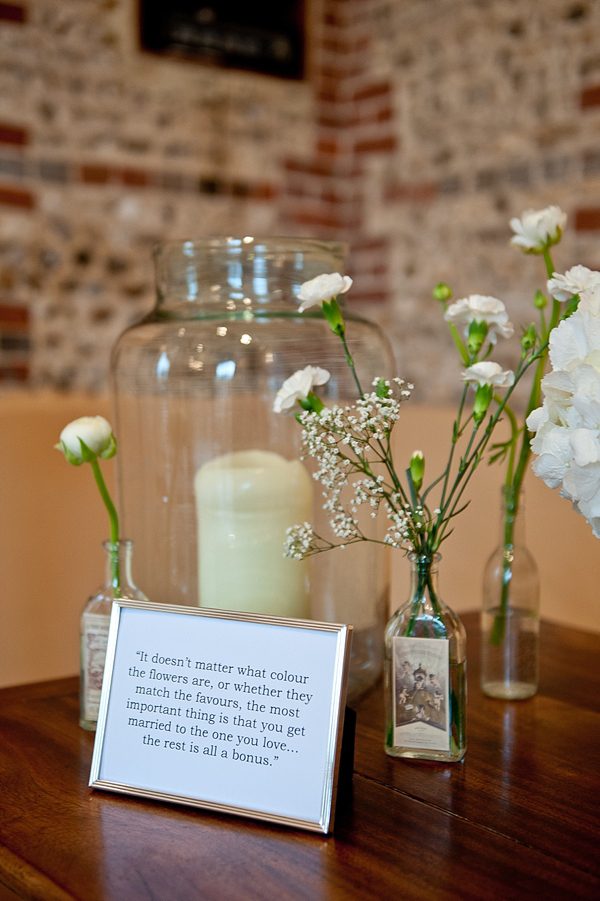 "We wanted our friends to leave the kids behind and make a weekend of it, so we purposely chose a venue that was set in the beautiful West Sussex countryside.  Upwaltham Barns is based round a beautiful courtyard, making it nice and compact.  Our guests didn't have to travel very far as they went between the elegant ceremony barn, the striking party barn, the cosy bar area (complete with log fire) and the Moroccan snug.
It offered the right mix of country beauty, but with enough freedom for us to throw in a few touches that represented our East London taste."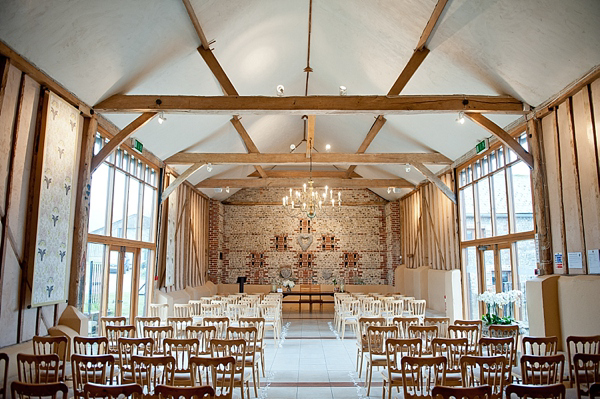 "Having a steel pan band was in fact one of our first ideas. My sister found a trio that played my ultimate fave – the Rocky theme tune. Once I knew that, they were booked asap!"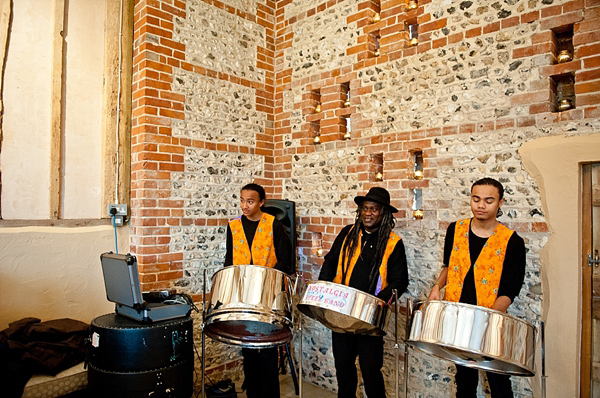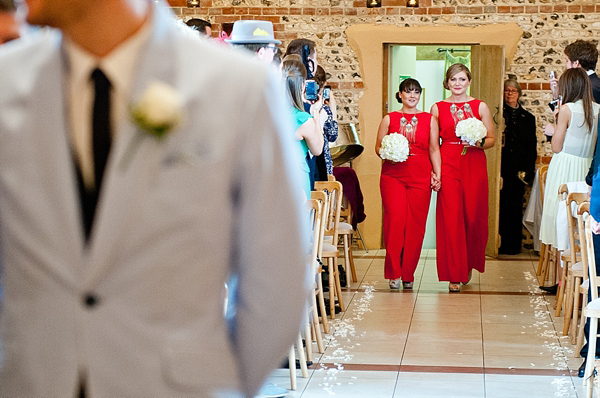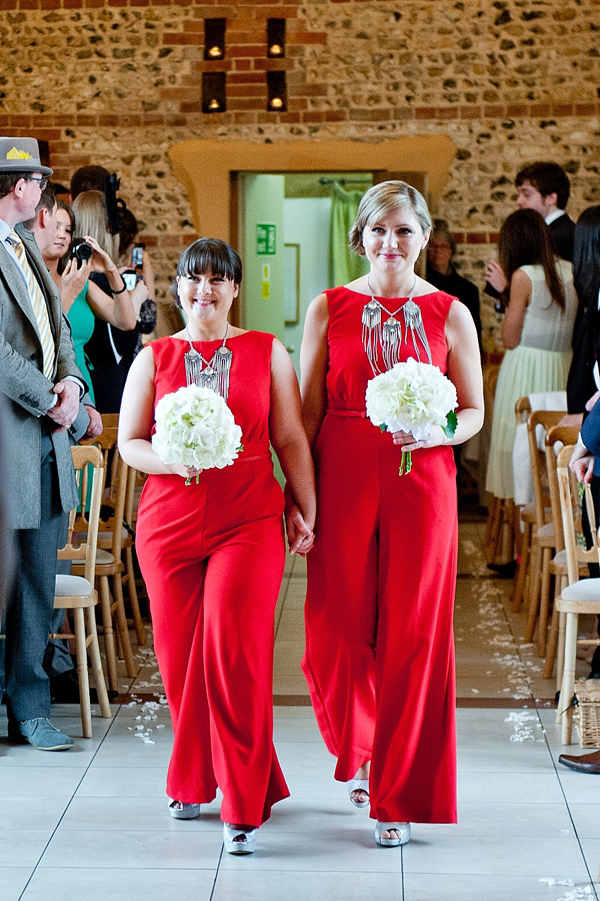 "My step-dad Paul gave me away. He's been around since I was 1 and a half so was the obvious and most perfect choice. I love him dearly.  I walked down the aisle to Birdie's version of the Bon Iver classic – 'Skinny Love'. It's a song that for the past few years has been particularly special to Barry and I.
 For me, my absolute favourite part was walking down the aisle with a beaming smile on my face seeing Barry there waiting for me. I'm quite an emotional person so I had fully expected to be a blubbering mess. Instead, I was excited and ready to make those lifelong vows in front of my nearest and dearest."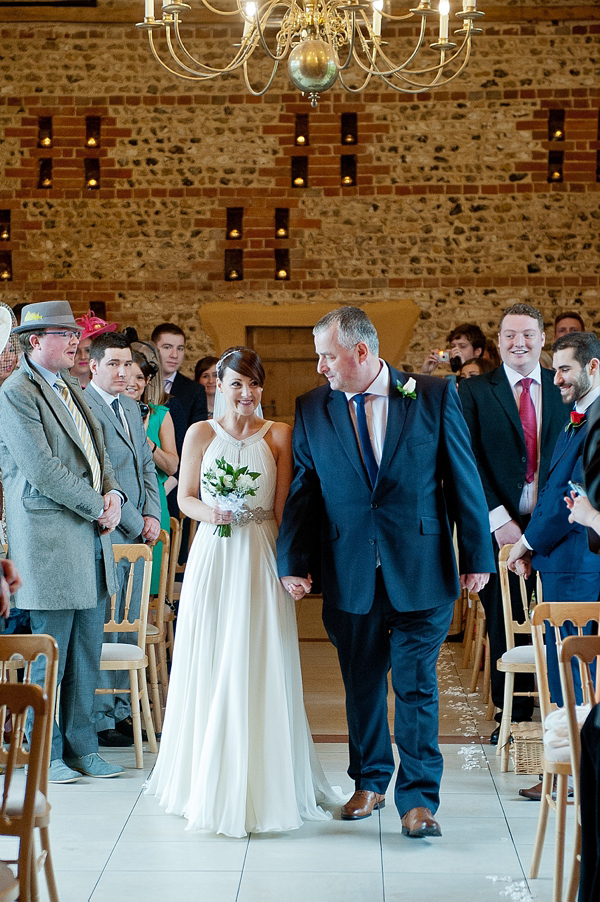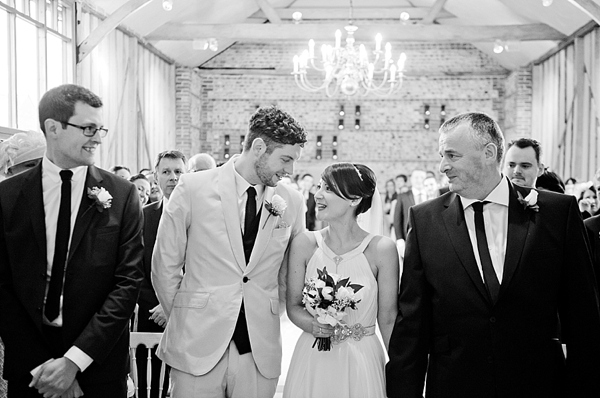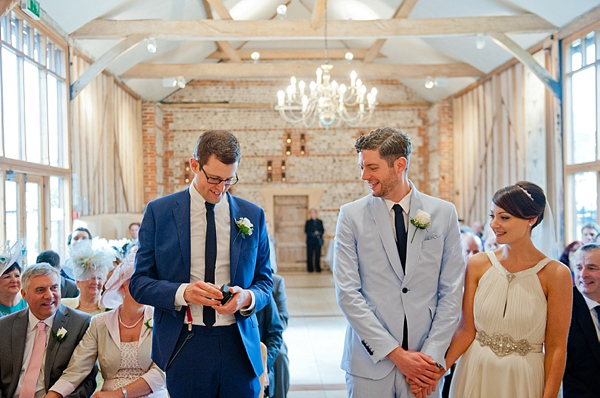 "We got our rings from Mr Katz in Hatton Garden, one of the oldest shops in the area run by a terrific couple.  Barry's ring is made of palladium, which is like platinum but harder wearing (and less expensive!).  My wedding band is a thin white gold band half-lined with diamonds.  I couldn't resist the extra sparkle and I'm really glad I went for this detail.  I still can't get used to Barry having a ring on his hand, but he loves it. Unfortunately he can't resist tap-tap-tapping it on EVERYTHING."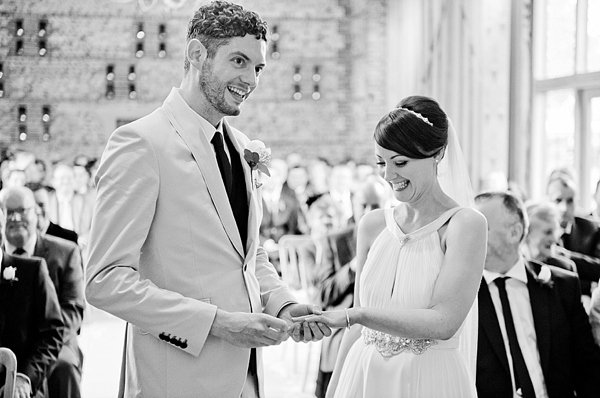 "Our lovely friend Claire read 'Maybe' during the ceremony;
Maybe… It is true that we don't know what we have got until we lose it, but is also true that we don't know what we have been missing until it arrives
Maybe… the happiest of people don't necessarily have the best of everything; they just make the most of everything that comes along their way.
Maybe… the best kind of love is the kind you can sit on a sofa together and never say a word, and then walk away feeling like it was the best conversation you've ever had.
Maybe… you shouldn't go for looks; they can deceive. Don't go for wealth; even that fades away. Go for someone who makes you smile, because it takes only a smile to make a dark day seem bright. Find the one that makes your heart smile.
Maybe… you should hope for enough happiness to make you sweet, enough trials to make you strong, enough sorrow to keep you human, and enough hope to make you happy.
Maybe… love is not about finding the perfect person, it's about learning to see an imperfect person perfectly.'"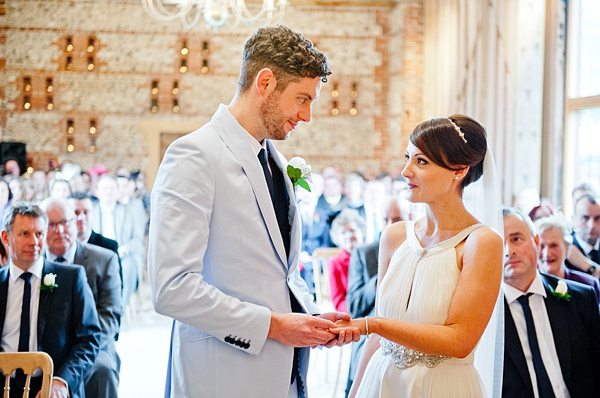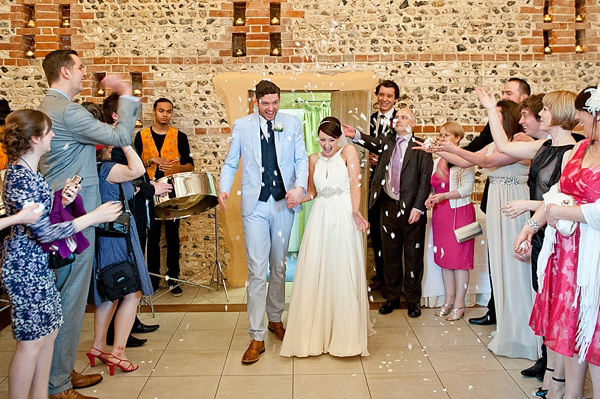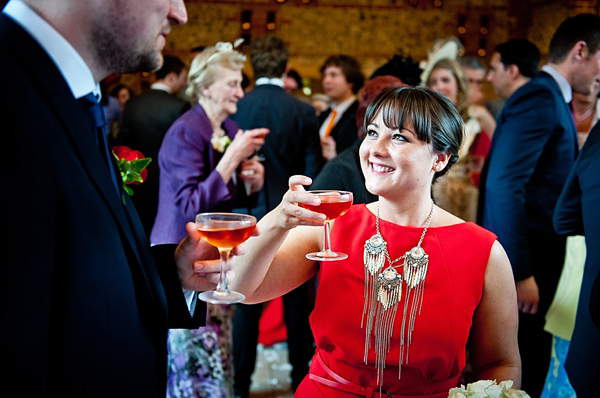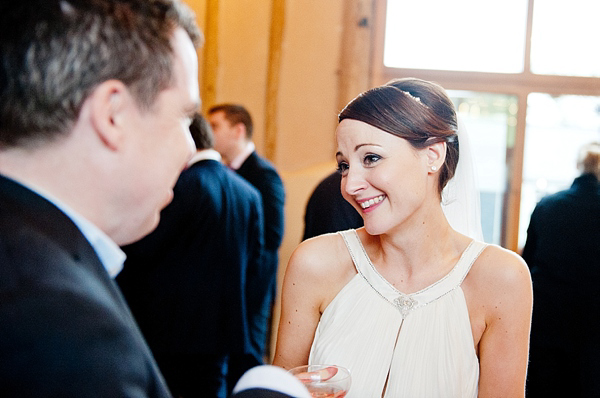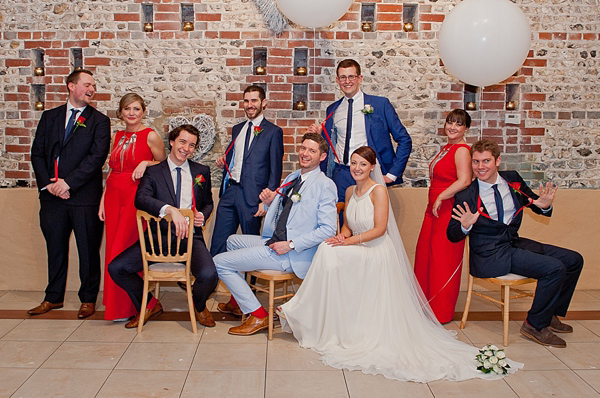 "We asked our Best Man, four Ushers and both Dads to wear a navy suit and tan brogues. They all had slightly different variations of the colour but I actually liked the mix of shades. Matchy-matchy isn't really my thing anyway. As gifts we brought them all red socks and a pocket watch from the same place as Barry's which they all wore on the day."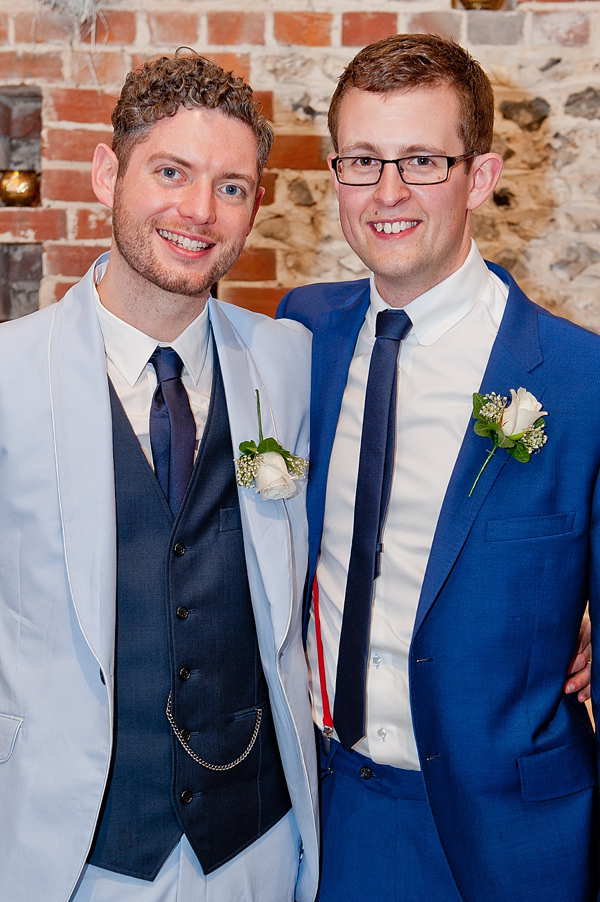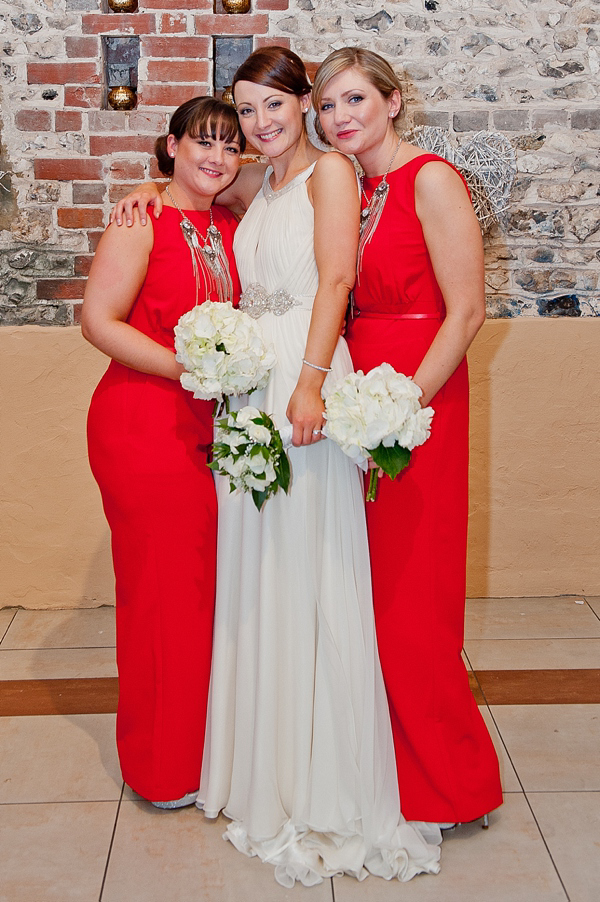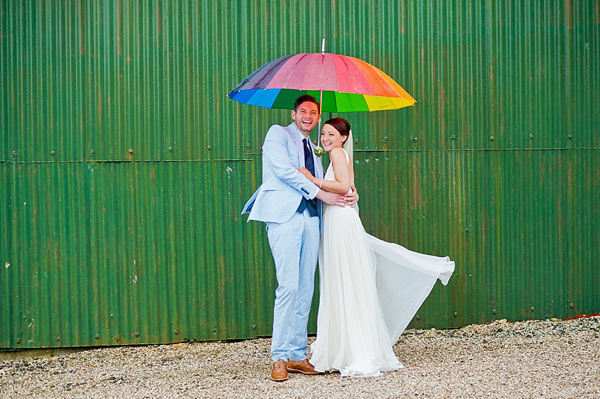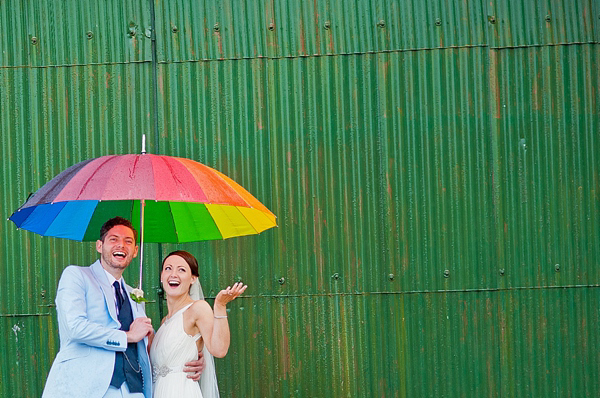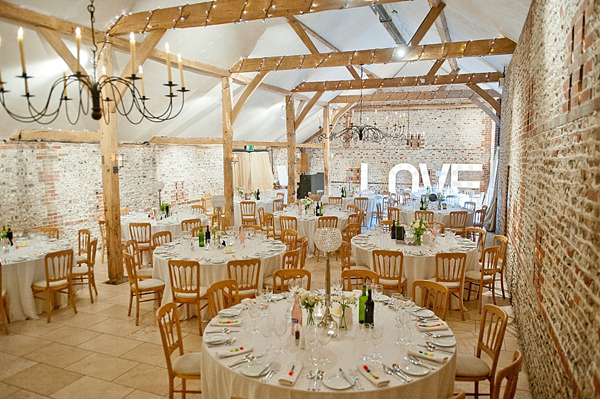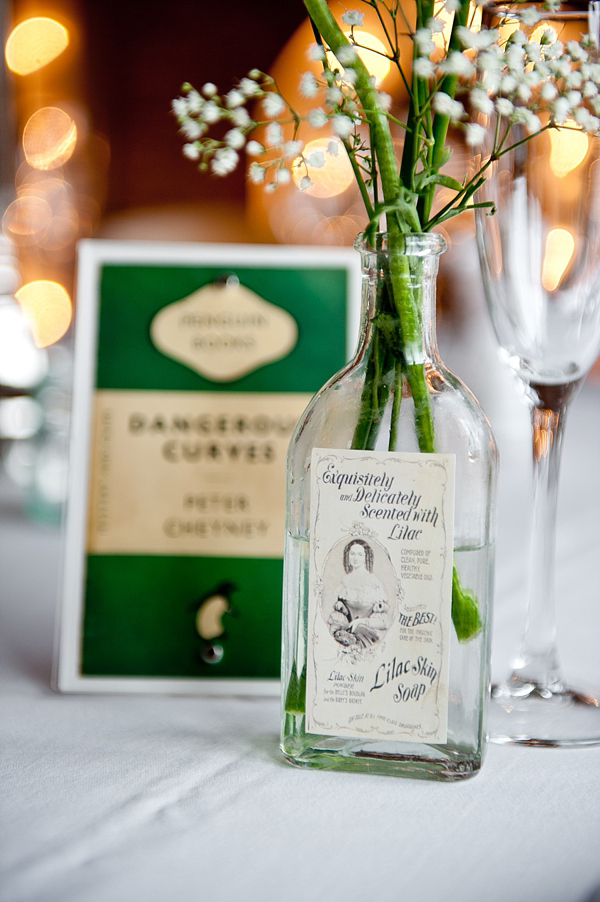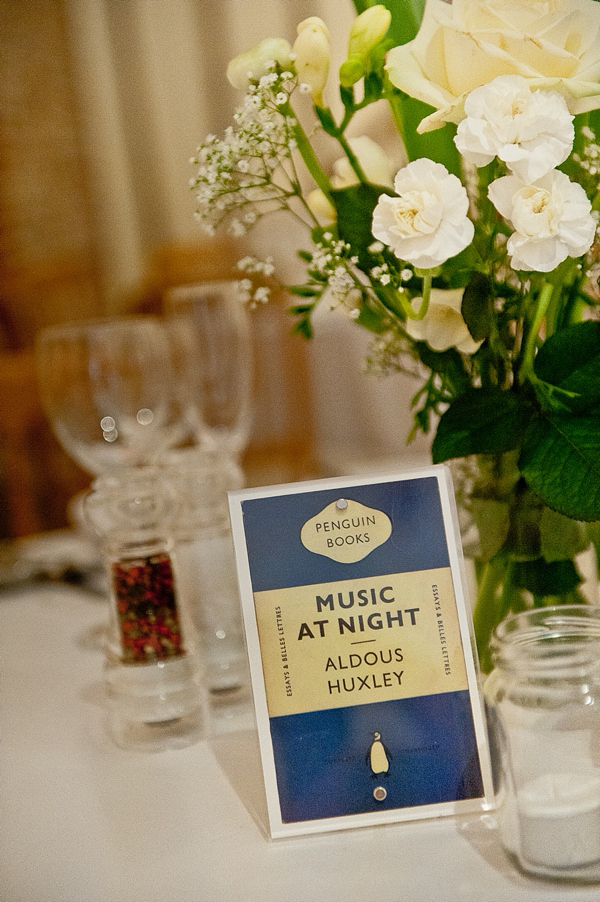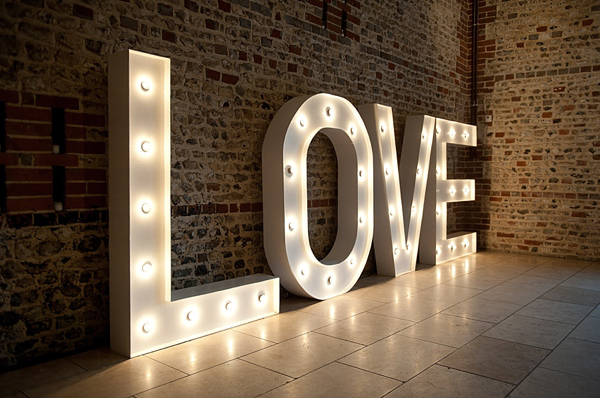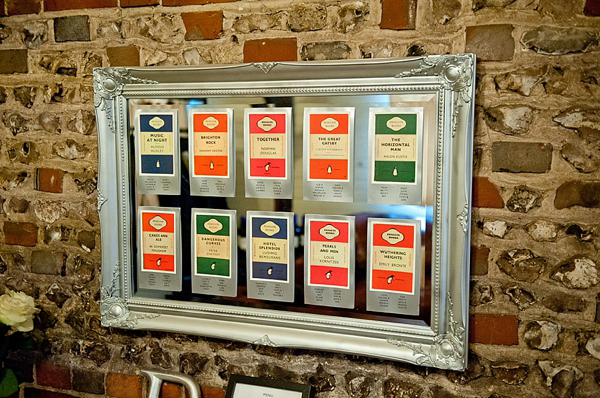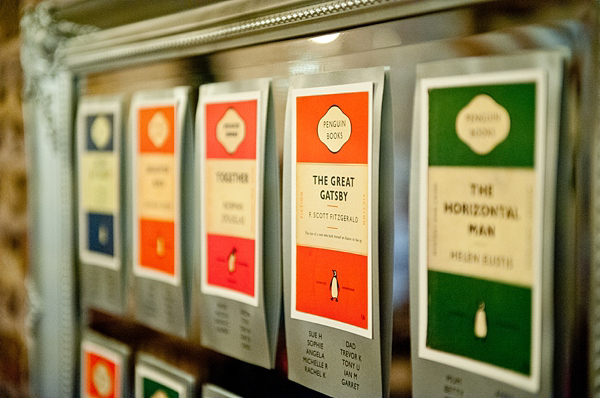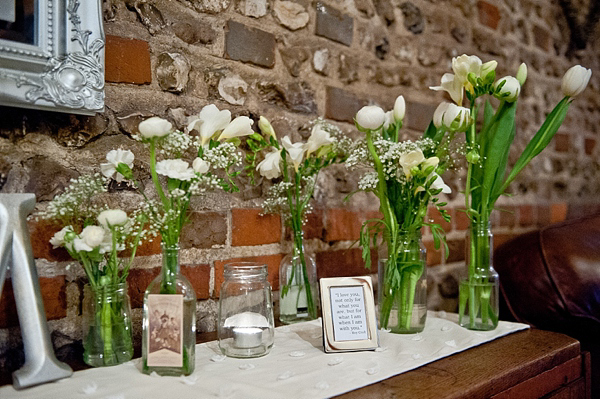 "Luckily my brother is an incredible chef so I wanted to get him involved in making something special for us. I'm not a fan of icing and Barry literally eats cake ALL THE TIME so we decided to go for brownies instead of the traditional sort of thing. Christopher (my bro) came up with a range of flavours and even did a little tasting session for us prior to the wedding. After a lot of scoffing we finally decided on orange, blueberry & white chocolate, cherry, rocky road and peanut butter. They were all delicious!
 Our catering company, Nibbes2Nosh, is associated to Upwaltham Barns. They were wonderful in the lead-up to the wedding answering all kinds of random questions I had and absolutely out of this world on the wedding day.  Our wedding breakfast was: Butternut squash soup, sausage & mash with roasted vine tomatoes and warm lattice apple pie and ice cream."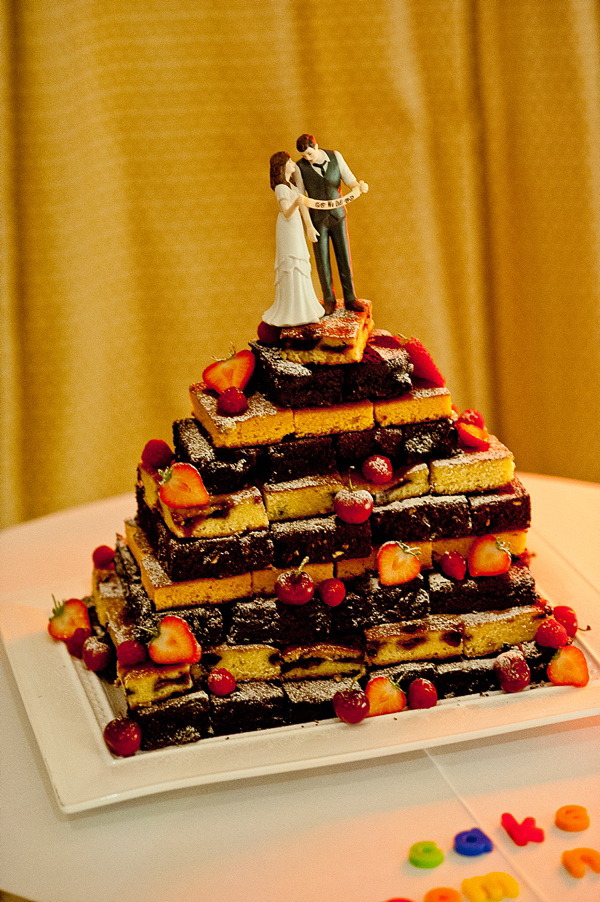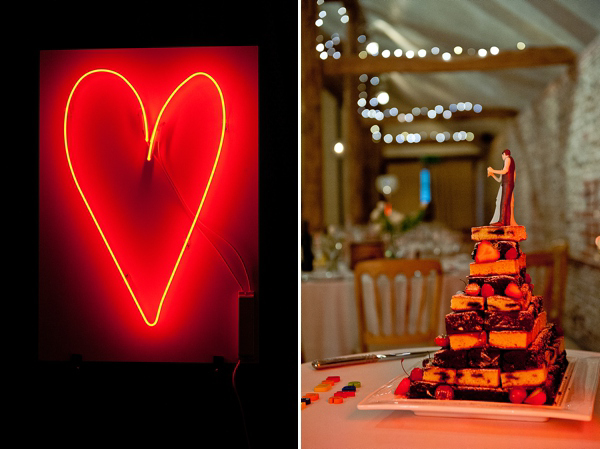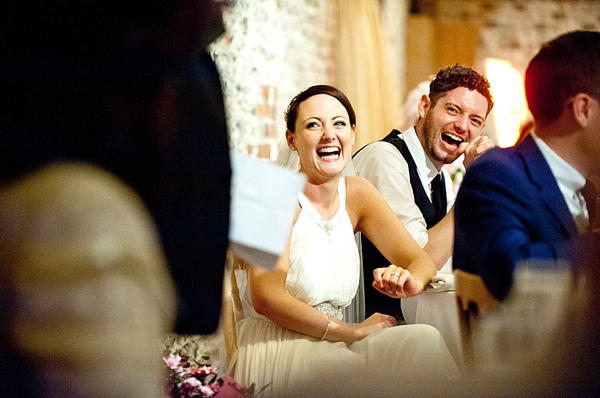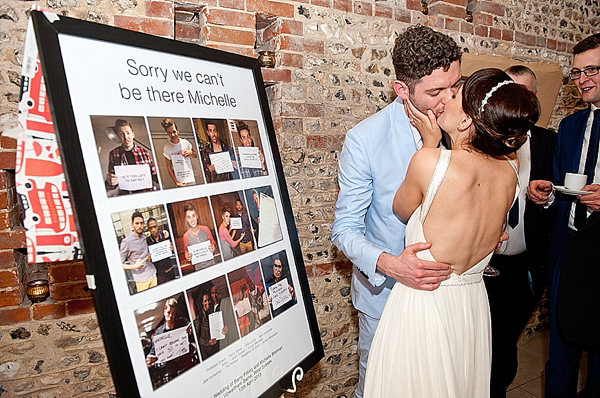 "We struggled with a first dance song for a while but on the day of our 6-week meeting with the venue, we jumped in our convertible (aka our baby) and The Drums – 'Down by the Water' started to play. We both had a moment and decided that the words were perfect. None of our guests knew it but who cares. Makes it all the more special to Barry and I."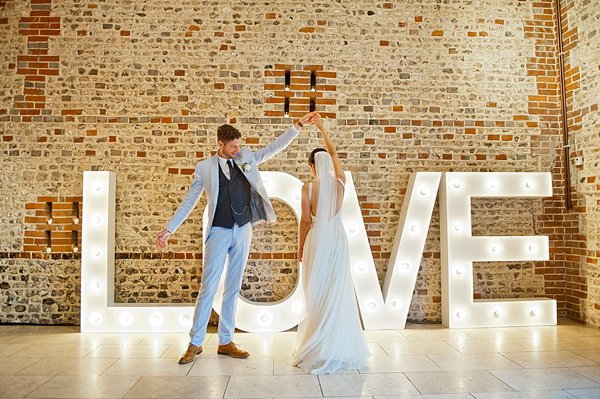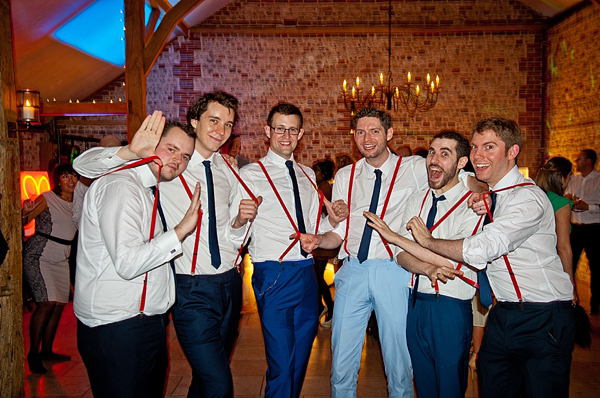 Words of Wedded Wisdom… 
"Love My Dress was my actual saviour so thanks a million! I loved and still love your daily features. Unlike a lot of other wedding blogs, I felt like Love My Dress offered something different. The dresses, accessories, venues and styling ideas were massively inspirational to me. Being able to take ideas from vintage and modern weddings was exactly the mix I was looking for.
 I found the amazing Vowed and Amazed via a photo-shoot I saw on Love My Dress. Having the supplier details on your features is great, it made it simply to contact them and make a booking. I'm so grateful to you for that – they by far made the biggest impact on the day and have made some absolutely epic photos!  My other key advice would be – don't stress about the weather. Come rain or shine you WILL have the most perfect day.  Don't wind yourself up trying to reinvent the wheel. It's a wedding at the end of the day – of course there will be elements that are similar to other weddings you've been to."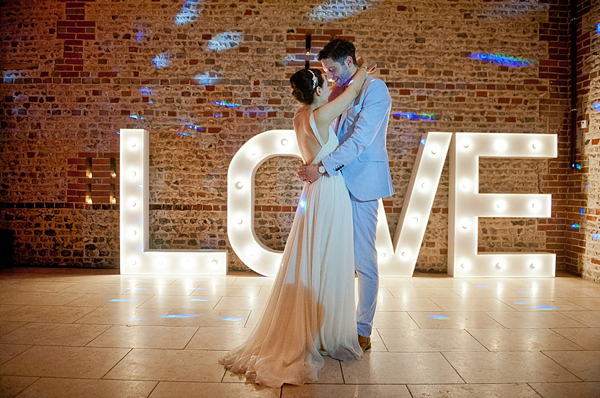 "Annoyingly, I allowed myself to get stressed and feel the pressure when friends and family said things like "Oh, I can't wait to see what you've come up with", "You must be having a dance-off as your first dance!" or "I'm hoping to see some amazing Vivienne Westwood style frock on you, Michelle!
It's not about how wacky you can make it it's simply about the two of you. Keep it personal – that in its self will make your day unique. If you get that right, it'll be the best it possibly can be and your guests will love it."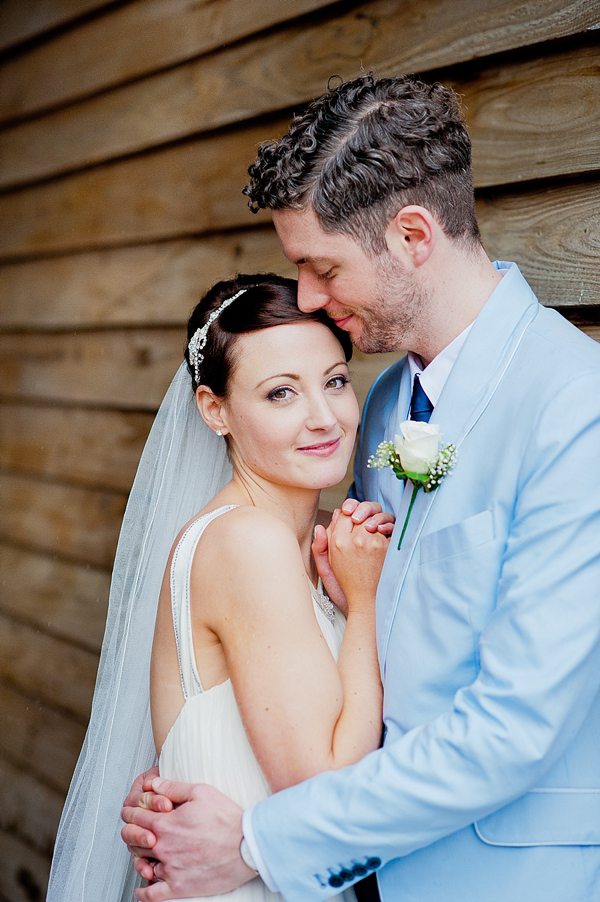 Oh what wise words indeed, I could not have said it better myself.  Michelle, we so appreciate your lovely kind words about our blog – whilst our readers get to see beautiful weddings every day and be supported through our discussion, life and love and all other manner of posts, what I think can often be misunderstood is the time it takes to curate and pull together these inspiration features, so feedback lke this truly does make our day – an epic thank you to you!
Huge thanks also to photographer Anna Rosell for once again allowing her work to be showcased on Love My Dress.  You can see more breathtaking photography from Anna Rosell here on Love My Dress.
With much love,
Annabel

Photographer - Anna Rosell 
Venue - Upwaltham Barns in Chichester
Brides Dress - Jenny Packham (the Marie Louise dress)
Brides Shoes - Linda by Jimmy Choo
Brides Veil - Blackburn Bridal
Brides Hair Accessories - Lottie by DC Bouquets + Diamante bracelet by Michael Kors 
Grooms Suit - Diverso suit + pocketwatch + Heart Pin +  Dune Shoes + Ray Ban Tortoiseshell Wayfarer 
Bridesmaids – Jumpsuits + Shoes from Very + statement silver necklaces from New Look
Florist - Spriggs
Cake - Made by the bride's brother
Giant Light Up Lights - Vowed and Amazed
Entertainment - Steelstrum Band
Favours – Magnetic letters
Hair and make-up Artist - Bethany Swan
Rings - Mr Katz in Hatton Garden
Catering -  Nibbes2Nosh
**Until tomorrow, that's Tuesday 25th June, our usual blog posting service will be minimised to one post a day, as we allow a little time to focus on important back-end/behind-the-scenes work and take a mini-break to re-energise!  We are grateful for your support and patience during this time and encourage you to use the drop-down menus to top left and right of the screen (beneath the top banner adverts on each side of the page), as well as our Google search facility.  This will assist you in working your way through our rich offering of previous content.
Why not take a stroll through our archive of real weddings, DIY tutorials, discussion posts, life and love features, inspiration boards, beauty tutorials, films and more? We have literally thousands of posts to explore, so we hope you enjoy this opportunity to dip in to our archives and be inspired.**