Anyone who reads this blog regularly and is familiar with my book will know that I've a big fondness for vintage inspired bridal wear that pays true respects to the aesthetic and fashions/styles of times gone by.  There are so many timeless and elegant styles that we can steal from the past to make our modern-day weddings look breathtakingly beautiful.
One of my favourite wedding dress designers who shares my fondness for vintage, is Sally Lacock.  London based Sally is renowned for creating vintage inspired bridal gowns made of  the finest French lace and
sumptuous silk for today's modern bride. She draws inspiration from the
decadent days of the 1920's and the artistic sensibility of Edwardian
bohemia, through to the elegance and femininity of the 1950's, and she does this in her own unique and inimitable way. I am totally in love with Sally's exquisite designs and love that fact that Sally pays so much respect to time-honoured skills when it comes to actually producing her garments.   This is a designer who really knows her stuff and has a huge passion for her craft – the kind of person you want to be designing your wedding dress.
Love My Dress Wedding Blog – Photography Copyright (c) 2013, Jeff Cottenden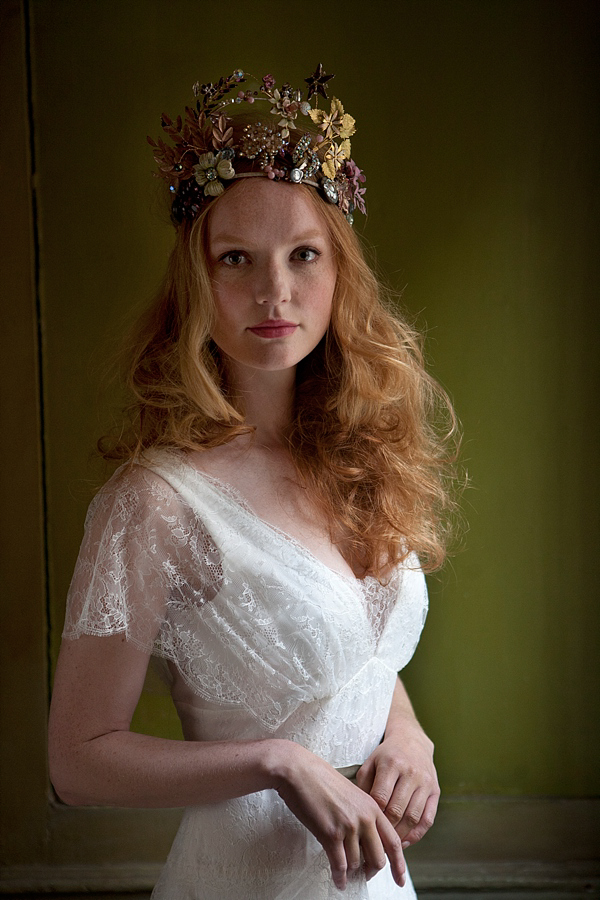 These particular images really appeal to me for the sensitive portrayal of the modern day vintage inspired bride and I truly adore the way that Sally has teamed her gowns with the utterly beautiful creations of Cherished Vintage Accessories.  That crown – someone really really needs to wear that on their wedding day and then send us all the photographs to feature – please!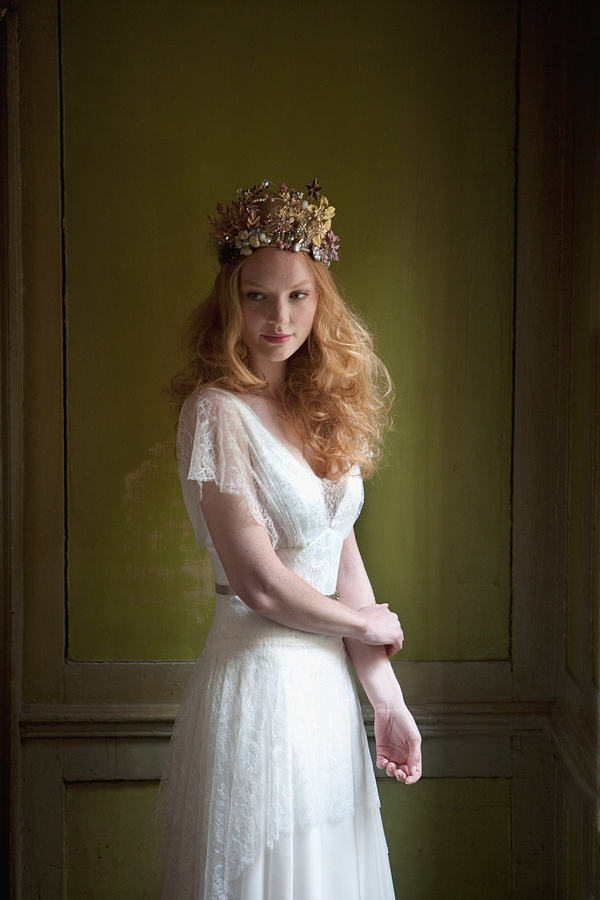 The delicate nature of the veil below, sat across the head in Juliet cap style and secured with a headpiece designed with original vintage elements by Cherished Vintage Accessories is just absolutely beautiful – gloriously beautiful, timeless bridal style.
For this shoot, Sally was delighted to work once
more with photographer Jeff Cottenden.
Renowned for his painterly period style and brilliant use of natural
light. Jeff's work complements the Sally Lacock aesthetic perfectly and I believe he has captured the essence of the collection perfectly.
Sally chose to shoot her latest collection at 4 Princelet Street in the historic conservation area of Spitalfields, London.  The venue is a Georgian double-fronted
merchants house dating from 1723 which was once occupied by a family of
Huguenot silk weavers.  The interior of this beautiful atmospheric
building has been respectfully allowed to remain in an almost unaltered
form, retaining original paneling, floorboards, and richly textured
paintwork.
On a freezing cold day in April a small
dedicated creative team worked between the many fire lit rooms of this
exceptional house, which provided the ideal atmosphere and rich backdrop
against which to capture the delicate detailing of Sally's ethereal
dresses.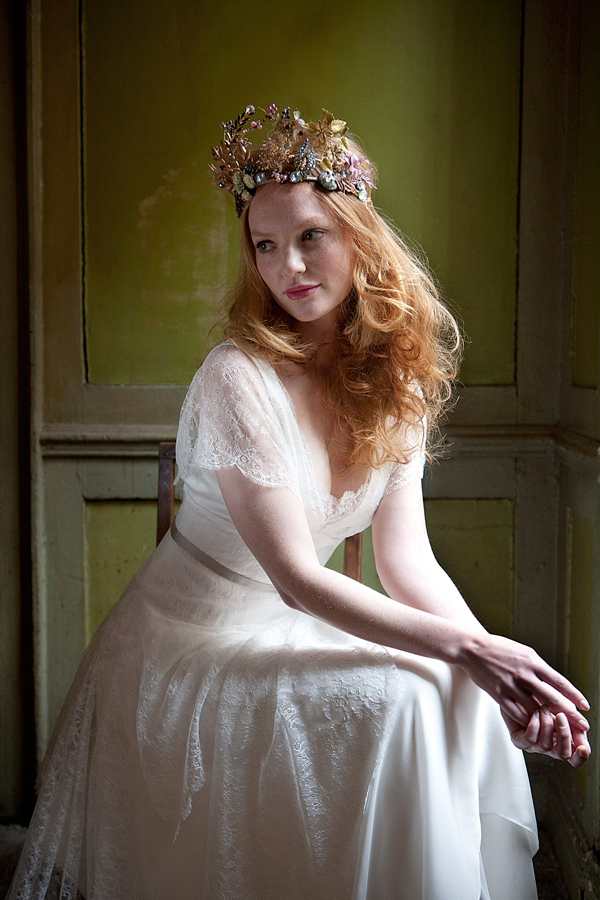 Breathtaking.
To find out more, visit the Sally Lacock and Cherished Vintage Accessories websites – both designers come with our highly recommended seal of approval.  You can also see brides wearing Sally Lacock gowns here on Love My Dress.
Which dress design or image above do you love the most and why?
Much love,
Annabel

Photographer – Jeff Cottenden
Dresses & Styling – Sally Lacock
Headpieces – Cherished Vintage Accessories
Shoes – Harriet wilde
Hair & Makeup – Annabelle Miller
Model – Sylvia via Nevs