Well hey there! It's Monday! A brand new start to a beautiful new week.  I hope this first feature of the week finds you happy  – we launched a new Sunday post yesterday, did you see it?  There will be just one post today, and rightly so. This glorious DIY wedding deserves the spotlight for a little while.  Becky and Matt tied the knot on Saturday 22 June with a ceremony at Swanage Town Hall, followed by a reception at The Old Malthouse in Langton Matravers (a village on the edge of Swanage).
I adore this wedding, it's packed with the most glorious colourful DIY touches, fun, love, smiles and celebration.  Becky is an avid knitting enthusiast an this was translated in to a lot of the styling aspects of the day.  The couple also met whilst working at the RNLI  – watch out for the occasional oar! And HUGE LOVE to the amazing photographers who are Big Bouquet…
"Matt and I really just wanted the
style of the wedding to be as relaxed, fun and colourful as possible –
we wanted to create a festival feeling because we've spent many a happy
hour at various festivals in our treasured campervan together.
For obvious reasons, there was a bit of an RNLI theme
running
through our day (we met when we both worked there) but also of
crafting.  I'm also an avid knitter, and I handmade a lot of our wedding
decorations
with my friends and family's help."
Photography Credit Big Bouquet
"Our wedding reception was at The Old Malthouse
in Langton Matravers (a village on the edge of Swanage) – the Malthouse
is actually a field studies centre (part of the Cothill Educational
Trust) but was originally a boarding school, steeped in local history.
It's incredibly beautiful: the buildings are also made from Purbeck
stone and the views of Swanage bay and the rolling Purbeck hills are
breath-taking. Neil and Tracy who run the school are friends of ours
(Neil is on the lifeboat crew with Matt) and, when we were struggling to
find a reception venue within our budget, they offered up their home!

They really went to town – even planting a wildflower garden just for
us, and erecting six beautiful bell tents for some of our friends to
sleep in after the wedding. We will never be able to thank them enough –
the kindness they showed us is beyond words and The Old Malthouse was
the perfect wedding venue. They've now decided to start taking bookings
for other weddings and have already had three enquiries since ours!"
"We got married in Swanage Town Hall – there were a few reasons for
choosing the venue: it was important for us to get married locally
because Matt is a volunteer on the Swanage RNLI Lifeboat and, to invite
the rest of his friends on the crew, the wedding needed to be close
enough to the station so that they could dash off in the event of a
lifeboat 'shout' (someone in danger at sea who needed their help); it
was important to us, because we're both atheists, to have a civil
ceremony; and we also fell in love with the building itself (a minute's
walk from our house and across the road from our local pub!) – it's a
beautiful, 131-year-old, Victorian building made from Purbeck stone
(Purbeck is the area Swanage lies in – it's covered in old quarries and
is famous for its stone).
As a
surprise for me, Matt and his dad Martin (a carpenter) had made two
giant knitting needles with a B and an M painted on the ends; my (also
rather crafty) friends Wendy and Jo joined the guard of honour and held
the needles as if they were oars!"
"We originally met about five years ago – I was working at
the RNLI's headquarters (the lifeboats charity) and the BBC were filming
for a TV programme on one of our lifeboats; Matt was the mechanic
onboard. About 18 months later (in January 2010), we met again on a
course at the RNLI College in Poole – we clicked instantly; Matt was the
class clown and I was immediately attracted to his cheeky charm! Three
months later and I'd left Bournemouth and moved to Swanage to be with
him, and I've never looked back!
We got engaged on New Year's Day last
year – we'd rented a cottage on the beach in Devon for the New Year
weekend with three other couples. In the morning on New Year's Day, Matt
insisted that we took our dog for a walk on the beach before breakfast –
it was absolutely pouring with rain but he thought 'it would be fun to
go beachcombing'! We made our way down to the beach in our wellies and
waterproofs and began searching for shells and driftwood as our Springer
Spaniel Holly played in the sea. Then Matt bent down and picked up a
plastic bag from underneath a stone jetty and said "Look, there's a
bottle in it!", at which I laughed and called him a tramp! Out of the
bag he pulled a bottle of Champagne and two flutes – it was at this
point that I realised something was going on.
He passed me one of the
flutes and inside was a ring box – at which point, he got down on one
knee and asked me to marry him! Of course, I said yes without hesitation
and we went back to the cottage for a big celebratory New Year's Day
breakfast with our friends."
"Our favourite thing of all was the lampshade tree that Matt's
dad created for us outside on the lawn. I had been collecting, along
with my mum and various friends, old lampshades of various colours,
shapes and sizes – we must've had at least 20 in the end. Martin strung
them up on the beautiful big old tree in Neil and Tracy's garden with
festoon lights looped through them so they lit the tree up at night – it
looked really spectacular! It was an idea we saw at the Larmer Tree festival a few years ago and promised ourselves we'd recreate at our wedding."
"We styled the venue ourselves to try and keep costs down but also
because I love that sort of thing far too much to hand it over to anyone
else! Fortunately, we had an army of friends and family to help us set
up on the day before the wedding.
 In the dining
room, we strung colourful paper chains and tissue paper pom-poms around
the room, and hung a homemade banner that read 'One love, one heart;
let's get together and eat alright' above the buffet table, and threaded
printed letters on twine that read 'Matt & Becky – sweet 'n'
dandy', which hung above the cake table!
For the tables  at the reception venue, I bought a beautiful roll of brown paper table runner from Pipii,
which was printed with a vintage cutlery design (£40 for the roll but a
real statement and far cheaper than hiring or buying tablecloths); then
we added some beautiful paper doilies I bought from Pipii too. As
centrepieces, I roped in lots of my friends and family to help me make
pom-poms from cheap, colourful yarn, which I fixed to lengths of florist
wire and arranged in jam jars that I'd collected then painted and
decorated with washi tape."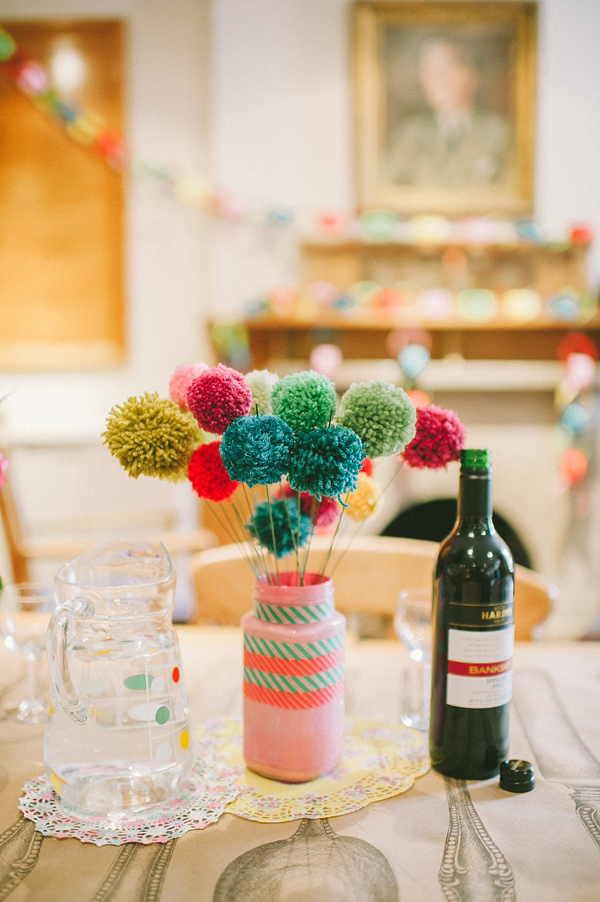 "My dress is called Olivia and was made by Madeline Isaac James.  We bought it from a shop in the New Forest, near to where my parents live, called Wedded Bliss.  Wedded
Bliss was the first wedding dress shop I went to and my dress was the
second I'd tried on. I fell in love with it instantly; my mum and
88-year-old grandma came with me, and it was their favourite dress too. I
went on to try about 20 more dresses at five different shops, but I
kept coming back to this one.
I knew I wanted a dress with a sweetheart
neckline, a short body and a really full skirt.
I'm a massive fan of Mad Men
and was looking for something Betty Draper might wear! I had the dress
altered slightly so my shoes could peek out from underneath. I also bought my veil from Wedded Bliss."
"My wedding shoes were one of the first things I bought! I adore
them and have already worn them since the wedding. They were from the Seychelles Footwear website. They're teal, suede Mary Janes."
"I found our bridesmaids' dresses on the vintage dress website Lindy Bop
in their jive and swing collection; I bought their petticoats on eBay –
all four of the girls wore the same green dress (including my very
pregnant bridesmaid Sara, who still fitted into a size 12!) but each
wore a different coloured petticoat: teal, raspberry pink, yellow and
apple green. I bought the girls clutch bags to go with their outfits as
bridesmaid presents and matched the colours to that of their petticoats –
I bought three of them from Folksy shops: one from Rachael Kay, two from Girl of the Sixties; and one from Poppy Punch on Etsy."
Our florist was Bloom in Swanage
and they did an incredible job. We picked Bloom because we know Tor,
whose business it is, as a friend and knew her work was beautiful. In my
bouquet I asked for red roses and yellow freesia, because my mum had
them in her own wedding bouquet when she  married my dad. I also had
pink peonies, pink hydrangea and yellow craspidia. It was the most
bright and colourful bouquet I've seen and I just loved it! I've pressed
some of the flowers to keep.
My bridesmaids carried posies of
gypsophila and our buttonholes were mini bunches of yellow craspidia
(the flowers that look like pom-poms). Tor also arranged flowers
displayed casually in jam jars on the tables in the dining room at our
reception for us."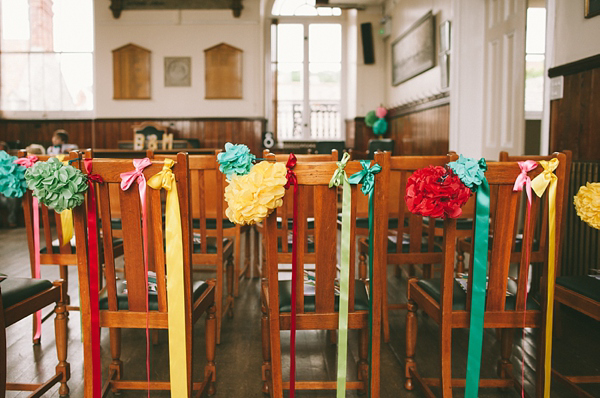 "Our wedding invitations were designed by my friend Laurence, who's a graphic designer – we asked him to create something with a bit of a festival feel. He's uploaded our invites to his website.
We made our own save-the-date cards with a personalised stamp and some
brown postcards. My brother Andrew designed our order of ceremony, which
we were thrilled with, and our sister-in-law Kim, who has the most
beautiful handwriting, wrote our menu up on a blackboard for us, which
we propped against the buffet table."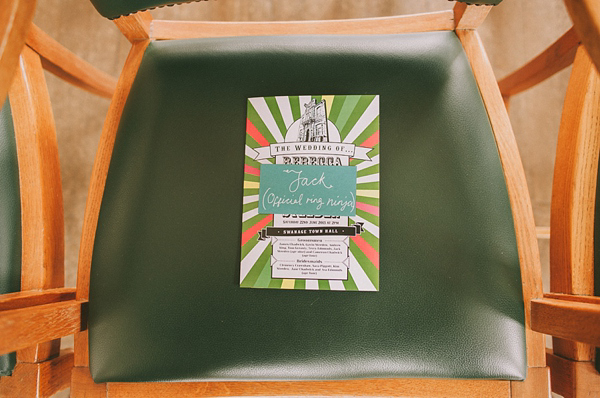 "Our flower girl Ava (aged four) wore a red, pink and white stripy dress I bought her from Monsoon. I also bought her a pink tutu from the Rocket And Bear shop on Etsy."
"Our wedding car was a 1960s
teal Hillman Minx owned by Matt's friend Stu – we absolutely adored it
and wished we could ride around in it everyday! Stu was kind enough to
dress up in a suit and be our chauffeur for the day too – we're very
grateful to him."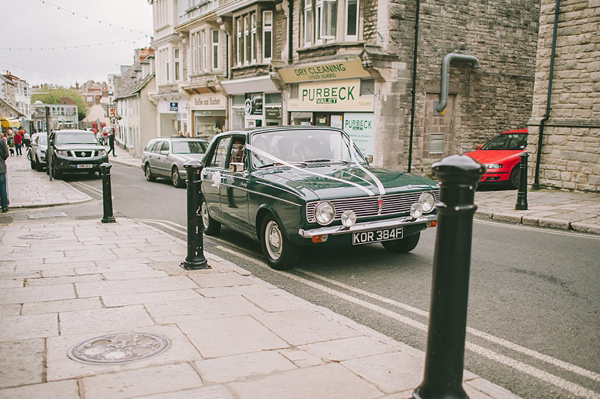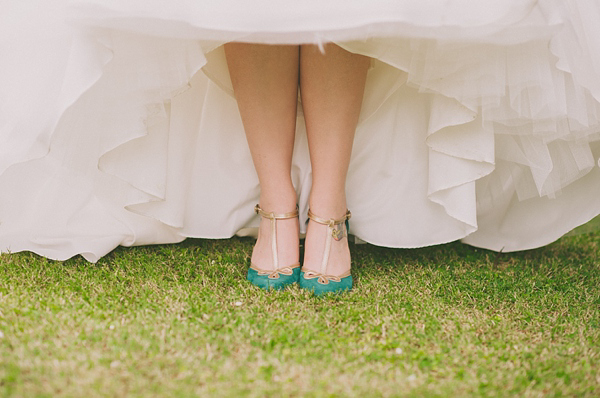 "We had a 'guard of honour' at the
town hall (four of the RNLI lifeboat crew lined up outside in full kit and
crossed wooden oars above the door as we walked underneath)."
"We used an
old leather suitcase that used to belong to my nan Hilda for people to
put their cards in, and my bridesmaid Clemency made a little sign that
read 'Cards an ting', which I loved."
"On the buffet table itself, we had an old lampshade (that I found at Molly's Den in Bournemouth)
lined with vintage cutlery (Matt's brother drilled holes in them for us
so we could hang them from the edge) to signify where the cutlery,
crockery and napkins were.
I collected all the cutlery and crockery
myself from charity shops and car boot sales; my mum Diane made all the
napkins by hand from cheap tablecloths we found at The Range."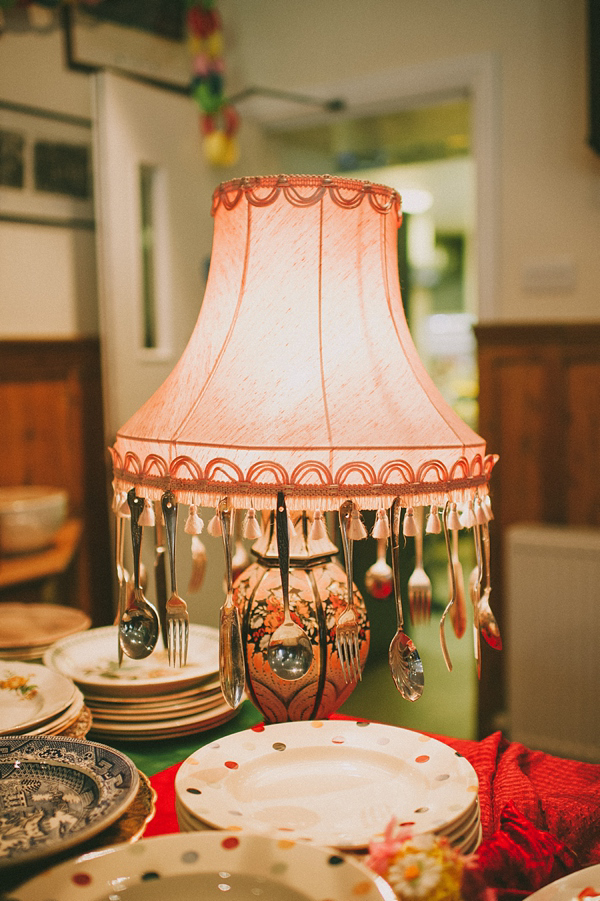 "One of my favourite things we used to decorate the room were some baroque-style photo frames I bought very cheaply from Wilkinson,
which I painted using some lovely bright yellow paint left over from
painting our bedroom fireplace; I took out the backing in the frames and
painted them with blackboard paint.
I'd asked the parents of the
children coming to our wedding questions about the meaning of love and
what happens when grown-ups get married; I chalked their answers into
the frames and put them up on display for guests to read at our
reception. They went down really well!"
"Because the room we had our evening party in is a school sports
hall by day, we had to be creative in disguising it for the wedding, so
we hired some marquee lining. It was the most expensive part of our
reception, with the exception of catering and music, but we were really
glad as soon as it went up – it completely transformed the hall.
We
draped crepe paper ribbon (from Pearl and Earl)
around the walls, strung more tissue paper pom-poms from the ceiling,
and blew up big, colourful, helium-filled balloons (Pipii); across the
front of the stage, we draped a yarn pom-pom garland I'd made myself and
a garland made from red paper hearts I'd bought from Pipii."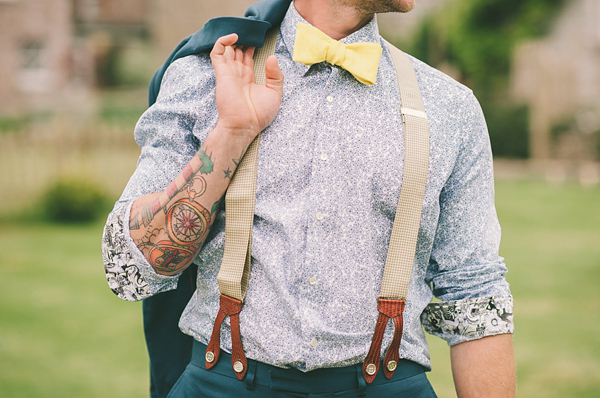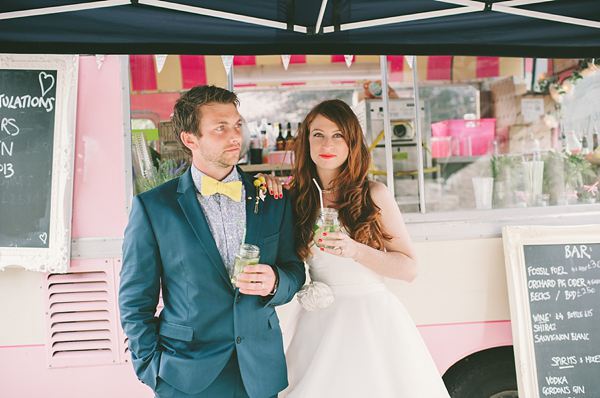 "Our photographers were Ian and Emma Davenport from Big Bouquet
(based in Bournemouth). We knew they were incredible because they shot
our friends Mark and Sara's wedding last year, but they still managed to
surpass our expectations. They were organised, knowledgeable, fun,
kind, professional, inspiring and discrete – and their photos just blew
us away. We would recommend them a million times over!"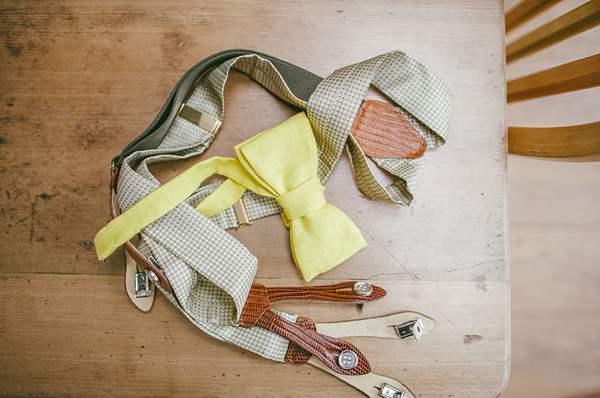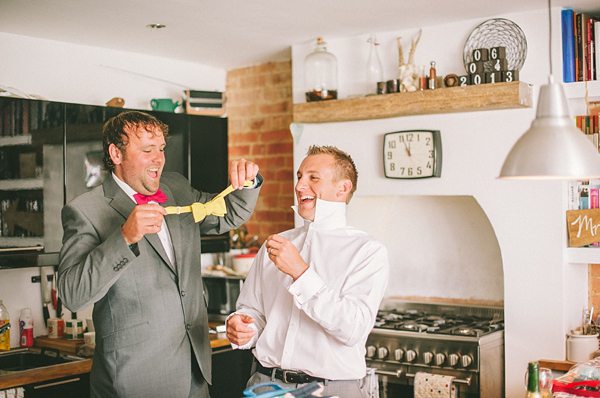 "My bridesmaids' shoes were made by Irregular Choice but I found
them on eBay – they're white with green polka-dots and a teal bow on the
heel, and are so fun!"
"My beautiful friend Charlotte (about to get married herself this
September to Tom, one of our ushers) did my wedding make-up, which was
exceptionally handy as she was there for the full day to fix my eyeliner
and reapply my blusher whenever I cried! My Auntie Glyn not only did my
hair (I asked for Jessica Rabbit hair!) but also gave my four
bridesmaids the most beautiful beehive-esque chignons."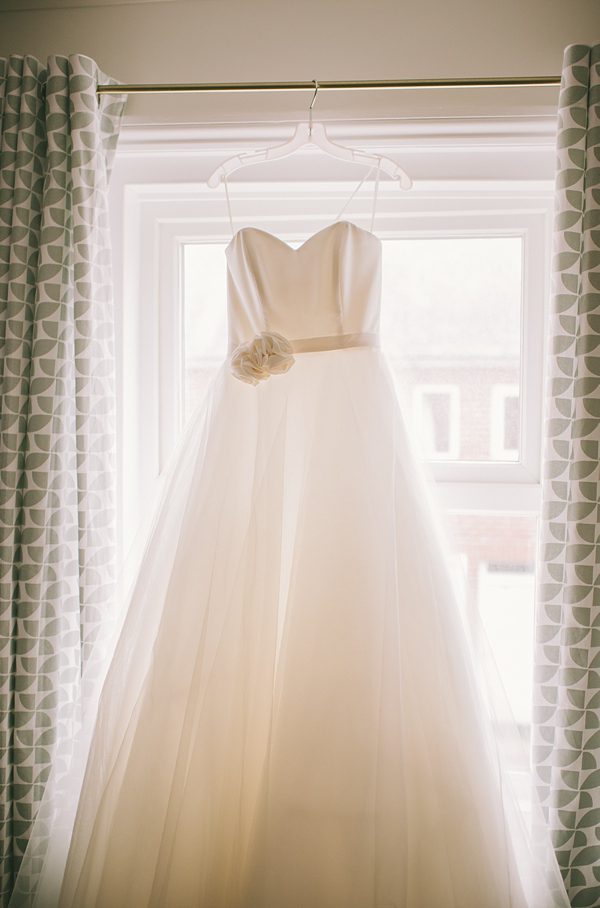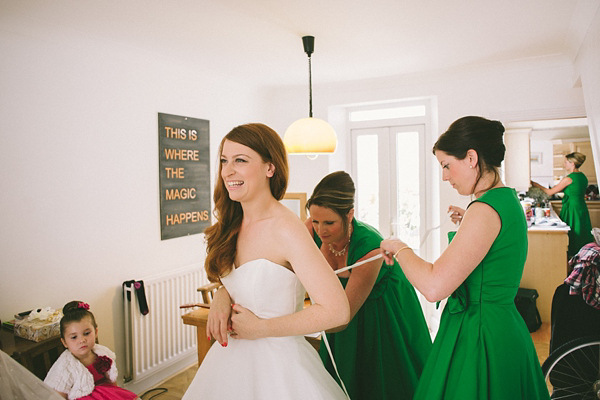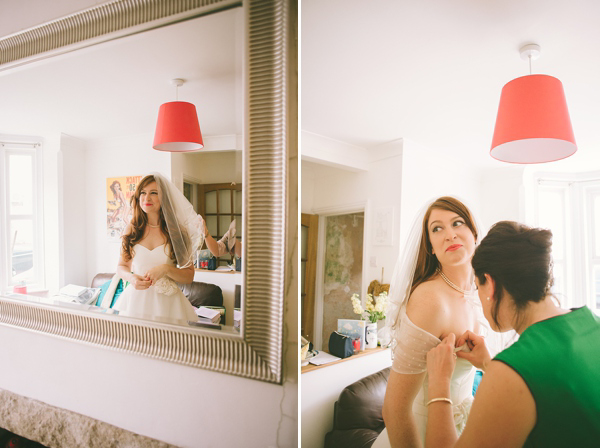 "My dad Geoff walked me down the aisle but I didn't want to be 'given away'. I walked down the aisle to 'All You Need Is Love' by The Beatles."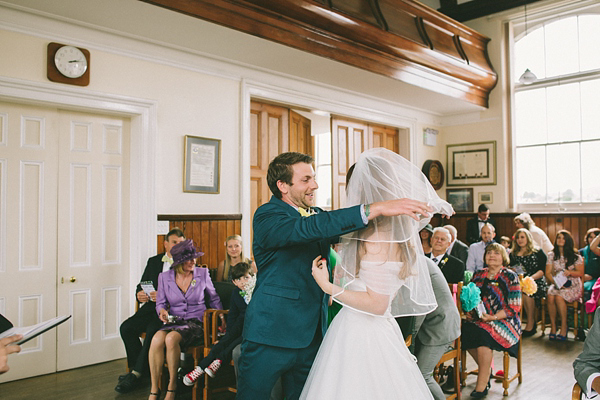 "During the ceremony, our friend Jo read 'Foxtrot From A Play' by WH Auden, which we
chose because it was funny and we're both from a family of big
tea-drinkers! Another of our friends, Paul, read 'How Falling In Love Is
Like Owning A Dog' by Taylor Mali, because he's a great dog lover and
so are we (the third member of our household is our two-year-old
Springer Spaniel, Holly)."
"We had a page boy (four-year-old Cameron – Matt's godson) and an
'Official Ring Ninja' (Matt's nine-year-old son Jack). Both boys wore
their own shirts and trousers with a pair of red Converse; we also
bought them each a bow tie and set of braces.
Jack wore an apple green
bow tie with little blue anchors on it, which came from Divine Domestication on Etsy; Cam's was a plain teal bow tie from the Etsy shop Amanda Jo Handmade. I bought both the boys' braces from Little Boy Swag on Etsy – Cam wore yellow and Jack wore red."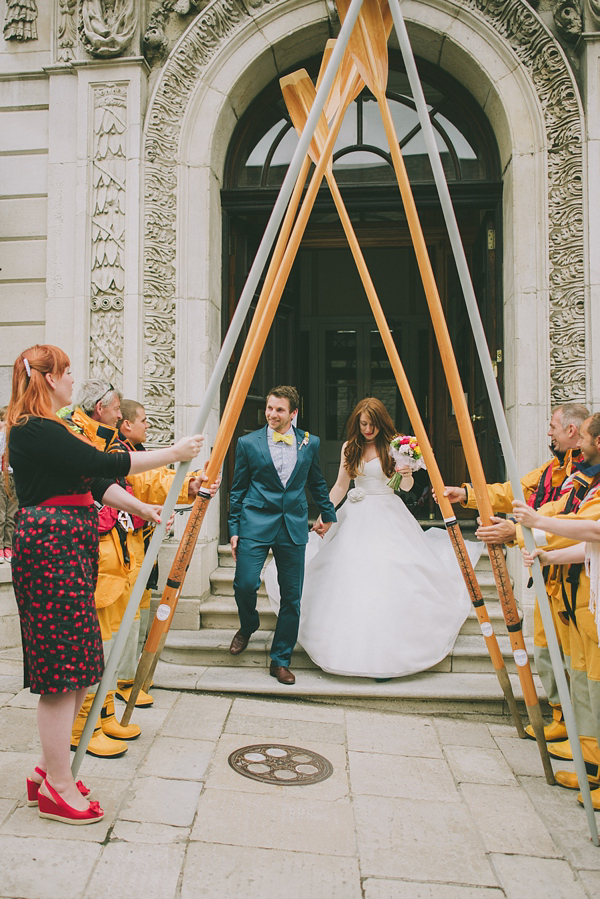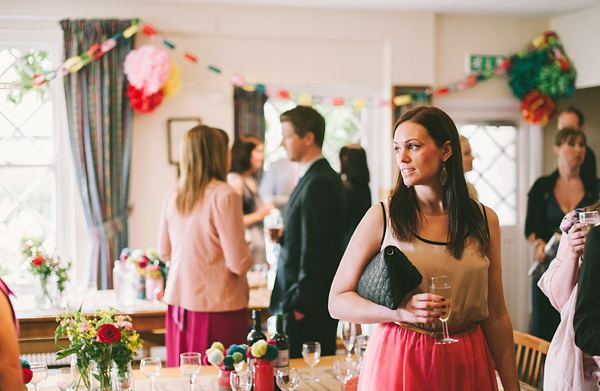 "Our catering was provided by Cherry Catering of Swanage – we asked
Karla to cater at our wedding because she has an excellent reputation
locally and her food is really tasty and a bit different. Whenever Matt
and I go to festivals we always make a bee line for any Caribbean food
we can find – so we opted for a hot Caribbean buffet at our wedding. On
the menu was jerk chicken, Antiguan beef stew with tomato and cloves,
rice and peas, black-eyed peas and green beans in a sticky sauce, and
'Rasta' salad. It was delicious! There was no table plan so everyone
just sat wherever they liked – Matt and I ended up perching on the edge
of a table, in fact, but we were quite happy!
While everyone was eating,
we played reggae music – lots of Bob Marley and our favourite: Toots
and The Maytals! Afterwards we ate cake for pudding. Before the wedding,
we asked the guests coming to our reception if they'd like to bring
along a homemade cake for the pudding table and they really excelled
themselves! We ended up with about 20 cakes – our favourite was a lemon
drizzle cake made with mascarpone and homemade lemon curd, as well as my
bridesmaid Kim's 'Dark'n'Stormy' cupcakes, made with ginger and rum –
wow! In the evening, we served warm Cornish pasties – they were
beautiful and sourced from The Purbeck Deli in Swanage."
"Our friends Jo and Adam made our cake for us, and it was one of our
favourite things at the wedding, because they're not professional
bakers – they just wanted to do something lovely for us. It was a
three-tiered Victoria sponge filled with buttercream and strawberry jam;
it was dusted with icing sugar and decorated with red roses and
berries, and it was delicious! On top, they perched a red topper that
said 'It must be love, love, love' (which I bought from the Folksy shop Miss Cake), which are the lyrics to the Madness song we left the town hall to."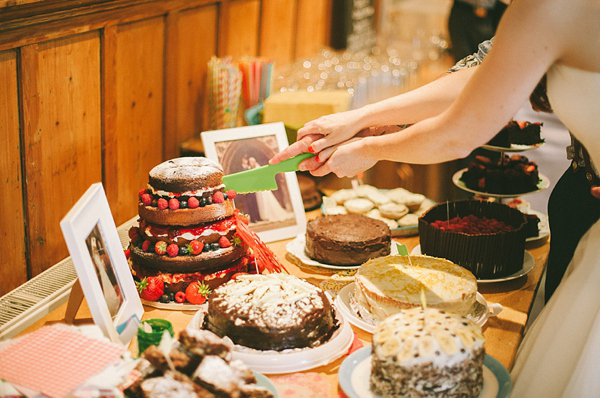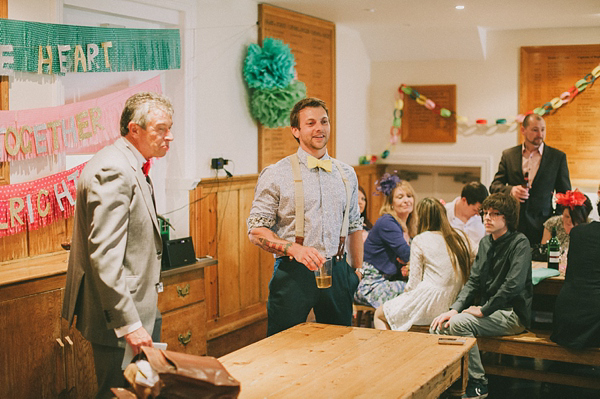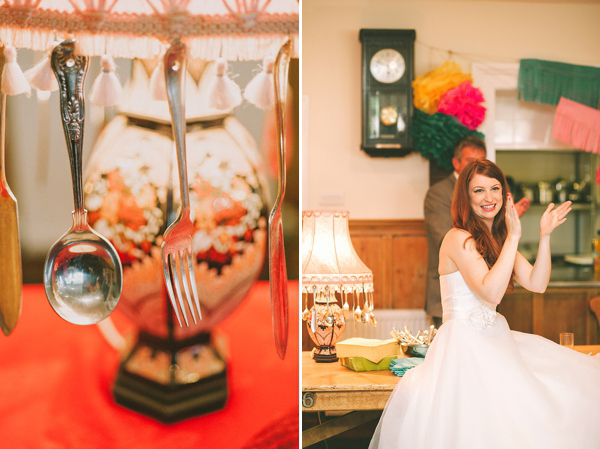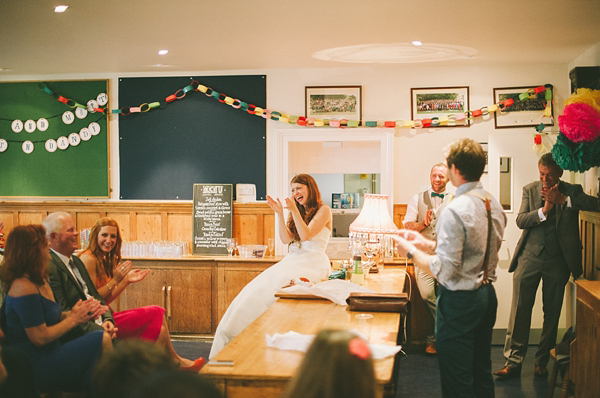 "The
bar at our wedding was served from our friend Emily's vintage ice-cream
van Doris, from which she served cocktails in jam jars."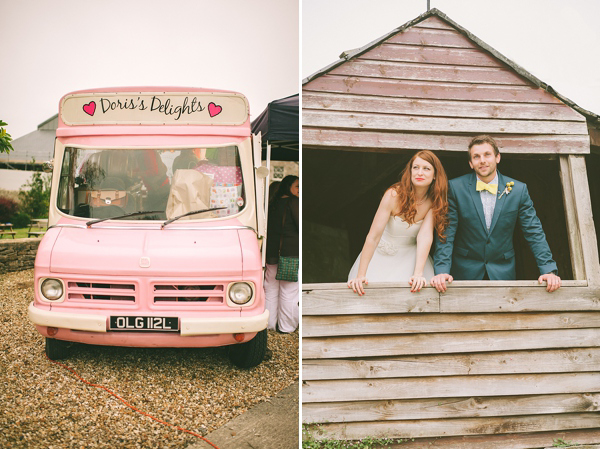 "Our first dance was to 'For Once In My Life' by Stevie Wonder. On
our very first Valentine's Day together we drove to Cornwall in our
campervan and stayed at a beautiful, tiny cottage in the middle of
nowhere – we listened to a lot of Stevie Wonder that weekend and this
quickly became 'our song'."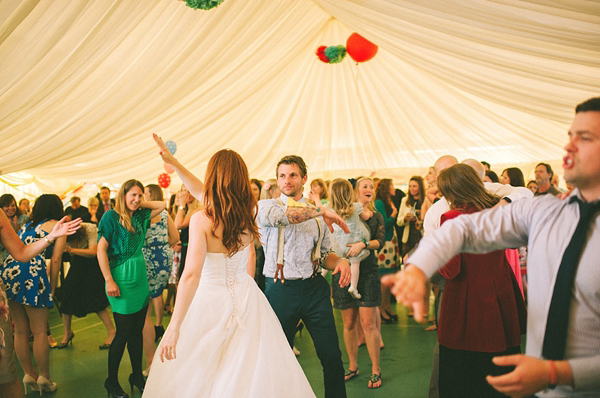 "The entertainment was one of the best parts of our day – the music really made the party. Our band were The Baker Brothers
– a five-piece band that included a saxophonist and a trumpet-player.
They were incredible! We have never seen so many people dancing for so
long at a wedding before – the dancefloor filled as soon as our first
dance ended and was packed until midnight when the music ended. When the
band finished at 10.30, our friend Dan stepped up to DJ, and played the
perfect set, with everything from 'Push It' by Salt'n'Peppa to 'Don't
Stop Till You Get Enough' by MJ.
There were some pretty special shapes
thrown that night! A special moment for me was when my 88-year-old
grandma got up on the dancefloor with my brother and I."
"My favourite part of the whole day was when our DJ, Dan, played the last song of the night, the Jacque Lu Cont mix of The Killers' 'Mr Brightside'
– although the lyrics aren't particularly cheerful, it's become a very
special song to our group of friends and has been the last song played
at five of our weddings now. When it came on, Matt and I jumped on the
stage to dance, swigging from a bottle of champagne, and the dancefloor
was packed – everyone was having such a good time! Halfway through the
song, we jumped back down and everyone formed a great big circle with
their arms around one another; then Matt and I went into the middle of
the circle and he picked me up and swung me round – as the song came to
an end, all of our friends and family crowded round us and had a massive
group hug!
I remember tears streaming down my face at that moment –
happy tears! That song will always be very special to us."
Words of Wedded Wisdom…
 
"Three bits of advice were given to us before our wedding and we're so glad we listened:
*  Hold hands for as much of the day as you can
*  Take
some time out between the ceremony and the reception to spend at least
10 minutes on your own together – we went for a drive together for half
an hour
*  At several points during the day, stop, look
around, take it all in, and take a mental picture of what's in front of
you – so you can always remember how you felt at that moment.
We wouldn't change a single thing about our wedding – it was truly the best day of our lives."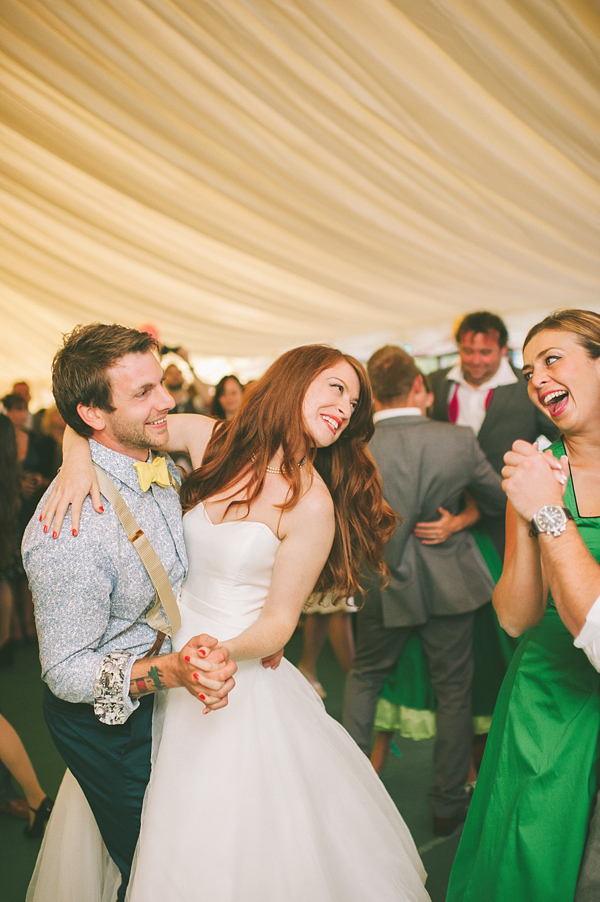 Just absolutely WONDERFUL! I've been so excited about featuring this wedding and would like to thank photographers Big Bouquet for sharing these fabulous photographs.
Huge, huge congrats to you too Becky and Matt – I'm pretty confident your gorgeous wedding will be inspiring a whole bucket-load of our readers today.
And if you have a spare 25 minutes over our lunch break, you *have* to see this 🙂
"We asked our wonderful friend Mark to film our wedding for us but
we never expected him to produce us an incredible video at the end of it
– it was the best wedding present we received and something we'll
cherish forever. He and his wife Sara (one of my bridesmaids) even
invited us round with our close friends for a premiere of the film when
we got home from honeymoon.
Some of the footage comes from Bride Cam and Groom Cam – Matt and I
wore chest straps with GoPros cameras attached and left them rolling as
we dancing and mingled! The footage was hilarious!"
Film Production Mark Piggott

What do you love most about this wedding? Let's show this couple some love.
Annabel

Photographer – Big Bouquet
Venue – Swanage Town Hall + The Old Malthouse
Wedding Dress – Madeline Isaac James via Wedded Bliss
Veil/Headpiece – Wedded Bliss
Brides' shoes – Seychelles Footwear
Groom's Attire – Suit from  Moss + bow tie and braces One Like No Other on Etsy
Bridesmaids – Lindy Bop dresses + Irregular Choice shoes + clutch bags from Rachael Kay, Girl of the Sixties + Poppy Punch on Etsy
Flowergirls – Monsoon + pink tutu from Rocket And Bear shop on Etsy
Page Boys – Convese + bowtie from Divine Domestication + Amanda Jo Handmade + braces from Little Boy Swag on Etsy
Flowers – Bloom in Swanage

Cake – Frends
Transport – 1960s
teal Hillman Minx
Entertainment – The Baker Brothers

Additional Styling – Mostly DIY + Pipii + Pearl and Earl
Rings – Macrow & Son in Swanage
Catering – Cherry Catering of Swanage
Stationery – Laurence J. Davies