Hey! If you have time this afternoon, pop on over here and leave your thoughts ahead of my latest live BBC Radio interview tomorrow morning, I really value your feedback!
In this afternoon's wedding, Andy and Claire got married on 4th May 2013 with a reception at  St Mary's Church in Bolton-on-Swale, followed by a reception at Middleton Lodge in North Yorkshire.
I love this wedding for it's natural elegance.  Claire's gown by the undisputed Queen of old-school glamour, Suzanne Neville, couldn't suit her more…

"My dress was Maiden by Suzanne Neville. I bought it from a fabulous samples bridal shop called Berkshire Brides and I had it fitted by a local steamstress, Nicole Higgins who could not have been more helpful and lovely in altering the dress (twice) and repairing the many holes I made in it.

 This was the first dress I cut out of the pile of
wedding magazines I was given from a recently married friend. I loved
that it was so unusual from the other dozen plain white dresses I tried
on (it was described by one male friend as 'like someone has drawn
around the flowers with a black biro'!) I loved the delicate Chantilly
lace and was sold when I saw the covered buttons running down the back."
Photography Copyright (c) 2013, Nicola Thompson
"We met through our respective university sports clubs (and a sea of
Orange Reef and Sambuca!) and became engaged after 5 years in Sicily.
We planned to have the wedding in the spring which gave us about 18
months to plan our big day.
We took inspiration fur wedding from both the church and our
reception venue, Middleton Lodge, as they were beautiful, traditional,
elegant buildings (as well as my obsession with Downton Abbey and Lady
Mary's wedding day!).
We hoped that a 'Yorkshire' theme would run
throughout the day, ie. the buttonholes being made of white roses, the
gate tying tradition, and many, many barrels of Timothy Taylor ale!"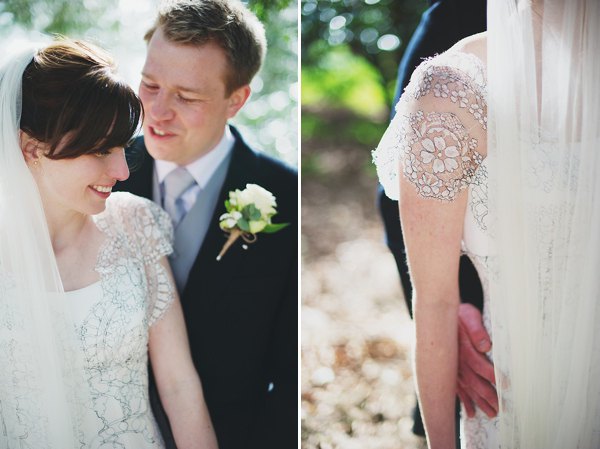 "In a bit of a break from tradition we chose to get married in the
village that Andy grew up in. He was Christened in the church and we
loved the fact that everyone could meet in the village pub before the
wedding with him and walk down to the church. The village itself is
beautiful and Andy's parents hosted a BBQ for us on the Sunday, with
cricket and rugby on the green. The reception venue was love at first
sight; we didn't bother looking around any others!
Not only was it only
10 minutes from the church, it had 17 beautiful guest rooms and multiple
gorgeous reception rooms, not to mention the huge marquee in the ground
which we took over exclusively from Friday afternoon until Sunday
morning. Oh, and a bar in the cellar which stayed open til 2am!"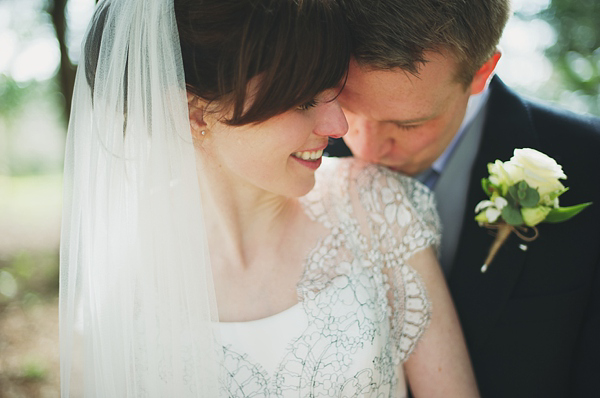 "Our florist was a friend (email Lucy Hope)
from the village called Lucy Hope who was perfect. I took along some
tatty print outs from Google images and she created some gorgeous,
rustic buttonholes with the twine to match the order of services, and
wonderful bridesmaid bouquets that complemented the dresses perfectly.
Lucy decorated the church, marquee and house as well with gypsophila,
roses  and eucalyptus leaves, and they all looked amazing. My Mum had
wanted me to have Lily of the Valley in my bouquet, and I loved it; so
simple and timeless. And the smell was wonderful!"
"I bought my hair comb from Etsy after
searching for a small, sparkly, 1920's style hair piece that would
complement the dress. It was from a vendor called 'Lulu Splendor'."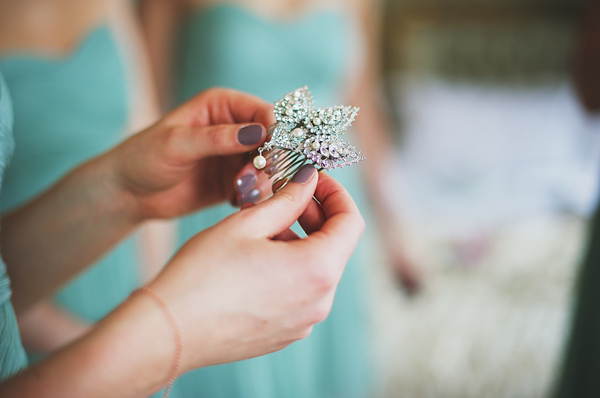 "My diamond earrings
were a gift from Andy for my birthday last year which he had made at
the same jewellers as my ring, and the bracelet was a wedding day gift,
also from Andy, from Links of London."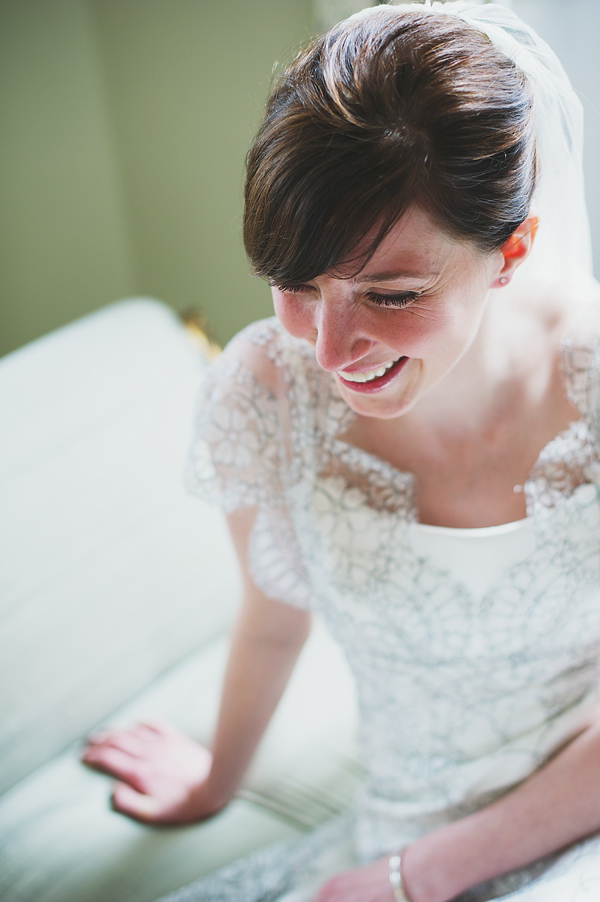 "My shoes were a gift from my bridesmaid and wonderful, stylish friend Selin. They are from Jimmy Choo and I absolutely, completely and utterly love them."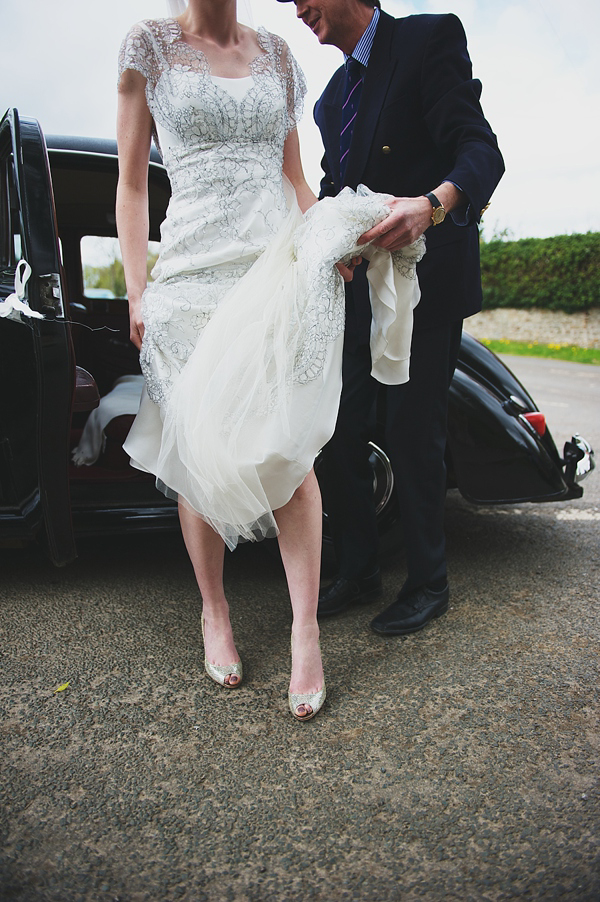 "Even though it was very simple, I adored my veil and
didn't want to take it off all day! It was a cut edge single tier,
custom length in firm ivory silk which Margaret at Dream Veils made very swiftly within 5 days of ordering as I forgot to order it on time!"

"I made a few blackboards from old picture frames and wrote an
amusing phrase on one and the bar menu on the other. Other styling
consisted of old suitcases from my family and friends for cards and CDs.
The Lodge itself was so beautiful we didn't need to do anything!"
"Our photographer was Nicola Thompson
who I found by looking online. I loved the informal, unobtrusive style
of her photographs, and in all her weddings she seemed to capture so
many emotions in one frame.
We got on well on Skype with Nicola and she was always
so excited about our big day. On the wedding day she was so, so lovely,
friendly and funny, and her pictures are superb. She made us feel both
at ease immediately, and understood that we didn't want to be away from
our friends and family for a very long time which was important to us,
and kept the group shots very short and well controlled (thank
goodness!)."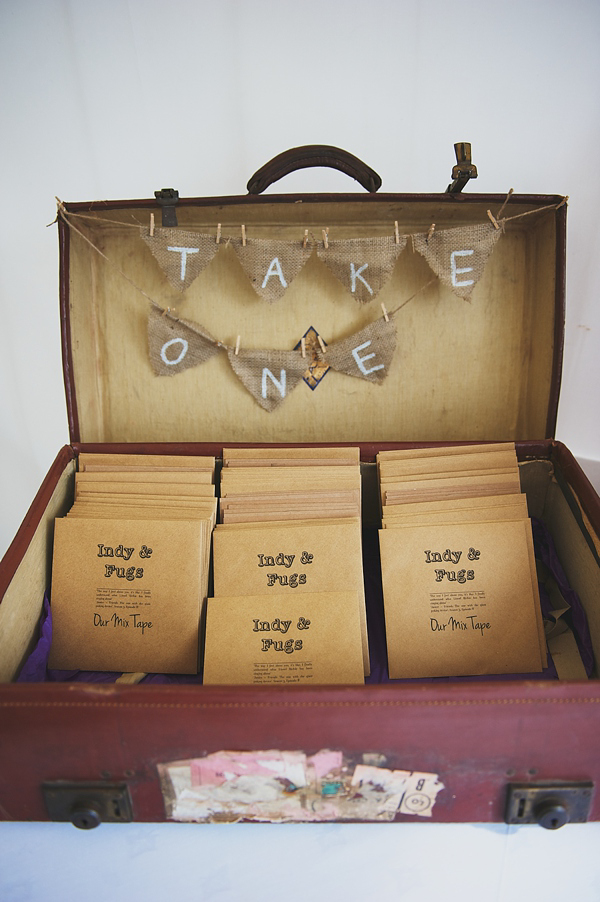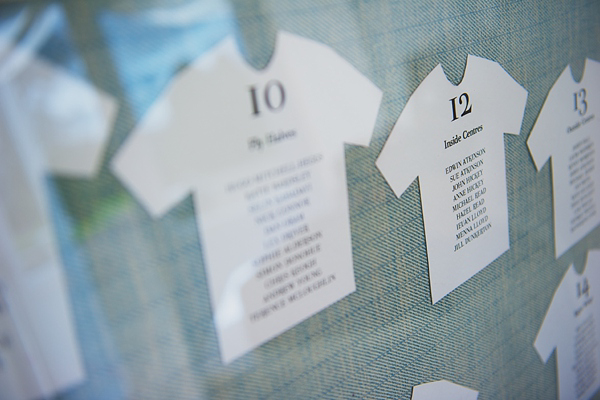 "I had a vague idea of what I wanted my hair to look
like, something along the lines of a low chignon with a sweeping fringe
and a wanted simple, elegant make up, but no idea how to actually put it
together! When I met Bonnie
in Harrogate I knew she would be perfect. She was so friendly and
knowledgeable, we gelled immediately. Bonnie did both mine and my Mum's
make up wonderfully, and I can't recommend her highly enough."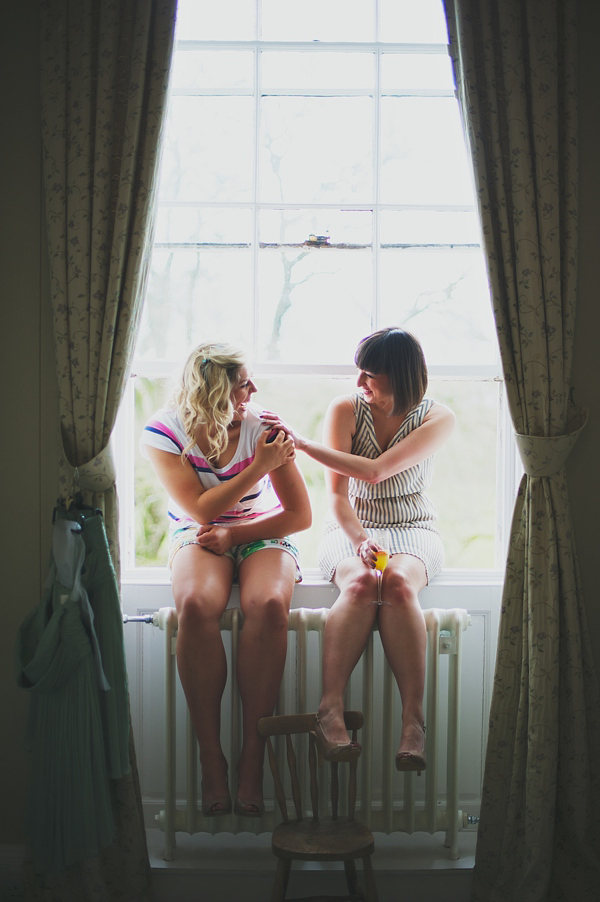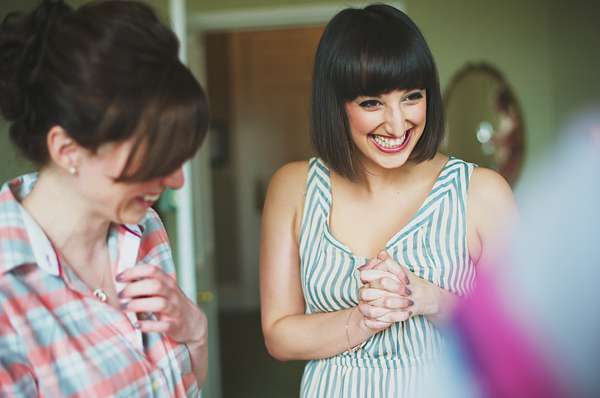 "The girls dresses were from J Crew.
We took a bit of a risk by ordering them online via the American
website when they had a flash sale on, for a friend to bring to the UK
from Maryland before the wedding to save some money! Thank goodness they
all fitted beautifully. 
We stumbled across these sling backs in Moda in Pelle
on a shopping trip, and my bridesmaids loved them. They were quite tall
but reported to be really comfy, and only one bridemaid changed out of
them into leopard print slippers by the end of the night! (you know who
you are!)."
 
"I bought the girls delicate rose gold bracelets with tiny horseshoes (we played polo on my hen do (again from Etsy – the vendor is called Orchha Jewels who does lovely stuff)"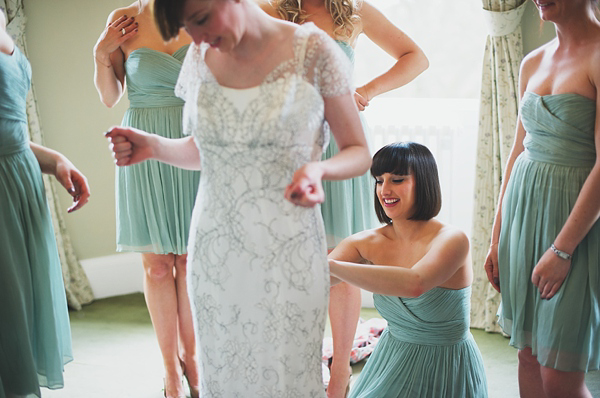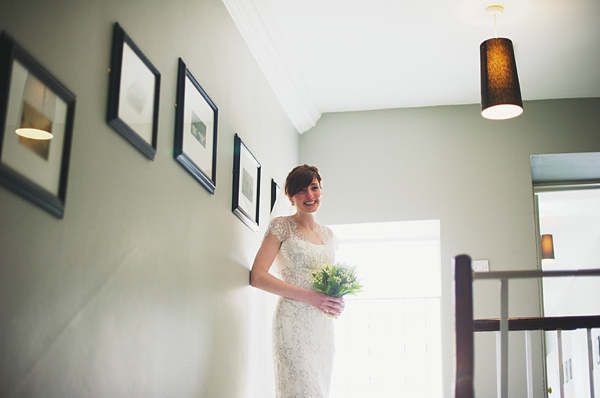 "The car, an old Riley, belongs to a family friend, which
he incredibly kindly renovated for us before the wedding. I loved the
vintage element it bought to the day, and it was lovely to have a
familiar face with us on the journey."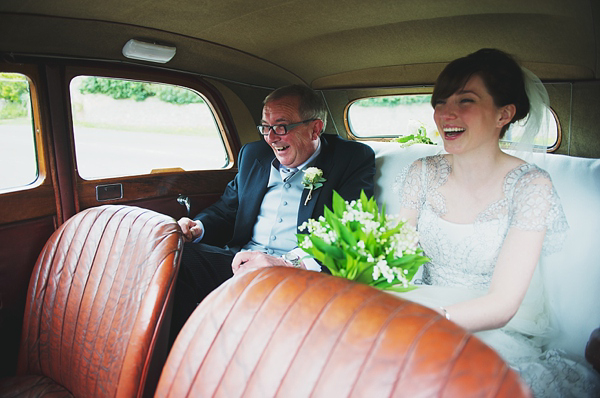 "My Dad gave me away, it was lovely to have the time with him in
the car to have a giggle with and calm my nerves before walking down the
isle.
We had 'Prince of Denmarks's March' by Jeremiah Clarke,  which was lovely, a good walking speed!"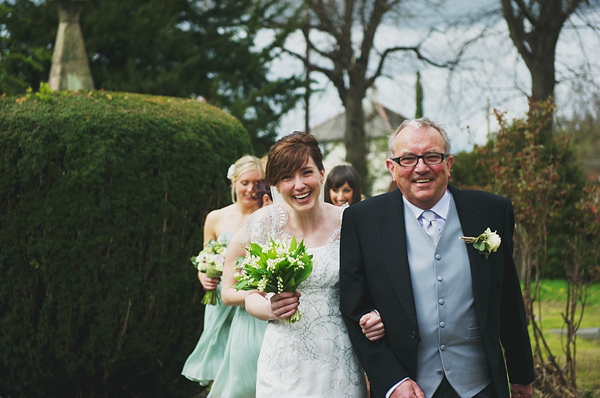 "Andy and the boys got their suits from Sensational Suit Hire
in Barnsley after being recommended by a friend. Andy had always wanted
tails so it was pretty straight forward to be honest. John was great;
very funny and very accommodating for the groomsmen, who were spread
around the country and globe, from Newcastle to London to New York. He
even bought in the waistcoats especially for us.
In keeping with the theme of the day, I bought Andy some silver Yorkshire Rose Cufflinks online which he loved."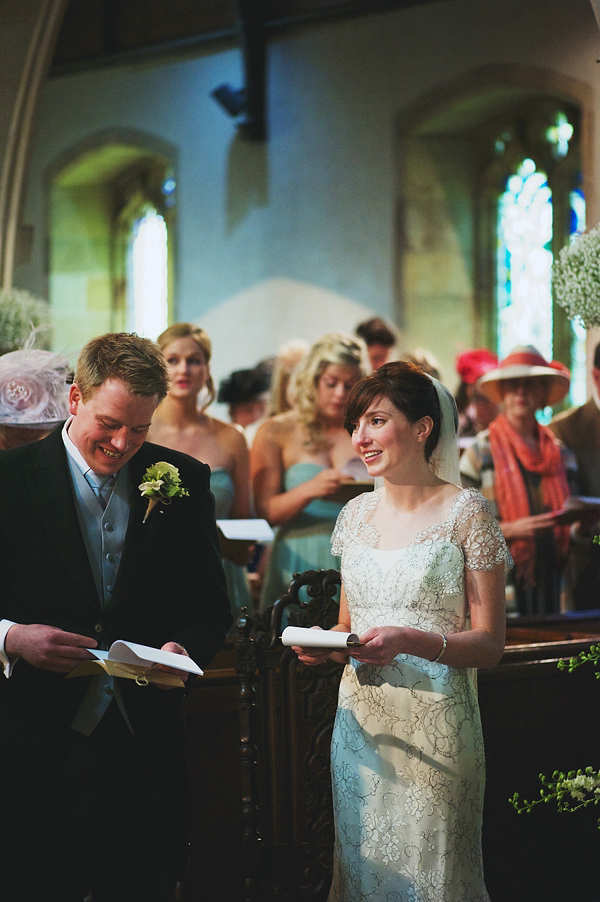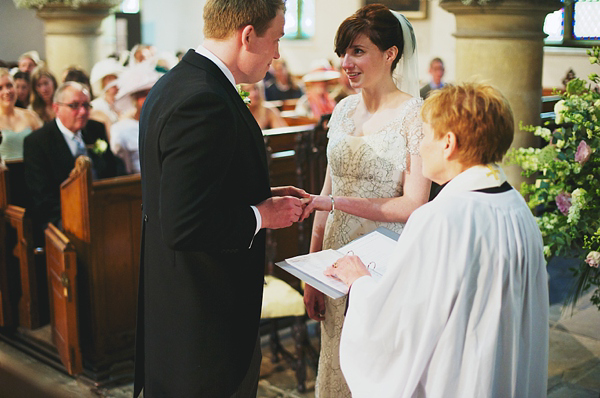 "My ring was a gift from Andy  – a bespoke diamond band he had made from a local jewellers, Mcavoy & Beardsmore and his was from the Palladium Ring Company."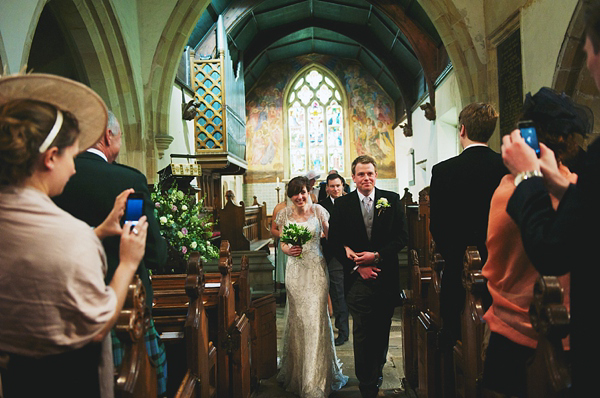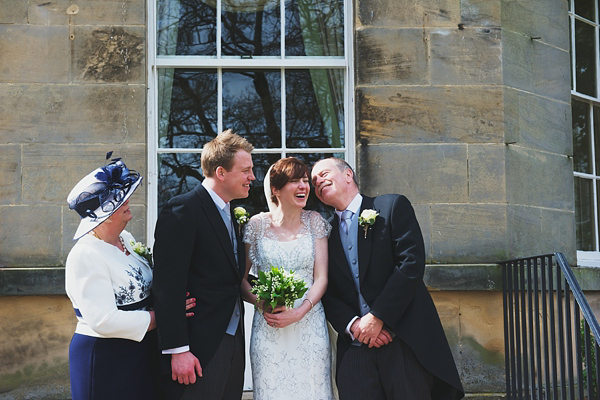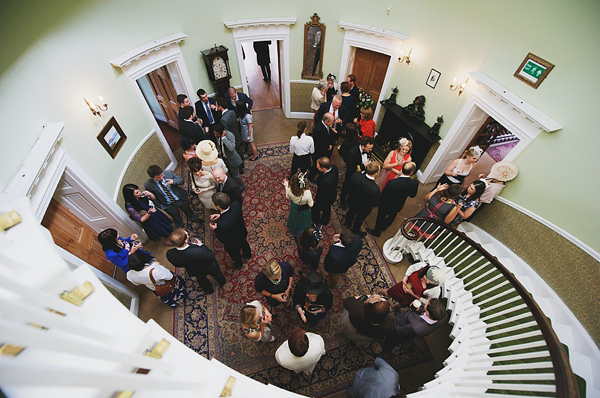 "We decided early on that we wanted a cheese wedding cake
as, quite simply, we both love cheese.  My mum found the base at a
builders yard! Our friend Katie baked us a huge handmade pork pie as one
of the tiers, and the other delicious layers were from The Cheese Shed online."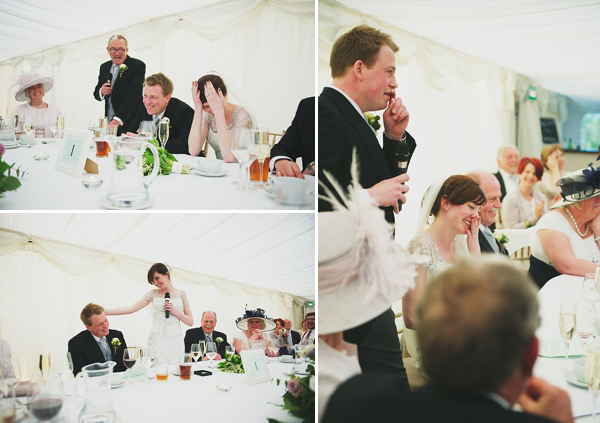 "Our first dance was Use Somebody – Kings of Leon. Not your typical
first dance song I admit, but a song we both love and could twirl and
stumble about on the dance floor to!
 We chose The Purple Supper Band
after hearing their demos online. We loved their set list, a mixed of
modern and classic covers and we chose to have a brass section too. They
were great, really fun and lively, and had us dancing (very badly) til
the small hours."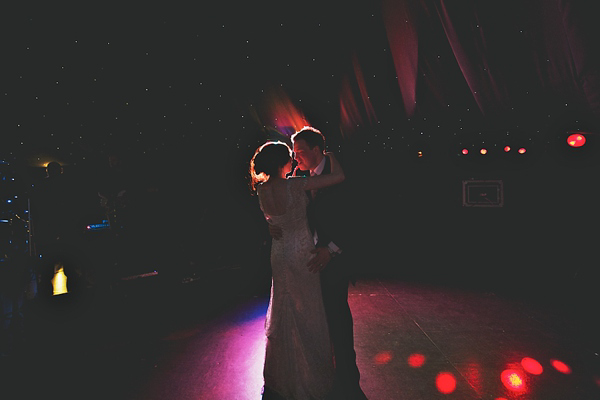 "There were so many things I loved about the day – from the
anticipation and excitement as we got ready in Middleton Lodge, to the
feeling of being announced husband and wife with everyone who you love
and cherish cheering for you, to our friends singing beautifully for us
as we signed the register,  to the speeches, which were absolutely
hilarious, heartfelt and full of banter.
I loved being able to get my
own back in my speech on our wedding day!  And the cellar bar!
Being able to carry on the party until 2am was epic. There were some
incredible sore heads the next day!   We probably ought of prepared
ourselves for a bigger bar bill though!"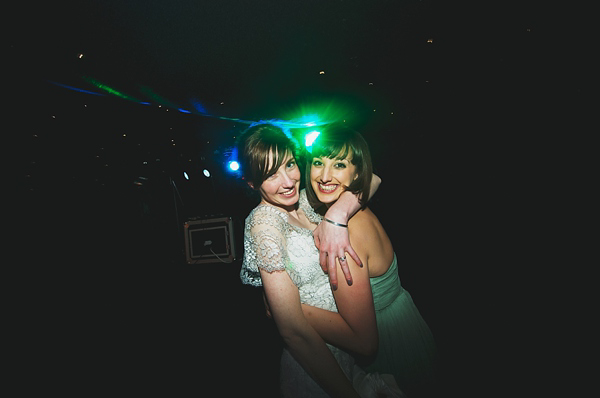 Words of Wedded Wisdom…
"We made CDs with our favourite power ballads on for the guests to
listen to on the way home from the wedding. I loved the rugby boys
blasting out and singing along to Starship – Nothing's Gonna Stop Us
Now, from their car on the Sunday after the wedding before they headed
to the BBQ.
I don't think I could add anything to
the words of wisdom from other brides about being organised etc, and
not leaving things til the last minute, but we're only human so don't
panic about it if, like me, you forgot to order your veil 2 weeks before
the wedding, for example! Lovely people and lovely friends will always
help you out! 
Oh, and don't underestimate the power of the scent of flowers. My
bouquet smelt amazing, and I hope that when I'm old and crumbly and my
eyesight fails me, I can still smell a lily of the valley flower and be
taken back to that most wonderful, laughter filled day."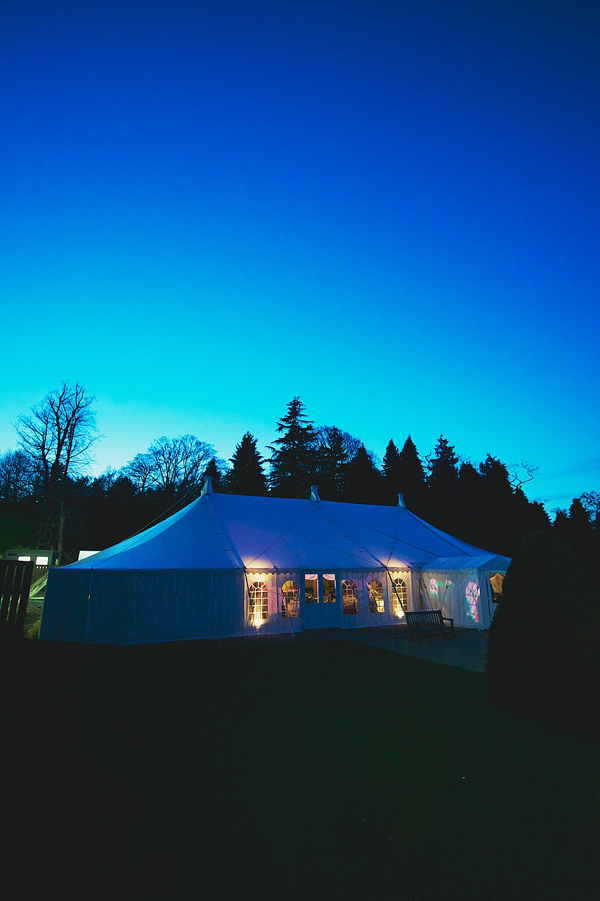 Just how lovely is this, and what beautiful images from Nicola Thompson – I encourage you to visit Nicola's website if you love this style of clean, crisp, elegant wedding day photography.
Readers who adore truly timeless and elegant bridal wear should look to designer Suzanne Neville for further inspiration.
Well ladies and gents, let us know your thoughts as always but otherwise, have a lovely lovely afternoon.
With much love,
Annabel

Photographer – Nicola Thompson
Venue – Middleton Lodge in North Yorkshire
Wedding Dress – Suzanne Neville via Berkshire Brides with adjustments by Nicole Higgins
Veil/Headpiece – Dream Veils + hair comb by Lulu Splendor
Brides' shoes – Jimmy Choo
Bride's accessories –
Groom's Attire – Sensational Suit Hire
Bridesmaids – J Crew + Moda in Pelle shoes
Flowers – Lucy Hope
Cake – The Cheese Shed online
Entertainment – The Purple Supper Band
Makeup Artist – Bonnie