It's always so very rewarding when one of our regular readers decides to submit their own wedding to feature on Love My Dress.  I can't help but think they are the best kind of wedding to share – it's not just proof to Franky and I that what we do works, but that it works beautifully – that these pages are inspiring brides in all the ways we could hope for – and leaving those brides wanting to inspire others.
Love My Dress regular Libby tied the knot with her French beau Joseph on 27th April 2013, with a ceremony at Heddon Methodist Church, followed by a reception at Hexham Winter Gardens. 
"I
think it was actually our venue that inspired us to style the day the
way we did! As it was full of historic charm with a slightly 'worn'
look, vintage inspired decorations seemed to work really well.   We
knew that we had to have a lot of colour involved in the day as
whenever I had seen other weddings that were bright and vibrant they
always made me smile! I love how colourful my flowers were and also the
bridesmaid dresses and of course our shiny green 1956 Oldsmobile! 
I
wasn't particularly bothered about there being a certain colour scheme
in the venue, however we seemed to edge more towards blues and pinks
once we'd decided on the design of the cake and how good they looked
together!"
Love My Dress Wedding Blog – Photography Copyright (c) 2013, Lisa Devine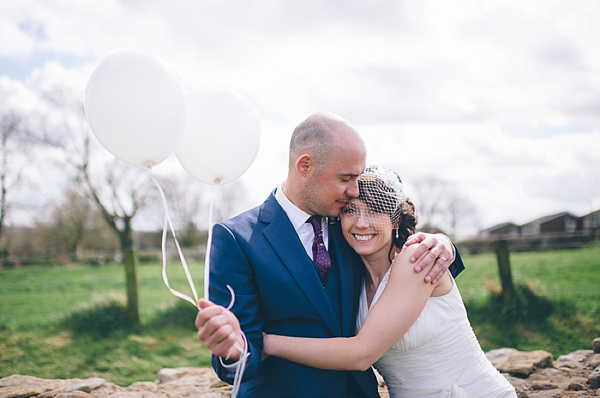 "We
met through our close friends, Emily and Guillaume whilst on a night
out. I had just returned to Newcastle after travelling and Joseph had
moved there from Brittany a couple of years beforehand. We got on so
well and I couldn't resist his French charm! Four months later Joseph
moved to Mauritania in Africa to start a year's volunteering programme.
We stayed together though and I even got a trip over to see him. When he
returned we decided to move to Glasgow as I had studied there and loved
it!
Six years later, whilst on a trip to France for my
birthday in December, Joseph proposed at the top of Mont Saint Michel in
Normandy. It was very romantic – a rainbow was in the sky and the
Abbey's bells chimed just afterwards (Joseph tells me he planned all of
that of course!).
We were engaged for just under a year and a half before getting married."
"There was a
blank screen in the venue that we ended up covering with French toile
inspired damask design wallpaper, that we had purchased from Laura
Ashley, along with fairy lights and a 'Happily Ever After' sign I'd
picked up. It looked so pretty. We used lace covered jam jars (that
everyone had been collecting for us) as tea light holders and these were
scattered around the tables. We lined the path outside of the venue
with lanterns on hooks that we'd bought from Ikea.
One of our most
favourite items was the sign post that our friend Danny made for us. It
had all of the places with distances that our guests had travelled from.
He'd painted it pink and blue to tie in with the colours in the venue.
Everyone thought it was great!"
"My bridesmaid Emma and her sister did all of our flowers. They have just started their business, called Camellia Gray,
and we were their first wedding! They did an amazing job – everyone
commented on how lovely they looked. 
I didn't really have a clue as to
what flowers I wanted. I knew I wanted them to have that 'just picked'
wildflower look with lots of colours. I wanted tulips to fit in
somewhere as they are my favourite flower but left the rest up to Emma.
She did loads of research and came up with great ideas. She even found a
wild tulip that looked fantastic!"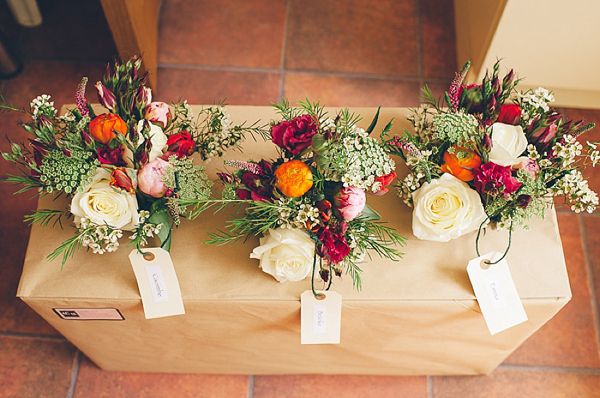 "We both absolutely loved our car – a 1956 Oldsmobile!.  It was amazing. We felt so special travelling in it. We hired a vintage bus
also to transport guests from the church to the venue. We thought it
would be a good experience for our French guests and add some 'British'
charm to the day."
"I found my
dress on the first day of dress shopping with my Mum. I only visited two
shops but tried on a lot of dresses! None of them really felt right
until I tried mine. I didn't think I had an idea of what kind of dress I
would like, but as soon as I tried on designer Stewart Parvin's 'Pretty as a Picture' dress, I loved the
internal corset and how it flattered my shape! It seemed too easy but I
knew it was right for me.
I ended up getting some embellishment added
to the shoulders as I felt as though it was missing something.  I found
an amazing dress designer called Kate Collins based in Newcastle who helped me
choose the perfect embellishment and also carried out my alterations."
"I
loved my shoes – they were Agnes by Rachel Simpson. I had tried on so
many and had even bought a pair that I thought I would wear. However,
they just weren't quite right and it wasn't until a month before the
wedding, when I was in Melle Cloche in Glasgow, that I tried on Agnes. They were so cute and felt perfect!"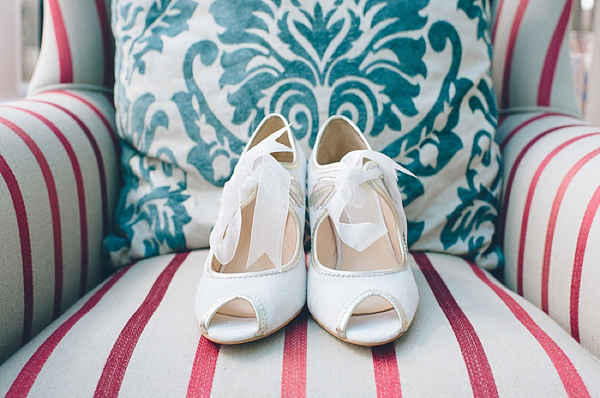 "My
feather cape was a last minute addition to my outfit as the weather had
been so bad I thought I better have something in case it was cold. It
actually ended up being a beautiful day but I loved the cape too much to
take it off! This was another one of Kate's designs.
I bought my headband from Lily White Bridal and Kate added the birdcage veil.  My earrings were 'Bo Peep' by Stephanie Brown bought on Liberty in Love's website I loved how vintage they looked and thought they added the perfect touch to my dress."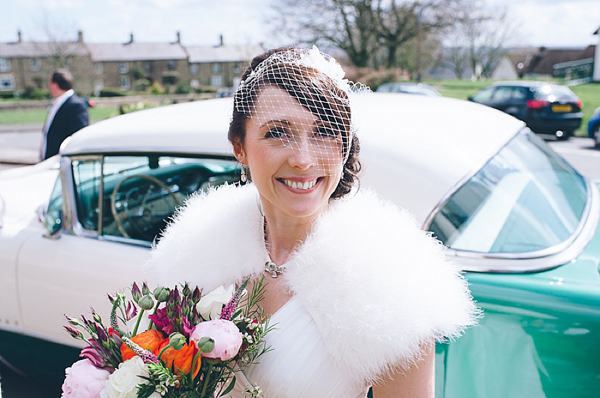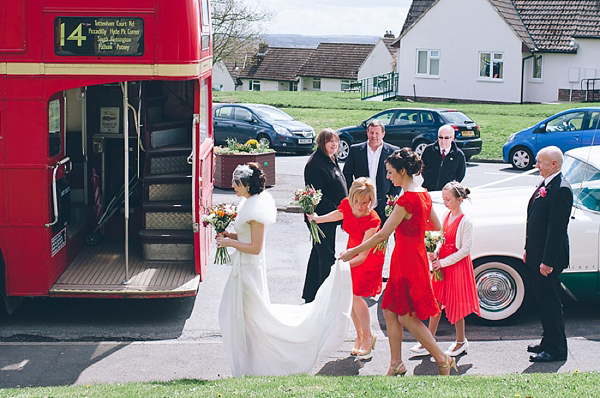 "I
spent a lot of time on the run up to the wedding looking in antique
shops, charity shops and at markets for anything that we could use to
decorate the venue with. I found an amazing pair of ornate French Louis
style chairs for myself and Joseph to sit on during the meal, vases and
jugs for flowers, candelabras and candle stick holders that all came in
very useful!
We bought fairy lights in mass and covered the venue in
them – they looked absolutely stunning when it got dark outside. We
hired 80 metres of bunting,
in addition to personalised bunting that friends had made us, which
added the perfect touch and made about 40 paper pom poms."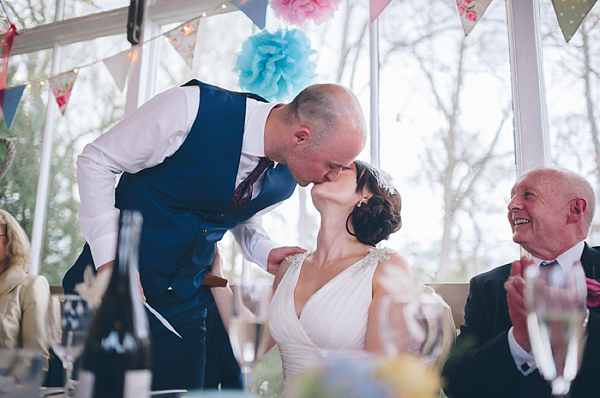 "Joseph's 3-piece blue suit was from Reiss. It was such a lovely colour – he looked so handsome in it."
"My
two adult bridesmaids' dresses were from Karen Millen. We had searched
and searched for the right dress. None of us live in the same city so it
was easier to find something from a high street shop. The girls were
great at going and finding dresses that I'd emailed over to them and
trying them on. They were never quite right though. I was so excited
when I found the Karen Millen dress – it was perfect!  
I thought the
girls looked lovely in them and the bright colour was amazing. We gave
them both gold pashminas, which Joseph had bought in India especially,
in case it was cold later in the day."
"Our cake was made by my Mam and her lovely friend Gill. My dad is
famous for his fruit cakes so he was roped into making the bottom tier.
The other three tiers were lemon madeira and victoria sponge. The cake
was modelled on a vintage design we had seen in a magazine.
I loved the
blue and pink together and thought it would fit in well with the style
of the wedding. My friend Angela made the cake toppers, which were a
surprise! They were perfect – Jo is a big Arsenal fan and I love wearing
red dresses."
"Our photographer, Lisa Devine,
is amazing! Not only because I love her photos but also because she is
such a lovely person. She fitted in perfectly and had a very
professional yet relaxed approach. I think that is so important! We
can't recommend her enough."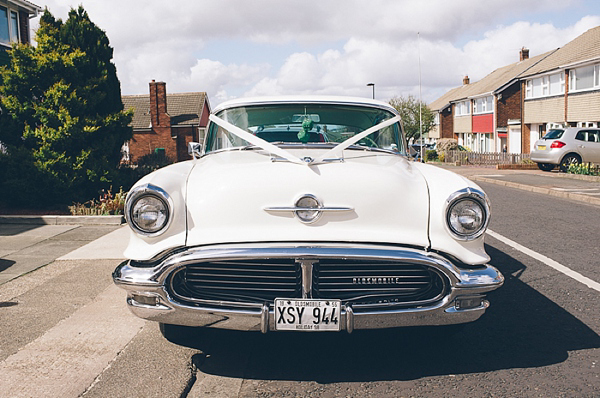 "My niece, who was my young
bridesmaid, wore a really cute floaty dress and cardigan from Monsoon."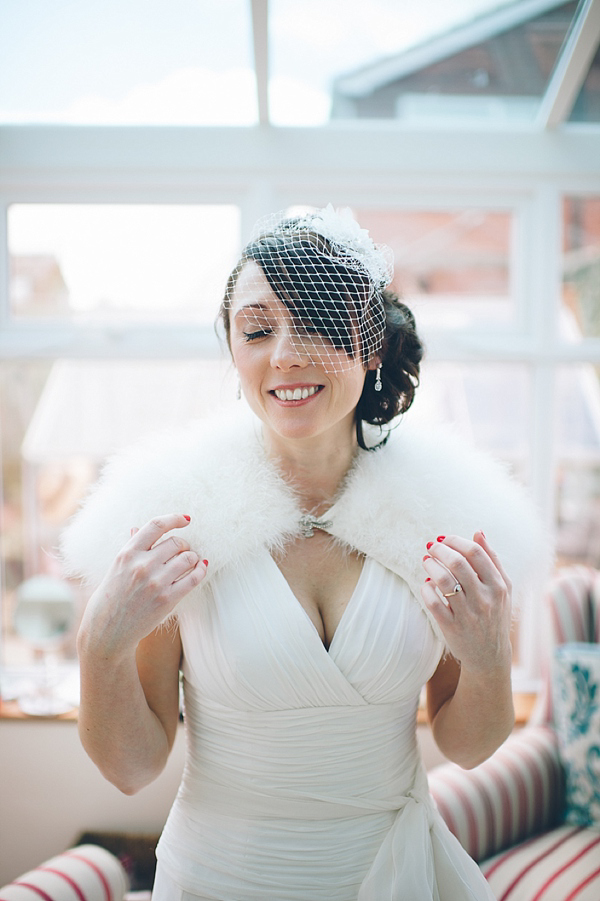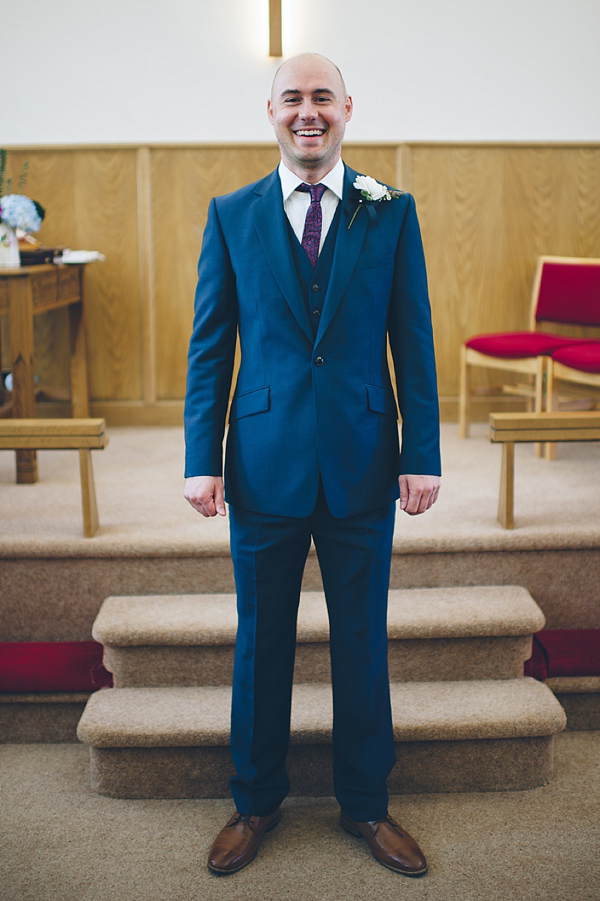 "Heddon Methodist Church, where our wedding ceremony took oplace, is a really cute small
church in a village close to my parents' house right next to Hadrian's
Wall in Northumberland…"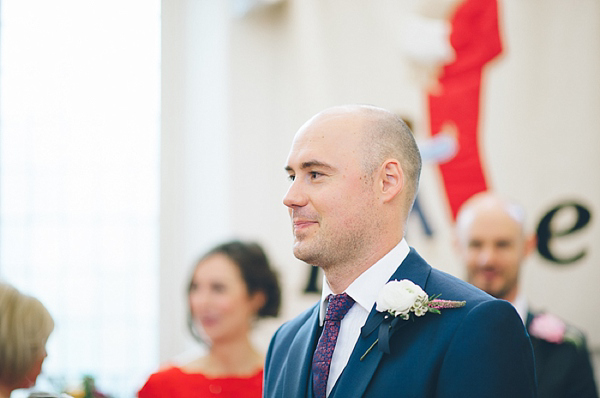 "I
walked down the aisle with my Dad, to the sound of Eva Cassidy's
'Songbird'. I've always loved that song and couldn't imagine walking
down the aisle to anything else."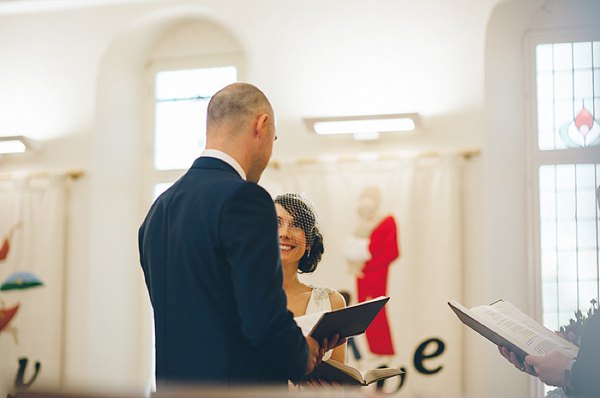 "We chose my engagement ring together
at an antique shop in Doune. It's a very unusual shape and I loved how
unique it was. My wedding band was designed and made by Brazen in
Glasgow. They made it to fit perfectly around my engagement ring and
they look just like they were always meant to be together. Joseph's
wedding band was also from Brazen."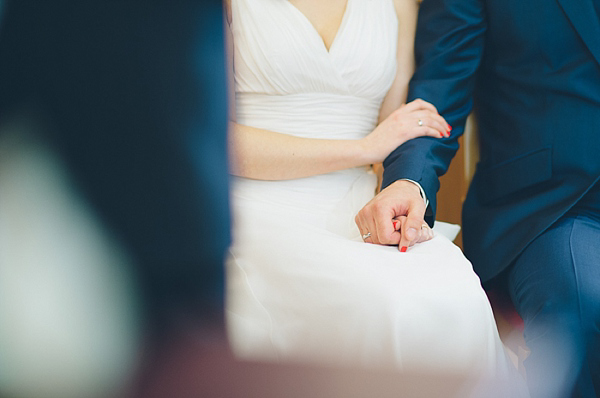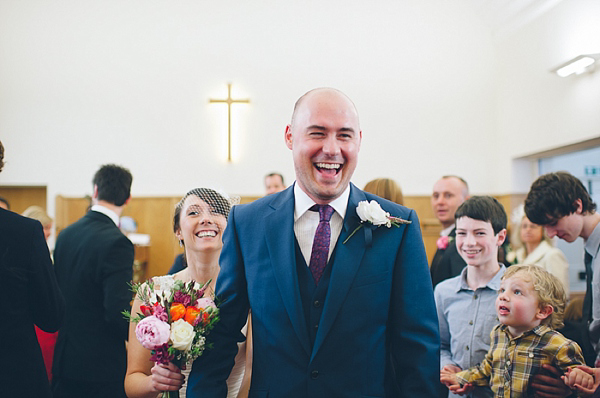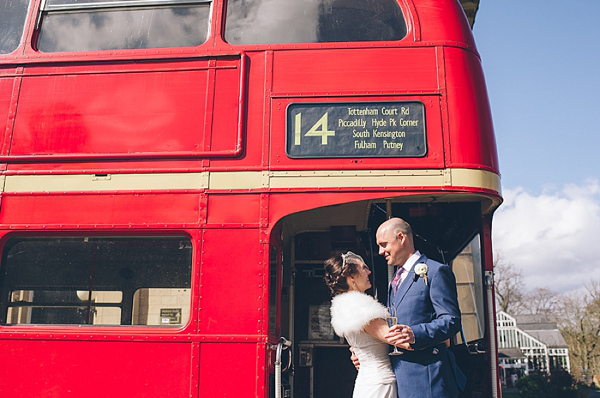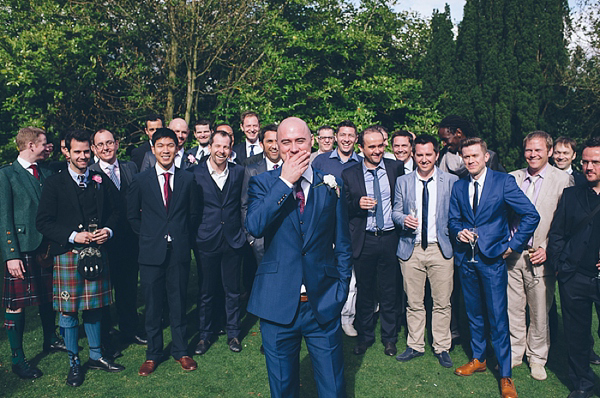 "We knew we wanted a venue that was quirky and different, but a
lot of the ones we visited were either too small or over our budget. We
wanted somewhere that we could create a relaxed and informal atmosphere.
I loved the idea of having a BBQ buffet where everyone could help
themselves. I stumbled across the Winter Gardens in Hexham (no website) by chance and it was as
if it was meant to be! It couldn't have been more perfect.  It had so
much charm and character and we could also do anything we wanted. I
remember the first day we went to see it…the sun was shining in through
the windows and the whole room was bright and wonderful!"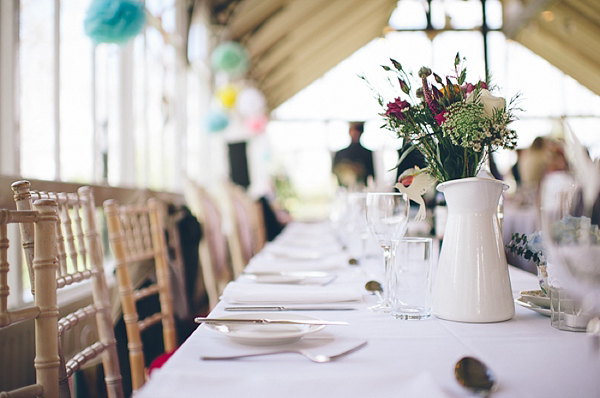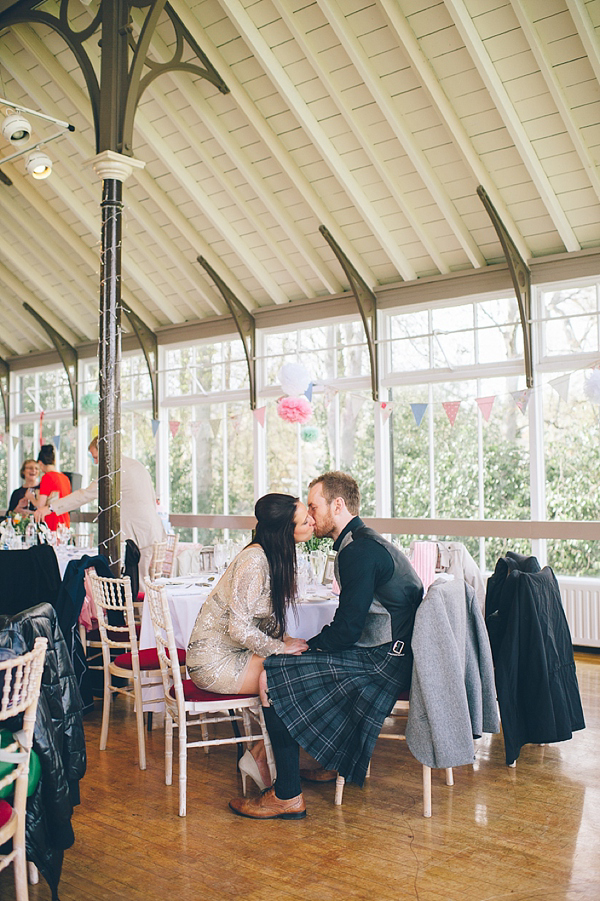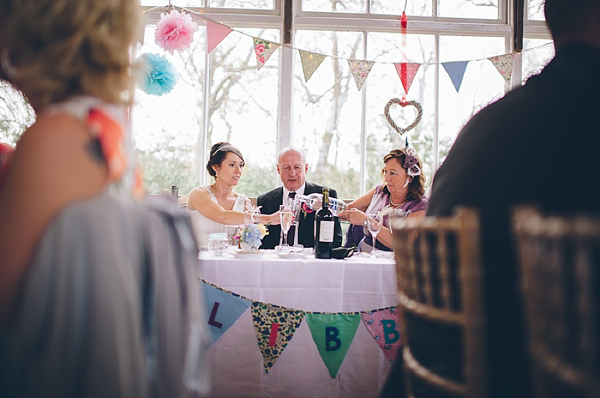 "We also hired a Snaparazzi retro photobooth
which our guests absolutely loved! They provided a great range of props
which make the photos even funnier to look back on. Everyone had so
much fun.  I think this was one of the best things we spent our money on. I would highly recommend to anyone."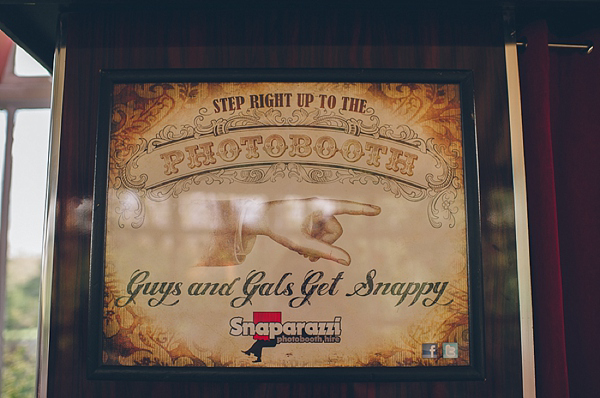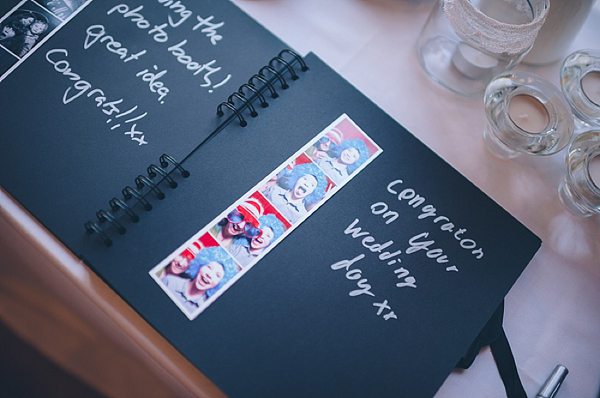 "Instead of
favours we decided to have a sweetie cart which we organised ourselves.
This was a bit of a last minute decision as we were supposed to have a
candy floss machine, however we were notified two weeks before the
wedding that it had broken down. The day after I found this out me and
my Mam were walking through the Grainger Market, in Newcastle, looking
for tissue paper to make extra pom poms with when I saw the most amazing
'shabby chic' looking cart.
It was being used by one of the shops to
display items they were selling. We ended up arranging to hire this from
the shop keeper who then advised us to go and see 'Pat's Sweets' within
the market to organise sweets. Everything just seemed to fall into
place and we were able to save a lot of money doing it ourselves!"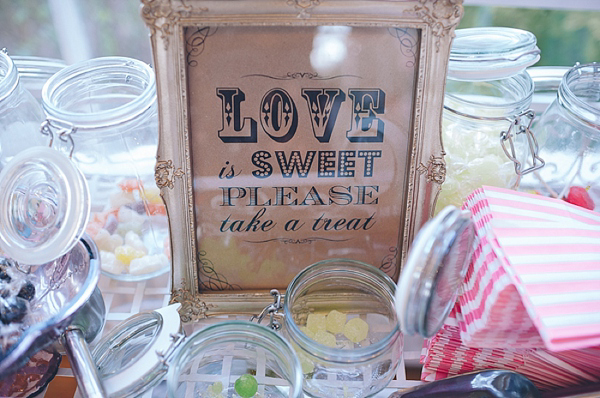 "Our first dance track
was 'Everywhere' by Fleetwood Mac. We really struggled to find a song
that felt right. We didn't want anything too soppy or too slow. I was
even contemplating not doing a first dance but then Joseph came up with
the idea of 'Everywhere' as we both love it and the lyrics were
perfect!"
"Our DJ in the evening was Dan from Hi-Life Entertainment.
He was great! I'd really recommend these guys if you're looking for an
alternative to the usual cheesy mobile DJ. We were constantly on the
dance floor!"
Words of Wedded Wisdom… 
"Take everything in your stride – if one thing in the planning stages doesn't work out then something else will! If friends and family want to help then let them! And finally, the most important thing is to enjoy yourself on the day!
I love the style of writing on Love My Dress – it's always so enthusiastic and happy! You can tell that both Annabel and Franky have a real passion for weddings. I love the images that you include too -  the bright colours, the quirky decorations.
Our caterers, Curly Farmer
were great! Nothing was too much trouble and they made the most amazing
food. Our guests are still talking about it! Kate, who owns the
business, had only just got married before us so she knew exactly how we
were feeling and was great at giving us ideas and recommendations of
other suppliers.
We decorated the day
before the wedding and we can't thank enough the friends and family who
helped us! It was really hard work and we were touched by all the
efforts everyone put in. It was amazing to see it on the day. I loved it
so much – it was everything I had envisaged it to be and more!"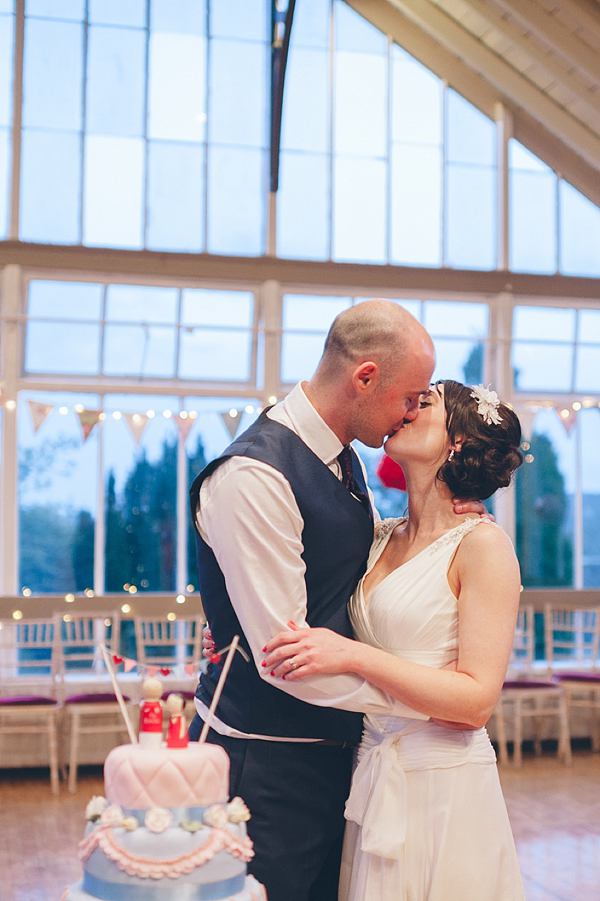 Wow, what a gorgeous day absolutely full of smiles! I love these photographs so much, thank you so much Libby for your very kind words about Love My Dress and for sharing your beautiful day – and a huge thank you also to photographer Lisa Devine for sharing her beautiful photography.
What do you love most about this wedding? The dress, the decor, the detail, that cake topper? Let's show some love for this lovely couple.
Stewart Parvin is a Royal Couturier who has a reputation for producing the most beautifully crafted wedding dresses – think 'master of his craft' with access to all the very finest fabrics in the world and you get the picture – I bet Libby's dress felt like a dream to wear. Are you a Stewart Parvin bride?
With much love,
Annabel
Photographer – Lisa Devine
Venue – Heddon Methodist Church + Hexham Winter Gardens
Wedding Dress – Stewart Parvin 'Pretty as a Picture'  Lily White Bridal
Veil/Headpiece – faux fur by Kate Collins
Shoes – Agnes by Rachel Simpson, via Melle Cloche in Glasgow
Bride's accessories -'Bo Peep' earrings by Stephanie Brown, via Liberty in Love
Groom's Attire – Suit from Reiss
Bridesmaids – Karen Millen
Flowergirl – Monsoon
Flowers – Camellia Gray
Transport – a 1956 Oldsmobile + vintage bus
Entertainment – Hi-Life Entertainment
Catering – Curly Farmer
Hair Stylist – Sabai Hairdressing
Retro Photobooth – Snaparazzi
Bestman's suit – Zara