I received the biggest compliment yesterday from photographer who regularly submits to and whose work regularly features on Love My Dress.  They said  that they really love the way we structure our real wedding features – that brides and grooms can get not only a great feel for the wedding, but a great sense of how the photographer works, the style of images they produce, that our blog really stands out for such beautiful features.  That makes me more happy than I think you could possibly understand. It means I'm doing my job well and that we're inspiring you all in the right way, the way we intend to.
It's true that we take very great pleasure in producing our real wedding features. We really do.  I know that for some people, it's just all about the images, but we love the story too – how the couple met and got engaged, why they chose their venue, how they planned their wedding together, their vows and the readings they chose.
Today's real wedding that was sent in by the super-lovely photographer Ellie Gillard, is typical of the kind of exceptionally beautiful and inspirational day we like to share, but behind it are two real people who fell in love and decided to commit their lives to one another.  Charlie and Ryan share their story below.  The couple tied the knot on 20th July 2013 at Gaynes Park in Epping, Essex and we hope that the story of their wedding day makes you smile today…

Photography Copyright (c) 2013, Ellie Gillard
"We met at The Dogstar in Brixton.
Some might say it's coincidence but we definitely think it's fate. We
were both supposed to be going to different venues with friends but a
missed stop on a bus and a bad reggae night in another club meant we
were both in the right place at the right time. Ryan was dancing on the
dancefloor and a wrong swing of his arm meant he nearly punched me in
the face.
We laughed about it, Ryan asked if he could join me outside
for a cigarette. We talked all night and after our friends had abandoned
us I agreed to go back to Ryan's flat (after threatening to severely
hurt him if he tried anything on). That was the Saturday night of May
Bank holiday weekend and I didn't actually leave until the Tuesday
morning after a weekend of finding out everything about each other- And
he was the perfect gentleman! We now refer to it as 'The 48 Hour Kidnap'
We've been together ever since."
"We chose to get married at Gaynes Park in Epping, Essex.
I had seen the venue a while ago and when we got engaged I told Ryan
about it. I was aware it was popular and I wanted to get in there quick
to make sure we got a date in 2013. When I spoke to them they told us
that there was only one date left and we needed to come in quickly to
secure it. Ryan and I went and he fell in love with it instantly too so
we said yes there and then. Within 5 days of being engaged we booked the
venue!  
We knew we were perfectly capable, because of my job, so didn't hire a wedding planner/stylist. I work for a company called DesignMyNight
where I am the company's Concierge Manager. Basically, it's a free
party planning service and my job consists of helping people plan their
perfect event everyday. I get a lot of weddings coming through to me and
it's my job to make sure I help them find the perfect venue. We're also
quite a creative and musical pair so we thought a DIY wedding would be a
piece of cake!"
"My dress was by La Sposa.
I originally bought my dress from a wedding dress shop in Essex. To be
honest my dress was the biggest heartache for me as we had real problems
with the original dress shop. They were charming until we had paid for
my dress and then as soon as they had the payment they became rude, they
fitted my dress wrong and their service wasn't to the standard I
expected. After much deliberation I decided to take it away to be fitted
somewhere else.
Little Black Dress
are a seamstress local to me and they made me love my dress again.
Maria and Sam are absolute angels in my eyes and they are one of the
main reasons I found our day so perfect. If my dress hadn't fit me
properly I would have felt so uncomfortable- I'd recommend them in a
heartbeat!

The dress had a full skirt which is
what I had always wanted, It was a mix of lace, tulle and it wasn't too
blingy which is something I really didn't want. I was worried in the
search for my dress because most dresses I had seen with full skirts
were 'princess' dresses and covered in sequins and diamante. I wanted
the dress to represent me day to day and something covered in bling
wouldn't have been a true representation."
I didn't have a veil but I had a floral crown which was made by our florist  Lily and May. Again, I didn't feel comfortable in a veil and I felt it wouldn't represent me."
"I actually won a pair of shoes from Agnes and Norman
in the run up to my day which are gorgeous. However, I tried them on
with my dress and didn't feel like they matched so I started looking for
a vintage pair of shoes at boot sales, charity shops and on the
internet. I eventually found a beautiful pair on EBay and they were
perfect."
"I'm really inspired by Vintage Interiors and homeware and I am
constantly seeing beauty in things while Ryan thinks I'm crazy (I
frequently prove him wrong!). About a month after we got engaged I
walked past our local charity shop and saw there was a 1950's typewriter
in the window. I came home and told Ryan about it and told him I wanted
to use it for details for the wedding.
He told me I was mad but it
spurred me on and the next day I went back and bought it. Ryan bet me
that I would get bored of using it but I absolutely loved it. So the
wedding was really planned around that- We wanted a rustic style
wedding, challenging tradition and something that was truly personal to
us. We also liked pale yellow and duck egg blue as wedding colours but
in the end we ended up with a mix of pastel colours which complimented
each other and meant the wedding wasn't too stylised and more
unstructured."
"With our flowers, I wanted them to look like someone had picked
them out of a meadow to stick with the rustic theme. When I saw Lily and May's website I knew there was no one else better to help us create the
look we wanted.  Claire, the owner of Lily and May,
is so friendly and as soon as we stepped into her beautiful workshop in
Brentwood, I knew she understood my vision. She got it down to a tee
and everyone at the wedding commented on how beautiful the flowers were.
No two centrepieces were the same and even down to the mismatching
buttonholes for the boys, she makes everything with so much love and
detail. We couldn't have been happier with it all."
"I wanted my girls to look as beautiful as possible and found the
usual maxi dresses wouldn't match the style of the day so I wanted to
look for 1950's reproduction dresses. I found the Bridesmaid dresses on a
website called Lady V Vintage.
I saw them in the January sales for half price so on a bit of a whim I
bought them! They were perfect for our theme and my girls, Emma and
Charlene, absolutely loved them!
I wanted my
Maid of Honour, Naz, to be dressed differently in yellow so I started
the hunt for her dress on the internet. It was what took the longest to
find out of everything but when I found Dig For Victory's website I knew I'd found it! The dress was stunning! We also had petticoats for under the girls skirts to make them sit right.
All the bridesmaids shoes were vintage and sourced from either boot
sales or EBay. I wanted them to all be different and individual but all
in white. They complimented the dresses perfectly. I did most of the
shopping for the wedding online or at boot sales and we were lucky that
everything fit.
I also had a Man of Honour, Adam, who was dressed the same as the Ushers!"
"Ryan's favourite part of the day was when he first saw me walk
down the aisle. He said he knew was going to be emotional on the day but
didn't expect to cry so early! 'She looked so beautiful and I felt like
the luckiest man in the world'."
"We used various vintage accessories that I have collected over the
years including a 1950's sewing machine, wire baskets, floral tins,
vintage books, wire chandeliers and bunting… and of course the
typewriter was pride of place with a little note for our guests."
"I made most of the wedding stationary used on our big day.
The typewriter was used to make the Order of Service, Menu, Place Names 
and the Table Plan from Kraft luggage labels and paper doilies. It was
hard work but completely worth it. There is something so special about
using it and no two items were the same. It gave a real sense of charm
and character to the day which you can't get using a computer.
I
also got inspiration online to have origami fortune tellers on the
tables which had questions about us for our guests to answer inside-
They were a great way to get people talking on the tables who hadn't
previously met! I contacted a designer called Julia Eastwood who made them for us (as well as our table numbers) and they were great."
"We also decided it would be nice to have origami birds made from vintage wrapping paper as accents for the day.
I watched a how-to on youtube and ended up making almost 100 origami
birds. We love them and still have them hanging up around the house.
The
table plan was made using a vintage suitcase which I've had for ten
years which I bought from Greenwich Market. It matched perfectly, filled
with origami birds and luggage labels."
"With regards to our wedding photography, it was more a case of
knowing what we didn't want rather than what we did. Neither of us were a
fan of the normal wedding photography with lots of group shots and the
standard pictures you see after every wedding. We scoured the internet
for about a month trying to find what it was we were looking for and as
soon as we saw Ellie Gillard's page, we both knew she would be perfect.
Ellie's photography is breath-taking and from the first moment we met her, we
had every confidence she would capture our day in the most magical way
possible. We wanted candid, natural shots which captured moments and for
them to tell a story, not a set of set-up generic photo's. She didn't
disappoint and her and second photographer Kylee captured shots we will
treasure forever. I have no doubt we will use Ellie again at future
milestones in our lives- She is an absolute gem!"
"I did all my own hair and make up. I remembered from when my Mum
got married to my Step Dad that she spent loads of money getting her
hair done professionally but didn't like the outcome so ended up redoing
it herself. I knew I would be the same and i wouldn't find anyone who i
could explain to in enough detail how i wanted to look. I bought a set
of heated rollers and make up from stores that I love and practiced it
in the run up to the day."  
"We wanted our dog Elvis to be part of our special day as he's a big
part of our life together so he needed to look smart too. We got him a
haircut and I made him a bowtie collar in black so he could feel
special! He looked so cute and the whole wedding party fell in love with
him- Including all the staff at Gaynes Park."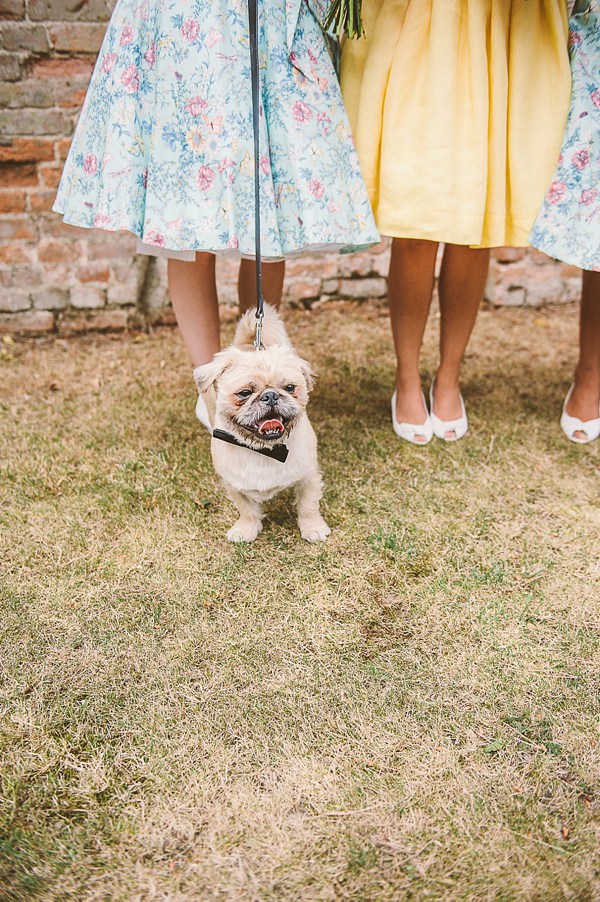 "I
kept saying to the girls that I wanted them to look as natural as
possible so they all had their hair down and wavy with no accessories.  I
bought the girls white flower earrings which I gave them all on the
morning of the wedding. It was the only matching item they all had which
tied them all together."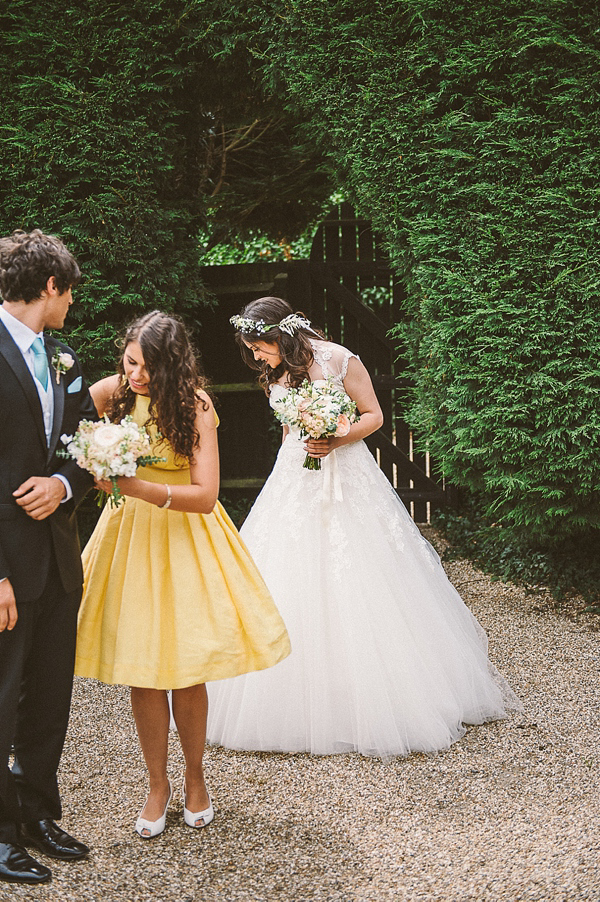 "My Dad gave me away. It was lovely to walk down the aisle with him-
Even thought it was almost a race down the aisle as I was walking so
fast from nerves!  I
walked down to 'Marry Me' by Train. It is a song that Ryan and I have
sung together for a few years and it was a perfect choice. Music is a
big part of our relationship so music played a huge part in our day. We
decided that we didn't want typical wedding music but music that meant
something to us.
The theme was more 'Indie Ballad' than 'Michael Buble
Crooning' (even though we love a bit of Buble too!) so we had tracks
from Dashboard Confessional, Lennon Stella, Ryan Adams, Newton Faulkner,
Bishop Allen and Regina Spektor to name a few."

"We wrote our own vows for each other and
hearing what each other wrote was the most emotional part of our day.
It also was a lovely way to let everyone else know exactly how we feel
about each other.
We had two readings at the
wedding. My Mum is an English teacher so she wrote us a poem which was
top secret until the big day- Even when we had to send it over to the
Registrar she demanded we sent it in a sealed envelope for their eyes
only. It was lovely to have something so personal that was a surprise
for us both. The second reading was read by my Man of Honour Adam and we
asked him to read a set of quotes from the Notebook. He's an actor so
he really made them flow like one monologue and jump off the page."
"We hired all the boys suits from Moss Bros.
It was the perfect choice for us because our ushers, Phin, Adam and
Jay, Page Boy Jake, Man of Honour Adam and The Best Man, Sam, lived all
over the country in London, Essex, Kent, Somerset and Dorset. It meant
it was easy for them to go and get fitted at different stores. We also
had our fathers in matching suits too so they stood out as part of the
bridal party.  They all wore French Connection suits with a white shirt,
waistcoat and matching blue ties. Ryan was the only one in a yellow tie
to make him stand out.Ryan bought his shoes from Topman which were black with brown wooden soles. They looked great with his suit."
"We
walked out of the ceremony to 'Kill The Director' by The Wombats which
was perfect for us. It's a song which reminds us and our nearest and
dearest of when we first met (The opening lyric is 'I've met someone who
makes me feel seasick- Oh, what a skill to have' and when I first met
Ryan i played it constantly) Because it's an upbeat song it made
everyone know that we wanted to start the party as soon as possible. We
wanted everyone to leave the service in party mode- And they didn't
disappoint!"
"When we got engaged Ryan and I sat down to discuss what transport
we wanted for the day as I would be getting ready on site and it didn't
seem necessary. Also, Ryan was quite happy to drive his car to the venue
as the honeymoon suite at Gaynes Park is on site. We did decide that as
we had family and friends." coming from all over the country and the
world, it would be a great idea to have a Routemaster to transport our
guests to and from the hotel and to Epping station. Our guests loved it
and they had a whale of a time on it (there are videos of amazing
drunken singalongs which we wished we had been part of)."
"My
Dad also has a vintage Ford Cortina which is a replica of the car he had
in the early 80's. We really love the style of it and wanted a twist on
the 'Vintage Wedding Car' so we asked him if we could borrow it! He
originally said no, because he didn't want anyone to damage it but after
lots of gentle coaxing he was honoured to let us use it. It was a real
talking point with our guests because seeing one in such great condition
isn't a regular occurrence.
We attached the rusted tin cans and wellie
boot to the back and it was a perfect backdrop to our pictures. Dad told
me on our wedding day that when he bought it it's previous owner had
only used it once- and that was for their wedding too! It had been in
the garage ever since and when Dad picked it up he needed to clear out
lots of confetti from the back seat! It was a great feeling to know that
it had got to be part of another wedding."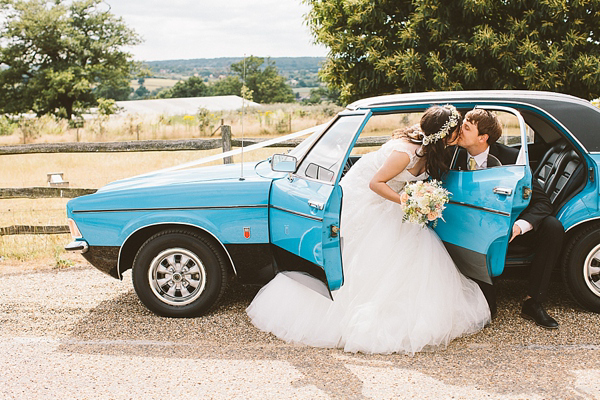 "We made 'Little Bags of Happiness' which was a take on similar
favours I had seen to buy online. Each bag had various items in to
represent something e.g., 'A key to represent the key to your heart'. We
made them ourselves and each was finished with a bow tied in 'To Have
and To Hold' ribbon from Cox and Cox and the place name pegged to the front. 
We
also made a special favour for each of the children at the wedding with
colouring books, fortune teller fish, bubbles, sweets and their own
little book which was special to them. All the parents thanked us for
giving them a bit of breathing space to enjoy the amazing food!"
"My Stepdad has been a big part
of my life too so we wanted him to have a part of the day so he acted as
toastmaster and introduced us into the room for the reception."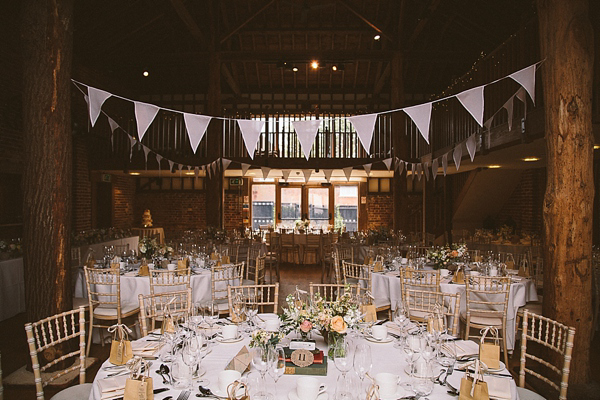 "Gaynes Park have their own caterer called Galloping Gourmet
which is absolutely incredible. As soon as we saw their menu we were
excited for the dinner on the day. All our guests came up to us and
complimented how beautiful the food was. It was perfect.  They
were also so accommodating to everything we wanted. We wanted to have a
shot of Southern Comfort and a slice of lime with Ryan's speech which
are the first shots Ryan and I drank together when we first met. They
helped us in sourcing enough for 130 guests- Including shots of fruit
juice for the children and non-drinkers so everyone felt involved.
We were pretty laid back when it came to the style of wedding cake
we wanted so instead of spending loads of money on one we bought a
traditional three tier cake from Waitrose
and had fresh flowers on each tier supplied by Lily and May. We
actually had two cakes, the fruit one out on display for cutting and the
sponge out in the kitchen so our guests had a choice."
"Our first dance was to 'At Last' by Etta James. We chose it because
a few months after we met, we went to Lovebox Festival in Victoria
Park. Paloma Faith was performing and sang a version of the song-
Everyone was sat watching apart from myself and Ryan who slow danced the
whole song in front of thousands of people. It was a special moment in
our relationship and we wanted to honour it. Unfortunately Paloma Faith
hasn't recorded a version of it so we went with the original which is
beautiful.
We really wanted a photobooth
at the wedding and wanted one that looked like a Vintage Photobooth
rather than the Pod-style ones you see quite frequently. We found The Mighty Booth through Google and we instantly fell in love with their
Watson booth. With it's varnished wood panels, and duck egg blue formica
it was a natural choice for our day. Our guests LOVED it and we enjoyed
seeing everyone having so much fun. What I liked most about the company
is they give everyone who enters the booth a hard copy of the photo so
there isn't a fight over who gets to keep the photo at the end of the
night- Also there was a copy for us to go into a album which we love. It
shows all of our guests having so much fun, and some of the comments
they left in the book are hilarious!
Our DJ was through Dreamwave Events
which is the company that my cousin used for her wedding. We weren't a
massive fan of the cheesy staples you hear at every wedding so we were
keen to break tradition and quite strict with what wanted played. We had
an Old Skool Garage half hour (i'm from Essex and all my school friends
loved it!), a Classic Rock half hour (for Ryan to rock out to!) and
lots of modern music. The Cha Cha slide, Saturday Night and ABBA were
all no-go's and our guests found it refreshing and tore up the
dancefloor all night. We also didn't want New York New York as our last
song so replaced it with Bohemian Rhapsody which ended up being the most
epic end to a wedding ever! (our guests words- not ours) Every single
person in the room- from children to our grandparents- sang the words,
danced like noone was watching and got involved- It really was a
memorable moment!"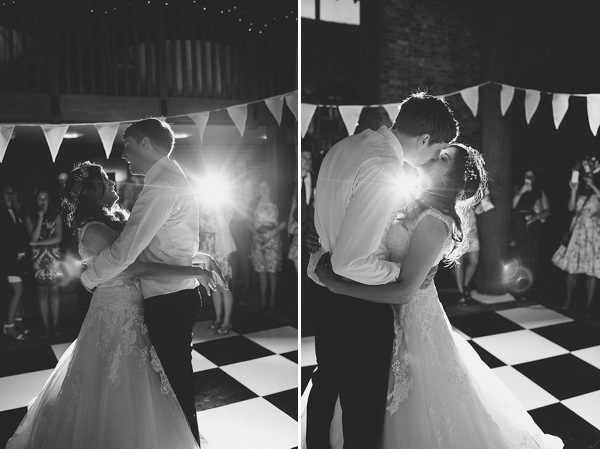 Words of Wedded Wisdom…
"My
favourite part of the day was reading our vows to each other. It was
lovely to hear what Ryan had written to say to me for such a special
part of our lives.  And another memorable moment for both of us was the final song – Bohemian Rhapsody! As mentioned, it was pretty EPIC!
 
There is nothing we would ever change about our day – It was the relaxed wedding we wanted and nothing could have topped it!
My one word of advice would be to have
fun! Our wedding was so perfect for us because we had everyone we loved
all in one place having a great time! All our loved ones told us it was
the most fun they'd ever had at a wedding and, coming from such a crazy
bunch, we believe them!"
How very lovely, thank you so much Charlie and Ryan for sharing your lovely story with us today, and huge thanks as always to photographer Ellie Gillard.
I'm such a huge huge fan of pretty peach hues – you can see more peach weddings and more beautiful photography by Ellie Gillard right here.
With much love,
Annabel
Photographer – Ellie Gillard
Venue – Gaynes Park in Epping, Essex
Wedding Dress – La Sposa with alterations by Little Black Dress
Veil/Headpiece – floral crown by Lily and May
Brides' shoes – Agnes and Norman
Groom's Attire – Moss Bros
Bridesmaids – Lady V Vintage + maid of honour dress via Dig For Victory's website
Flowergirls – BHS
Flowers – Lily and May
Cake – Waitrose
Transport – Routemaster + the bride's Dad's vintage Ford Cortina
Entertainment – The Mighty Booth + DJ'ing by Dreamwave Events

Catering – Galloping Gourmet