Good afternoon lovers.  As if this day hasn't been good enough already on Love My Dress, with this glorious wedding and news of a fab new wedding stationery designer, for all of you looking for something inspired by nostalgia, this afternoon we've got an extra treat for you courtesy of a brand new wedding dress designer on the scene, Nafisa Nuri.
Nafisa Nuri is a designer in bridal wear and accessories, based in
London.  Having worked in high end British fashion as a pattern cutter
and sample
maker and gaining a wealth of knowledge in making luxurious
clothing, Nafisa decided to take that brave, bold leap of faith and set up her own design company.
Nafisa's style is vintage inspired, romantic and feminine – she
combines soft and structured tailoring to create pieces which celebrate
the female form.
Image credit www.nafisanuri.com
Nafisa Nuri's debut collection consists of vintage inspired dresses and separates,
which when mixed and styled, create really elegant combinations to
transform a full bridal look throughout the day.   Her attention to detail and skill in crafts, such as
silk flower making and couture beading, feed well into her design work,
creating elegant pieces with intricate details.
I'm rather in love with this collection to be honest – this beautifully slinky bias cut dress you see below with an open back is the 'Maya' design, priced at £950.  
Bohemian chic fingerless lace gloves made of delicate French lace and encrusted cream rose faux pearls along with that beautiful vintage inspired lace cap veil, all designed by Nafisa Nuri, really finish off this elegant 20's inspired look.
The lady herself told me more about the bespoke design process that she is so clearly skilled in… 
'We offer an atelier service, where everything is made to
your measurements by a highly skilled team in our Central London based
studio.  Whether it's an item from the collection or a bespoke
commission, every wedding dress will be a one off unique creation, made to suit
your own dimensions and proportions.
 Actual production time in terms of creating a dress
takes between 3 and 8 weeks. During this time, brides will have around
three fittings to ensure a perfect fit throughout.
We start this bespoke process by taking around 20
measurements to create a unique physical mannequin for our client.  This
technique provides perfect fit and is presently only used by a few of
the top couture houses in the world.'
'If a client requires an entirely bespoke dress, we recommend they bring along any images
of their preferred styles or things that inspire them. We have a huge selection of
fabrics to choose from. Once we have discussed your requirements
and you have chosen your fabric, trimmings or hand finishing, Nafisa
will send you a sketch of the design and the estimated cost.  Once we have established that our client is happy with both, we will proceed to the next stage of making the 'toile', the mock up of the bride's dream dress.
With
a staff experienced in high end fashion, there are no limitations in
what we can achieve for our clients when it comes to their wedding or special occasion.'

I also adore the lace detail on the Kara dress below.  This long satin gown with basque corset structure is priced at £1,250.  The fabric itself is pre-treated so to gain an antique look, as well as being cut on bias to create slinky, fluid flow.  Simply the epitome of Love My Dress bridal elegance.
The dress has been teamed here with the Alexa top, £450, and trio corsage headpiece, created with silk crepe petals that are hand curled and gathered using couture millinery techniques – £150.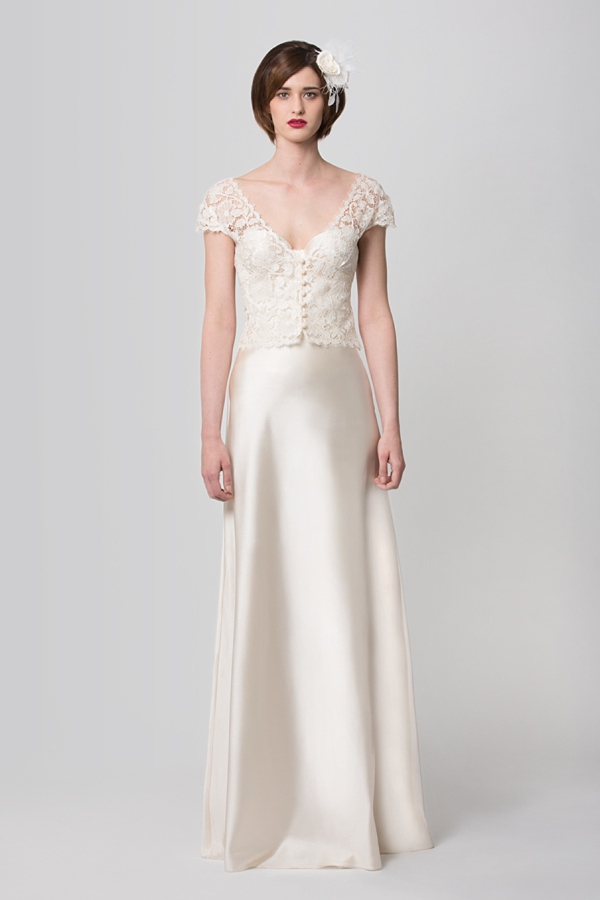 Of course you'll have to visit the Nafisa Nuri website to find out about
all these other beautiful designs you see on the page here.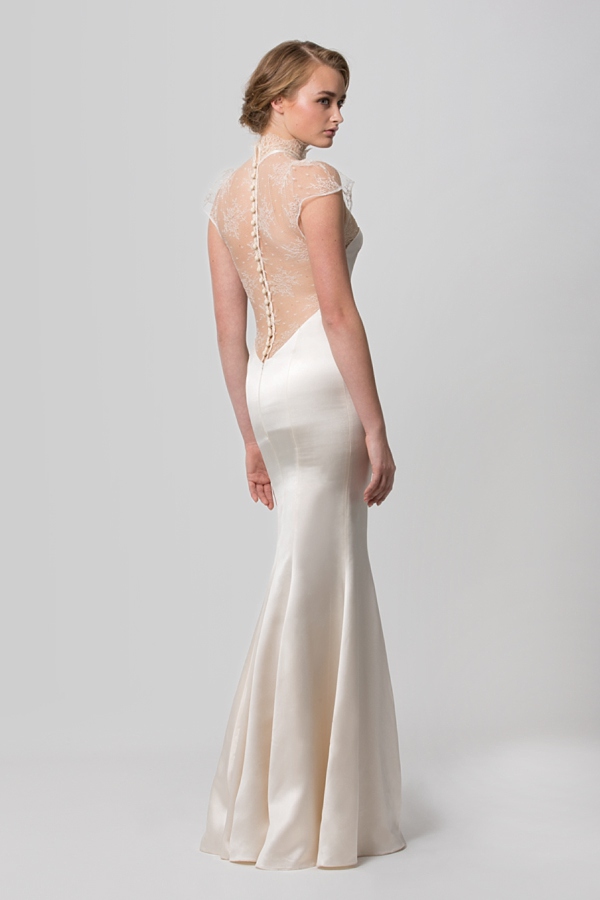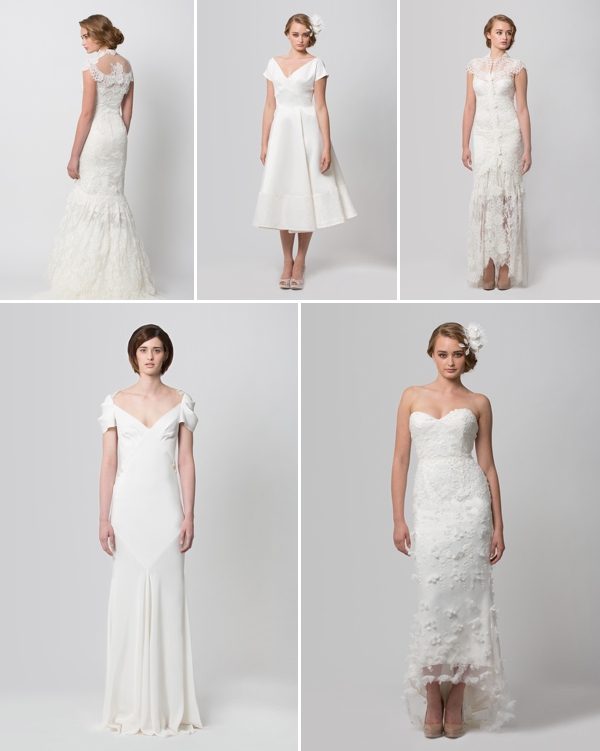 So, we're hoping that you like what you see and are enticed by the designs on this page – there are more, and you can see them here.
What we're really keen to share with you now is that Nafisa Nuri would like to offer all Love My Dress readers who place a dress order with her before 20th October this year, a free headdress of their choice, with a retail value of up to £250.


All we ask is that you mention 'Love My Dress' when you place your order or make your enquiry.  We encourage you to make contact with Nafisa to book yourself a visit to her beautiful new boutique in central London – the studio is open weekdays and Saturdays.   For details of availability and location, please email [email protected].  You can also visit the Nafisa Nuri website for further information.
Here are some of those beautiful headpieces that Nafisa would like to give away to you, dear reader…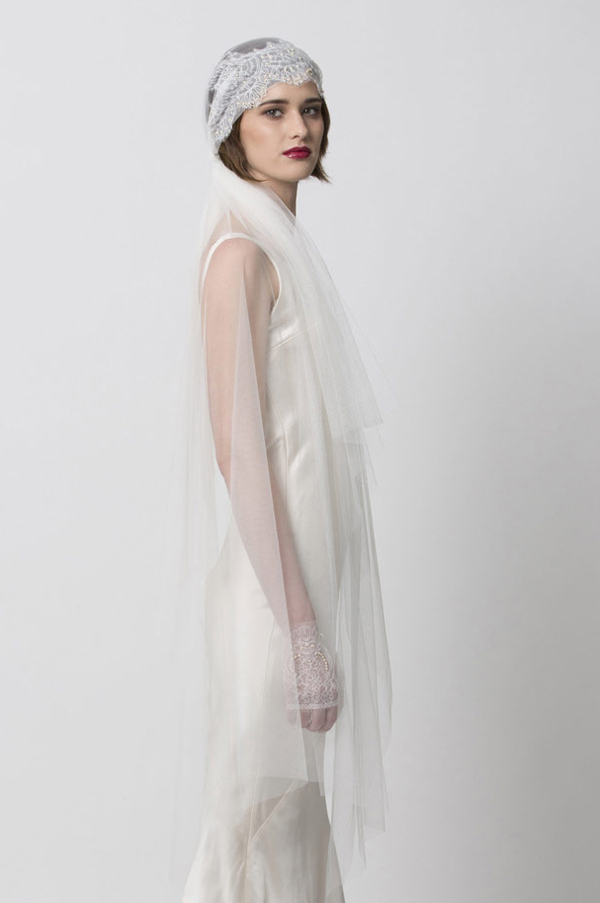 You can also find Nafisa Nuri on Facebook, Twitter and Pinterest.
We love to look after you lovelies and hope that this latest offer will bring happiness to some of you – please get in touch to let us know which dress and headpiece you ordered, we'd very dearly love to hear from you.
With love,
Annabel
Models: Zoe and Kara @Oxygen
Make-up: Danielle Farrington
Hair: Doubravka Marcinkova
Photographer: Peter Warrick
This is a sponsored post, ie, the
supplier has paid us to feature this content. We receive many requests
for paid-for content but only work with those brands who we feel have
something of true value to offer to our readers.  We also limit the
number of sponsored posts we feature, so not to bombard our readers with
advertorial style content.  If you are interested to learn more about
how you can sponsor and work with Love My Dress and in so doing, gain
direct access to thousands of brides seeking inspiration and supplier
contact details, please email [email protected] to request a media pack.  Thank you -  we look forward to hearing from you soon.