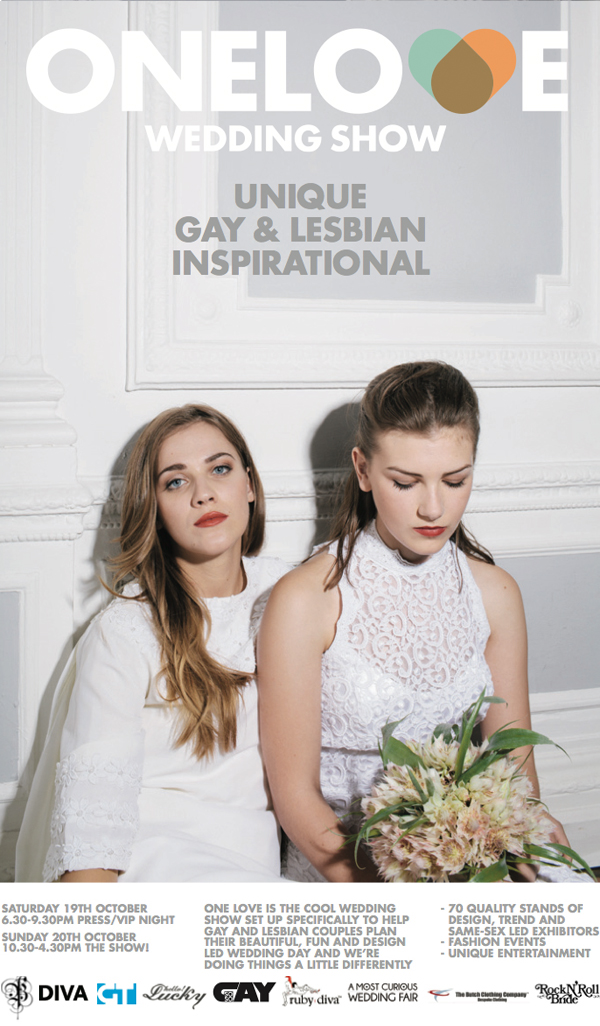 Images copyright Robbins Photographic + poster design
by Folk & Form for the One Love Wedding Show
Did you see that? That's a poster right there for the One Love Wedding Show – the UK's first unique and inspirational gay and lesbian wedding fair, being held on Saturday 19th and Sunday 20th October at The Hospital Club in London.   This brilliant and exciting new event launched the same day the Marriage (Same-Sex) Act 2013 was
passed. 
Finally!
The One Love Wedding Show is the ultimate wedding event for
creative and stylish same-sex couples.   The co-founders, and both of whom I know (and are FAB!) are Sara Smyth from chic and unique bridal boutique ruby+diva and Becky
Hoh-Hale from design and trend led A Most Curious Wedding Fair.  I thought it would be helpful to ask them a few questions about the show and ask them to tell us why they
decided it was time gay couples had their own cool wedding fair.
How did it come about?

Sara: 'I was exhibiting with ruby+diva at a wedding show in February 2012 and met
a lesbian couple who were also showing there and who were in a civil partnership.
We got chatting about the issues facing gay couples planning a wedding and it
suddenly occurred to me that the gay market was seriously under-represented in
the wedding industry and that this would not do! I incorporated the Gay Wedding
Collective into the ruby+diva website, a group of businesses with something unique
to offer gay weddings, and then in March this year, asked Becky if she would help
plan a super-cool gay wedding event.'
Becky: 'I jumped at the chance. Whilst we don't want to give the impression that we
think gay couples must have their own separate event, we do understand that
planning a gay wedding is a new and very special experience. It may feel like
coming out all over again for some people, and the planning stages may feel quite
daunting, stepping into a world which has been seen as the domain of straight
people for so long.
We had heard of friends often facing 'so where's the groom
today?' type questions at wedding fairs, awkward! On a more ridiculous note, we
even knew of tales where people no longer received email replies from suppliers
when they mentioned it was a gay wedding which just seems archaic so we so
badly wanted to create a show where the couples who came would have no doubt
that every single exhibitor would be in full support of same sex marriage and could
completely eliminate this chance of a negative experience ever happening. With One Love, we're saying that 'love' in all it's shapes, forms and combinations is the
same – and that's something to celebrate.'
But neither of you are gay?!

Sara: 'No and it's very important to us that the One Love event reflects the needs
and wishes of the gay community. This is why we have the One Love Panel of
wedding suppliers from the gay community who act as our advisors – Iain Bartlett
from Hello! Lucky, Shaz Riley, founder of the Butch Clothing Company and
Federica Bruno, couture wedding dress designer.'
Becky: 'Finding exciting, innovative and down right cool wedding suppliers is in the
blood for me and Sara! We knew we could pull that off, but the gay side of things,
sure we had a good feel for what was needed, but we wanted those with the REAL
experience to be on call to make sure we are getting this event right, for its
audience. They make sure we are doing what we do but with the focus and context
being 100% this unique demographic.'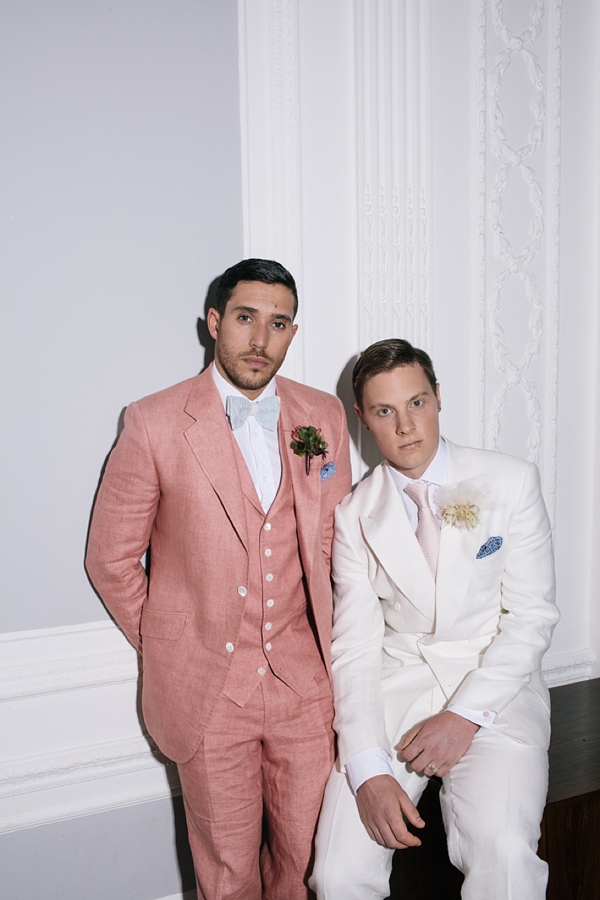 So, how will it be different to other wedding shows?

Becky: 'This is the first gay wedding event that has hand picked and curated
exhibitors selected for their eye on fashion, trend and design and general
aesthetical wonderfulness! We want there to be a large proportion of suppliers who
offer a specific service or product for same sex couples but the most important
aspects of the One Love Wedding Show is the open and welcoming attitude to gay
couples, alongside a product that is unique, beautiful, expressive and cool!'
Sara: 'We felt it was important to have a celebratory vibe so the event will be
launched with an exclusive VIP party and art exhibition on 19 October at The
Hospital Club, the prestigious private member's club in Covent Gardens, with
fashion events and live entertainment. The main show on the 20th will feature up to
70 of the most stylish wedding suppliers.'
Tickets for both events are available via the One Love Wedding Show website ticket page.  You can also find the One Love Wedding Show on Facebook and Twitter.
Suppliers, if you are interested to find out how you can exhibit at this event, please visit this page.  The official closing date for exhibitor applications was last week, but Sara and Becky have very kindly extended this deadline to  Friday this week, to accommodate for any suppliers who find out about the One Love Wedding Show via Love My Dress. A full exhibitor information pack in PDF format can be downloaded here.
And a little nearer the time, we'll be giving away some free tickets to this event too – so keep an eye out.
To celebrate the launch of this exciting new event, tomorrow I'll be featuring  the super sweet same sex wedding of Jo and Rach, who both look fabulous in their 50's inspired frocks 🙂
See you all then folks,
Annabel