I've been so looking forward to sharing this wedding with you.  The bride, Amy, has long been a Twitter contact of mine and has followed Love My Dress for a while now (she also shares her honeymoon over on Florence Finds today).  I have never met her (somehow we've missed each other at the various tweet-ups and blogger meet-ups) yet I feel as though I know here – such is the intimacy a times of social media.  What I do know is that Amy is a genuinely very lovely person, with a caring and fun-loving nature, an one heck of a beautiful smile!
Amy tied the knot with James on 18 May 2013 with an outdoor ceremony that took place at the visitors centre in Dalby Forest, North Yorkshire, followed by a reception on the campsite behind the pub in Amy's parents' village.  Let's go enjoy their wedding – it's wonderful. And warning – there are *quite* a lot of photographs in this feature. But it's worth it.
"James and I are basically both big kids, and our flat could
probably best be described as 'eclectic' so a theme was never going to
work for us. If I had to I'd describe it as 'a lego, rainbows an cake
festival'. We just wanted it to feel fun and relaxed and very 'Amy
& James' – which so many people told us was exactly how it was."
Love My Dress Wedding Blog – Photography Copyright (c) 2013, Emma Case
"James and I have known each other pretty much forever.
We first became friends in 1996 when I was in our school's dance
competition team and James was doing the lighting (I was 14, he was 17).
We became closer over the years and both fancied each other like mad
but never did anything about it and ended up going out with other
people. Eventually, back in 2002, James sent me a drunken text one night
telling me he loved me, and that was pretty much that.  He proposed at
Disneyland Paris in December 2011."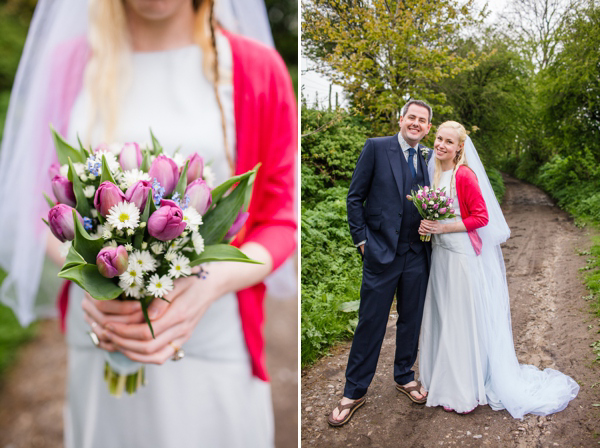 "The venue at Dalby Forest
was by far the most difficult decision we made when it came to our
wedding. We knew we wanted something 'outdoorsy' and a bit
unconventional but the most important consideration was that it felt
like 'us'. We only found Dalby from the council's approved premises list
– they don't advertise and only do a couple of weddings a year.
It was the perfect choice for us – it was near my parents and
both of our families which made the planning and logistics much easier,
and it was in the most beautiful woodland setting. The forestry manager,
Tanya, was an absolute star and so helpful – on the day she moved all
of the furniture to the terrace at the last minute to give us the
outdoor ceremony we had dreamt of after having set it all up inside
initially due to the torrential rain."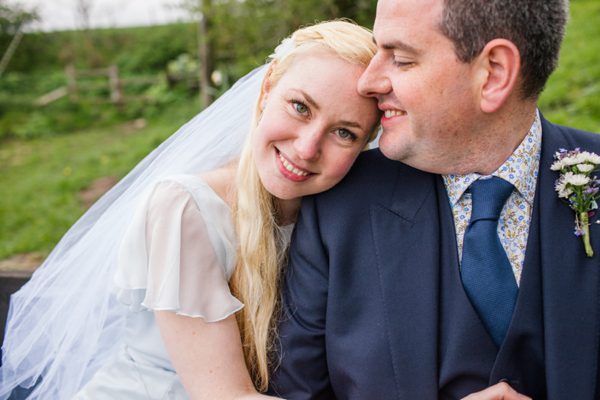 "I designed my own dress and after A LOT of research and angst had it made by Margo Stankova
– a local dressmaker I found online. Margo was great – she was super
helpful and a total bargain! I've since had a couple of other dresses
altered by her, she's such a great find.
I always had a very clear idea of what I wanted – the silhouette,
colour and features – so it was just about turning what was in my head
into a reality and the finished item was just how I'd imagined (a
mermaid/fairy hybrid with a bit of sexiness for good measure)."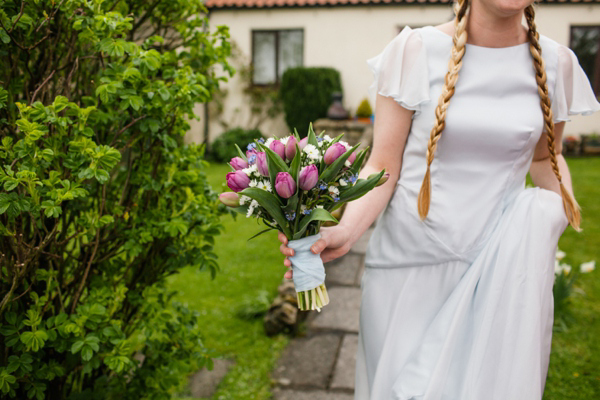 "The main wedding transport was always going to be Bertie. Bertie is
our VW campervan. We've owned him for about 7 years now, 3 of which
were spent painstakingly stripping down to a shell and restoring him –
he really is our pride and joy. I had been determined I wanted to drive
myself to the ceremony but luckily everyone convinced me I would be too
nervous, so dad drove instead."
"Having my own bridal accessories business, 'Field & Fallow'',
I was always going to make my own veil! It was cathedral length with a
blusher layer (which I ended up not wearing over my face in the end). I
wanted it to be quite 'pouffy' (technical term) so I dyed some extra
wide medium softness polyester tulle to as close a colour match to my
dress fabric as I could get – it did end up a little darker than the
dress but I quite liked the effect. I sewed some organza flowers to the
bottom for a bit of added detail. "

"I loved it all but my favourite moment has to be
walking in to the ceremony and seeing James. My other highlights are
driving away from the ceremony just the two of us on a complete high,
and then driving on to the campsite with everyone waiting and cheering. I
also adored the speeches."

"Our vows were hilarious! There had been some kind of mix up and we
ended up saying ones we hadn't chosen which included the line "comfort
you with my gentleness" – we were both killing ourselves laughing and
I'm not sure how we managed to actually get through the rest of them. 
We
had three readings – Union by Robert Fulghum, the famous 'Captain
Corelli' extract by Louis de Bernieres, and Guess How Much I Love You by
Sam McBratney – they all seemed to sum up our relationship in different
ways and all contained some kind of in-joke."
"My bouquet and James's buttonhole were from Dales Florists in Pickering.
The rest of the flowers (bridesmaids, flower girls, buttonholes &
corsages) were all made by me using fake flowers. I chose pink tulips
just because I love them, daisies because they have always been my
favourite (and a lot of people still call me Amy Daisy – my old email
moniker), and forget me nots to match my engagement ring."

"I knew exactly what I wanted! My friend Tash and I spent a
lovely day traipsing around East London looking for what I wanted and
eventually found the perfect pair in Unze on Whitechapel Road for a bargainous £13. My wellies were from Primark and, again, were exactly what I had in my mind. I also bought my cardigan from Primark a few days before the wedding."
"I made some organza flowers (the same as on my veil) which I
sewed on to hair pins and stuck randomly around the top of my hair.
For the evening, my lovely friend Anna made me a flower crown to
wear. It ended up being worn by most of the guests and I think this was
many people's highlight of the wedding!"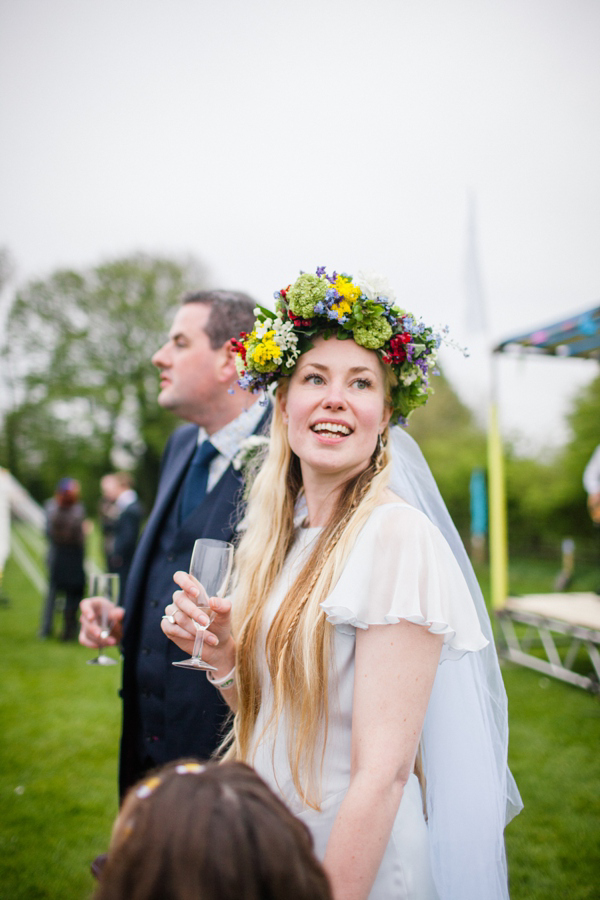 "Confession time – with the exception of a few home made things,
all our décor came from the pound shop! I'd spent months buying items as
and when they saw them – the only real requirement being they were
bright and colourful.
I'd really wanted lots of tissue paper streamers
hung from the roof and in the trees but because the weather was so wet
it simply wasn't feasible. My parents, brother and his girlfriend
decorated the marquee for us the morning of the wedding using my many
drawings and Pinterest boards (which I'd printed out) as inspiration –
they were really worried I'd be upset because of the streamers but they
did a wonderful job and we were both thrilled."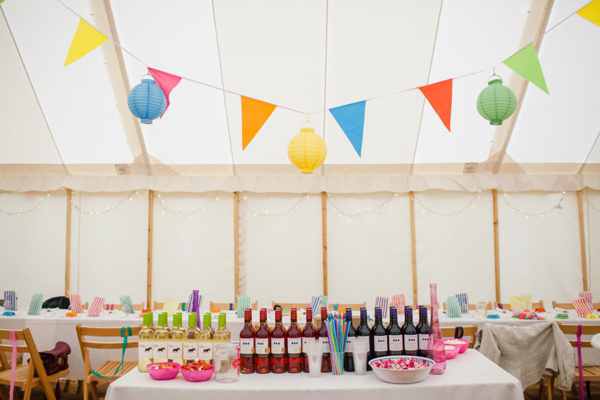 "We had a cake table and asked people to bring something
instead of a gift. I have it on good authority that they were all yummy
but sadly I hardly even saw most of them! My friend Lynsey made an
AMAZING rainbow cake which people can't stop talking about."

I asked James's mum to make us a green sponge cake to put our
lego on, and she surprised us by also making some mini bunting. The lego
cake toppers were a real labour of love, as anyone who follows me on
twitter will know. Lego Bertie took ages to make but I was so pleased
with the finished result, I got a bit obsessive and it ended up being a
perfect scale model, complete with folding table."
"We
had party bags containing a glow stick, Yorkshire tea, love heart sweets
and a crayon, plus a 'make your own' campervan sheet. We also gave
everyone a festival style 'AmJam Wedstival' wristband as they entered
the marquee."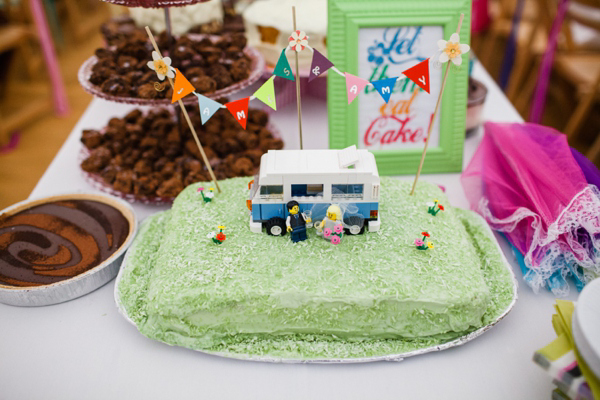 "I designed and made all of our stationery myself with help from
the mums. I particularly loved our multicoloured campervan place cards.
We had a 'guest board' instead of a guestbook which we are going
to hang on our wall when we move. It could have been a disaster but it
turned out wonderfully."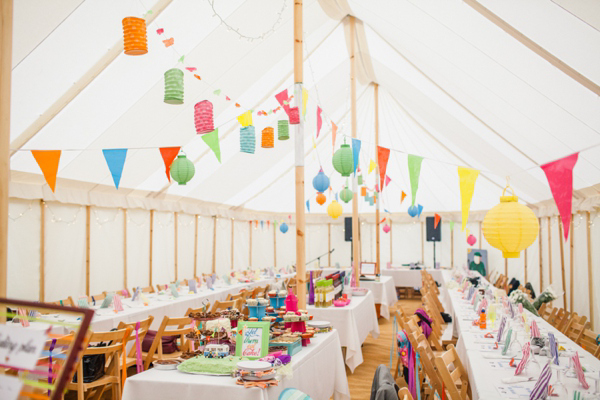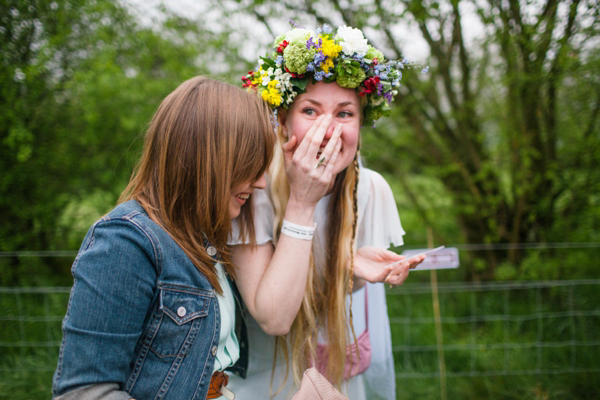 "If venue was our hardest decision then photography was the easiest. Long before we were engaged I was a massive Emma Case
fan-girl (and had engaged in a diabolical work based plot to befriend
her). One of my biggest memories from the day is Emma poking her head
into the marquee and me screaming and hugging her before proclaiming 'I
was supposed to be getting ready by the time you got here!' (I was still
in my muddy jeans and raincoat at that point)."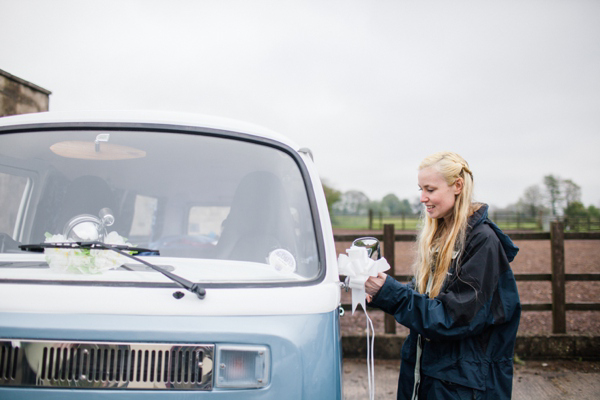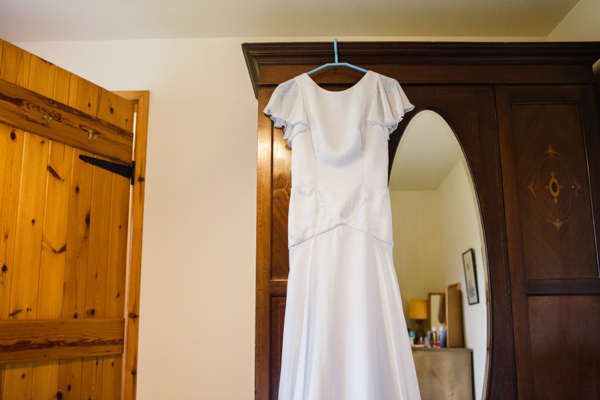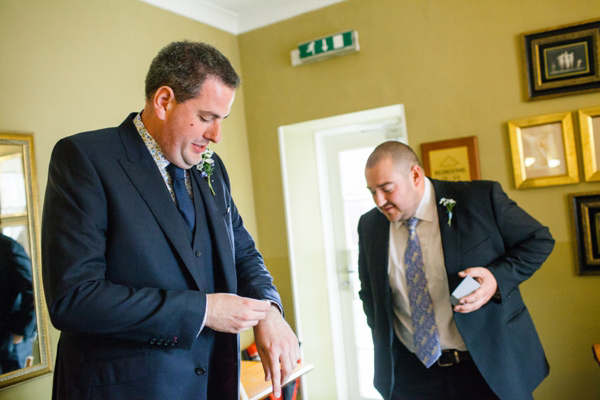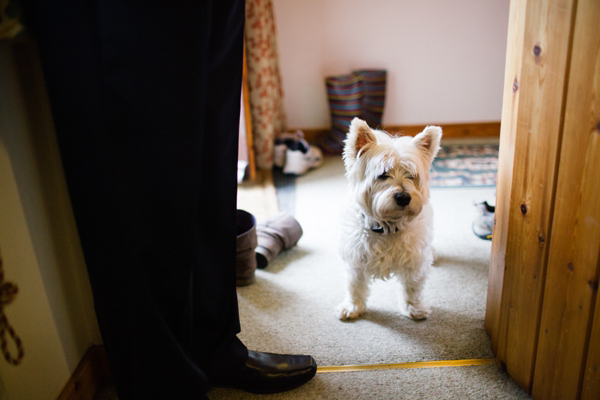 "James had his suit made by King & Allen.
His suit cost almost twice as much as my dress! Being 6'5" he's never
been able to buy off the peg suits and he wears a suit to work so wanted
this one to feel special.  His shirt was M&S made to measure, his tie was from BHS and his lego cufflinks came from ebay.
His shoes were by Cool Shoes and came from Camber Kite Surf.
He was always going to wear flip flops for the wedding which raised a
few eyebrows – apparently a few people even came up to him before the
ceremony and said 'Does Amy know you're wearing those?'"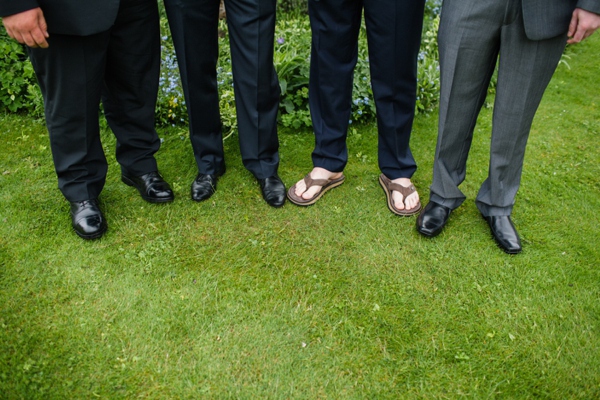 "We asked our best man team and our dads to each wear their own suit
and a white shirt and then we bought them all flowery ties from ebay to
match James's shirt. I also made their buttonholes."
"I did my own hair and make up. My hair didn't quite go to
plan (I had wanted a waterfall braid) but I'm not that bothered by it.  
The one indulgence I did make was to have eyelash extensions, by Beth at the London Dolls.
This was one of the best investments I made as I ended up crying nearly
all day! Everyone commented on how natural they looked and over 4 weeks
later most of them are still in place – they even survived surfing,
snorkelling and waterslides on our honeymoon."
"I didn't wear much jewellery – just the earrings my parents bought me when I graduated. I was going to wear my Alex Monroe
daisy necklace (to match my engagement and wedding rings) but the high
neck on my dress meant it didn't look right – I put this on later when I
changed into a shorter dress for the night time."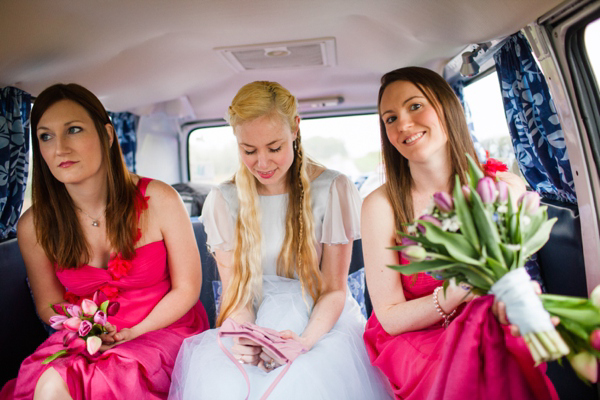 "For the guests we hired a routemaster from York Pullman. I loved that this was in the Yorkshire livery!"
"I bought the bridesmaids dresses on ebay and then customised them –
they originally had sequins on the shoulder straps but I removed all of
these and we added some chiffon flowers instead.  They just wore their own shoes -  I really wasn't fussy about what they had on their feet!
The flower girl dresses were from Monsoon Kids.
I'd seen them online and we had a group trip out to try them on.
Luckily the girls loved them (and spent a long time twirling around the
store in them) and they had the right sizes so they were bought on the
spot without looking elsewhere. The boleros also came from Monsoon".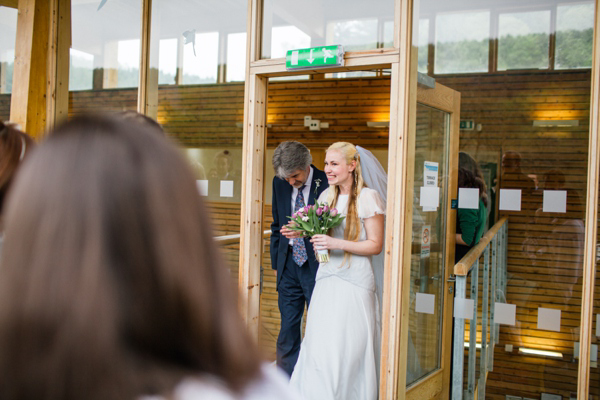 "My dad gave me away, although I think I pretty much sprinted my way in to the ceremony.  My 'aisle' track was the introduction to a song called Down By
The Sea by an old prog-folk band called The Strawbs. It's a beautiful
piece of music which I've always loved and is something my dad used to
always play so it had a lot of meaning."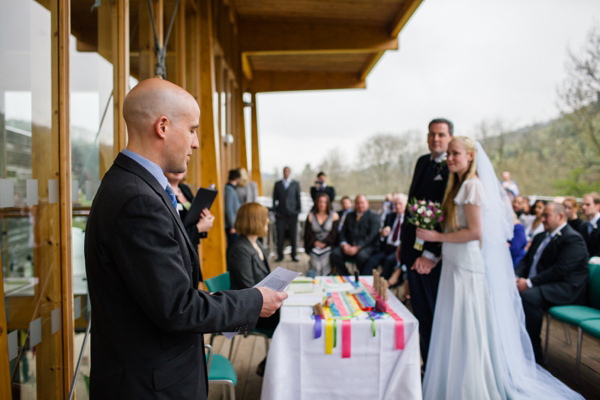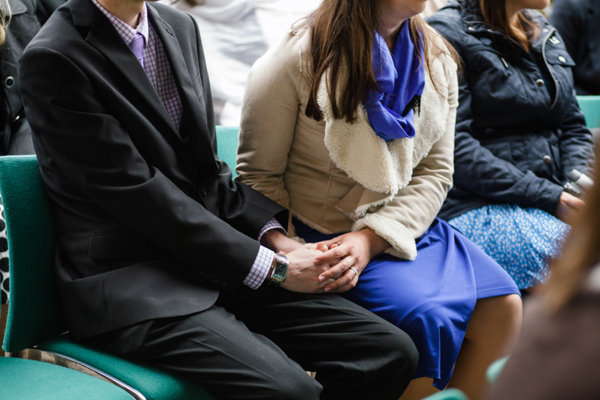 "Both our rings came from Alex Monroe. James bought me the most amazing Alex Monroe
engagement ring and it was always going to be hard to find something to
complement it but they had just designed a new band which was perfect
and fits beautifully underneath. James wasn't sure what he wanted and
was worried about having something too bulky. He chose a lovely white
gold band which is textured to look like a blade of grass."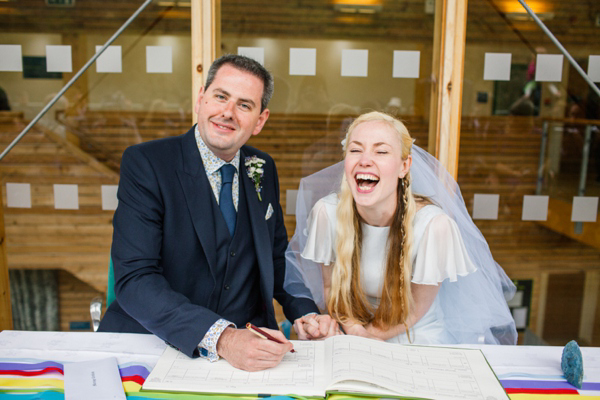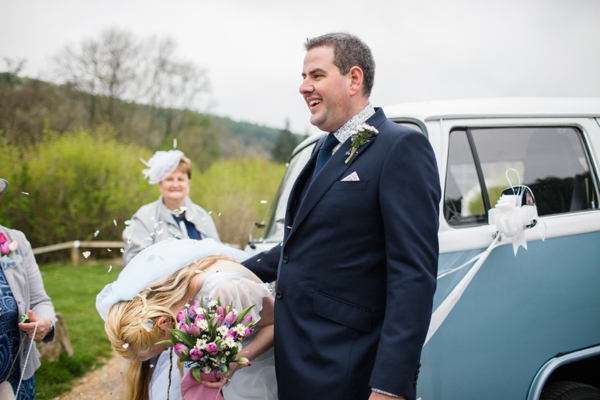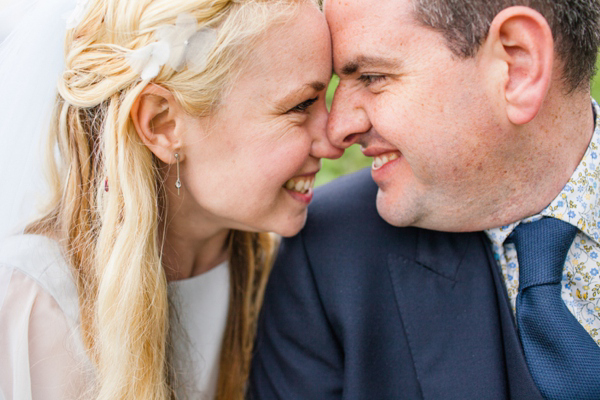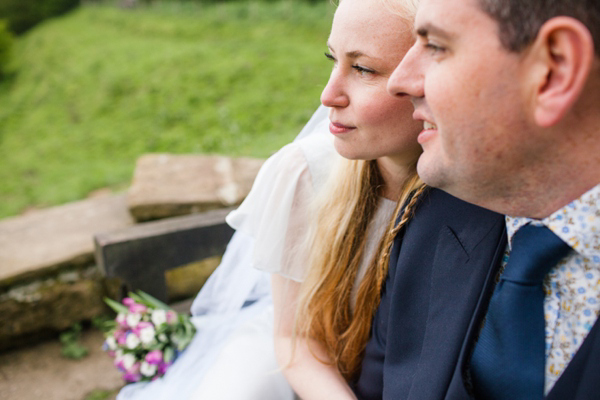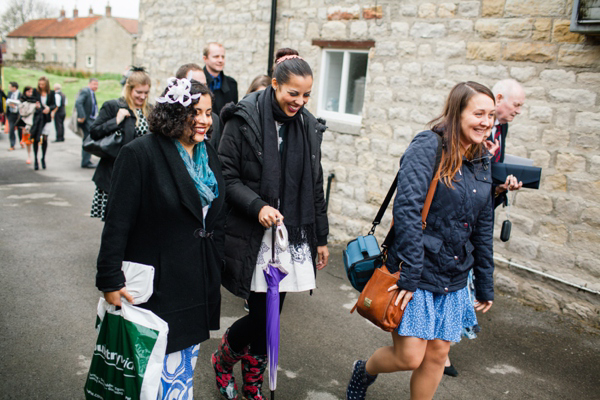 "Our catering was done by a local butchers – Johnsons of Thirsk.
We always wanted to have a BBQ but it was surprisingly difficult to
find someone who did them – most people just do hog roasts! – so when I
found these just down the road I booked them straight away. They were
great and everyone really enjoyed the food."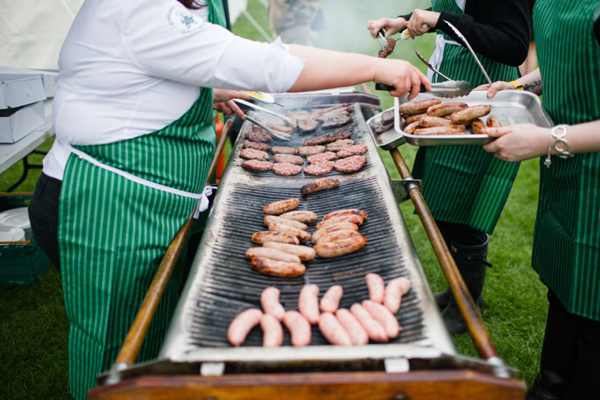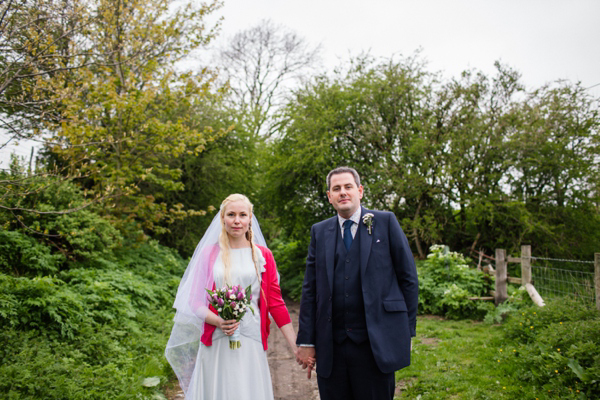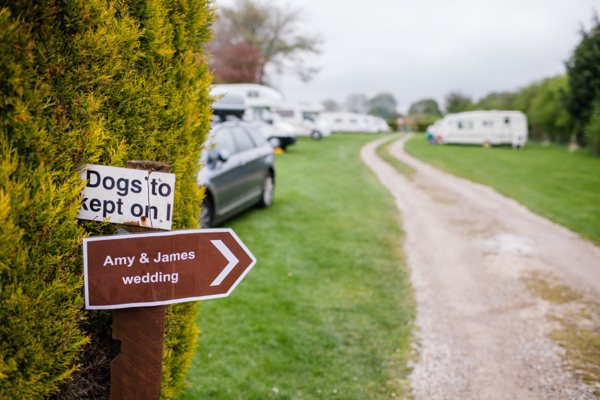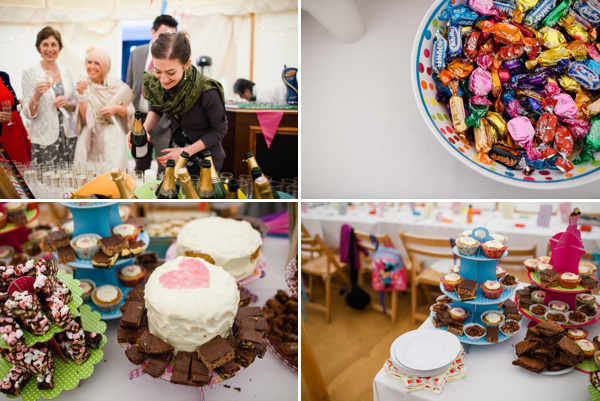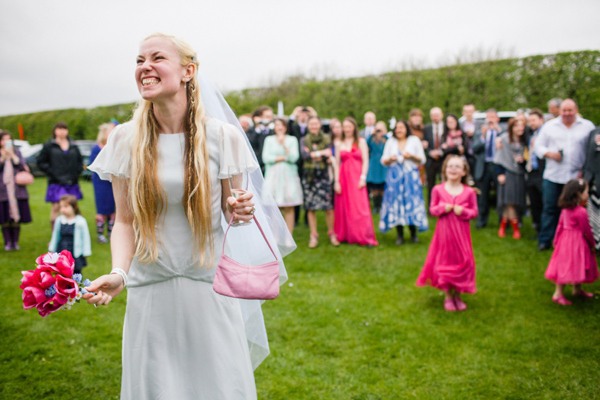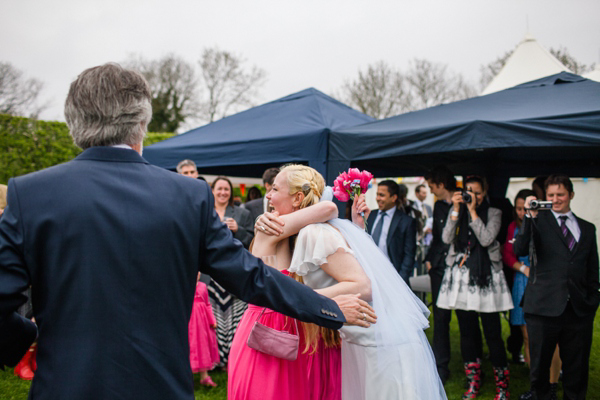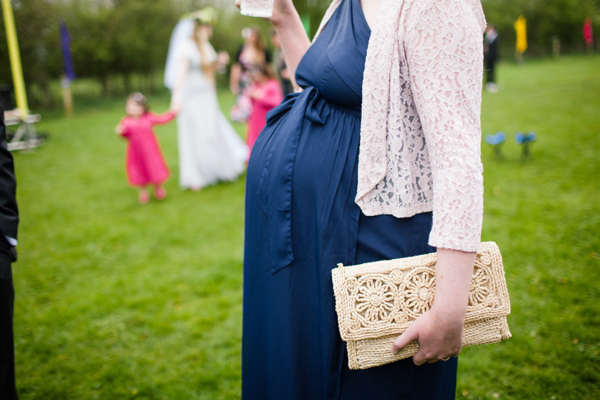 "We did our first dance to Destiny by Zero 7 but sung by my friend
Tash. We've both always loved that song, the album has been the
soundtrack to many a weekend away, and the chorus lyrics are so
beautiful and indicative of how we feel so it was always going to be our
choice. A nice touch was Tash changing the line "watching porn" to
"watching MiC" (made in chelsea)."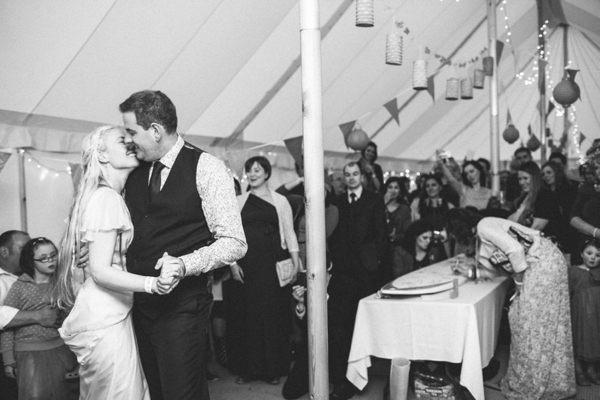 "Originally we were going to have my friend's band Penny
& the Sausages but sadly they couldn't play as Penny's baby was due
on our wedding day! My dad recommended a bloke from the village who had a
band so after a few chats we booked them (I still don't actually know
their name other than 'Pete's band') – it was the first time they'd done
a wedding but they really enjoyed it and were really good. To add to
the festivally vibe my uncle built us an outdoor stage! We also made
some seaside style photo boards for the field which people had fun
posing in, and some toys & games for the kids in the teepee."
We
then had a DIY disco in the marquee – I made and mixed a playlist on
the Macbook and we hired a PA system to run this through. I bought some
disco lights from ebay and provided a fancy dress box of silly props. I
had made a DIY photobooth but we ended up not using this as we didn't
have enough space.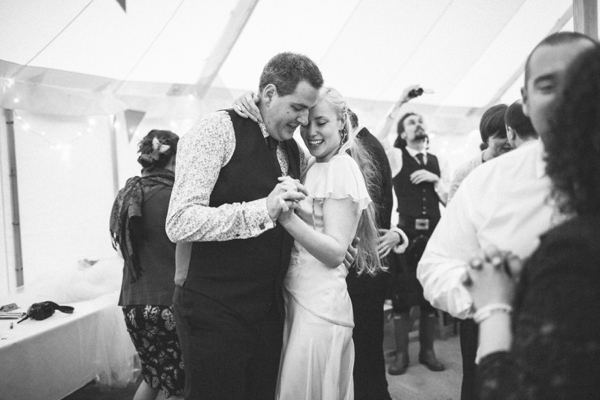 Words of Wedded Wisdom…
"I'm already boring engaged friends to tears with my 'top tips' but my main things are probably;
1. Don't sweat the small stuff 2. Being organised always pays
off – I was absolutely useless on the wedding morning but because I had
lists, timetables and pictures coming out of my ears everyone else was
able to swing into action and sort everything out without any difficulty
3. Pinterest! – this was such a valuable tool to me, both in collating ideas and helping to explain them to other people.
Also I don't think I'd have survived without twitter – I got so much wisdom and support from everyone there (including Annabel). 
Love My Dress
is pretty unique because it's not just about the 'stuff'. I'm not a
'vintagey' person so on the face of it you'd think I wouldn't find my
inspiration here but there is something I love in every wedding Annabel and Franky
feature because they always tell the story and show the emotion of the
day rather than just focusing on the dress or the shoes.
So much didn't go perfectly to plan but I wouldn't change a thing."
Sometimes I find it hard to sum up a wedding at the end of a feature –
it's just so pefect, so right, everything how it should be.
I was invited to this wedding but couldn't attend in the end – these
photographs make me feel almost as though I was there, thanks to the
wonderful photographer Emma Case – whose work I have featured many times on this blog.
I'd like to thank Amy and James for trusting me to share their absolutely beautiful day with our readers, CONGRATULATIONS guys!
Remember you can read about Amy and James' honeymoon on the Florence Finds blog.

I have the bestest job in the whole wide world – and this is what I do it for.
Annabel
Photographer – Emma Case
Venue -  + Marquee Hire via Will's Marquees
Wedding Dress – designed by the bride, made by Margo Stankova
Veil/Headpiece – designed by the bride via her accessories business Field & Fallow'
Brides' shoes – Unze + wellies from Primark
Bride's accessories –
Groom – King & Allen suit + Cool Shoes via Camber Kite Surf
Bridesmaids – EBay
Flowergirls – Monsoon
Flowers – Dales Florists in Pickering
Cake – cake table
Transport – Bertie the VW campervan + York Pullman
Additional Styling – The Pound Shop
Rings – Alex Monroe
Catering – Johnsons of Thirsk