Following on from the wonderful news yesterday that the UK is set to see it's first brilliant and unique wedding event for the gay and lesbian community, now that same sex marriages have been legalised in the UK, I am so delighted today to be sharing the wedding of Jo and Rachel with you.
This lovely couple tied the knot on 20th October 2012 at The Arkwright Building in Nottingham Conference Centre and both ladies wore 50's inspired gowns from The Wedding Club in Birmingham to satisfy their desire to wear short, fun dresses with a retro kick 🙂

"Every single minute was a roller-coaster of nerves, excitement, joy
and laughter.  The most amazing part was standing in front of each other
saying our vows – we'll never forget that feeling.  And to have all
those people in the room feeling so much love for you was
unforgettable."

Photography Copyright (c) 2013, Images by Gabrielle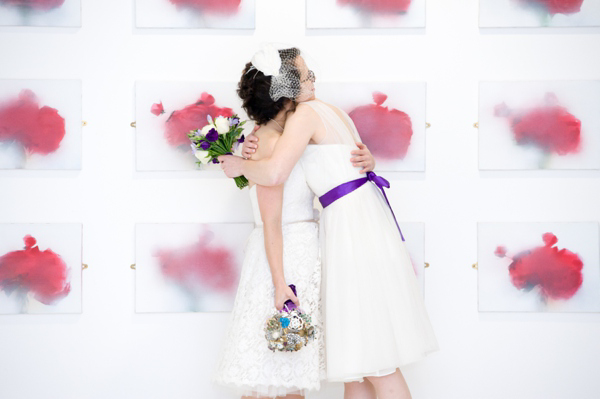 Jo says "I was one of Rachel's clients when she worked at a
Nottingham-design agency.  We met nine years before, a stone's throw
from where we got married.  We'd been together for seven years.  I asked
Rach to marry me on Brighton Beach in March 2012."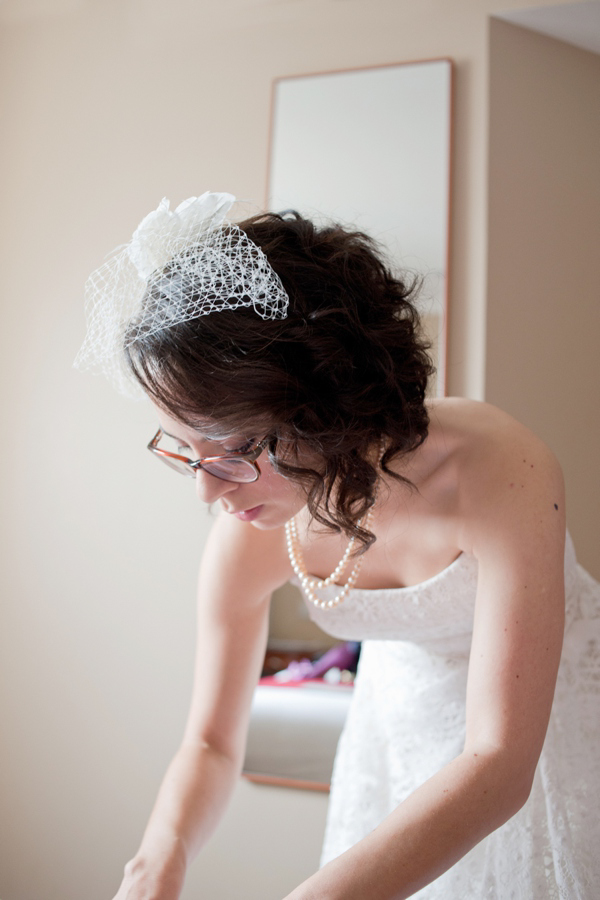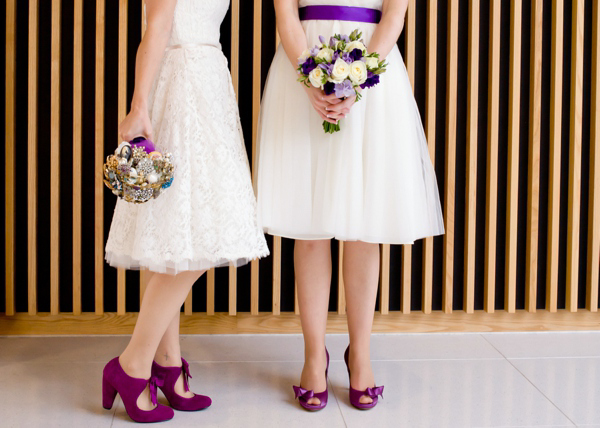 "We chose the venue, The Arkwright Building in Nottingham Trent University, because Rachel went to university here.  She
has a picture of her and all her uni girls on the steps and we recreated
it on the day – 15 years later."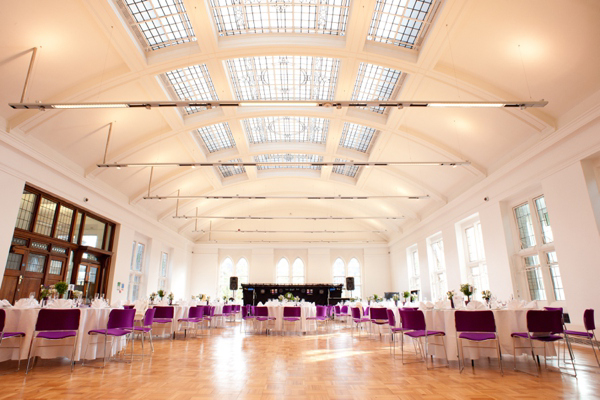 "Our dads gave us away!  We entered the ceremony room to
the sound of 'Moon River' and we exited to 'Suddenly' by Angry
Anderson!  All our music was played by a pianist called Ed Alexander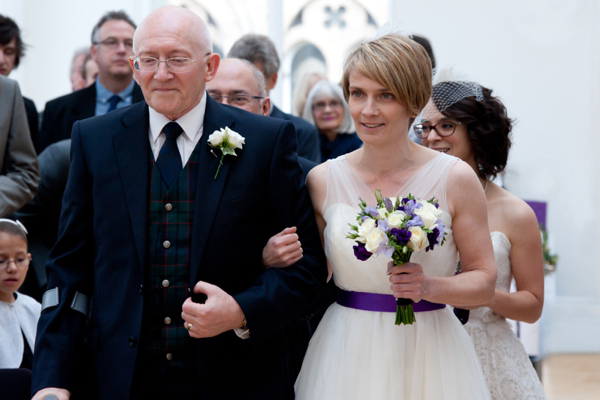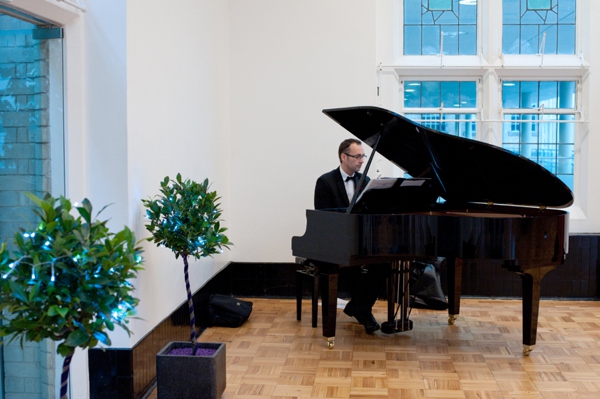 "My grandmother died a few weeks before the wedding, and I was given her wedding ring from 1945.  Then
we visited Birmingham's jewellery quarter to choose Rachel's ring.  We
found a fabulous pair of characters who helped us pick the perfect white
and yellow gold band."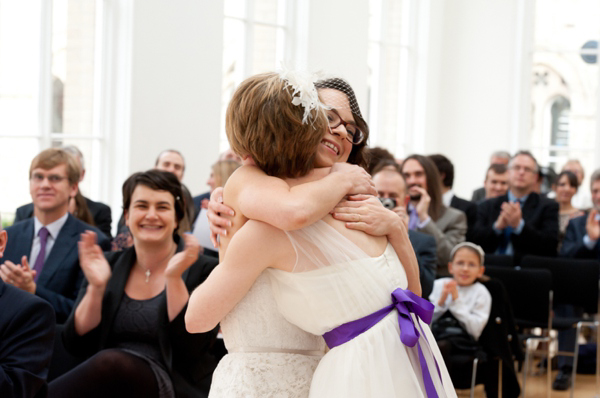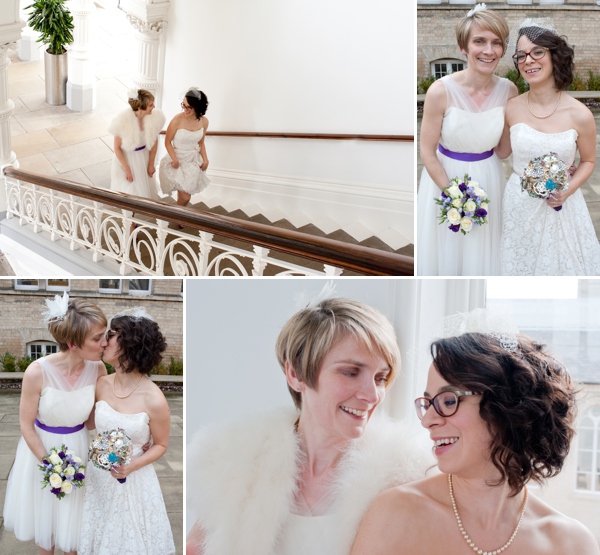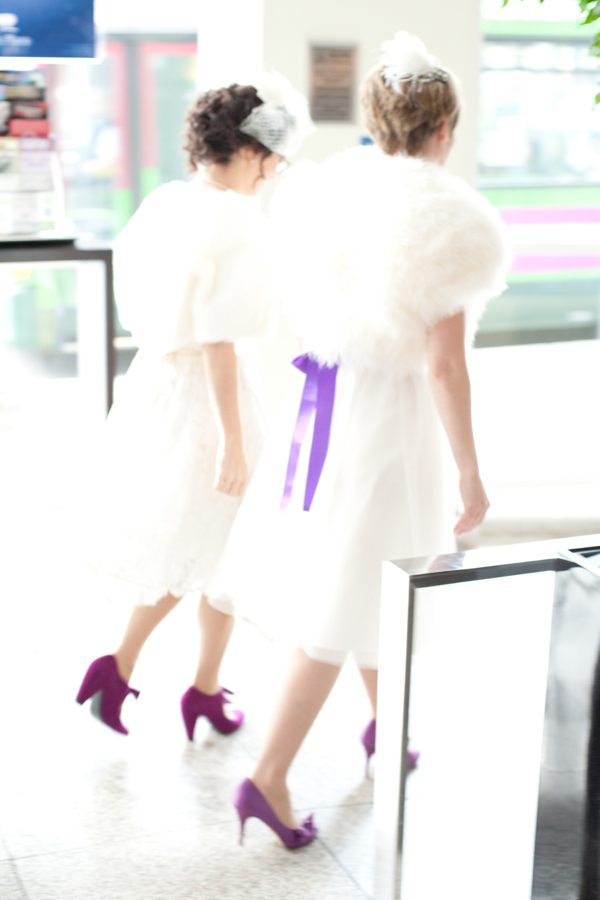 "As favours, we handmade lavender pillows made from Liberty fabric.  And we gave the boys a pin in aid of Cancer Research – which is close to our hearts."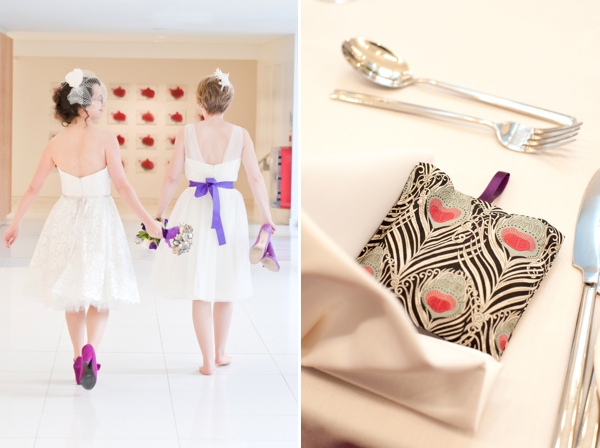 "We were inspired by the venue, The Arkwright Building, 
and we had a black and white sketch done for our invitations which
carried through all the stationery.  We were inspired by the ceremony
and reception rooms: The Old Chemistry and The Old Library of the
university building.  The library gave us the idea of making everyone a
personalised bookmark with an individual author's quote – each meaning
something to the person."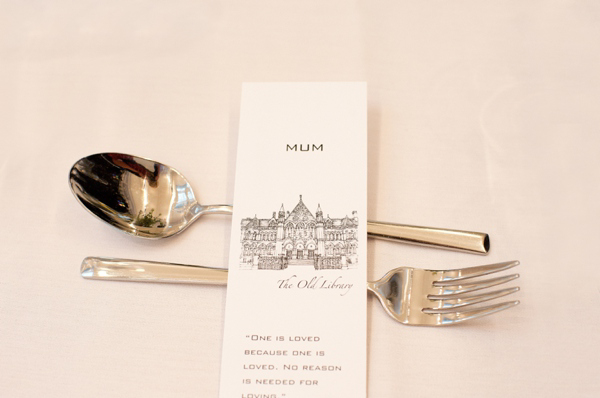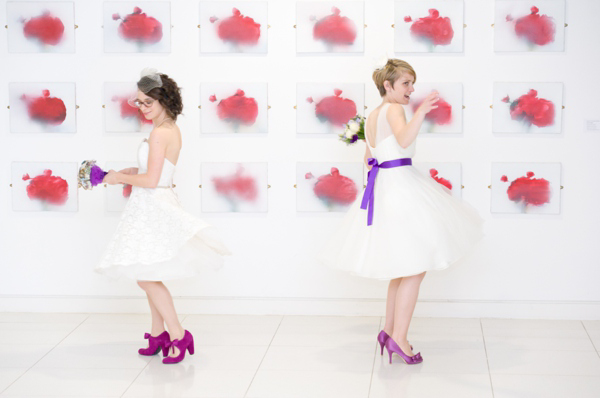 "I
made my bouquet was handmade from vintage/second hand brooches, some
of which were family treasures.  Rachel's was from a local florist –
Zinc Floral Design who understood we wanted seasonal flowers and not too much fuss."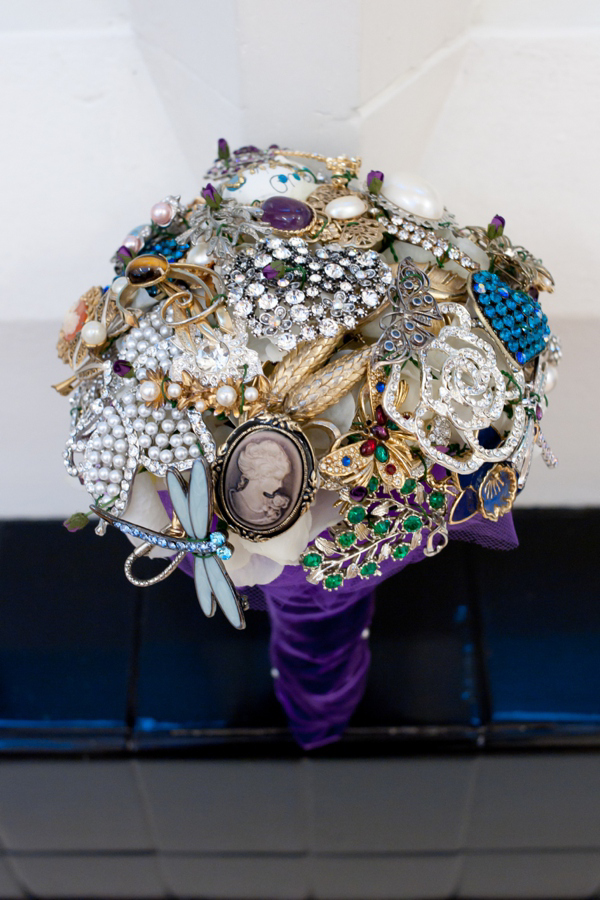 "Gabrielle
was our perfect photographer.  She understood exactly what we wanted
from the day and put no pressure on us to perform.  She calmed us down
with a gin & tonic, and kept going for hours!  She captured our day
with the most amazing shots which we'll treasure forever."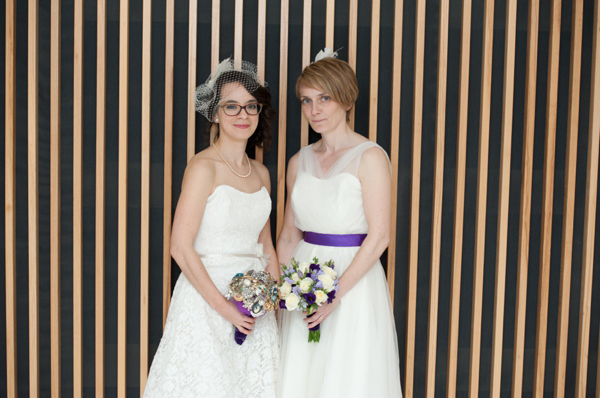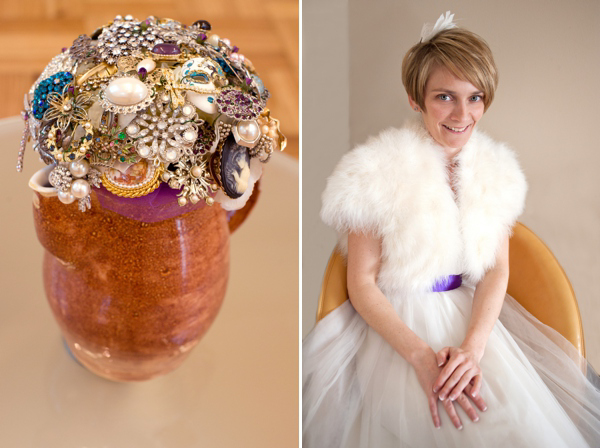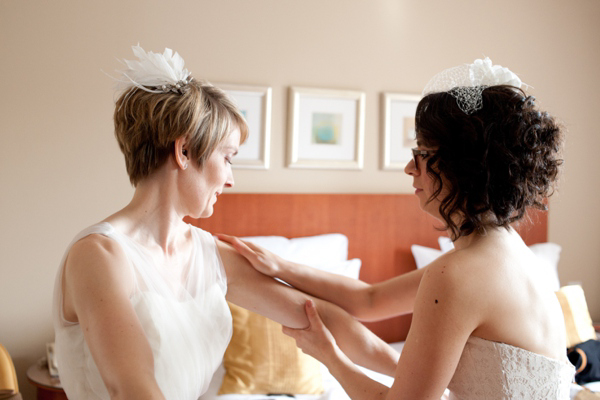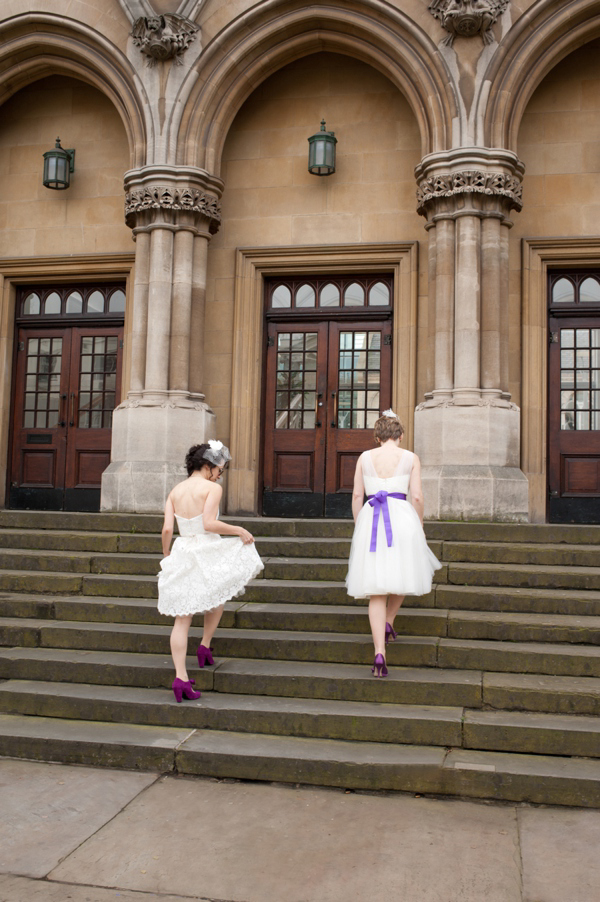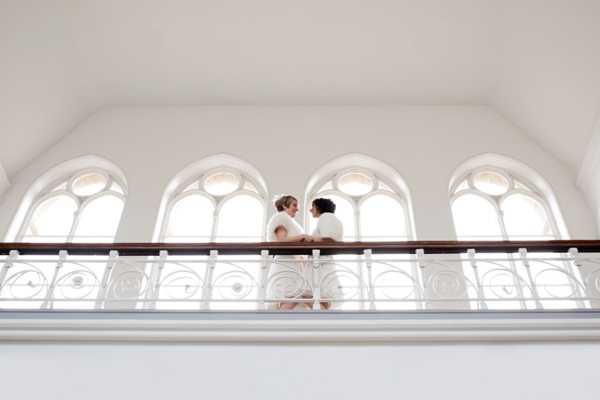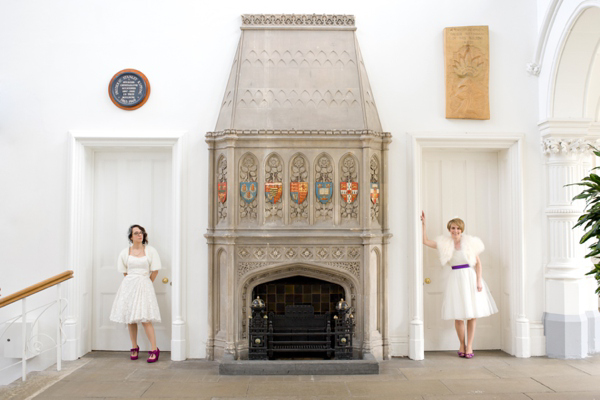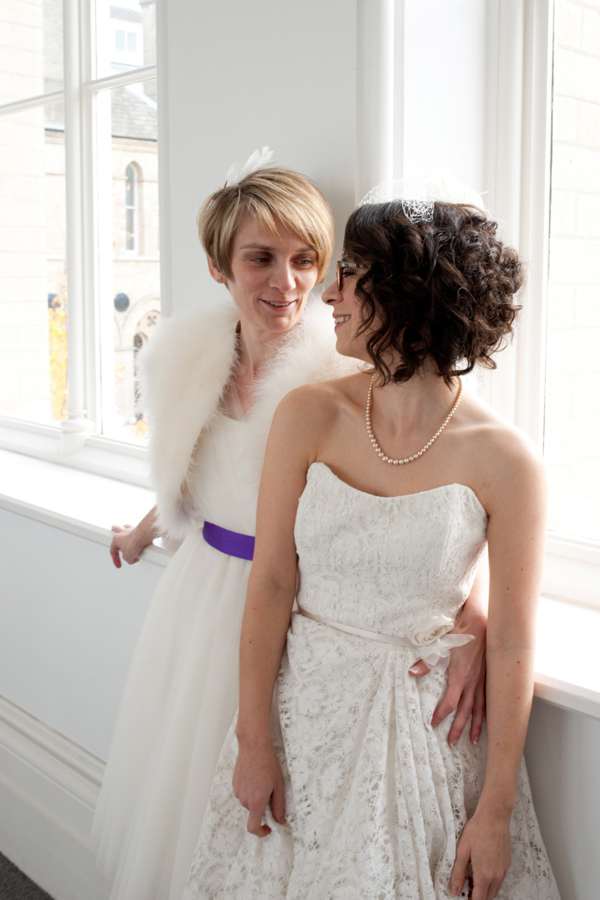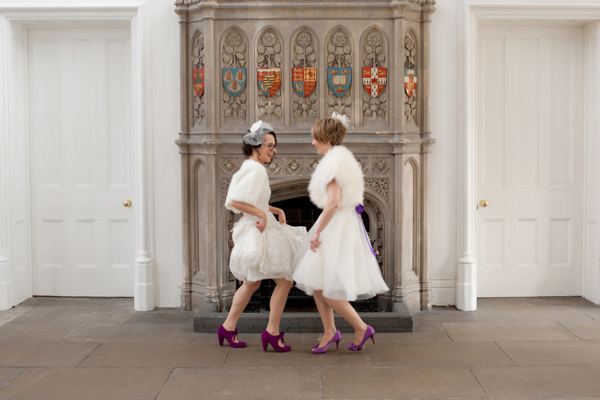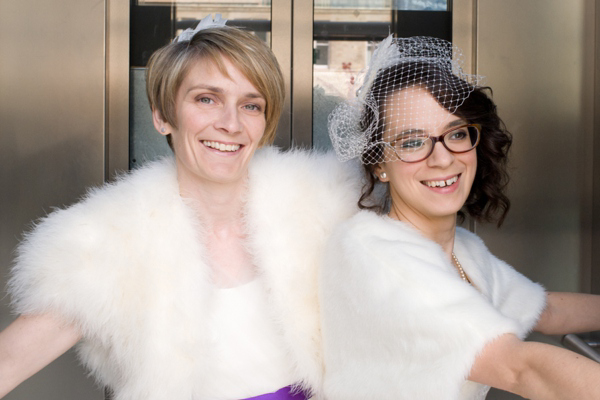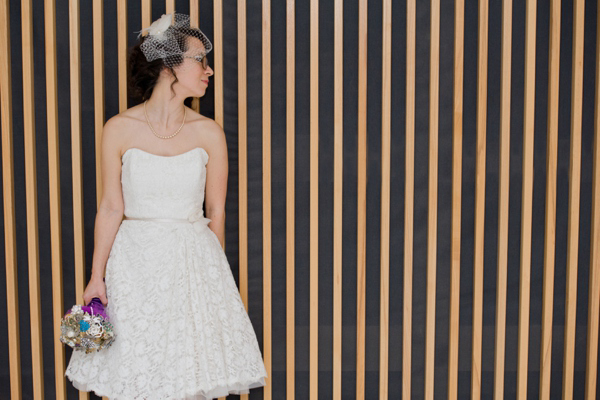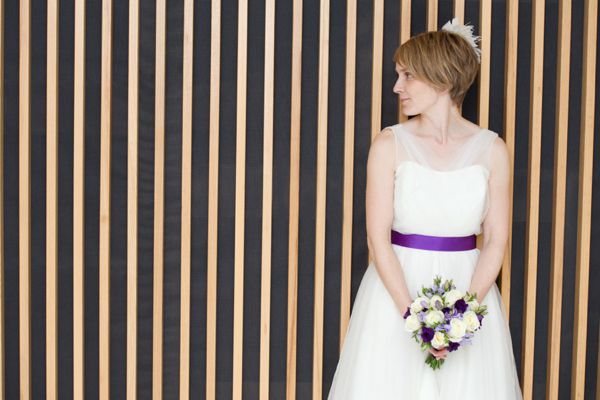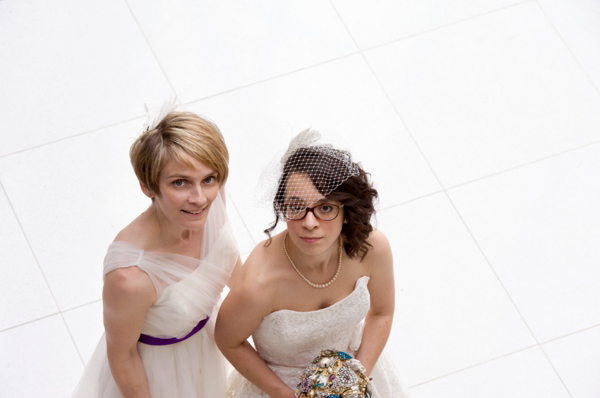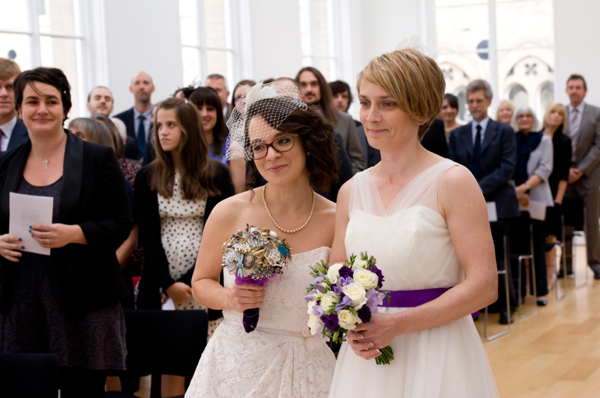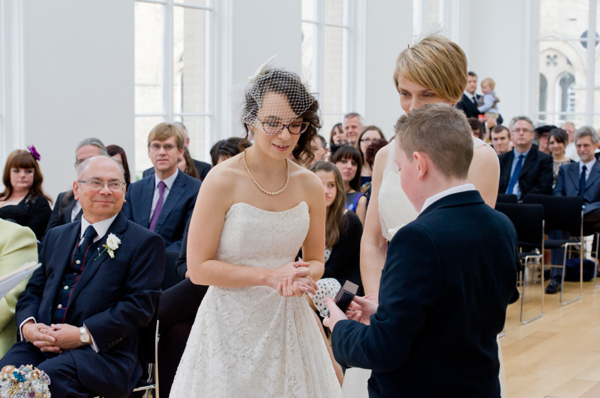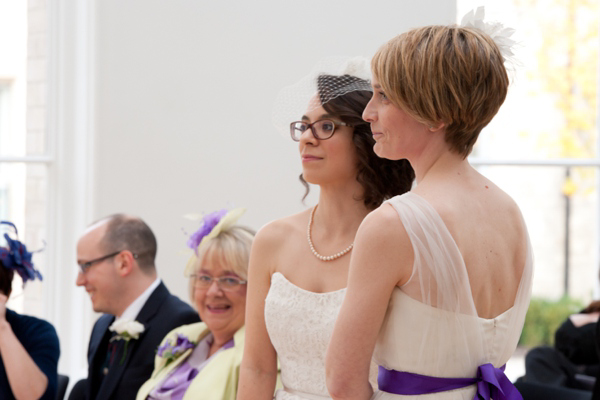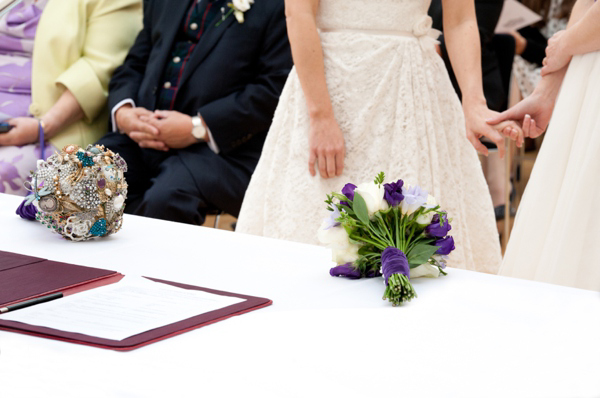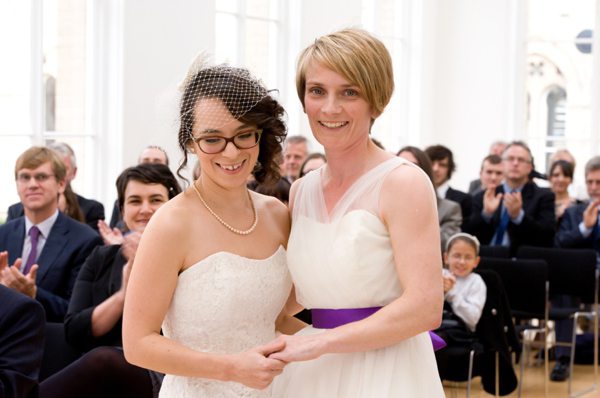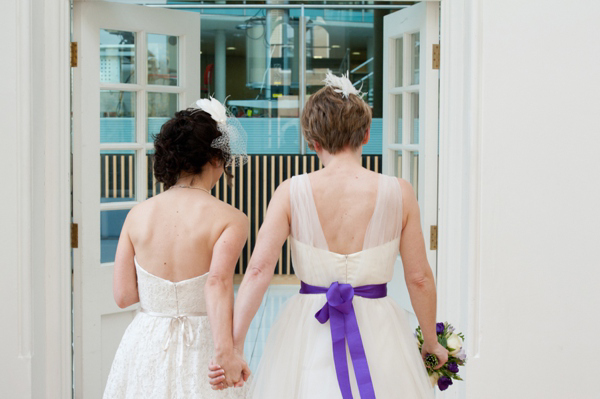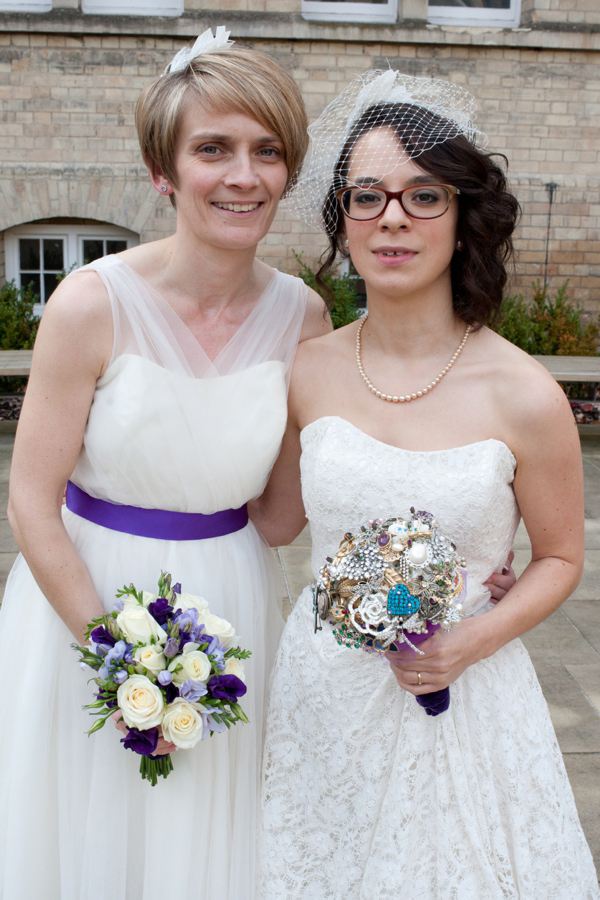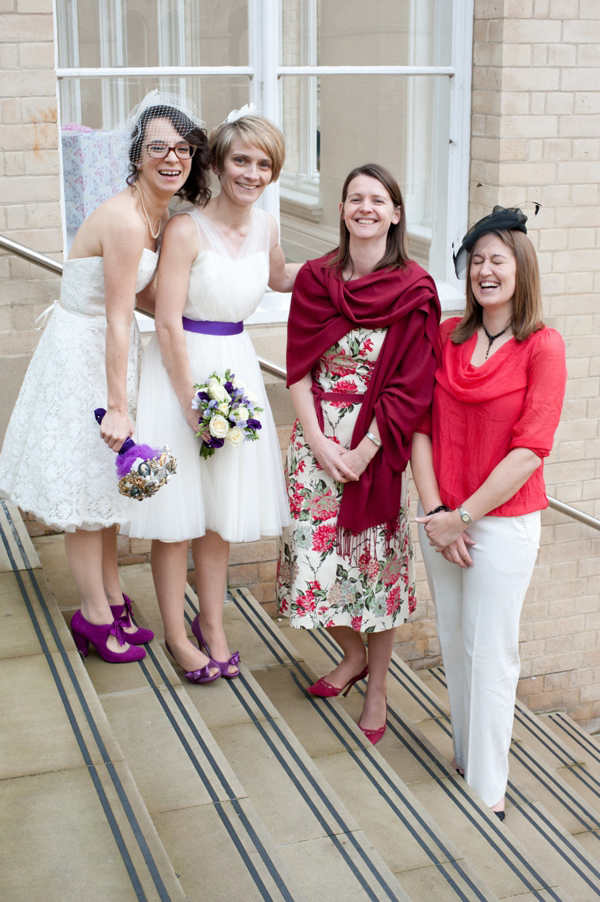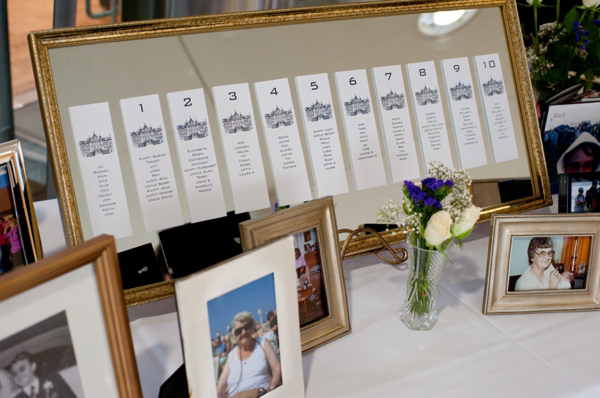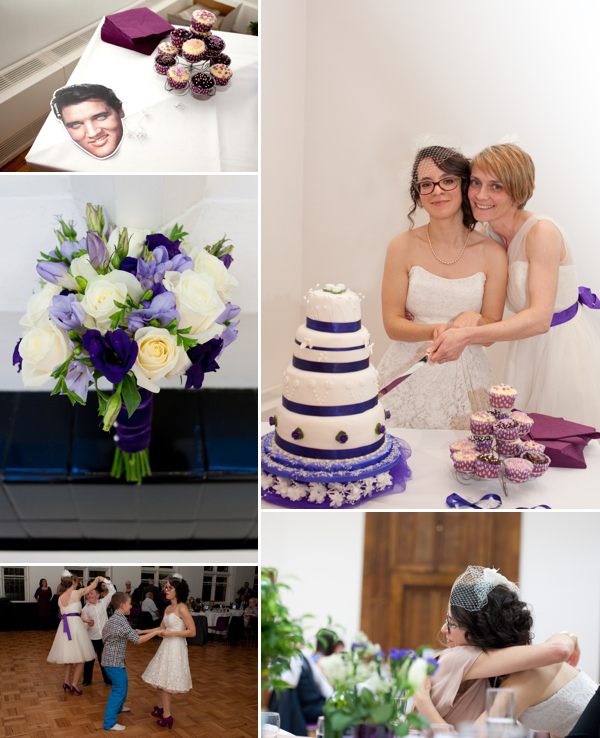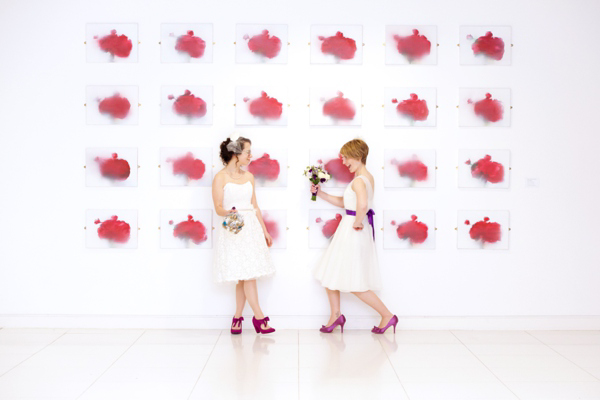 Words of Wedded Wisdom…
"Embrace the nerves – and have a G&T!"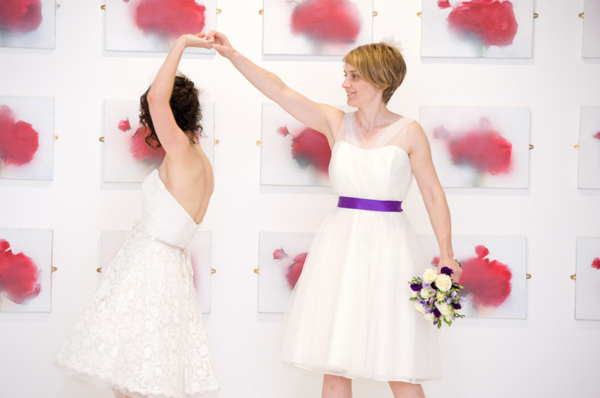 It is so wonderful and refreshing to see a wedding like this and I'm genuinely proud and so happy to be able to share it via Love My Dress.
Congratulations to you both Jo and Rach, and much love to your wedding photographer Gabrielle for kindly sharing these images and being so great to work with. 
You can see more civil partnerships on Love My Dress here. We have a few coming up on the blog soon that we think you're going to love.  Gay and lesbian couples, please look here if you are planning a wedding.
With much love,
Annabel
Photographer – Images by Gabrielle
Venue – The Arkwright Building in Nottingham Conference Centre
Wedding Dresses -  The Wedding Club in Birmingham
Veil – Lilly Bella
Flowers – brooch bouquet made by the bride + Zinc Floral Design
Cake – parents
Entertainment – MC Productions via The Alive Network
Favours – Liberty fabric lavendar pillows made by the brides
Additional Styling –
Rings – Grandmothers 1945 wedding ring + Birmingham Jewellery Quarter