Oh what a glorious morning! The sun is back, the skies are blue and life is beautiful.
Did you see this recent feature on brides wearing glasses? It was a huge hit with our readers, huge. Just goes to show, those subjects not often touched on are usually the ones that resonate most with brides, especially when it's anything to do with body image and beauty.
This gorgeous bride looked the epitome of chic wearing her glasses and head to toe L.K. Bennett on her wedding day.  This is Ali, who married her beau Ian on Saturday 27 April 2013 at Battersea Arts Centre in London.  And how often do you see a bride wearing a short, chic dress like this one? I absolutely love and adore Ali's style and these photographs taken by Lee Garland really capture a day that oozes city chic and elegance all-round.  In fact, this wedding so reminds me of two other very stylish brides who share the same very classy taste – our very own Franky, who wore L.K. Bennett for her 'going away outfit' and this bride who eloped in a super gorgeous short tiered Valentino dress.  
"Neither of us had a particular idea of how our wedding was
going to 'look' – what we really wanted was to have a lovely and
relaxed day of memories and to host a great celebration for our family
and friends. However,  seeing the Battersea Arts Centre
made us extra-excited about planning the day because it's  such a
beautiful building.
We both feel extremely lucky we found the centre, as it
really helped make our day and because of its amazing architecture etc,
it didn't require much decoration – just as well as neither of us are
particularly creative!"
Photography Copyright (c) 2013 Lee Garland, supported by second shooter Jade Alana
"My entire outfit came from L.K. Bennett.   After fruitless internet searches of what felt like hundreds of
dresses, both traditional and modern in style, I wasn't getting anywhere
with finding a wedding dress. Deep down I knew I didn't want a long,
traditional-style dress and I also wasn't keen on spending a huge amount
of money on something I was only going to wear once. My Mum came to
London to help me find something as I think she was starting to get
concerned – I didn't find my dress until February!
We wondered around
various shops in London and after a few hours I still hadn't tried
anything on – we then  saw my dress but it wasn't in the right size. My
Mum persuaded me to try it on anyway and even in the wrong size I knew
I'd found my dress. It was exactly what I wanted – a simple, classic
look but the colour still made it look 'wedding-y'. One of the LK
Bennett shop assistants brought the jacket for me to try on and it
really finished the look so I decided to go for that too.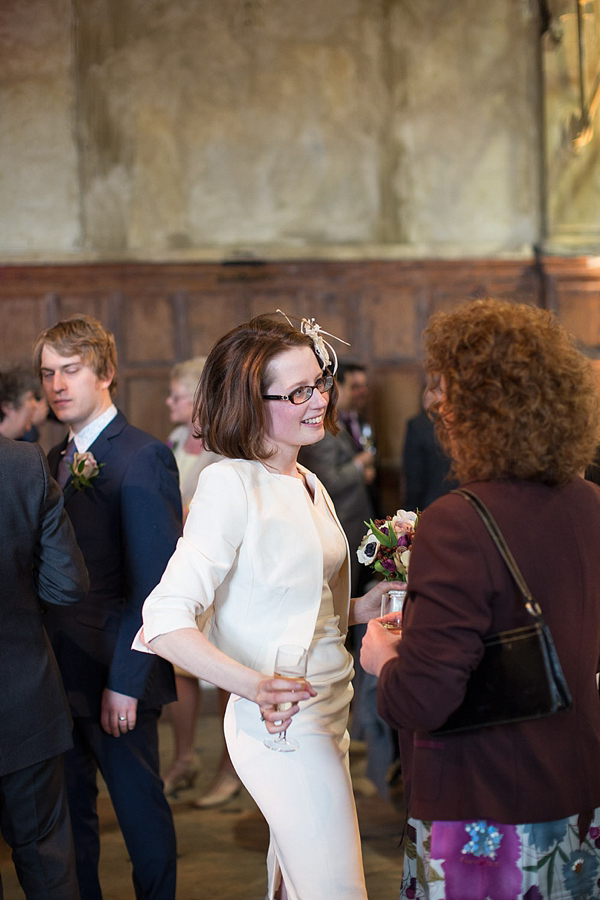 "I wore L.K.Bennett Shilo shoes
in cream, They were so comfortable, I wore them for 7 housr straight!
-  they aren't available in cream on the website, but this link
shows the style. I originally thought I want would shoes in a
completely different colour to my dress but after not finding anything
suitable a close friend suggested the Shilo shoes and I'm really glad I
chose them in the end.
L.K.Bennett was definitely a good choice for me!"
Readers – I have two pairs of these shoes, they are not cheap at around £195 a pair, but they are so beautifully constructed and crafted and are by far the most elegant and comfortable courts I own. I LOVE them.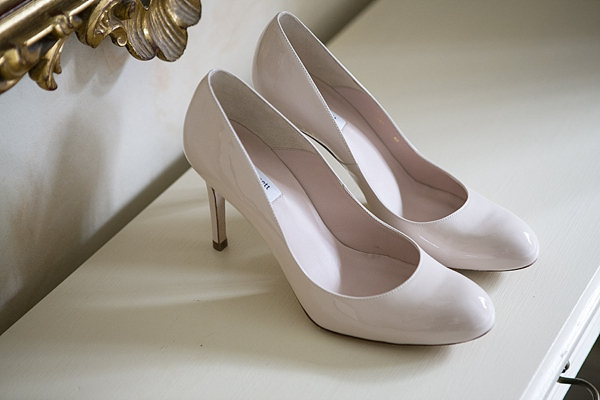 "Kate at Ultraviolet Flowers
was our florist, also on Northcote Road and very close to the Battersea Arts Centre. I
wanted to use a florist local to the centre and again feel so lucky that I
found Kate and Ultraviolet. I told Kate what kind of colours I wanted
(cream, green and brown to match the BAC and purple simply because its
my favourite colour!) and also what flowers I didn't like and a very
brief idea of what style I was thinking about and left everything else
up to her.
I absolutely adored my bridal bouquet as it was classic yet
funky/slightly unusual. The flowers for the venue also looked beautiful –
again, we wanted something classic but with a slightly modern twist and
what Kate did suited the BAC perfectly."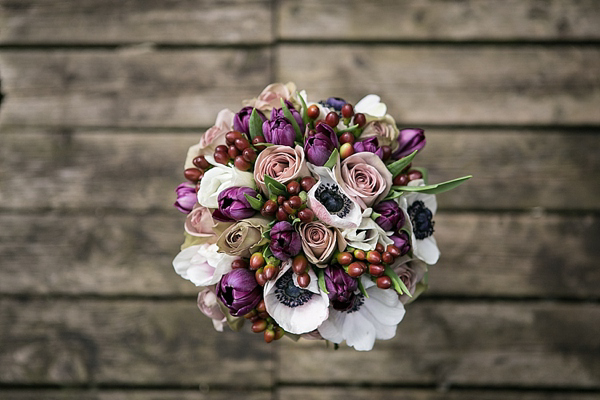 "Ian and I met at a temp job in 2005 – on the first day Ian came
and sat next to me and 2 weeks later we were going out! We got engaged
in September 2012 in Berlin, whilst on holiday. Having been together for
over seven years, we didn't feel the need for a long engagement so decided
to get married the following April."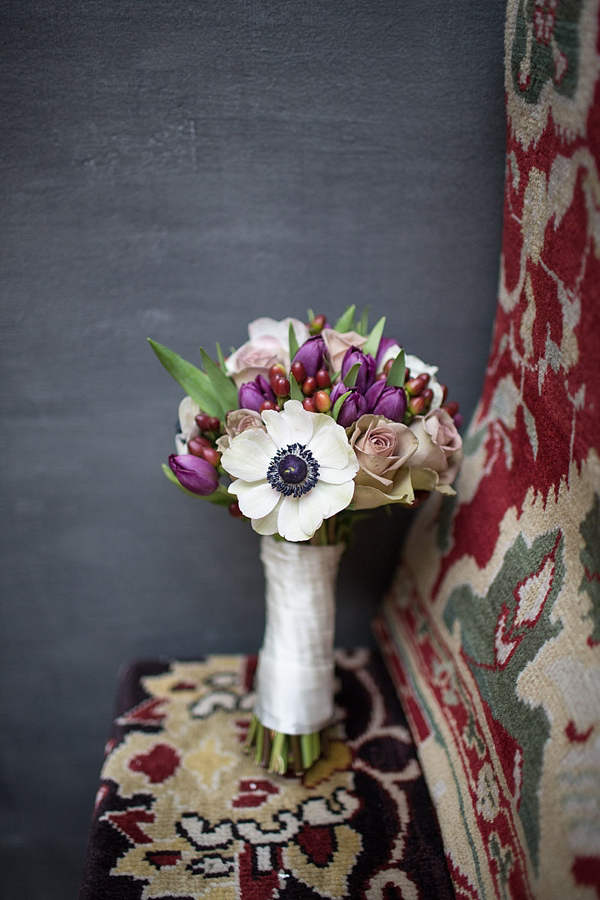 "My parents rented a flat that was 5 minutes walk from the Battersea Arts Centre so we walked! Luckily it didn't rain! Both our ceremony and
reception were in the centre,
so it made it all very stress-free which was really important to us. It
was really cool to be able to ask people to walk a couple of minutes
from the ceremony room to the reception room!"
"My sisters and I went to Edward James,
an Aveda salon which is very close to the BAC. We were completely
spoiled by the staff there – we were given champagne and awesome hair!
It was a really lovely and fun start to our day. I did most of my makeup
myself as I wanted to look like me, although one of my sisters did help
with my eye liner as I'm terrible with that!"
"I wore a very old Accessorize fascinator that I've had for years!"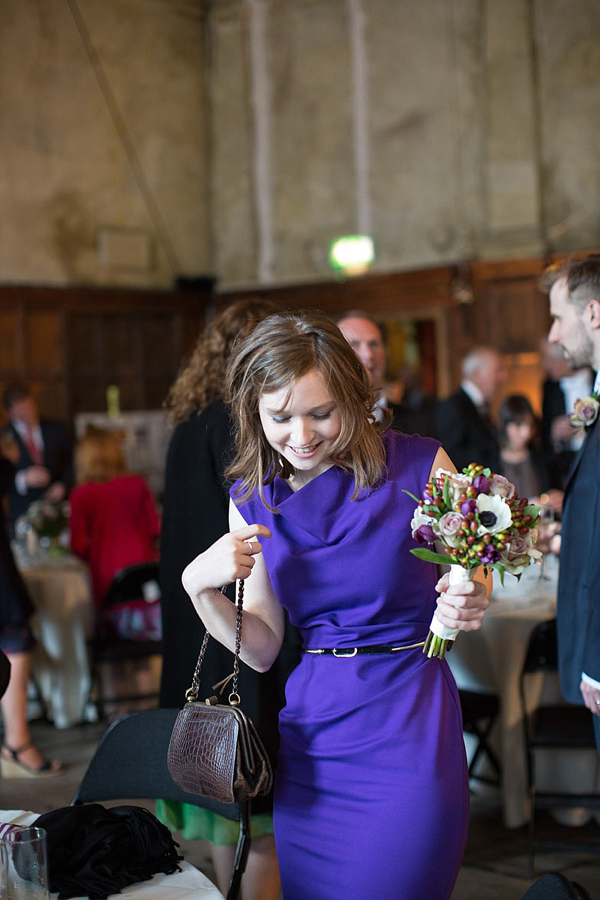 "We chose the Battersea Arts Centre
because we wanted to get married in London – when we were initially 
thinking of possible venues, we remembered we'd been to see a play at
the centre about 18 months before and thought the building was amazing.
When we found out they did weddings, we booked a viewing, saw the
Council Chamber and booked it pretty much there and then!"
 
"My awesome sisters, Hannah and Claire (and their
partners too!), organised a lot of the reception decor and sorted the guest book too, which we
were so grateful for!
We did well organising all the big things but all
the smaller finishing touches were not necessarily our strengths!
Everything looked amazing when we walked into the Council Chamber and it
was all very much down to my sisters' work. We also paid for a BAC
technician to create the lighting which really added to the Council
Chamber's look and Lee really captured this in his photos."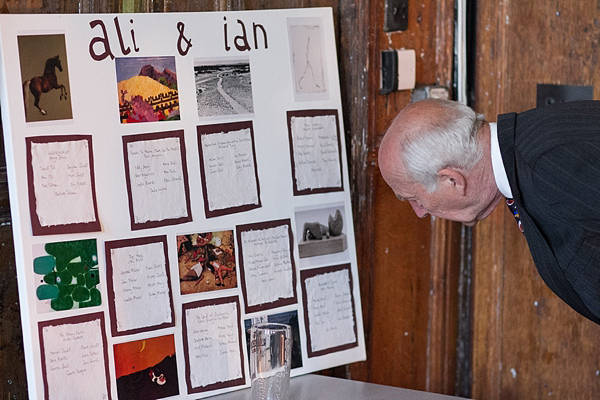 "Our photographer was Lee Garland.
  Lee was recommended to us and we would happily recommend him to
anyone else. We feel so lucky that he was our photographer – we love our
photos and it was an absolute pleasure to work with Lee. He really
understood what we wanted and everything was so relaxed. The Battersea Arts Centre
already looked amazing but Lee made everything look extra-amazing with
his photos and we now have some beautiful visual memories of our day."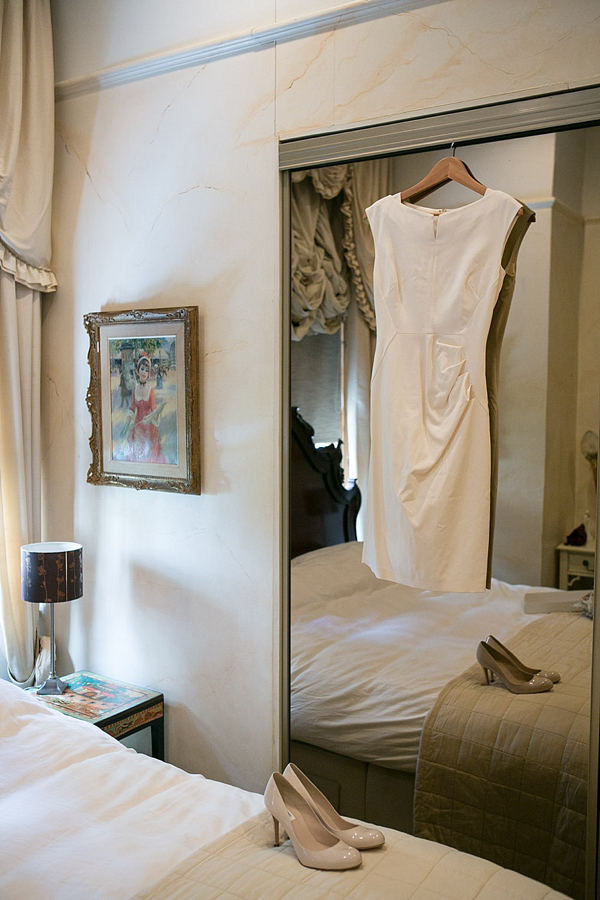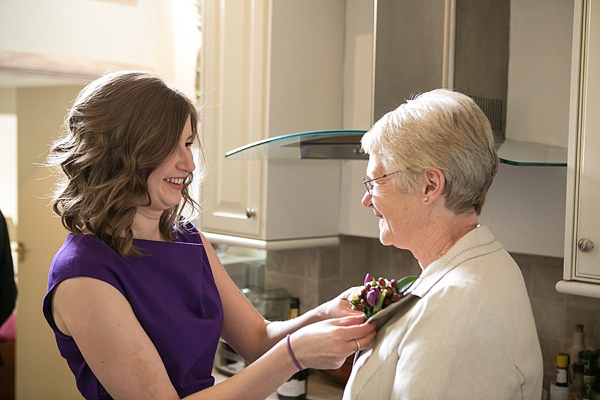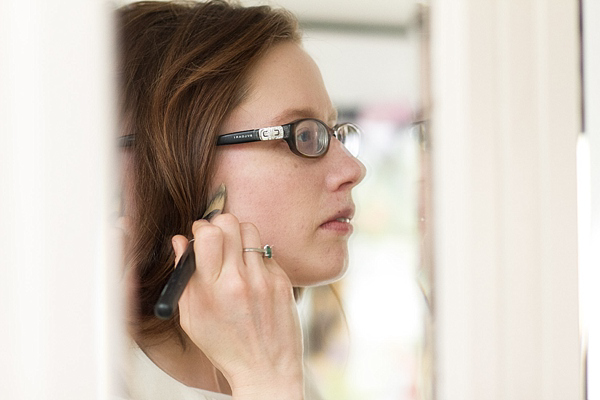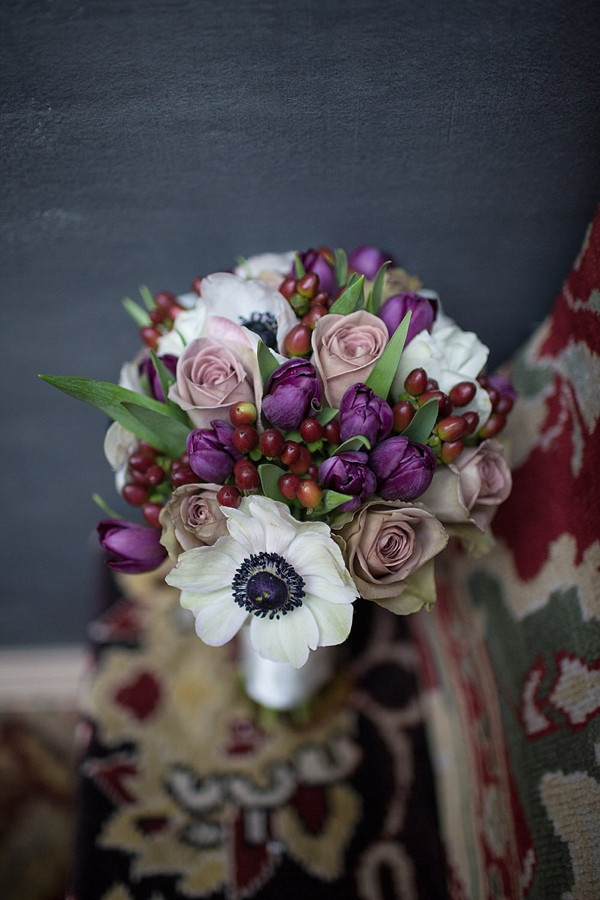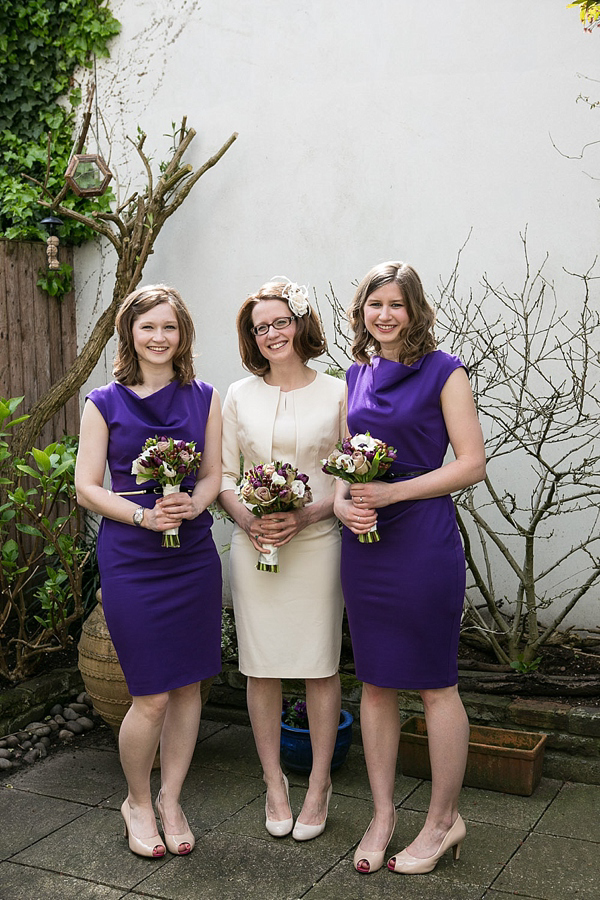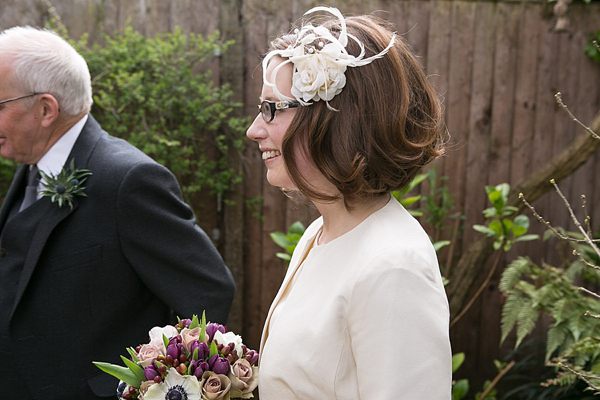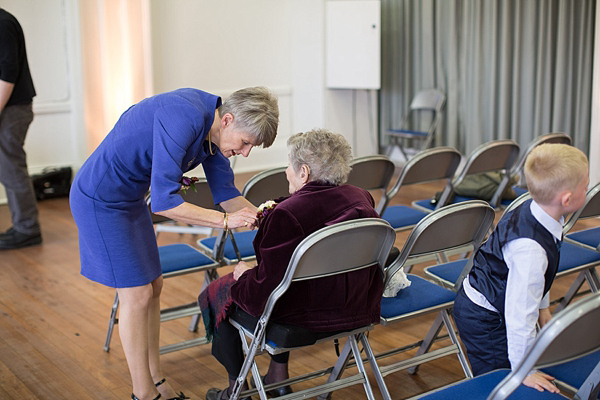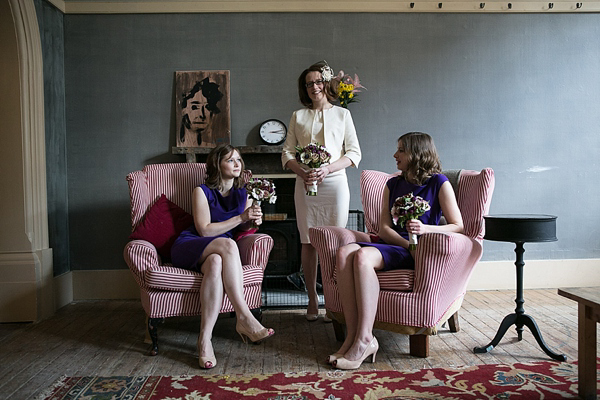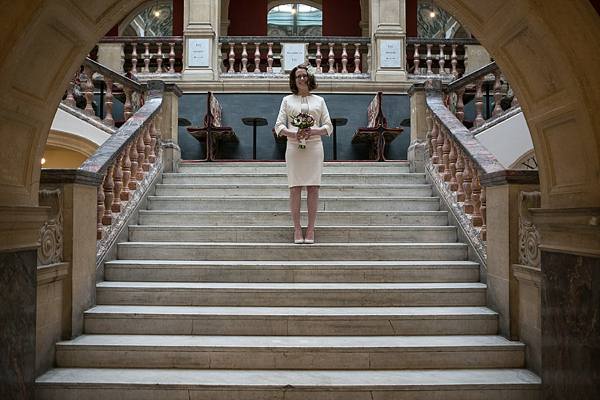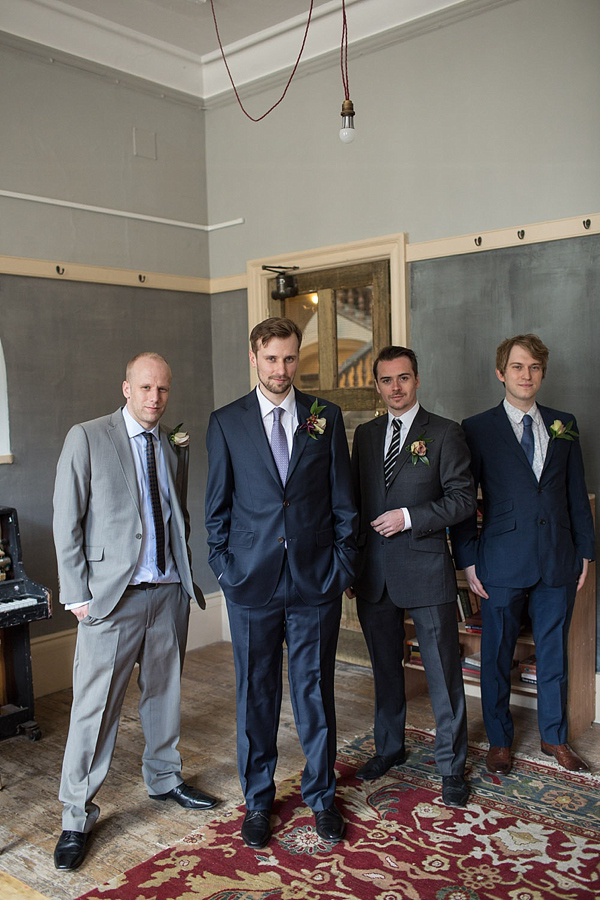 "My Dad, Duncan gave me away.  We walked down the aisle to
Dennis Wilson's 'Rainbows', although if I'm very honest we only heard
about 15 seconds of the intro as I'm afraid my Dad and I marched down
the aisle quite quickly!"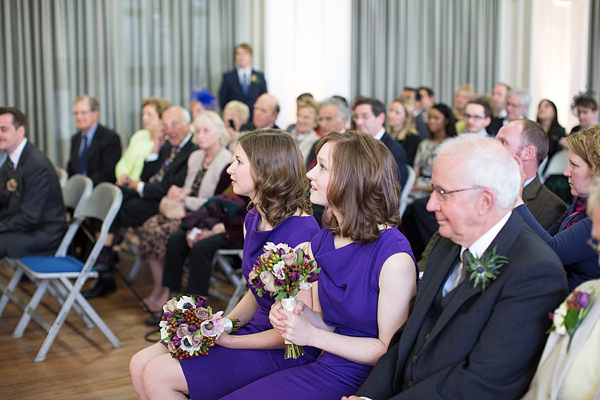 "We didn't write our own vows, we went for the simplest Civil
Ceremony vows (from the choices we were given). We weren't particularly
keen on writing our own vows and didn't want anything too flowery. I
would say though that saying the words in the ceremony was one of my
most favourite and treasured parts of the day. I didn't realise just how
much I wanted to/loved saying the words in front of everyone. 
We had two readings – my close friend Hayley read an
E.E.Cummings poem, I carry your heart
(http://www.hitched.co.uk/wedding-planning/wedding-poems/i-carry-your-heart–by-ee-cummings_315.htm) 
– we chose this because its just a beautiful poem and we felt it
reflected how we feel about each other. Ian's Dad, Donald, read excerpts
from Goodridge Vs. Department of Health" by Massachusetts Supreme Court
Chief Justice Margaret H. Marshall
(http://weddings.about.com/b/2012/07/30/why-do-we-get-married-the-mass-supreme-court-may-know.htm).
We chose this because simply because we completely agree with this
description of marriage and what it means for society."
"My engagement ring and both our wedding rings came from Ingle and Rhode
in Mayfair. I really wanted an ethically sourced engagement ring and
Ingle and Rhode work only with ethical suppliers. I also wanted a ring
that was slightly different/individual and Ingle and Rhode only do
bespoke work – we had a lovely time working with Tim and David to design
my emerald ring and I truly love it.
We enjoyed the process so much we
happily went back to them for our wedding rings."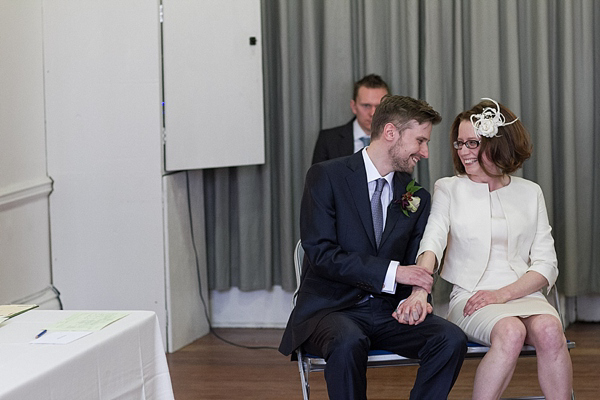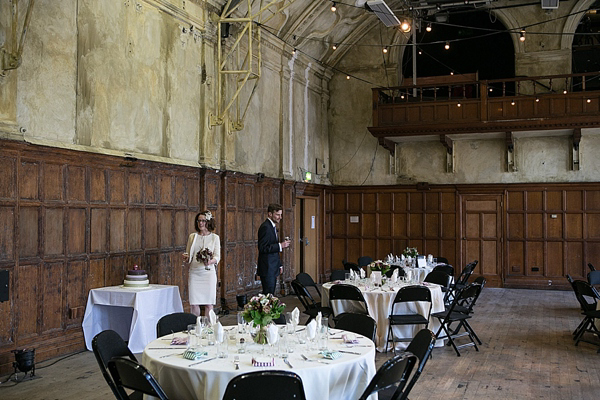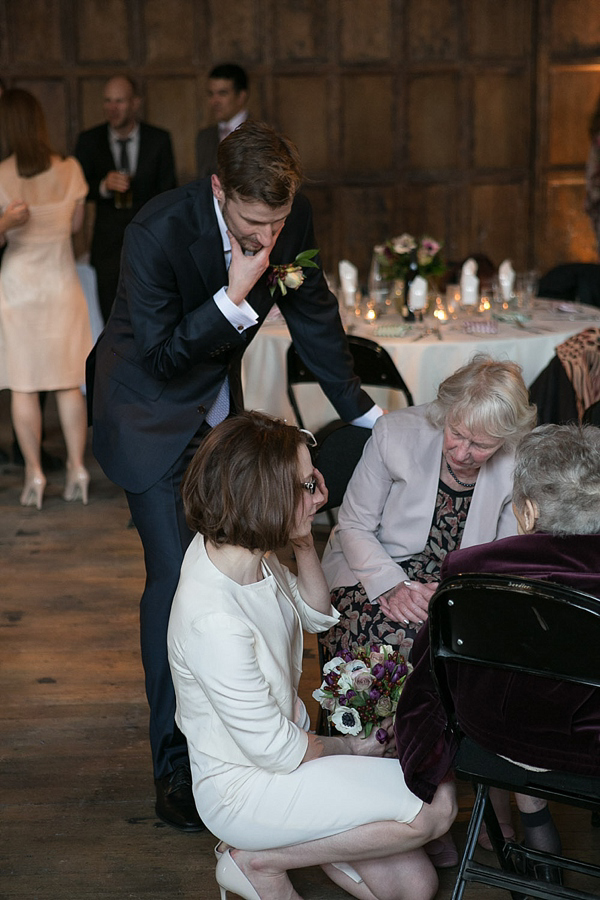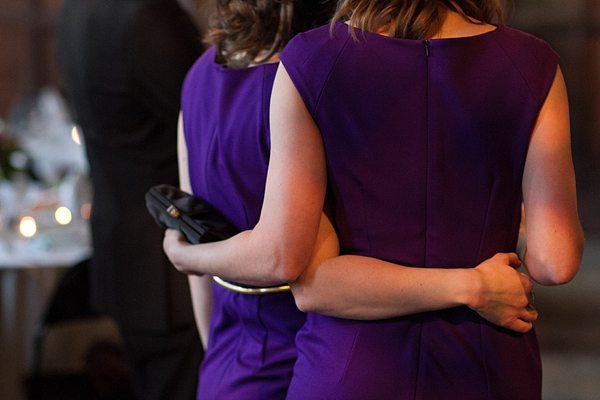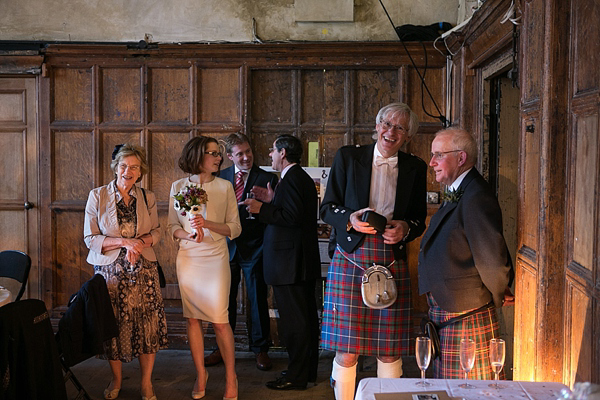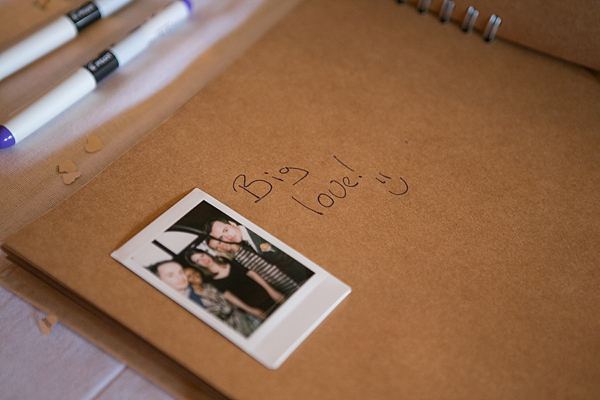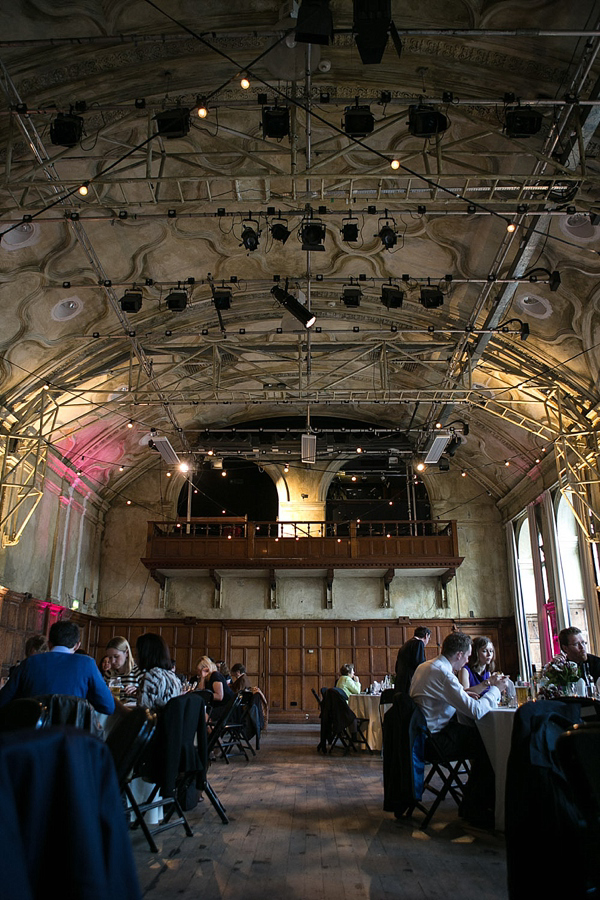 "My sister Hannah made our gorgeous and delicious cake –
she offered to make it and we happily said yes! We used a bus and bus
stop as our cake topper as Ian and I have got a huge number of buses
throughout our relationship!"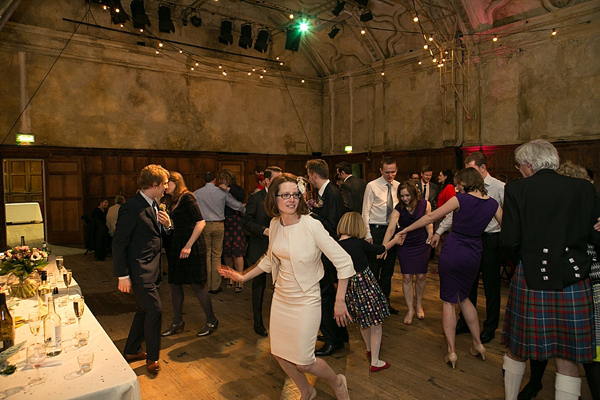 "Our first dance was to 'Palaces of Montezuma' by Grinderman!
Probably not a common first dance choice but we didn't want a slow
dance, we both love the words behind this song and Ian is a massive Nick
Cave fan!"
Words of Wedded Wisdom…
"Our words of wisdom would simply be stay relaxed and work
together! There is no doubt that organising a wedding is a big challenge
– it's definitely one of our biggest achievements to date! – but it
really can be fun and chilled out! I think we were lucky that we found
our venue so soon, things might have been different if we'd struggled to
find somewhere but we did enjoy putting everything together even though
it took us out of our comfort zone.
I would also say that its important that you agree what you want
as a couple as it is your day and not anyone else's – obviously your
friends and family and the internet can give you lots of advice but I do
personally think that its so important that your day reflects you both
as a couple and I really hope we achieved that. On a more practical
side, as boring as it sounds a budget spreadsheet is definitely
recommended – as much as its painful to look at costs it's so much
better to start with and agree a budget and know when payments etc are
coming out. Help from family and friends later in the process is so also
incredibly appreciated. 
We didn't get too hung up on any particular details. We were also
lucky to not have any wedding-related disasters so we were really
pleased with how everything went and that we succeeded in planning the
day!
We loved all of our wedding day – we had a truly
wonderful, relaxed day and were so happy to celebrate with our family
and friends in a beautiful London building with good food, good wine and
good boogieing! We did particularly love the ceremony, the photos and
simply mingling with our guests after we were married."
What an incredibly cool and understated day. Huge thanks to photographer Lee Garland who was great to work with on this feature, and congratulations also to Ali and Ian on their wedding.
You can find Lee Garland on Facebook and Twitter. 
With much love,
Annabel
Photographer – Lee Garland, supported by second shooter Jade Alana 
Venue + catering – Battersea Arts Centre
Brides Dress -  Tailored fold-over neck dress by L.K. Bennett
Veil/Headpiece – pre-owned fascinator
Brides' shoes – L.K.Bennett
Grooms Suit – Ermenegildo Zegna + Tie by Hugo Boss in Fenwicks
Bridesmaids – Coast dresses + Clarks shoes
Flowers – Ultraviolet Flowers

Cake – sister
Rings – Ingle and Rhode
Hair Stylist – Edward James