It's a particular pleasure to feature a wedding when the bride has had her dress made by one of our talented sponsors.  Michelle and Graham tied the knot on 26 May this year at The Royal Institute for Public Health at 28 Portland Place.
"I love the classic vintage glamour of the 1930s,
but didn't want to stick too rigidly to that, just to be inspired by it
and other things we loved. I had more strong ideas of what I didn't
want than what I actually wanted.
The fabulous Sally Lacock designed and made my dress.  After
many hours searching for dresses online in the small hours (and I mean
MANY hours!), I came upon Sally Lacock's website and saw the Elsa dress.  I knew
straight away that it was 'the one'.  It was just so classic and elegant,
and quite understated. Going to Sally for a trial was the easiest bit of
the whole process, it was all so relaxed and there was no pressure to
make any rash decisions."
Photography Copyright (c) 2013, Assassynation
"We met through an online book group, neither of us was particularly looking
for a relationship at the time. We got chatting online about a book of
Will Self's short stories ('The Quantity Theory of Insanity'!) and
realised that we lived about 3 miles from each other. After a few weeks
of online chatting, we decided to meet for a coffee, and just hit it
off. How many people can say that Will Self brought them together?!"
We got engaged on my birthday in October last year, which was a total surprise to me, and we got married the following May.
 "We knew we didn't want the traditional 'big hall' for our venue,
so we looked for Georgian townhouses in London – 28 Portland Place was
so ornate and it just ticked all the boxes. It was full of period
features, beautiful ceilings and chandeliers. Fabulous!
We had two ceremonies – the legal one, and a mixed faith
blessing which we wrote ourselves. This second ceremony was much more
personal, and we wanted to bring together Graham's Jewish beliefs with
my interest in Zen Buddhism. It was quite a challenge, but we rather
enjoyed bringing them together and seeing how compatible they were."
"We hired Great British Florist
– we wanted that 'just picked from a meadow' look for the flowers. We
ordered the bouquets, buttonholes and corsages from them and a couple of
boxes of flowers which I arranged myself the day before. The quality
was great and the look was exactly what we wanted."
"We wanted to keep a 'booky' theme as that's how we met, so
we were looking for someone who could do a cake that looked like a
stack of Penguin paperbacks. When we went to meet Jen of Jen's Cakery.  She just got what we were about, and we knew she
could pull it off. When we saw the finished cake, it far exceeded our
expectations – the level of detail was amazing. We loved the penguins to
represent us and Elise our daughter."
"We hired the Great British Florist – we
wanted that 'just picked from a meadow' look for the flowers. We
ordered the bouquets, buttonholes and corsages from them and a couple of
boxes of flowers which I arranged myself the day before. The quality
was great and the look was exactly what we wanted."
"I wore Rachel Simpson's  'Tilly' shoes (I'm not one for wearing heels but these were great and very comfortable), which I bought at Fur Coat No Knickers boutique in London."
"Our photographer was the marvelous Sassy of Assassynation. 
We are both naturally shy people and don't normally like having our
photo taken, but Sassy made it all so easy and I felt totally relaxed
around her. My favourite part of the day was when we went on a walk down
some quiet side streets with her to do the couple shots."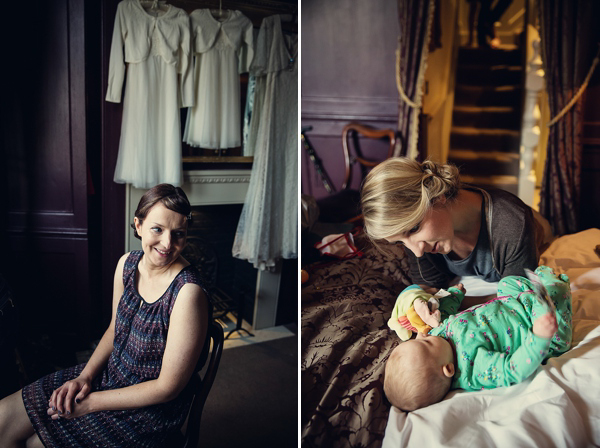 "I walked down the aisle with my seven year old daughter, as I didn't want to be 'given away' in the traditional sense.   Our soundtrack was 'Lullaby of Birdland' by Sarah Vaughan. Just a song I have always loved, and harks back to another era of glamour and innocence."
"Below, I've shared the vows and promises we made to one another…"
[Graham] Through making these rings  "…we promise to dedicate ourselves completely to each other, with body, speech, and mind. In this life, in every situation, in wealth or poverty, in health or sickness, in happiness or difficulty, we will work to help each other perfectly.
[Michelle] The purpose of our relationship will be to attain enlightenment by perfecting our kindness and compassion toward all sentient beings." – (from Lama Thubten Yeshe)
[Graham & Michelletogether] "Where you go I will go. Where you lodge I will lodge. Your people will be my people. What you hold sacred I will hold sacred. When you die I will be there. Nothing but death shall divide us." (from the Book of Ruth)
"We also had Sonnet 116 (Shakespeare) read – we wanted two quite literary readings to tie in with our theme,
and loved the sentiment of the Roy Croft poem, as friendship is what
it's all about.
"We chose to make our own rings at the London
Jewellery School as it just felt so
much more personal than buying them in a shop. We had a great day there,
the teacher was very patient and we did not come away with triangular
rings as expected!"
"We both love '90s indie music, so it had to be 'Into Your Arms' by The Lemonheads. I feel teary now when I hear it!"
Words of Wedded Wisdom… 
"Don't get too fixated on the small stuff – after all,
the most important thing is that the two of you get married and have a
good day. We had a few other ideas we just didn't have time to sort out,
bu gt it didn't matter in the end. Try to enjoy the process of planning
it, rather than just focusing on the end result.
Also, don't be afraid to put your own stamp on the wedding day. It's your day, about the two of you, so make it personal.   I wanted something quite personal to give our guests,
and something that was in keeping with our literary theme, so I made
everyone a fabric bookmark. 
My favourite part of the day was sneaking off with Sassy to have
the couple shots taken down some quiet backstreets in Central London.
It was lovely to get away from it all for half an hour and spend some
time just the two of us – I wouldn't have done anything differently.
I also loved visiting Love My Dress – I loved the way you could
search by dress designer, photographer etc or by details such as vintage
1930s inspired wedding, festival wedding, Spring weddings etc. This made it so much
easier to navigate and find what I was looking for. I also liked the
list of suppliers at the end of each wedding feature."
I love to share those weddings that have taken inspiration from the past.  Brides, if you adore the styles, fashions and aesthetics of any one particular era of the past 100 years, which era is it? You know you can explore every era right through from the Edwardian period through to the 1970s in my book, Style Me Vintage: Weddings (available via Amazon and in all good book stores) – which features more beautiful designs by Sally Lacock inside it's beautiful pages.  The 1930s has always been one of my favourite eras for it's sheer glamour and I love the way Michelle has translated this glamour in to her modern-day wedding.
Huge thanks as always to the adorable Sarah of Assassynation for sharing these photographs- see more of Sarah's work on Love My Dress here.
Look here if you'd like to be inspired even more – literary inspired weddings, 1930s, books, Sally Lacock and London weddings.
With much love,
Annabel
Photographer – Assassynation
Venue + Catering  – The Royal Institute for Public Health, 28 Portland Place, London
Wedding Dress – Sally Lacock
Veil/Headpiece – side tiara from Vintage Styler
Brides' shoes – Tilly by Rachel Simpson
Grooms Suit – Paul Smith
Bridesmaids + Flowergirl dresses + pageboy outfits – Monsoon
Florist – Great British Florist
Cake – Jen's Cakery
Transport – original 1930s London Taxi
Favours – DIY bookmarks
Rings – London
Jewellery School
Hair and make-up Artist -  Amanda at Lipstick and Curls
Stationery – Marty McColgan