This morning, I shared this sweet literary inspired wedding of Michelle and Graham and mentioned how I especially love to share weddings when the bride is wearing the designs of one of our talented sponsors.  I'm equally delighted at being able to share this afternoon's wedding, those of you who follow the Love My Dress Facebook page might remember this little sneak peek recently – it caused rather a storm – and provides further evidence (not that we needed it) that our readers adore beautiful wedding shoes.
Helen and Mike tied the knot on 15 June this year at Harvest Moon in East Lothian, Scotland and these photographs were taken by the wonderfully talented fine art wedding photographers, Craig and Eva Sanders (I was chatting with Eva at The Glasgow Wedding Collective event only a couple of days ago – talking of which, I've received the official photographs this afternoon – watch this space).

"We met the summer before we left school, but didn't get
together until we met up again at University two years later. We got
engaged almost exactly nine years after we got together and got married
nine months later.
We wanted a really relaxed and
informal wedding and something that felt like us. We love camping and
being outside so Harvest Moon was perfect for us. We're not religious
and really liked the personal nature of the humanist ceremony…"
Photography Copyright (c) 2013, Craig and Eva Sanders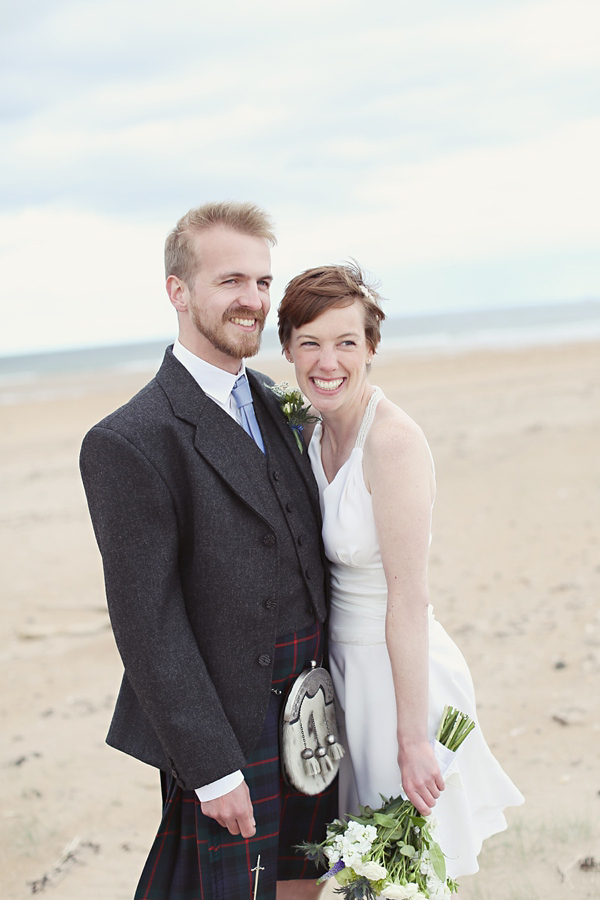 We walked on to the beach towards our friends and families together
which was lovely, everything about our wedding was a joint decision and
we felt that arriving together really reflected this – walking on to the beach towards all our families and friends and
looking in to their faces as we got married was really special."
"We were looking for somewhere to marry in Scotland, it's where we
met and where we've spent most of our time together and we also knew we
wanted a humanist ceremony which is not legal in England. Early in the
wedding planning I came across Highland Tipis and was completely smitten so after that
it was all about finding somewhere that we could put one and would give
us access to lots of outdoor space.
Harvest Moon was perfect, it was
easily accessible by public transport for our guests who were travelling
from all over the UK and we could book the whole site so lots of our
guests could stay with us on site all weekend. I really loved this
aspect as it meant we had lots of time to catch up with everyone and for
them to get to know one another."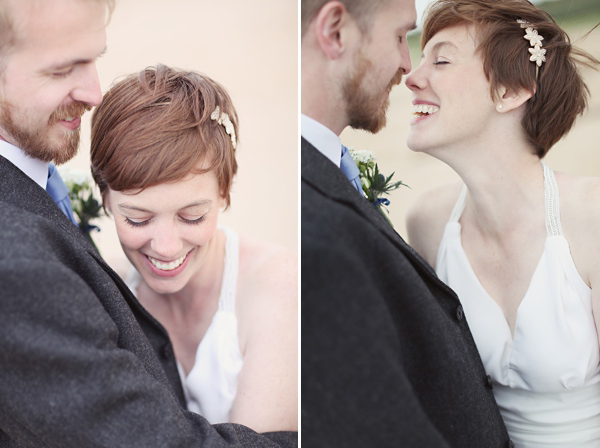 "My dress was made by a dressmaker who lives near my Mum.  I
had a horrendous time trying to find a dress. I knew when I was looking
that we would be outside on the beach and I'm tiny so a long dress
seemed like a terrible idea but all the short dresses I tried on were
prom-like or strapless and didn't feel remotely like me.
I wanted to be
able to eat and dance and not have it be any bother and none of the ones
I tried fit the bill. Also they were terrifyingly expensive. In the end
I went to the most incredible fabric shop near Edgware road Joel and Sons who have the most wonderful staff and managed to find beautiful fabric."
"My shoes were from Emmy and they are amazing. They are incredibly
comfortable even for someone not used to wearing heels. The whole
experience of buying them was wonderful, Emmy is lovely and they were so
great at helping me pick a colour to die them, as I knew from the
outset I didn't want to wear white shoes."
"I wasn't going to wear anything in my hair but at the last-minute I bought a band from Accessorize.  I also wore Mike's Mum's engagement ring as my something old, my earrings were a wedding gift from my parents."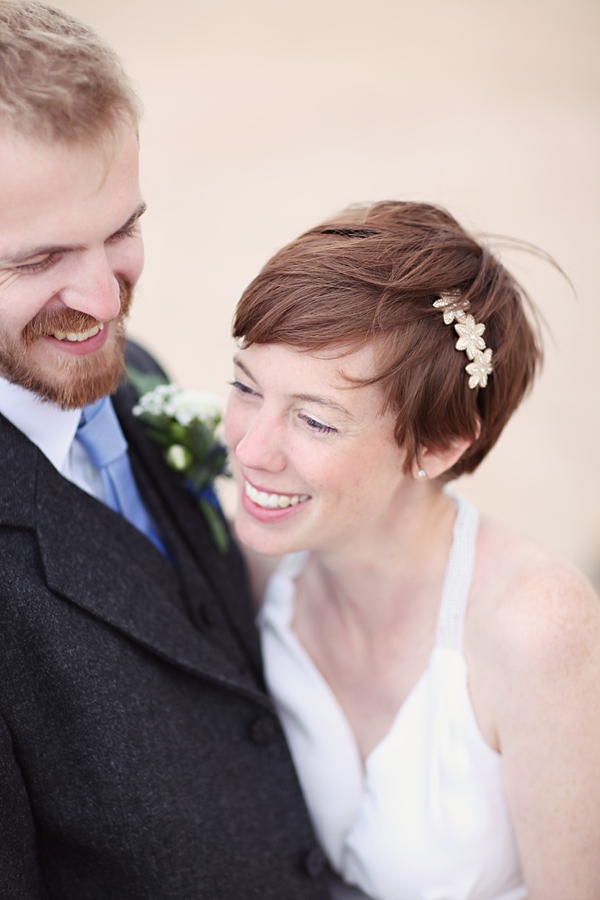 "One of the joys of a humanist ceremony
is the potential to tailor the service. We me with our celebrant Dagmar
and then had email exchanges and skype chats with her as she put
together our service. We had to answer lots of questions about one
another and our relationship, some together and some apart and then she
used this to write our service. It was so lovely and really personal and
lots of our friends and families mentioned that they had learned things
about us from the ceremony."
"Mike's brother read this piece by Rainer Maria Rilke which I love
and says exactly what I feel about marriage far more eloquently than I
would ever be able to."
'Marriage is in many ways a simplification of life, it naturally
combines the strengths and wills of two young people so that together,
they seem to reach farther into the future than they did before.  Above
all marriage is a new task and a new seriousness – a new demand on the
strength and generosity of each partner, and a great new danger for
both. 
The point of marriage is not to create a quick
commonality by tearing down all boundaries; on the contrary, a good
marriage is one in which each partner appoints the other to be the
guardian of his solitude, and thus each shows the other the greatest
possible trust.  A merging of two people is an impossibility, and where
it seems to exist, it is a hemming-in, a mutual consent that robs one
party or both parties of their fullest freedom and development. 
But
once the realisation is accepted that even between the closest people
infinite distances exist, a marvellous living side-by-side can grow up
for them, if they succeed in loving the expanse between them, which
gives them the possibility of always seeing each other as a whole, and
before an immense sky.'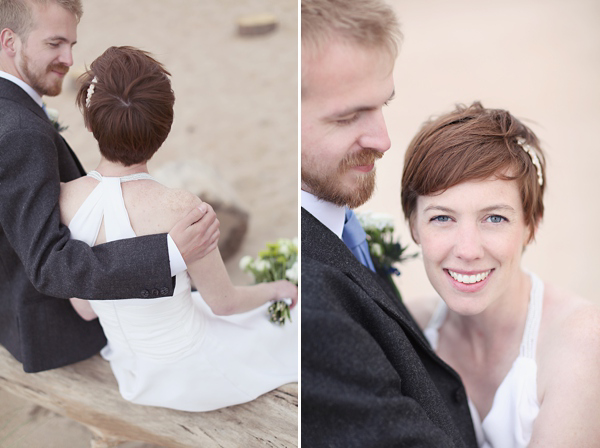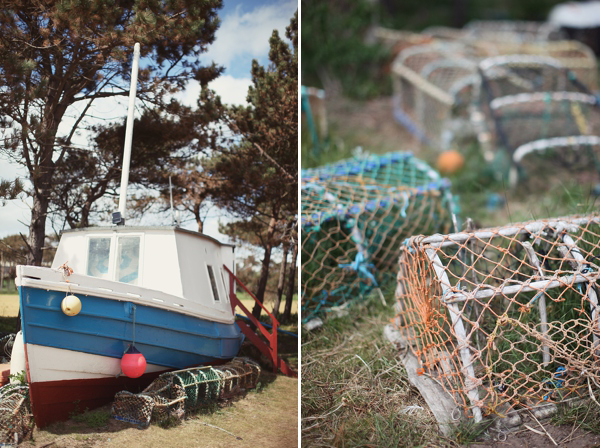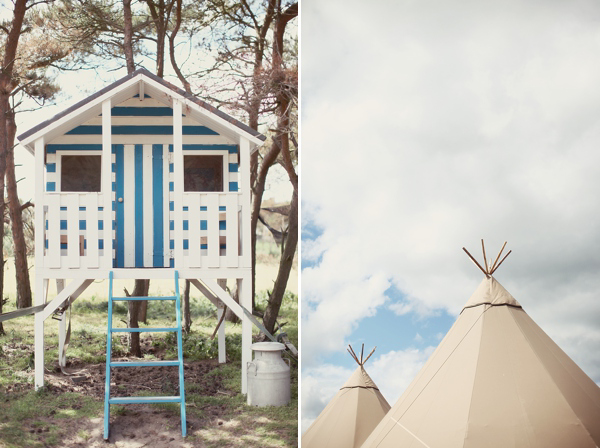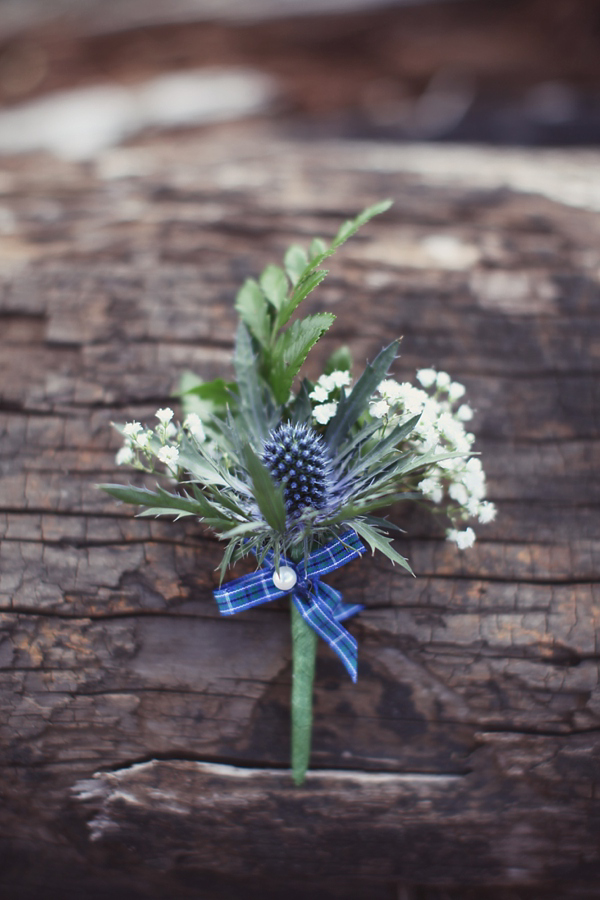 "The tipi
that we had our reception in is absolutely incredible, they are so much
bigger than you think and the wooden structure is beautiful. We wanted
to keep the décor really simple to let the tipi shine."
"We chose Stenhouse Flowers
because they are local and that was really important. (I found them
online, but I can't find a website for them any more) I exchanged emails
asking for something quite wild and including white roses and sea holly
to represent Yorkshire and Scotland and what they came up with was
beautiful. They also did the buttonholes.
 The flowers on
the tables were from my parent's garden, my Aunt's garden and hedgerows
around East Lothian, as well as a few supermarket roses. My Mum bought
the little vases from charity shops over about 3 months and then my
friends and I spent the morning of the wedding arranging them, following
an instruction sheet my Mum wrote and then setting the tables."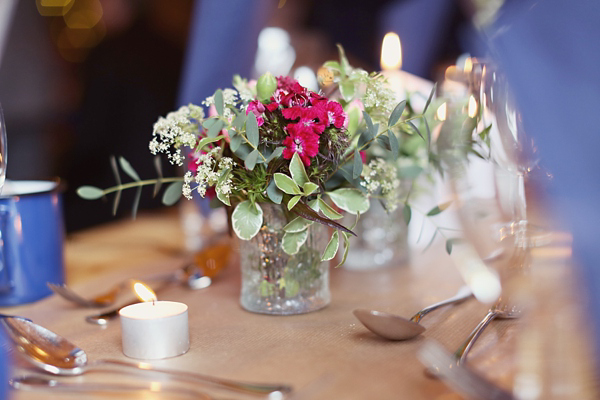 "Mike did all of our design. He drew little figures of us which we used across everything. You can see the invite here."
"We made mugs to continue the camping theme, Mike drew the tipi
picture and we had it printed on, (I'm not providing the name of the
company though as they were so so awful). We made little bags of hot
chocolate powder and marshmallows and put them inside. It was so great
to see people using the mugs throughout the rest of the weekend."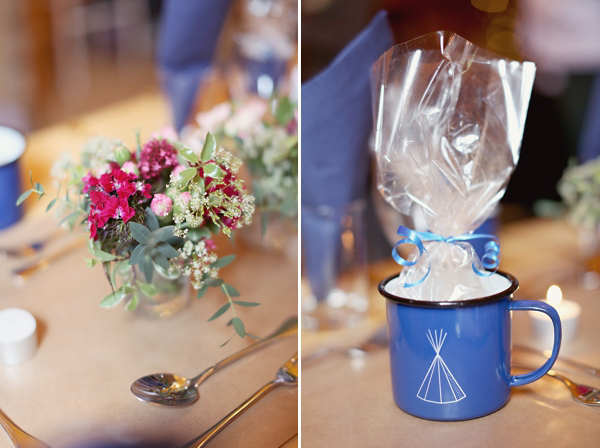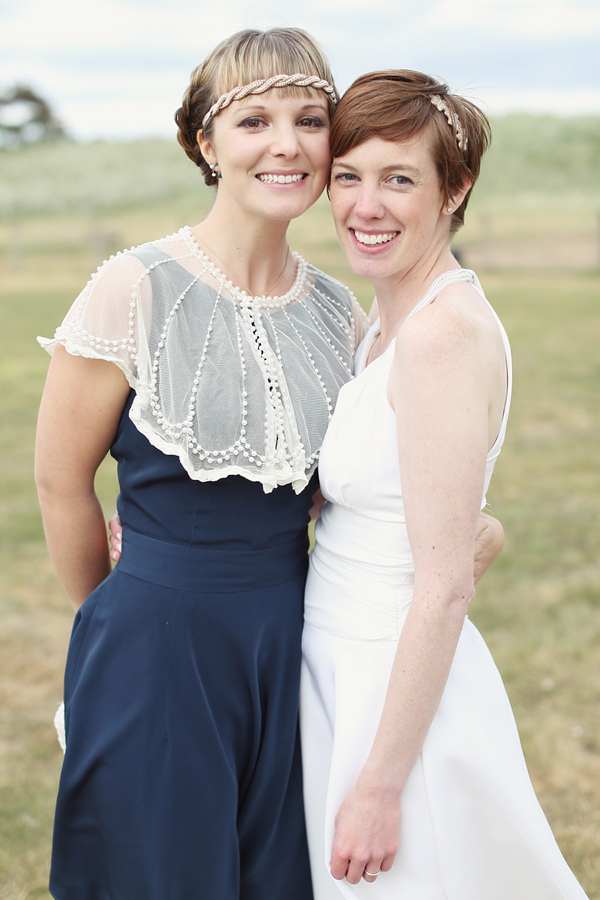 "Craig and Eva Sanders
were our photographers and they were brilliant. They really captured
the day perfectly and the photographs are wonderful. We spent ages
trying to find someone who we liked and who were available and I
couldn't be more delighted with the results. They were also great at
putting us at our ease in front of the camera and then blending in to
the background to take amazing shots of our guests."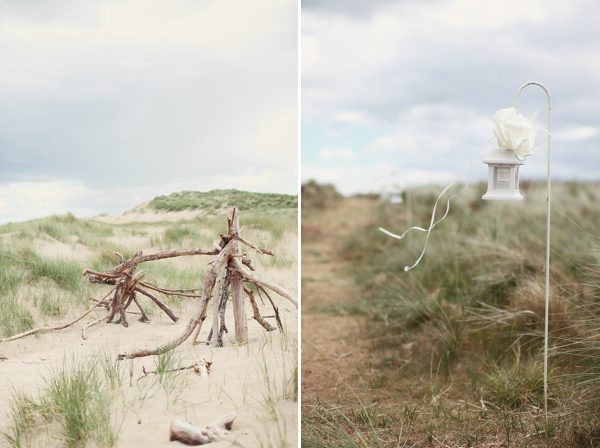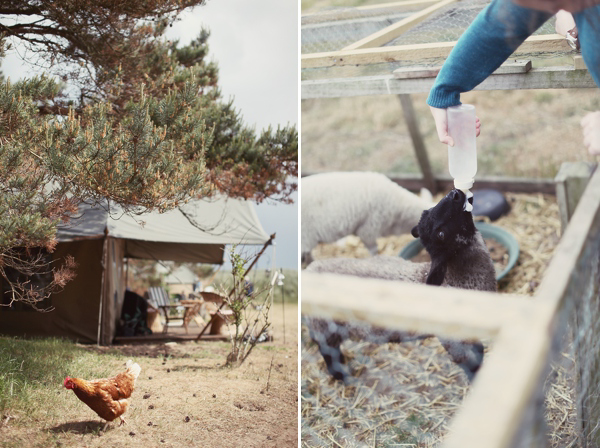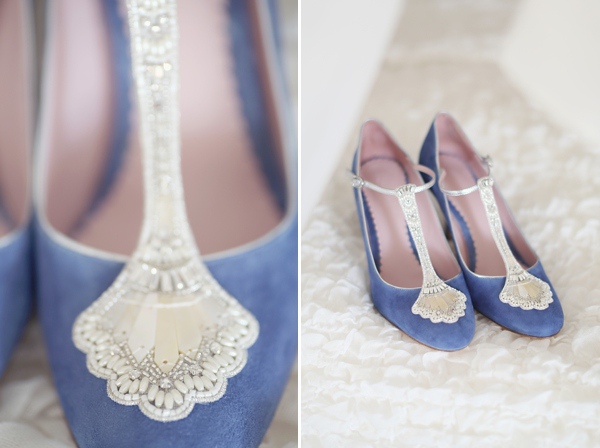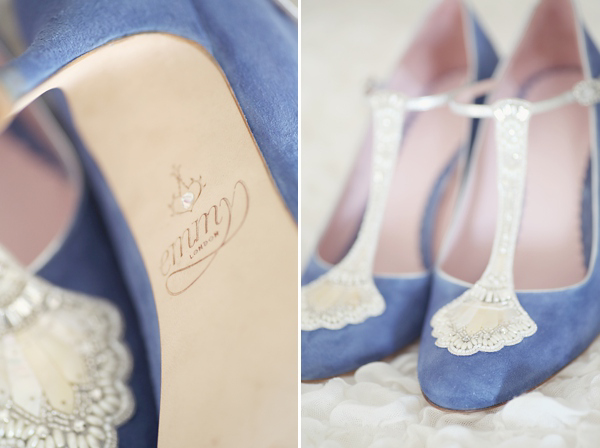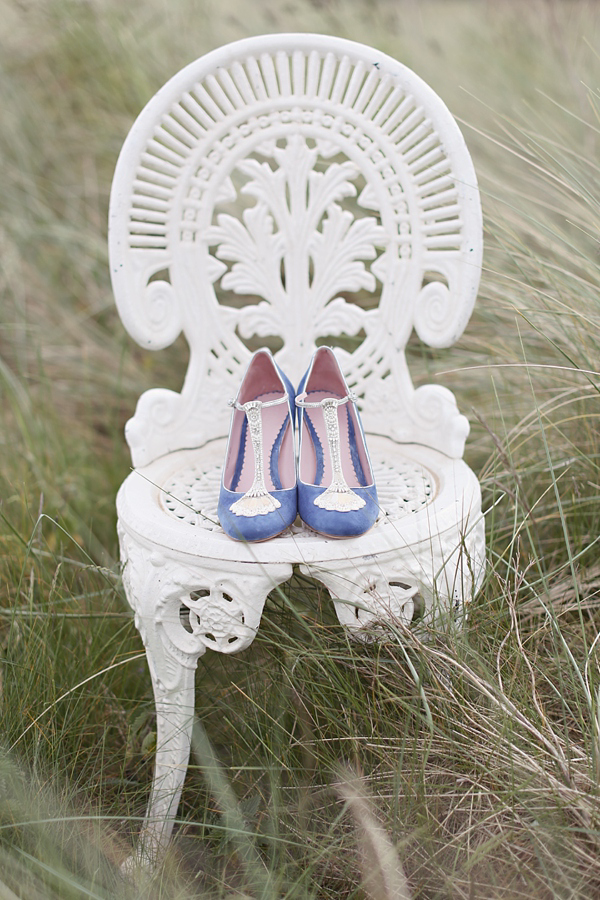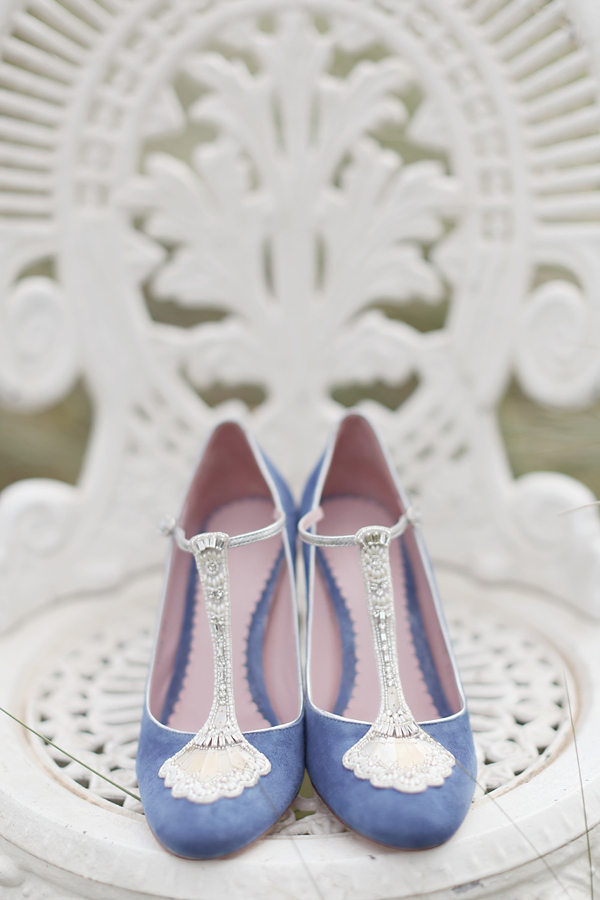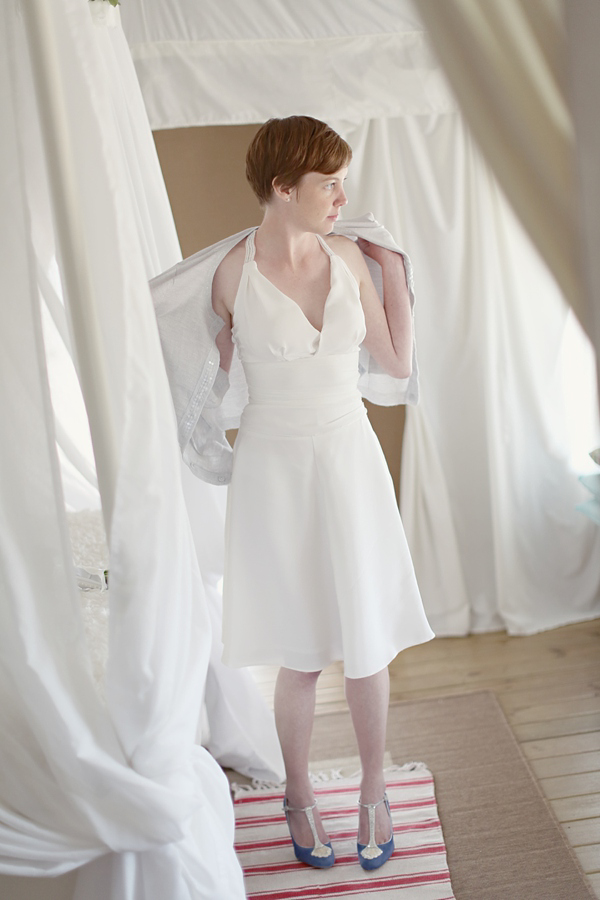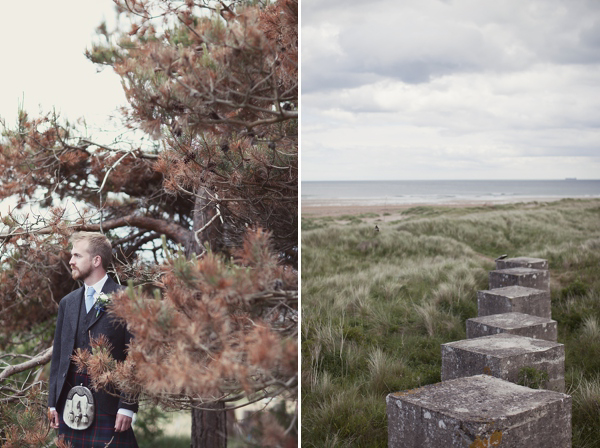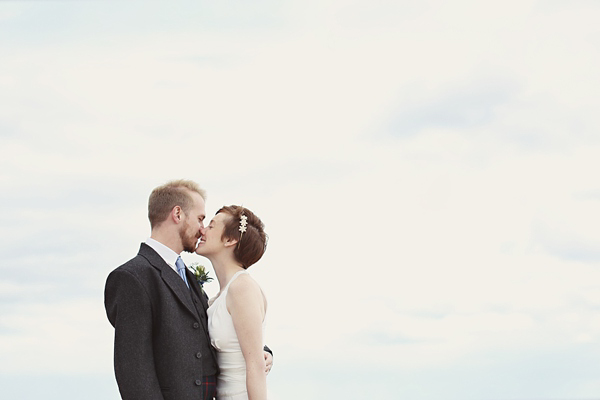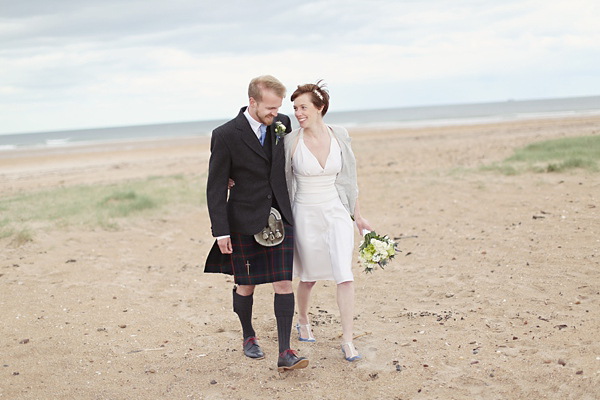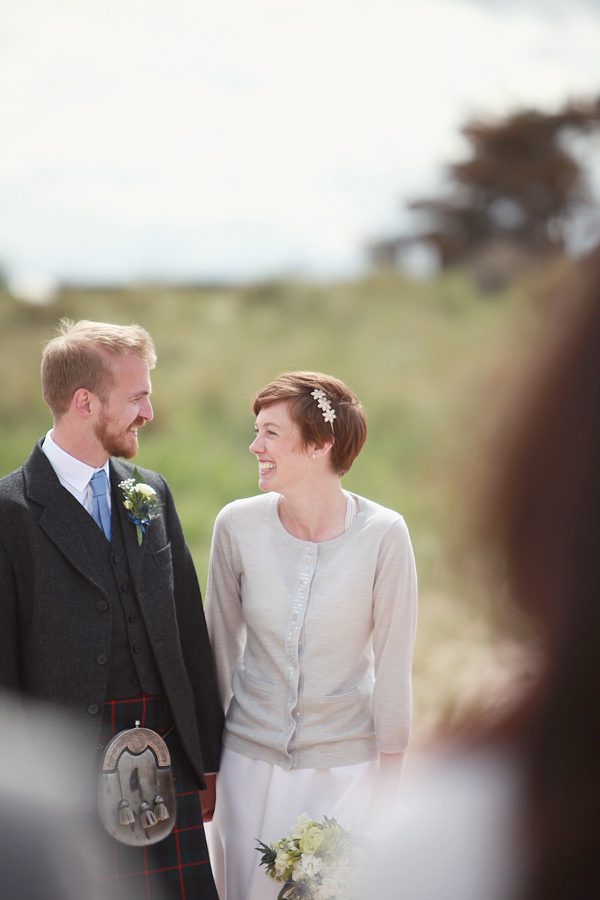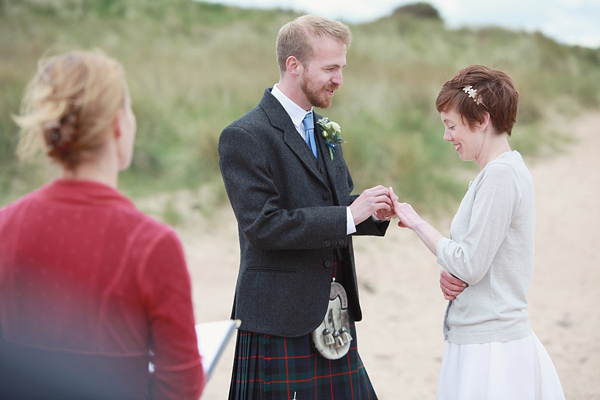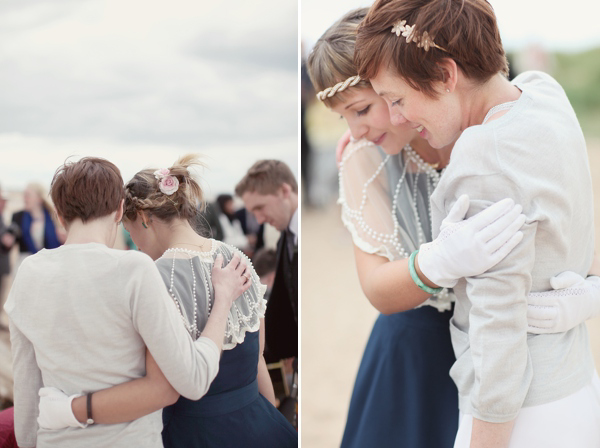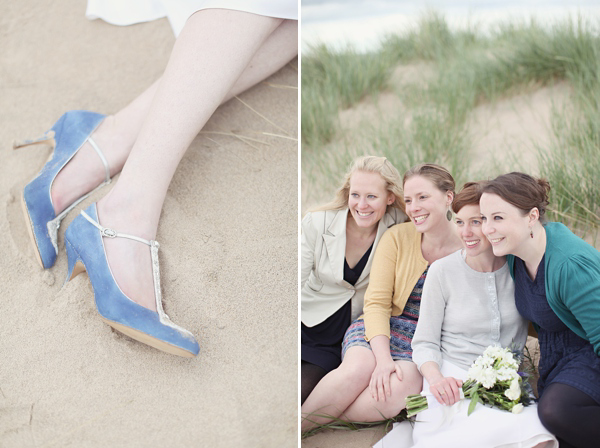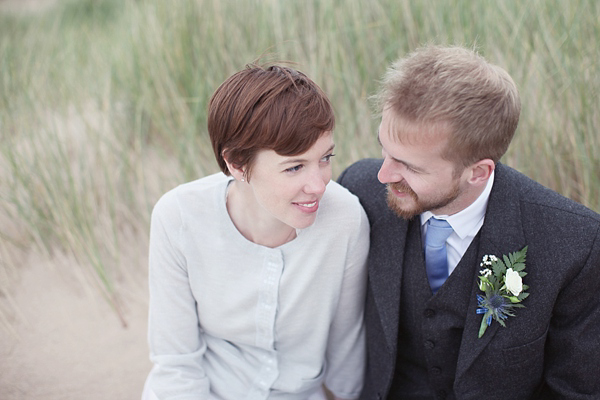 "A family friend I've known my whole life made and iced our cake and
it was absolutely delicious.  We had other cakes made by my friends
some of whom had transported them a long way which was so incredibly
sweet."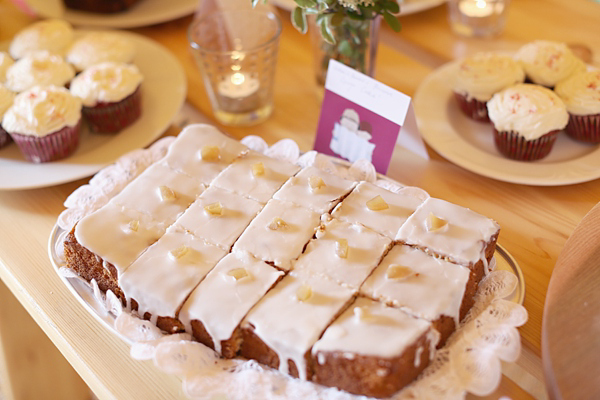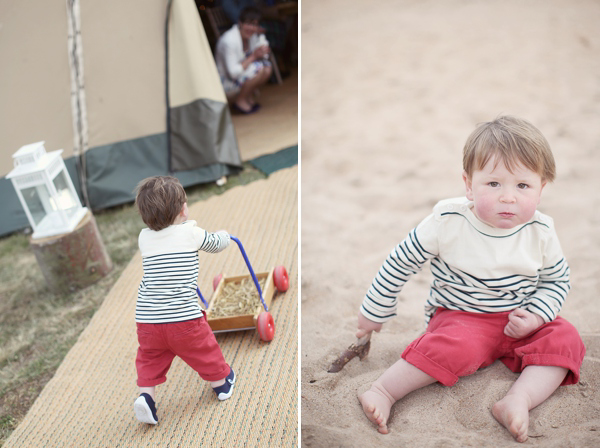 "Our catering was done by Foukou BBQ
a small husband and wife team from the Borders. All of the food is
sourced locally and it was all absolutely delicious. Our guests kept
commenting on how good it was, and there was loads of it, nothing worse
than being hungry at the wedding. We had cheese from The Cheese Shed which was also amazing."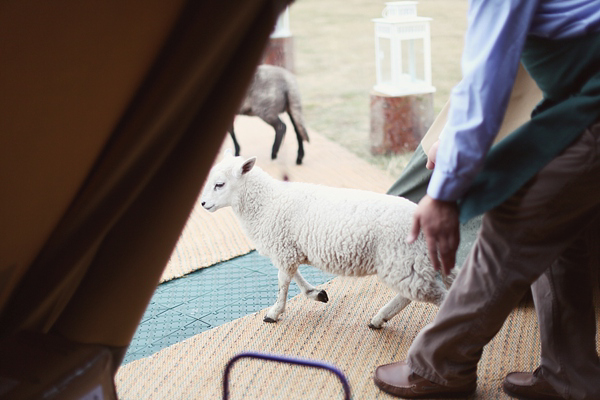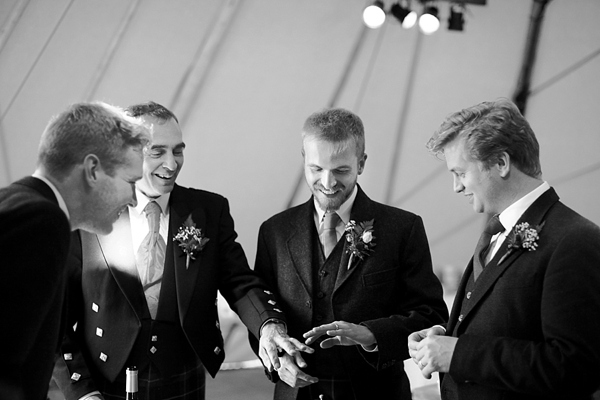 "We didn't have a 'first dance' instead we started with a  Virginia
Reel which we thought was a good way to get as many people up and
dancing as possible."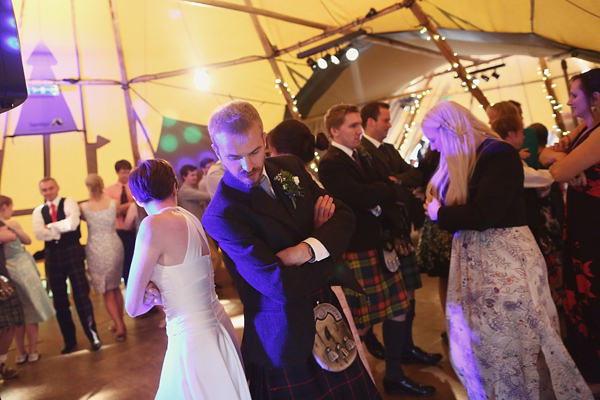 "Being a Scottish wedding we were keen to have a ceilidh and it was
great fun to see all our English and international friends try and work
out the dances. The Reeltime Band
were great, really clear at explaining what to do and then speeding up
once it all got going. We had a spotify playlist that we put on during
breaks and when the band had finished."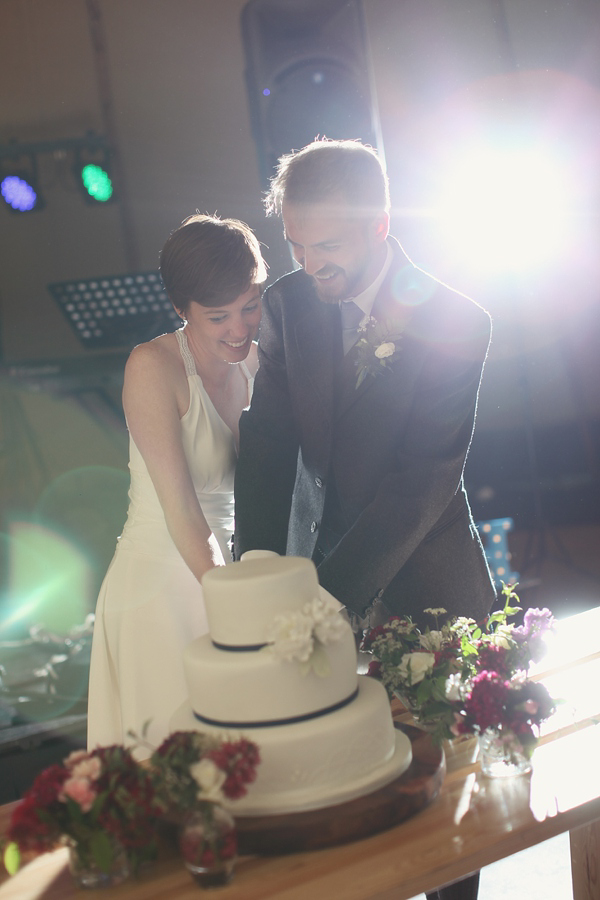 Words of Wedded Wisdom…
"I really
loved that we spread our celebrations out across the weekend; we had a
bonfire and fish and chips on the Friday night, the wedding on the
Saturday and then a BBQ and picnic on the Sunday. People came and went
as they were able and it gave us loads of time to speak to everyone and
it made the whole weekend feel like a holiday much more than a wedding. 
If
there was one thing I'd have done differently – I would have remembered
to put my tights on and probably spent more time finding a warm layer
for the service; my cardigan was a last minute sale buy that is actually
a bit on the big side and not very warm at all. The wind was mighty
chilly and I get cold so very quickly! Other than that I wouldn't change
a thing."
How absolutely beautiful, one of the most charming weddings we've featured.
If you love coastal style weddings, look here and here for more inspiration. May we also encourage you to explore more work from Craig and Eva Sanders on Love My Dress, before you head off to their website to see some stunning fine art wedding photography.
What do you love most about this beautiful day?
With much love,
Annabel
Photographers – Craig and Eva Sanders
Venue – Harvest Moon in East Lothian, Scotland, using Highland Tipis
Wedding Dress – Local dressmaker using fabric from Joel and Sons  
Brides' shoes – Emmy
Hair Accessory – Accessorize
Groom's Suit – Geoffrey Tailor + shoes by Russell & Bromley
Flowers – Stenhouse flowers
Entertainment – Reeltime Band
Catering – Foukou BBQ
Stationery – The groom