Good Morning Beautiful <– Did you see the link right there? Not so long ago, Franky and I were contacted by a lovely lady called Bella, who was eager to tell us all about her brilliant new business, inspired from her experience of getting married – through which she was selling the most elegant, kimono inspired dressing gowns. Of course as soon as we'd taken a look at Bella's laid back glamorous and most feminine designs, it wasn't long before we were both the proud owners of one (Franky ordered this one, I went for the blue).
Well what would you know, it only turns out that Bella got married just last year to her love Fiachra, and her wedding day was just as beautiful as her pretty dressing gowns.  We knew from the moment we saw it that we had to share it with you.  The wedding took place on 8th September 2012 at St Mary's Church in Winkfield, Berkshire, followed by a reception in a nearby field, with a beautiful, relaxed, late summer vibe.
Photography Copyright (c) 2013, Peachey Photography
"I was really guided in everything by the idea of a summer speakeasy
– our guests wandering down a country lane, not knowing what to expect
and being surprised by a gorgeous marquee, jazz music, garden games,
glasses of bubbly and a hell of a lot of laughter.  We wanted our wedding to be
relaxed, yet still have surprise touches – like a home made photo booth –
and for it to have a real sense of occasion."
"Fiachra and I wanted to combine the'summer speakeasy' idea with our love of
books – Fiachra's Grandfather was a book binder and I fancy myself as a
bit of a writer.  We also wanted to incorporate a touch of art deco inspired glamour, as a nod to my gorgeous
engagement ring and my Grandmother's time spent living in Paris in the 1930s.
Fiachra and I met when we were 19 and were introduced by a mutual
friend. Living in different countries (me in London, Fiachra in Dublin)
we fizzled out, but met again a few years later when he surprised me
with a late Valentine's Day present of a flight to Dublin. I went to
visit and didn't want to leave, but did – missing my beloved maternal
Grandmother's 90th birthday due to a freak April snowstorm in the
process."
 "After three years, Fiachra proposed on 29th May 2011, my
paternal Grandmother's birthday, and we pretty much immediately set the
date as 8th September – the day before my birthday and a few days shy of it turning 8 years since we met.
I had originally seen my
engagement ring in an antique shop in Dublin and had wanted to buy it in
memory of my maternal grandmother, as it is from Paris and the 1930s –
and she was in Paris during this time. I didn't end up buying it, but
always adored it so imagine my absolute delight when Fiachra presented
it to me after proposing!
We wanted to get married at St Mary's (despite having no
previous relationship with that church) because when we met our vicar,
Catherine, by chance, we both immediately felt she was the best person
to marry us.  The venue and church being just outside of London, where we
lived at the time, was perfect, as we had many a drive into the
countryside, setting new time records (45 minutes at best) each visit!
It wasn't so ideal moving to Manchester six weeks before the big day (7
hours from the venue) but that's another story!"
"Our florists were Green & Gorgeous Flowers.  This
wonderful cutting field supplied the bouquets and button holes 'ready
made' but the rest of the flowers were arranged by me and my super
patient friends the day before the wedding. We wanted a mix of colours,
with ball-shaped flowers to draw the focus and lots of gorgeous scent.

It's an Irish tradition to have lavender in your bouquet to keep you
calm and so this was a big feature for us."
"Although we had a church wedding, and therefore stuck to
relatively traditional vows, our vicar encouraged us to write our own
short vows – it was so hard not to sneak a peek at Fiachra's before the
big day! They ended up being quite similar and made a few people laugh,
which was lovely.
I think saying our personalised vows was my favourite part as it
was the only real surprise for me and it was such a special few minutes!
Closely followed by my friends surprising us with Penguin onesies to
wear all night."
"My dress was the 'Niagra' design from Monsoon Weddings.  I wanted my dress to reflect my secret desire to be a lounge
singer/movie star, but still be practical for an outdoorsy wedding and
very easy to dance in!  My final dress was the first I tried
on, but not the first I bought! I saw it and loved it, so tried it on –
for the sales 'stylist' to tell me just how awful I looked and how a
'girl like me couldn't wear a dress like this'…..!'
On and on she went until
I was in tears and my poor sister had to help me out of it.
This awful
moment led me to a year of real indecision about the dress – I couldn't
face a 'proper' bridal appointment and so ordered dress after
high-street dress that might suit me better."
"Six weeks before the big
day I realised just how unhappy I was with the dress I had and, by
complete chance, saw this beautiful dress again, on the returned
items/sale rack of my local Monsoon.
There was one dress, slightly
damaged, at the reduced price of £72. I had to have it! Luckily I was
able to return the other dress. I think a lot of my friends thought I
was just being indecisive about the dress, but it's only now when I look
back I can see just how terribly linked the dip in my self esteem ahead
of our wedding and that stupid 'stylist' really were. Moral of the
story: trust your instincts not the cow in the dressing room!"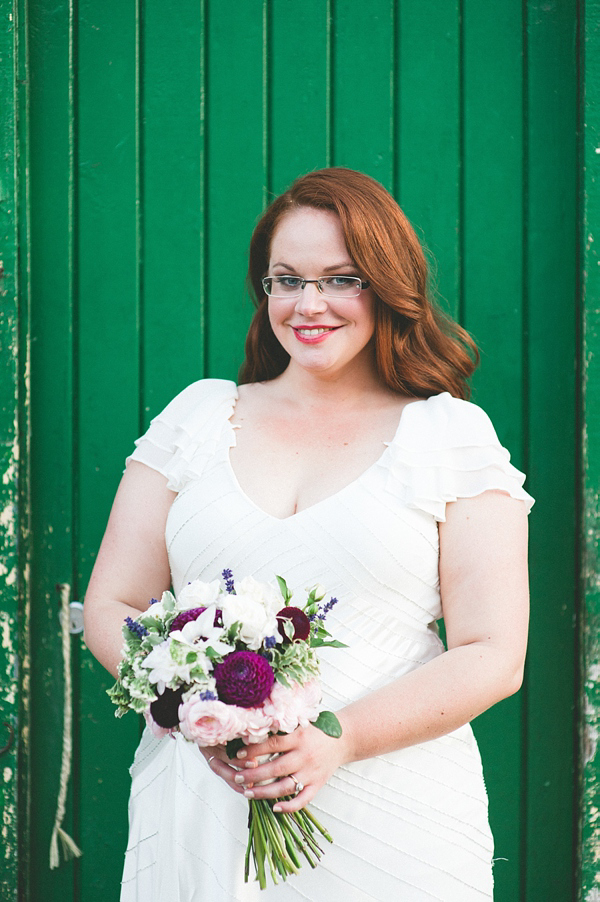 "I wore Kurt Geiger leopard print kitten heels for most of the day, followed by Vivienne Westwood heels for the evening!"
"My wonderful veils were made by the gorgeous Margaret Byrne at Dream Veils
– I ended up with three because I loved Mags and her array of veils so
much! Having moved up north just before the wedding day Mags was a bit
of a surrogate mum to me, too. 
My hair was styled by the incomparable Severin from Hepburn Collection – this man is a genius and the best person to calm any bridal nerves!
 My wonderful Dublin-based friend Orla Devine did my make-up: the lipstick didn't budge!"
"My favourite special touch was the photo booth, made for us by my
sister and brother-in-law. They are so talented and created this
amazing feature which not only kept costs down but provided hours and
hours of hilarity!"
"My earrings were from Tiffany & Co and were a present from my husband for my 'something blue'."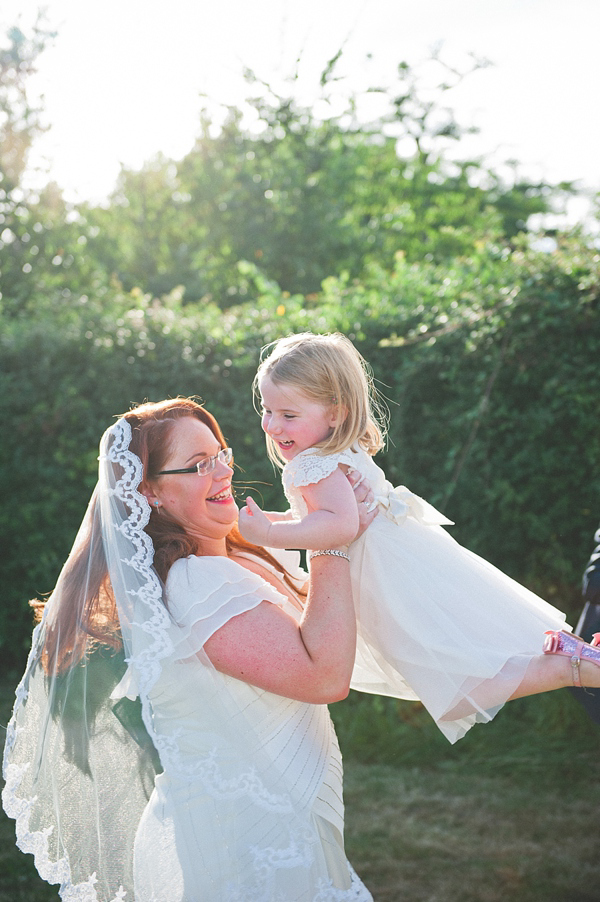 "Katharine Peachey was such a find – not only did she fit in
perfectly with our friends and family but her photographs are just
incredible. We loved her relaxed yet super artistic style, which really
captured the day – our groomsmen loved her! When we launched our
business Peachey was our first port of call as we trust her implicitly
and I am so delighted to be able to work with her on a non-wedding
basis, too."
Oh look! Bella's brides wearing Good morning beautiful!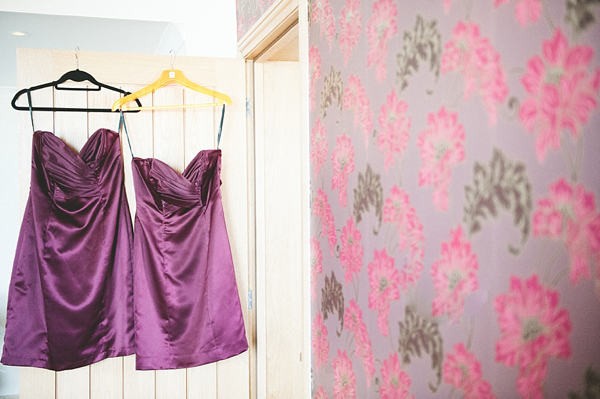 "My mum and friends Laura and Kitty played me down the aisle with a
rendition of Eva Cassidy's version of 'Over the Rainbow'. To this day I
can't listen to the song without crying!"
Fiachra Tom,
Putting how special this day is into
words is impossible. You have my heart, my friendship, my loyalty.  I
will treasure your courage, strength, love – and your laugh – every day.
Thank you for teaching me that all marathons are 26.2 miles, and that
the guy who looks like a young Al Pacino in the Godfather is, in fact, a
young Al Pacino.
There was a star danced, and under
that you were born. I am so lucky to be your wife and to call you the
love of my life, and now, husband.
Bella Lou,
I know that we won't always get to choose how our lives go
but today it makes me so happy to choose who I get to spend it with.
My life is so much better with you in it and whether we are staying in
on a Saturday night watching Die Hard for the twentieth time, or
moving countries chasing the dreams that seem so much more achievable
when we are together, there is nobody more perfect for me to be on
this adventure with.
You are the love of my life because the life I want would be
impossible without you by my side.
"We
had three readings, a bible reading by my wonderful friend Esther, an
excerpt from the Ed Sheeran song 'Wake me up' and a traditional Irish
blessing read in English and as Gaeilge (in Irish) by our mothers.
The
hardest reading to choose was the blessing – we wanted to include the
Irish language and have something special from our mums but it did take a
while to find!
"Fiachra's ring was made by Ireland-based JMK Goldsmiths,
who also make the All-Ireland hurling cup and featured a bashed
titanium 'print' and mine was a very simple diamond chip band from Etsy,
to fit under my engagement ring. Fiachra's ring was chosen for the link
to Ireland and the really unique design. My engagement ring is very
distinctive so I was keen for a really thin ring to fit with it."
"We knew from the beginning our wedding was going to be a big 'un,
which immediately ruled out quite a few of my long lusted-after venues.
As we didn't want to be constricted by loads of rules and regulations we
decided to go down the 'build a venue' route with a marquee and field
and found the perfect field right by the gorgeous church we decided to
get married in.
Having a venue that was designed and built entirely by us (and our
wonderful marquee boys) meant that I could really do my best to bring
this vision to life and give our guests an amazing day/night. As we are
from two different countries our friends and family will probably never
be in the same place again, so bringing everyone together was the
absolute focus for the reception." 
"The flowers were the main focus of our décor plans, but we also
used cheap lanterns hanging from the roof of the marquee to lower the
ceiling a little, making the main area of the marquee more intimate."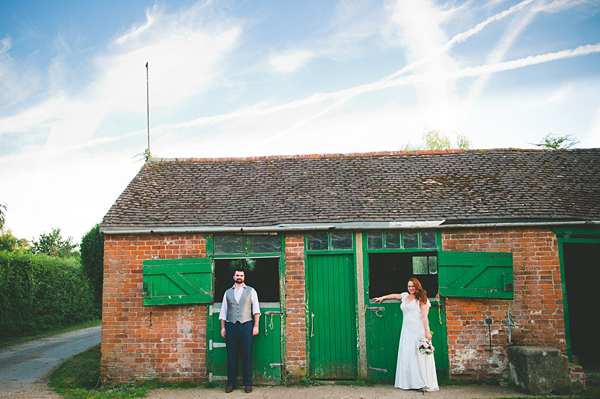 v
"We decided to make mix CDs for our guests, choosing our favourite
songs and those relevant to the day, for example the song I walked down
the aisle to. These doubled as place cards and were a great way to do
both in one go!"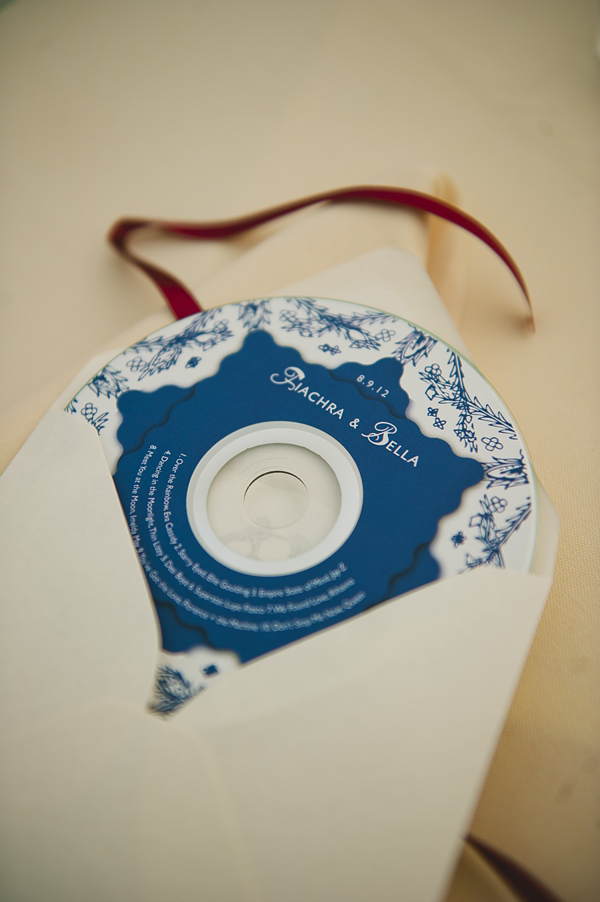 "I did have an 'evening dress', a gold sparkly number from John
Lewis that I loved, but I only wore it for about an hour as I missed my
wedding dress too much!
We always thought our first dance would be to Imelda May's 'Meet
you at the moon', as when we were living in different countries we took
comfort knowing we were looking at the same moon and just loved the way
this song fitted. This was even engraved onto Fiachra's wedding ring,
but a few days before the wedding we realised we would be so embarrassed
dancing to a romantic song and changed it to 'Dancing in the moonlight'
by Thin Lizzy – much more suited to our dance skills! The overwhelming
happiness I felt during out first dance is brought back every time I
hear it."
Words of Wedded Wisdom…
"Trust your instincts and never ever compare yourself to anyone
else. It is easy to feel like everyone else's weddings are perfect and
their preparations are no-stress but it's rarely true! Every bride (and
groom) has their own issues going on and the only thing that matters is
you stay true to the focus of your wedding – to marry the love of your
life."
"And lastly, I visited Love my Dress regularly of course! It's such a wonderful
place for ideas, advice and a really lovely community – there's an interesting mix of discussion posts, gorgeous weddings and insights into others' planning processes which kept me sane!"
What a super, lovely, happy and joyous day. Bella, I think I want to frame your smile so that I can get a fix every day!
Don't forget to take a peek at Bella's beautiful kimono inspired dressing gowns via her Good Morning Beautiful website.  We think they'd make the most beautiful gift for your bridesmaids…
'Good Morning Beautiful was founded by my husband, Fiachra and I following our September 2012 wedding. We launched our first collection, the Rosalie Collection, in May 2013.  Our original aim was to create a line of dressing gowns for brides and their bridal party to wear when getting ready for their big day, as I found it impossible to find special, 'non-bridal' dressing gowns for my own bridesmaids.
I wanted to thank my girls for years of friendship, make them feel special on a day that was, in so many ways, about them, too, whilst all the while ensuring they were comfortable with the presence of our photographer. I also wanted to give them each a gift that they could use again and again, making every day feel a little more beautiful.'
'This simple thought – that every day should feel a little more beautiful – took us away from solely concentrating on the bridal market and has remained central to the development of our first collection. After all, who said women only deserve to feel beautiful on their wedding day?!'
'Our dressing gowns are designed to brighten up your day – whether you are indeed a bride on her wedding day, running around after the kids, getting ready for that important work meeting or simply enjoying the peace and quiet with a cup of tea and a cracking book.  We source our material from India and manufacture the gowns here in the UK, supporting British manufacturing and ensuring the very best quality for our customers. Our gowns are designed to make every woman feel beautiful and, as such, all models you see on our site, Twitter or Pinterest boards are my (very patient) friends.'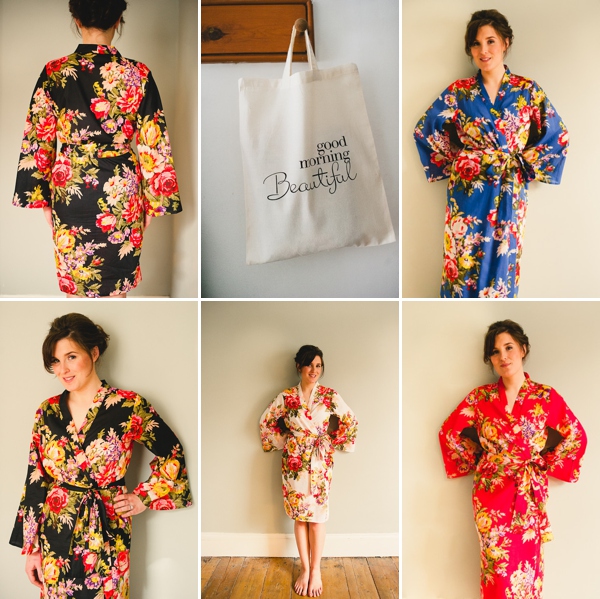 I can almost see you from right here reaching for your purse. That would be a good call I say. A very good call.  You probably deserve a little treat, afterall.  Yes?
Huge thanks to the lovely Katherine of Peachey Photography for sharing these beatiful images* with us today and BIG congratulations to Bella and Fiachra for recently celebrating their 1st wedding anniversary.
What do you love most about this gorgeous day readers?
Annabel
Photographer – Peachey Photography
The Bride – Bella of Good Morning Beautiful
Venue – A field in Berkshire!
Brides Dress – Monsoon Niagara dress
Veil/Headpiece – Dream Veils
Brides' shoes – Kurt Geiger + Vivienne Westwood
Bride's accessories – Tiffany & Co. earrings
Grooms Suit -  M&S suit and tie, with a Next waistcoat and a randomly found hat
Bridesmaids – Long dresses: Coast Sevrene dress + short dresses via All that Glitters
Flowergirl Dresses – Monsoon + flowercrowns by Green & Gorgeous Flowers
Florist – Green & Gorgeous Flowers
Transport – Memory Lane routemaster bus
Entertainment – Clint's Jazz Band
Catering Company – Delightful Dining
Hair Styling – Hepburn Collection