Good morning beautiful!  I do hope this Tuesday wedding morning blog post finds you well. This is one of those weddings I love to blog and share with you – a typical Love My Dress bride with a beautiful modern-day wedding inspired by and filled with so many pretty things from the past.  I was delighted to learn that bride Ashley frequented Love My Dress even before she became engaged and used the blog regularly as she planned for her wedding.  Her beautiful vintage inspired wedding dress is designed by a lady whose name is popping up with more and more regularity within these pages – Jane Bourvis.
Nick and Ashley's wedding took place on 24 August this year at Gildings Barn in Newdigate, Dorking and these delightful photographs were sent in by Heather Shuker of Eclection Photography.
"I have always had a huge love of the 1920's/30's and we are both big fans of all things vintage, so much so that Nick owns a shop called Interestingly Different, selling antiques and vintage pieces. So we knew from day one that our day would have a vintage feel."
Photography by Eclection Photography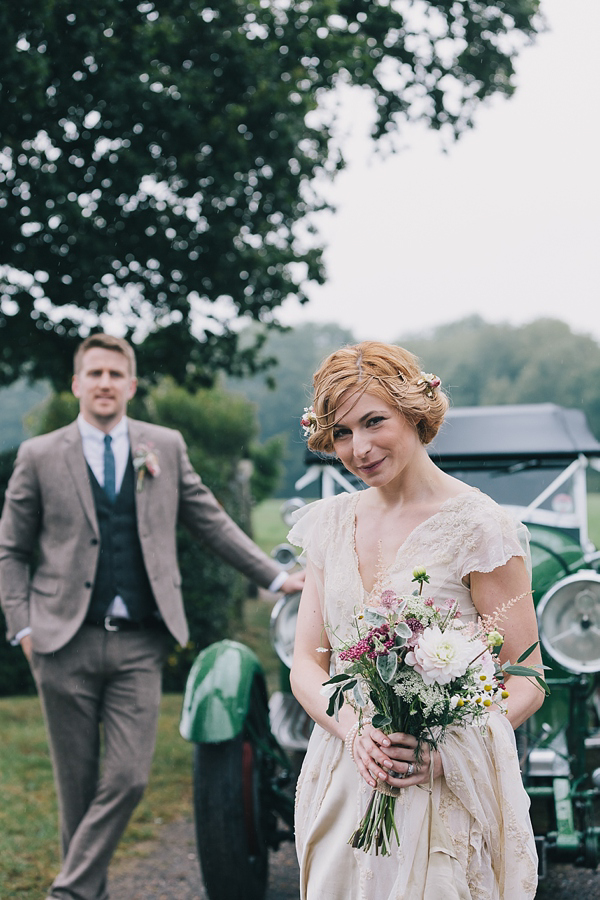 "Nick and I met five years ago, in true romantic style – after a night out we found ourselves satisfying our hunger in a 'dirty' chicken shop. I'm a bit cheeky and decided rather than buy my own food I'd pinch the chicken of the person closest. Luckily that was Nick and he didn't mind. We hit it off and one year later we were living together planning our future.
The proposal happened on a summer evening in the Lake District. We were on one of our many glamping trips and, after setting the scene with candles and our favourite album, Nick got down on one knee. He had picked the ring himself, a 1920's, art deco style beauty all the way from California!"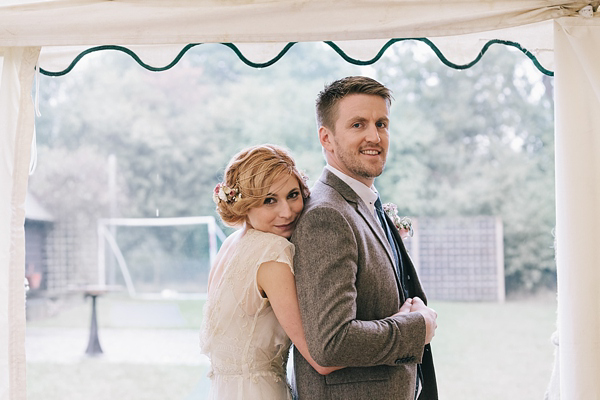 "I was really lucky in that my best friend and bridesmaid has her own business making bespoke headpieces called With Love From Bobbin. Her work is absolutely stunning and she is so creatively talented coming up with beautiful unique pieces time after time so I was really happy when she offered to make my headpiece for me.
We had a brilliant time working together, throwing around ideas and developing a piece that was unique."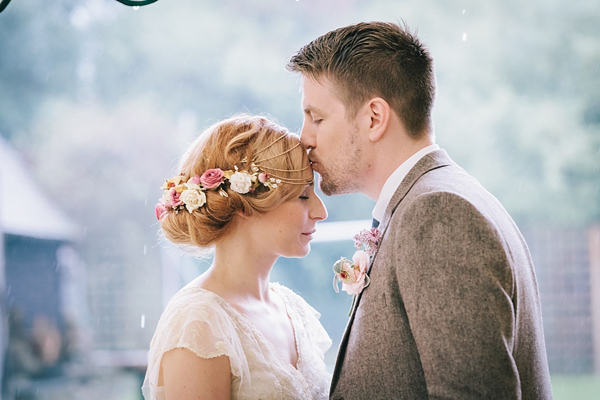 "I had had my eye on a particular Jenny Packham dress (Eden) even before I was engaged and was sure, if not that dress, I would have something similar. I tried it on and fell in love with it but still had one more dress shop to go too.  Then I went to a magical shop that belonged to Jane Bourvis and I fell in love with the shop before even trying anything on, as it is packed full of the most beautiful antique dresses and accessories; Jane makes a lot of the dresses herself using panels of antique lace"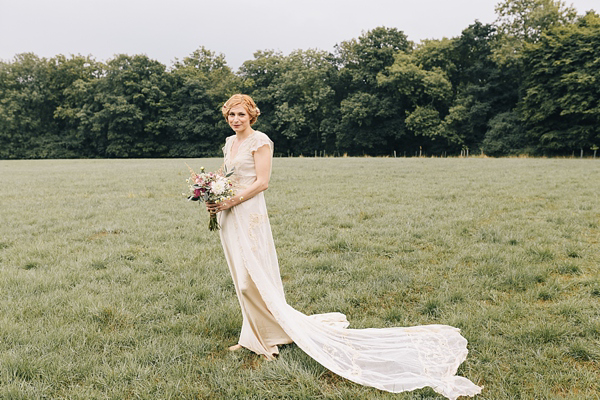 "The moment I tried on the first dress I knew I was going to get my dress from her – it was just a case of working out which one. I just loved that every piece was unique and had its own little bit of history tied up in it.
Also when I thought about the venue, something sparkly and new didn't seem to fit. After several dresses, I tried on 'the' dress (a beautiful dress made by Jane from antique Belgium lace over 100 years old) and the decision was made. As both my mum and bridesmaid were crying, I knew it had to be the one!"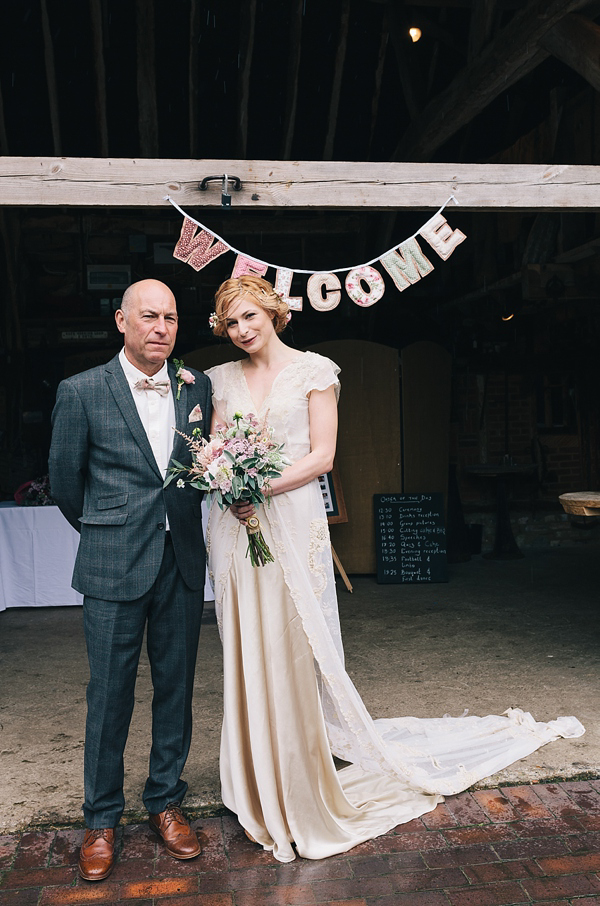 "The bridesmaids dresses were bought from the TFNC concession in Topshop. Again I wanted something that had a nod to the 20's without being too obvious and I loved the beading on these dresses. They originally had short slips so my mum remade longer versions for them.
I decided to have rose gold t-bars for the bridesmaids to keep with the 20s theme. They wore a selection of shoes from  Faith at Debenhams and Freed Shoes.  Freed Shoes have a great selection of vintage style shoes and we chose to re-sole some of their dance shoes, which worked well as the heels weren't too high.
The girls also wore headpieces from With Love From Bobbin  and had handkerchiefs which I made using vintage lace and embroidered their initials on to them."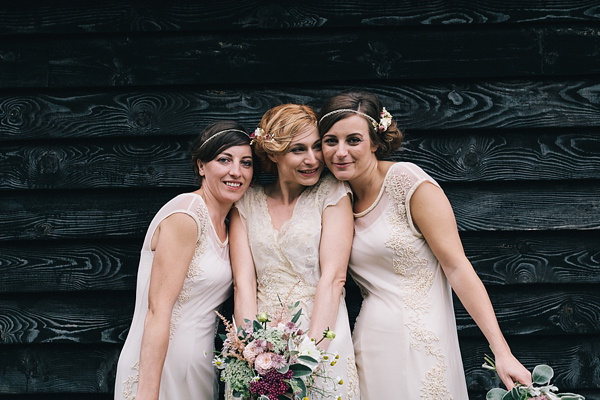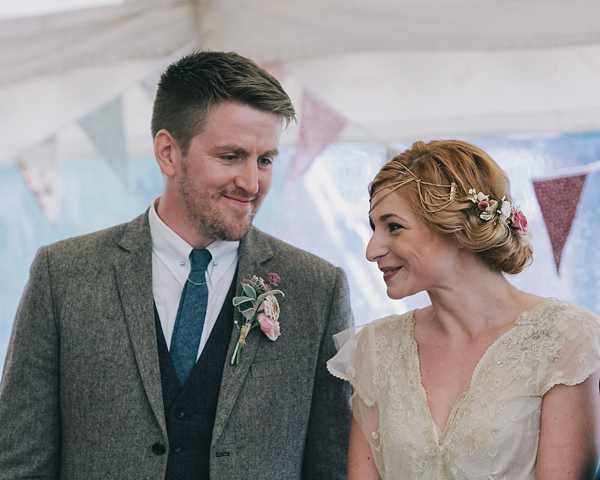 "I decided on a bottle green 1930's Lagonda via Carriages Vehicle Agency to take me and my dad to the ceremony. Unfortunately because of the rain we didn't manage to have the roof off for long but it was brilliant to ride in."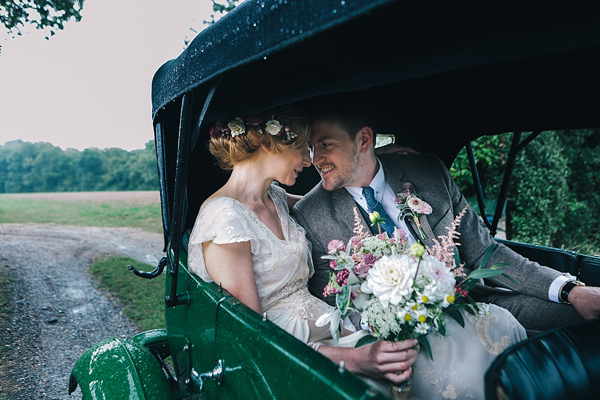 "When we found our venue, Gildings Barn, we knew typical 20's/art deco style decor wouldn't be right, so went for a more rustic look taking ideas and elements from those eras.  Also because I work as a textile print designer as well as running my business, Belle & Essie, I knew I wanted the wedding to have lots of handmade personal touches and was excited to have a big creative challenge."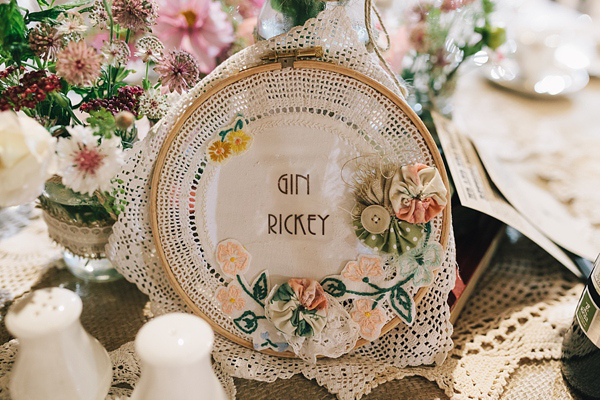 "The barn doesn't hold a marriage licence so we started off looking for other venues to hold the ceremony, but as we knew we didn't want a church service and as we had a large guest list we struggled to find anything that fitted the bill.
After a bit of research we decided a humanist ceremony was perfect for what we wanted and held our service in an old canvas marquee at the farm. It was perfect as it was a blank canvas and we could really make it our own."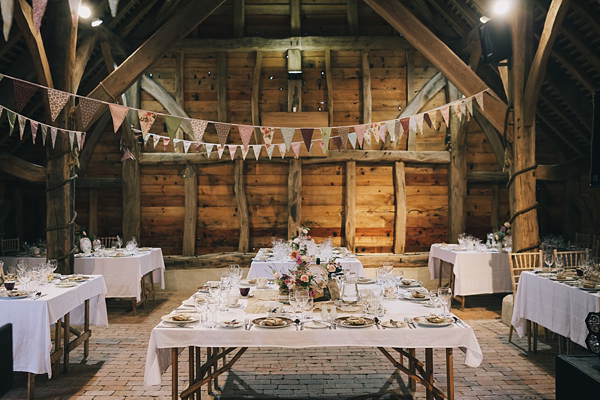 "As Nick owns the shop 'Interestingly Different in Carshalton, specialising in antique, vintage and unusual pieces (as well as doing the amazing job in providing a platform for employment of people with learning disabilities), we were lucky enough to have access to a whole host of pieces we could use when styling the venue, from old trunks to tables to cake stands and frames etc."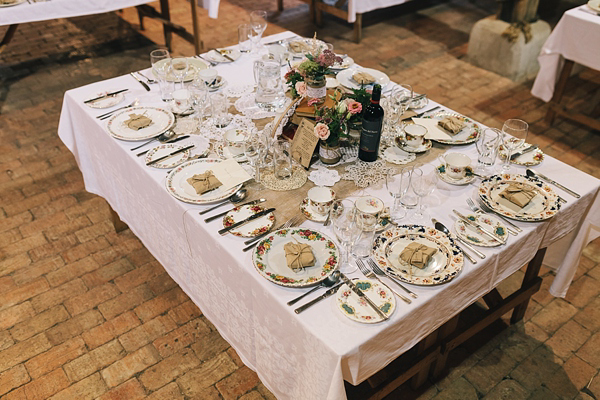 "Luckily both of us are also car-boot fair regulars and our home is full of bits and pieces that we 'borrowed' for the day. We also collected hundreds of doilies which I sewed together to make table runners and also form the base of our table names, we then put these into embroidery hoops to hang from trees. I became a bit obsessed with them to be honest and still if I see any at 'carboots' I have to buy them! We also collected loads of vintage plates which we made into cake stands to hold each tables desserts.
The bunting was made by myself and Nick and I spent a lovely lazy Sunday watching films and making  all the props for the photo booth. Nick also surprised me one day with a lovely backdrop for our ceremony, he had made it out of an old bed head, cut out our initials and collaged our photos on to a heart in the centre."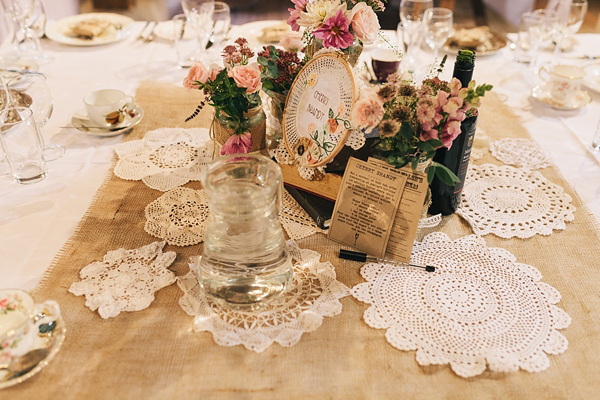 "I have designed invites before for friends and family and have my own small business Belle & Essie. making stationary bunting and signs, so it was only right that I designed my own. I designed the save the date, invites, place cards and service plans with a rustic vintage travel theme.
I designed our own postage stamp as part of them and printed them onto rustic brown card, finishing them off by tying twine and vintage lace round them. For the table plan and table names I wanted to incorporate some of my sewing skills and love of vintage embroidery and doilies."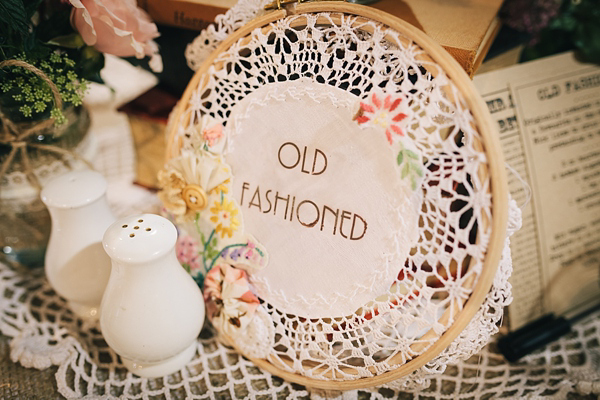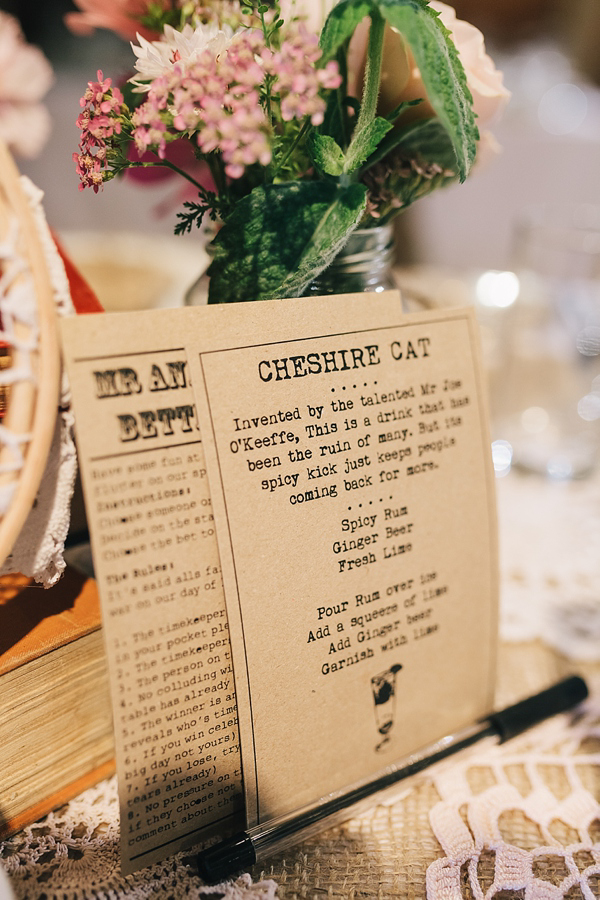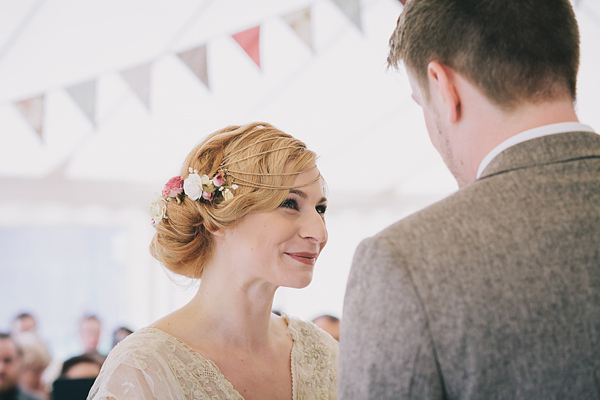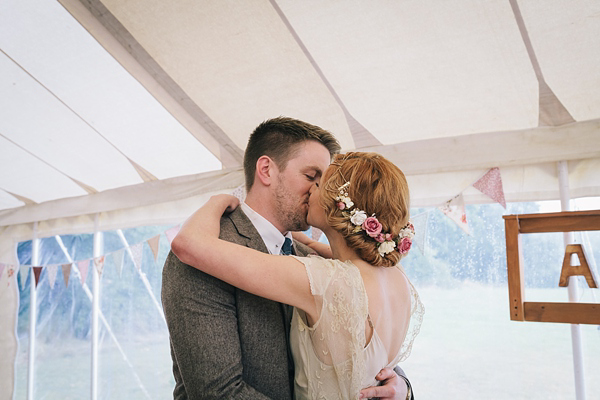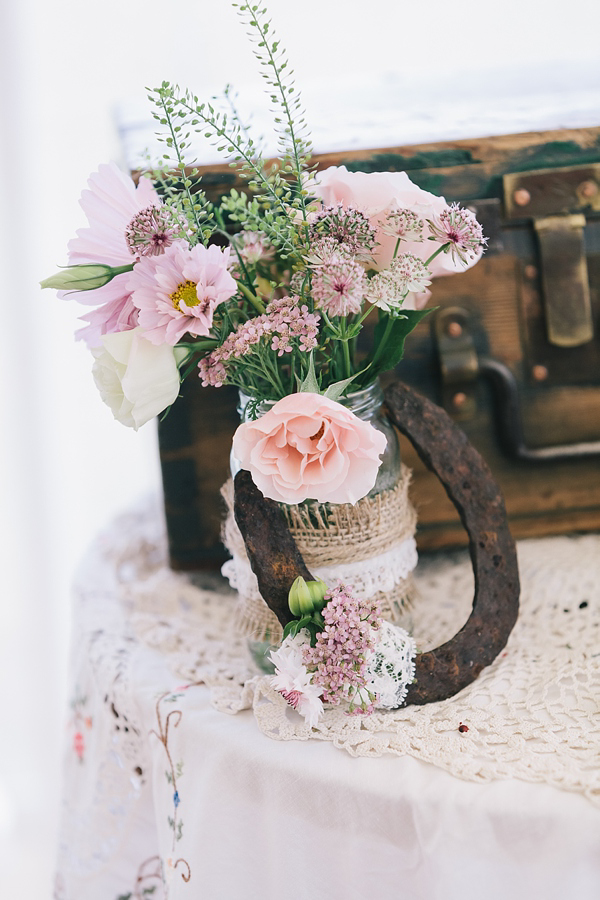 "I knew I wanted my flowers to have a loose natural feel, including lots of wild flowers to fit in with the rustic location of the wedding. After some research I discovered a florist who grows her own flowers and uses what's in season at the time – The Home Grown Flower Company.  I loved the idea of that and also the environmental side of it, reducing the carbon footprint. You can also visit the gardens where they are grown and in some cases pick your own. Unfortunately my time scale wouldn't allow me to do this.
Zelie our florist was lovely and she has a real passion for what she does and was really helpful in suggesting flowers that would be in season and would fit with the feel and palette I wanted. She put together all our bouquets and button holes which looked wonderful. She also provided us with some big buckets of loose flowers and foliage which we put into all the various jars and bottles etc I had collected and decorated."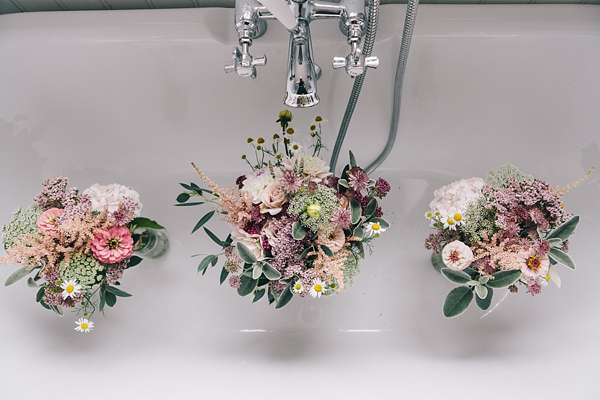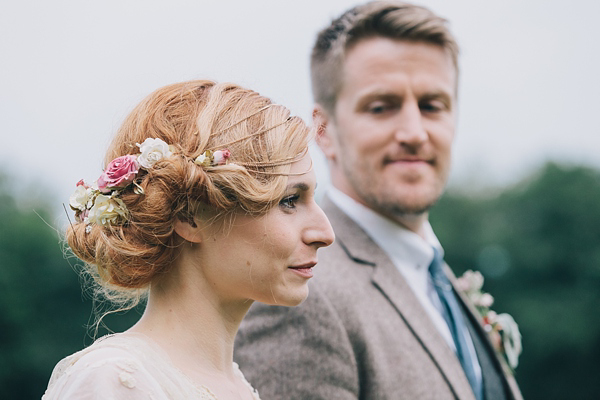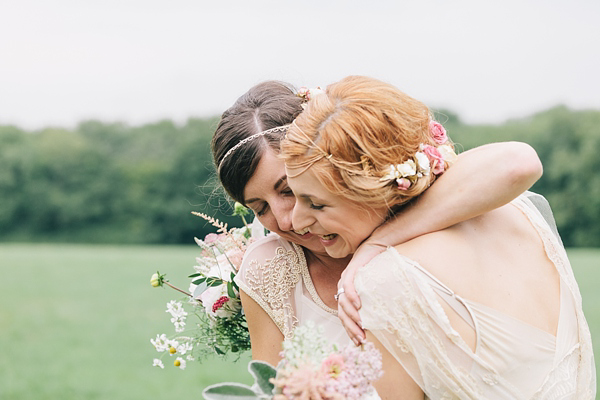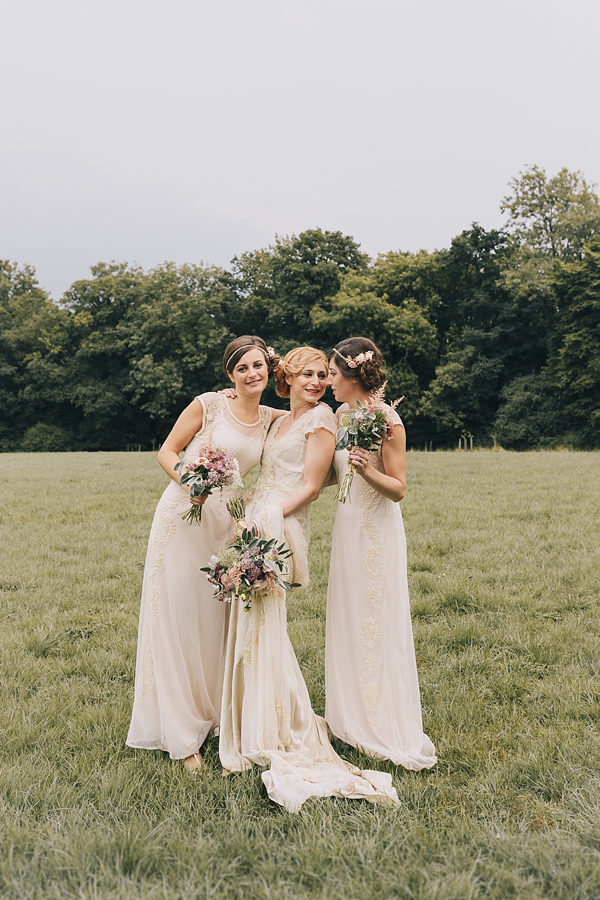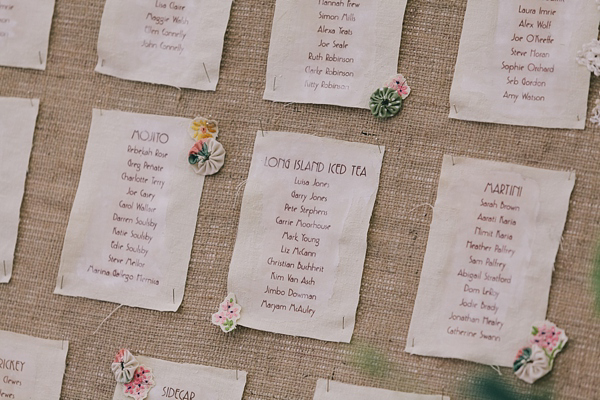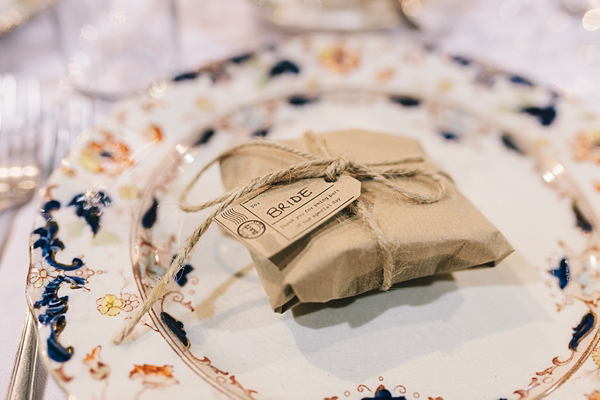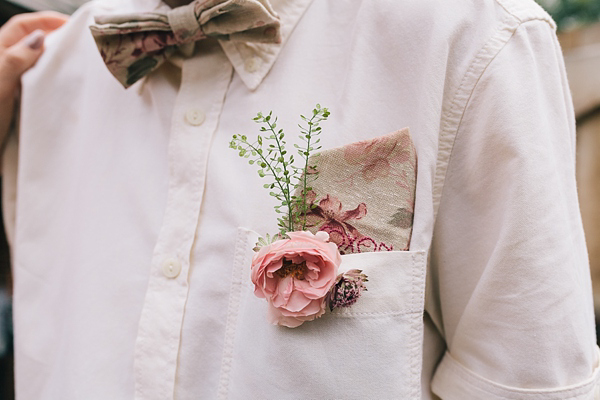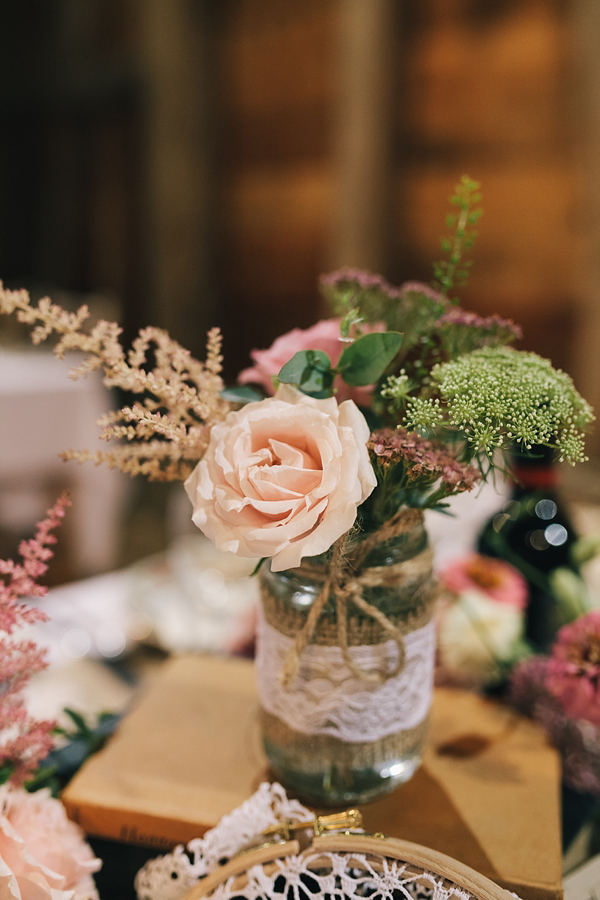 "A month or so before the wedding I started getting worried about the length of my dress and the fact Nick wouldn't be able to swing me around the dance floor like he usually did. I started looking online for 20s style beaded evening dresses and couldn't believe my luck when I stumbled across a sample for a 1920's wedding dress on eBay at a snip of the normal price.
I was familiar with Clara Bow's work when first researching wedding dresses but to my disappointment she had stopped producing them. I believe she is bringing out a new range this year. The dress is so detailed with all the beading and I loved wearing it."
** Readers – Clara Bows is indeed bringing out a new collection and you'll hear all about it here first. In the meantime, if you love the 20's tassel style dresses, contact Elizabeth Avey who I know has a beautiful stock of 20's flapper stye gowns in stock.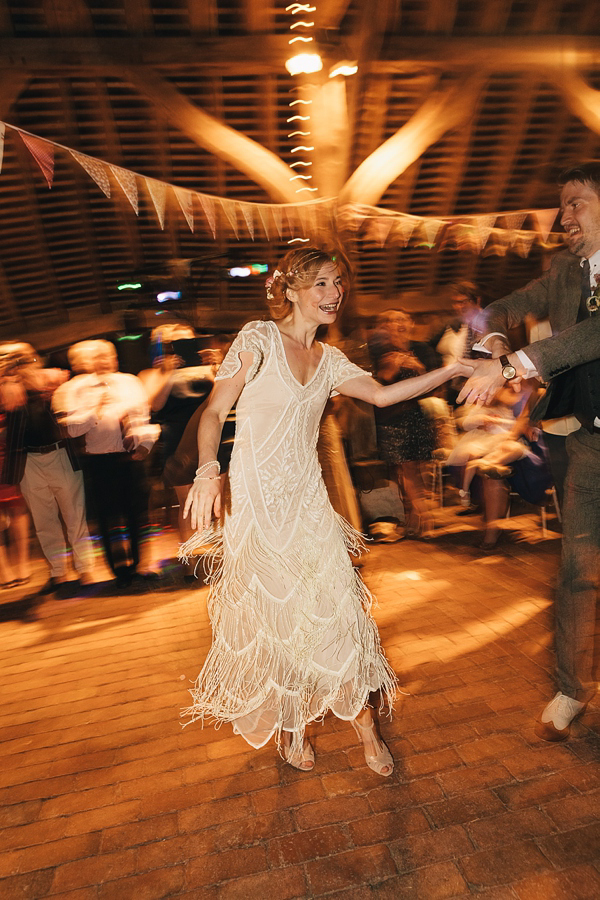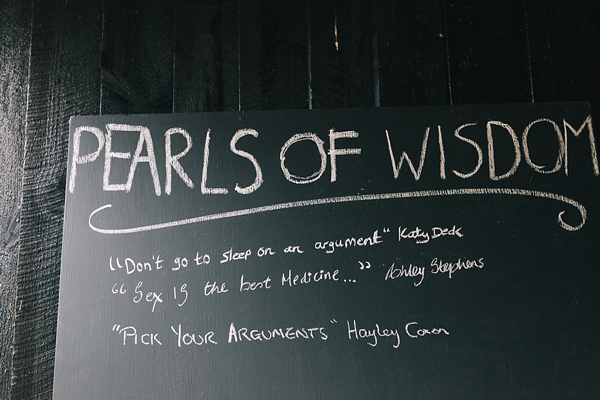 "Our photographer was Heather of Eclection Photography.  Heather was brilliant from the word go. She listened to what we wanted from our pictures and often came back with new inspiration images and different shots to try. She made us feel really relaxed in front of the camera.  She has a great talent and really went the extra mile to get great shots. During both our engagement shoot and wedding we witnessed her climbing through brambles, getting soaked in the rain and at one point lying on the dance floor!
All our guests commented on how great and how much fun she was. She has such a creative eye, I think the photos speak for themselves."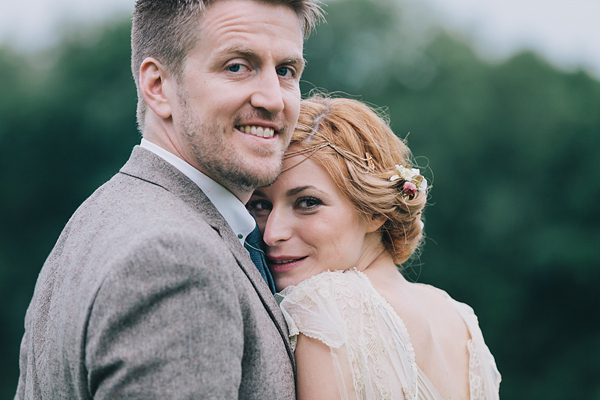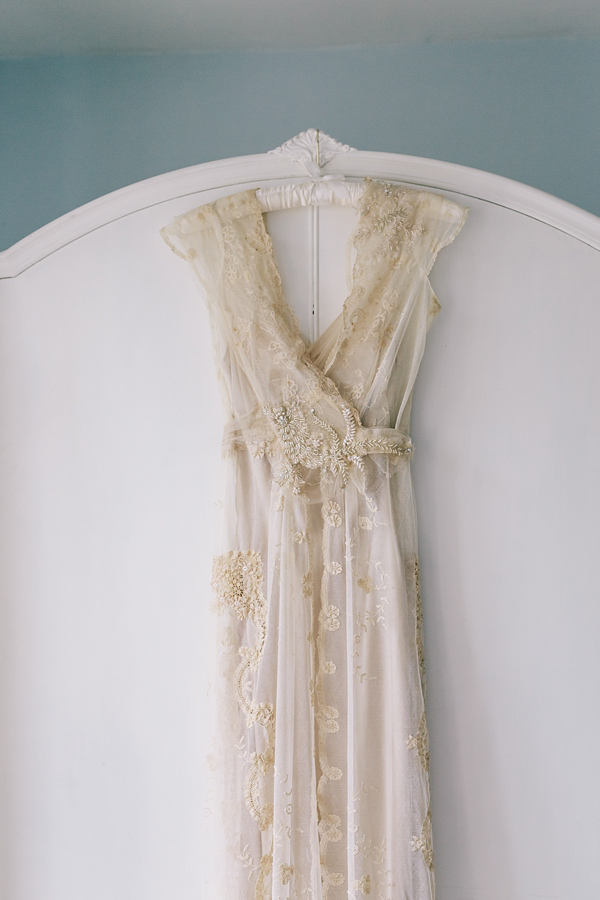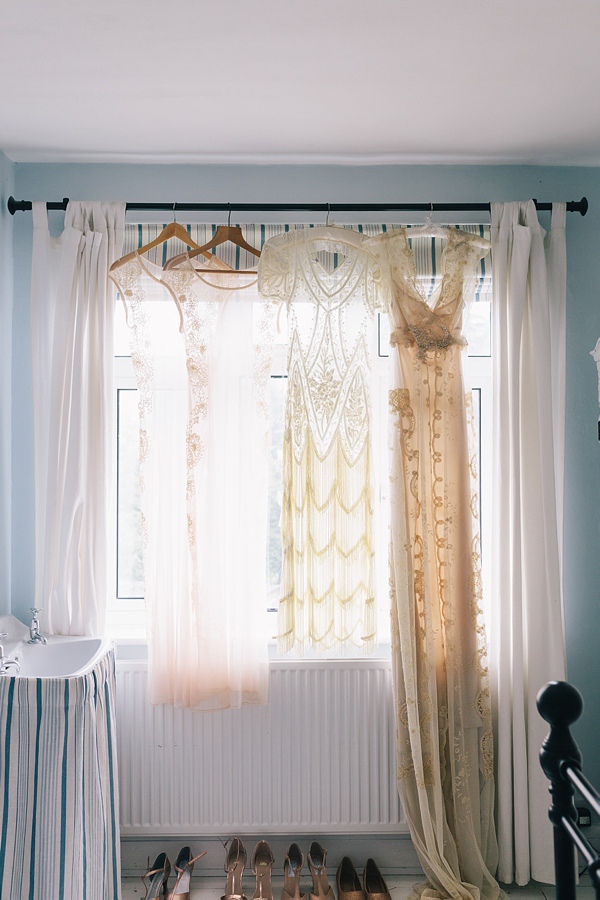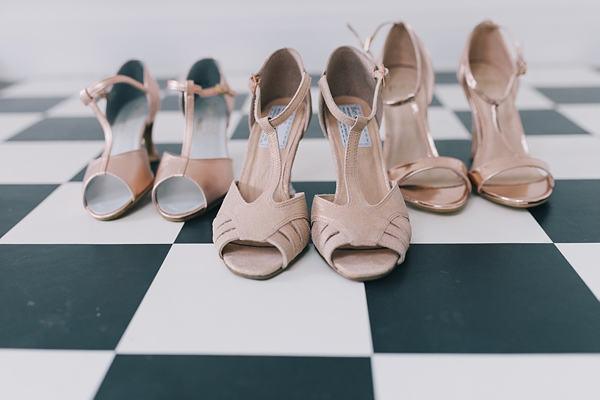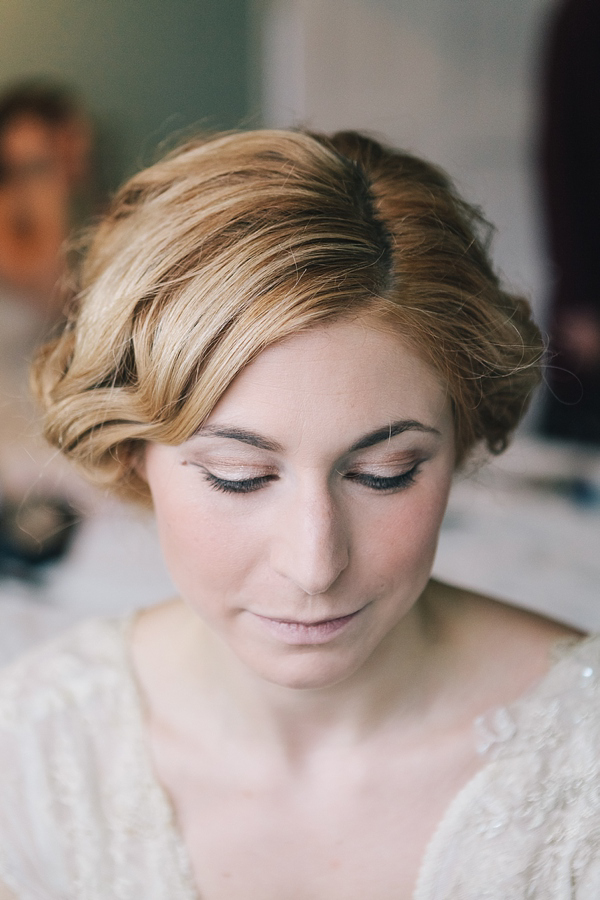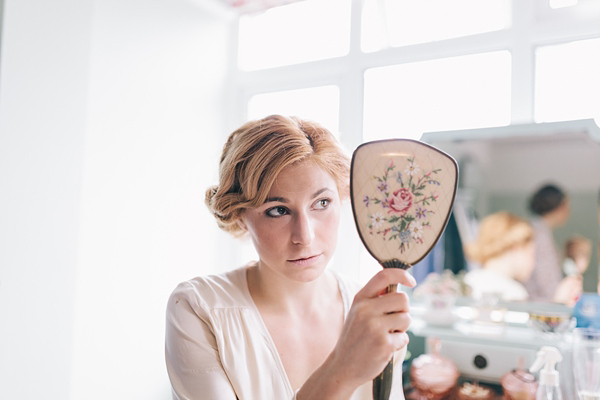 "Finding shoes was the hardest part for me. I'm not very good with heels and also Nick doesn't like me in them so didn't want anything too high and also didn't want anything too 'bridal'. I decided I wanted rose gold t-bars to tie in with my head piece and have a 20s feel. After months of searching I settled on a lovely pair from 'Bertie' via Dune.  However the shoes did still have a heel and about a month before the wedding I broke the news to Nick.
He was disappointed saying he wanted me to be my 'natural' height during the ceremony and that I wouldn't walk naturally down the aisle in heels. After a bit of thought I decided I would get some flats to wear during the ceremony.
I ended up settling on a cheap pair off eBay about a week before. In the end I wore them all day and did feel much more comfortable. I changed into my heels for the evening when I changed into my Clara Bow dress."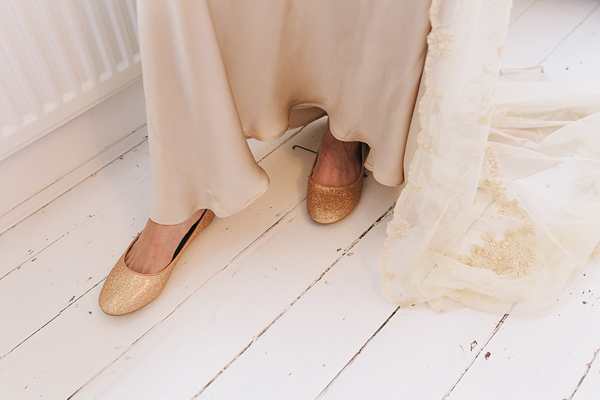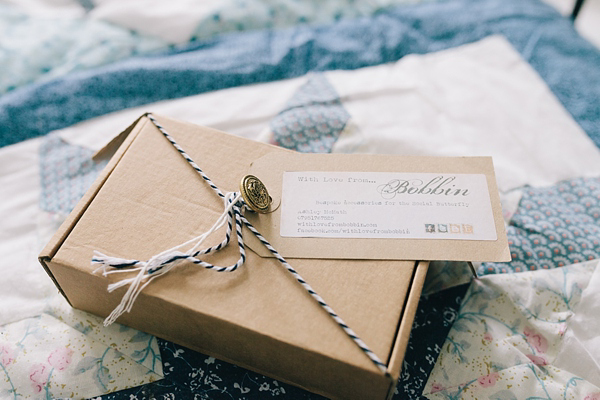 "I wore a pearl necklace around my wrist which was my something borrowed from Nick's sister which she had inherited from their grandmother. I also had a brooch from my sister, which had been my grandma's, which I wore on my bouquet."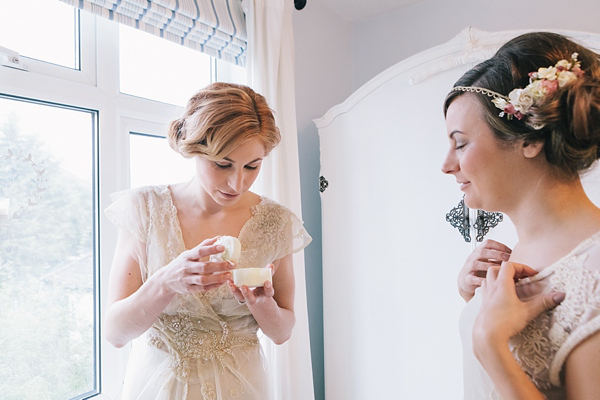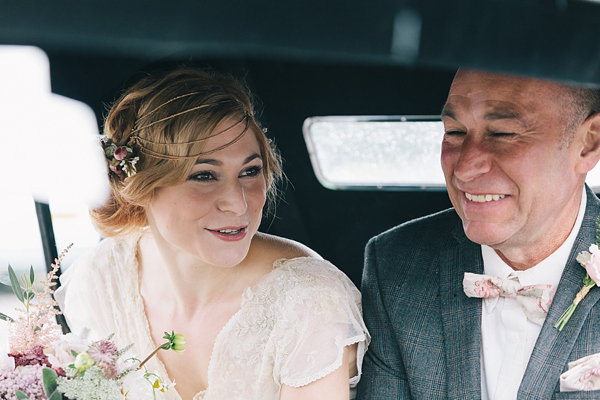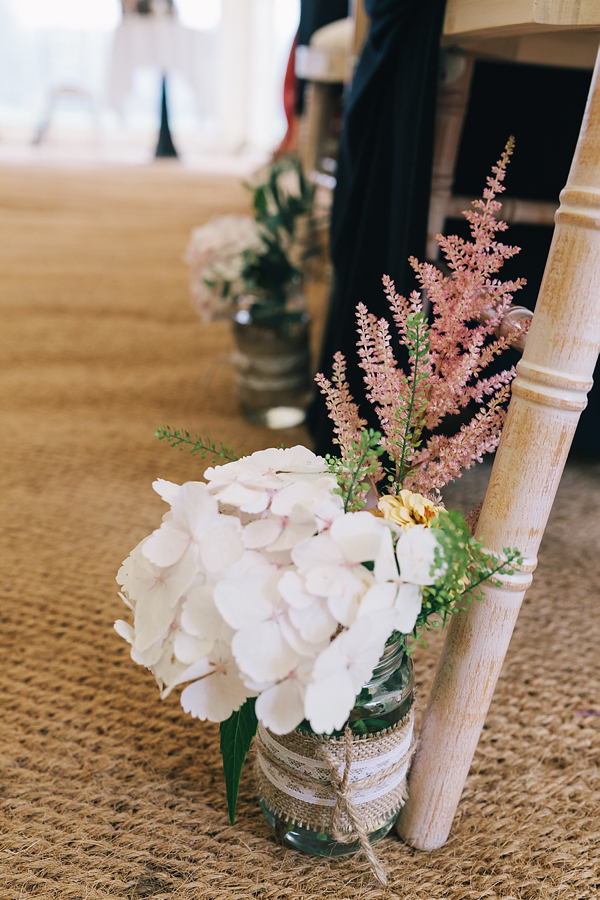 "Nicks suit was a bit of a nightmare, after months of searching for an original vintage one and not being able to find one he liked he decided to get one made from an online company making reproduction vintage style. The suit was being delivered 3 days before the wedding so it was cutting it fine. When in arrived it was completely the wrong size and badly made so had to be sent back. Therefore, two days before we had to hit the high street and ended up getting a suit and pair of shoes from Topman, waistcoat from Debenhams and tie from Next.  Luckily the stores had just had their Autumn collections so new styles were available and we found the perfect one.  His cufflinks and tie pin were both vintage.
The groomsmen's outfits were bought from high street stores including Next and even Primark! I then made the bow ties and pocket squares myself. I embroidered each of their surnames on to the pocket squares to personalise them."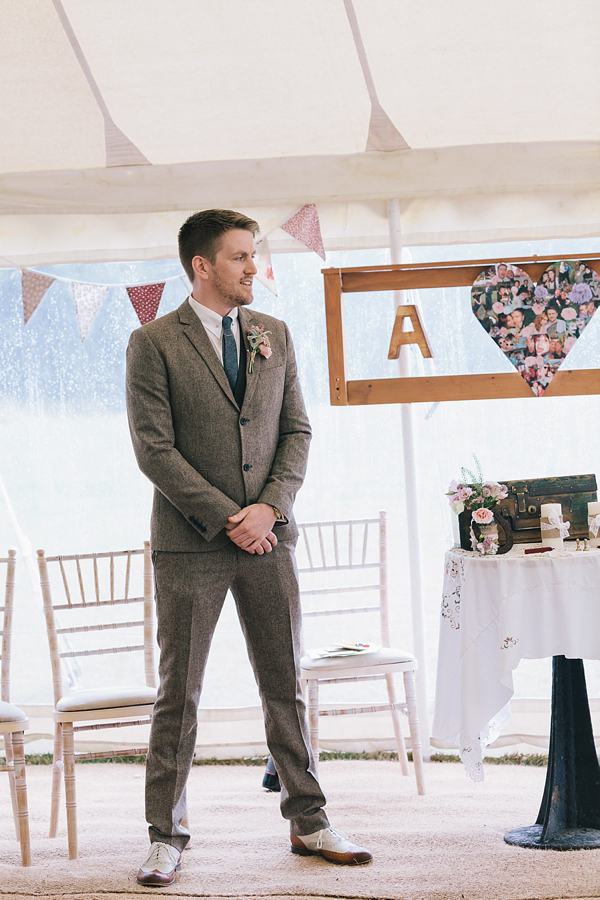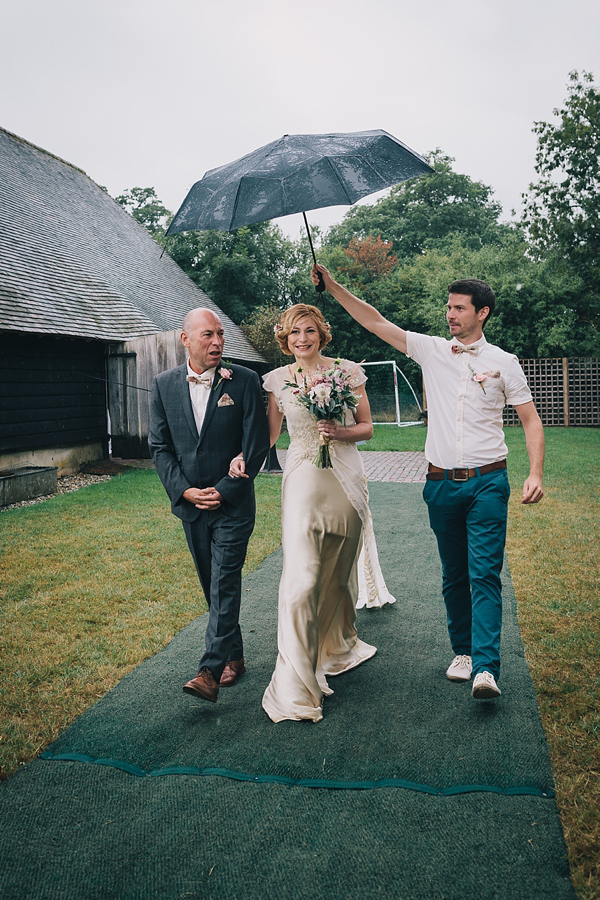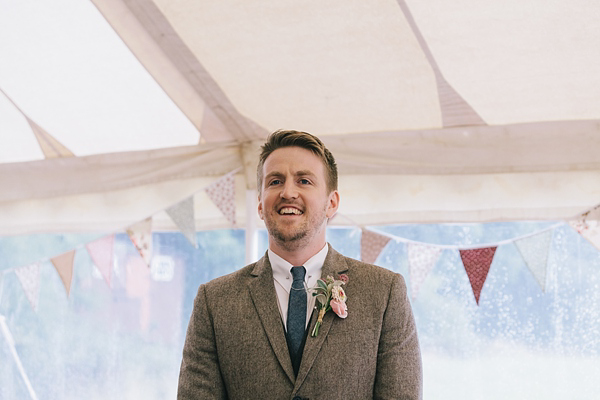 "My dad gave me away – we also got our mums involved in the ceremony by getting them to give us our rings.  Our siblings came up and lit candles in memory of people who couldn't be there. They also helped seal a memory box we created, to be opened on our 10th wedding anniversary, which included our wedding invite, a copy of our marriage certificate, letters to each other and a bottle of red wine.
I walked 'down the aisle' to 'Lean On Me' by Bill withers. It's a song that both of us love and often listen too. On the day we got everyone to sing along and one of the ushers even organised tambourines as a surprise. It was amazing to stand, before walking into the marquee, and hear everyone singing it."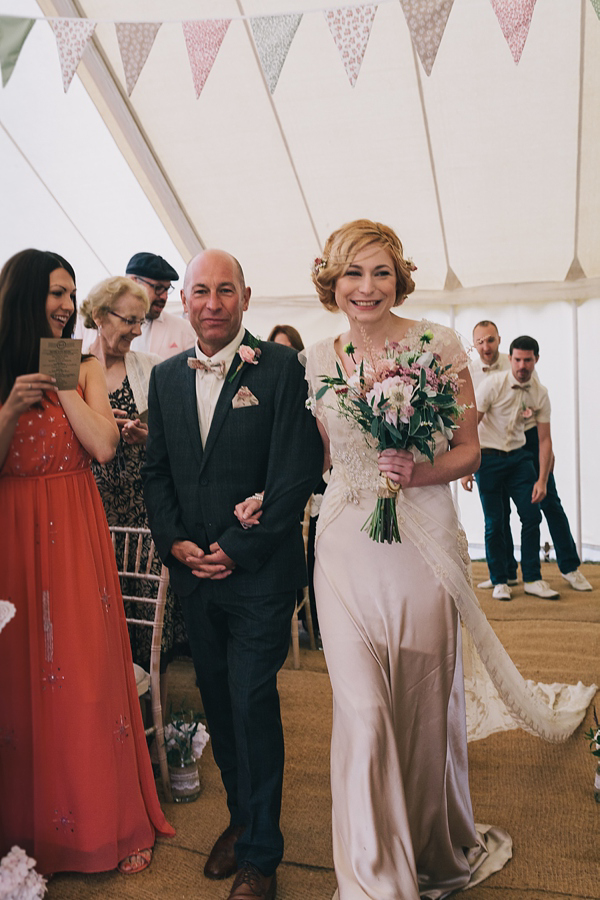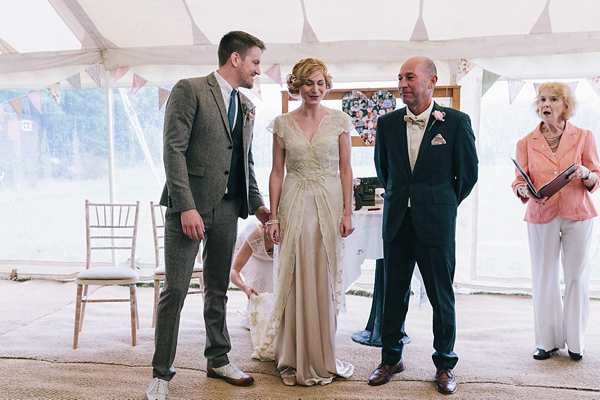 "I wanted to design my own wedding ring and include the diamonds I had from a ring that I inherited from my grandma. 'Old Eldon Jewellers' were great in taking my initial drawing and turning it into a reality. Nick used his dad's wedding ring.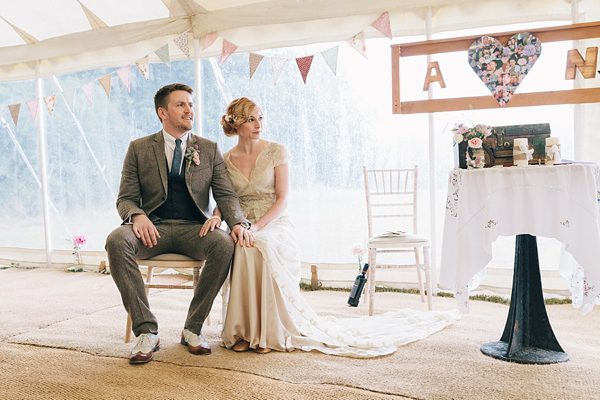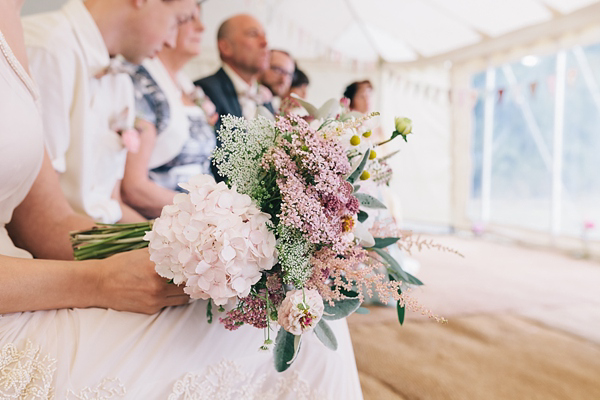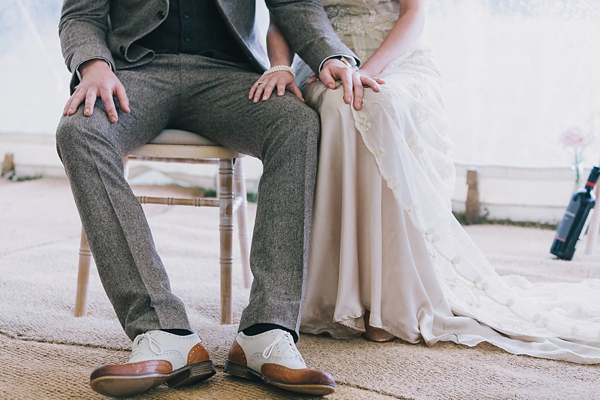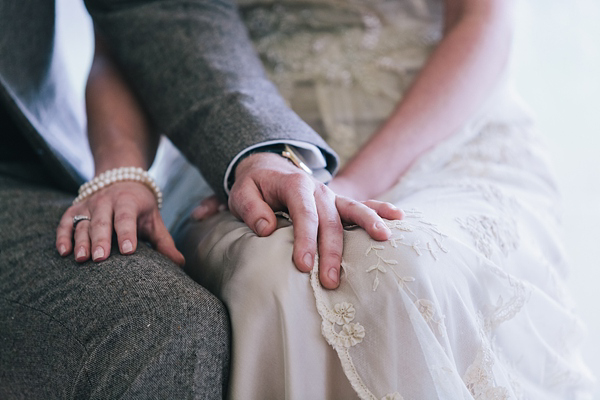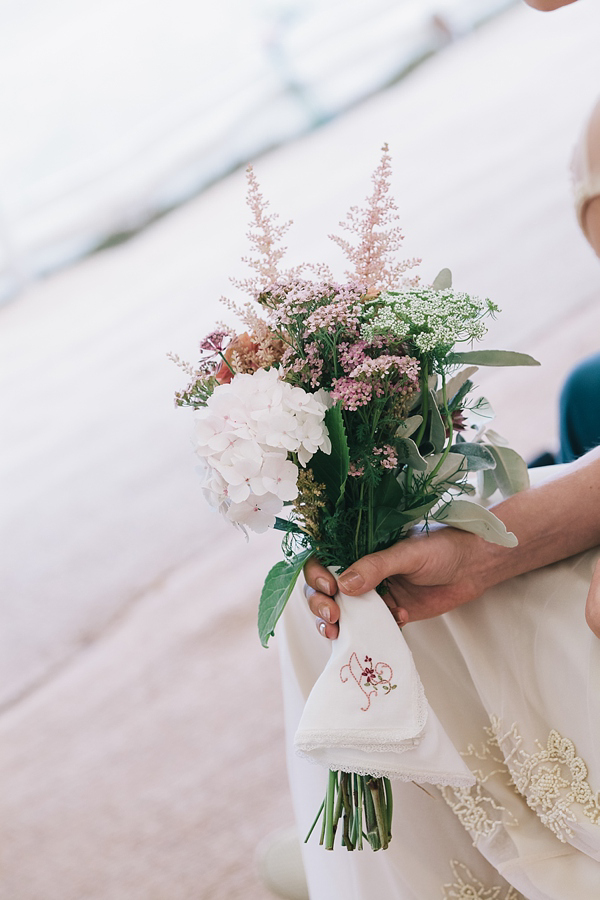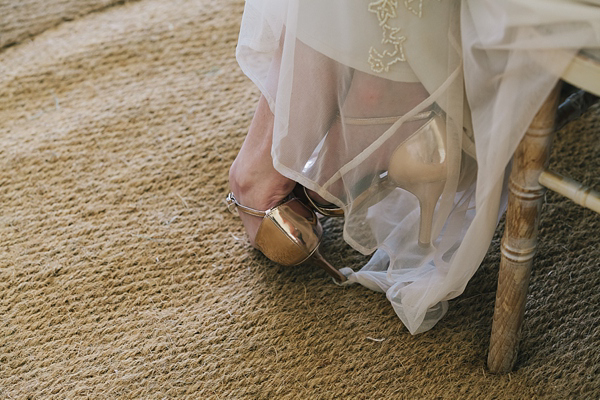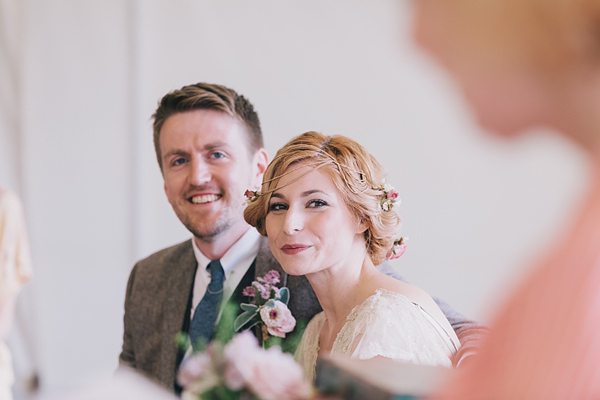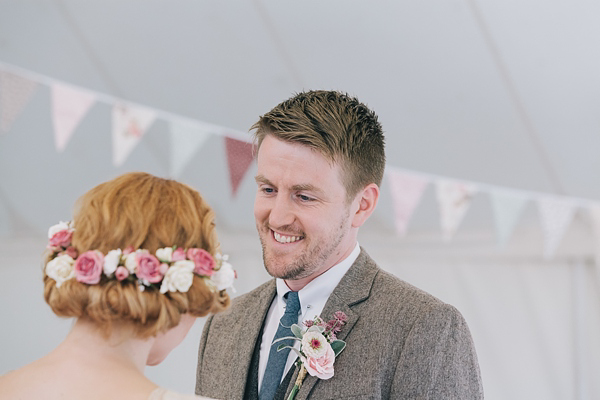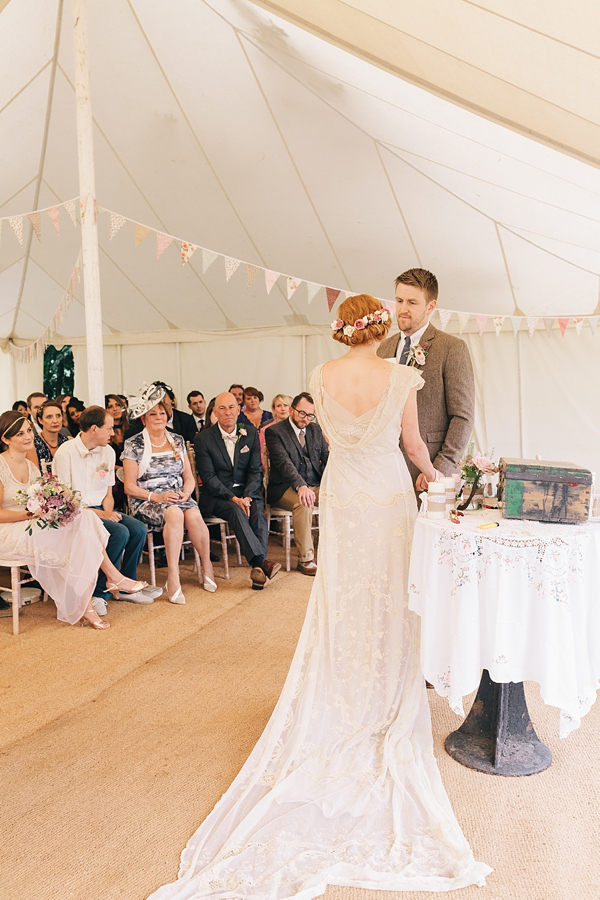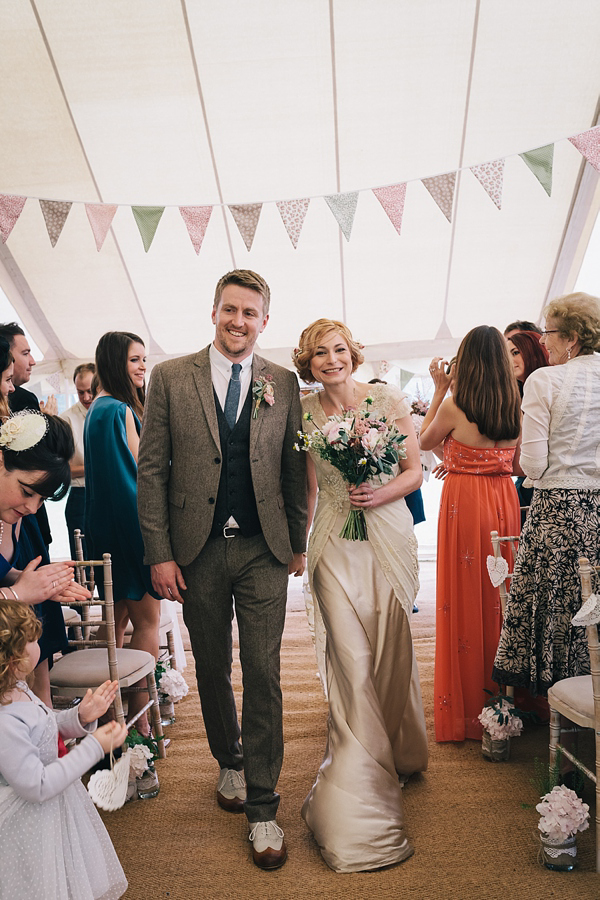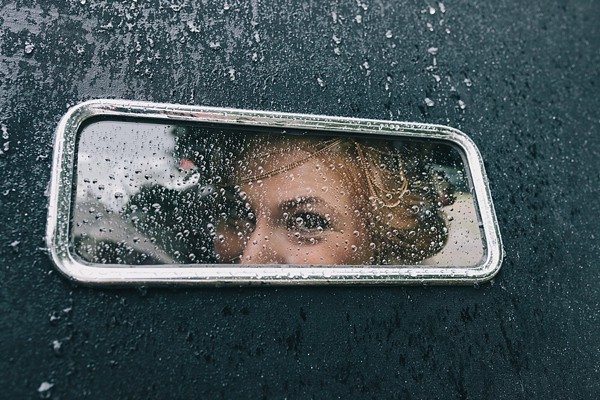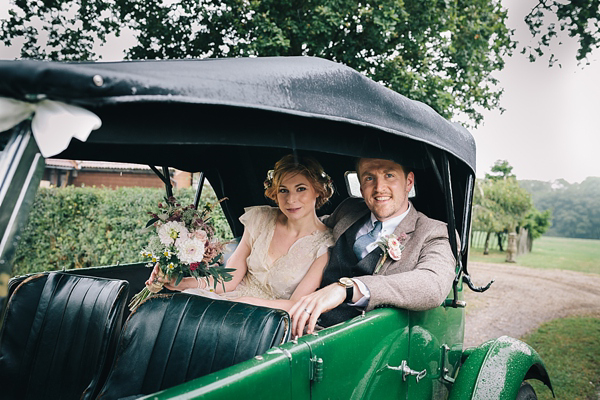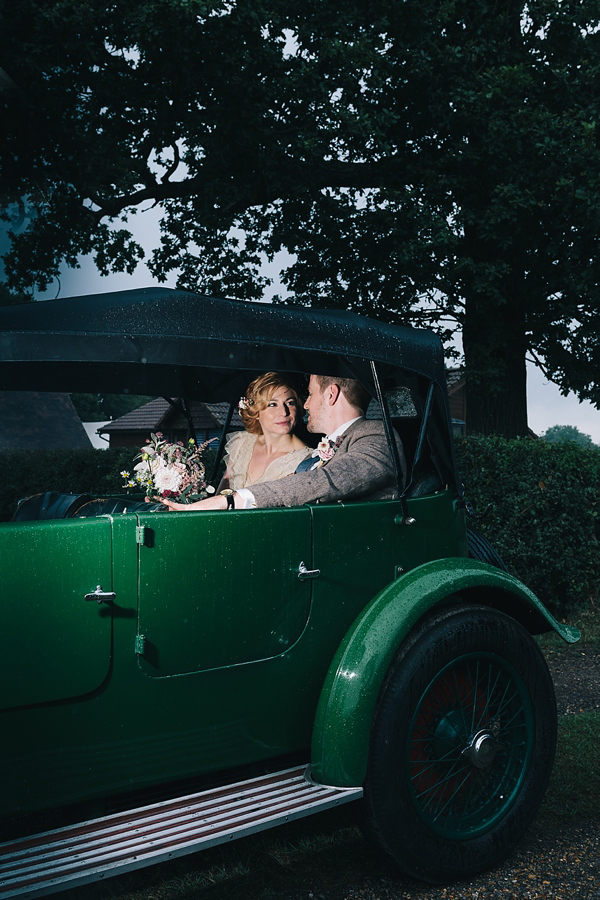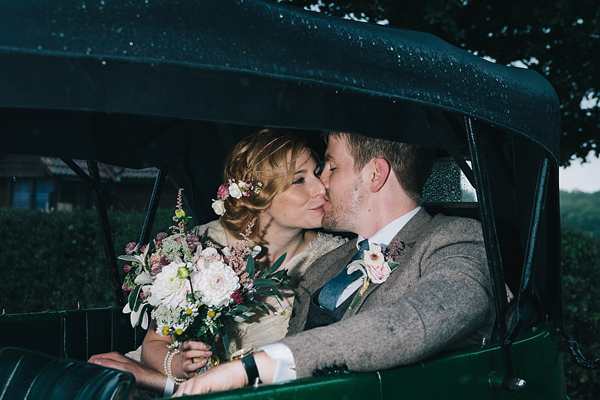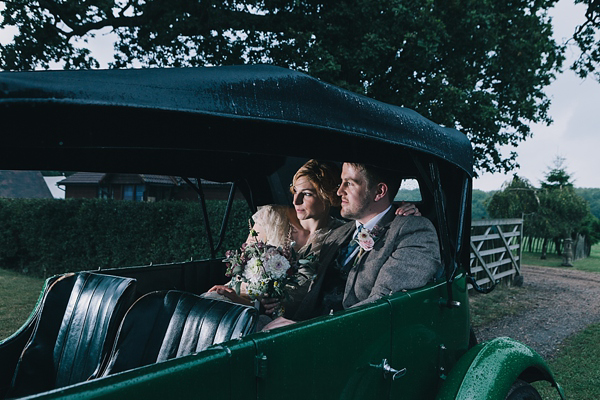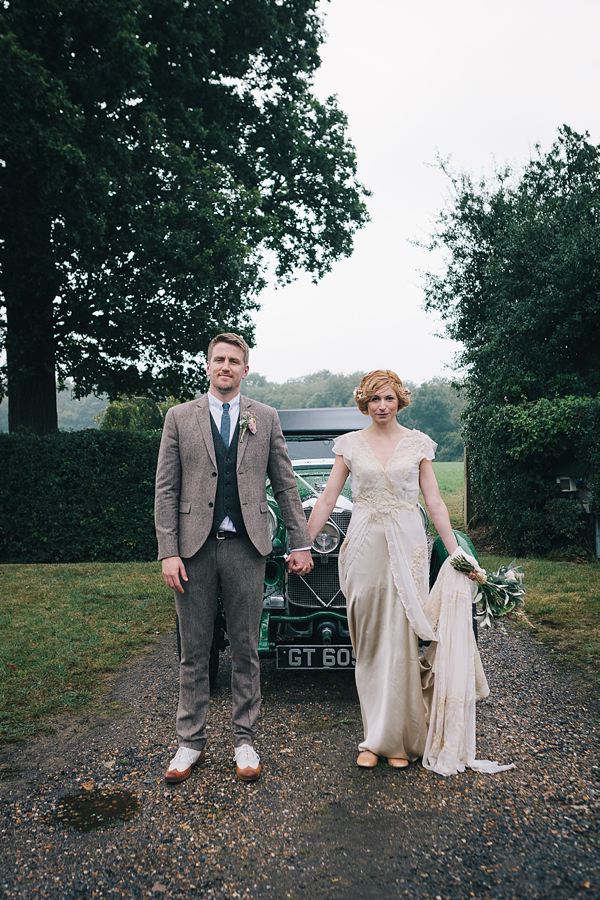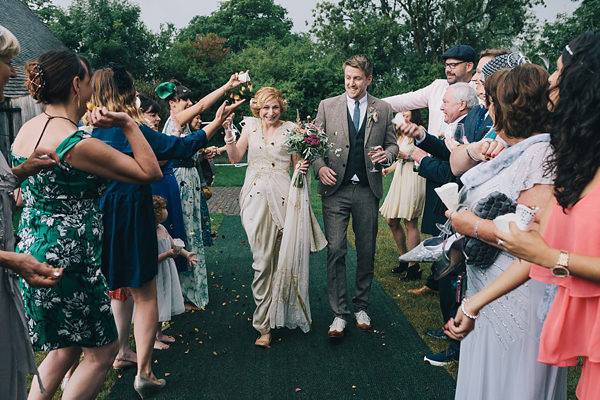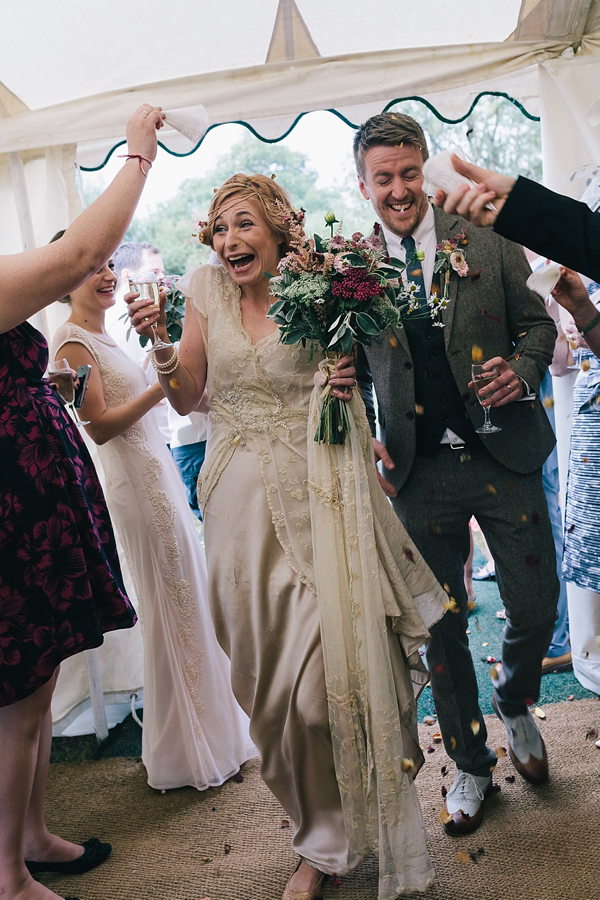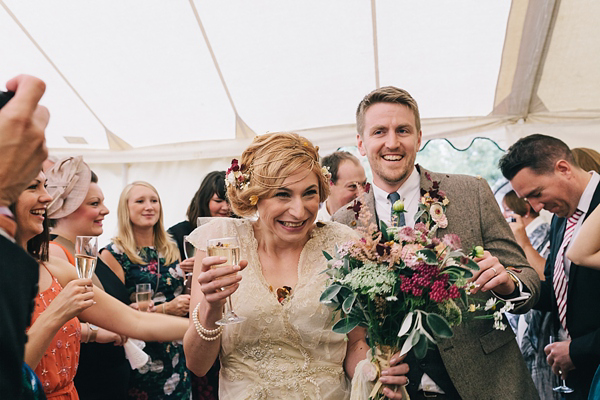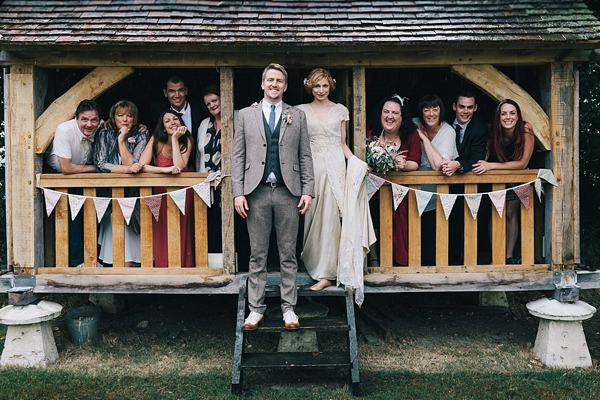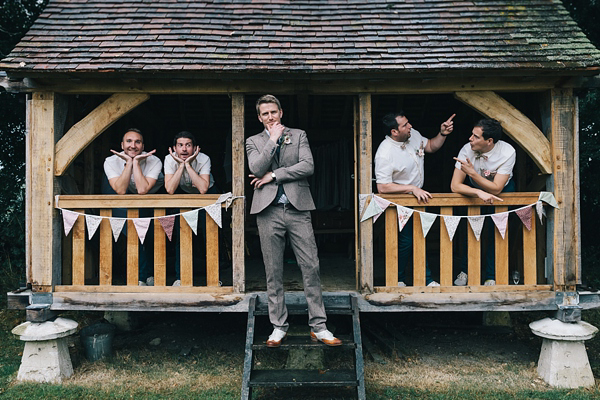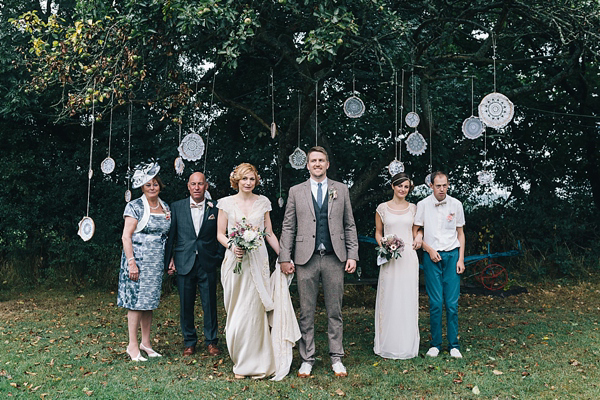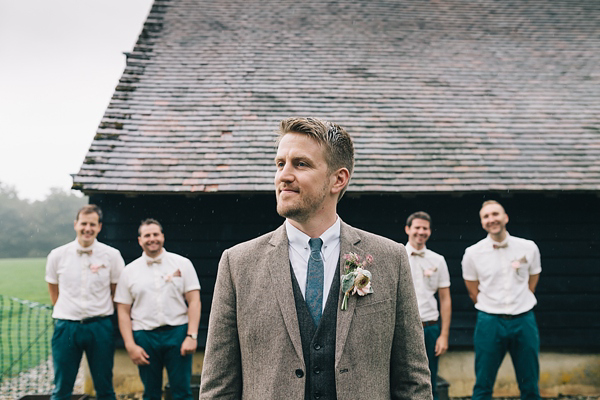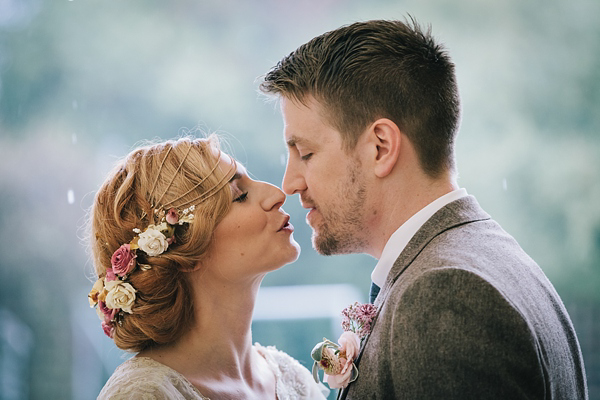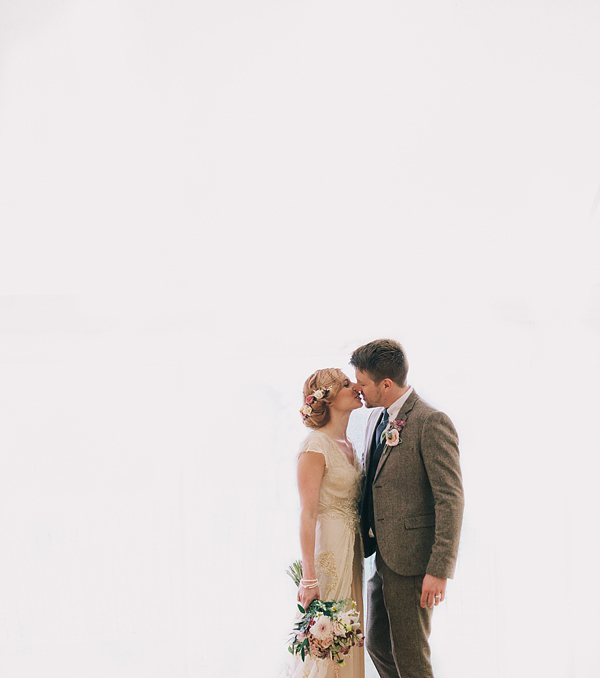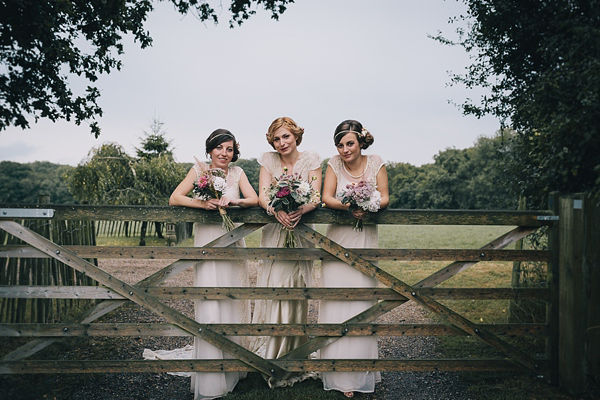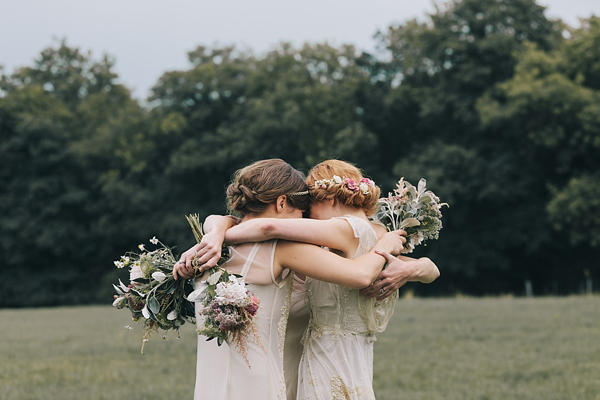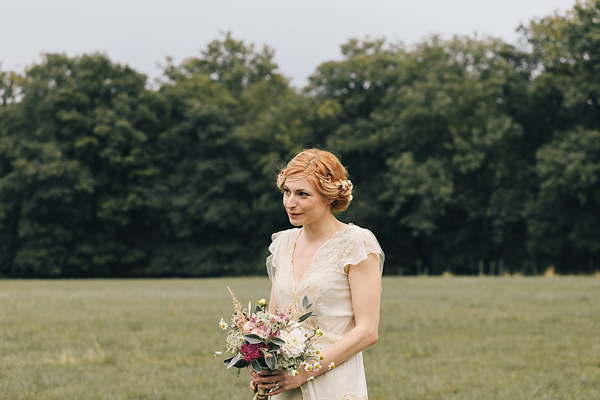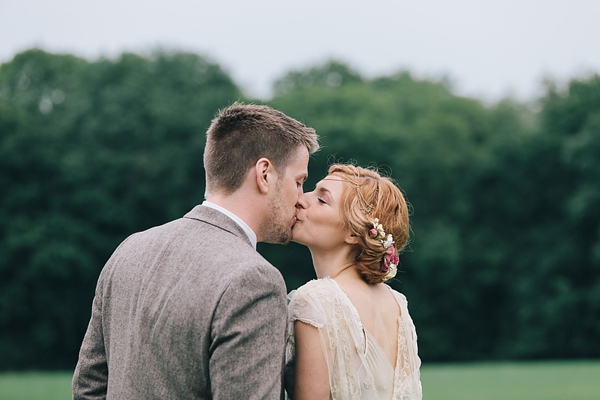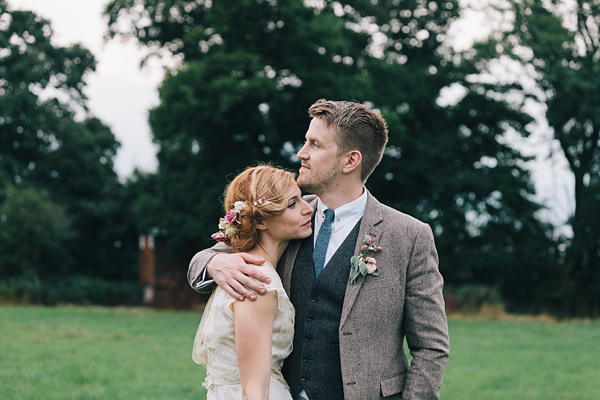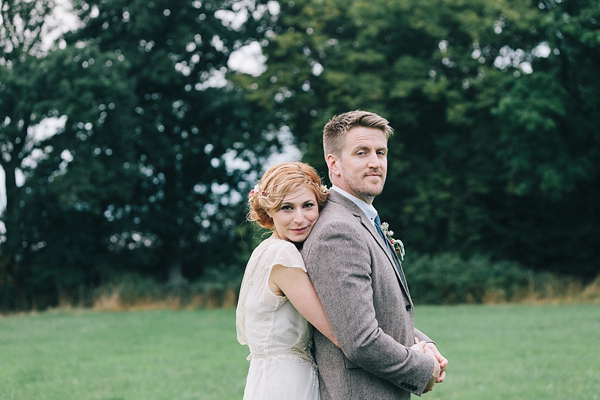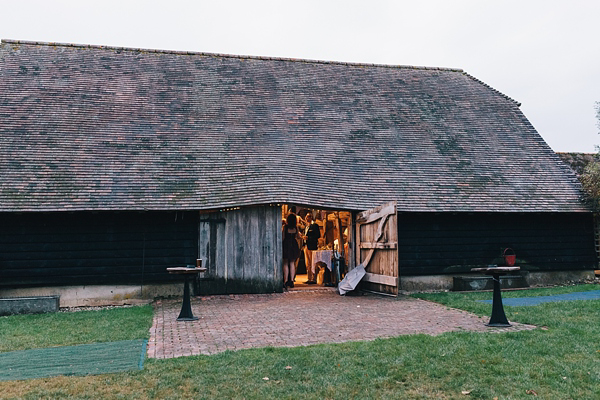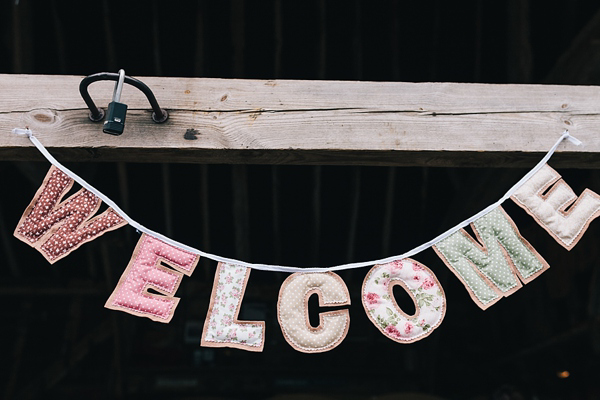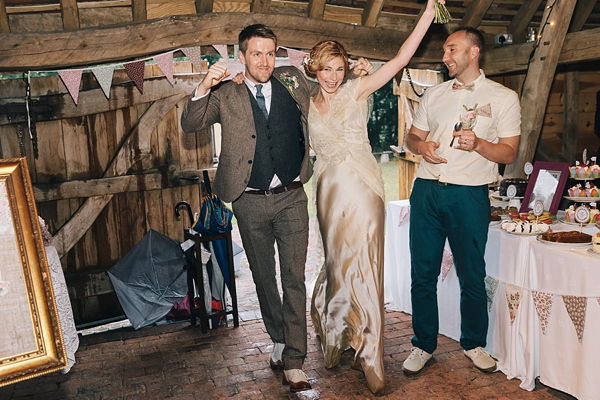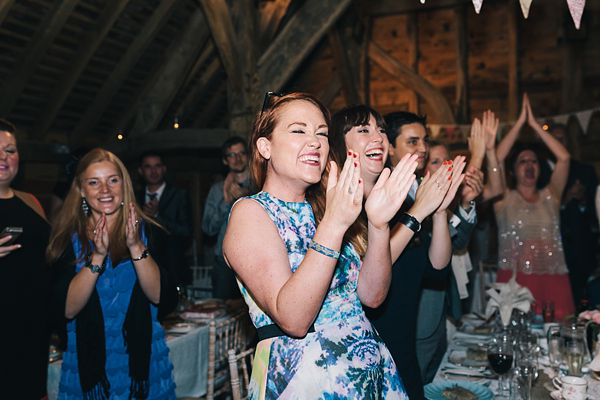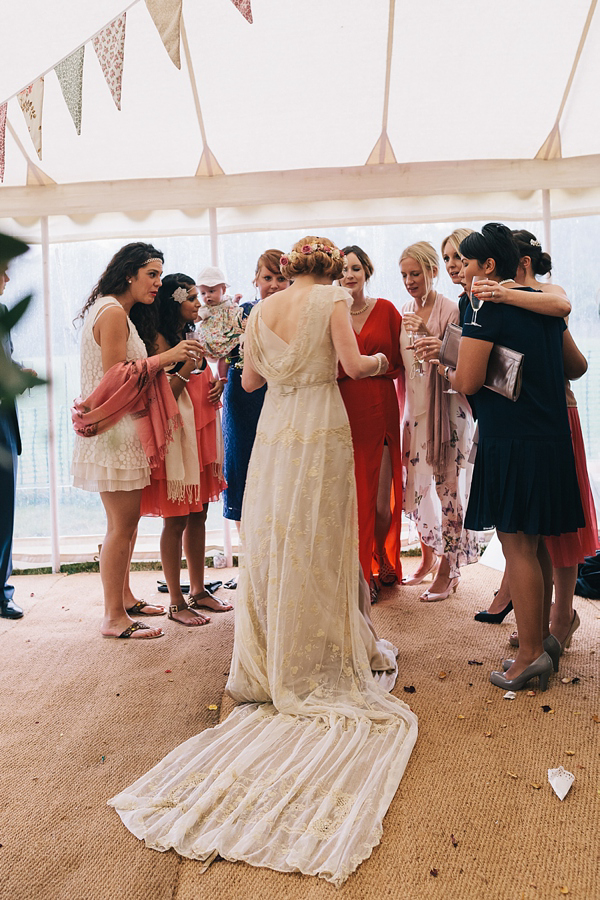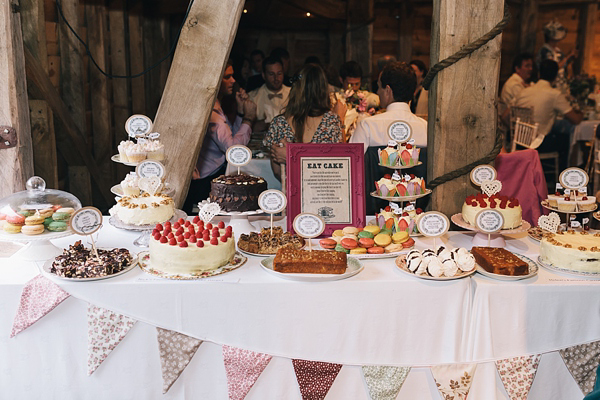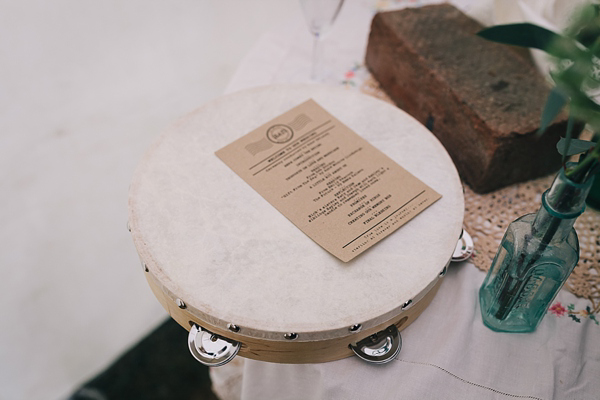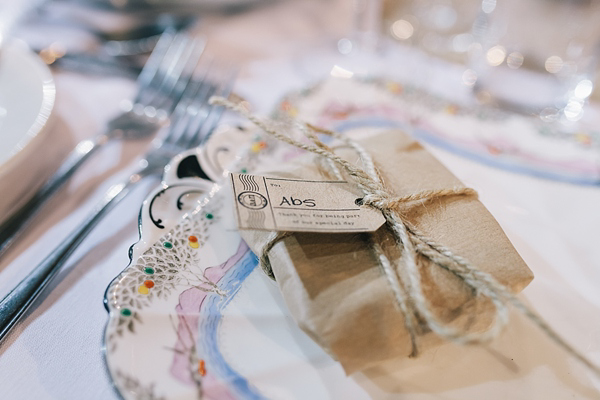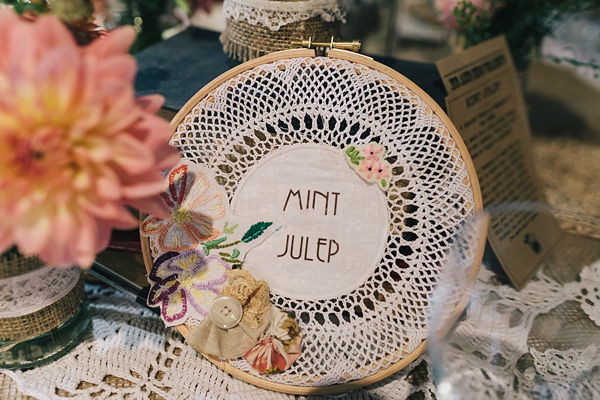 "Neither of us are big fans of icing and so wanted something simple. We asked Nick's aunt if she would make us a 3 tier Victoria Sponge and it was delicious. I made the cake topper myself."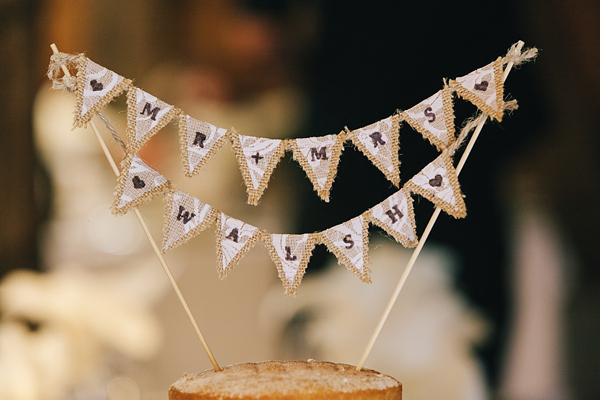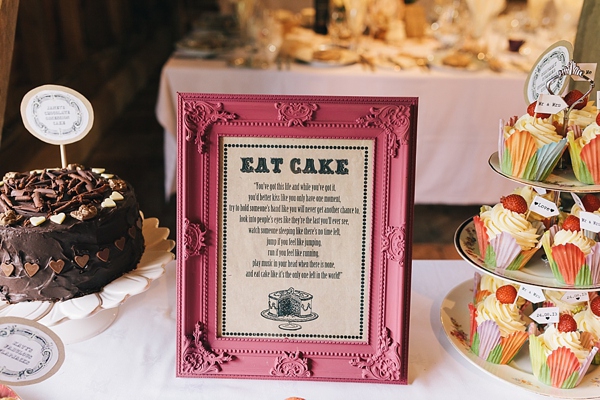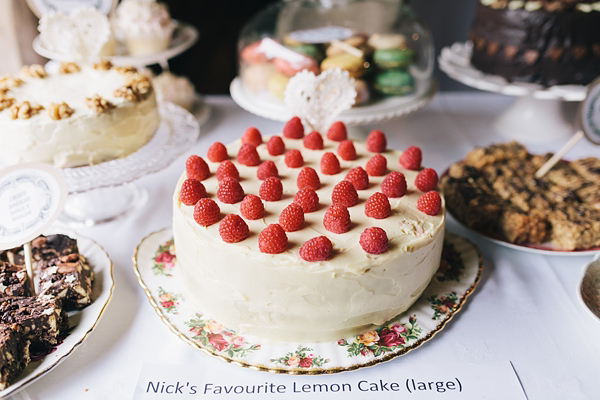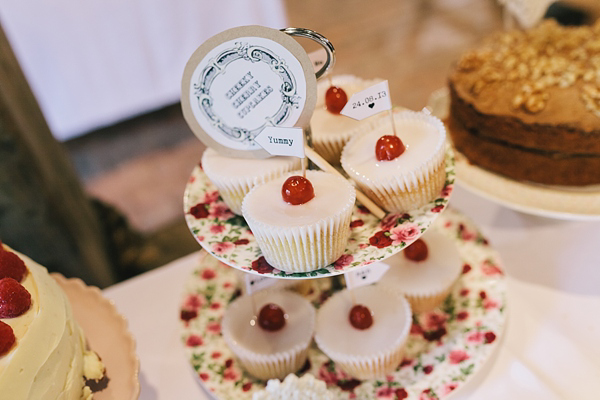 "We wanted a relaxed feel to the day and for the food to mirror that too. We used the caterer from a local pub, The Plough, who cater for most of the events at the barn. For canapés we wanted an afternoon tea/garden party feel so opted for mini sandwiches. Then for the meal we had a sit down family style BBQ with lots of sharing bowls of salads on the table. The waiters then came round with  trays of meats and fish fresh from the BBQ.
For dessert we had a cake table which Nick's mum had organised and asked many friends and family to help with. In the evening we had a cheeseboard and being from Newcastle chose Northumberland Cheese.  I wanted to bring a bit of the north east to our wedding and therefore went for a selection of Northumberland cheeses. My mum and I had a lovely day visiting the Northumberland cheese farm tasting all the different cheeses and seeing where they are all produced."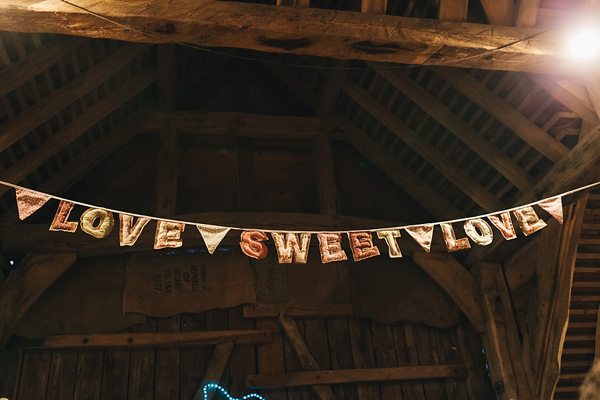 "Our first dance track was to 'A&E' by Goldfrapp. This was an easy choice as it was the song we danced to the first night we met and also the song Nick proposed to
We decided to have background music from the 20's/30's playing throughout the day and then a live band playing more current tunes in the evening. The band 'The Boys From Brazil' were amazing and had the dance floor jam packed all night. We also had a quiz during dessert which was organised by a friend and included some embarrassing photos and questions about us. Nick also organised a penalty shoot out which was set up in the garden after dinner"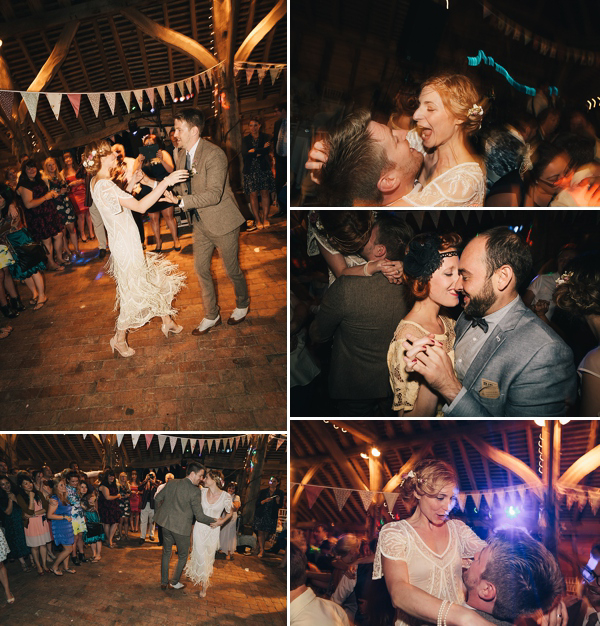 Words of Wedded Wisdom…
"Try to enjoy the planning as its as much a part of it as the big day. Try not to get upset about the people who can't make your day because on the day it really doesn't matter and you probably barely notice their absence. Lastly, don't worry about the weather because on the day you don't actually care. If anything the weather meant we had a packed dance floor and a bloody good party!
I loved Love My Dress before I was even engaged and it was a big source of inspiration.  Pinterest is also a site I use regularly for inspiration.
I can honestly say that I loved all of it but things that stick in my head are reading our promises to each other, which we had written ourselves. Also both of us being lifted onto peoples shoulders during the last song of the night and looking around at everyone's faces smiling and having a blast.  There is nothing I'd change. Although things didn't go completely to plan because of the weather,this was out of our control, and therefore couldn't have been done any differently."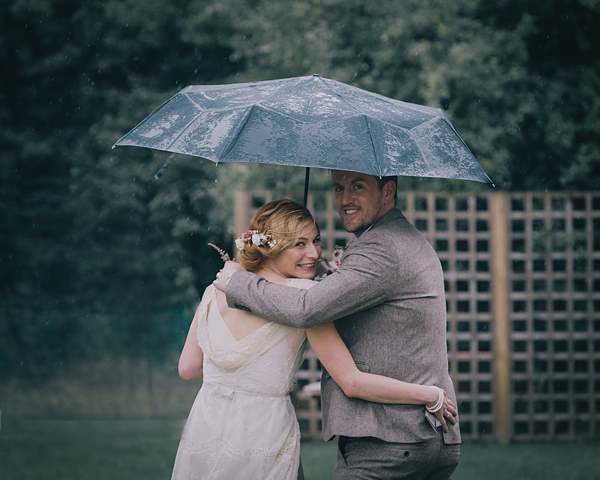 Ashley, I'm so delighted that you found Love My Dress so helpful, even before you started planning your wedding! Thank you so very much to you and Nick for letting us share your beautiful wedding day and inspire so many other brides.
Huge thanks also to Heather Shanker of Eclection Photography for choosing Love My Dress to share her work.
Ladies, you might want to visit these pages for related inspirational content; 1920's, 1930's, Jane Bourvis and rainy day weddings.
With much love,
Annabel
Photographer – Eclection Photography
Venue – Gildings Barn in Newdigate, Dorking
Brides Dress – Jane Bourvis
Brides Veil – With Love From Bobbin
Brides Shoes – Dune
Groom – Suit/Shoes Topman + Waistcoat Debenhams + Tie Next + Cufflinks and tie pin, both vintage
Bridesmaids – TFNC London dresses + shoes from Faith at Debenhams + Freed Shoes
Florist – The Home Grown Flower Company
Transport – Green 1930's Lagonda via Carriages Vehicle Agency
Entertainment – Boys From Brazil
Styling –  Interestingly Different
Rings – Old Eldon Jewellery
Caterers – The Plough Pub + Northumberland Cheese
Stationery – Belle & Essie
Hair Stylist – Ruth Gartside