It's nearly the weekend!!! Hoorah! Now today, we've got three fabulous weddings to share with you, each of them unique, beautiful and inspiring, and to begin with, I'd like to share this lovely summer time Edwardian garden party inspired affair.
Krista, an interior designer, and Henry, a personal trainer, chose to get married on 10 August this year, at Henry's parents house – the very same Henry had grown up in as a little boy. 
"I was inspired by the beautiful Late Edwardian, garden parties in
summer – I loved the concept of an English summer with a nod to Downton
Abbey; canvas tents and soft furnishings, relaxed yet elegant and using
materials and finishes that were to be sourced locally and could be used
again and again not just for a one off party.
We both wanted to spoil
our guest with delicious food and wine but entertain them 'as we would at
home' – to be relaxed and be outdoors and in the garden just felt
natural." 
Photography Copyright (c) 2013, Julie Skelton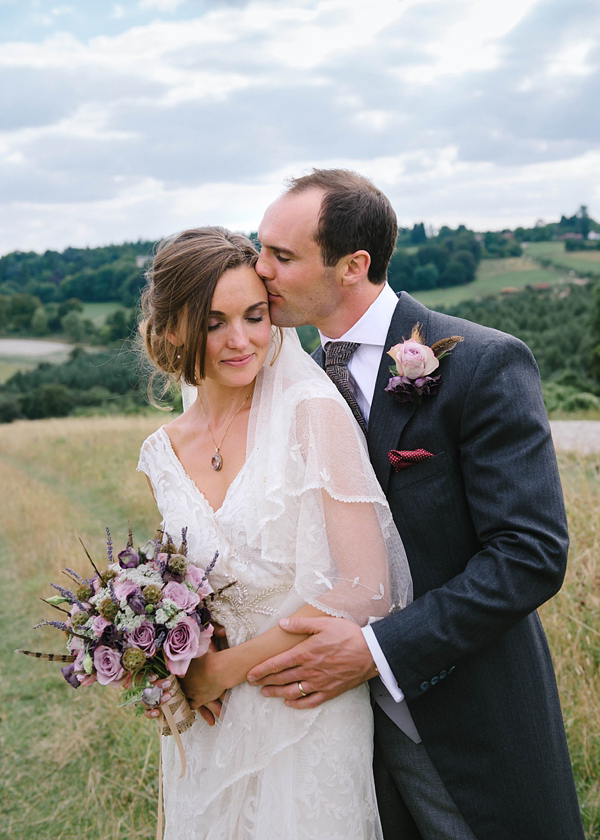 "My dress was made from vintage handmade Maltese lace from the Wonderful Jane Bourvis,
who is based in London. As soon as i walked in to Jane's beautiful
boutique in Golbourne road, I knew that i had to buy a dress from here.
It was so calming, unique and the lace she finds is stunning- I think
Jane is a genius!"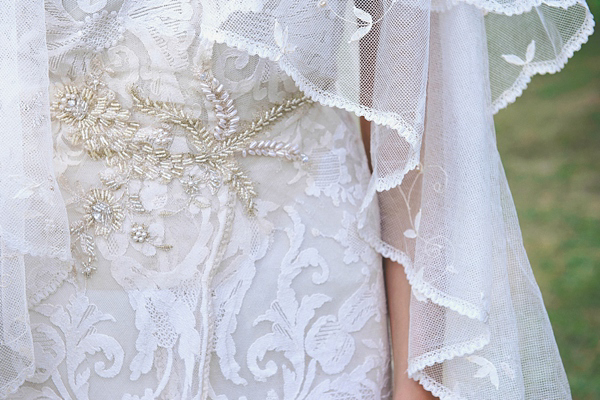 "I loved my dress because of how
elegant I felt in it. Jane sources her lace from one-off places and
every dress is completely different. I love the way the silk slip felt
so soft underneath and it meant i could feel really free and relaxed on
the day. The detail of the lace is incredible and I couldn;t get over
how much work must have gone in to create it.
I wanted this particular design, because my
mother lives in Malta and she had said that she wanted to buy my dress
for me. I had tried on about twenty dresses before this one but when I
looked down and saw the Maltese cross it was a sign and it just felt so
right. I burst into tears!"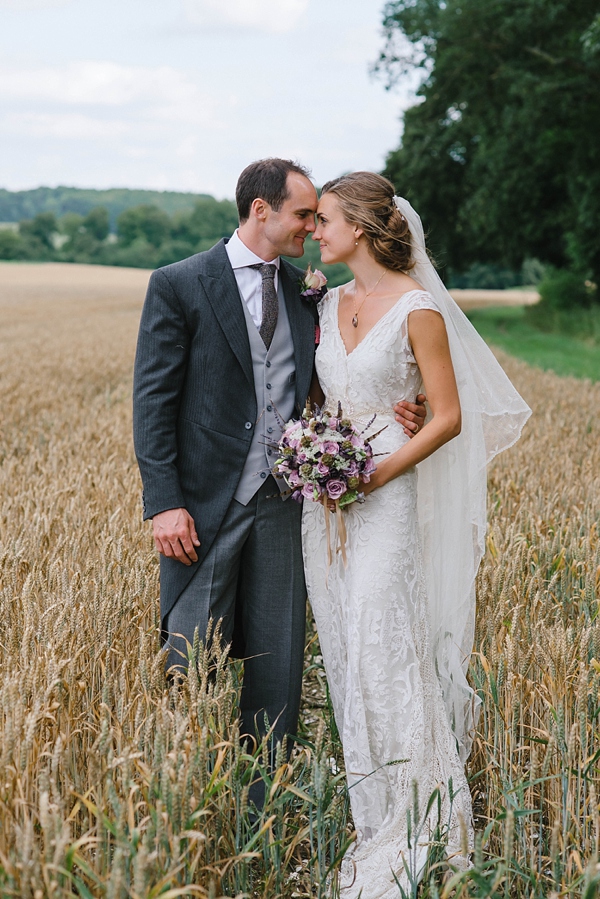 "My
amethyst necklace was given to me by my mum – My Grandma and Great
Grandma had also worn it and it just felt so right to continue the
tradition. Amethyst is also my birth stone and the lavender colour
complimented the bridesmaids dresses."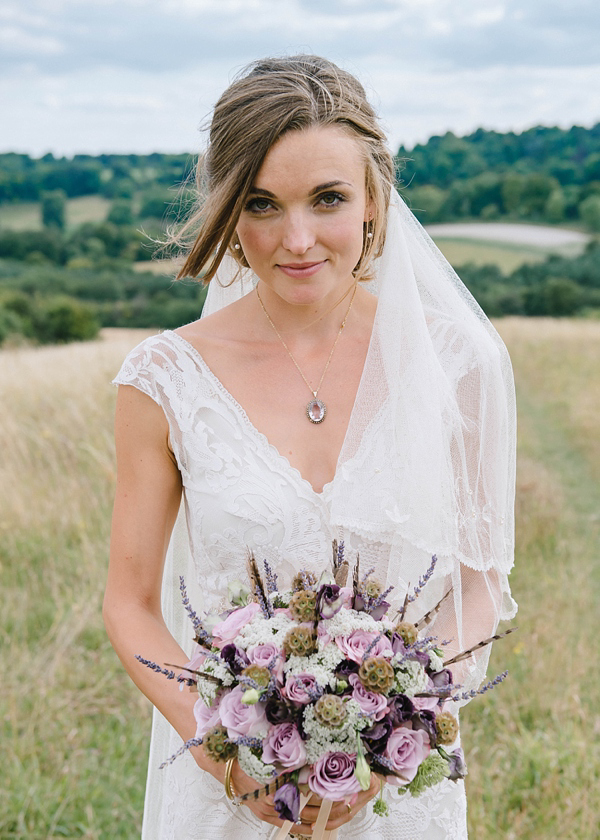 "My veil was also from Again from Jane Bourvis – it had hand sewn freshwater pearls."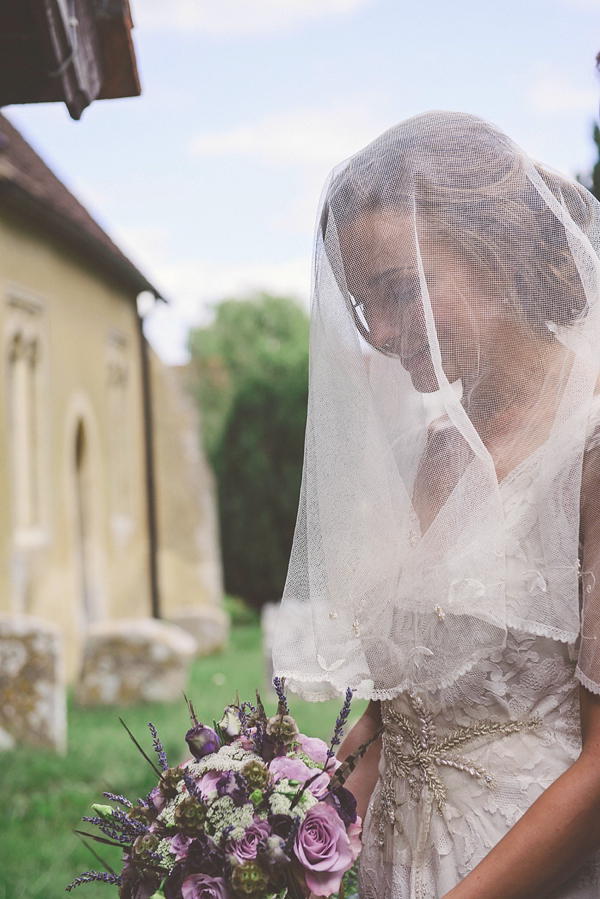 "Henry and I met at a mutual friends birthday party at the Ship in
Wandsworth, London. We both were apparently 'not interested' in meeting
anyone at that time, but something clicked that night and we never
looked back! We quickly realised that this was something special and we
ended up buying a flat and moving in together within the next two years.
We often go to the South of France to holiday and it was nearing our
three year anniversary on our way down to Provence when we stopped over
for dinner in Paris.
We got lost in the Street of Paris trying to find a
Crepe at midnight and that was when Henry got down on one knee to
propose. We decided to keep it secret until we got back and then we had
until the following August to plan the wedding."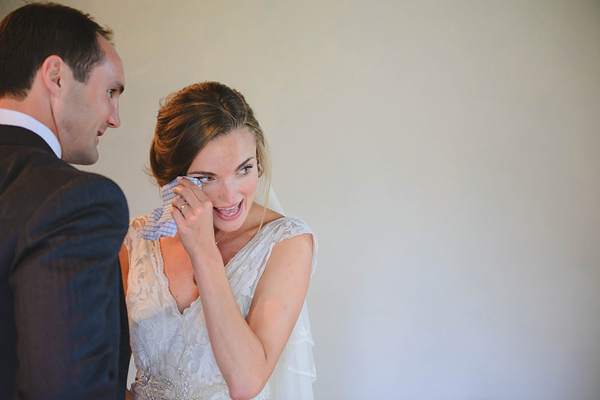 "We chose to get married in the church next to where Henry was
brought up – in a little village called Fingest, down the road from his
parents house in a beautiful part of the English Countryside in
Buckinghamshire. The reception was held in the garden at Henry's Parents
house – the same house where Henry had grown up since he was a little
boy."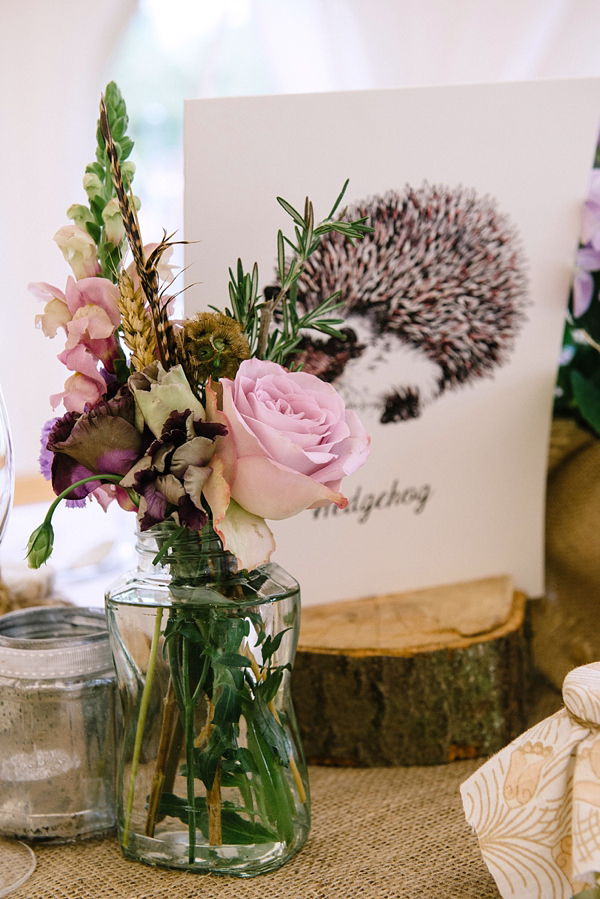 "I found my bridesmaids dresses from Luellas boudoir in Wimbledon – they were from the Amsale collection and their colour was 'slate'."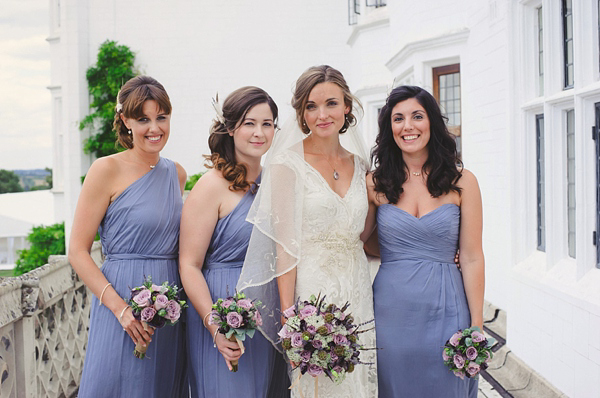 "Our Florist was Joanna Carter
– we wanted to work with a local florist who knew the local flowers,
what was in season and could understand where I was coming from with the
brief.  The Reception venue at Harecramp farmhouse is on an estate that
breeds pheasants and partridges and we wanted to include these feathers
in the flowers. Lavender was chosen as it reminds us our time in south
of france after Henry proposed and we use so much of it! (It was also
scattered in the porch of the church).
The wheat was from the fields
around the farm – so I really wanted to incoporate all of this into the
flowers to tell a bit of a story about us."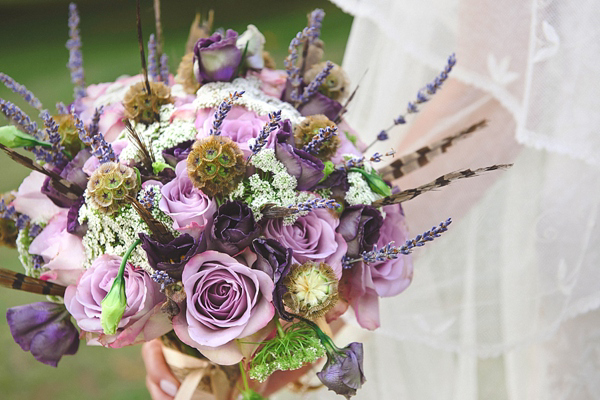 "Henry wore a Harris Tweed tie to symbolise my Scottish heritage
and our time together up in Scotland. It was a great way to tie in the
country style with the pheasant feathers as their buttonholes from the
farm too.  Henry's boys wore flat-caps."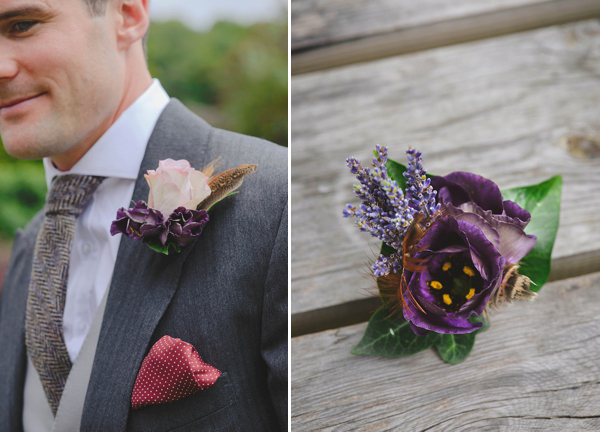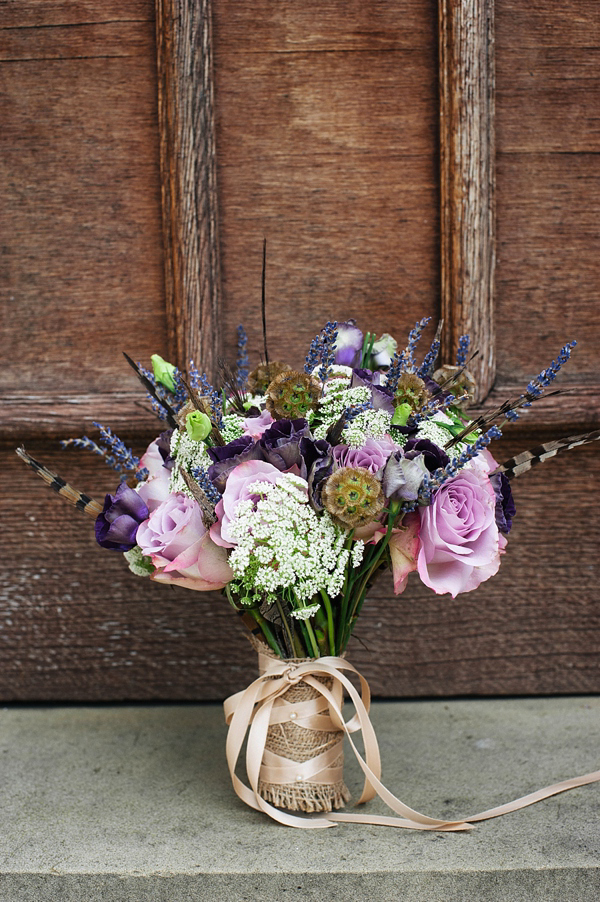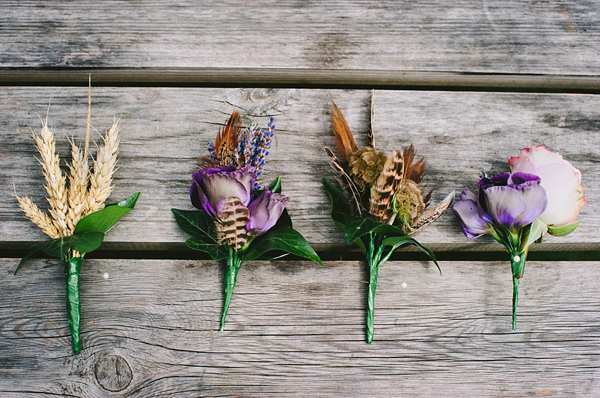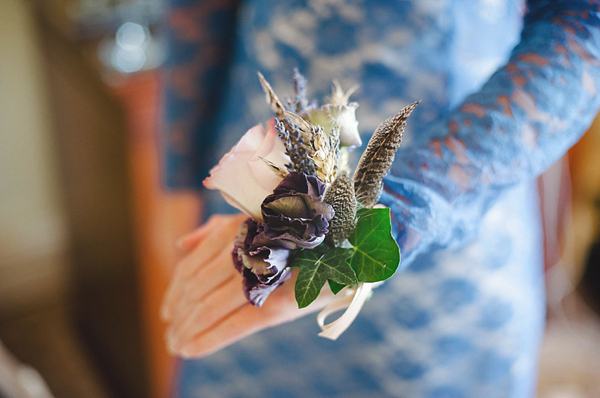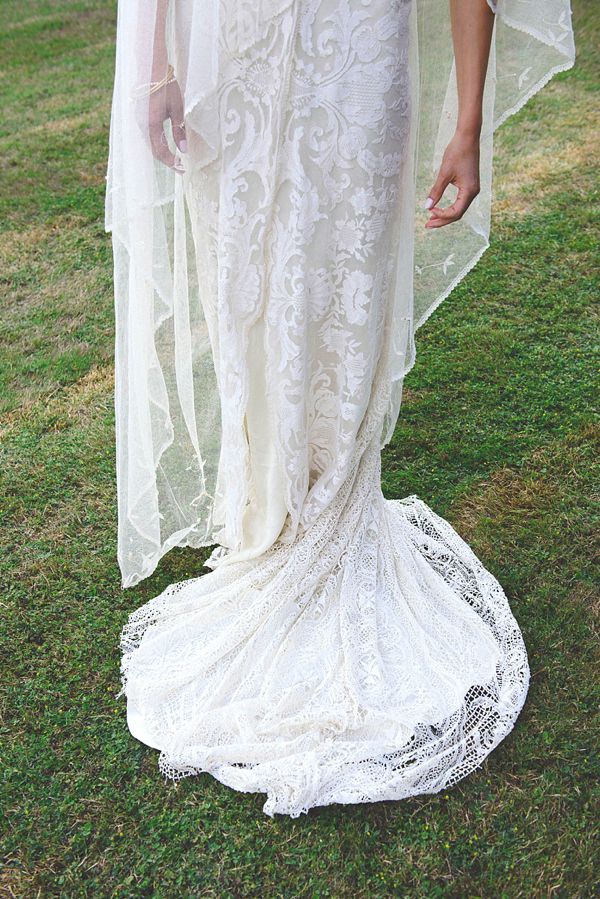 "I had wanted shoes that weren't too high (being 5'11 I didn't want to be too tall). My Jimmy Choo's
were just perfect. They also have the same name as my Grandma –
'Isobel' and I loved the fact that they were metallic so I can wear them
after the big day again without being too 'bridal'."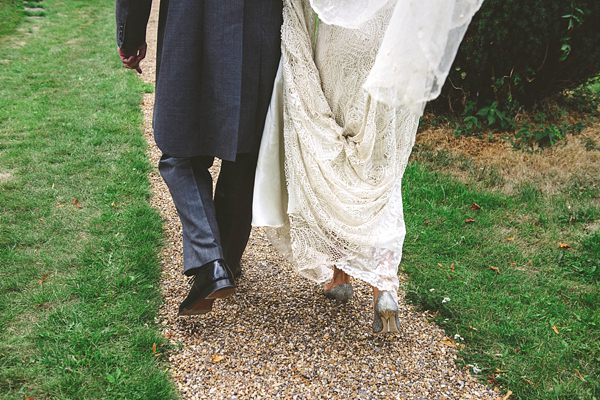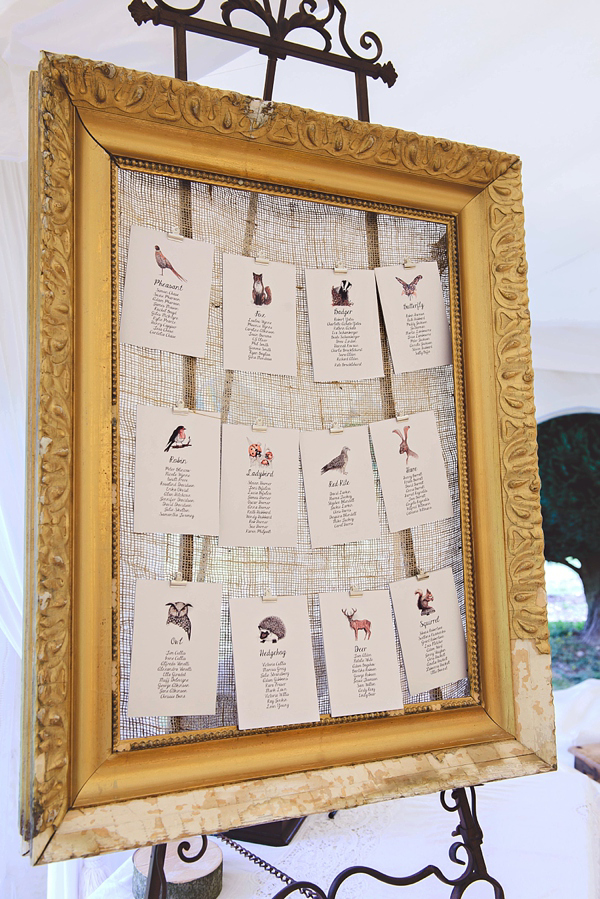 "My mum had illustrated all the table pictures to reflect the woodland animals that are local to the farm."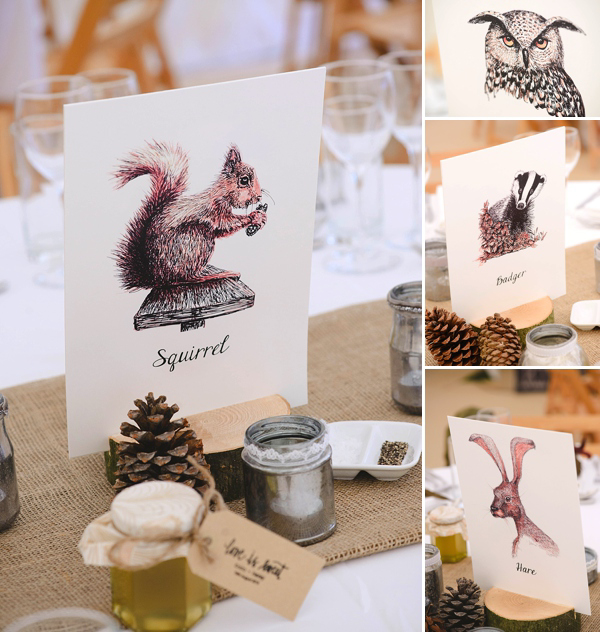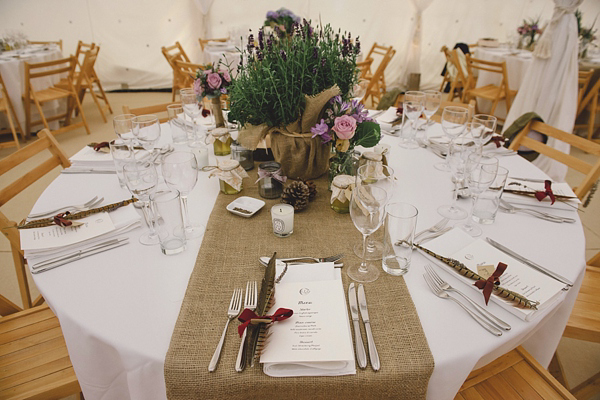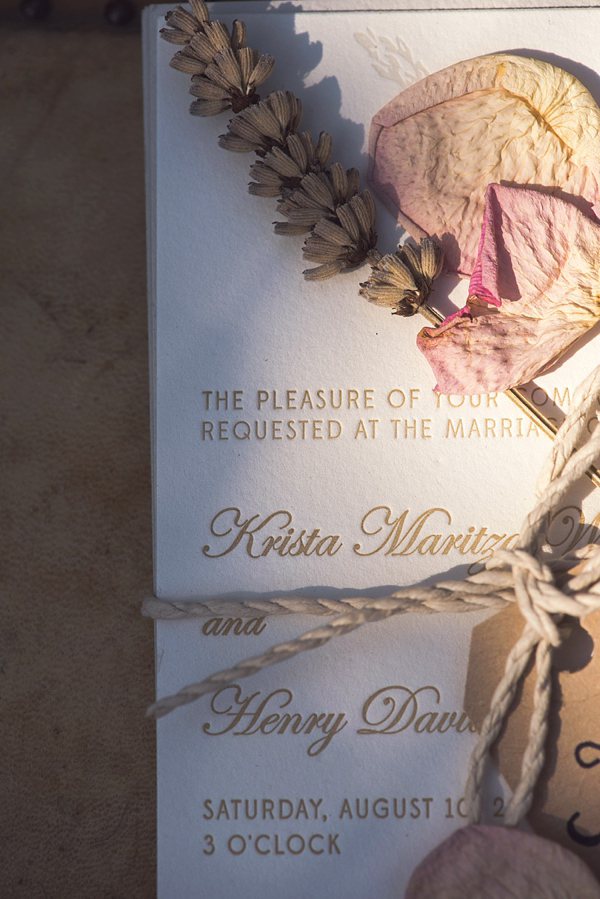 "Loulou, my maid of honour who is a personal stylist had
taken the wheat, lavender and pheasant feathers and created individual
hair pieces for the girls, along with customised Clutches . 
Loulou had also made us beautiful necklaces with freshwater pearls and I
had found some beautiful accessories from Jane Bourvis's boutique, such as
little bracelets and earrings."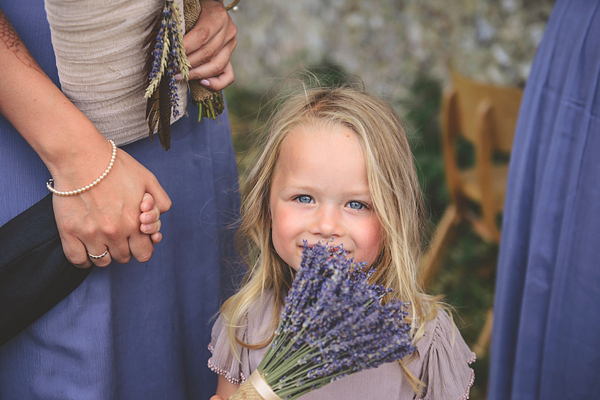 "My little flowergirl Amelia wore the  Emma Dress in Dusty Mauve from I Love Gorgeous."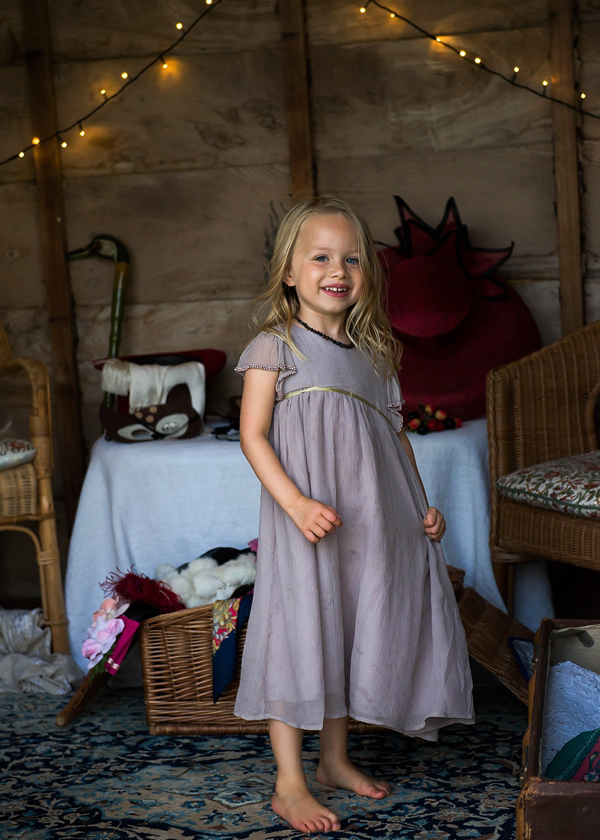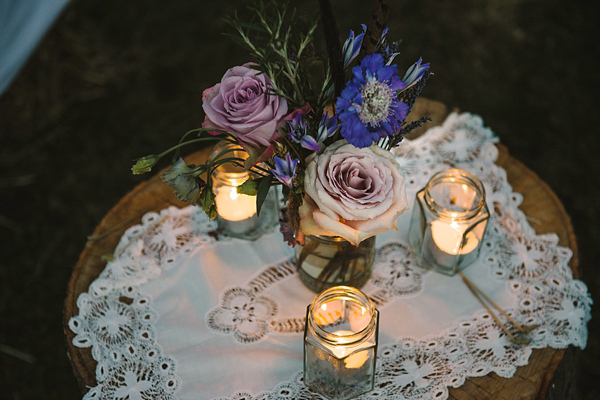 "Our photographer was Julie Skelton. 
We chose julie because she was so lovely, calming and natural when we
met her. She sees the beauty in the details and doesn't like to make a
song and dance about the photography – it felt so right to have someone
so considerate and gentle for our special day."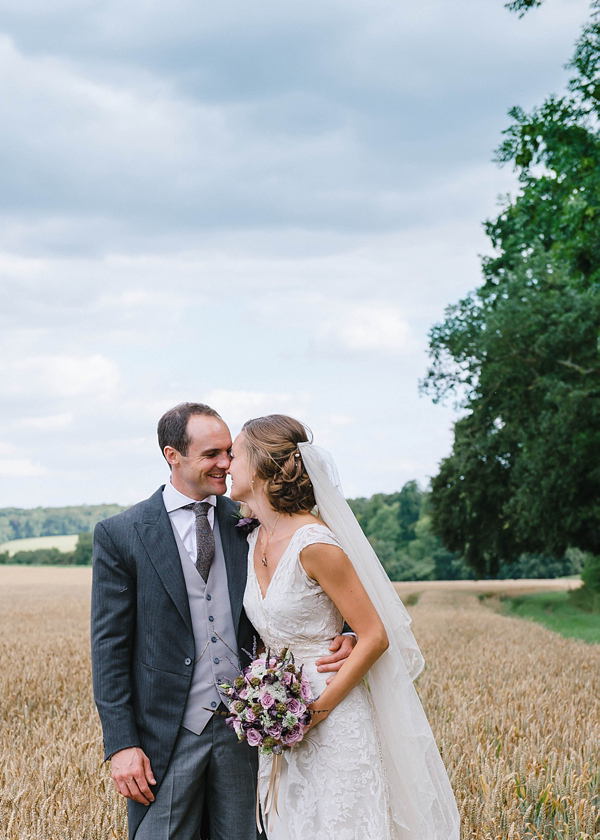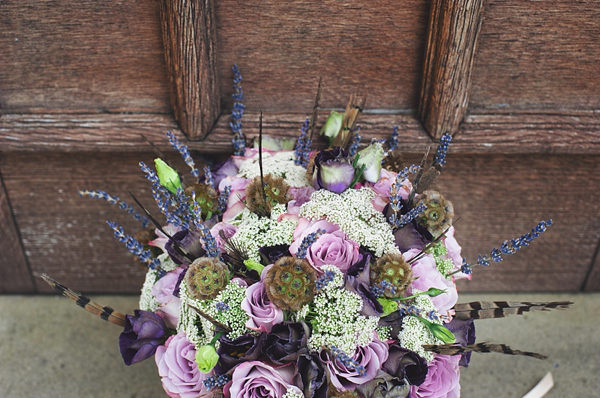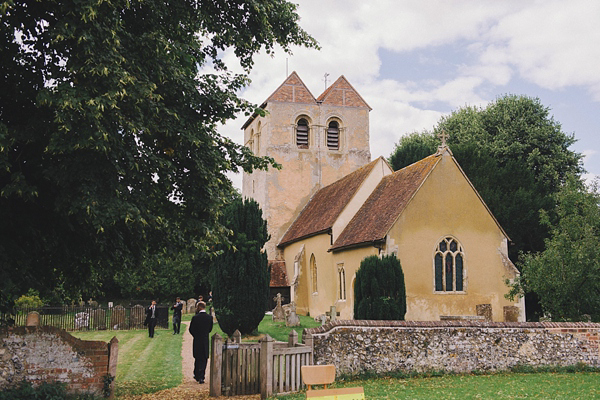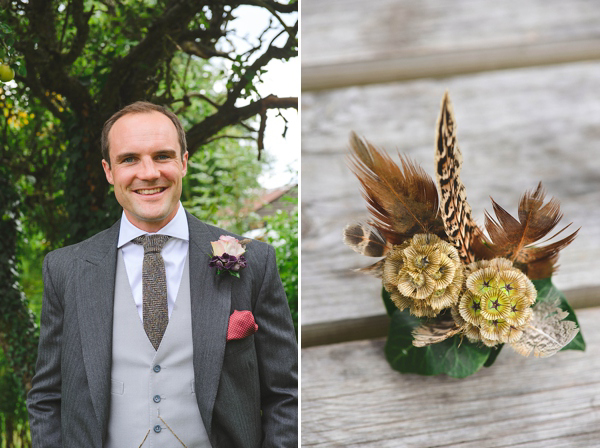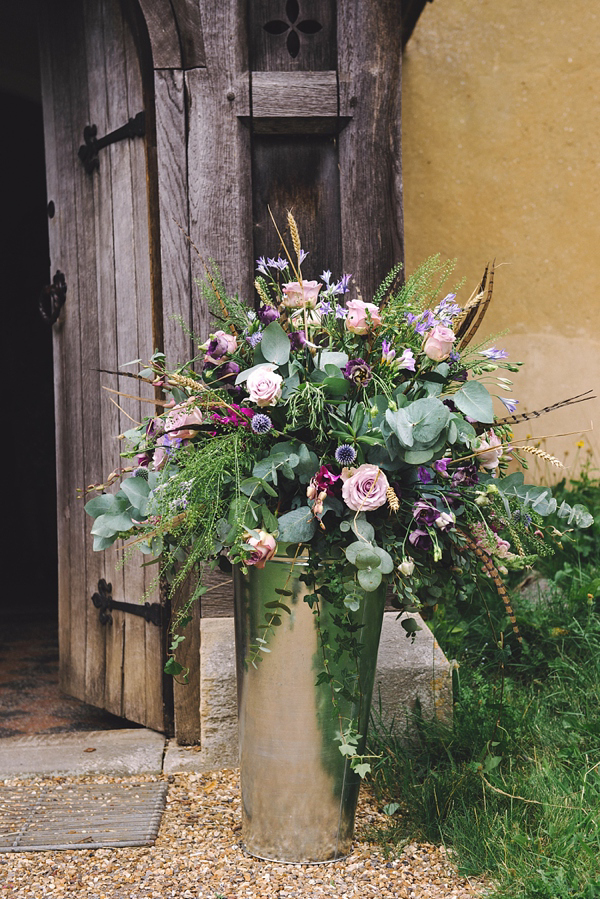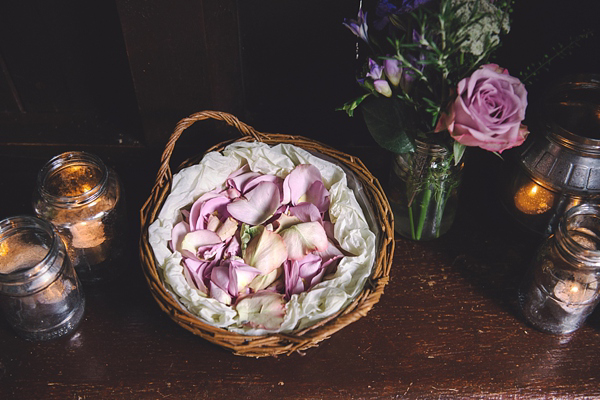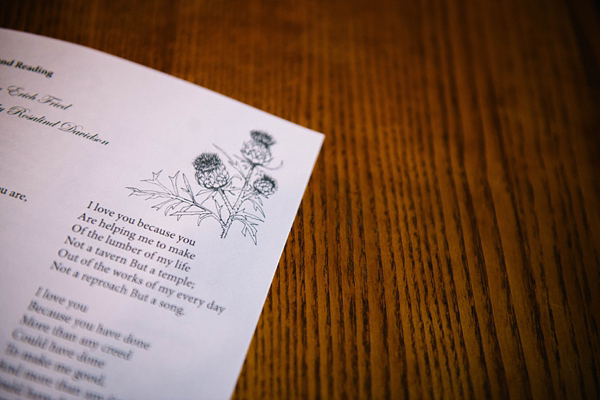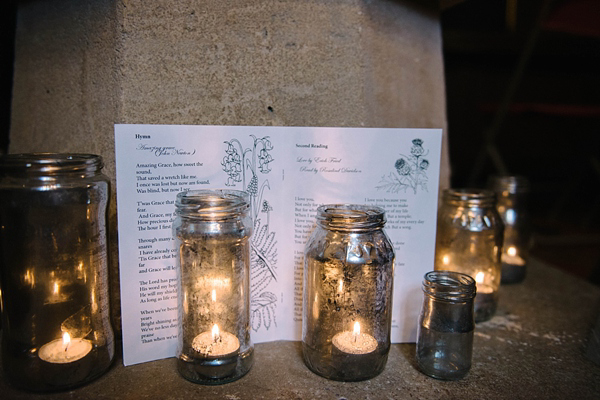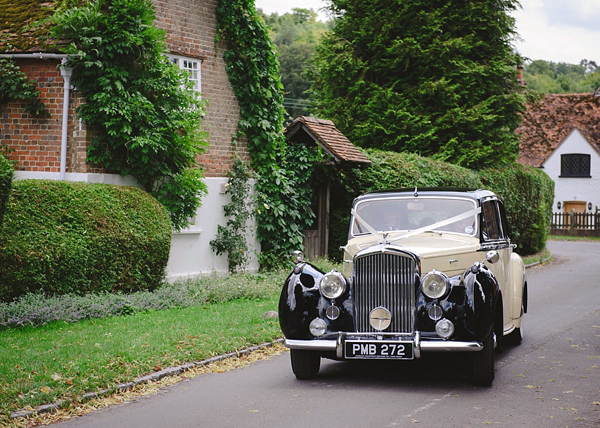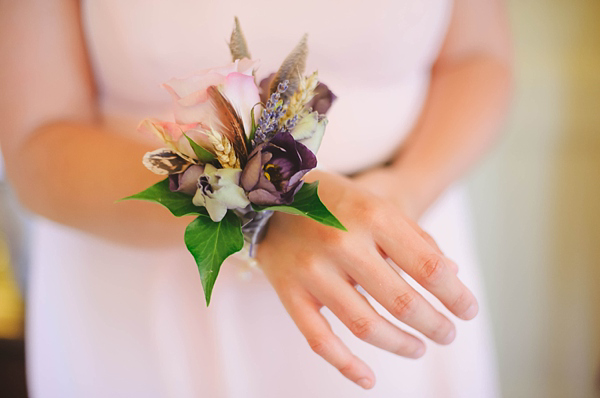 "We hired a page boy suit from Moss Bros and then Phoenix (the Page Boy) freestyled the outfit with his own black skinny jeans – what a dude!"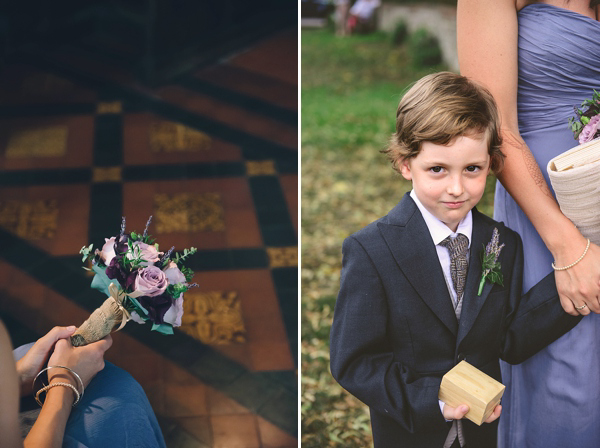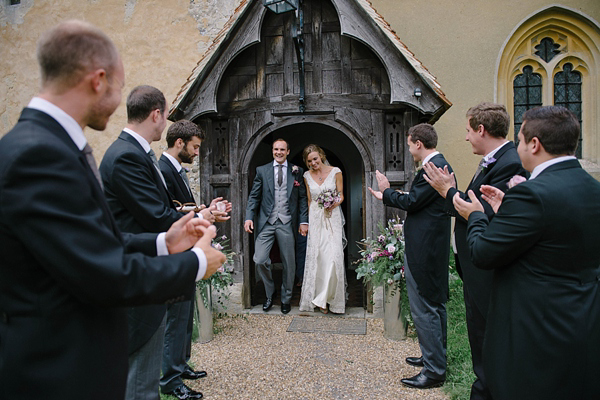 "My brother gave me away to the sound of 'Edlewiess' playing on the
Organ, It was a Nod to my Fathers Austrian Heritage – my father had
passed away when I was ten.  My oldest friend
Caroline sang and her dad played the guitar during the signing of the
register. My Mum had illustrated the orders of service and my favourite
reading was by my Aunty was chose to read an Austrian Poem- Love by
Erich Fried.'
'I love you,
Not only for what you are,
But for what I am
When I am with you.
I love you,
Not only for what
You have made of yourself,
But for what
You are making of me.
I love you
For the part of me
That you bring out;
I love you
For putting your hand
Into my heaped-up heart
And passing over
All the foolish, weak things
That you can't help
Dimly seeing there,
And for drawing out
Into the light
All the beautiful belongings
That no one else had looked
Quite far enough to find.
I
love you because you Are helping me to make Of the lumber of my life
Not a tavern But a temple; Out of the works Of my every day Not a
reproach But a song.
I love you Because you have done
More than any creed Could have done To make me good, And more than any
fate Could have done To make me happy. You have done it Without a touch,
Without a word, Without a sign. You have done it By being yourself.
Perhaps that is what Being a friend means, After all.'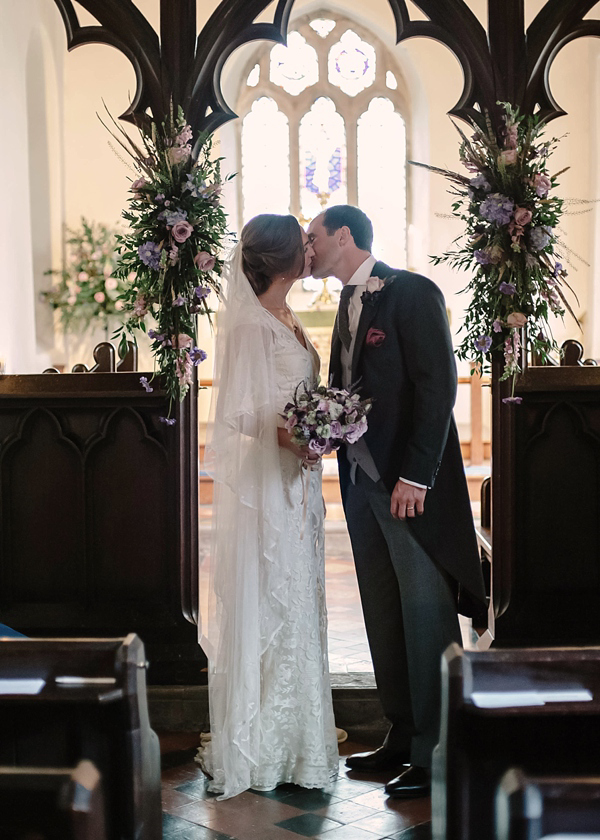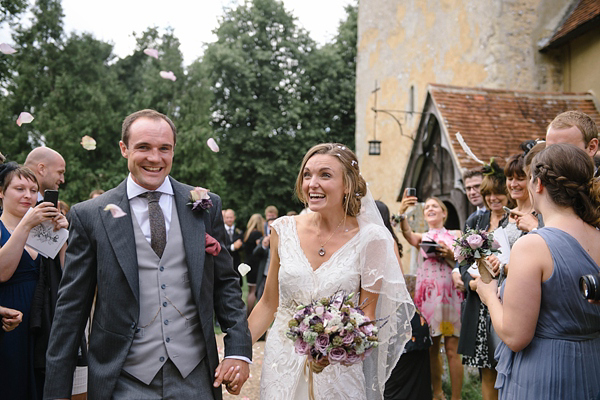 "The knot on the church gate is a village tradition – from their website: 'No
wedding in Fingest is supposed to be lucky unless the bridegroom lifts
his bride over the Church gate when leaving after the ceremony. The gate
is tied up with ribbon so the newly wedded couple cannot get through
it, while all their relatives, friends and villagers gather round to
watch the old custom being duly observed.'"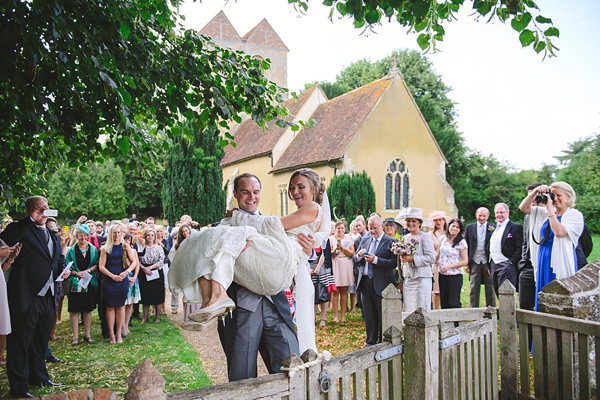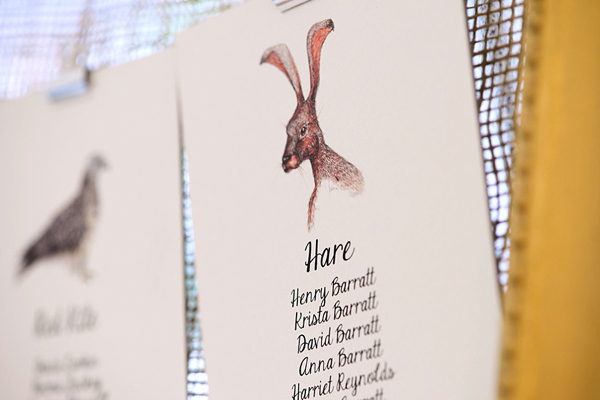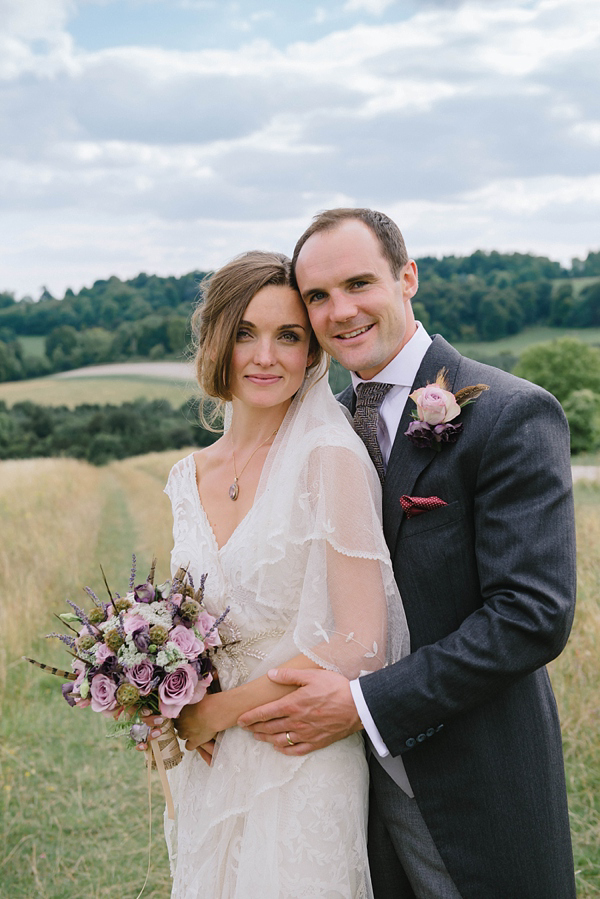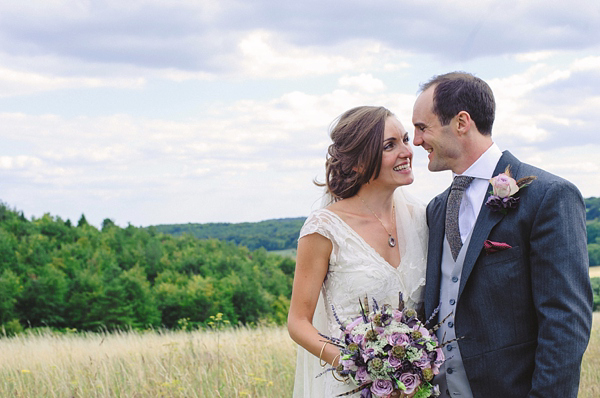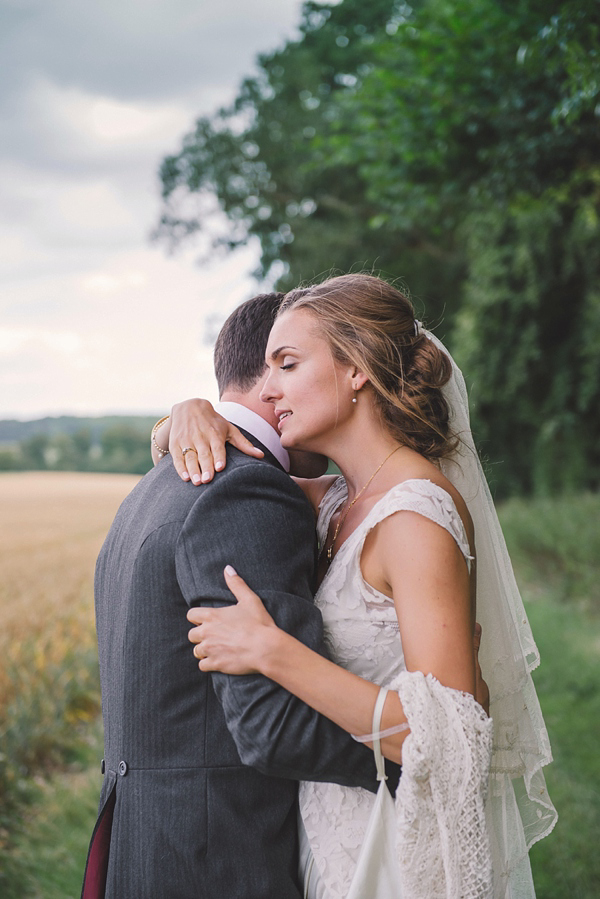 "The DIY photobooth made use of the summer house in the garden and was filled with props and fairy lights."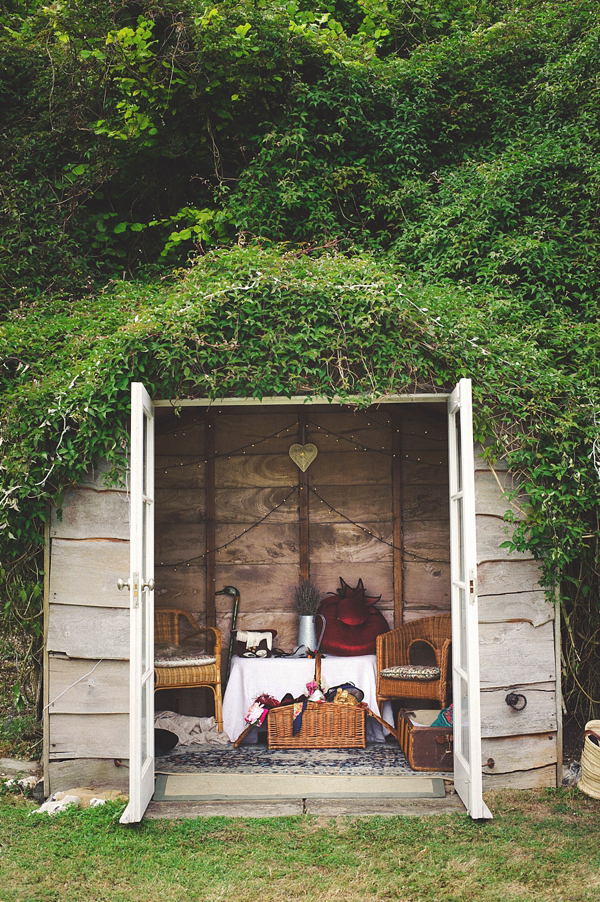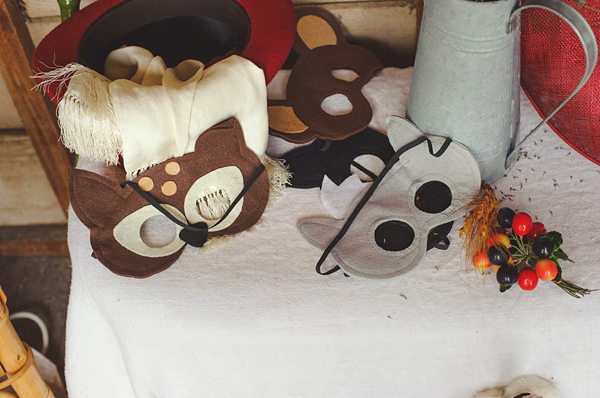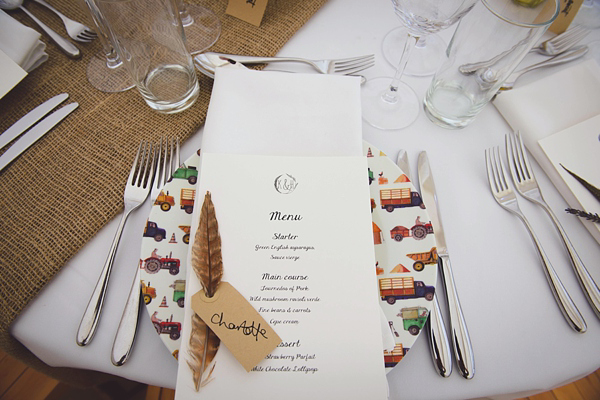 "We hired Jessie-Thomson for a one month coordiation to help up bring together all the finer details. As the Bridal party were getting ready elsewhere (Danesfield House),
it was important for me to feel as though Henry's Parents had someone
they could speak to about any last minute details on the day. 
Jessie
also suggested a 'teddy bears' picnic' for the children, with Henry's
mum and the caterer loaning blankets, teddies and giant animals!"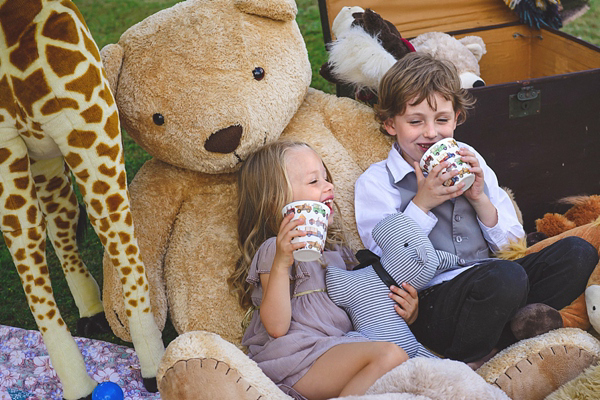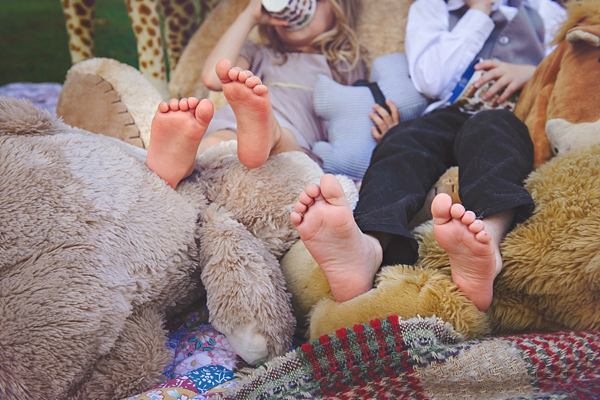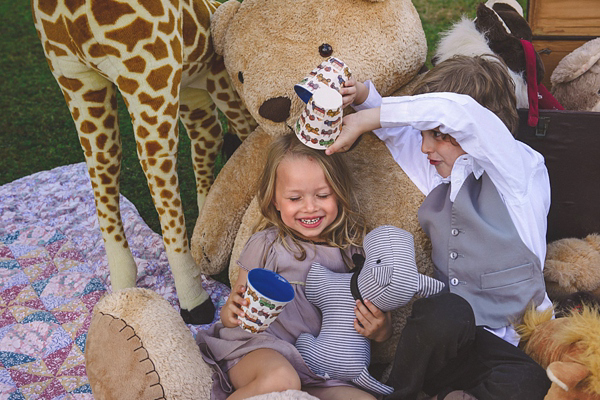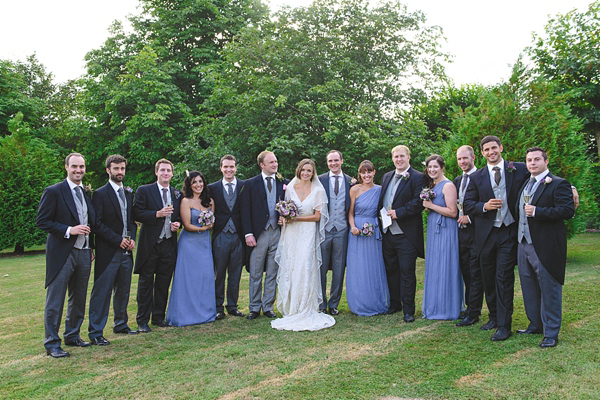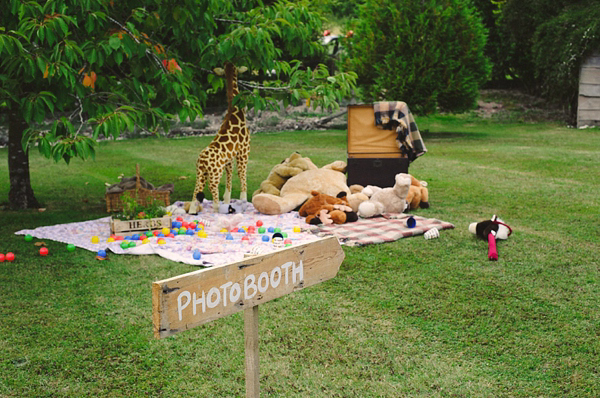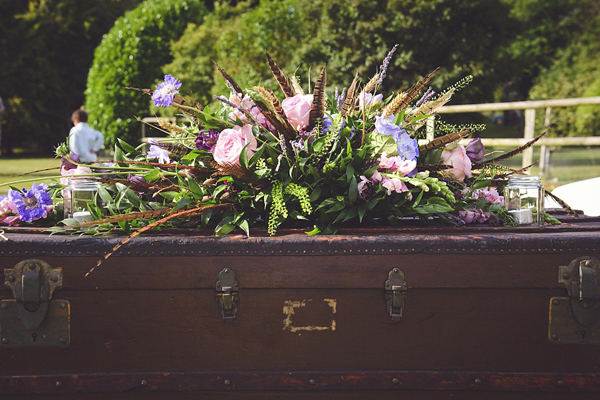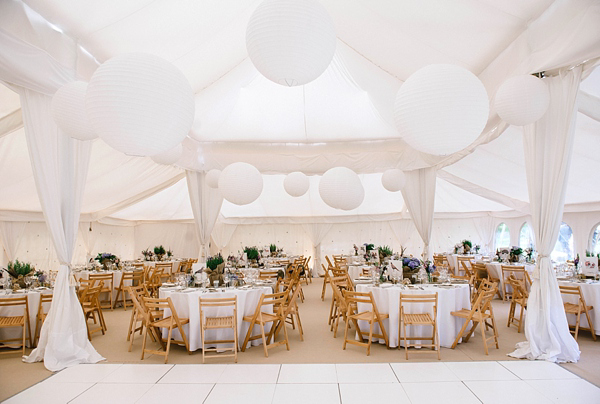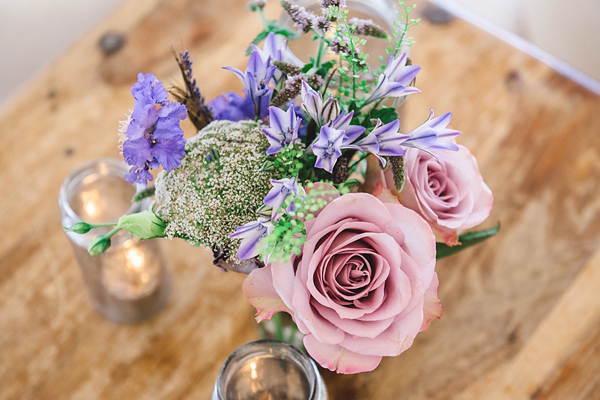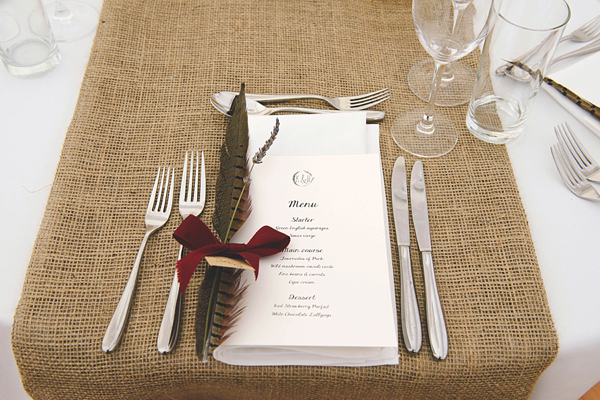 "Our favours were homemade honey from the local Beekeeper down the
road in Watlington. We made little labels with 'Love is Sweet' ordered
from Papersushi on Etsy."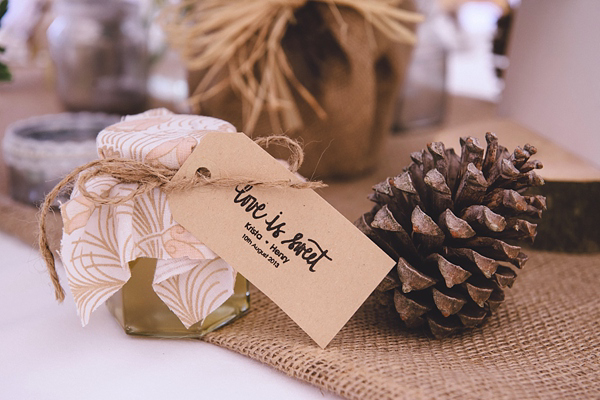 "Our caterers were Valley Events
– we chose them because they also run the pub by the church in Fingest
and are family friends but we were blown away with how delicious the
food was. We were so impressed and would recommend them to everyone!"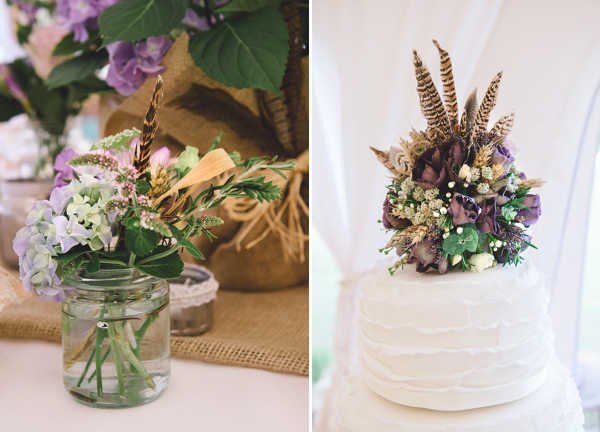 "We had a three tier cake from The Dessert Deli – it had fruit on top, vanilla sponge in the middle and chocolate on the bottom"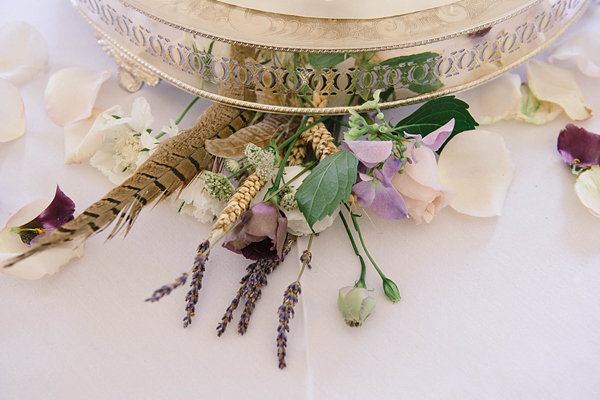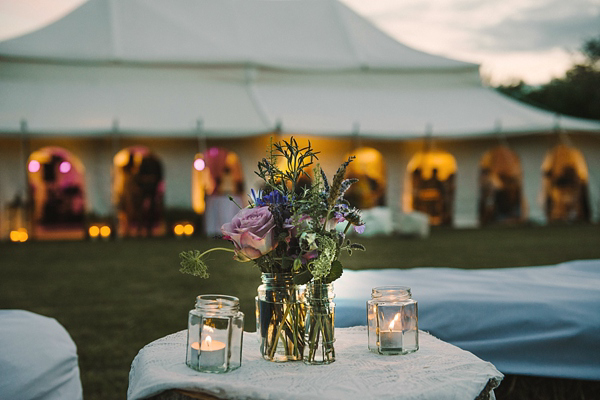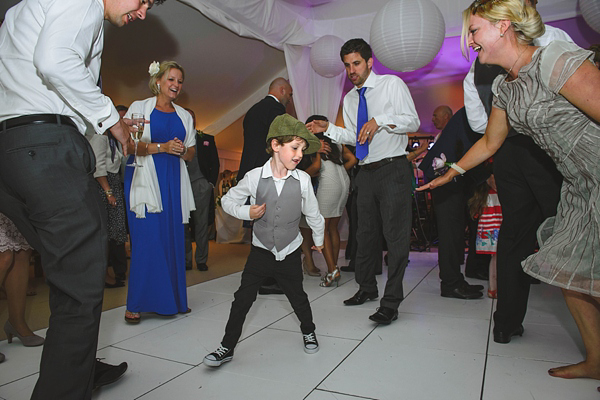 Words of Wedded Wisdom…
"Do as much as you can before it gets
too late. All the decorations, stationery etc on the big day can all be
done long before the big rush at the end. So just try to organise as
much as you can beforehand and allow the lead up and take the day before
the wedding to relax, spoil yourself and just unwind
There were so many favourite parts of the day for me, like
arriving at the church, looking at Henry as we said our vows together –
my brothers speech, standing back and observing everyone dancing in the
tent and just feeling incredibly happy that we had brought everyone
together to have such an amazing day."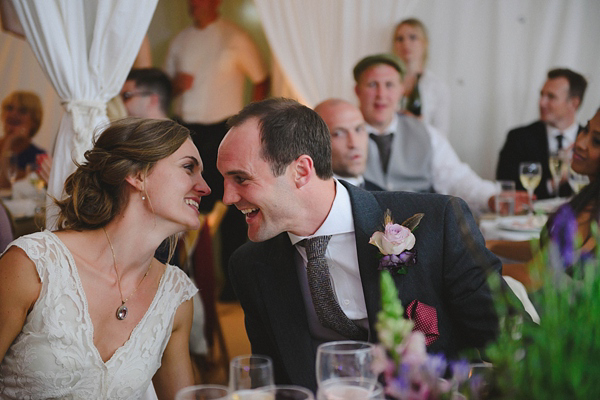 Such a beautiful day, so Downton elegant!  Huge thanks to Julie Skelton for sharing these beautiful photographs, and congratulations to Henry and Krista.
You can see more brides wearing Jane Bourvis dresses here on Love My Dress.
With much love,
Annabel

Photographer – Julie Skelton
Wedding Planner/Stylist – Jessie-Thomson
Venue – The groom's parents farm
Wedding Dress + Veil – Jane Bourvis
Brides' shoes – Jimmy Choo
Bridesmaids – Amsale (in 'slate'), via Luellas boudoir in Wimbledon
Flowergirls – I Love Gorgeous
Page Boys – Moss Bros
Flowers – Joanna Carter
Cake – The Dessert Deli
Transport – 1920's car via Pageant Chauffeur
Entertainment – Down For The Count
Favours – Local honey with jar labels from Papersushi on Etsy
Rings – Wedding Rings Workshop, Hatton Gardens
Catering – Valley Events
Stationery – Bridges and Eggs
Hair Stylist – Love Hair