I've been chomping on the proverbial bit to feature these exquisite images ever since photographer Camilla Arnhold sent me a very excited late-night email.  'I just shot the most amaaaaazing wedding', she said, 'you should see the bride, and pumpkins and the flower crown and the venue and the dress – the dress!!'.  Putting my 'you need to be getting to bed now' sensibilities aside, I clicked through to some of the images and talk about a genuine WOW moment when I was I met with this colour explosion of floral beauty and smiles! 
Photography Copyright (c) 2013, Camilla Arnhold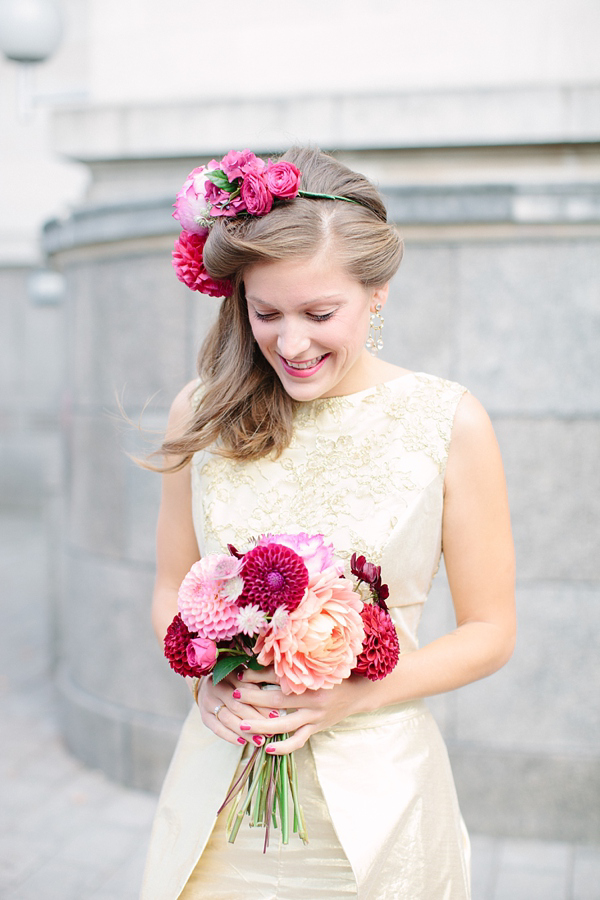 Artist Candida married her Doctor husband, Tom, on 4th October 2013 at Islington Town Hall. The wedding ceremony was followed by a reception at London Canal Museum at Kings Cross.  I've never seen a gold
wedding dress, or is that a trouser dress, like this in my life and
hugely admire Candida for going against the grain and wearing something
so personal to her.  The masterpiece of a dahlia flower crown was created by those amazing people over at The Flower Appreciation Society – there's floral magic and conjury going on there, I swear!
Candida tell us about this beautifully bright, colourful, quirky, fun and eclectic London wedding…

"We didn't have a theme, or rather the theme was things we like and thought were fun and would make a good party.  We
really wanted to mix a sense of London (I grew up in london) with the
more
exotic (Tom grew up in Dubai) and also make a nod to the year in Italy –
so we had English cream teas on the boat and then Italian apperitivo at
the drinks reception and then a Moroccan buffet for dinner followed by
ice cream!"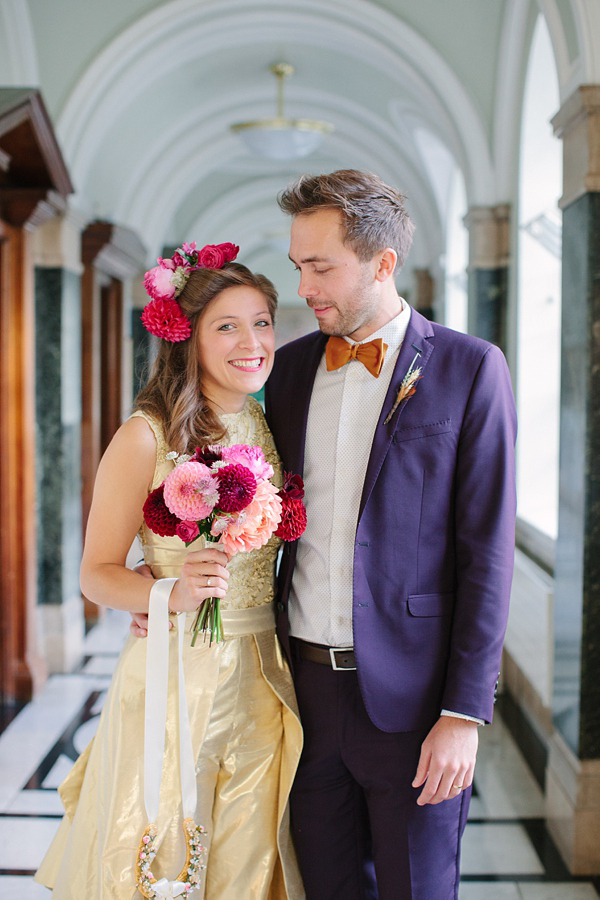 "Tom and I met in halls of residence, in our first year at university,
during a fire alarm of all things!  That was about 8 years ago. Tom proposed in September 2012, just before I left for a years artist
residency in Rome, Italy. We were going to St. Johns Restaurant for
dinner but Tom came home from work wearing a 3 piece suit and proposed
on our balcony – I was wearing a dressing gown and had wet hair!"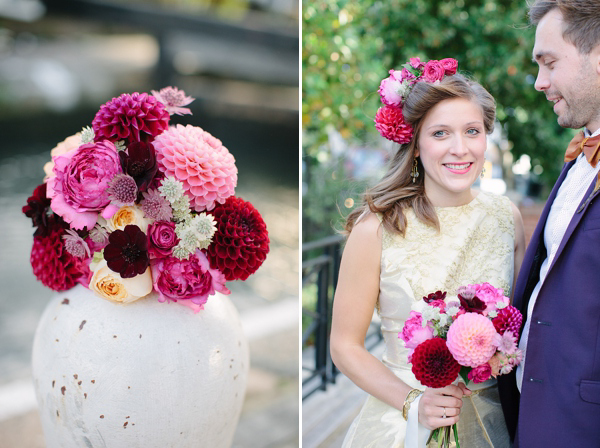 "I didn't wear a veil, but instead a beautiful floral headpiece that was made by our Florist, The Flower Appreciation Society.  We chose The Flower Appreciation Society because of their wild and beautiful style, plus
their pretty swan vases and amazing floral head pieces.
We particularly
loved that they didn't ask us to specify particular flowers, neither of
us know that much about flowers so we just told them what colours and
the type of wedding we were having and they did a fantastic job!"
"My bridesmaids all wore dresses handmade by me, using a vintage dress pattern that I picked up on EBay. They also wore vintage brooches, also found on EBay.
Each
bridesmaid was given an individual gift. They are all really different
with different styles so I found things to reflect them, all based
around pearls, either earrings or bracelets. Some of them white pearls
some of them dyed. Each found in Italy or John Lewis."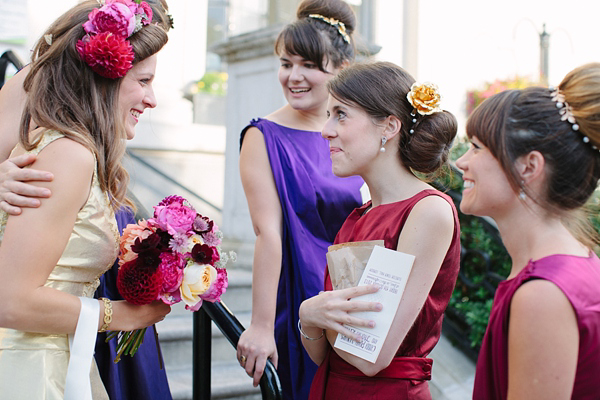 "My Mum handmade my wedding dress – it was an amalgamation of lots
of shapes we had seen but mostly from Italian designers. I didn't want a
white or ivory dress, mainly because I love colour and always wear lots
of clashing colours. We decided on gold from a medley of fabrics we
found in Soho because it was the most luscious and special. I really like over the top and dramatic things and I hope the dress reflected
this!
Seeing Tom's face when he first saw me and the dress was probably
my favourite moment all day."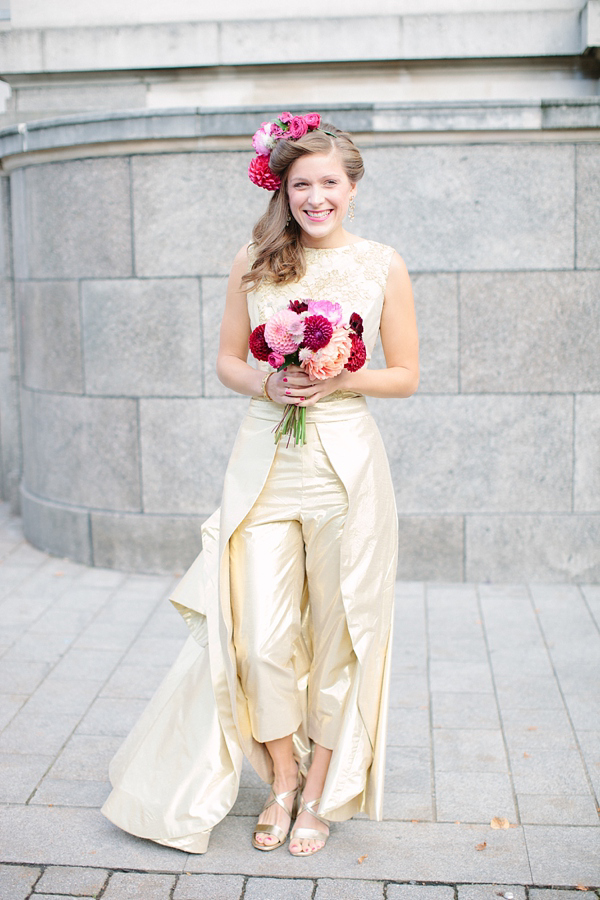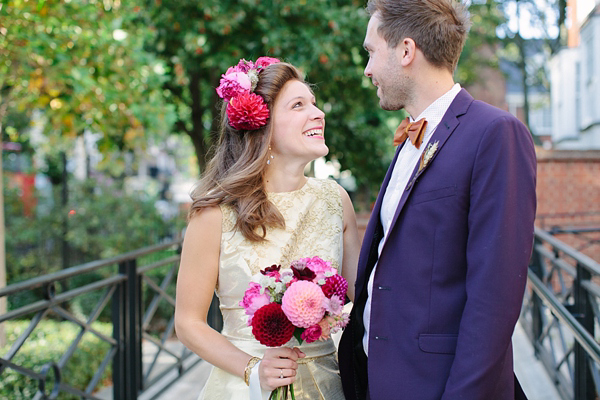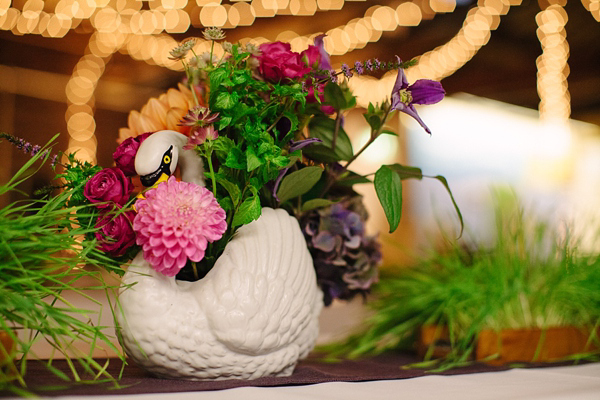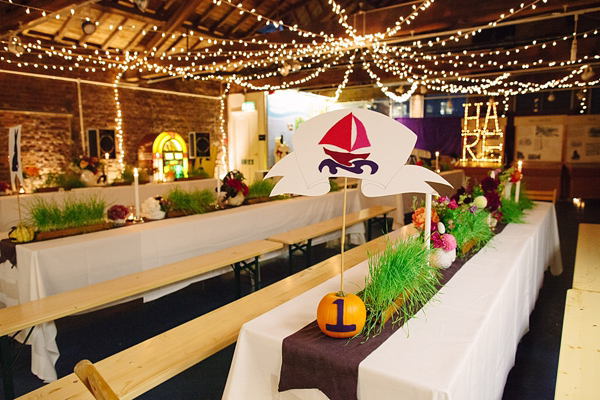 "Our marriage took place at Islington Town Hall Council Chamber
because we wanted a non religious ceremony but in a beautiful building
with a sense of occasion. The council chamber is stunning.
We then took
a boat, 'My Fair Lady', between Islington and Kings Cross, because it was
a fun way of transporting all the guests and took a nice route through our
favourite part of London."
"We wanted to included our very talented and generous friends as
much as possible. So chris played the accordion and guitar on the boat.
Annie, one of the bridesmaids sang for us and Stephen played a set to get
everyone dancing. After that it was a jukebox supplied by Robin Rowe,
this was his last job before retiring."
"My earrings were my 'something borrowed' from my mother. I
usually wear my grandfathers signet ring as he had the same initials as
me, but one of bridesmaids wore it for me.  I also had a horseshoe my great grandmother had at her wedding.
I had a bridal makeup lesson at Bobby Brown and did my own make
up on the day. My hair was done by a lovely hairdresser, Lexy from
Headmasters Soho, and she put the flowers in so well, plus my hair
didn't move all day!"
"We designed all our wedding stationery ourselves. The invites were riso printed by Hato Press.
Everything else was done on our home printer! Our favourite thing was
the paper bags to hold the confetti and order of sevice which had a map
of the walk between the town hall and boat printed on it."
"We chose London Canal Museum
at Kings Cross as the venue for our reception because it is an
interesting venue, unusual and has lots to look at.  We are very fond of
North London and the museum holds a fascinating bit of London history
and is also really good value for money.  We could also do pretty much
whatever we wanted with the space. As a bonus it had been an ice house
for the first Italian ice cream brought to the UK, and we had been living
in Italy eating lots of gelato!"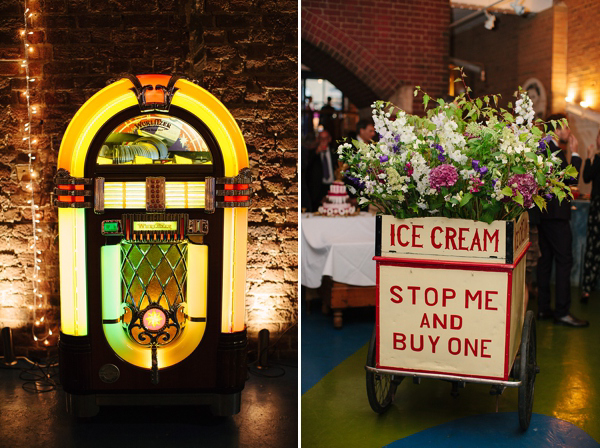 "As I'm an artist I got a bit carried away and even though the venue
has so much interesting stuff already we ended up making tons of stuff! 
Homemade light up signs spelling 'hare and bar', plus a sign spelling
'monkey'. Pumpkin lanterns, bunting and paper chains, home grown boxes
of grass for the tables, homemade props for the photo booth, flags for
the town hall to boat walk and more!"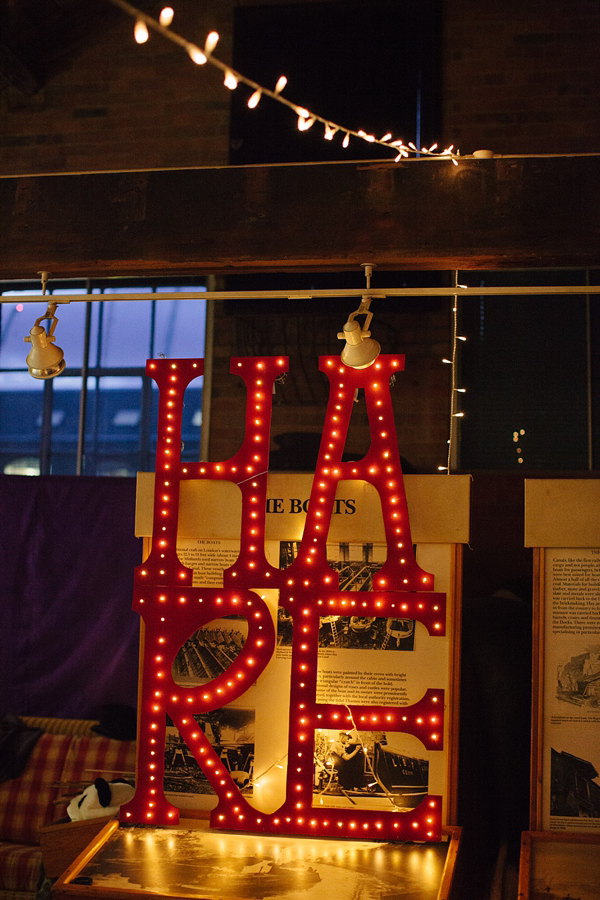 "We used our tattoos as inspiration for some of the decorations.  Tom
has a monkey and I have a hare tattoo. It was also Autumn, so we had
pumpkins too!  We are both a bit whimsical so wanted a kind of romantic
garden feel to the surreal london museum, so we decided to have grass
growing on the tables, swans swimming and pumpkins. Also
a wild meadow sprouting out of the vintage ice cream tricycle and
painted pumpkin vases."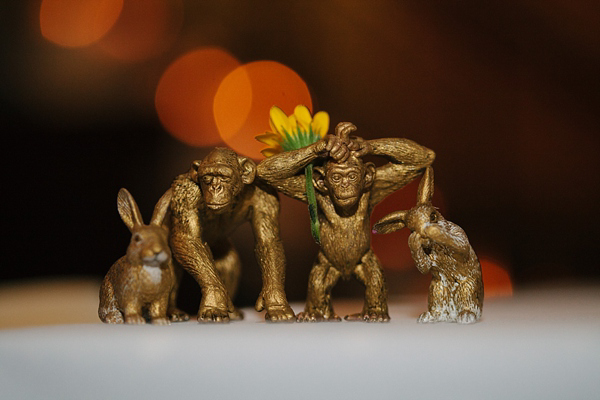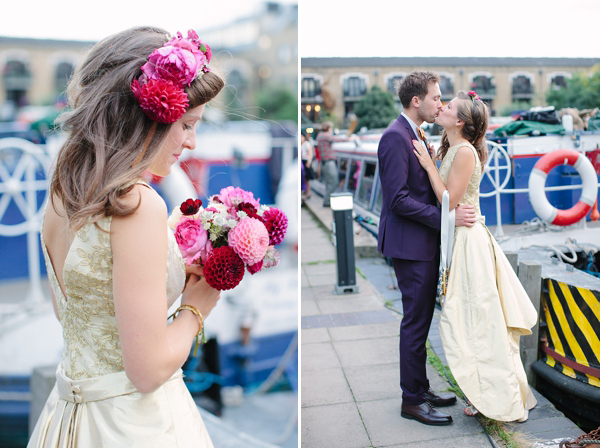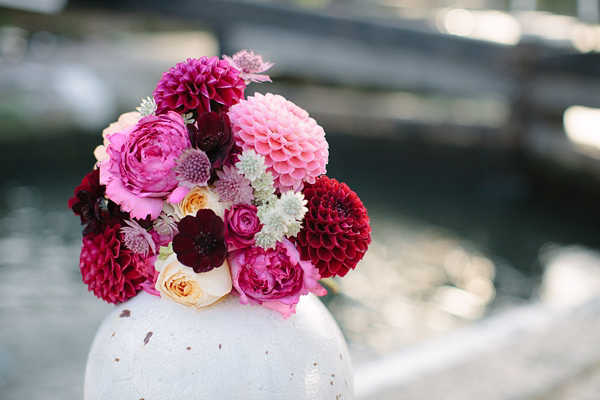 "The amazing and brilliant Camilla Arnhold
was our photographer! She was recommended to us by a friend. She was
really lovely, warm and friendly, we barely noticed her taking photos,
but a real pleasure to have around when we did!  And the photos are
beautiful, she did a really excellent job capturing all the beautiful
colours which were so important to us!
We are both a bit camera shy and
didn't want to spend hours having couple shots and missing the party but
Camilla managed to get some wonderful photos of us and all our guests."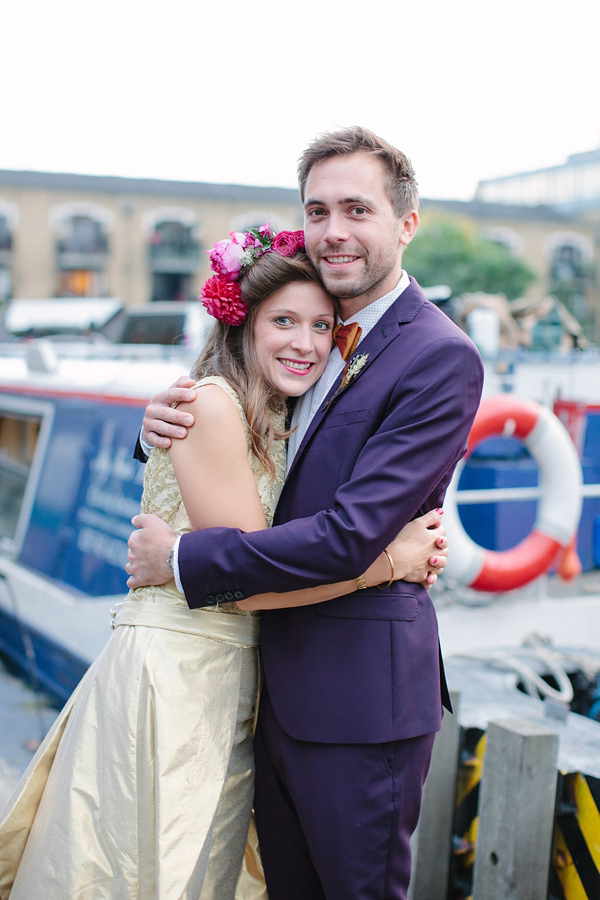 "All the groomsmen wore bow ties that matched one of the bridesmaids
dresses, and homemade buttonholes of feathers and barley.  All wore
matching polka dot shirts."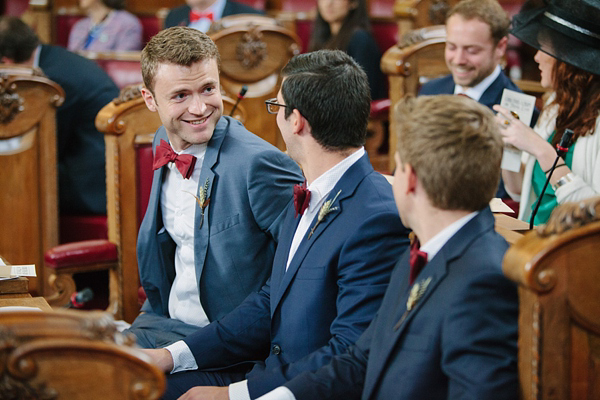 "I walked down the aisle by myself, my parents went in front and my
four bridesmaids behind me.  The song 'Everybody's Free (to feel good)'
by Quindon Tarvor played as I entered the ceremony room."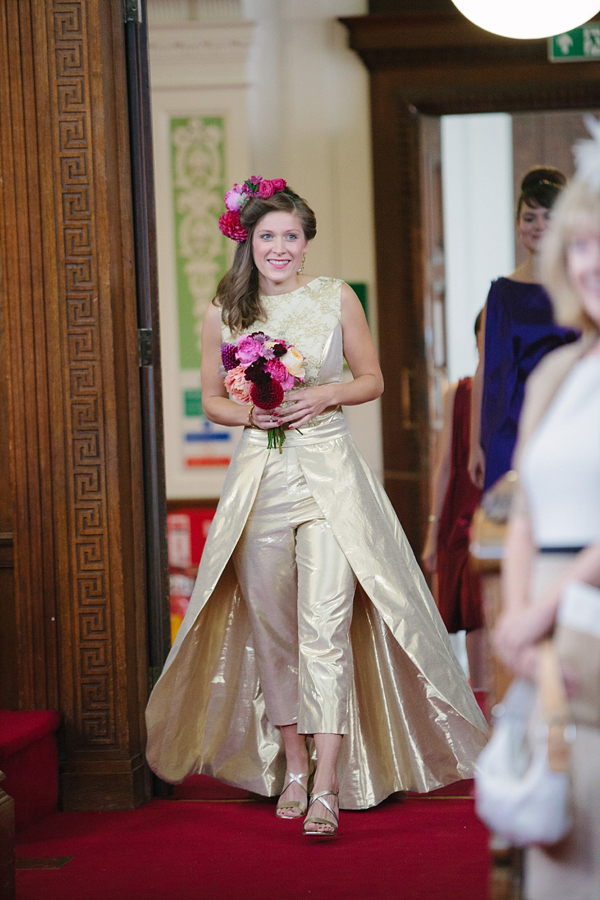 "One
of best friends read 'Some Trees' by John Ashbury.  Tom's mum read a
quote by Einstein, which we liked because of its reference to science
but the impossibility of logic.
My mum also adapted a poem and we asked all our guests to sing 'All You Need Is Love' by the Beatles ,which was great fun!"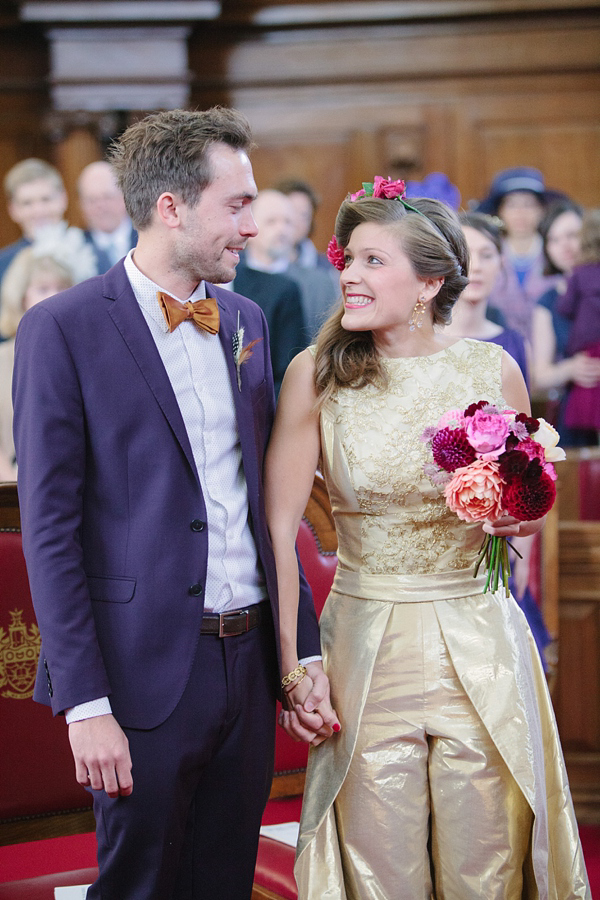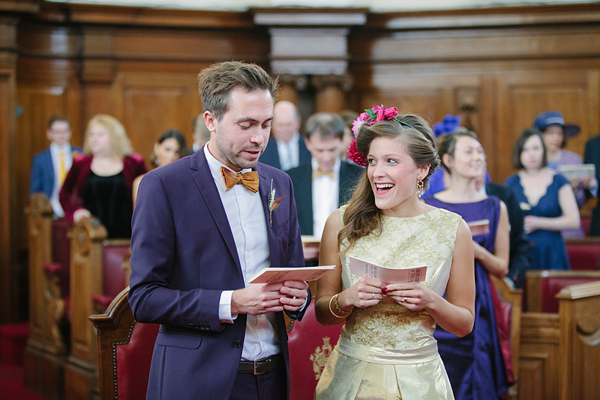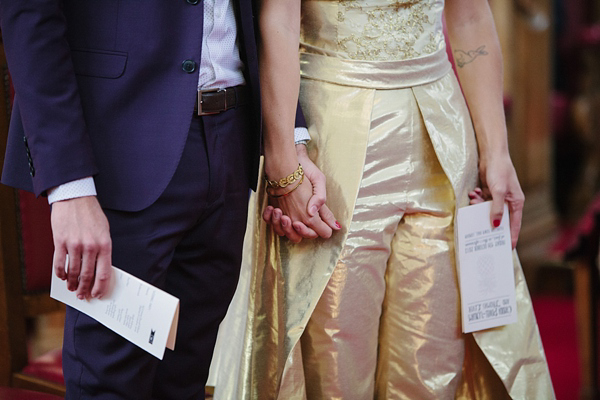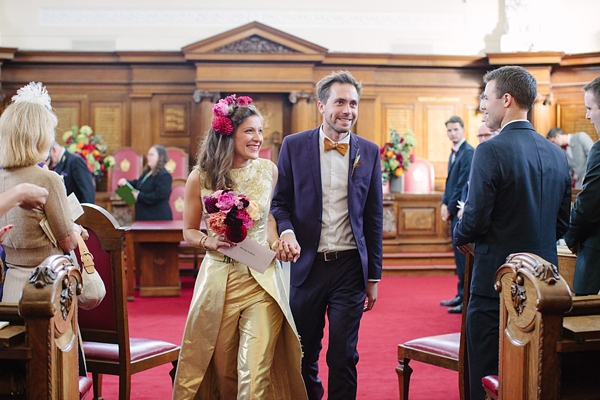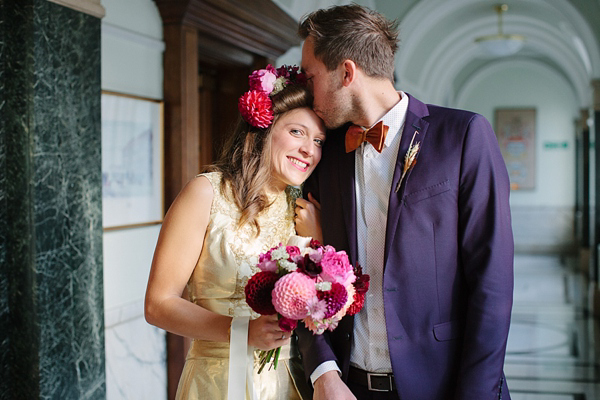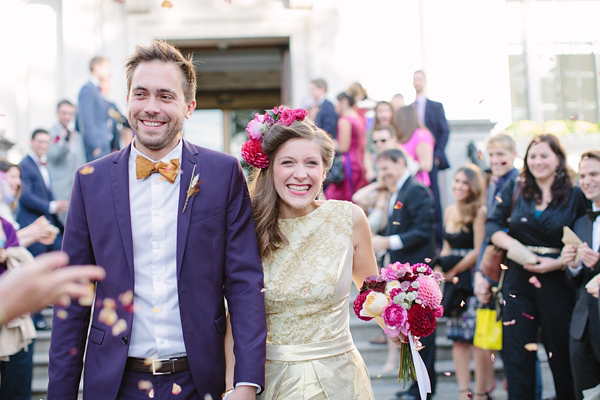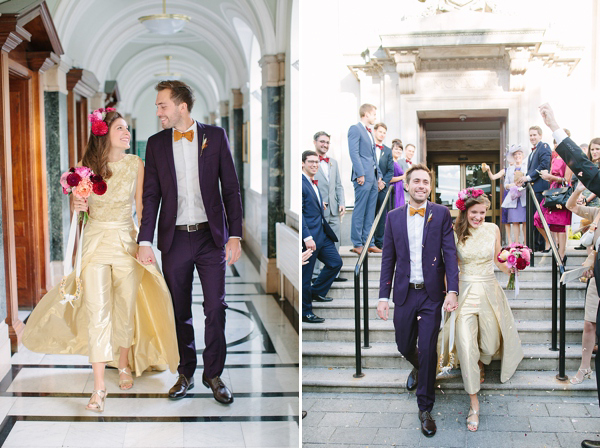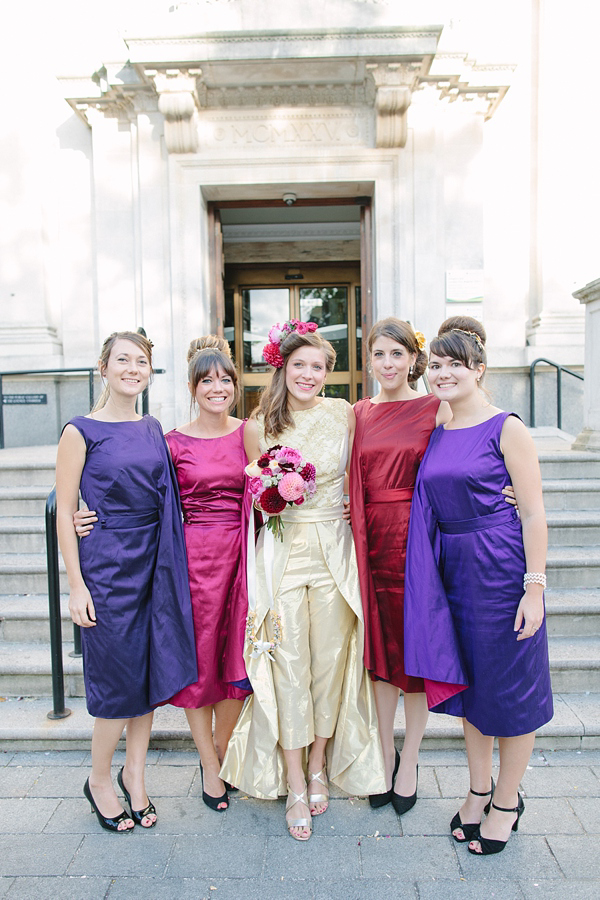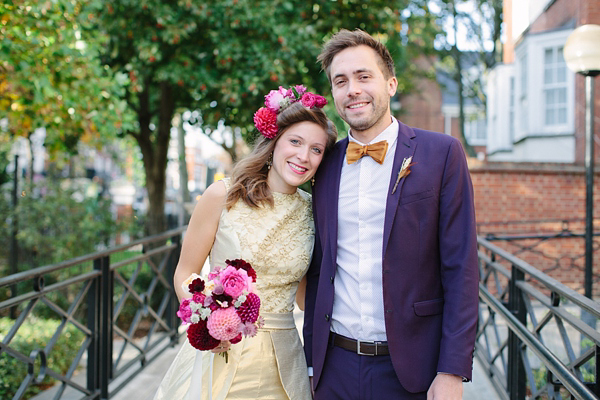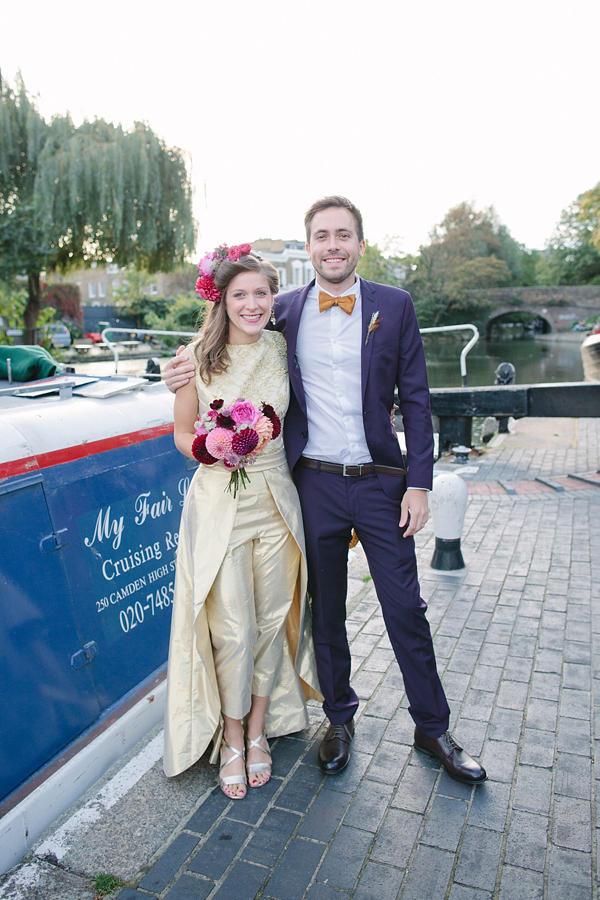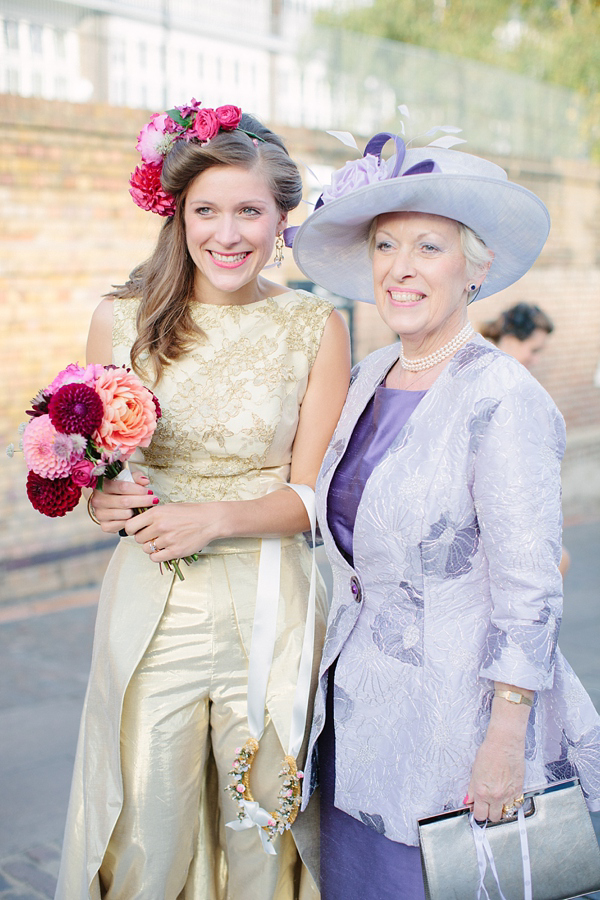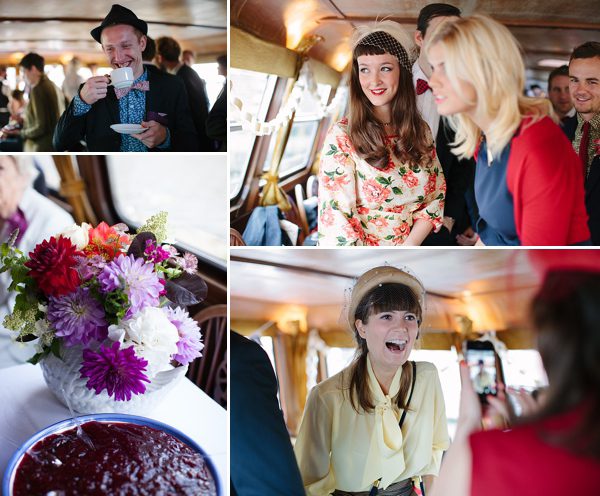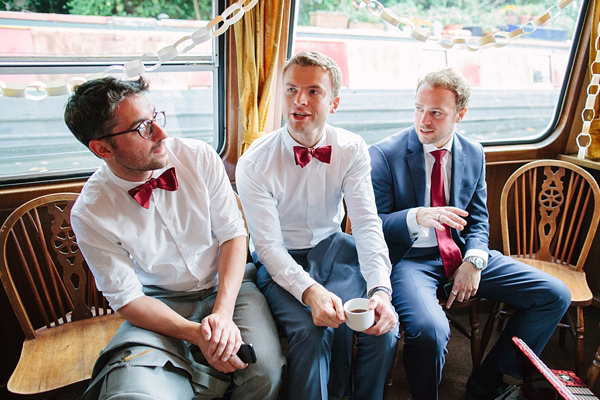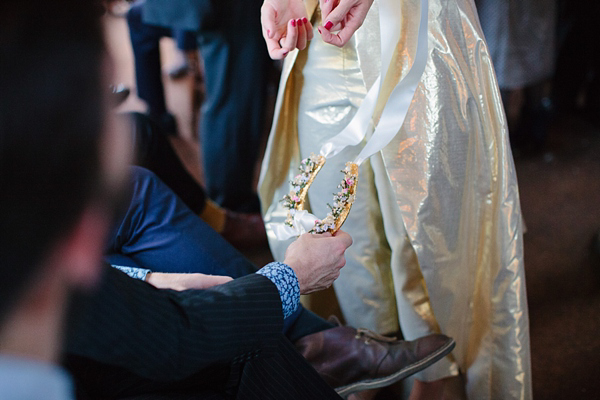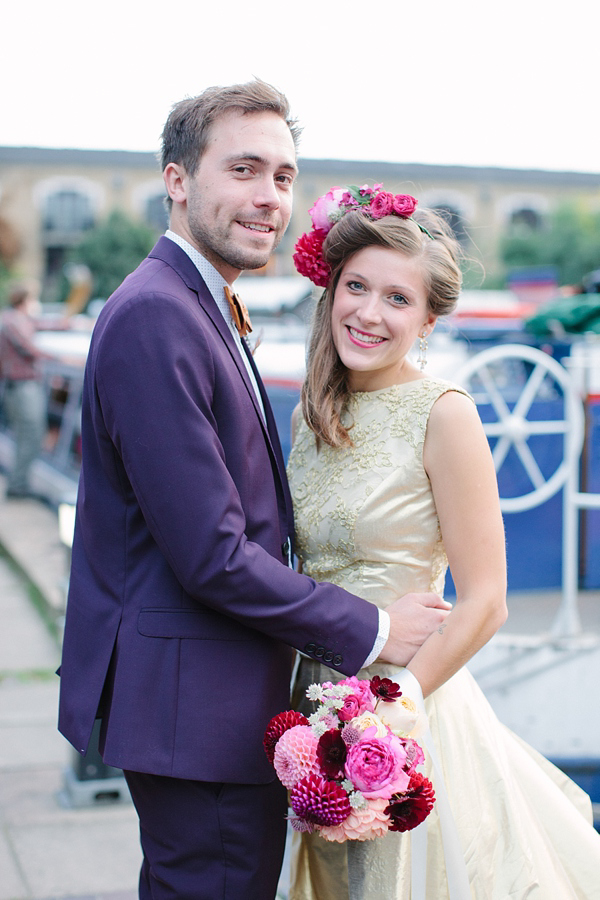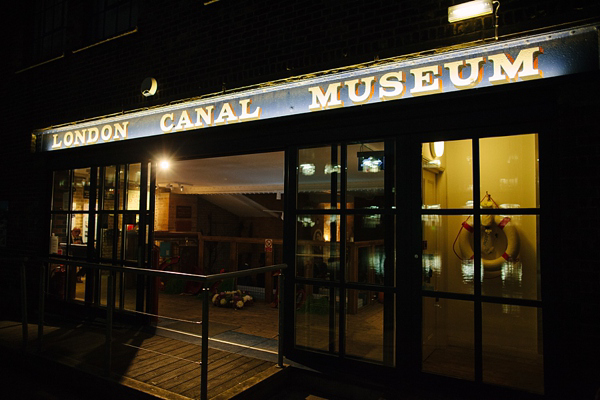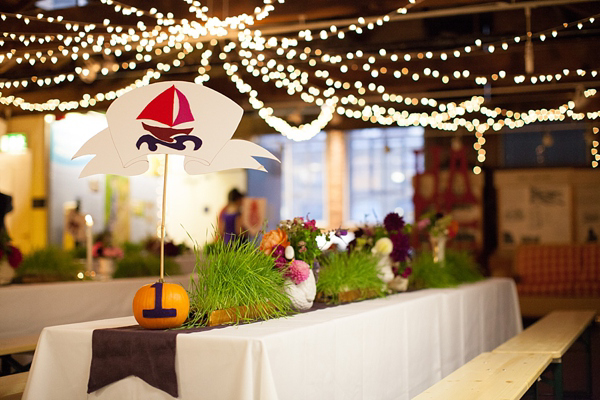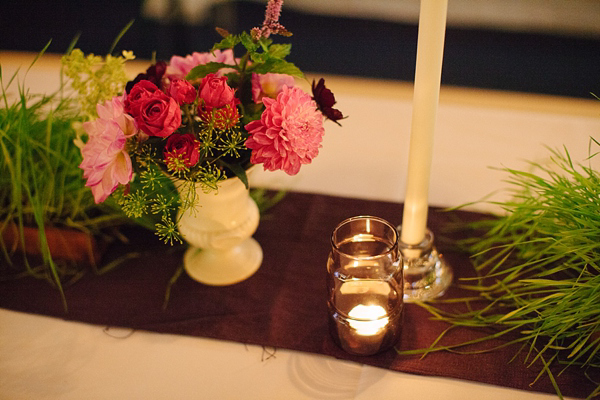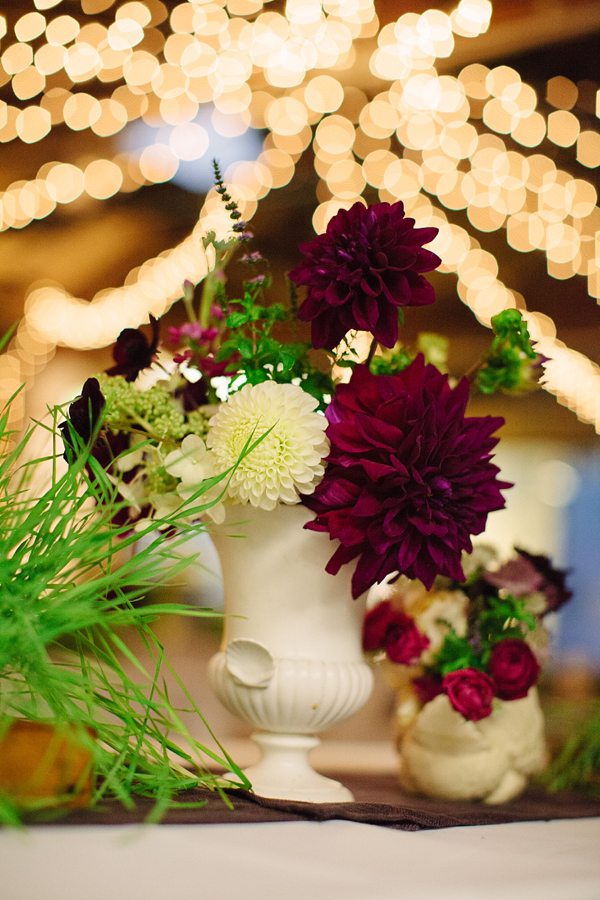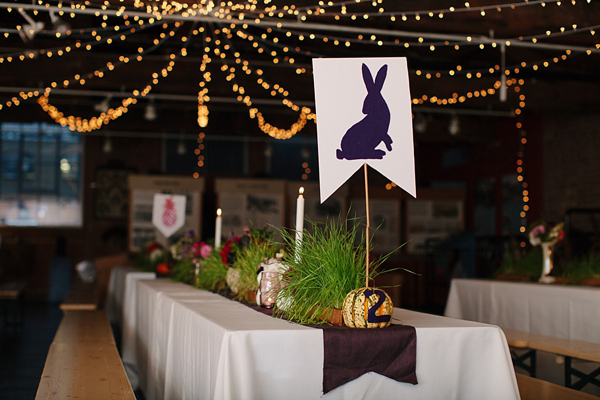 "Tom cooked all the tagines for the main course Moroccan buffet!
Daisy MacDonald cooked and prepared all the other food, which included
delicious Italian style canapés and lovely Moroccan side dishes. Tom's
mum made 150 scones for the boat trip!"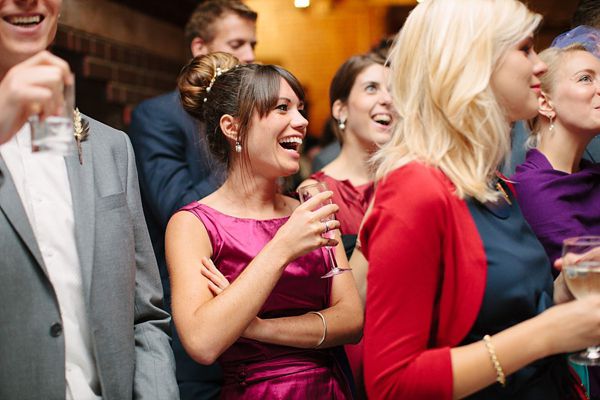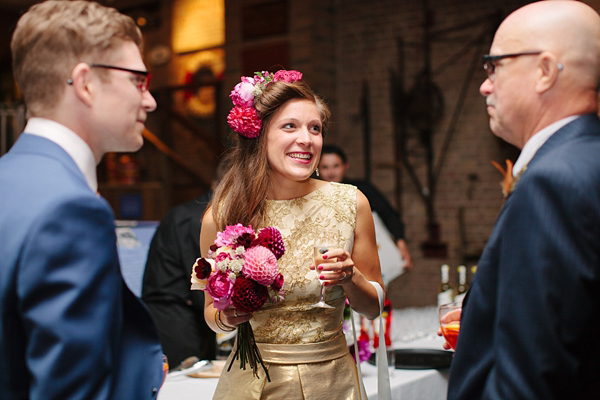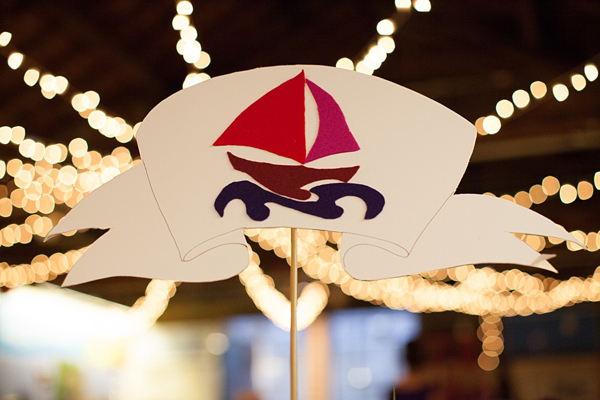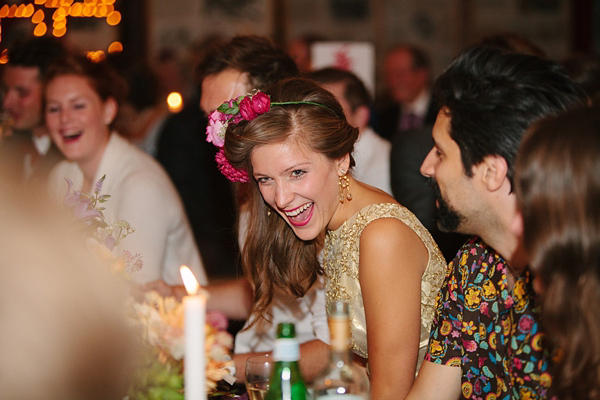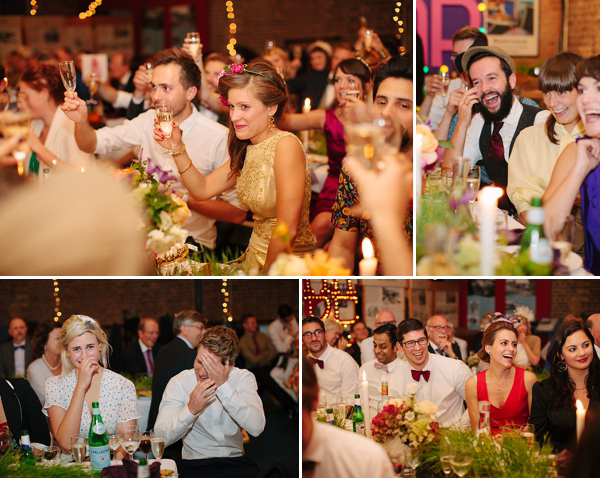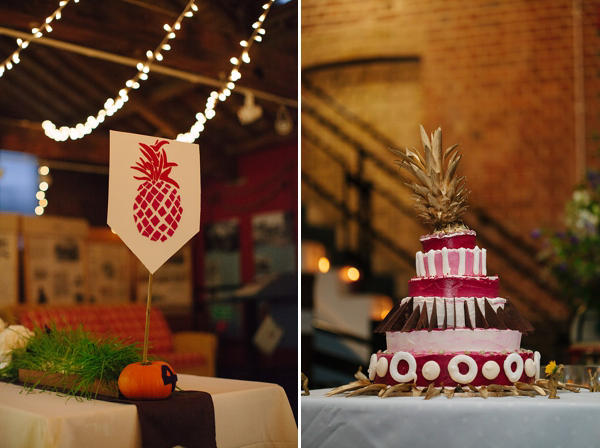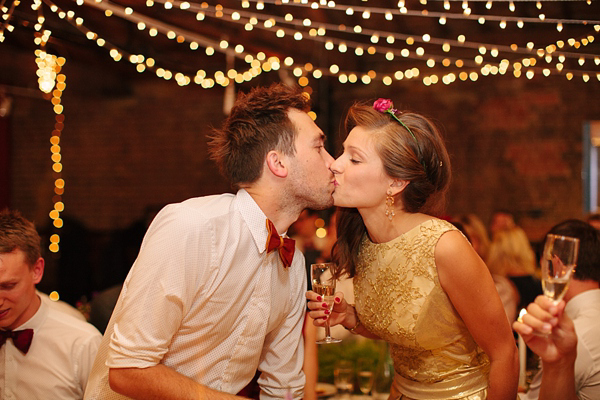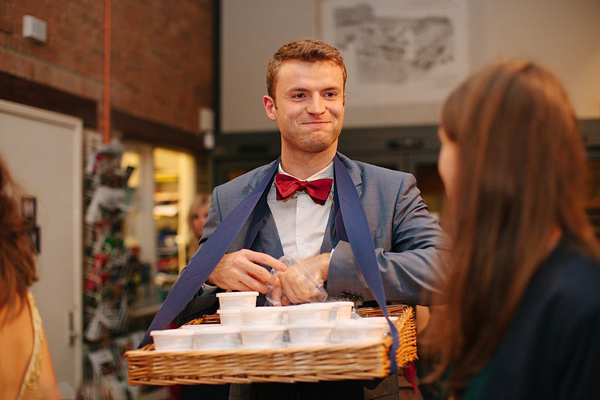 "Tom says 'you know someone's going to a party if they are carrying a
pineapple', plus they are a great sculptural shape so they featured
heavily, on the invite and all the stationery, and the cake!
Daisy MacDonald made the cake, we wanted a pineapple on the top and
lots of geometric shapes with lots of colour and for it to look really
fun. We looked at other cakes together with her and she made a brilliant
cake based on - she did this as a favour."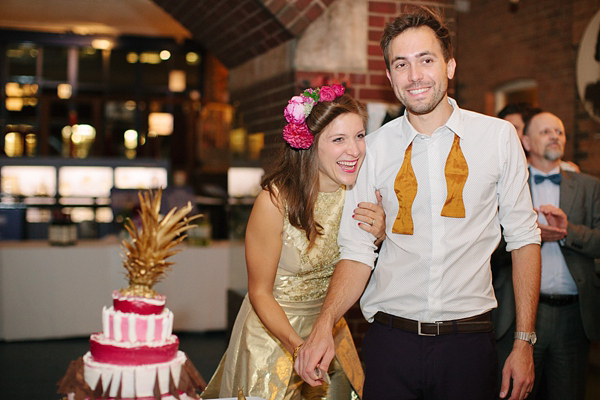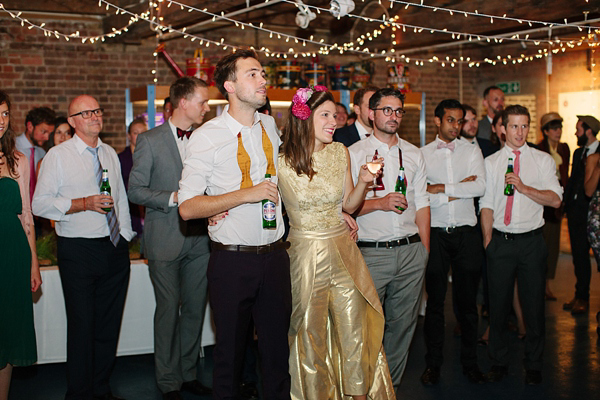 "For our first dance, our friend Stephen played and sang a version of 'Because The Night' by Patti Smith.
We chose this because it was originally written by Bruce Springsteen
(Tom's favourite) and then made famous by Patti Smith (my favourite). Tom danced like Bruce!"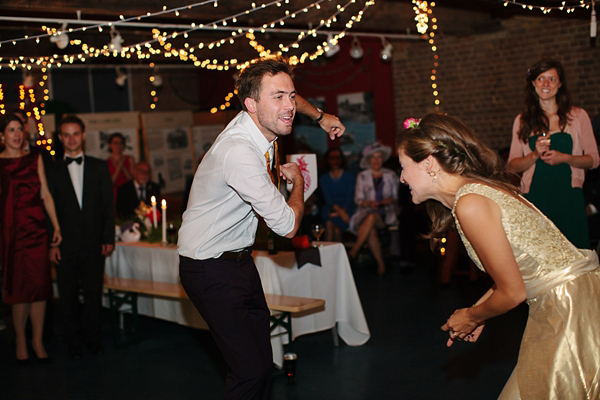 Words of Wedded Wisdom… 
"If you are doing it DIY then hire an on the day co-ordinator.
Ours was amazing and we couldn't have pulled it off without her, (she was a
friend of my mum's and someone I used to waitress for years ago). 
Involve your friends in all the fun stuff. Having the song in the
ceremony made everyone feel a part of it. We had a lot of fun in the
week leading up to it, with friends and family stopping by to help make
bunting, paper chains, chop buttnernut squash, sew on buttons, cut out
photo booth masks, pin hems and much more!
And, I would try on a lot of dresses before starting to make my own! 
Finally, Love My Dress
was one of my favourite blogs – I liked how Love My Dress focused
on British weddings and how it features more interesting weddings than
many of the others."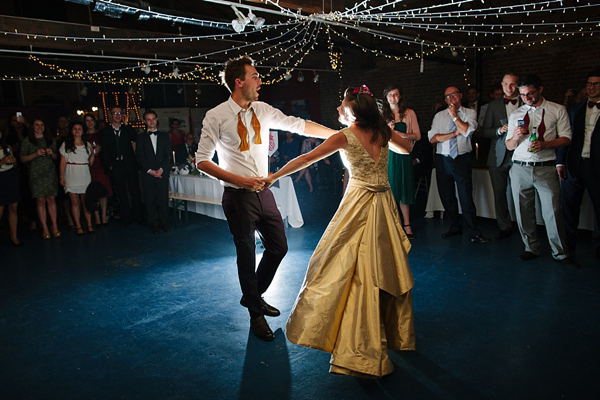 What an incredible wedding – it makes such a personal statement about this couple, I adore that so much of it was 'DIY', that the bride and groom had so much of a part to play in the decor, little details and all the cuisine!  Huge congratulations to you Candida and Tom and huge thanks to Camilla Arnhold for sharing your work and for your enthusiasm too – I need more late night emails like that please!
So, who might be considering going non-white and wearing a gold wedding dress, and who else might be brave enough to show-off a statement flower crown like this one?
What's your favourite aspect of this wedding?
With much love,
Annabel

Photographer – Camilla Arnhold
Venue – Islington Town Hall + London Canal Museum at Kings Cross
Wedding Dress – hand crafted by the bride's mum
Veil/Headpiece – dahlia flower crown by The Flower Appreciation Society
Brides' shoes – found in Italy    
Bride's accessories – family/heirloom
Grooms Suit – A purple 'Camden' suit via Ben Sherman + bow tie/buttonhole made by the bride + polka dot shirt from Uniqlo
Flowers – The Flower Appreciation Society
Cake – made by a friend
Catering – mostly a Moroccan cuisine cooked by the groom
Stationery – the bride and groom
Hair Stylist – Lexy from Headmasters Soho
Fairylight Hire – Party Lights