Morning beautiful one, be prepared for your morning to be interrupted by a huge big dose of colour, by way of the most bright, creative and fun wedding of Katie and Ben, who tied the knot on Thursday 11th April 2013 at Cowley Manor in Cowley, near Cheltenham.
"Ben and I have quite similar style, we like colourful and
slightly quirky or a little detail. We wanted the wedding to be a
reflection of what we like and use the opportunity to be creative. We
love bright pinks, oranges and blues – they're in our house, garden and
wardrobes and so they were the colours we went for.
We didn't want a theme but wanted a style for the day and getting
our invitations designed early on helped to set that style. We
wanted a party, a real celebration with no formalities and for everyone
to relax and have fun and enjoy being together." 
Photography Copyright (c) 2013, Nova Photography
"I bought my shoes from Kate Spade
(my favourite designer, really colourful and fun) as soon as we got
engaged as I'd had my eye on them for a while. They were sparkly with
gold and coloured glitter, I loved them and knew I wanted a shorter
dress so that you could see them (a full length dress has never suited
me)."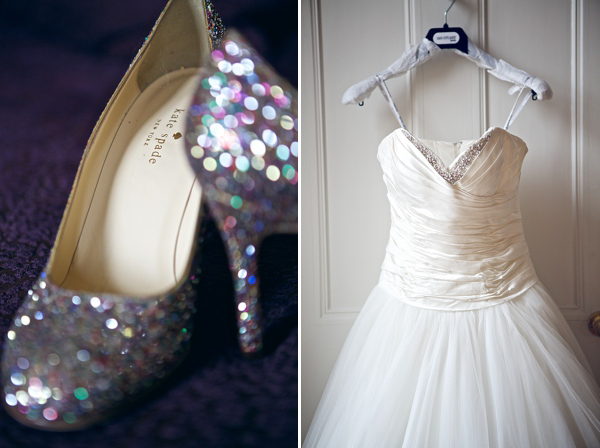 "Donna Beaver from The Flower Studio
in Cheltenham was our florist.  I found her when I was looking for
someone to do the flowers for my Dad's funeral. I knew what I wanted and
needed to find someone to do it just the way I pictured it, they needed
to be quite colourful and relaxed, not traditional at all. It was
really upsetting I and had to organise it all so quickly just before
Christmas Eve. Donna was amazing – so calm and thoughtful.
She
knew exactly what I wanted and created the most beautiful arrangements. I
promised her I would come back to her for my wedding flowers – we joked
that I wasn't actually engaged when I said it. 
I didn't want to spend a big budget on
flowers and Donna was great at helping to achieve what we wanted without
spending a fortune. It was so exciting when she arrived on the day with
all of the flowers, lovely to see her on the day and see all the effort
she'd put into everything."
"Ben and I met through friends around fifteen years ago. I stayed
in touch with a friend of his, Emmeline, and years later at her birthday
party, Ben and I met again. It was a slow burning romance, Ben asked me
out a lot. But it was worth the wait and we know each other so well now
and always feel really lucky to be together, we have such a fun time
and Ben's very calm and he's brilliant at making cocktails so he's
perfect for me.
After a difficult 2011 (I had been
ill and lost my cousin and Uncle), we had booked a holiday to Antigua in
December where Ben was going to propose.
We cancelled the holiday
however as my Dad had a heart attack and very sadly died a few weeks
later following surgery.  I really felt I needed some time to recover
after this, so in June 2012, we joined family on a holiday to Annecy. 
We booked a beautiful apartment on the lake so that we had a place to
ourselves."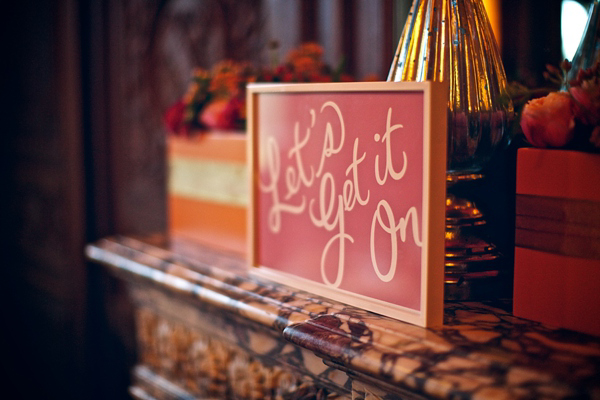 "One evening Ben and I went out for dinner and when we got
back we sat on the jetty over the lake with a bottle of champagne and a
candle (it was very dark!) and we were talking about how lucky we were –
and that's when Ben popped the question.  It was perfect and very
emotional and luckily Ben didn't drop the ring in the lake. (He had been
thinking of proposing while we were on a pedalo which would have been
very funny but risky). It was lovely letting Mum know the next day, she
was over the moon, and then we told Ben's family.
We celebrated for weeks!  We started to talk about how
we might want the wedding to be and although we didn't want to rush it,
we were 35, and I definitely wanted to be married before I was 36!  So
we picked April 2013 which gave us around 9 months to get things
organised. I would have liked a bit longer mostly just to enjoy being
engaged but loved having such a happy occasion to think about and
organise."
"Ben and I are totally addicted to lip balm. It's one of the reasons
I love him so much, he's always got some on him, so even if I've
forgotten mine (or can't find it in my handbag) he's got some. Ben's
name is Chapman so we came up with the idea to have Chapmansticks! I
wrote to Chapstick to let them know what we wanted to do and see if we
could buy directly from them but they don't sell direct but were really
helpful and let me know of somewhere to bulk buy for a good price.
Steve
designed labels and we got them printed by Handy Labels
to exactly the right size. They were easy to wrap around the Chapsticks
and looked great. I've still got lots so we'll have our own lip balms
for a long time (and I can just print more labels so we'll always have
them)."
"I had two bridesmaids, my best friends Suse and Lizzy. They're my
favourite people and always fun to be with. I was bridesmaid for both of
them so it was really special to have them together for my wedding day.
I'd seen a picture of a dress a few months before we got engaged of a
pink and orange Christian Dior dress and thought it would be nice to
recreate it for bridesmaid dresses. I did look at lots of other options
in shops but couldn't find anything we loved as much.
When Suse shared
the news she was pregnant we decided it would be much better to go for
getting a dress made so that however big her bump was it could make it
to fit her perfectly. A family friend, Wendy Stait, made the dresses. It
was harder than I thought to source the materials but it was worth it
and I had one made for me too!
 Our little
bridesmaid was Courtney, my cousin's (who had died the previous year)
daughter. We got her dress in the sale at Monsoon, and Wendy made it
extra special for her with lots of pink additions to the petticoat, hem
and bow. She had pink shoes and a tiara that she'd requested from
Monsoon which the florist added flowers too along with a 'wand' of
flowers, she looked like a princess! (She loved it but it took her a while
to smile though!)"
"A good friend of mine Steve Kelly is a designer
and I love everything he does so asked him to come up with the designs
for our invitations based on some styles I liked. We really liked what
he did and they helped set the style for the day.
Steve was super busy in the run up to the wedding so I posted a job on peopleperhour.com
to design the menus, table names and extras.
Nic Dyde
picked up the job and worked with the artwork
files from Steve. She was brilliant and helped with so many extras and
ideas for the day. We've never met but she was really good to work with,
just wish I'd found her sooner – we would have done so much more!"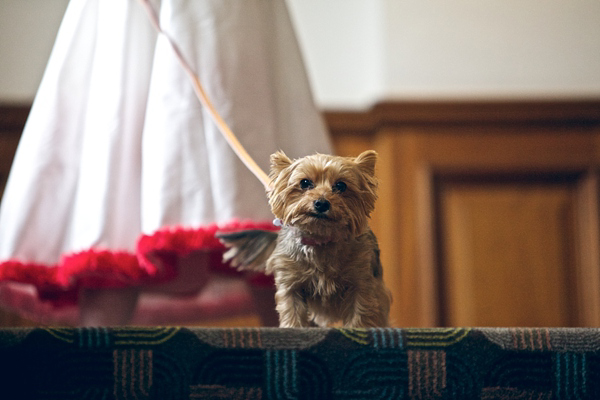 "We didn't add too much as loved the style of Cowley Manor as it
was but we wanted to have reminders of the day that we could always
have so we bought lots of Molton Brown candles to use on the wedding day
so they scented the ceremony and the whole evening. Although they cost
quite a lot they were only burning for around 8 hours on the day, so
we've still got 7 candles with around 40 hours left of each one and
whenever we use them they're a really lovely reminder of our wedding
day. And we'll always be able to get more.
Any
extras that we bought I wanted to be able to use again so that it didn't
feel as though we were spending lots on things that would only get used
once. We had a chalk board that I bought from Homesense and some giant
inflatable swans, and some orange containers that I found for some of
the flowers. We also printed the 'LOVE' from the invitation designs and
had this framed for the day that we have up in the house now. We've also
got all of the table names, that were named after our favourite cocktail
bars that we've been to, these were framed and we'll have these up in
the house soon too."
"My dress was by Ian Stuart.  I
wasn't sure that I wanted a traditional wedding dress. I imagined that I
would buy or have made a knee length white cocktail party dress. But I
wanted the experience of wedding dress shopping and also to get idea of
what would suit me if I did get something made.
I knew that I didn't want to spend lots of money. When I started
to look at dresses I loved the feel of them -  totally different to
anything else you'll ever wear but I didn't see anything that was right
for me so started to feel a bit nervous.
Going dress shopping was great
for getting advice about style and shapes that would be most flattering
and began to get a really good idea of what I wanted but it would need
to be a real wedding dress now so would mean more money! But, I tried on
some Ian Stuart
dresses in Cheltenham, the shape and fit were really good but none of
the dresses were the one for me. Someone suggested a dress of his that
they thought I would like but needed to pay to get a sample in so I
looked for other places I could go to try the dress."
"I was going to
London a few weeks later so tried London Bride Couture
and they had the dress and it was in the sample sale, in my size. But I
wasn't going for a while so I called nearer the time, they still had it
but that weekend it was reduced further just for the weekend so I
bought it. Without seeing it I just thought it was too good to miss. So I
went to London a couple of weeks later to pick it up and try it on for
the first time. I was excited and nervous. I went with one of my
bridesmaids, Lizzy, and we loved it! I was very happy.
It needed
alterations but I took it to Nina Furness Couture
in Cheltenham, she was going to design and make a dress for me if I
hadn't found one but instead was happy to help with the alterations. Her
team are fab and were happy to look after my dress and make the few
alterations that were needed in the few weeks before the wedding."
"So I
found my perfect dress for a third of the price I would have paid for it
and felt very lucky. I loved the dress on the day. It felt amazing, I
didn't have to worry about it or fuss over anything on the day and I
didn't want to take it off.
I like to think it's the sort of dress I
could find an excuse to wear again! And I love my shoes, I'll keep them
forever and hope I'll always find lots of reasons to wear them."
"We chose Nova Photography
because I'd known Katherine from working with her in the past and
although I hadn't seen her for years, when I saw their website I loved
their pictures. So we didn't look at anyone else, I just knew they were
right for us. We wanted the day to feel really relaxed and sociable so
wanted anyone with us and working on the day to fit in with that so they
were really part of the day and everyone felt comfortable. When Ben met
Katherine and Steve he really liked them both and thought they would
fit in perfectly on the day.
We were right, they were fab. They took the
time to really understand how we wanted things on the day and why. We
didn't want signing the register pics and weren't having a cake to cut
etc. And they knew we weren't very confident about having our pictures
taken but that we were also keen that we did have lots as we knew we'd
regret it if we didn't."
"On the day they were great at being everywhere
nudging us to have pictures without feeling as though the day or any
part of it became all about having pictures. We weren't keen on being
away from our guests for too long after the ceremony because we wanted
to see everyone but it was actually nice to take that little bit of time
to ourselves as we'd just got married and were rushing from all the
adrenalin. We said when we wanted to stop to get back to everyone and
after that it was non stop! So we're glad that Katherine and Steve
helped to manage us on the day as we've got such beautiful pictures that
we love and are such a perfect reflection of the day and how we felt.
 Everyone
commented on how great our photographers were and how nice it was to
have informal pictures rather than lots of staged group shots which can
sometimes take away a bit of time from the day. Our videographer, Oliver, also sent a long note after the wedding and said how nice
Katherine and Steve were and good to work with and around on the day –
which must make it so much better for everyone 'working' on the day
enjoy it."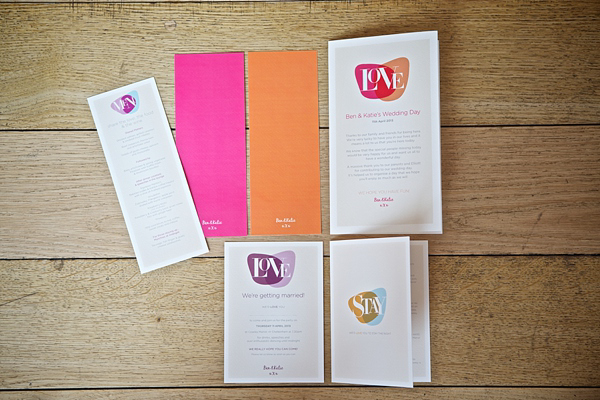 "As I had sparkly shoes and the dress had crystal detail on the
bodice I didn't want any other accessories and I knew I didn't want a
veil, so I just had a vintage style hair slide from Dotty Chic in Cheltenham."
"I had lots of trials with my hairdresser, Dean at Cream in Cheltenham.
It was lots of fun and I enjoyed them all, it was a real treat getting
pampered and on the day I just left him to it and trusted that he'd know
what was right. I didn't want to stress about anything on the day and
just enjoyed every minute of it and knew it was best to trust everyone
to do what they do best, so although I was a bit unsure about the quiff,
once my make up was done and my dress was on I loved it. Dean's my
hairdresser that I always go to so it's nice to see him when I go and
chat about the wedding day.
A friend recommended my makeup artist, Vanessa.  I
arranged a trial at her home which was free, which made such a
difference as the cost of trials can really add up. It was good to do
earlier in the day so that I could see the make up in the daylight and
see how it lasted for most of the day. Ness is really lovely so knew she
would be really nice to have around with the girls when we were getting
ready. There were a couple of things that I wanted to tweak on the day
and Ness was fine, she knew what I wanted and why and I was really happy
with how it looked and lasted. I couldn't believe how some of the pics
looked – totally down to Ness and the photographers! Ness is so calm and
she was great at making sure we were all ready on time.
I'm quite
organised but on the morning of the wedding you want people to manage
you a little to make sure everything comes together on time and everyone
was really good at working together and considering what each person
needed to do, I loved every minute of getting ready, really aware that
it's the only time you'll ever get that much pampering and with your
favourite people."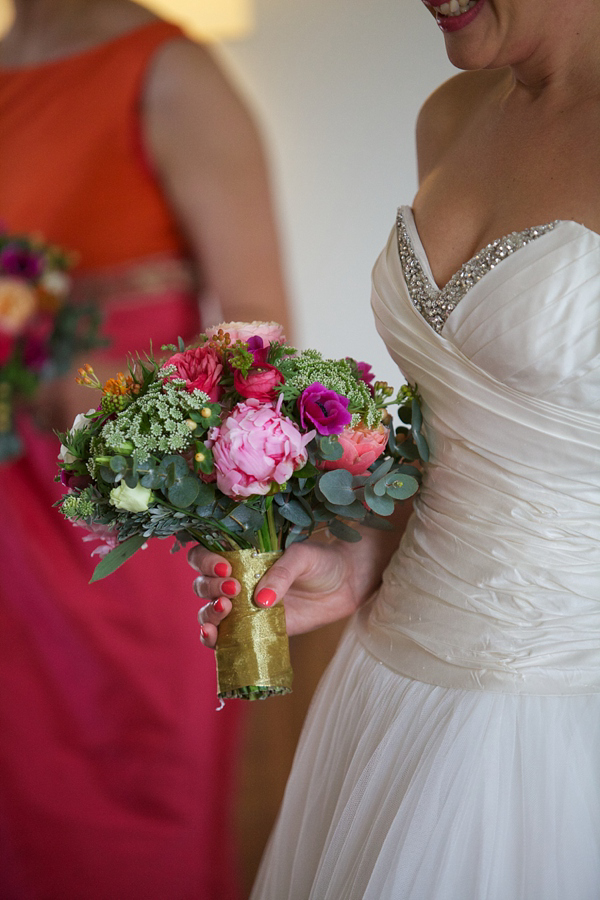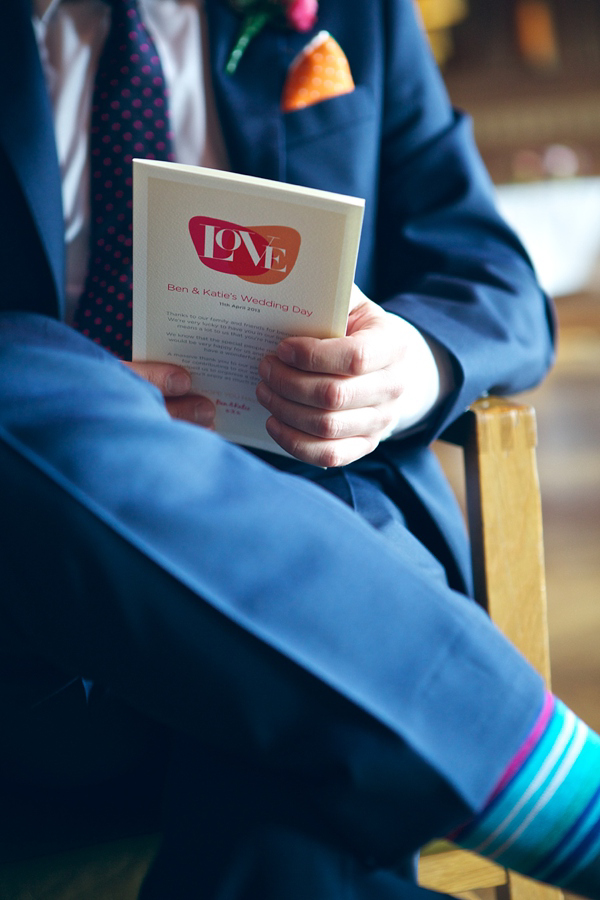 "Ben spent more on his suit(s) than I did on my dress! We knew we wanted a blue three piece suit and Ben found a really good one quite early on in the planning and bought it. But he'd also spotted a lighter/brighter blue that we really liked that was two piece. Just two weeks before the wedding he decided to try it and we loved it so bought it and he wore that one. It had coloured detail on the inside of the jacket pockets which matched our wedding colours so although no-one else would see that we knew they were there and thought it was perfect.  Both suits were by Richard James, Savile Row.
Ben's shoes and socks were Paul Smith. His shirt, tie (with pink spots) and pocket square were all from Richard James."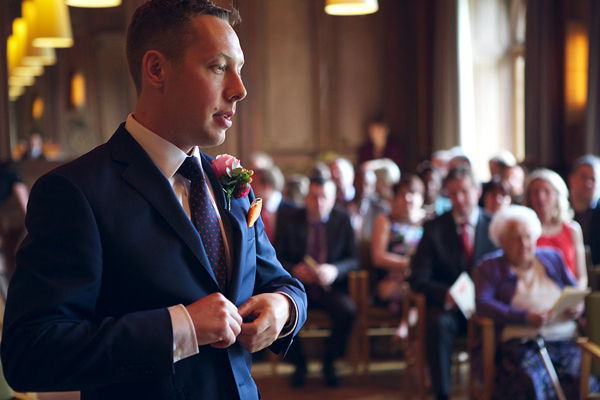 "My brother Elliott walked me down the aisle. We're very close and
he'd been a big support when I lost my Dad. I was so nervous and over
excited, he was brilliantly calm and it will always mean a lot to me
that he did that with me on my wedding day.  Ben and I picked 'Here
Comes the Sun' by The Beatles, we love it and it's such a happy song it
will always remind us of that day and the moment we first saw each
other.  We had spent hours, days probably, choosing music as we
had so much time to fill, before the ceremony, during it and the hours
after it.  For the pre music we had a mix.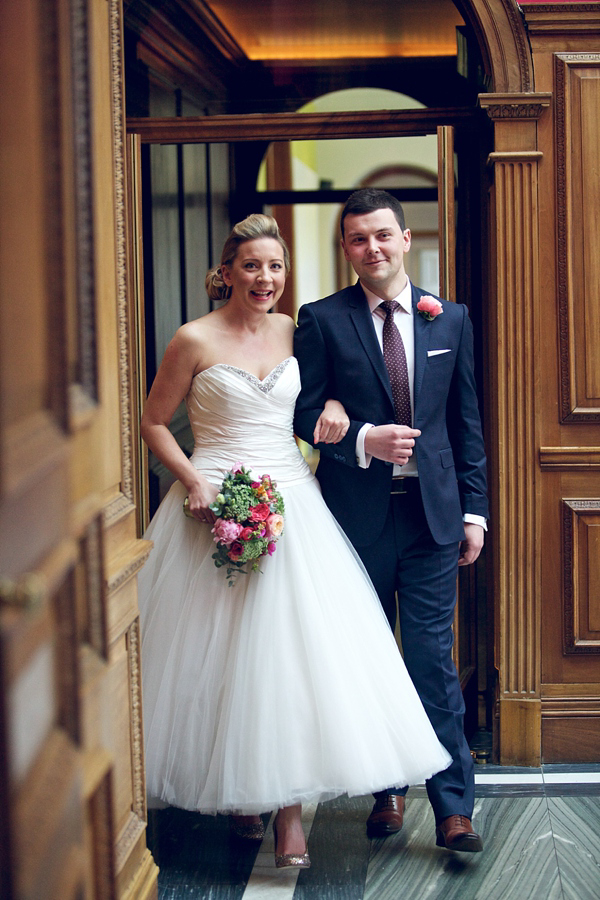 "We had a civil ceremony and originally we had been set on
legally marrying prior to the day and then having a celebrant to host a
ceremony on our wedding day, but for various reasons we went with the
civil ceremony, partly because I started to worry about organising too
much and couldn't find anyone that I thought was quite right and it
started to feel complicated but it would have been nice to spend more
time on this. It was the part of the day I was most nervous about, being
in front of everyone.
I spoke to the lady who organises the registrar
and chatted through my concerns, I was really worried about being upset
on the day and it was making me really anxious, she was reassuring and
it helped me to feel as though I could change some things and know that
whoever was doing the ceremony on the day would be sensitive."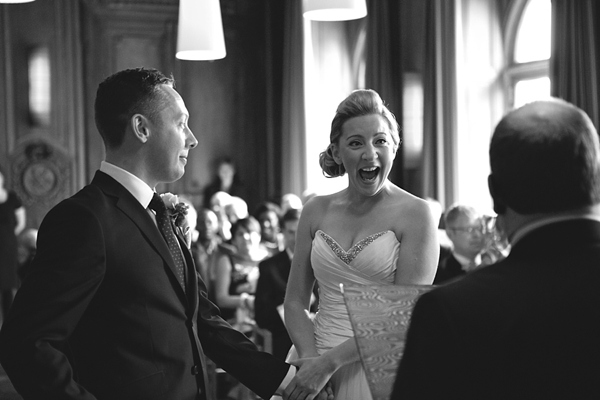 "They often
use words like 'solemn' and I think it's awful at a wedding and
inappropriate for ours! So we asked this to be taken out and we moved
some parts of the ceremony around to allow for the readings we wanted.
It
took so long to find anything we wanted!! We finally found one we liked
and our friend Em read it before our vows, it was An excerpt from Union
by Robert Fulghum and it's about your journey together before you get
married, which we tweaked a bit for us. Bridesmaid Lizzy also did a
reading which she chose from Winnie The Pooh – Now We Are Six called Us
Two, we loved it because she'd picked it."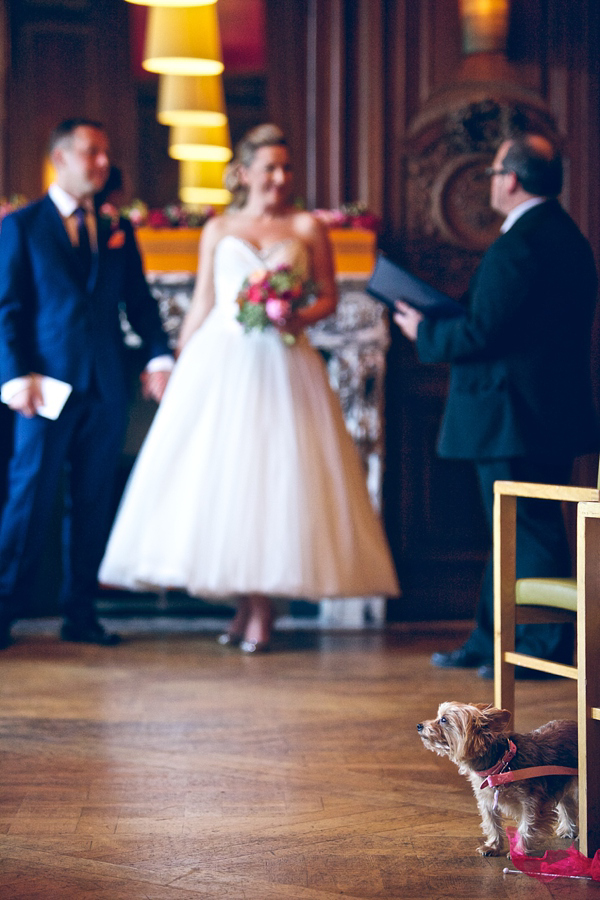 "We loved our wedding venue, Cowley Manor. 
It's stunning, the house is amazing, quite cool and quirky in places
and the grounds are beautiful but it's so relaxed. We loved the style of
it so wouldn't have to change anything about it for our wedding day, we
could just add extra fun bits to make the day personal to us. They also
let you have the day you want by setting a minimum budget rather than a
'package' so if we wanted to spend all of our money on cheese and
cocktails we could (and nearly did!) It was also lovely to have it so
close to home as we went there lots in the run up to the wedding which
made the planning so much fun, having gatherings with family and friends
before the big day, so we felt quite at home there and the team got to
know us. It was also great that we had the whole place to ourselves
which felt like a real treat and we loved that everyone could stay.
We were keen to have everything in one place so that our guests
could get on with enjoying themselves from the moment they arrived. We
also didn't want to worry about the weather so Cowley Manor was perfect,
if it was sunny it would have been a bonus and everyone could enjoy
being outside, but if not we'd be perfectly happy inside where it would
feel intimate at times but with plenty of space to spread out and play.
It was so perfect on the day, even better than I could ever imagined. We
were so well looked after by Madara and the team at Cowley Manor, they
were brilliant. We've been back so many times already, it will always be
really special to us and we'll love going back there for more special
occasions."
"Some of my favourite moments of the day included waking up with
Ben, it was so exciting and knowing how busy the day and night would be
is was good to be together for as long as possible.  Also, getting ready with the girls and friends and family popping in was so lovely, really special.  But
our favourite bit was seeing each other for the first time when I
walked into the ceremony – it was the best feeling ever. It had been the
part that we were both most nervous about and thought it would feel a
bit awkward, but although we'd been together until 11am had still
been in contact on comedy walkie talkies!
I thought we were both going
to start crying, but held it back and loved saying our vows, it's really
special and we had no idea it would feel like that, we were really
unprepared for how emotional it would be and how much adrenalin we'd
have."
"We also enjoyed having pictures together after the
ceremony, we didn't spend a lot of time having them but it was lovely
having a quieter time together for a little while to catch our breaths.
 We
got married in the main dining room at Cowley Manor and one of my
favourite moments was walking back into the same room for the meal. When
we went in, everyone else was already in and sat down and the room looked
amazing and was so loud and buzzy, it was such a brilliant feeling, I
was quite overwhelmed and just loved it – I didn't want anyone to ever
leave, I had all my favourite people together in a beautiful place and
just wanted it to last forever."
"We didn't want a traditional cake as we weren't keen on
'cutting a cake' so we had a tower of Ferrero Rocher because I love them
and have joked about having a Ferrero Rocher and Babycham party for a
long time so it was the perfect time to have them. We also decided to
have a tower of macaroons as I'd seen a picture of a really colourful
one and thought it was ideal. Cowley Manor recommended Contemporary Cake Designs in Cheltenham.
We went along for a testing and they were really good. They organised
everything being delivered on the day and even helped construct our
tower of Ferrero Rocher! Mum makes an amazing Pistachio and Olive Oil
cake and made us two for the day, it was a hit!"
"We arranged to have cocktails – Rhubellini, Tom Collins and
Prosecco after the ceremony along with a selection of canapés. For the
meal we had a selection of various salads and tapas style dishes for
each table, we wanted people to share and have a reason to chat to one
another and also take their time over. It was perfect – I hardly ate a
thing as I was far too excited but could tell everyone loved it.
Then
everyone has a main course of lamb or fish which was equally good.
Rather than have puddings, we served after dinner cocktails of Espresso
Martini's and Strudeltini's along with more Prosecco and the Ferreor
Rocher and macaroon towers were in the lounge too with a cheese board,
so everyone could help themselves. Other friends and parents of our
friends joined at this time too so that they felt part of the party and
were there for the speeches from Ben and bridesmaid Suse. The speeches
were really funny and by this time people were quite tipsy and it felt
like a proper party, then the band came on at 9pm."
Words of Wedded Wisdom…
"Not
much but I would probably have the ceremony a little earlier so there
was more time with everyone but it was lovely not rushing to get ready. 
If I'd had more time and was less anxious I would have liked to have a
celebrant for the ceremony and personalised it more.
I
wouldn't have the traditional glass of champagne or two while getting
ready/before the ceremony, you have so much adrenalin you don't need
it.  I'd try to eat.  I'd stop for a moment with Ben later in the
day/evening to take it all in and have a glass of water. It was such a
whirlwind of fun it was hard to stop as didn't want to miss anything.
There
were a couple of things we'd organised like giant inflatable swans and
fancy dress that didn't come out until midnight but should have been out
earlier in the evening, they would have made very funny pictures.   I
would have had a proper guest book, sad that we didn't capture people's
comments from the day and night."
"Relax and enjoy all of
the preparations, especially on the day, it will only happen once and I
learnt to trust everyone to do what they know best. On the day it's all
about enjoying the effort you've put in.  Be prepared for the adrenalin rush. I had no idea and found it really overwhelming.
Nominate
someone to be in charge of getting you to take a moment out every now
and then, making sure you drink some water and try to eat something.  Also, I
used Pintrest a lot – I looked at it every day and loved all of the
ideas, it really helped me to get idea of styles I liked and lots of
inspiration and ideas of how to do things.
We had Midnight Munchies of goats cheese, fish finger and bacon
sandwiches for everyone that was still up and staying up – I
think this was the first time I ate properly all day.  Cowley Manor did
an amazing job with the food and drinks, it was even better than we
imagined and everyone commented on how much they loved how it had been
served and how good everything was. 
I loved
seeing pictures of real weddings in the run up to my wedding day on Love My Dress – it helped me to get ideas by reading people's stories
about what they did and why. I was keen to pick up simple simple ideas to add touches to our day  – those little finishing touches, readings and music etc, and Love My Dress was brilliant for that.
But above all, I just loved
it all. Wish we could do it all over again, it really was the best day
of our lives and I'll love always having our fab pictures of the day as a
reminder of it and how happy we were that day. If we win the lottery,
the first thing we'll do is organise a reunion at the same place, with
the same people and I'll wear my dress again!"
Awww, huge congratulations Katie and Ben – your wedding day was absolutely wonderful, it's inspired me no end preparing this feature and it's so lovely too, to be able to share a wedding where the bride wears Ian Stuart!
Thank you so much guys for making this feature possible and for inspiring our readers.  Huge thanks to Nova Photography for sharing these beautifully bright and colouful wedding photographs. You can see more colourful weddings here.
What's your colour scheme?
Annabel
Photographer – Nova Photography
Venue + Catering – Cowley Manor in Cowley, near Cheltenham
Wedding Dress – Ian Stuart
Brides' shoes – Kate Spade
Bride's accessories – vintage style hair slide from Dotty Chic
Groom – Richard James (Savile Row) + Paul Smith
Bridesmaid Dresses – made by a friend + Kate Spade bracelets
Flowergirls – Monsoon
Flowers – The Flower Studio
Cake – Contemporary Cake Designs in Cheltenham
Entertainment – Ear Candy
Hair Stylist – Cream in Cheltenham
Makeup Artist -  Vanessa
You can see a film of Katie and Ben's wedding by Spoolfrog here