Following on from our discussion post of this morning, where Franky muses over whether we all fall foul of maybe over thinking our weddings, I felt it approriate to feature these photographs this lunch time – they seem to so perfectly represent the antidote to getting too obsessed and over-involved with our wedding planning.
Dan and Sian tied the knot low key style on the beautiful West Sussex coast line on 19th August this year at Arundel Town Hall, where they were joined by just 10 family members as guests.  A family lunch style reception followed at Bailiffscourt Hotel, Climping, West Sussex.
"Dan and I wanted the focus to be on
each other and not to be distorted by anything. We chose guests (just
10 family members) locations, clothing, flowers and photographer
entirely on what felt comfortable. This meant very few traditions were
followed. We wanted to share our special day with our family but in as
low key way as possible."
Photography Copyright (c) 2013, Dale Weeks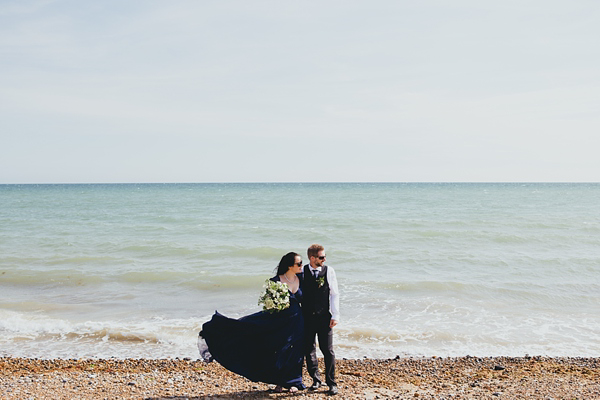 "We met in Whistler, Canada, whilst there snowboarding for
the winter. After seven years living all over the world, in 2011 we got
engaged at a lighthouse in Tasmania. We were shortly heading off to
travel in South America so, for safety, my engagement ring is a £30
silver band. I love it."
"I wore a navy blue DVF evening dress. I did go wedding dress shopping, because it was a once in a lifetime experience, but my thoughts were confirmed, I just didn't feel comfortable in them."
"I do love my dress though. It was floor length and beautifully made, the most special dress I have ever worn! So I felt confident and glamorous wearing it.  I'm looking forward to wearing it again and may get it shortened to make it suit all sorts of occasions."
"Arundel Town Hall provided us with a list of local flower suppliers however they were mostly traditional florists. We were immediately struck by Albert and Arthur's style and their use of props such as crates, bottle and jugs. 
Once
we made initial enquiries, Abigail nursed us through the selection
process. She was very flexible, and on the day, the result was exactly
what we had hoped for.  We felt the flowers were incredibly good value
for money and only wished we could have used them for longer.  Abigail
tied the large bunches of flowers so that my mother, sister and step-
mother could take them away and continue to enjoy them for the following
week."
"When it came to the ceremony we didn't walk down the aisle. 
After discussing the formalities with the registrars, we both went and
said hello to our family.  Once we were ready, we went to the front,
then everyone took their seats and formed a horse shoe around us.
Our
ceremony was incredibly short with no readings, so it was important
that we wrote our own vows to personalise an otherwise legal
proceeding!  We kept our vows a secret from each other until the day,
and it turned out that we wrote nearly the same thing to one another. 
We both struggled to get the words out amidst tears when the time came,
but we also had a laugh. 
We re-read our vows to each other in the
evening, after our family and gone – we will cherish our vows forever."
"In terms of decor, our florist used crates, reused bottles, and metal jugs with our flower arrangements."
"Dan wore a French Eye three piece charcoal grey suit, white shirt
and navy blue tie.  The day was very warm, so Dan spent most of the day
without his jacket on.  He loves waistcoats!
Dan also wore a beautiful button hole of herbs and eucalyptus, a native Australian plant."
"I wanted to wear my Great Grandmother's pearl necklace, but on
the morning of the wedding it broke as I put it on.  My best friend had
just brought a pearl bracelet for me as my 'something new', so I wore
that, along with a necklace I already owned. 
They didn't really match
but it was the best I could do at the last minute."
"Our photographer was Dale Weeks. 
To compliment our very small and non-traditional wedding, we were keen
for mostly candid shots, taken by someone that our family would be very
comfortable with.  We researched many local photographers but they were
mostly traditional and produced staged shots.  We really liked Dale's
style and after speaking with him we were confident that he understood
our brief.
On the day Dale was exactly as we had
hoped.  Friendly and easy to talk to, comfortable with our family and
flexible to ensure our day wasn't driven by taking the photos we didn't
want.  He even gave my Mum a lift from the ceremony to the lunch!  We
can't recommend him enough."
Words of Wedded Wisdom… 
"Even though our wedding was
incredibly small we did find organising it quite stressful and at
times we felt overwhelmed with other peoples expectations.  In
hindsight, I would have worried less about having every last thing
sorted, or making a perfect choice.  Our gut feeling turned out to be
right every time.  Everything turned out perfectly and nothing was any
better because of the stress.  We are having a honeymoon next year, so I
would recommend booking some fun things to look forward to once you've
returned to normal life.
We were also amazed at how much a wedding can cost!  We didn't have a budget because we prioritise our travel plans.  The most important thing was value for money, and I think we did achieve this.  We didn't feel comfortable receiving gifts and eventually managed to persuade our friends and family of this!"
I just love this wedding and would like to thank Sian and Dan for sharing their beautiful day with our readers.  It's inspiring and encouraging to see a couple stick to a plan to not over think, over spend, get drawn into the carnival that can so often become the wedding planning journey – I'm not suggesting our readers are the type of person that fall foul of this but it's all so easy when we're planning such a precious, special and exciting event in our lives.
Are you planning a very low-key, relaxed and intimate wedding?  I'd love to hear from you if so.  What were your reasons and how have you found the experience so far?
Many thanks to photographer Dale Weeks for submitting these images to Love My Dress, please take a moment to visit Dale's website if you love these images.
With much love,
Annabel
Photographer – Dale Weeks
Venue + Catering  – Arundel Town Hall + Bailiffscourt Hotel
Wedding Dress – navy blue DVF evening dress
Brides' shoes – Dune sandals
Flowers – Albert and Arthur