Earlier this week I introduced you to the incredible Elizabeth Avey - one of *the* ladies to go to if you are seeking an original vintage wedding dress.  This afternoon's bride decided that an original vintage gown was for her and tied the knot in a full-sleeve original vintage gown – a simply beautiful example of bridal wear dating I'd say from the late 1930s, possibly even early 1940s due to very simple, fuss free but very elegant full length sleeve design.
Rachel and Fraser, who both make video games (Rachel composing and Fraser designing), tied the knot on 12th October this year at New Larnark in South Lanarkshire.
"I don't know the designer of the dress I'm afraid, as it's very old and has no labels. I would assume it was handmade. I bought it from a new stockist in Brighton, where we live, called Songbird Vintage.  I usually wear vintage 50s and 60s dresses that I pick up for pennies in charity shops or Ebay, so I decided the wedding dress would be a vintage one, though maybe I'd spend slightly more than a few pennies on this one.  The dress I chose is from the 1930's. I fell in love with all the buttons and little collar and lovely pale gold silk. It was my dream dress."
Photography Copyright (c) 2013, Tub Of Jelly Photography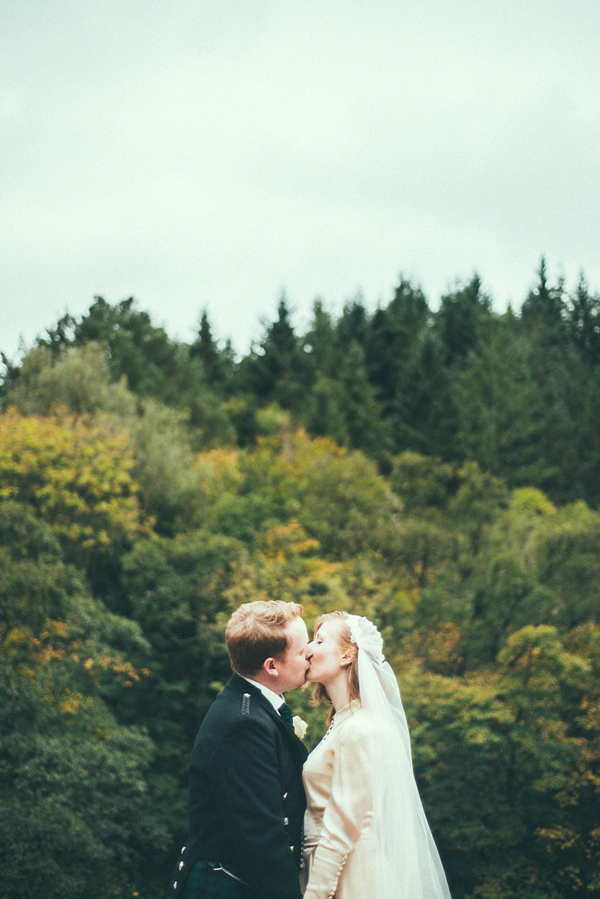 "Fraser and I met at the video game studio that we both worked at, and found that we both shared a stupid enthusiasm for music (we both play in bands). We got engaged six years later on a trip to the west coast of Scotland. We were engaged for six months before we got married.  We got married at New Lanark, South Lanarkshire.
We chose this venue as it was near Fraser's family's home and was somewhere we had visited many times. The place has a really interesting history and it's also a nature reserve, surrounded by trees and waterfalls and wildlife, so we thought it would be a great place to get married."
"We wanted our wedding day to be an extension of ourselves really, surrounded by the music, food and people that we love. It was a secular ceremony, but the room we were to be married in was called The Musicians' Room, a room that was used for teaching children music and dancing in the 18th and 19th century, so that was quite meaningful for us. We didn't really want a heavily themed wedding, but for my outfit I did have a style muse – Rita Hayworth."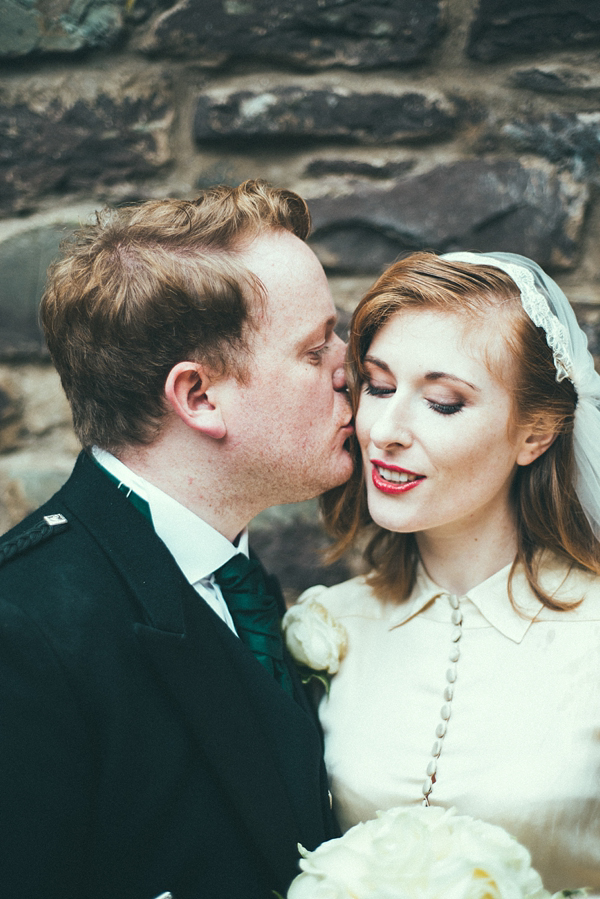 "I found my wedding veil in a lovely bridal shop in Brighton called Leonie Claire. I really liked the Juliet-cap style and thought it matched the dress perfectly. The veil is by Richard Designs – a modern replica of an original vintage design that would have been popular in the 1920s and 30s.
I didn't wear accessories other than my veil, which I wore the whole day and my hair was styled with vintage waves, inspired by Rita Hayworth."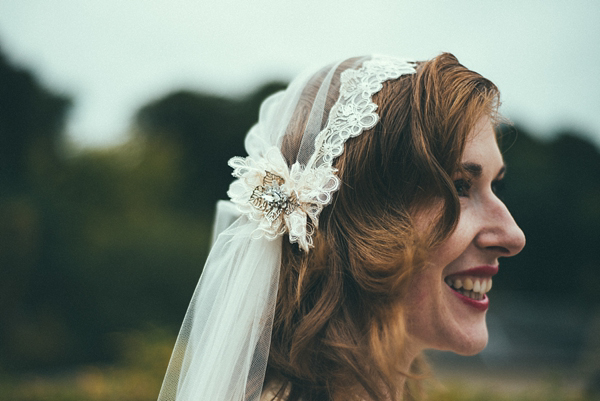 "I'm fortunate to have some talented friends – my hair, make up and nails were all taken care of by friends who were guests at the wedding. My friend, Miriam Velazquez ,is a professional hair stylist, so she styled my bridesmaid's hair and mine.
My friend, Leelien Pimley, is a pro nail technician at Needles & Nails in Brighton.  She gave me lovely vintage style red half moon nails with sparkly gold half moons! My pal, Siobhan, took care of the make up. She doesn't do it for a living, she's just awesome at it naturally."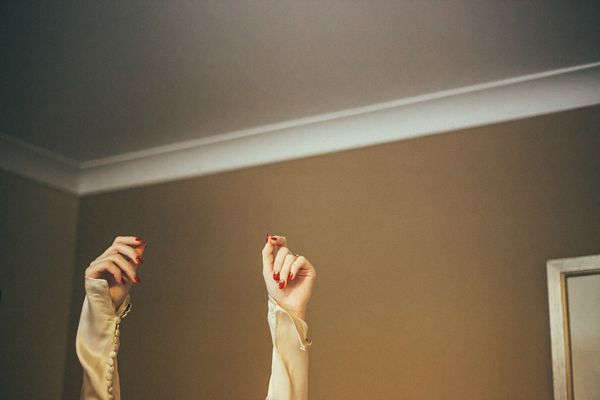 "There was an odd thing about the shoes – a beautiful gold pair of T-bar heels. The designer was Rachel Simpson, which is my new name! It was meant to be!
I came across her shoes when I was looking at various vintage wedding photos on Pinterest and other blogs like Love My Dress. She makes lovely handmade wedding shoes in a vintage style. The gold ones I chose seemed a good match with my dress. I reckon I'll also be able to wear them in real life too, unlike my dress and veil!"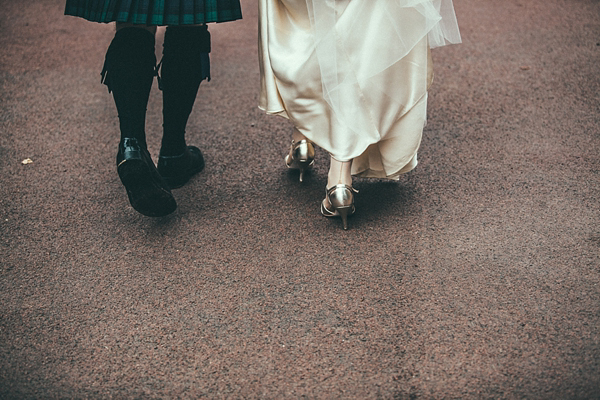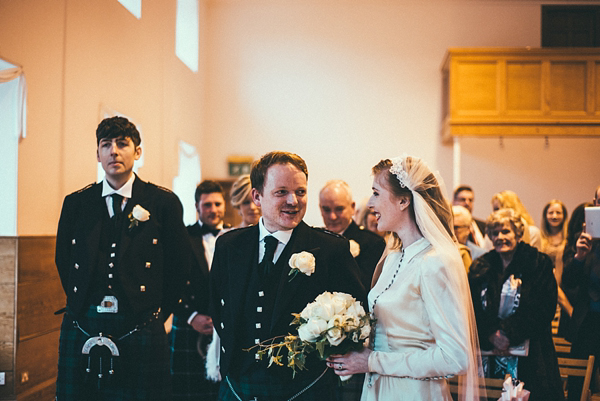 "We bought the rings at a nice little antique jeweller's in Brighton. I chose quite a dainty 18ct gold band to match my engagement ring – which is a lovely emerald ring passed down from Fraser's mother."
"Our wedding flowers were a lovely gift from a family friend, Elaine. She chose white roses and ivy adorned with pearls for my bouquet – to match the vintage style of my dress. They worked beautifully."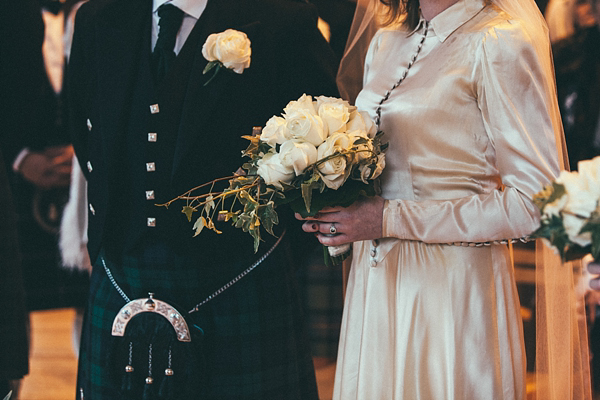 "We had some lovely handmade things for the table. My friend Eleanor sewed cute little bags for the favours. Each bag was made in a different fabric and tied with a little ribbon. And my mum knitted little squares of Aran for each of the place cards.
Every square had a unique cable pattern on it. Lovely!"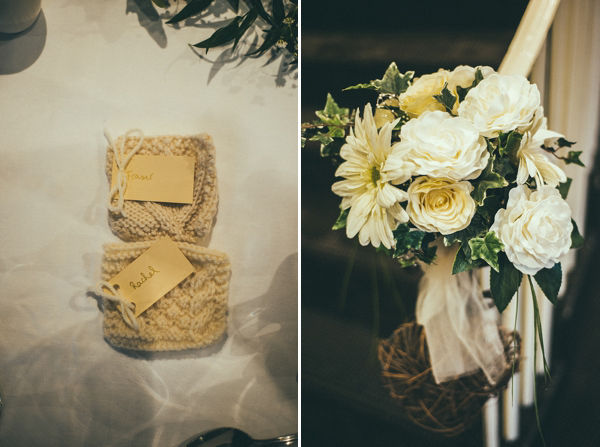 "We bought my bridesmaids dress from an awesome shop in Brighton called Dig for Victory. They make really original handmade dresses inspired by the 40s and 50s. We chose a teal 50s style dress that suited Sharon really well.
Sharon, my bridesmaid and also my sister, wore shoes by Gabor. They were court shoes with gold tips on the toes, to match my outfit."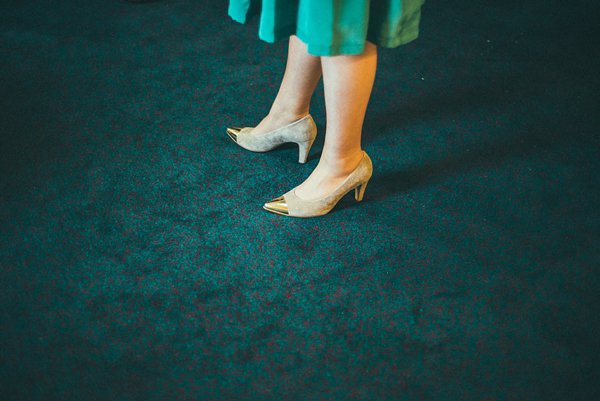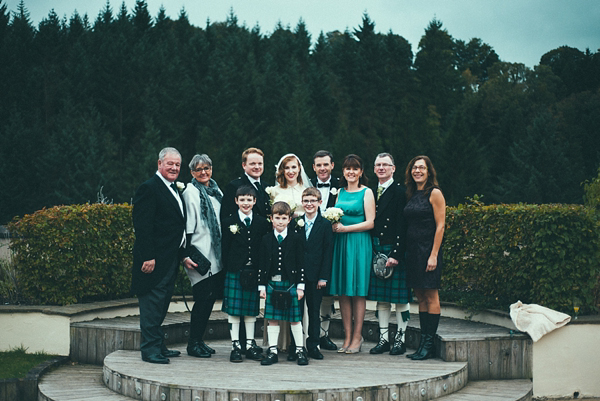 A rather magical multiple exposure shot below…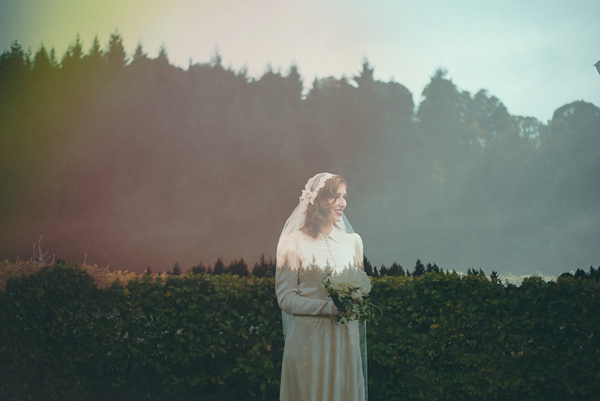 "We used Tub Of Jelly Photography, which is run by the ridiculously talented and creative Elizabeth. Her photos are unlike any other wedding photos we'd seen before. We're so happy with the photos she took for us."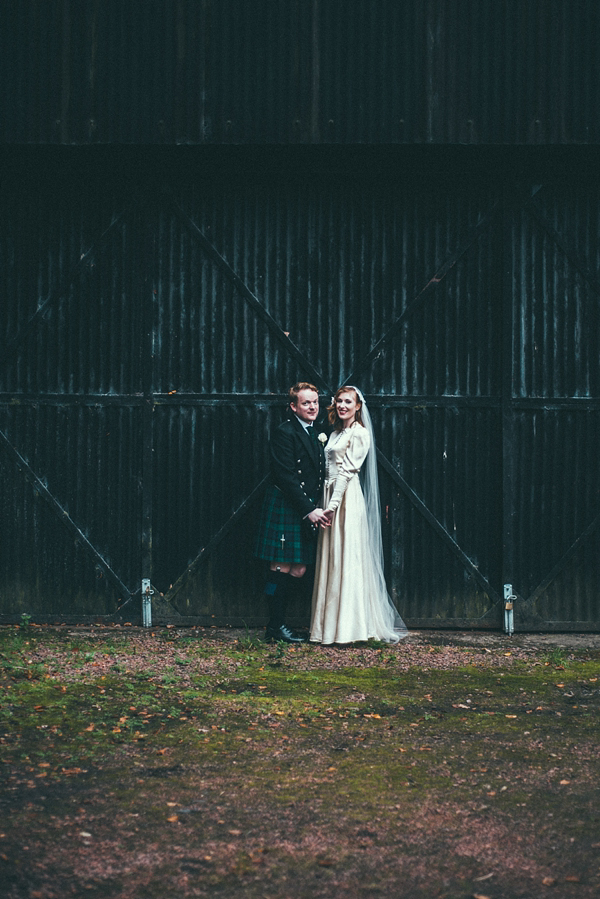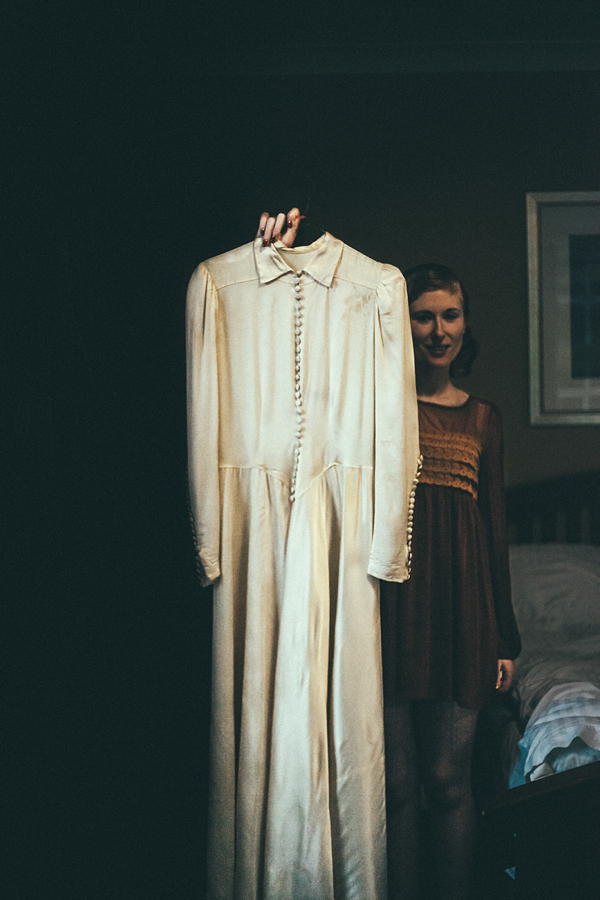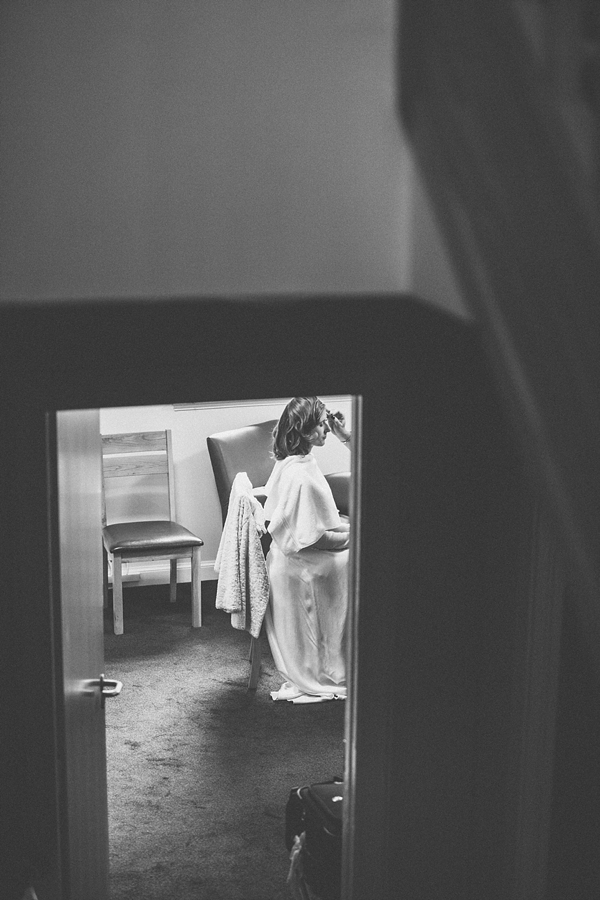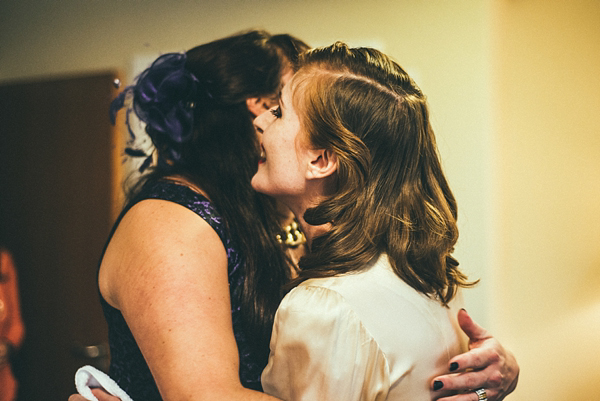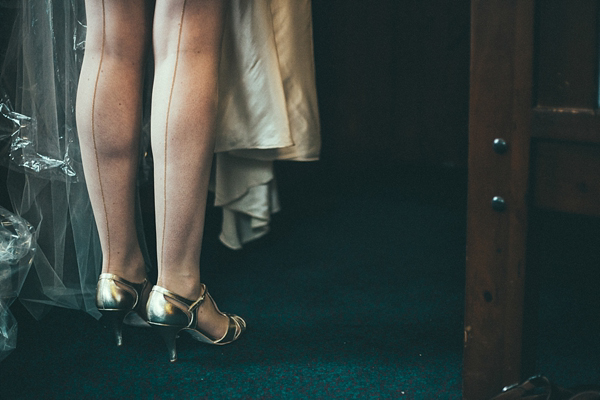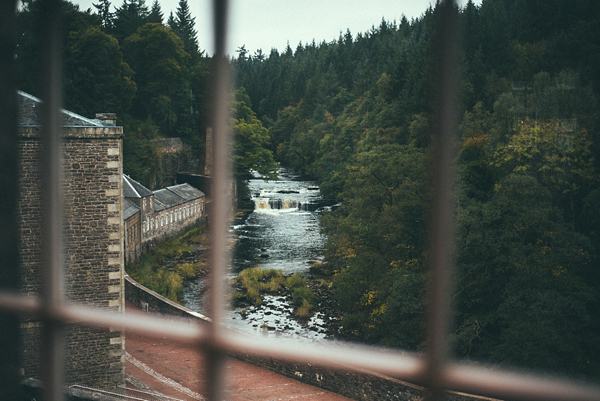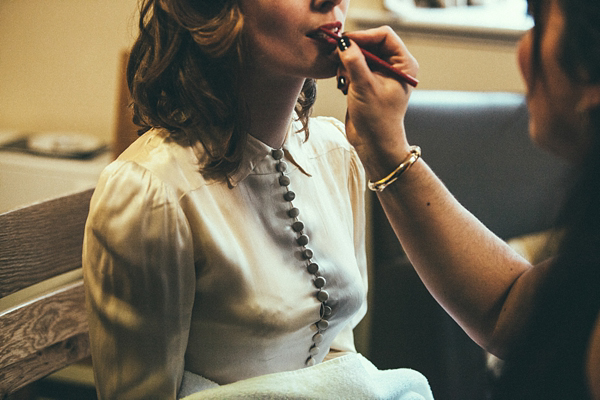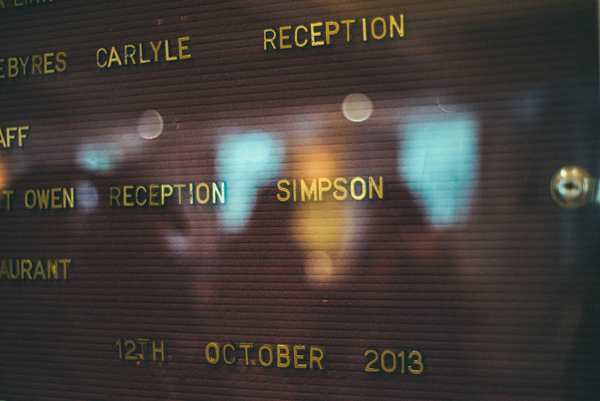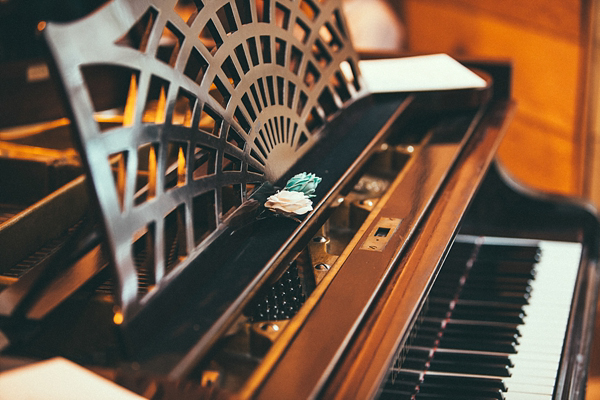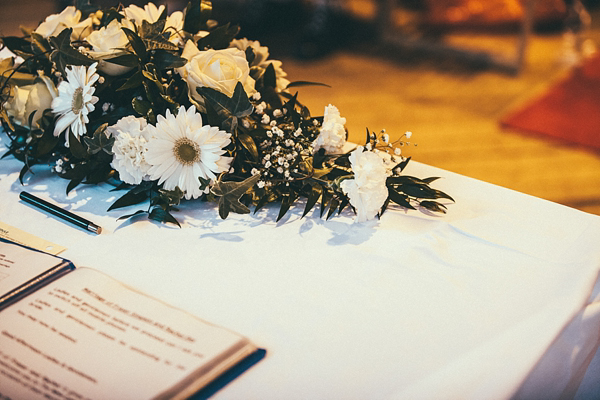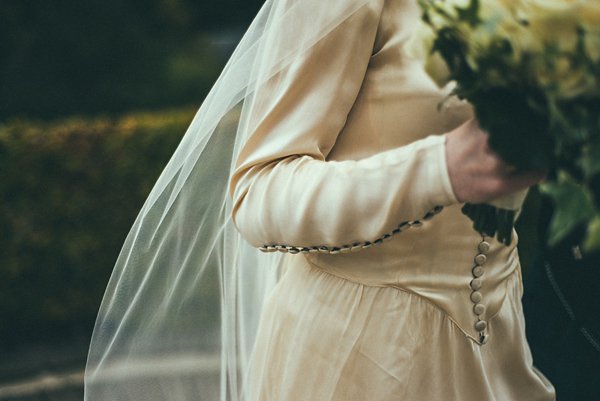 "I bossed all my poor friends around on the morning of the wedding by making them tie ribbons on all the ceremony room chairs and doors."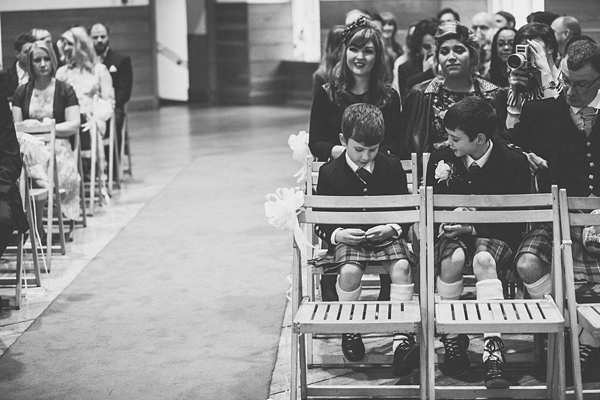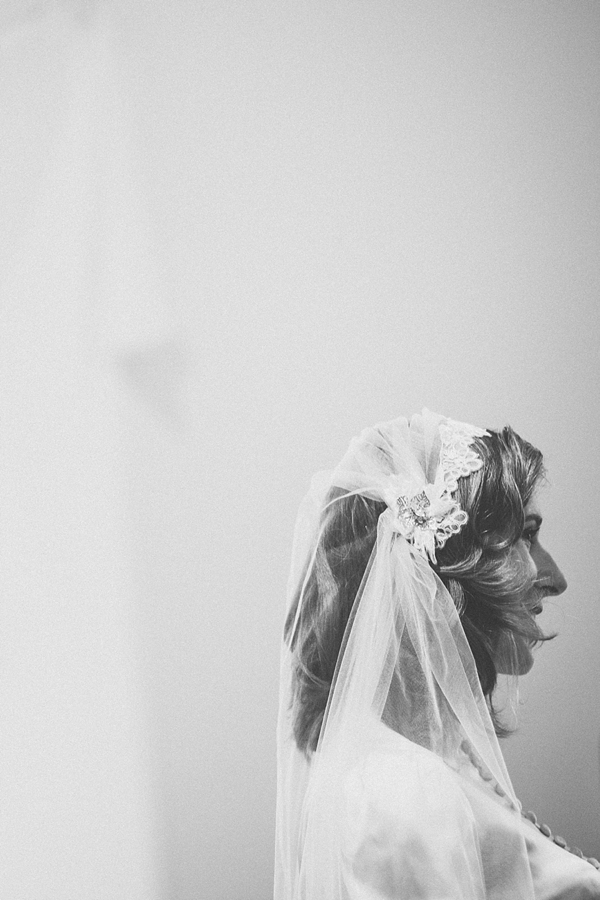 "My father, Godfrey, walked me down the aisle.  Our good pal Ela played an amazing rendition of 'If I Fell' by The Beatles on the piano as I walked down the aisle."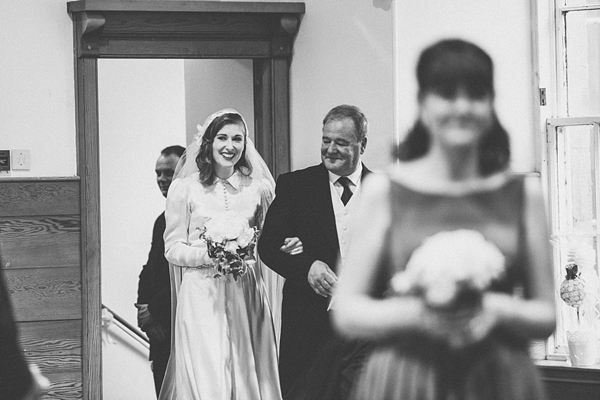 "We didn't tailor our own vows. It was something we would have liked to have done but we just didn't get the time. However our registrar did a beautiful job.  We would have liked a reading but couldn't decide on something we were happy with in such a short space of time."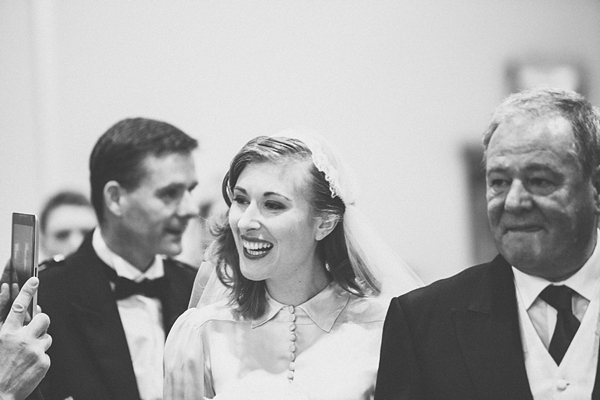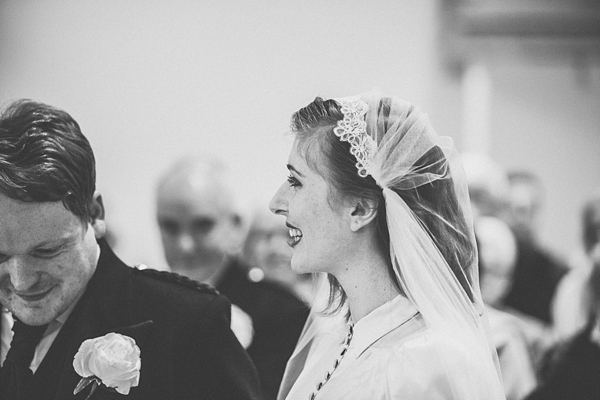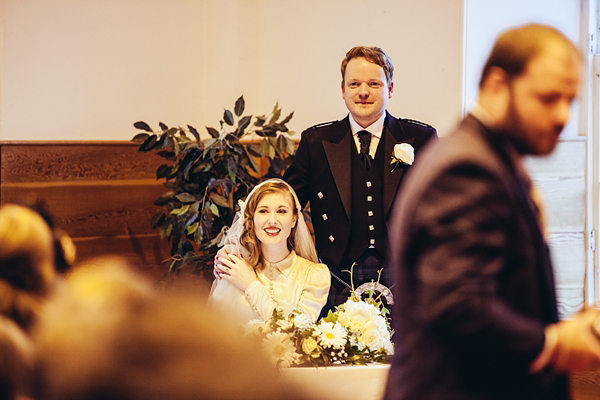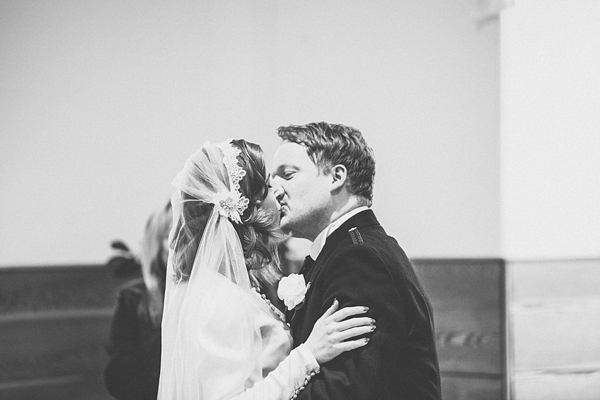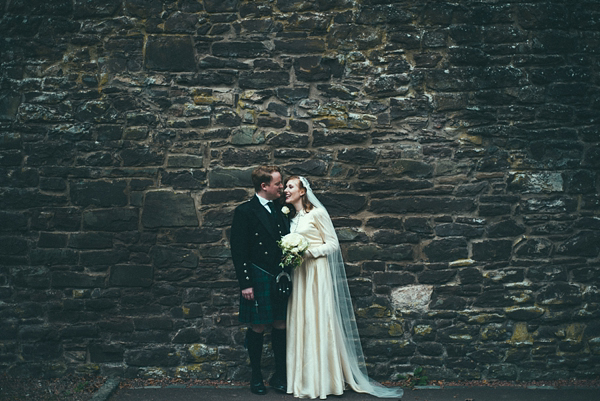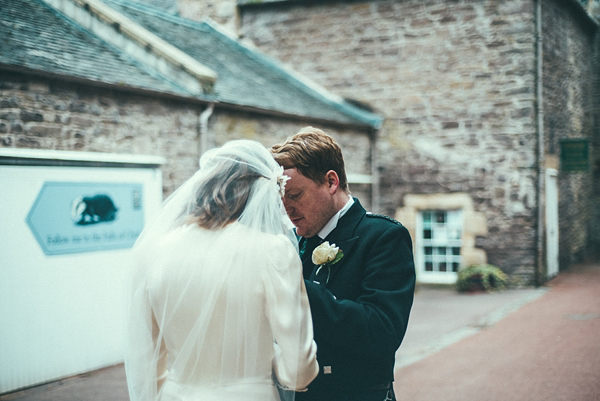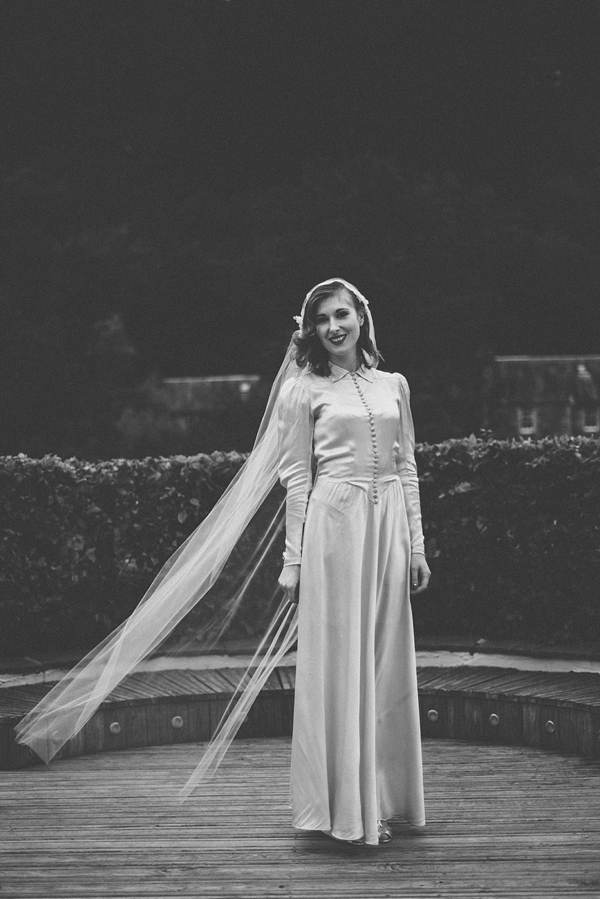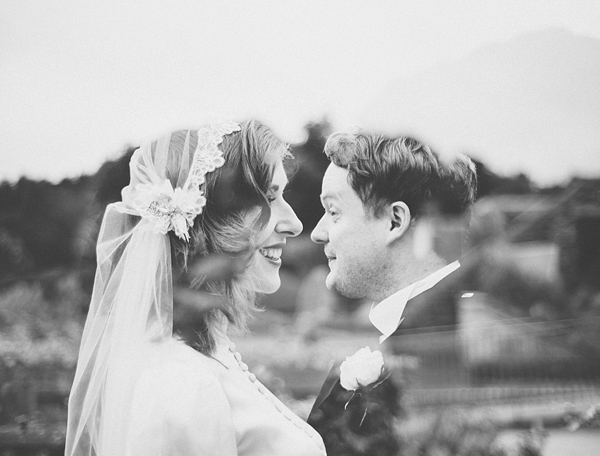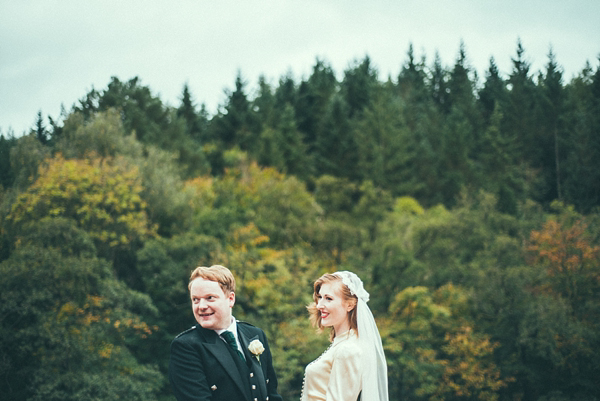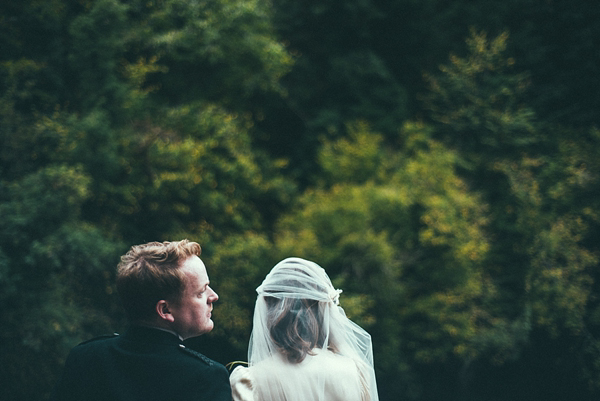 "When it came to our cake, we used a lovely little local business based in Newmains called What The Cup. This was the first wedding cake for their new business! It was lovely. Lemon drizzle cake, decorated with beautiful flowers and a teal ribbon. Perfect."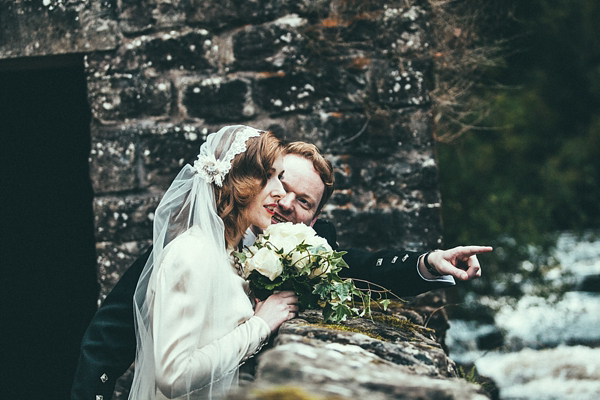 "I loved the whole day, it's hard to choose a favourite bit… The ceremony was lovely and so unlike anything you ever do in normal life. It felt very special. I also loved Fraser's speech. He did an amazing job. Actually one part of the day does stick out in my memory – after the ceremony and all the photos, Fraser and myself snuck off to our room, made a cup of tea and opened all the cards people gave us. The day had been so intense and kind of surreal up until then, it felt amazing to have a bit of a quiet, normal(ish) moment.
I don't think we'd really have done anything different. It went better than I could have hoped. But if we could have turned back the clock so that Fraser's mum could have been there, we would have."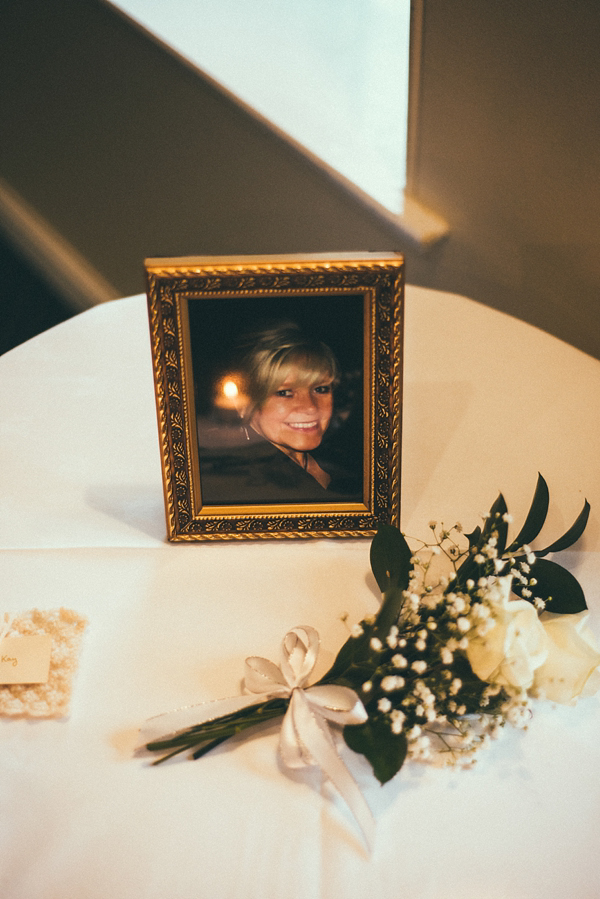 Words of Wedded Wisdom…
"Wearing a veil is awesome. Don't be afraid to delegate. Eat a proper breakfast. No one really cares about chair covers."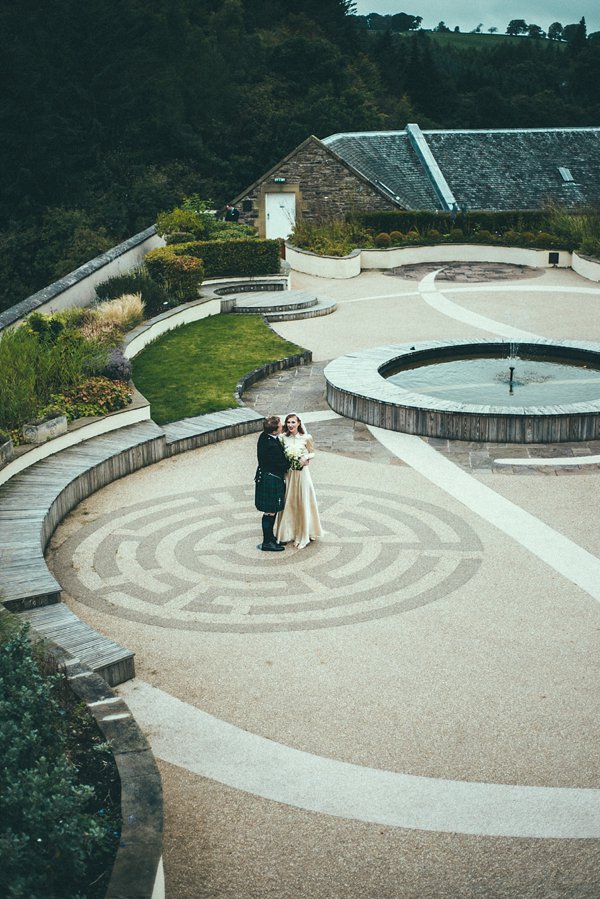 What a lovely wedding day – huge thanks to you Rachel and Fraser and congratulations too!
Thanks also to lovely Elizabeth of Tub Of Jelly Photography for sharing her work with us today – go and take a look at Elizabeth's website if you are drawn towards her style of photography.
Are any of you planning on wearing a 1930s vintage wedding dress? Share your experiences so far if so, we'd love to hear from  you.
With much love,
Annabel

Photographer – Tub Of Jelly Photography
Venue – New Larnark in South Lanarkshire
Wedding Dress – 1930's original vintage via Songbird Vintage.
Veil/Headpiece – Richard Designs via Leonie Claire
Brides' shoes – Rachel Simpson
Bridesmaids – Dig for Victory
Cake – What The Cup