Top of the morning to you all, and here's to a wonderful Wednesday! We're already half way through the week so let's get a crackin' with our first beautiful real wedding feature for today.  Fashion PR Stephanie and her Recruitment Consultant husband Lewis, tied the knot on on 12th October this year with a ceremony at Town Hall, followed by a reception at The Londesborough Pub – both in Stoke Newington, North London.  For this couple it was all about good old fashioned fun, as they invited their guests to join them for a reception London pub style.   I adore that Stephanie opted for a replica 1950's vintage wedding dress by the wonderous Elizabeth Avey, who I interviewed on Love My Dress earlier this month.
"I love vintage styling and love the 1950s era. I didn't want to go full on retro but have touches of vintage elegance.  I also knew I wanted a shorter lace vintage dress – it was a little difficult for me to get genuine vintage due to my curvier frame but Elizabeth Avey had beautiful replica vintage designs which would be fitted to my measurements exactly.  When I tried on my dress I just knew it was 'the one'! It was only the fourth dress I tried and I just knew."
Photography Copyright (c) 2013, Rebecca Wedding Photography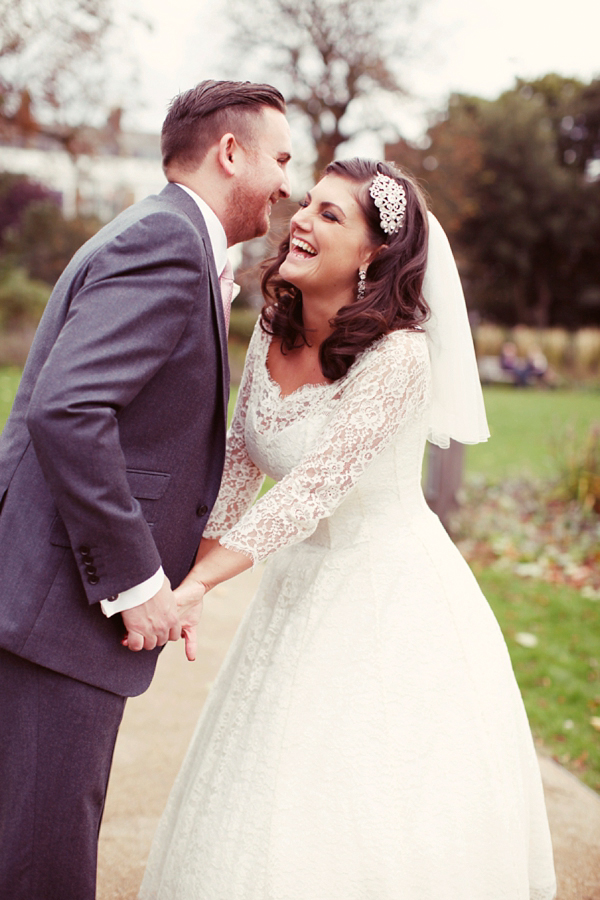 "Lewis and I got engaged in May 2012 and despite being together for eleven and a half years, it did come as a total shock. We are teenage sweethearts. Lewis proposed on the bank holiday weekend, very romantically, and we had a weekend of celebrating with friends and family. We were engaged for seveteen months before the big day."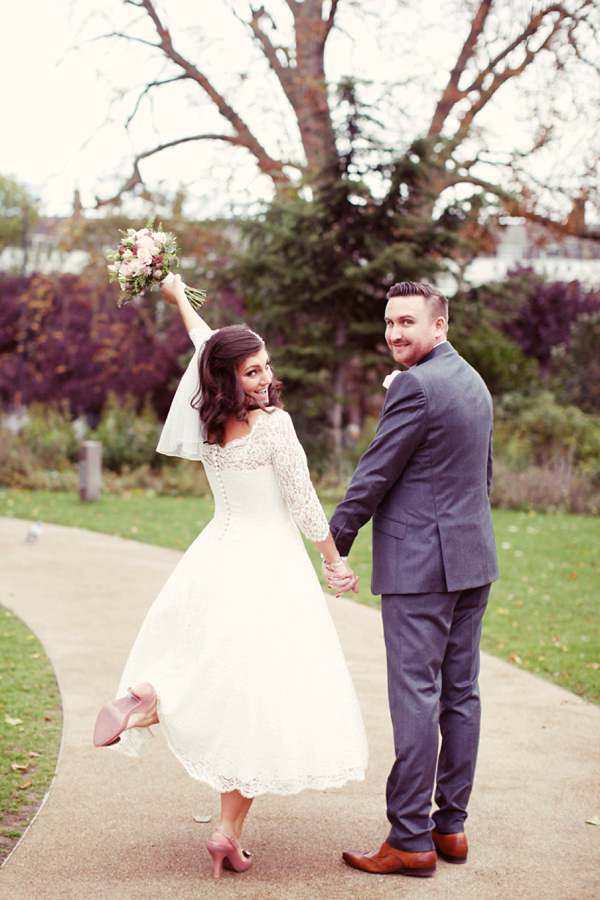 "We have lived in North London for six years and it is home for us so we knew we wanted to be married here.  We loved the Town Hall as soon as we saw it so booked it for our reception. It hasn't long been renovated and is just stunning inside.
We knew The Londesborough Pub would provide the laid back atmosphere we wanted with plenty of opportunity for styling. As a couple we love a good pub. It also has the most amazing food. It all felt very true to our style."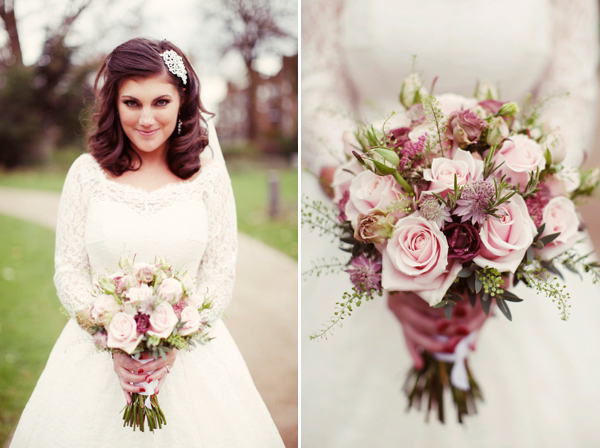 "Julie Cambridge of A Passion For Flowers put together all of our flowers. I wanted a neutral colour palette to match the nudes and pinks of the bridesmaids. Roses were essential in vintage pink shades. I let Julie do the rest as she is amazing! My bouquet was exactly what I wanted. Each bridesmaid had two roses wrapped in lace to carry.
My family and I collected jars for the flowers and decorated them with lace and ribbon. I briefed Julie the colours and let her do the rest."
"I loved every single moment of our wedding day – though my favourite moment was walking down the aisle with my Dad, and then seeing Lewis for the first time – a feeling I'll never forget.  I didn't know if I would cry or laugh,  but in the end I laughed, and had the biggest grin, and we continued to smile and laugh throughout the whole ceremony. We were just so happy and I think the happiness was infectious. It was the start of the celebration!"
"I loved styling our wedding – every second of it! We had fairy lights around the room, bunting, pom-poms from the ceiling, giant light up letters from Vowed and Amazed and furniture outside to provide a chill out area."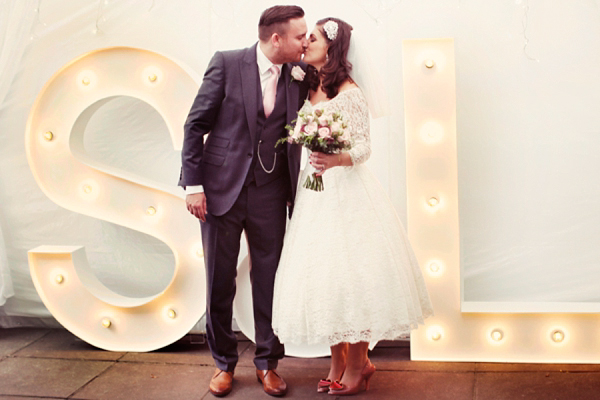 "We bought a suitcase for cards and presents which I styled with letter cards pegged on string. The guestbook was from Starboard Press on Etsy and shipped over from America having been personalised to us.  Jam jars held our flowers on the tables and we had candles alight during the meal.
We didn't have a traditional top table as such which made it much more relaxed. I sat on a table with my family and Lewis' family and it meant I could share the meal with everyone I loved. Photos of Lewis and I filled the venue. We have been together so long there were certainly some gems on display – some we might rather forget, but gave our guests a good laugh!  We basically tried to make everything as personal as possible."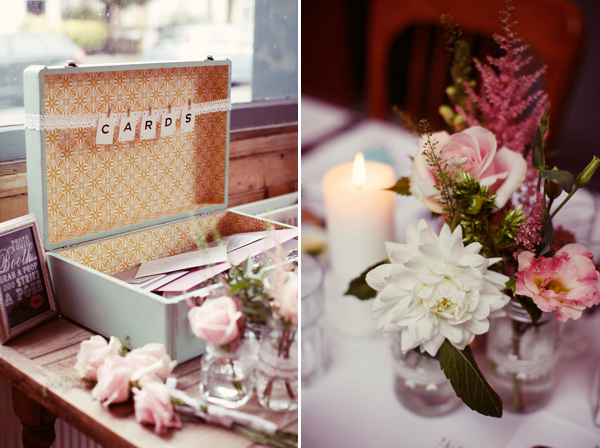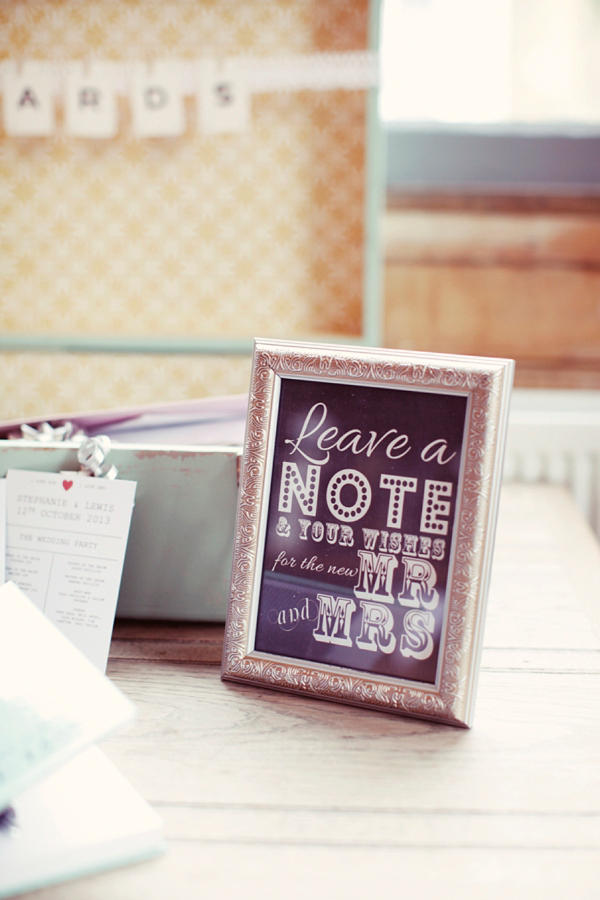 "I had eight adult bridesmaids so wanted to have mix and match! The dresses were from Coast, BHS and Aftershock London. They were my sisters and my best friends. I wanted to have my very best girls by my side."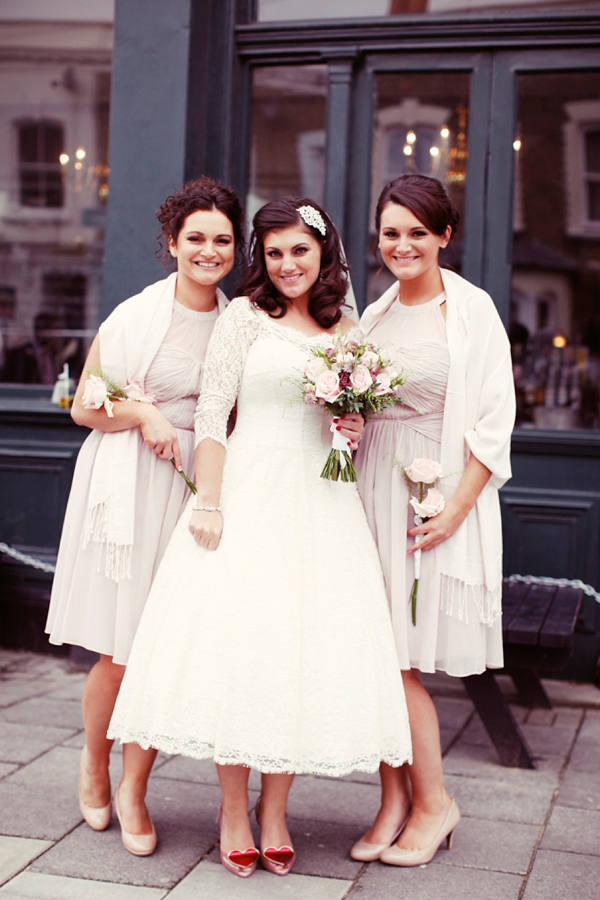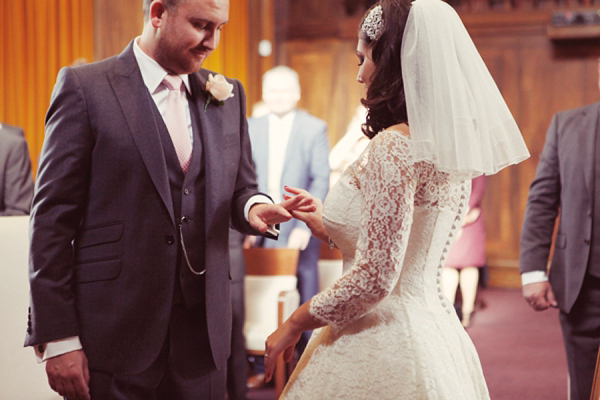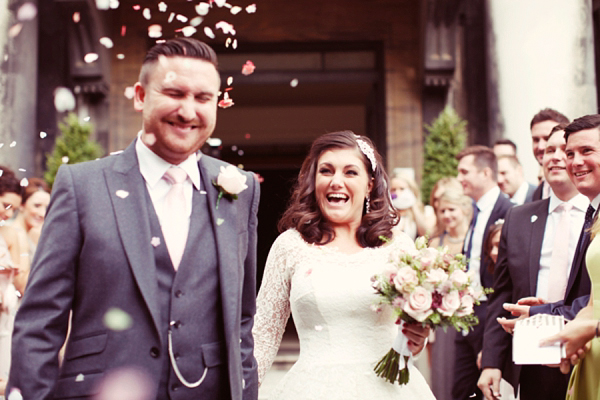 "Lewis' suit was from Jaeger – he wanted a different suit from his best men and ushers. If I got to wear a stand out dress, Lewis wanted a stand out suit! He also wore Ted Baker shoes.
I also bought him a pocket-watch which looked amazing with his suit, and finished off the look."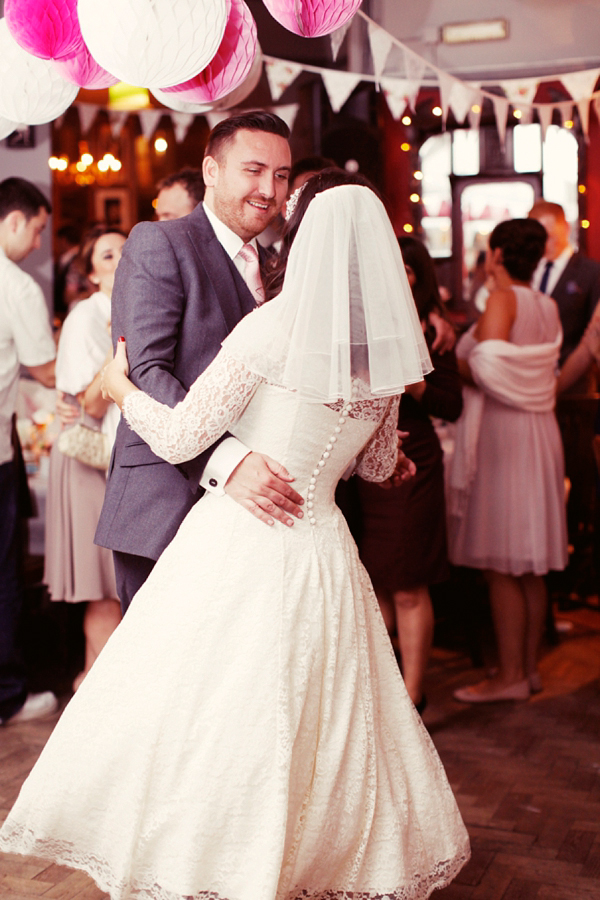 "Our photographe,r Rebecca, was the first person we booked for the wedding. The photos were so important for us as we wanted to be able to look back at the day and experience it all over again!
As soon as we met Rebecca we knew she was the right person to capture our day. Not only is she the loveliest person you will ever meet, full of enthusiasm for her job, she is super talented. We did a test shoot with her a couple of weeks before which put us at total ease for the day. On the day she was wonderful and so professional. All our guests fell in love with her.
We couldn't recommend Rebecca enough!"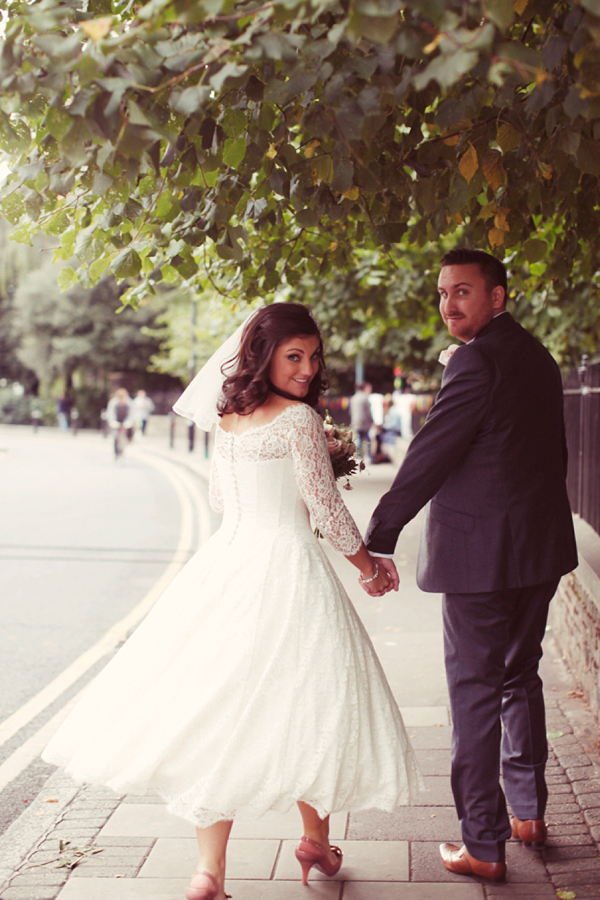 "I got ready at Town Hall Hotel in Bethnal Green – we had two bedroom apartments which were huge!"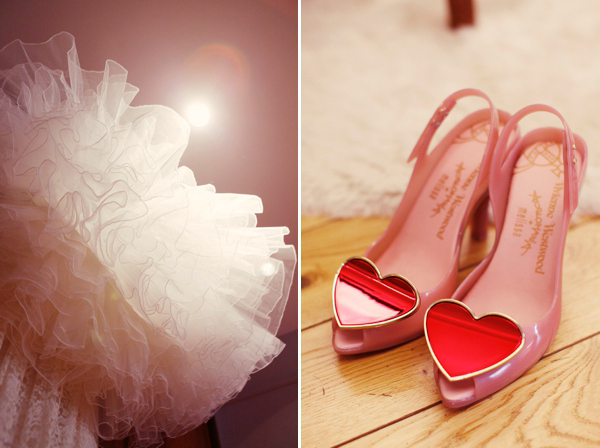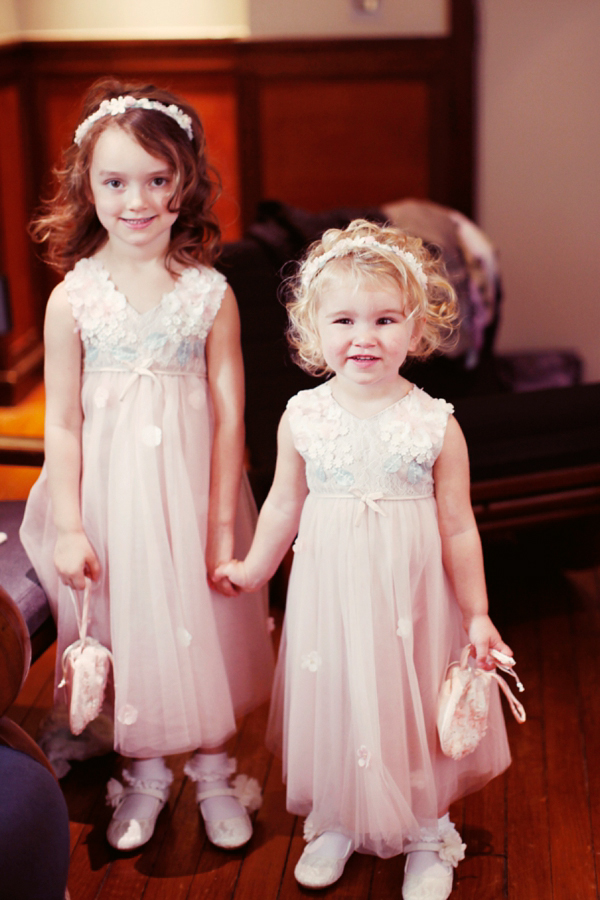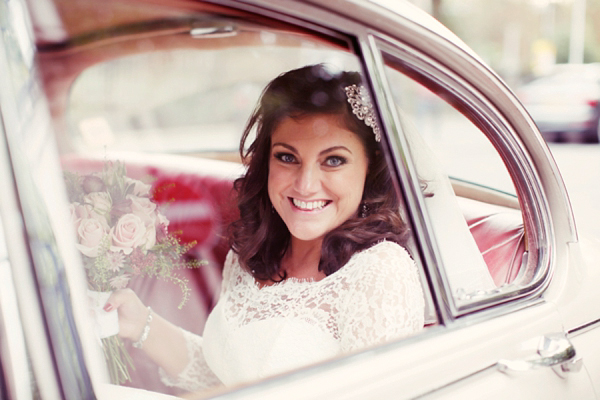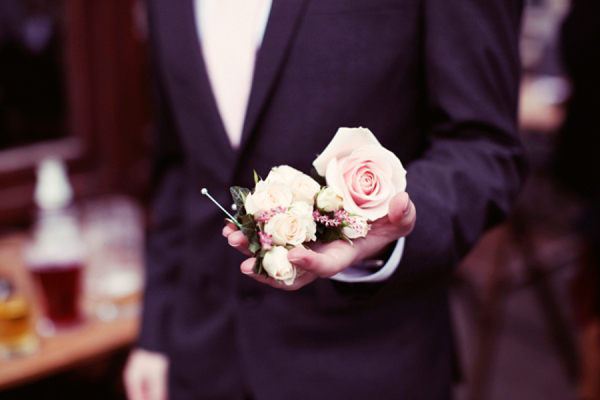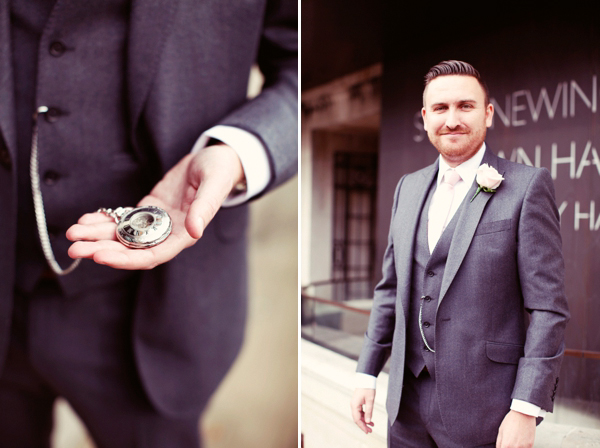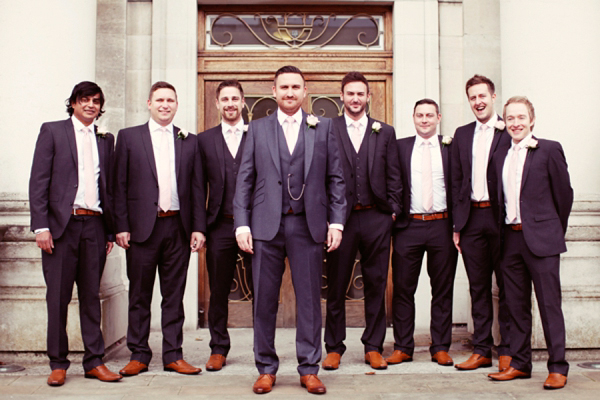 "I put together the order of service, a brief story of our lives together and the wedding party. These were put into candy striped bags and tied with string. I then had the girls over to stamp the front with wedding phrases 'I do Me too', 'Mr and Mrs' etc. These were handed out pre-ceremony by the groomsmen."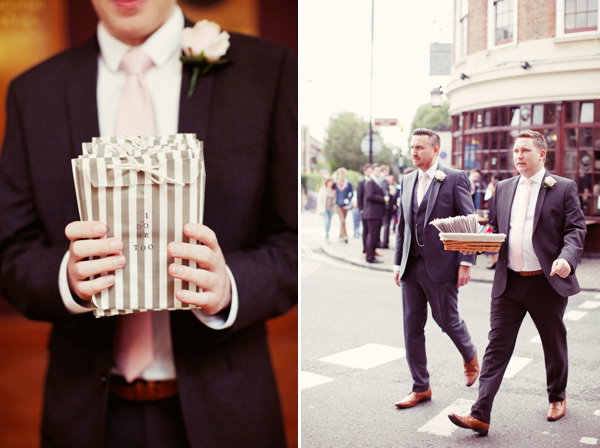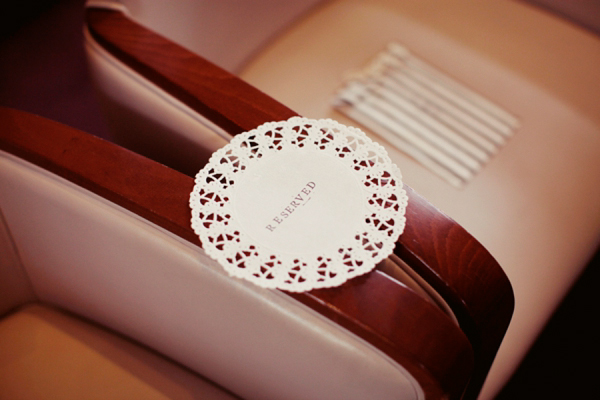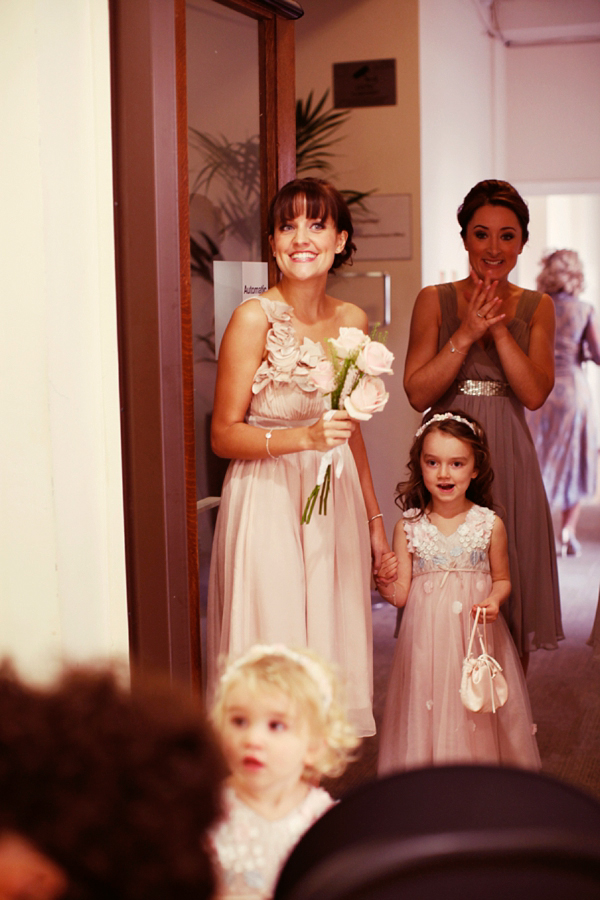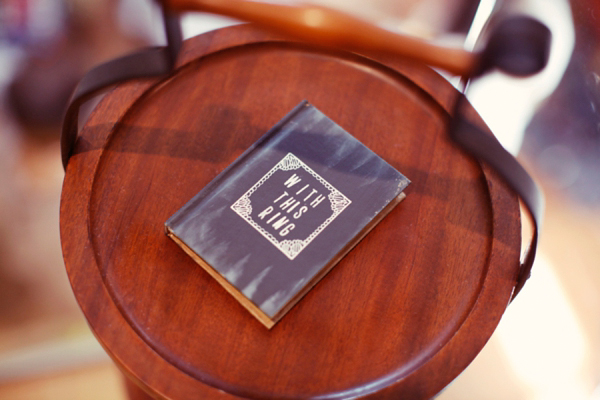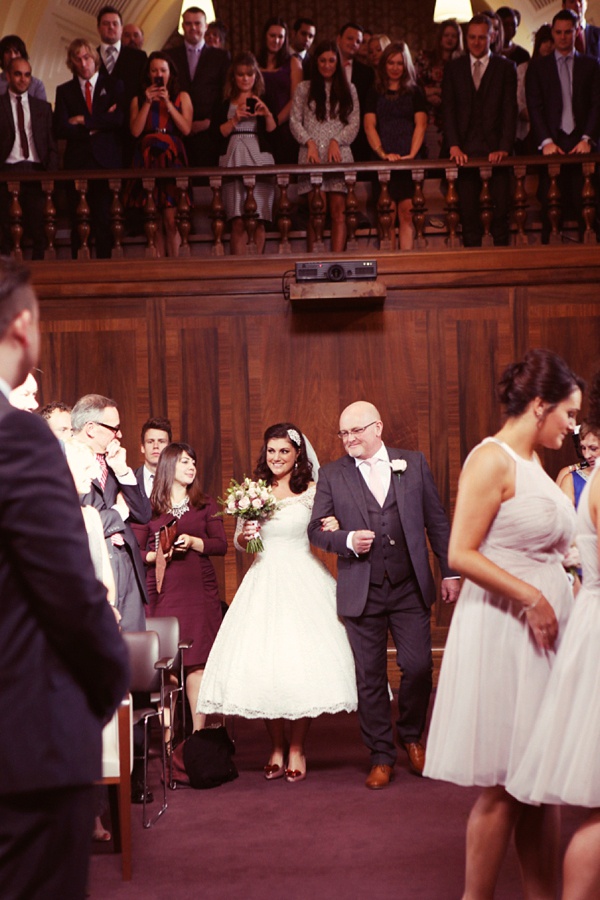 "Lewis is a huge Coldplay fan and I walked down the aisle to a piano version of 'Yellow' with just Chris Martin singing. We walked out to 'Grow Old With Me' by Tom Odell."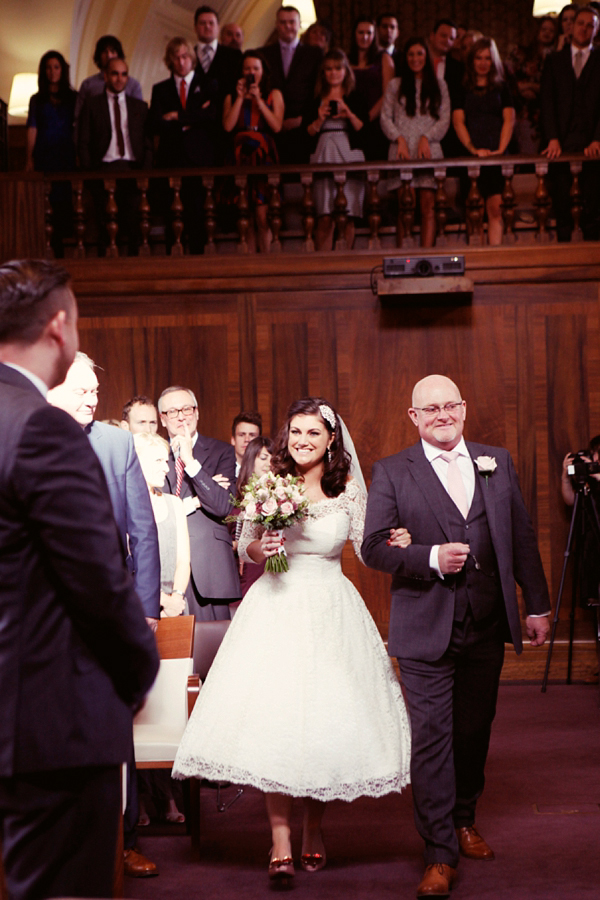 "My friend Sarah read a lovely reading called ' The One'.  My Sister Megan also did a reading which was a commissioned poem about Lewis and me. It was amazing and was kept secret from us until that day. I think this was the only thing I wasn't in control of on the day and it was great to have an element of surprise.
We allowed Sarah to choose her own reading. We knew that Megan had commissioned the poem and knew it would be something personal and unique. Plus a bit of fun for the ceremony."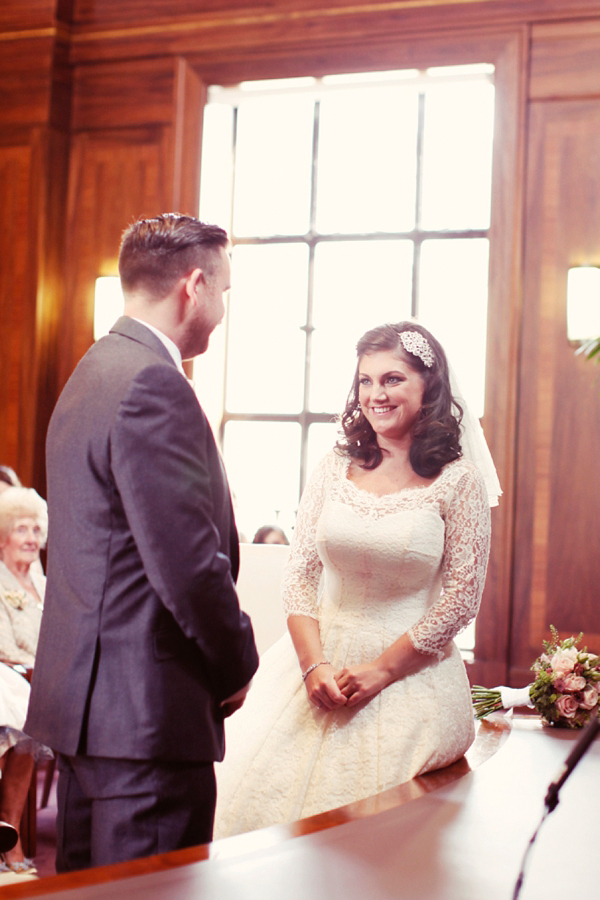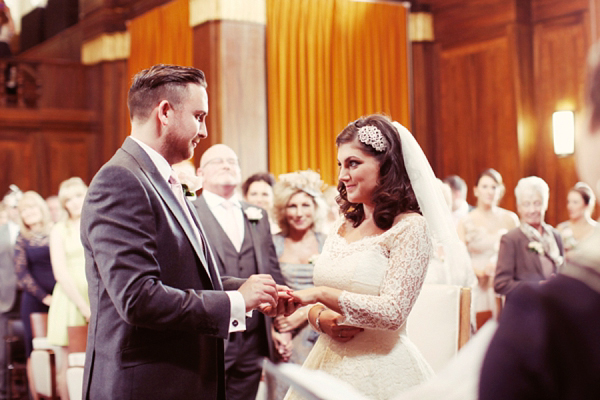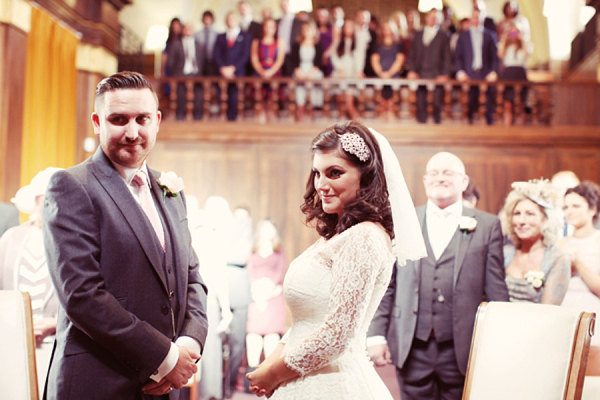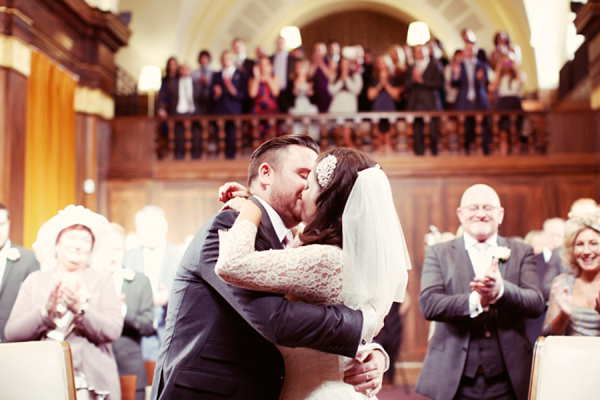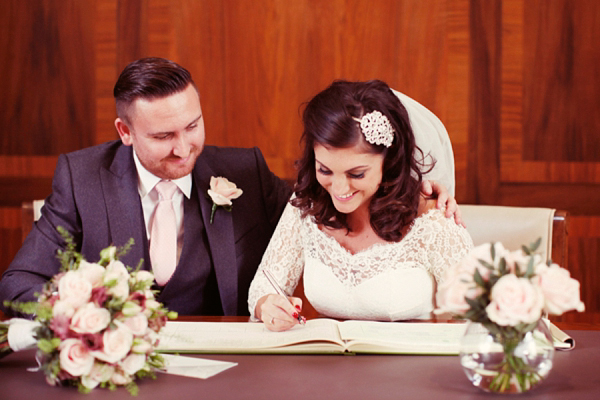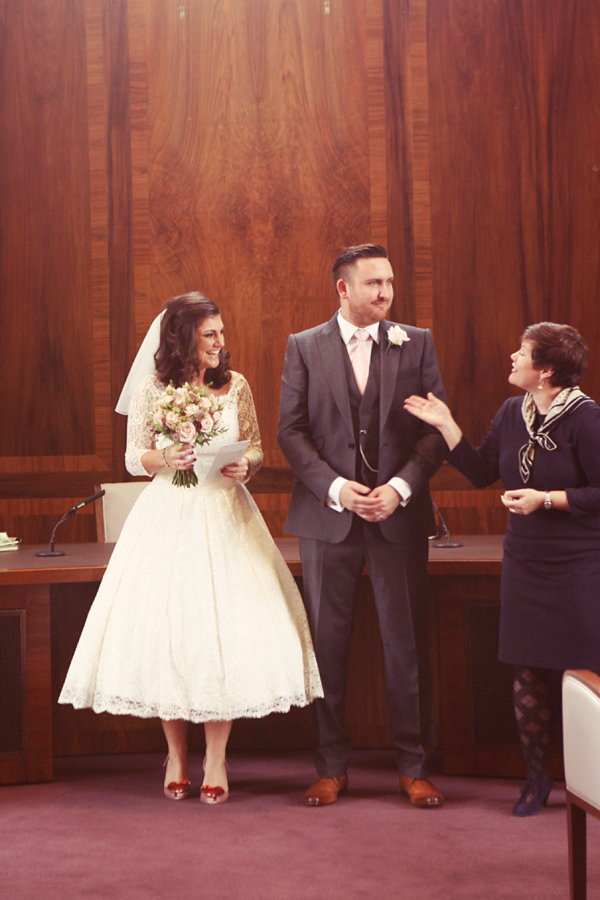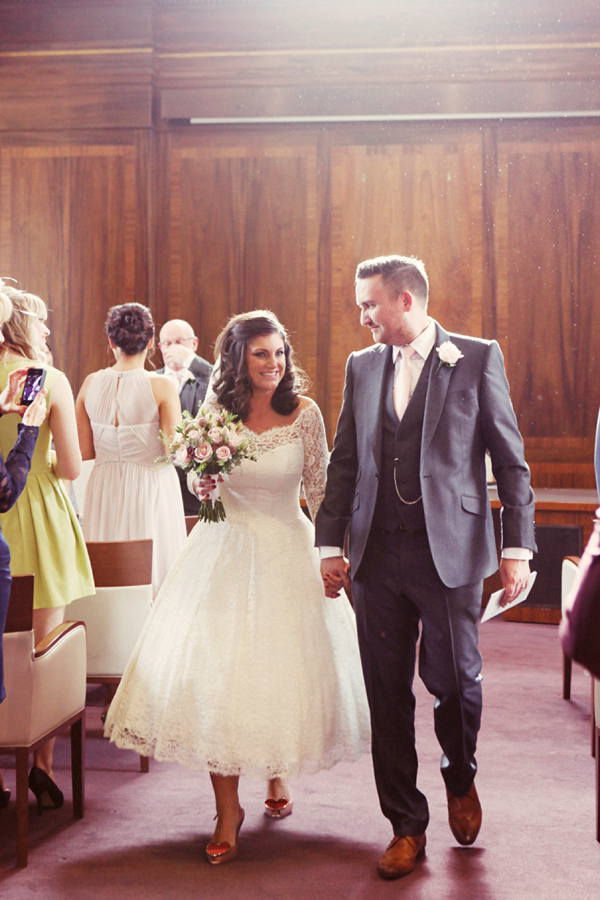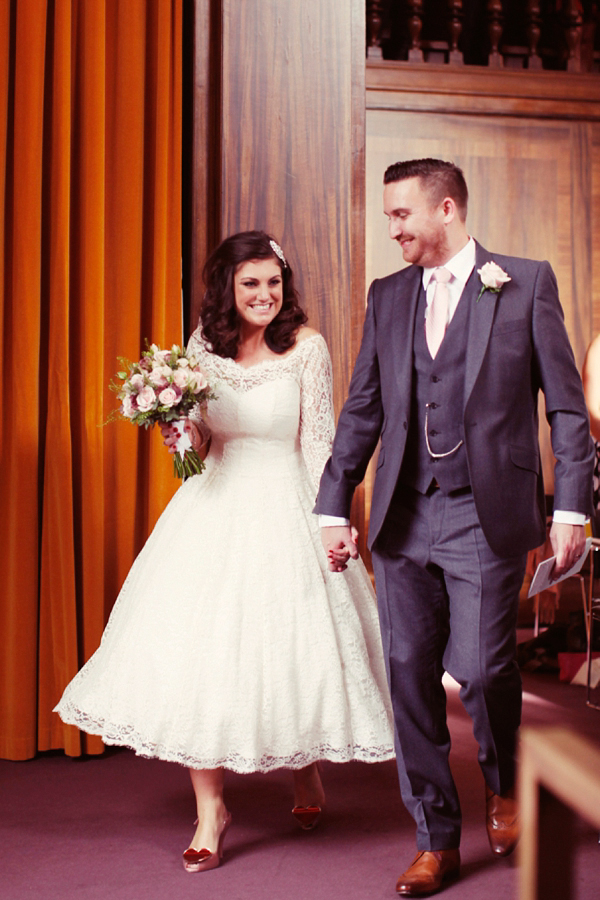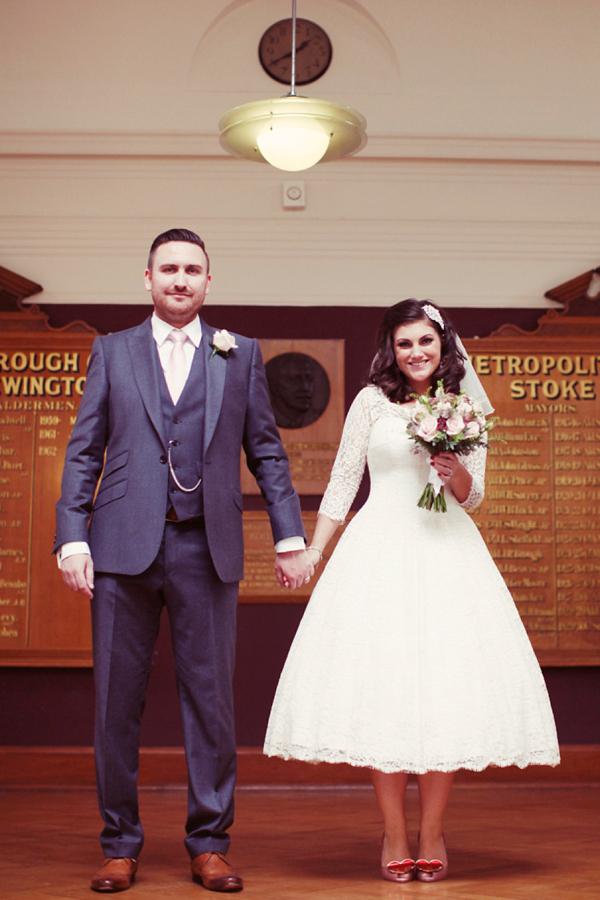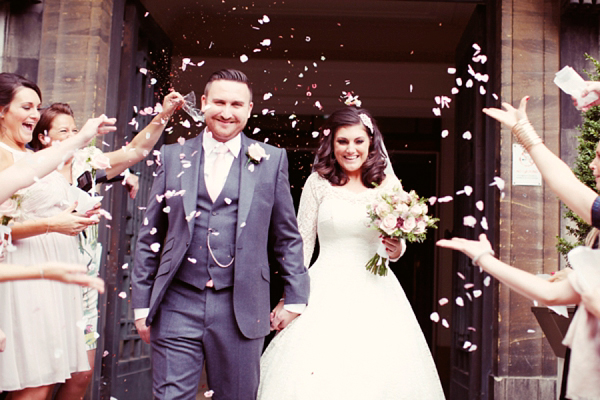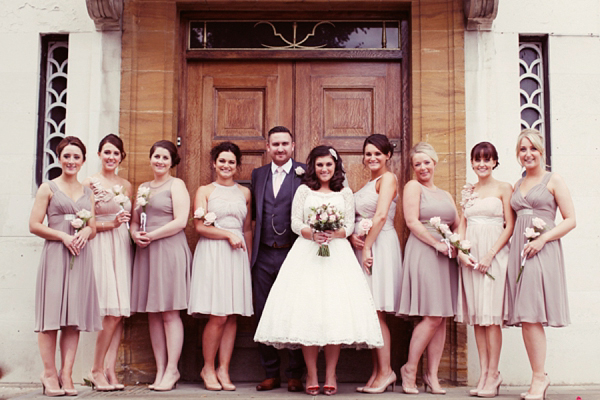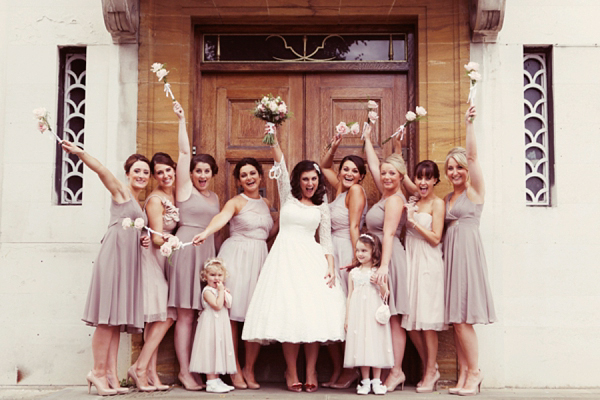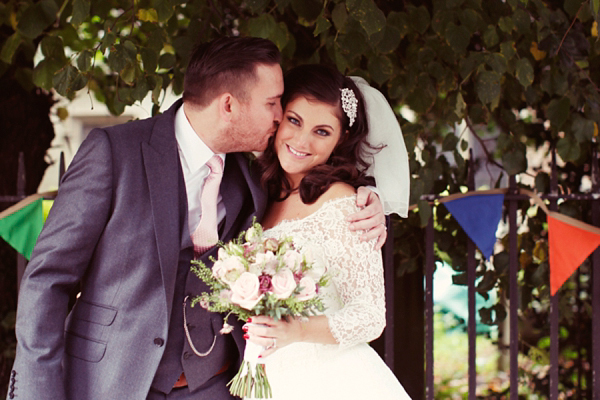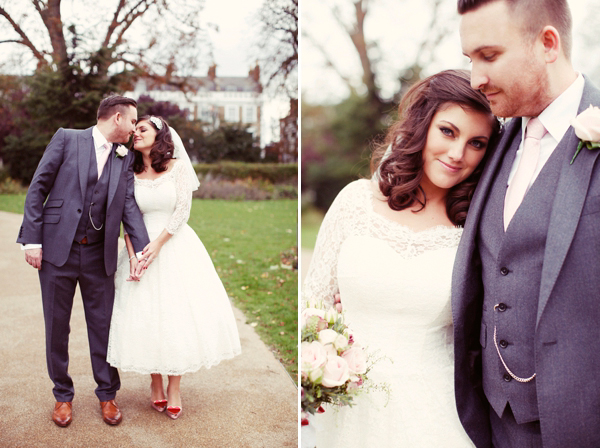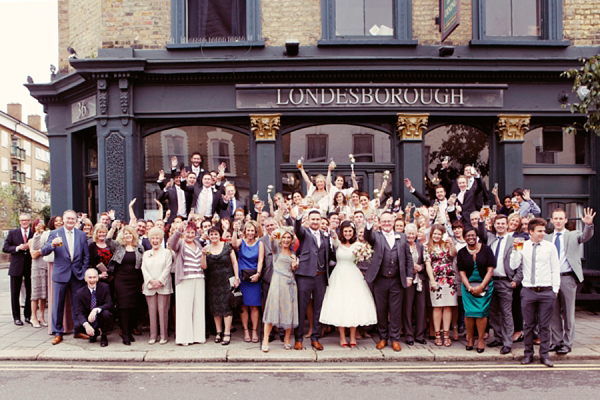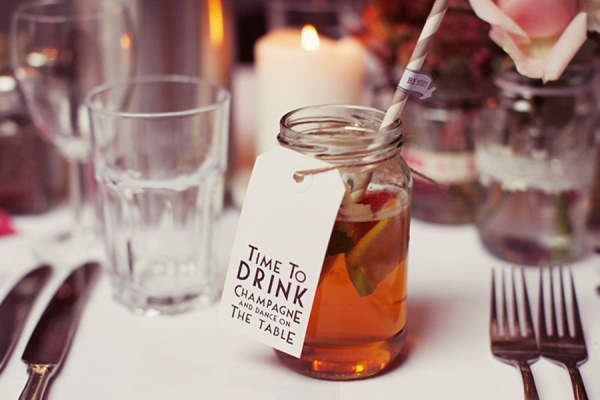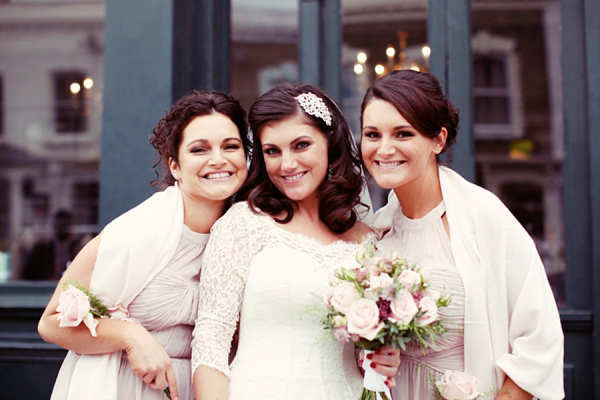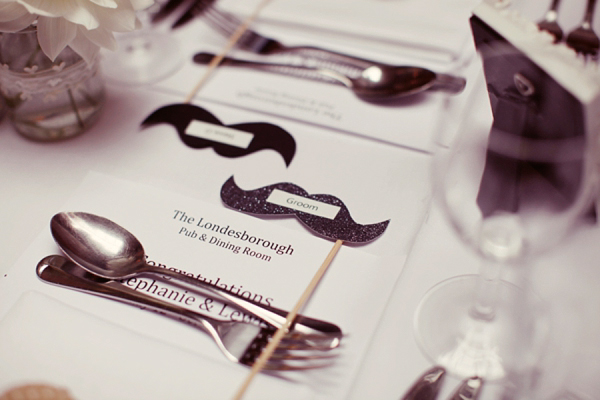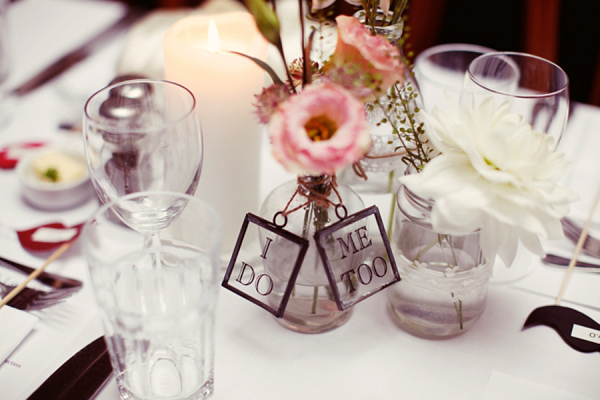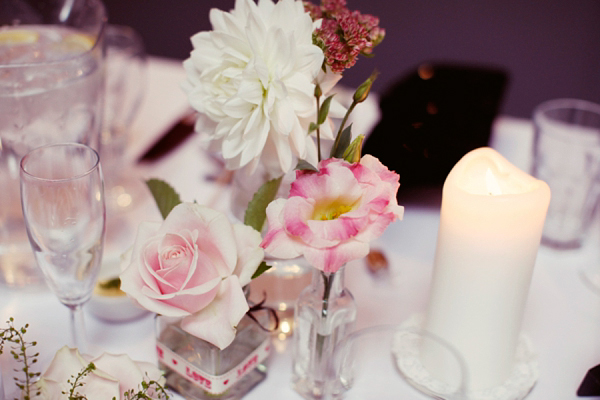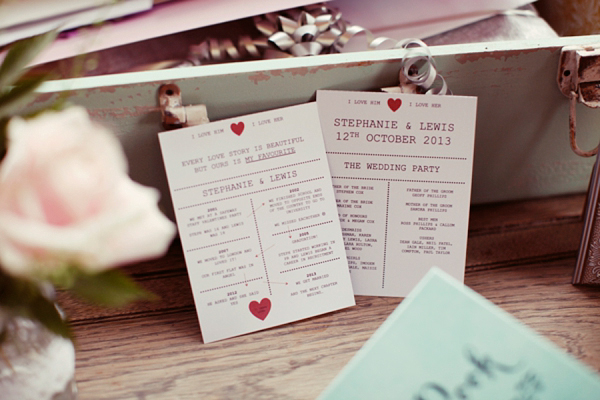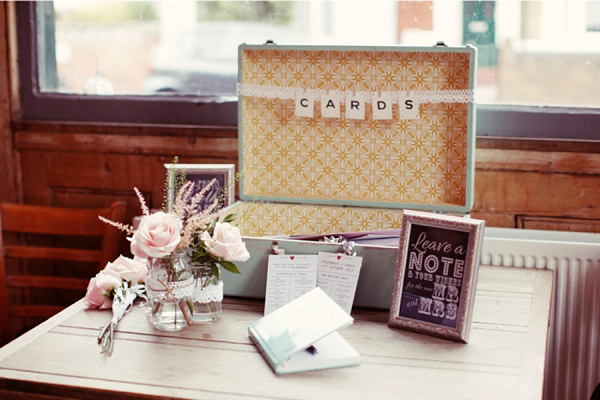 "For favours we provided mini jars of sweets covered in vintage fabric. This was something we didn't want to spend loads of money on, but we did want to provide something fun."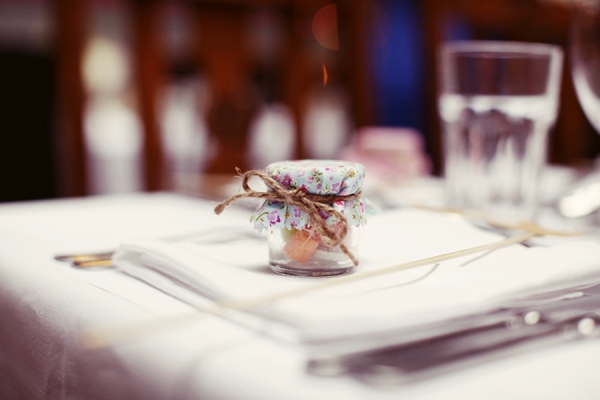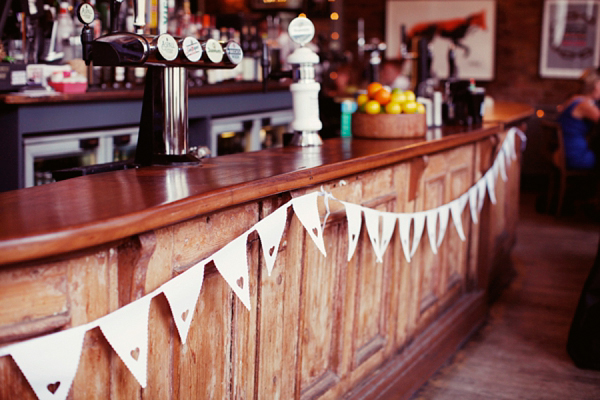 "We utilised the chalkboard at the pub for the table plan and the table numbers were in vintage style frames."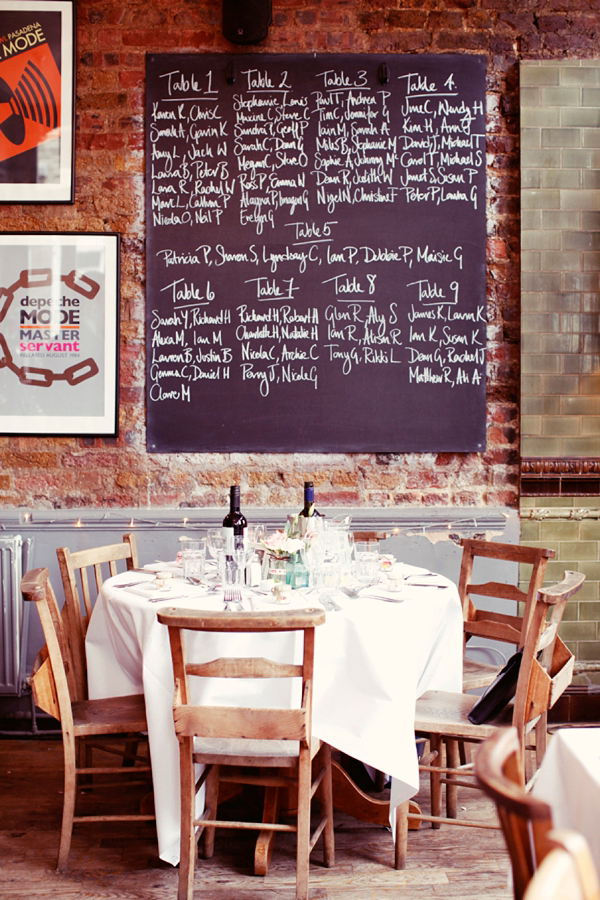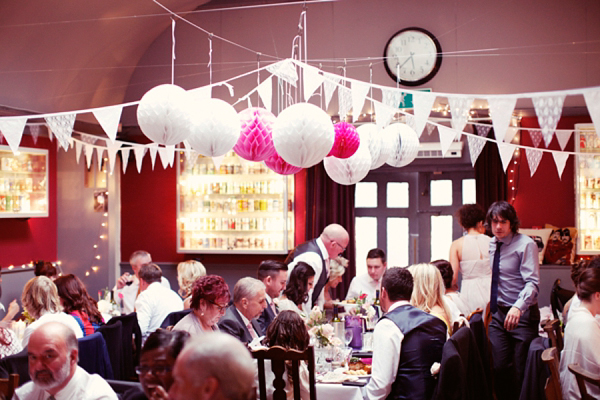 "My very talented friend, Alexa, made our place cards – I wanted something fun and she came up with the idea of lips and moustaches with people's names on there. They made for good photos!"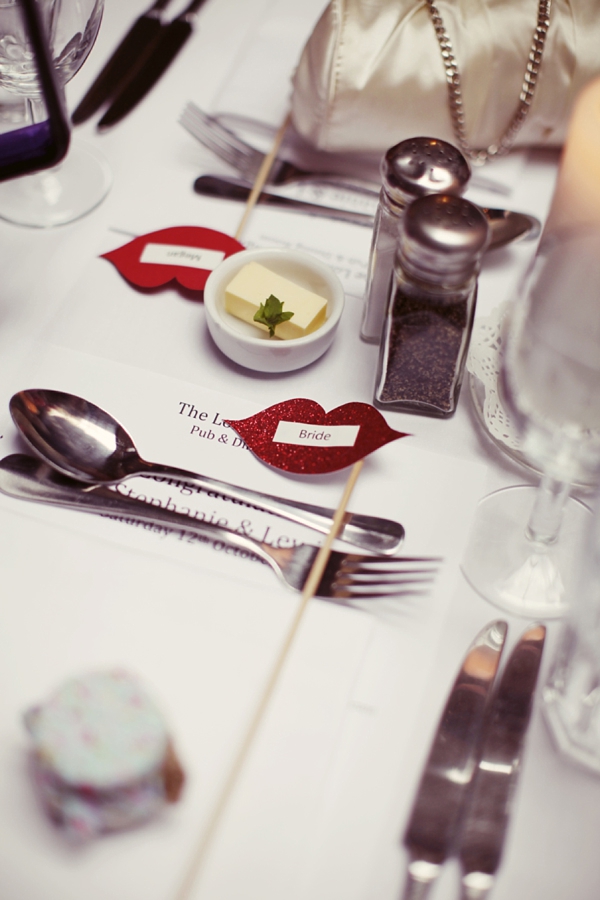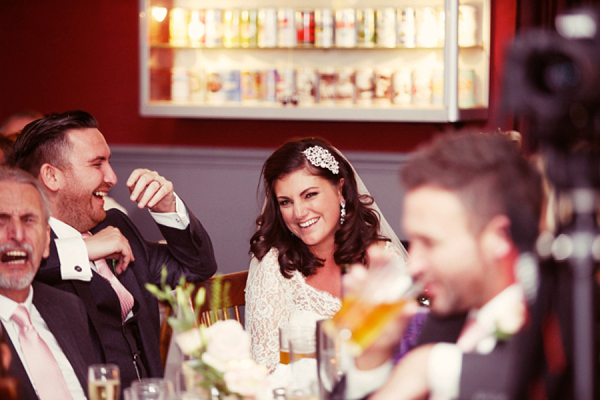 There were three separate cakes on a tiered stand, Victoria Sponge, Carrot Cake and Chocolate Cake – all provided by The Tea Rooms in Stoke Newington.  I wanted a choice of cakes and for it to look a little different from the traditional wedding cake."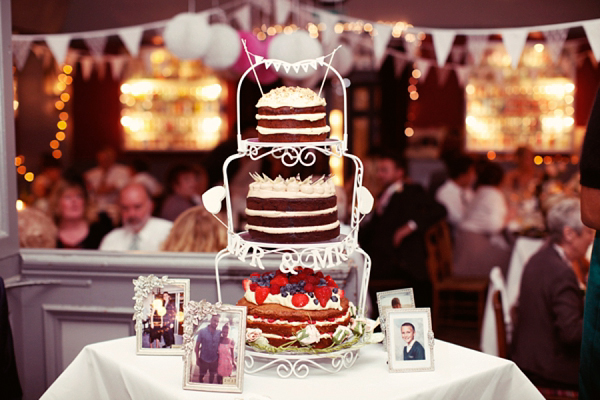 "We really struggled with a first dance song. We were so indecisive as we love so many songs. Each time we would think of one we would look at the lyrics and realise it was about breaking up! We eventually chose 'You are the Best Thing' by Ray LaMontagne. The lyrics were perfect and it was up-tempo enough for us to dance to and get the party started.
We hired The Wedding Smashers who are absolutely amazing DJs. The dance floor was packed all night!"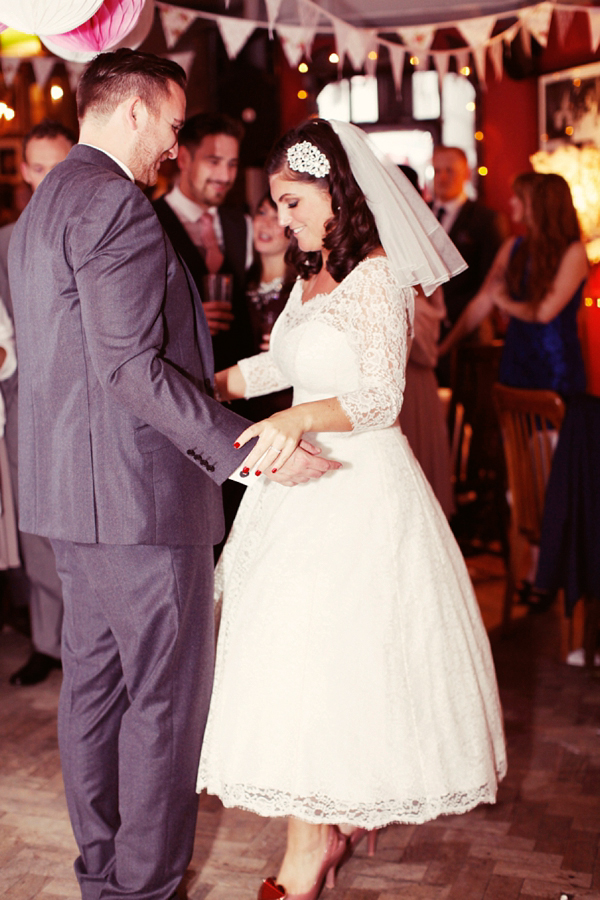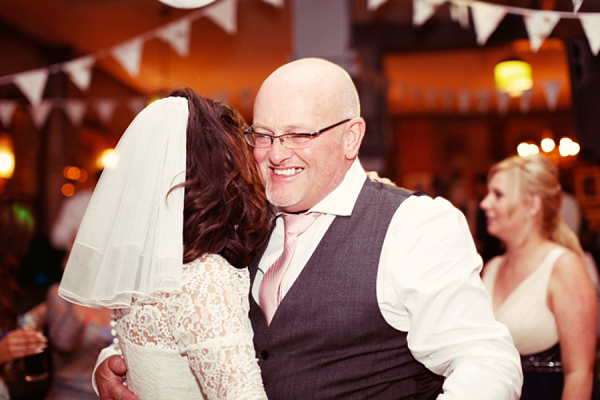 Words of Wedded Wisdom…
"Do whatever feels right for you and don't let other people dissuade you from what you want! At the end of the day it is your day. People were always shocked when I said I had 8 bridesmaids and thought I was mad, but it worked. I had the best girls around me. We had so much fun the evening before and on the wedding morning. At one point it was a party in the hotel room dancing around and being silly. It kept me calm and relaxed if you can believe that. And I love the photos of us all together on the day
I don't believe in regrets – we had the very best wedding for us. We both loved every single moment and we look back on it with absolute happiness.  Enjoy every single second of it, because it goes so fast!
Finally, I looked at Love My Dress every day and subscribed to the Love My Dress Facebook page too. It provided so much fantastic vintage inspiration and I still look at it to be nosey even post-wedding!"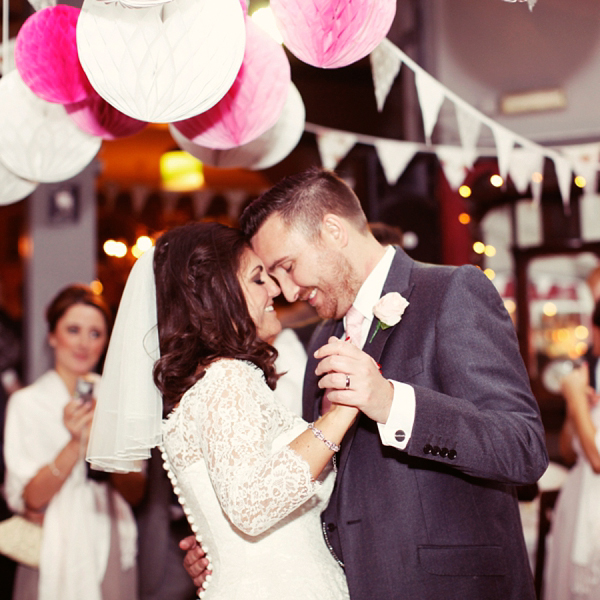 Super super gorgeous day and yet another absolutely gorgeous Elizabeth Avey gown. Huge congrats to you Stephanie and Lewis – Stephanie, I'm so delighted we hooked up over our mutual love for Ms. Avey – you have impeccable taste my friend, as does your husband!
Brides, if you love Stephanie's style, try exploring more of the following pages on Love My Dress: Elizabeth Avey, 1950s, London Weddings, Pub Weddings and Autumn Weddings.
Pop a lovely thought below or leave some feedback on our Facebook page dear reader, we would love to hear from you!
Love, thanks and appreciation also to Rebecca Wedding Photography for sharing her work today – we hope you've loved looking through these uplifting photographs.
Much love,
Annabel

Photographer – Rebecca Wedding Photography
Venue - Town Hall + The Londesborough Pub, both Stoke Newington
Wedding Dress – Brides Dress – Elizabeth Avey
Veil – vintage
Brides Shoes – Vivienne Westwood Melissa
Brides Accessories – Earrings and Bracelet from Glitzy Secrets + bag by Lulu Guinness
Grooms Suit – Jaeger
Bridesmaids – Coast, BHS + Aftershock London + shoes from Marks and Spencer
Flowergirl Dresses – Monsoon
Florist – A Passion For Flowers
Cake – The Tea Rooms, Stoke Newington.
Transport – Daimler 250 from Classic Car Club
Entertainment – The Wedding Smashers
Additional Styling – Vowed & Amazed Giant Light up Letters
Rings – Dynasty Diamonds in Hatton Garden
Catering – The Londesborough Pub
Hair and make-up Artist - Kari Rodnes
Film Production – Shutterbox Films
Follow Love My Dress on Google+