Good afternoon lovelies!  A final little treat for you this afternoon, coming to you courtesy of photographer Fiona Kelly.  Anna and Joe tied the knot on 17th August this year at Islington Town Hall in London, chosen because of it's beautiful old grand style that catered for a large number of guests.  They continued their celebrations with a reception held at Buckettsland Farm in Hertfordshire, a wonderfully scenic venue that the couple say they both fell in love with at first sight. 
Anna chose to wear a gown by designer Johanna Hehir that she purchased from Mathilda Rose Bridal Boutique in Lindfield, West Sussex.
Photography Copyright (c) 2013, Fiona Kelly
"I had a bit of a dress disaster five weeks prior to the wedding where my dress maker had let me down badly. I went into a blind panic and phoned around practically every wedding dress shop in Sussex.  Nicola at Mathilda Rose was so kind and understanding on the phone and she assured me she would find me the perfect dress, and she really did.
The first dress she got me to try on, which was by Johanna Hehir, was the dress I bought, it was the perfect dress in so many ways and I could not have found a better one, it was flattering, beautiful and a vintage design, everything I could have ever wanted."
"Joe's mum made my bird cage and gorgeous clip with pearls, feathers and lace. I had seen lots I liked in the shop and she offered to make me one.  It was well worth the 17 hours she spent making it as it was far more beautiful than I could have ever imagined.
I wore my late grandmothers beautiful pearl necklace with a diamond and emerald clasp. It just made it that extra special wearing something that belonged to her. I wore my friend Louise's Tiffany pearl bracelet as something borrowed, and the gorgeous pearl earrings a group of my best friends bought for me as a surprise gift on my wonderful hen do in Paris. They presented them to me at the top of the Pompidou Centre whilst sipping cocktails and watching the Eiffel Tower sparkle in the moonlight!
"Joe and I met at work five years ago in a call centre, where we quickly became friends and that friendship soon blossomed into love! We went for a summer picnic with friends who had recently become engaged themselves and the idea rubbed off on u.  Before long Joe had proposed and we were drinking champagne celebrating. This was just over a year ago and the excitement never wore off.
We have both always loved the vintage style, and I love anything old, antique jugs, crockery, cake stands and hairstyles and especially music!"
"Our favourite part of the day was when we saw each other at the ceremony and the whole thing was real! It was what we had both been waiting for so long!  We wouldn't change a thing about any of it – the whole day was perfect and could not have been any better."
"Our florists were The Real Cut Flower Garden – absolutely stunning, natural wild flowers went so perfectly with the vintage  theme of the day. We arranged them all ourselves in vintage jugs that had been collected from car boot sales and charity shops, which just added to the extra special home made touches of the day."
"Every single piece of bunting, decoration, prop, seating plan, menu, table plan, place cards and wedding favours were all home-made. None of it could have been done without the mother of the groom. We have all told her she needs to go into wedding planning and designing.
People were asking throughout the day and night which company had provided all the decorations and were amazed when they were told it had all been done by one person with a little help from some friends!
All the tables were named after a different old fashioned sweet.  We used home-made bunting, old suitcases, vases, jugs, vintage bottles, crockery, silver plated vintage cutlery and cut glass vintage cake stands!"
"My bridesmaids all wore a different pastel shade of dress in slightly different style, bought from various high street shops. I wanted them to feel completely comfortable on the day wearing something that suited their body shape and I think they all looked beautiful and complemented each other, and the rest of the theme of the wedding, perfectly.  They all wore their own individual court shoes in a cream or beige colour.
All the girls wore a pearl bracelet that I bought them as gift for all their thoughtful and amazing help given during the stressful preparation of the wedding. I presented them with the gift the morning of the wedding, while we were all getting ready at my parents house."
"Fiona Kelly was the photographer for the day. She was amazing from start to finish. She managed to slip comfortably in during the hectic preparation session in the morning while we were all having hair and make-up done and take beautiful and elegant photographs around my parents house.
She continued to make Joe and I and all the guests feel at ease throughout the wedding while she effortlessly took stunning pictures and captured the day so perfectly."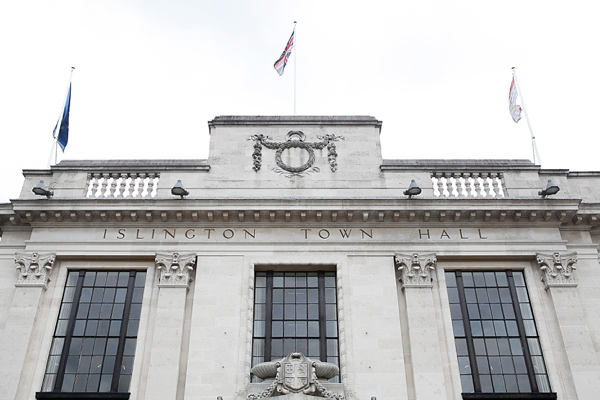 "My engagement ring was taken from my grandmother's diamond and sapphire engagement ring which I had inherited and I decided to get it made into something more modern. Patrick Wyatt, London made the ring and also both our plain wedding bands."
"My dad gave me away, and I think he even shed a small tear!  We walked down the aisle to Adele – 'Make you feel my love' which was an emotive and personal song to both Joe and I and we were unable to play it in the run up to the wedding without one of us crying.
We tailored our own vows as follows : 'Anna you are my best friend, I promise to laugh with you, cry with you and grow with you. I will love you when we are together and when we are apart. I promise to support your dreams and respect our differences and to love you and be by your side through all the days and nights of our lives'.  And vice-versa!"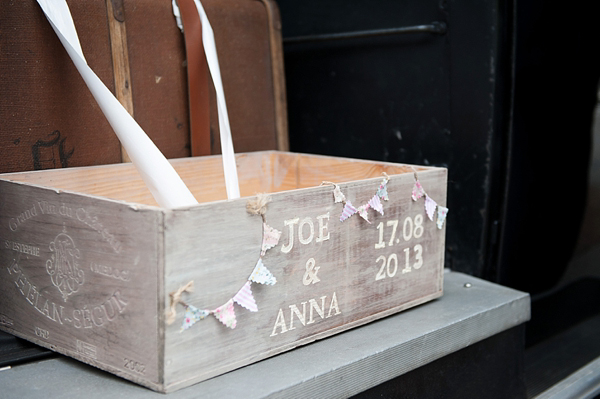 "Our caterers were Mange on the Move, London. Simply the best food anyone could ever imagine! A rustic barbeque with delicious canapes!  All the cakes and desserts at the wedding were made by myself, mother of the bride and some kind friends! I baked 13 cakes and 98 fairy cakes within two days of the wedding.  Mange on the Move also had our 'cheesecake' made from La Fromagerie in London.  It was absolutely gorgeous and decorated with grapes, figs and berries and home-made figures on the top by Joe's mum once again, made from washing pegs, just added another special personalised touch."
 Words of Wedded Wisdom…
"Don't panic it will all be perfect, as long as you are marrying the person you love and know you want to spend the rest of your life with. Also try and add as many personal touches to the wedding as possible and save yourself as much money by collecting, making and borrowing!"
Just another beautiful wedding to fill your inspirational boots with! We do love to look after you and feel quite responsible for adding a daily dose of beautiful inspiration into your lives.
If you would like to learn more about designer Johanna Hehir, please visit the Johanna Hehir website.  You might also want to explore more farm and summer weddings, or browse through our pages of brides wearing their own Johanna Hehir gown (it's pronounced 'Hair' by the way!).
Much love,
Annabel
Photographer – Fiona Kelly
Venue – Islington Town Hall + Buckettsland Farm
Brides Dress – Johanna Hehir
Veil/Headpiece – Johanna Hehir via Mathilda Rose Bridal Boutique
Brides' shoes – Mathilda Rose Bridal Boutique
Bride's accessories – birdcage veil + grandmother's pearl necklace
Bridesmaids – Various high street shops
Flowergirl Dresses – Ted Baker
Florist – The Real Cut Flower Garden
Cake – Cheese tower by Mange on the Move using cheeses from La Fromagerie
Transport – vintage taxi
Entertainment – Jonny Hepbir + Ear Candy Oxford
Venue styling – All DIY
Catering – Mange on the Move
Make-up Artist – Rene Metcalfe
Hair Stylist – Bree, via Trevor Sorbie in Hampstead, London
Follow Love My Dress on Google