Good morning everyone! Did you get a chance to see this beautiful New England style barn wedding that we posted late yesterday afternoon? This morning's wedding is a cultural celebration of colour and love. Martin & Mei Liu's Summer wedding took place at Crook Hall and Gardens in Durham, followed by a reception at Lumley Castle in Chester-le-Street,and Kelly and Caroline of The Twins Weddings were there to capture it all on camera.
"We wanted something that reflected our personality and taste
therefore we went for something simple, classic, informal and
outdoors – which is the reason that we chose Crook Hall and Gardens in Durham as our venue."
Photography Copyright (c) 2013, The Twins Weddings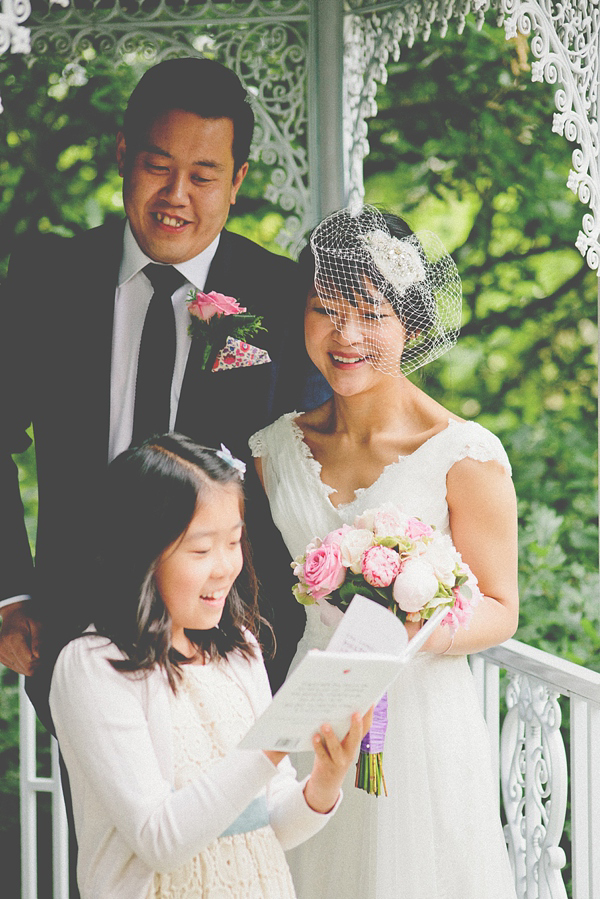 "Martin and I first met through a friend about twelve years
ago and hit it off straight away. Not long after, I moved away to Leeds
for university and ended up staying after graduating, for work
purposes.  Having not seen each other for eight years we met for a
random reluctant coffee at Pret. Since that coffee, we stayed in touch
and whenever I was up in Newcastle we would catch up over dinner and
romantic walks.
Our relationship quickly blossomed and after two years
as boyfriend and girlfriend, Martin decided to propose in New York City
at Christmas, with my niece's shiny green plastic ring!
After
getting engaged, we didn't rush in to making wedding plans, however,
fate brought me  back to Newcastle and it was then we decided to get
married in the summer of June 2013."
"My dress was by Maggie Sottero
but sadly, buying it was not a good shopping experience. Due to time
pressures, it was not possible to get my dream dress made bespoke, so I
sought to find a pre-designed dress from a wedding boutique. The staff
at the boutique constantly chased for money and pressurised me to take the
dress.
Fortunately however, Accent Original, another bridal boutique, agreed to take my dress  and make some alternations to suit my own tastes and style."
"The girls at Accent Original
were really very helpful and very accommodating.  They knew what I wanted and
even made my  bird cage out of a piece of jewellery from my dress.
My shoes were from No. 1 by Jenny Packham for Debenhams, in the sale – I've worn then again since too!"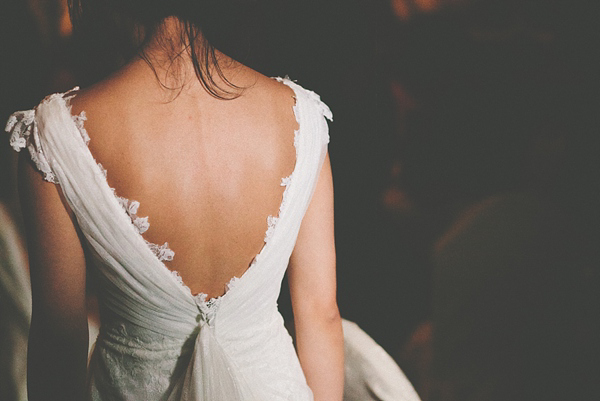 "Martins suit was from Marks and Spencer.  He also wore a navy knitted square tie and Liberty print pocket square."
"I did my hair and makeup myself as I wanted a natural and simple look."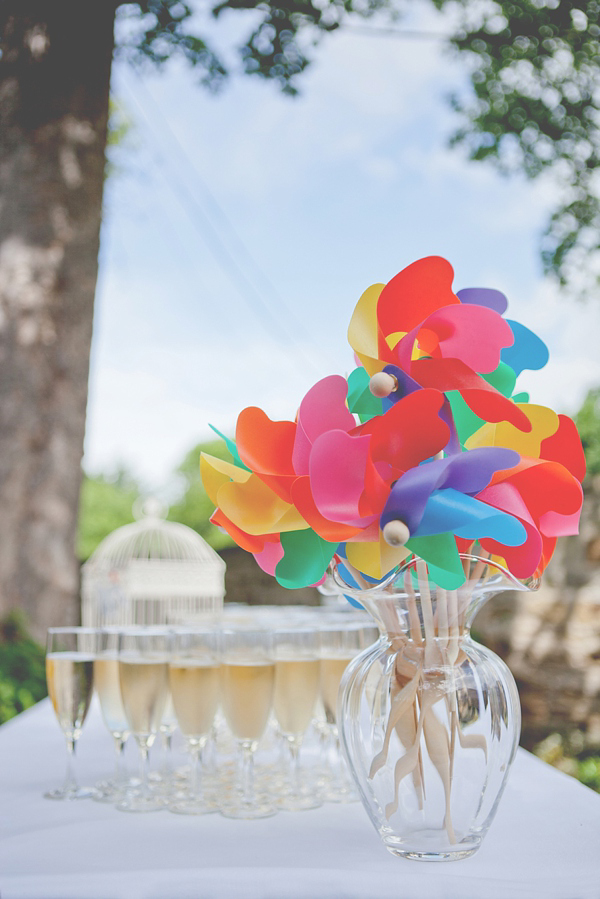 "Even though we were already married my mum insisted
that I should be given away at home so I went back home to be given
away on the Tuesday in the traditional Chinese service. 
I
wore a Chinese wedding dress known as Kwa which was my mums wedding
dress some 30 years ago. It was gift from my grandmother to my mum and
passed to me. I'm so glad she kept it as the quality of the Kwa these
days aren't the same."
"Our chinese banquet took place at the Palace Garden in Newcastle – it literally was the only place big enough to host us and our 400 guests!  We wanted something different and opted for their Elizabethan banquet which involved over 20 courses! It was a wonderful but very tiring day for us – we were so happy to see friends, family
and both our parents enjoying the day though."
"I wore five sets of bangles – each individual bangle was a gift from a different family member."
"Our photographers were Kelly and Caroline of The Twins Weddings
– they were both very accomodating and it felt they were as much part of the
wedding as friends and family. We both highly recommended them."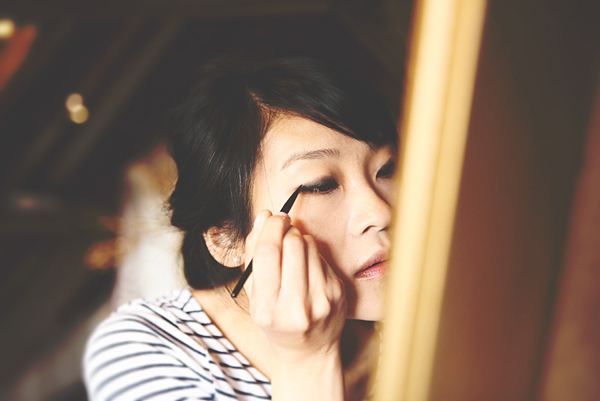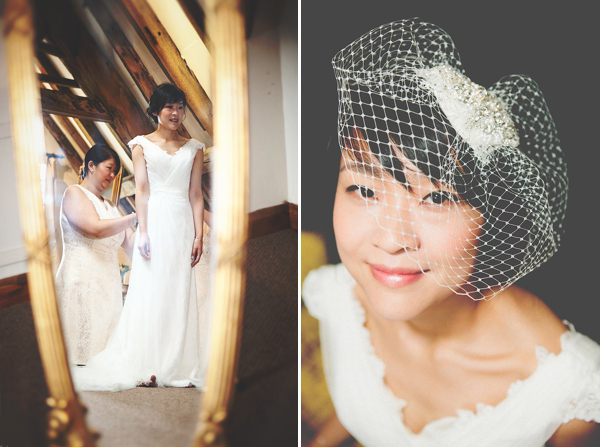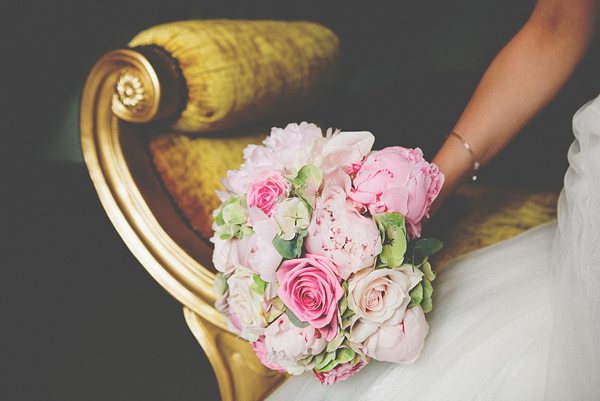 "As I made my way to the wedding ceremony, the Wedding Song by Julia and Angus Stone played in the background."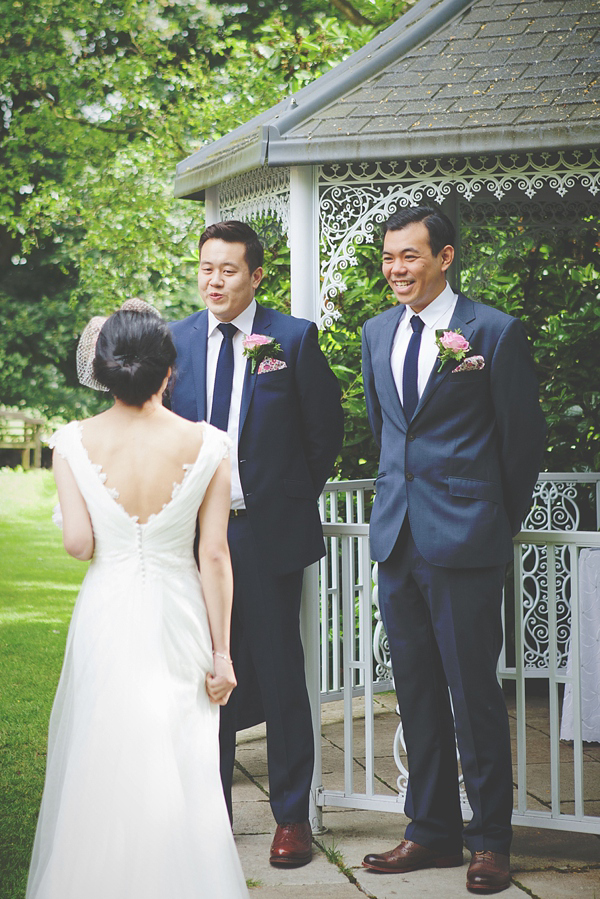 "We
had two readings – firstly, my niece, Sophia, read 'A Lovely Love Story'
by Edward Monkton, and our second reading, by bridesmaid Ping and
good friend Rosy was 'The Art of Marriage', which was translated from a
Chinese poem."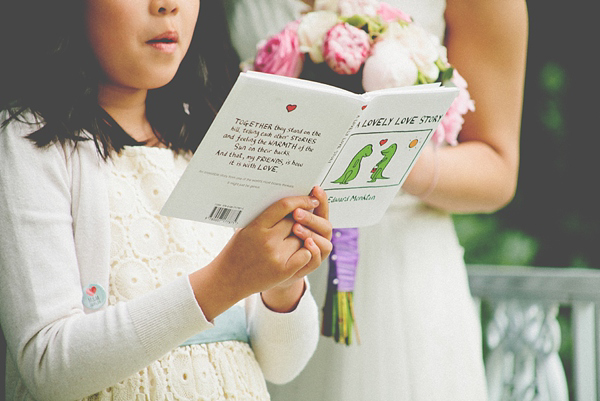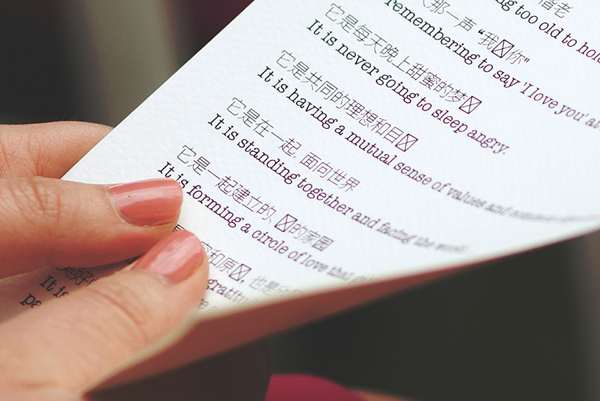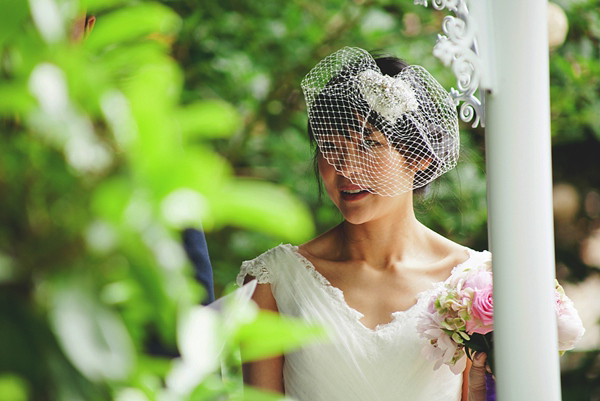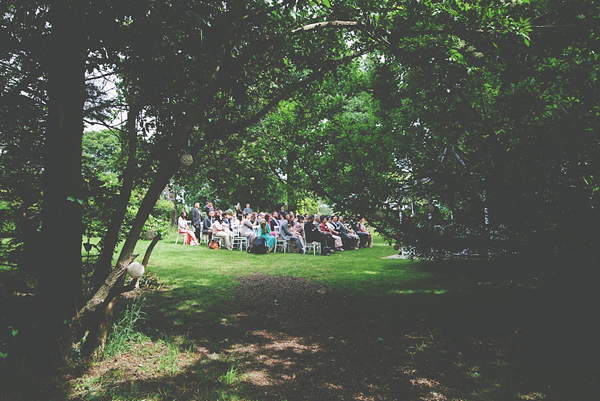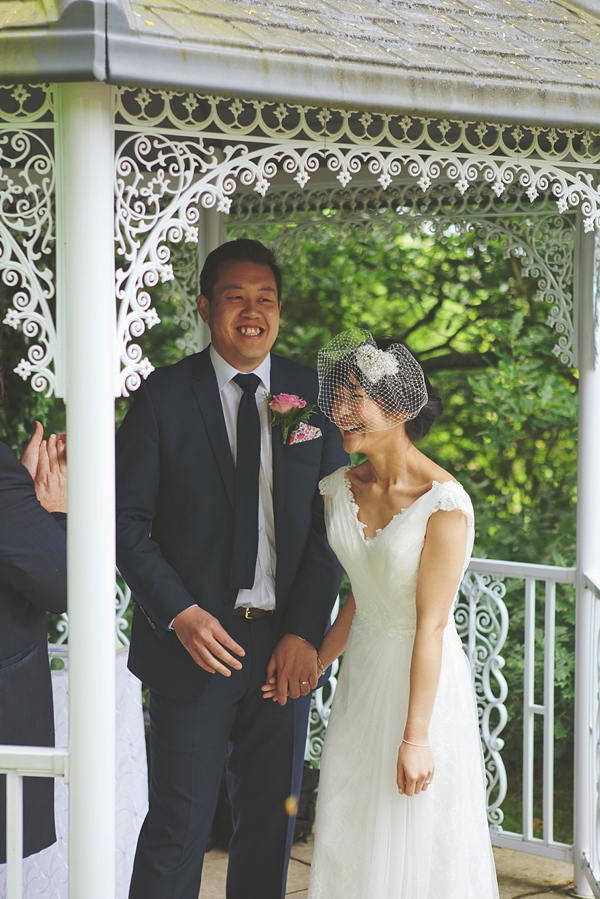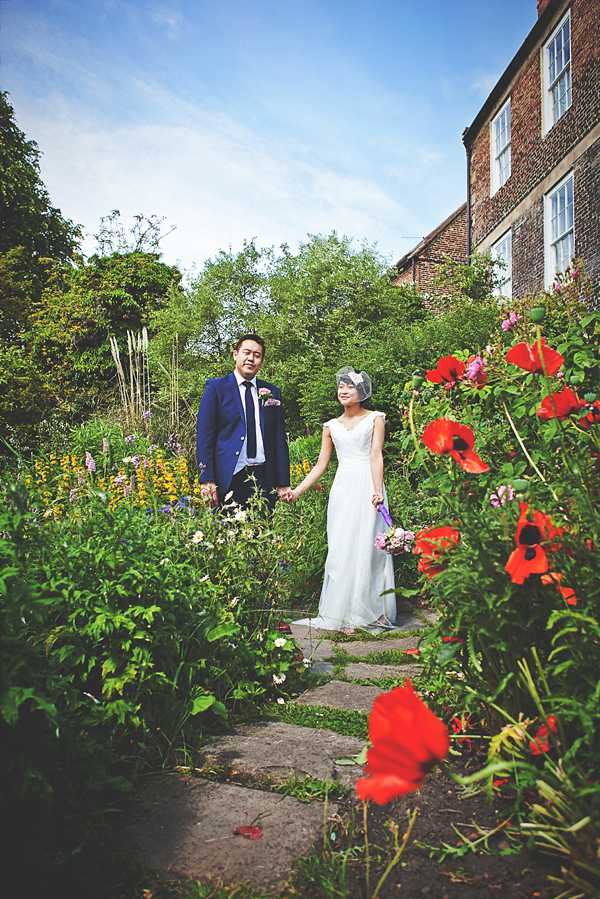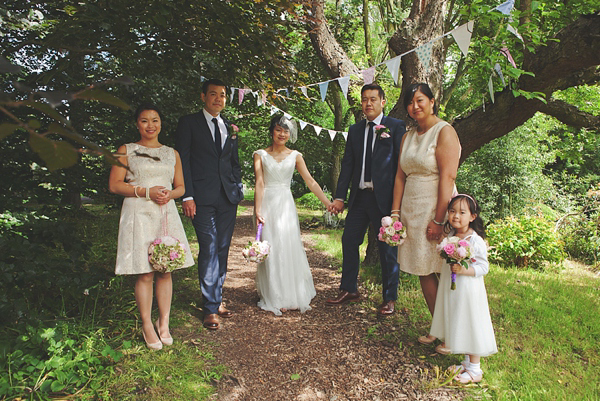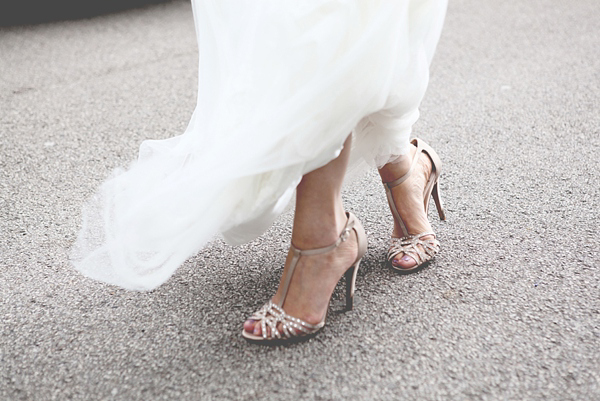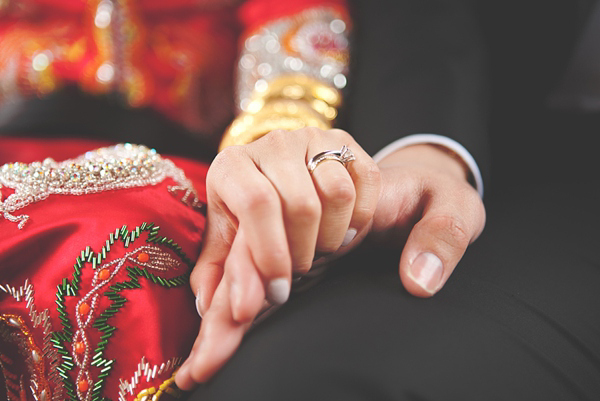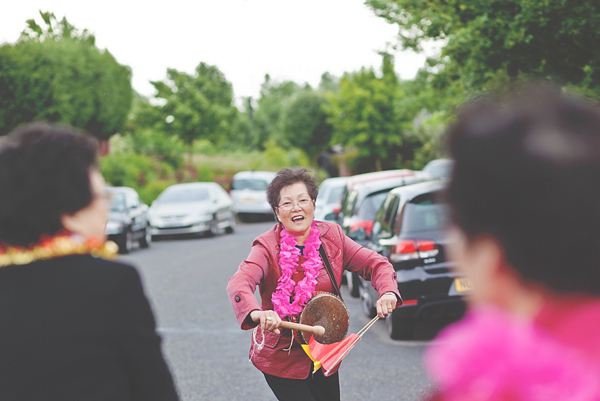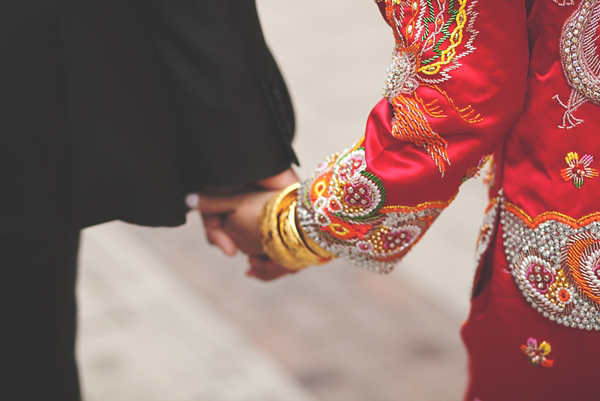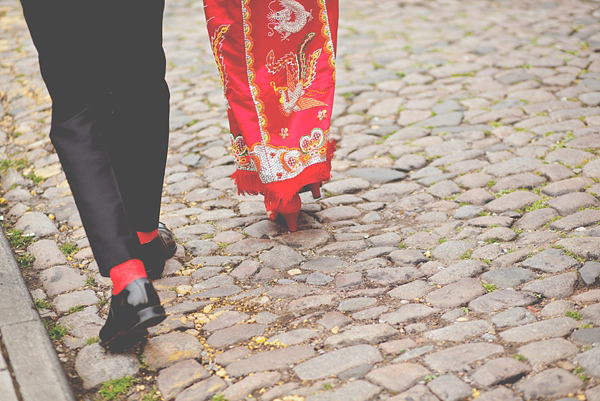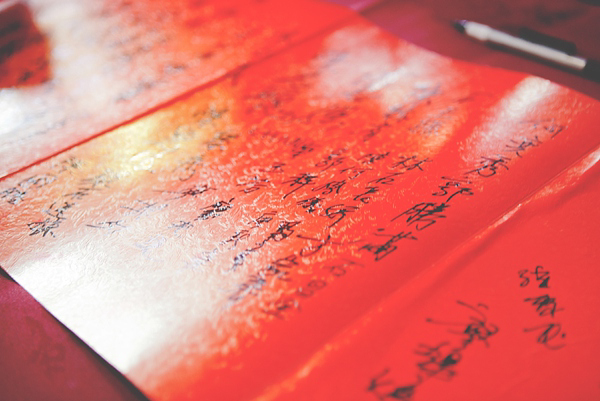 Words of Wedded Wisdom…
"For
both of us it was all a blur  so can't decide the favourite moment. What
we remember most was seeing all our nearest and dearest together in one place smiling, laughing and crying for us
Our wedding wasn't perfect but we wouldnt have changed anything.
My best advice to all brides is to relax and do what's right for you and what you can afford.
Finally, I'd recommend visiting Love My Dress, that's where we found The Twins and a lot of inspiration for the little details of our day.
Congratulations to you both Martin & Mei Liu and thank you so much for sharing your wedding day celebrations.
Huge thanks too to lovely Kelly and Caroline of The Twins Weddings.
You can see more from The Twins here on Love My Dress – you might also want to explore other Chinese weddings too.
With much love,
Annabel
Photographer – The Twins Weddings
Venue – Crook Hall and Gardens + Lumley Castle, Chester-le-Street
Wedding Dress – Maggie Sottero with alterations by Accent Original
Veil/Headpiece – Accent Original
Brides' shoes – No. 1 by Jenny Packham for Debenhams
Groom's Attire – Marks and Spencer
Bridesmaids dresses – Monsoon
Flower girl dress – Monsoon
Cake – Cake Poppins
Favours – Tins of Chinese tea
Catering – Palace Garden Chinese Banquet
Stationery – The Groom
Follow Love My Dress on Google+