Who is familiar with the beautiful online boutique, Pale &
Interesting?  This gorgeous store offers a life-style shopping experience for all those who appreciate a 'non-prescriptive' aesthetic, and was set up by founders Atlanta Bartlett and Dave Coote in a backlash against against accepted 'good-taste' and
bland mass-production.  It's a gorgeous site that I implore you to visit if you haven't already.  And here's a secret (sshhh), the founders also have the most exquisite venue that they hire out for weddings.
Set in the
heart of Romney Marsh on the Kent/East Sussex border and surrounded by stunning
open countryside, Pale & Interesting The Venue provides a stunning New England style barn setting and backdrop for couples looking for a perfect blank canvass setting for their wedding day.  It's exactly where couple Holly and Danny chose to tie the knot on 13th July 2013. 
Photography Copyright © 2013, Assassynation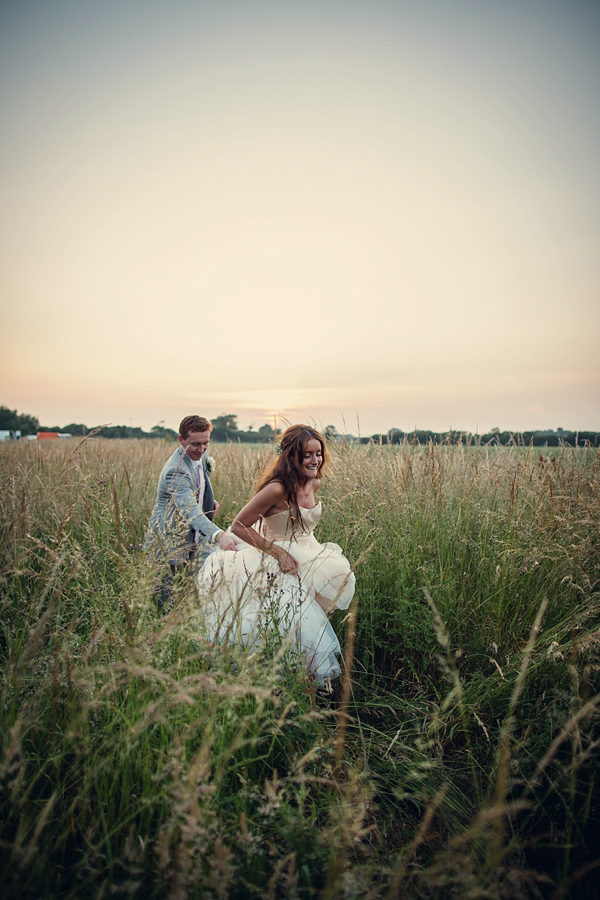 "Our wedding venue, Pale
and Interesting, is near Rye and Camber
Sands on the Kent coast and completely hidden in the middle of the
countryside. As we drove there to visit the roads got narrower and
narrower until we were bumping across a beautiful farmer's field filled
with yellow rapeseed and red poppies.
There were baby lambs, bunny
rabbits hopping across the road and Kent's famous green parakeets
swooping down from the trees. So I fell in love with the beauty of the
place before we even arrived really! Once I saw the stunning New
England-style barn and the beautiful sunlit meadow where we would pitch
our marquee, I knew I had found my venue." 
"My original inspiration for styling our wedding came from the
scene in Notting Hill where Julia Roberts and Hugh Grant climb over a
wall at night into a little secluded garden in the middle of London.  I
then re-read The Secret Garden by Frances Hodgson Burnett (which was one
of my favourite stories when I was a little girl)  and loved the idea
of a mysterious, hidden-away garden, filled with nature – tall grasses,
huge trees, birds and butterflies."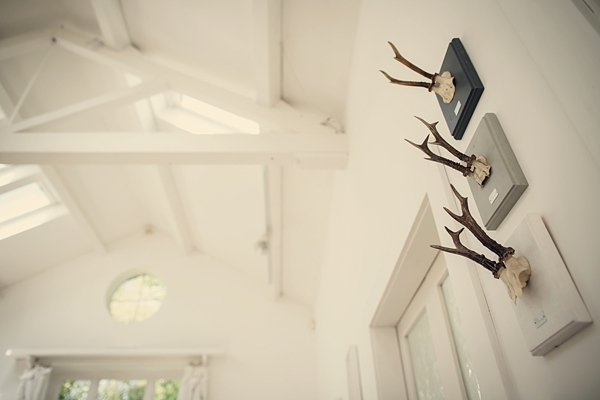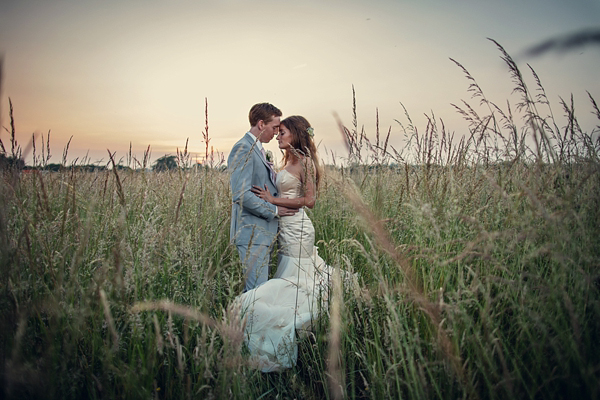 "I
also loved the scene in Mamma Mia! where they have a party the night
before Sophie's wedding and there are candles burning in lanterns in the
trees and everywhere is lit up with fairylights.  All of these
influences ended up in our wedding. Myself, my parents and friends
collected glass jars for a year leading up to the wedding, which I
filled with over 300 tealights, so after sunset our venue was totally
lit up with candlelight.  (I have to mention here that my Dad
diligently removed all 300 labels from the jars – thanks Dad!)."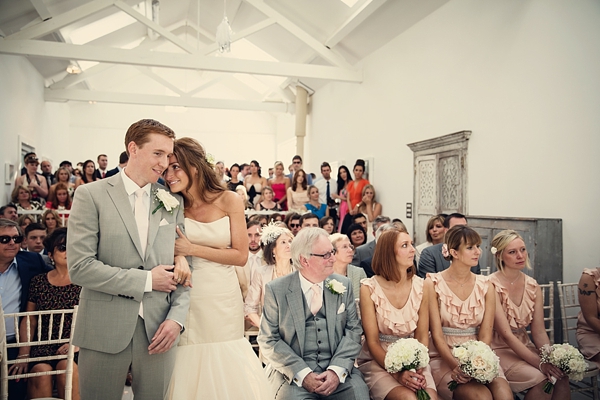 I put a
quote on our wedding invitations from The Secret Garden that I felt
really reflected our relationship: 'And the secret garden bloomed and
bloomed and every morning revealed new miracles.' And strangely enough,
after trying on over 100 different wedding dresses, I finally found 'the
one' at a shop in Notting Hill!"
Film Production by Andy Oliver at Cine8
"Danny and I met at The University of Sussex in Brighton ten years
ago when we were both doing our degrees there. After university we
moved to London, where Danny and I live together in Canary Wharf. I
proposed to him in 2011 at the Mondrian Hotel in Miami, at sunset, in a
private cabana by the pool overlooking the stunning downtown skyline,
with a bottle of champagne and a Bulgari ring.
He was surprised to say
the least!! We had been engaged for two years when we got married – I
knew I needed plenty of time to plan my dream wedding!"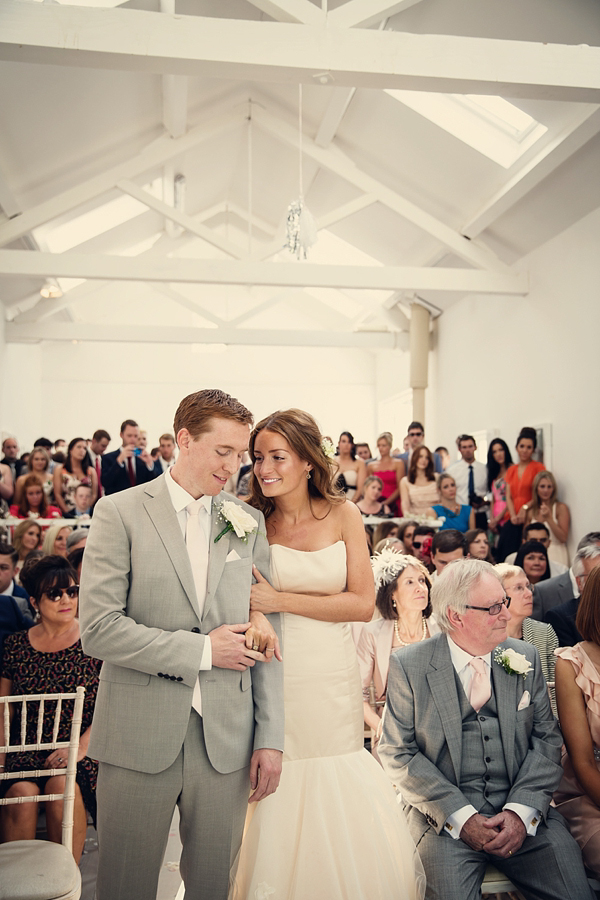 "I handpainted wooden signs for the
meadow such as 'Happy Ever After starts here' and 'Come as you are, stay
as long as you can, we're all family, no seating plan.'
I prettied-up
the bathrooms with flowers in vintage pink glass bottles, Diptique
Mimosa room spray and bottles of Penhaligon's Elizabethan Rose perfume. I
wrapped 15x 6ft long vintage pink paper flower garlands around the poles
in the marquee, the signs and the old wooden swingseat and bench in the
meadow.
Oh and I bought ten big white golfing umbrellas in case of
rain, but luckily we didn't need them!"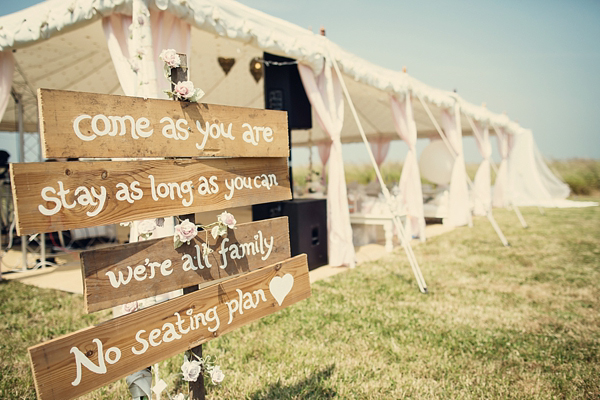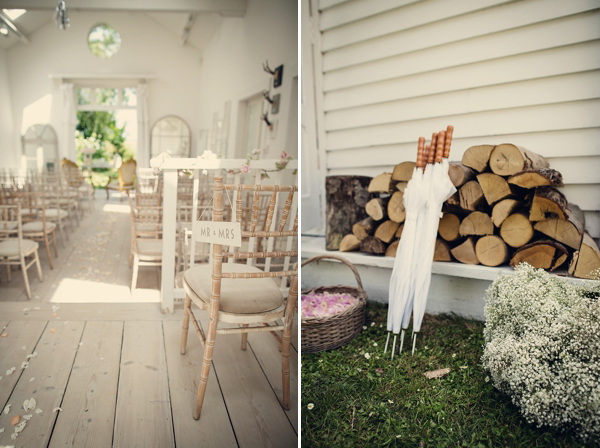 "I've always loved the Scott McKenzie song, 'If you're going to San
Francisco, be sure to wear some flowers in your hair…' and I'm a bit
of a hippy at heart so I wore real flowers in my hair – sweetpeas,
gypsophilia, hydrangeas and pink Majolika spray roses.These were made for me by our florist Lucy at Cafe des Fleurs in Rye"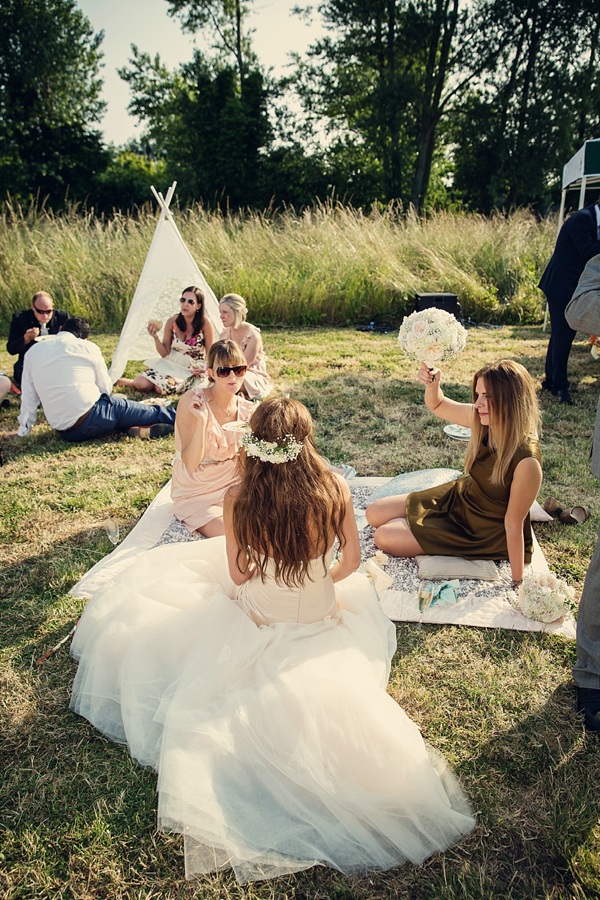 "In the barn where we had the ceremony we had lots of white candles
and filled a birdcage and glass cloche with real flower heads and
scattered rose petals down the aisle.
On the tables in the
marquee I added sequinned silver place mats, jars filled with flowers
and twelve Diptique Mimosa candles. We decorated the meadow and the
marquee with 200 metres of outdoor fairy lights and 300 white votive
candles in jars, sprinkled with silver glitter and wrapped in white
raffia ribbon. We tied paper pom poms and giant 90cm-wide white and
blush balloons to the marquee and in the trees."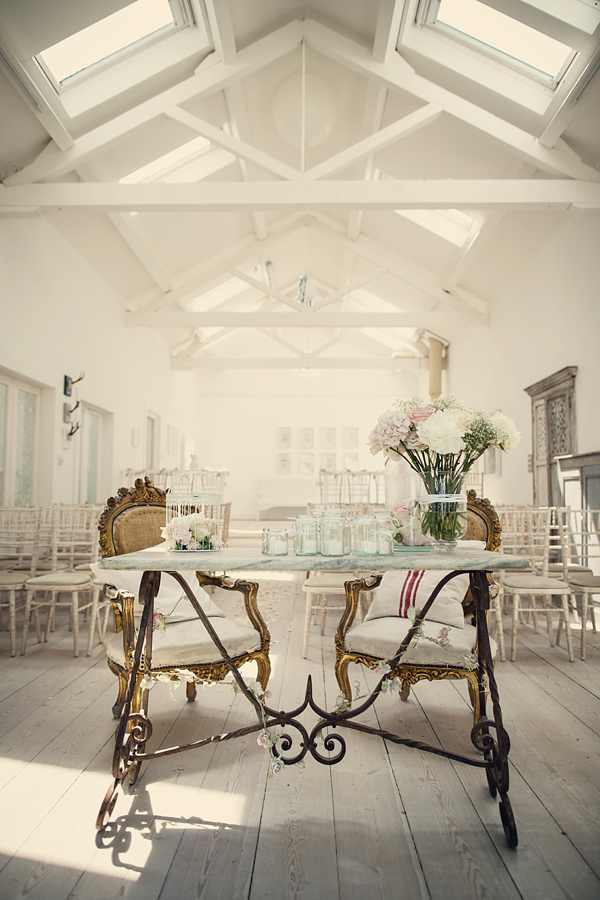 "I had my Rosalyn couture gown made bespoke by the lovely Britta Kjerkegaard
at her studio in Notting Hill, London.   I knew I didn't want a white
dress and Britta was one of the only designers I found who offered a
range of beautiful hues – from the lightest duck-egg blue to antique
pale rose. My gown was blush pink with French silk flowers. 
I wore Lanvin Dubrovnik
sandals in nude leather with a five inch gold heel and gold ankle
straps. I'd seen a picture of these in a magazine and knew I had to have
them! I finally found them at Bernadelli, a boutique in Mantova, Italy,
and had them shipped over to the UK.  After the ceremony I wore silver
converse under my dress!"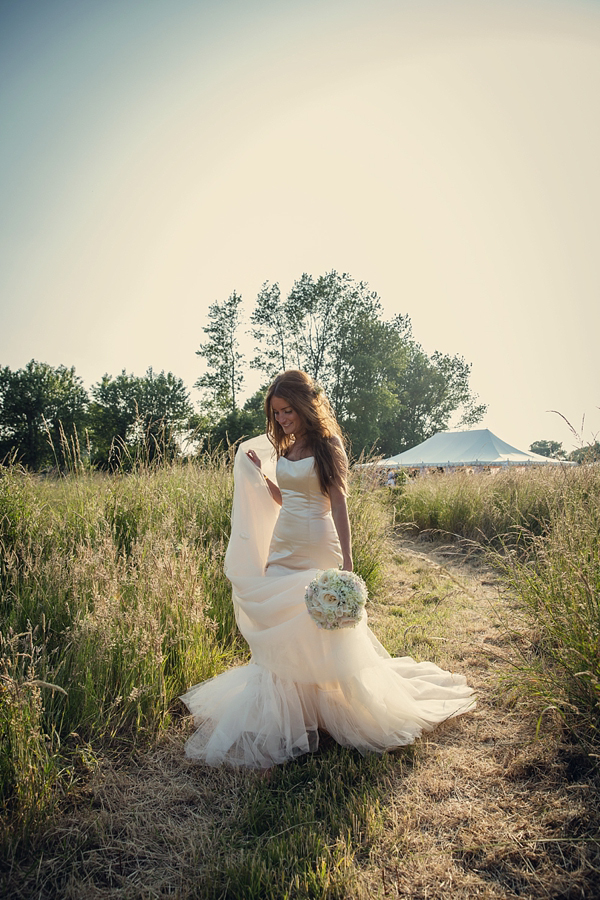 "My bridesmaids wore dresses from Forever 21 UK, with alterations expertly made by Pitsamai Jenkins. 
My maid of honour, who was my (very pregnant!) sister Sarah, wore a
bejewelled crystal headband. Helen, Natalie, Stephanie and Frances wore
nude and cream flowers in their hair, all handmade.
 The girls also wore cream grosgrain ribbon belts with a crystal-encrusted organza overlay, handmade by my mum, Caroline."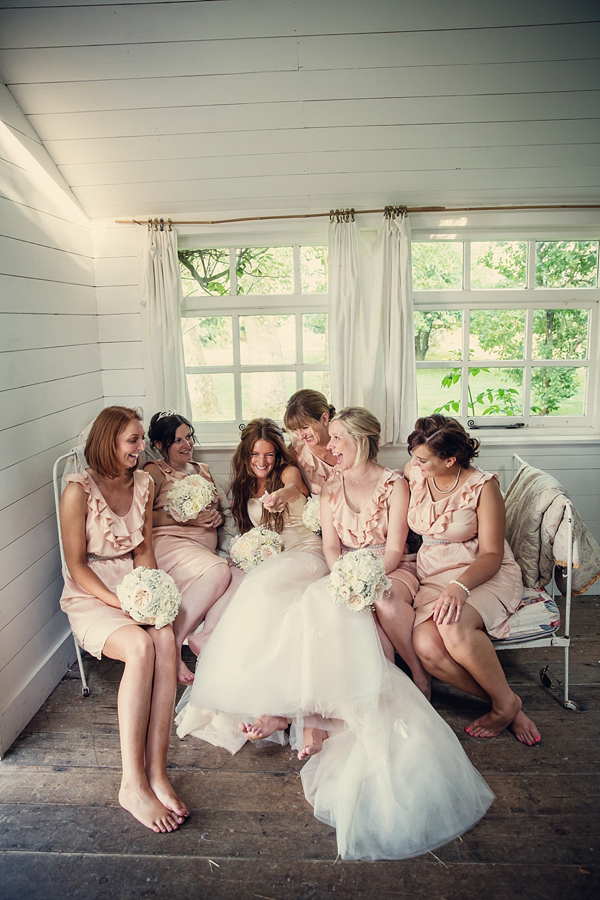 "For favours, I bought 100 little glass bottles and made 'love
potion' favours for everyone. These were a shot of gin with pink
lemonade! Each had a pink and white striped paper straw, handmade
stirrer and handmade 'drink me' tag around the bottle. The bottles were
from Ampulla, the straws from Selfridges and the pretty 'Garden Roses' tray we presented them in was from Borrowed Blue Boutique.
For the children, my friend Kelly made us a beautiful mini lace teepee
and I put together an all-white dressing up box including heart-shaped
sunglasses, wigs and fairy wings!"
"Our white
Indian Mahal tent came from The Raj Tent Club, whose incredible marquees
are in a different league to all the others I saw. We selected a gold
star draped ceiling with white wooden furniture, white and silver
cushions, coconut matting floor, gold ceiling lanterns, 15 uplighters
and pale pink drapes."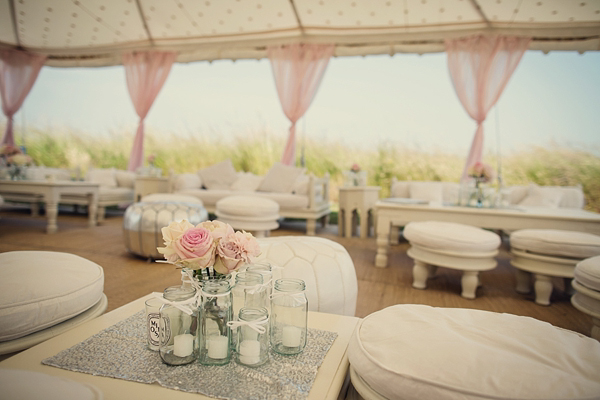 "Cafe des Fleurs
in Rye made our bouquets and buttonholes. These were hand-tied posies of
cream hydrangea, pale pink sweet peas, cream garden roses, pale pink
Majolika spray roses and white gypsophilia, bound in pale pink satin
ribbon and white lace.  We did all the
venue flowers ourselves.
On the Thursday before the wedding we got up at
4am to go to New Covent Garden Flower Market and bought a car-load of
roses, baby's breath and peonies (which are my favourites). We took them
down to Rye and soaked them in flower buckets for three days – by
Saturday they had all opened fully and looked perfect. The day before
the wedding I arranged them in the jars we had collected, tied them with
ribbon and put them on each of the tables in the marquee."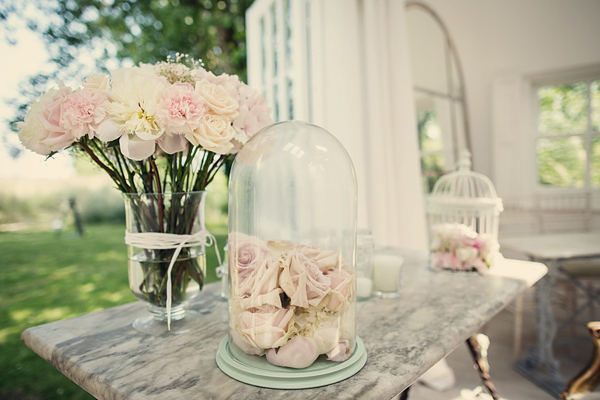 "Our photographer was Sassy of Asassyanation. 
Sassy was a joy to work with from start to finish. Everyone who has
seen our photos has asked me about her and been blown away by what a
fantastic job she did. Not only that but she was just lovely to chat to
and to have around on the day – positive, cheerful and brilliant at
herding hundreds of unruly guests into position to create the perfect
photograph!
Andy Oliver at Cine8. filmed our wedding on 16mm film and the result was amazing. I find
it really emotional seeing it all come to life again when I watch the
video, it makes me cry every time!"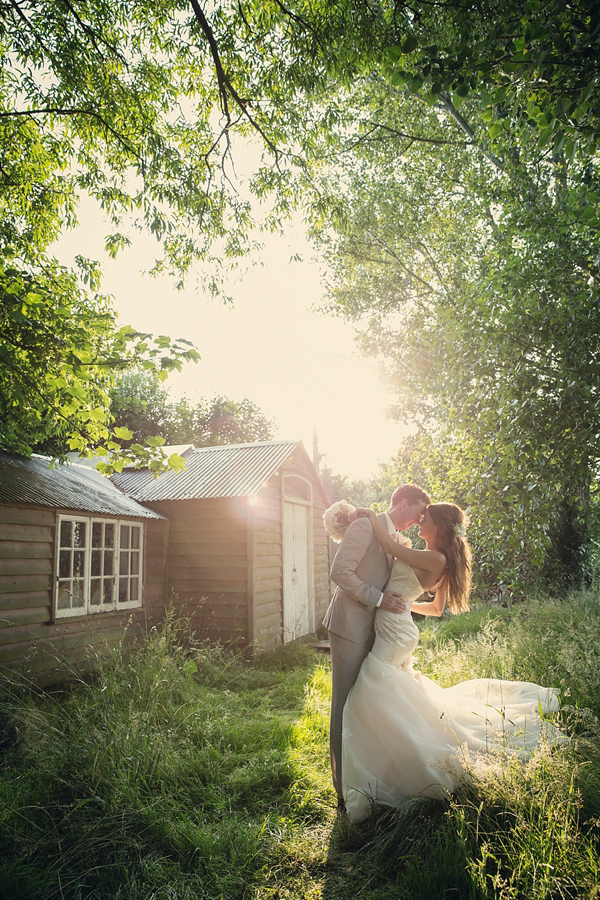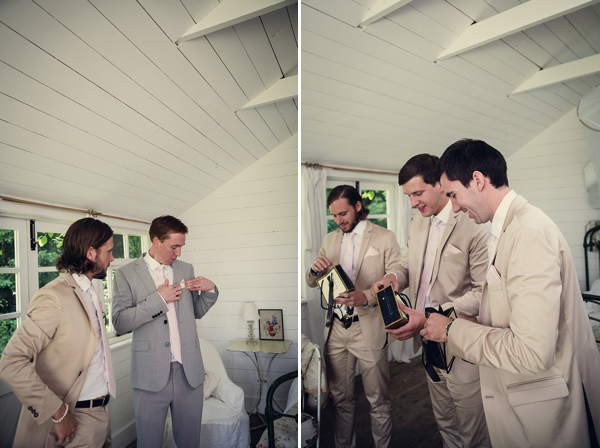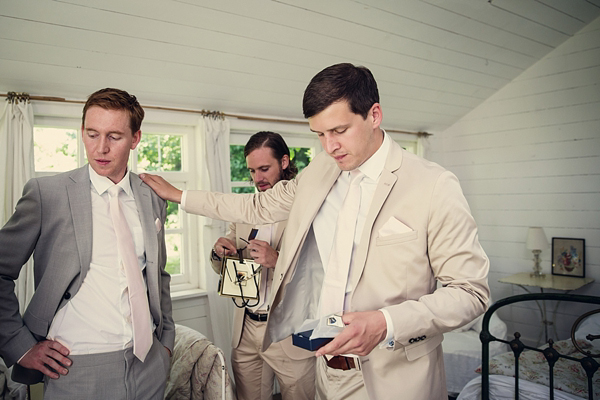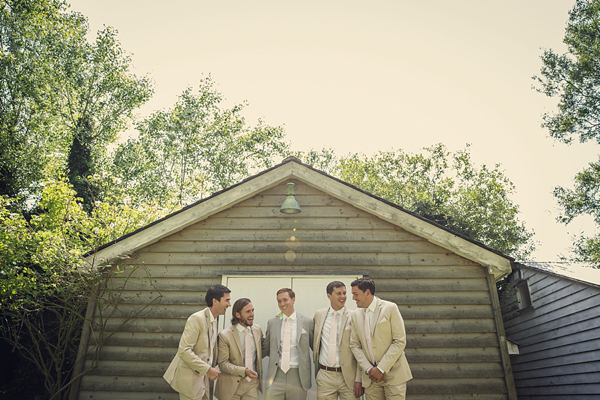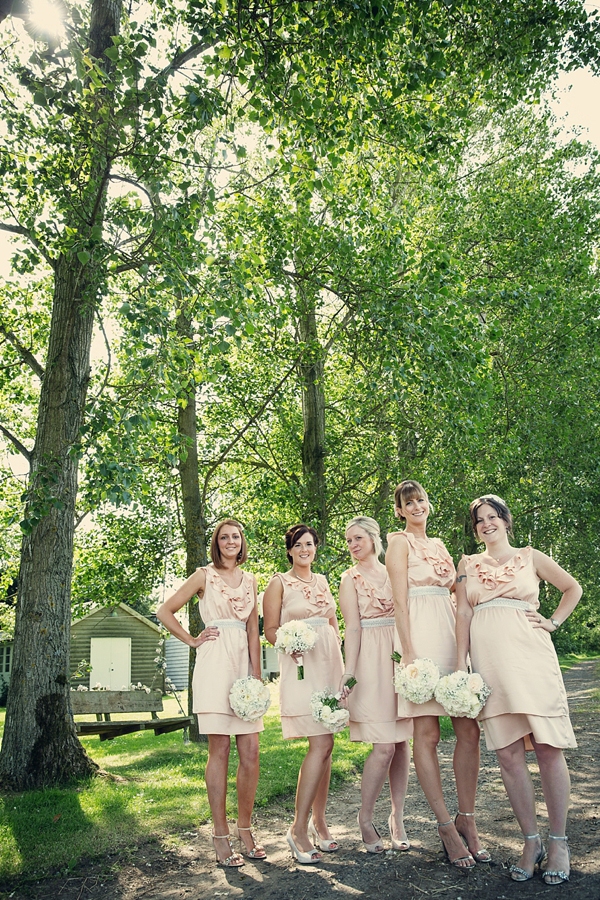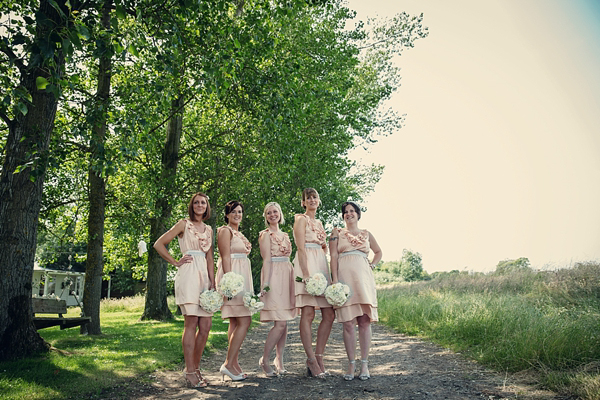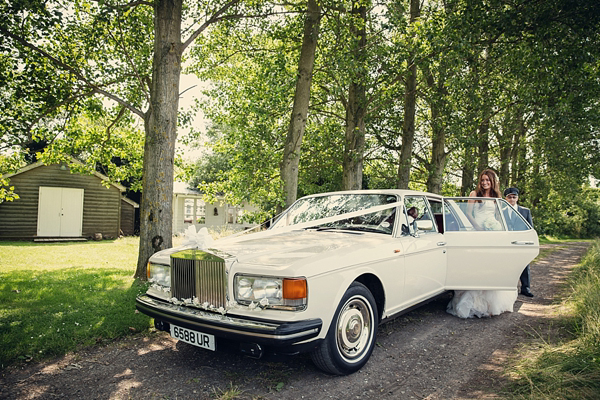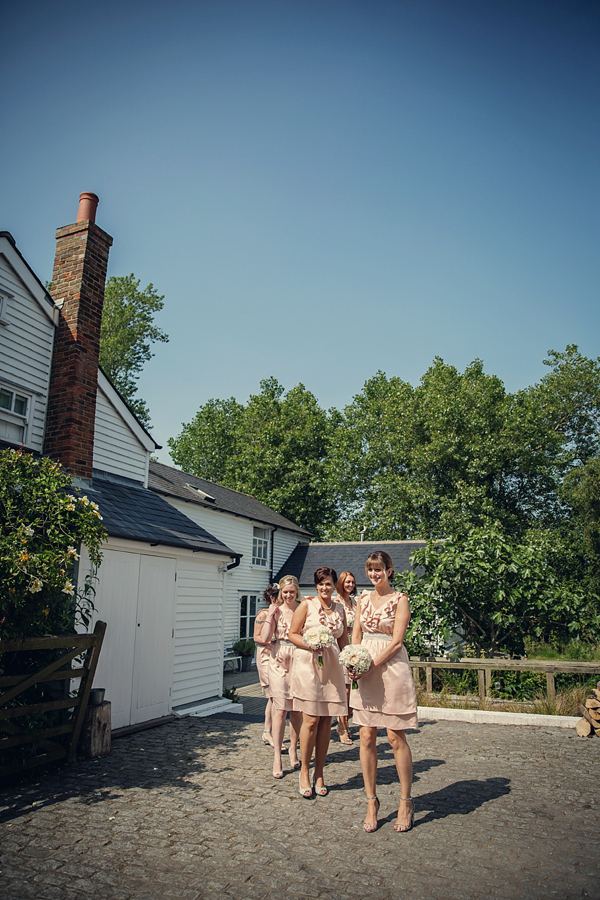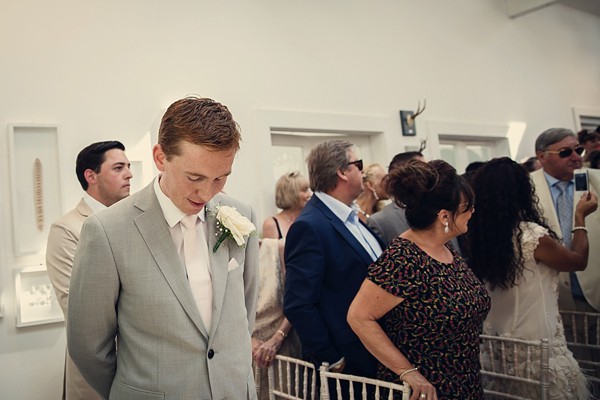 "My dad, Paul, gave me away and I walked down the aisle to the sound of 'Sunrise' by Nora Jones."
"My
bridesmaid, Natalie, gave a wonderful reading of An Apache Blessing. She
chose it for us – I didn't want to know what she was going to read
before the day because I trust her and knew it would help me to really
listen and be in the moment.
'Now you will feel no rain,
for each of you will be shelter for the other. Now you will feel no
cold, for each of you will be warmth to the other. Now there will be no
loneliness, for each of you will be companion to the other. Now you are
two persons, but there is only one life before you. May beauty surround
you both in the journey ahead and through all the years, May happiness
be your companion and your days together be good and long upon the
earth.
Treat yourselves and each other with respect, and
remind yourselves often of what brought you together. Give the highest
priority to the tenderness, gentleness and kindness that your connection
deserves. When frustration, difficulties and fear assail your
relationship, as they threaten all relationships at one time or another,
remember to focus on what is right between you, not only the part which
seems wrong. In this way, you can ride out the storms when clouds hide
the face of the sun in your lives – remembering that even if you lose
sight of it for a moment, the sun is still there. And if each of you
takes responsibility for the quality of your life together, it will be
marked by abundance and delight.'
"I did my makeup myself with Dior's Forever foundation, Chanel
Illusion D'Ombre eyeshadow in Émerveillé and YSL's amazing Volupte Sheer
Candy (which is halfway between a balm and a lipstick, so gives a dewy,
natural look that's perfect for a wedding). I had my hair coloured at Jo Hansford in Mayfair the week before the wedding.
My hair was given a loose wave with hot rollers on the morning of the wedding at the Rye Retreat, who were excellent and threw in a relaxing arm and hand massage and a glass of champagne – lovely!"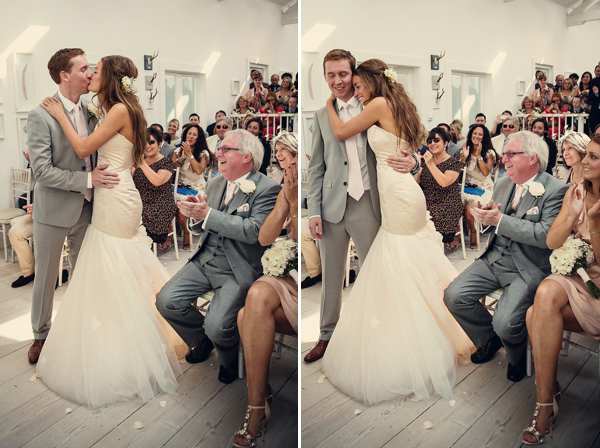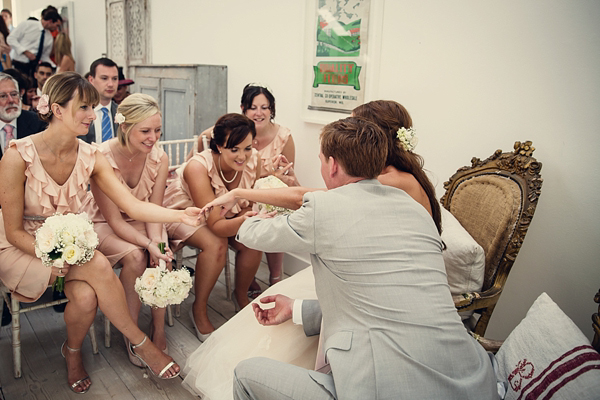 "We decided we didn't want a formal sit-down meal or a seating plan
so we hired white Indian-style low furniture – sofas, stools and day
beds and even put white crochet blankets and cushions on the grass to
encourage our guests to relax and mingle. We wanted the food to reflect
this informal approach so we had a free bar, hog roast and buffet.
Danny's sister, Frances ,and parents, Deb and Dan, – who are professional
caterers and run Honeydale Farm Shop and Tea Rooms
in Sidcup, London – did all of our amazing food and drink.
Our very
hard-working bar staff were the team from The Swan at Shakespeare's Globe Theatre in London."
"I also made a sweets
table and filled jars with Persian fairy floss, pink jelly belly beans,
Turkish delight and imperial mints. I also bought mini bottles of pink
Moet champagne."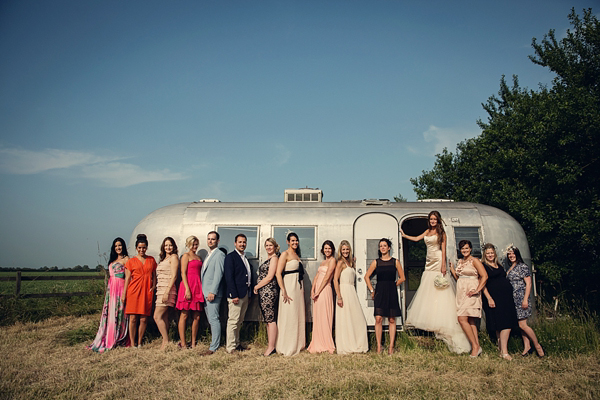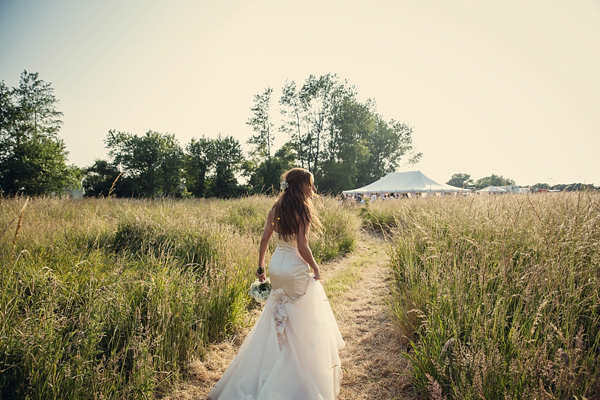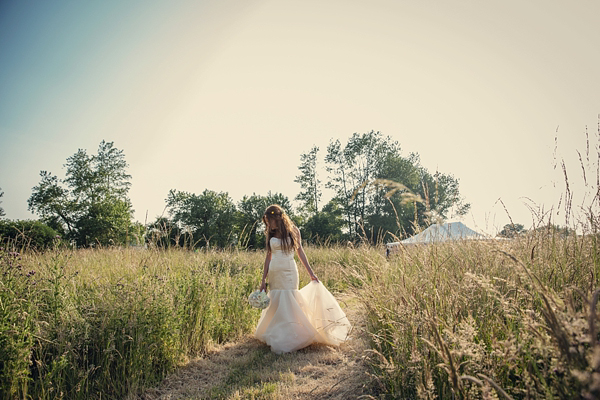 "Danny's very talented sister, Frances, made our amazing cake, which was decorated with fresh pink peonies and foliage."
"We chose 'Daydreamer' by Adele for our first dance. The words
totally make me think of Danny. 'With eyes that make you melt, he lends
his coat for shelter. Plus he's there for you when he shouldn't be, but
he stays all the same, waits for you and sees you through. I can tell
that he'll be there for life.'"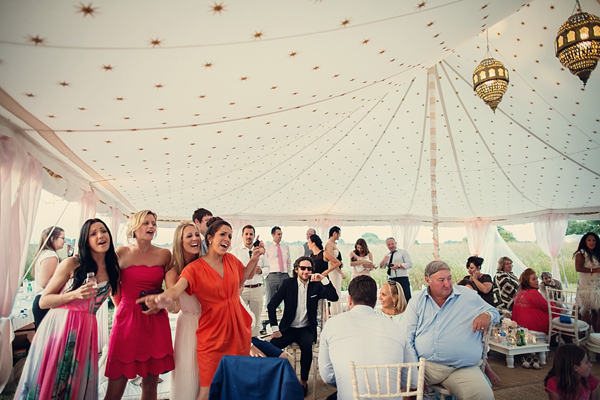 "There are so many favourite moments from our wedding day! The
ceremony, Danny's brother Joe's hilarious best man speech, the
dancefloor being packed all night, holding hands with my dad in the car
on the way there, feeling like a princess in my dress, dancing with my
mum, having all of our loved ones in the same place at the same time,
the sunshine and bright blue sky!
My overriding memory is just that
there was so much good feeling in the air. When I walked through the
courtyard of The George in Rye (where we were staying) to the wedding
car, the hotel guests (none of whom I knew) gave me a round of applause.
Outside tourists were taking pictures of our bridesmaids and waving.
And when I look back at the photos and see all our guests smiling and
being so happy for us, it makes me feel so touched. That's what I love
about weddings – you step outside of normal life and it's just a pure,
joyful celebration of love."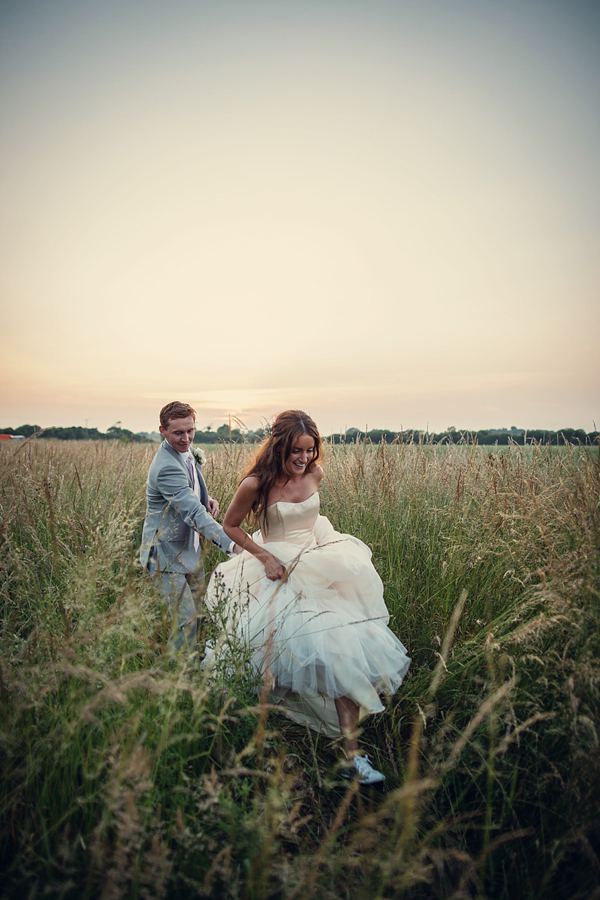 Words of Wedded Wisdom…
"Don't be nervous, just enjoy it. It
all goes by so quickly that afterwards you wish you could go back and
do it all again. So appreciate it all, even the planning, even the scary
'all eyes on you' moments, because you'll never do this again!  We
didn't want a package wedding so did it all ourselves. This meant it
was a bit like organising a festival! We had to hire a generator,
toilets, marquee, chairs, tables, a bar, all our glasses and crockery,
so it was a big job, but meant that everything had our individual stamp
on it
I chose 3pm for the ceremony as I didn't want our
guests to be rushed getting ready or travelling (as many of them were
coming from Southampton which is about three hours away), but it meant
that later on we didn't have enough time for a few things, such as going
to the beach at sunset for photographs as we had planned. So maybe I
would have started at 1pm if I could do it all again!
Our honeymoon was in Bora Bora in Tahiti, French Polynesia.
Finally, I love Love My Dress – it's fab!"
*Sigh*  Yet another absolutely beautiful wedding on Love My Dress. I love my job!
Thank you so very much Holly and Danny for sharing your beautifully Pale & Interesting day – and huge thanks to the wonderful Sassy of Asassyanation for once again choosing Love My Dress to share her work.  You can see more from Assassynation on Love My Dress here.  You might also want too see more beautiful Summer weddings.
With much love,
Annabel
Photographer – Assassynation
Film – Cine8
Venue – Pale
and Interesting using The Raj Tent Club
Brides Dress – The Couture Gallery by Britta Kjerkegaard
Shoes – Lanvin Dubrovnik
Accessories – Josephine Marrying lace garter by Stella McCartney
Jewellery – Mykonos 9ct gold and moonstone drop earrings by Astley Clarke
Grooms Suit – Reiss + Russell and Bromley shoes
Bridesmaids Dresses – Forever 21 UK (alterations by Pitsamai Jenkins in Southamptom)
Flowers – Cafe des Fleurs in Rye
Cake – Family member
Transport – Rye classics
Entertainment – Phil Webster from Choice Entertainment
Favours
– Ampulla + Borrowed
Blue Boutique
Rings – Abrahams Diamonds in Hatton Garden + Danny's platinum wedding band is from Bulgari
Catering – Honeydale Farm Shop and Tea Rooms
Bar Staff – The Swan at Shakespeare's Globe Theatre